Three years ago today we were sitting in row 38 of an Emirates aircraft on our way to Dubai. In Dubai, we would be catching our connecting flight to Melbourne. We wanted this trip so badly. Since years. "Darlings, are you sure you want do this?", Kathi's Grandma was asking us nervously. Before graduating from university, we booked our flights. If not now, then when? Romeo passed his exam on November, 13th 2012 – tow days later, Kathi passed hers.
This journey changed us. Some people told us that we didn't go on a journey around the world, because we didn't go around the world literally. We don't care about that. We still call our trip our journey around the world. We never really told you about our trip until now. That's why we want to share ten moments, which make us smile whenever we think about them.
We're having a hose fight with children in Cambodia
That wasn't planned. All of a sudden, we are surrounded by dozens of kids with bottles and buckets full of water. We only wanted to say "hello", but suddenly we are wet through. Never mind! We're having a remarkable hose fight with them.
We are meeting wild seals on a beach in New Zealand
To be honest: during our whole journey we hoped to meet wild seals. Alone. Without being on a boat trip or with a guide. We didn't even think this was possible ­– not even when we saw the sign of New Zealand's Sandfly Bay: "Warning: Sea lions maybe present in the area". A wrong warning, we thought. It turned out that we were the ones who were wrong.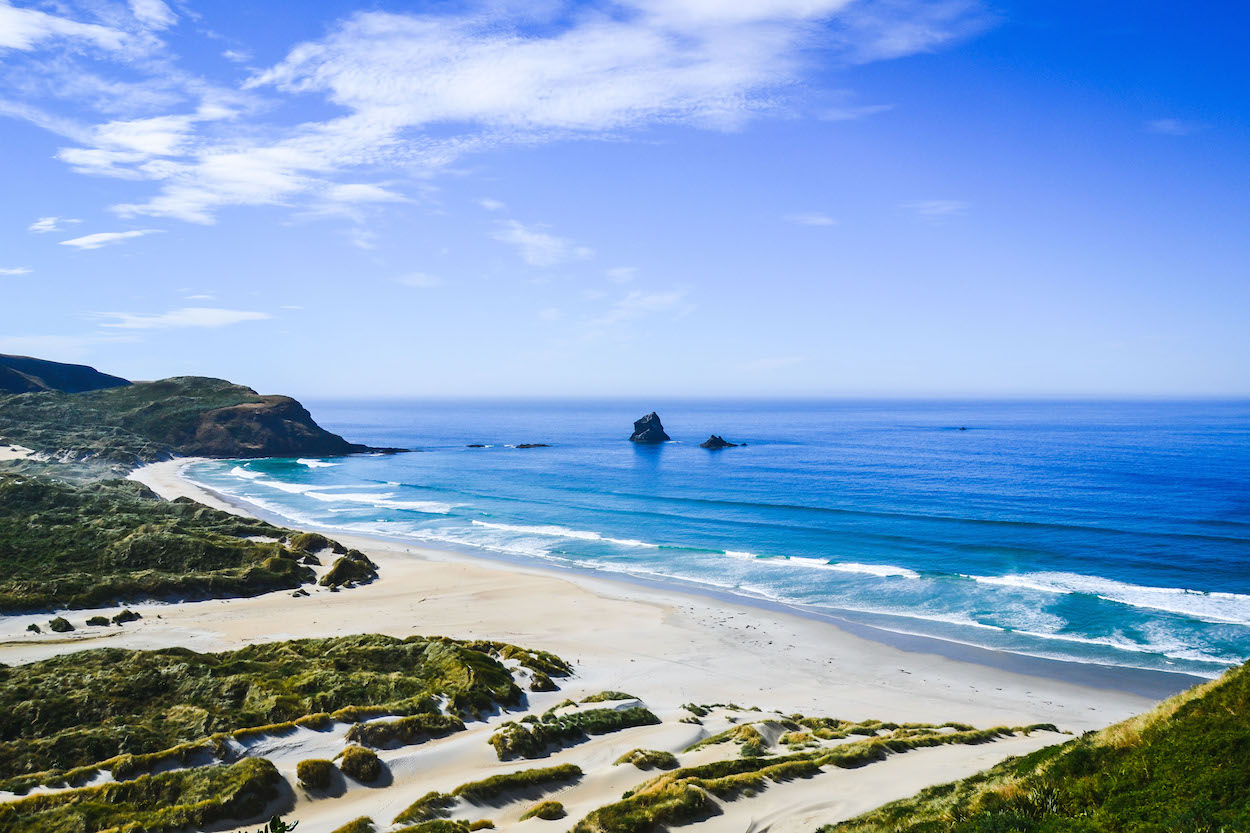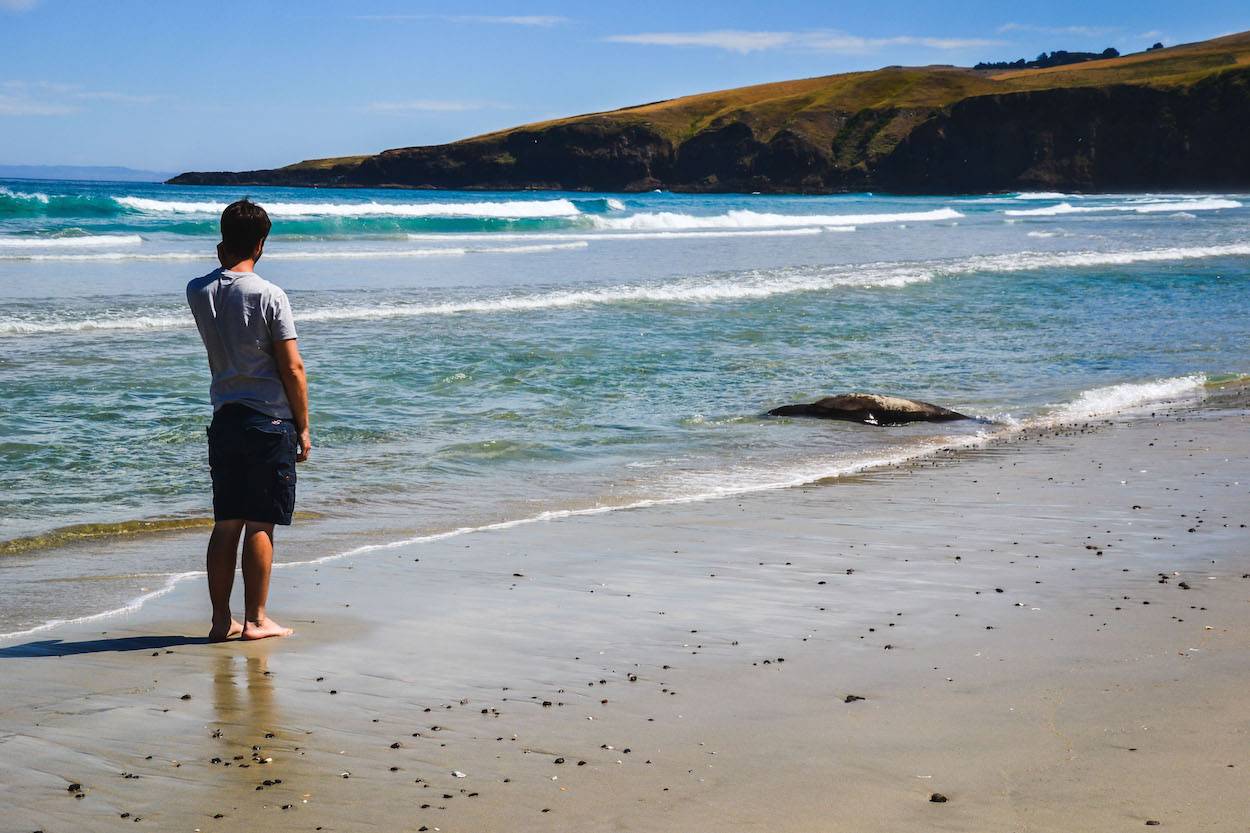 We are teaching English to Indonesian students
About 30 Indonesian girls and boys are staring at us with wide eyes. They are giggling, whispering. They are a little bit nervous. Just like us. We are teaching English for the first time of our life. Somewhere in the middle of nowhere. Read the whole story in this article.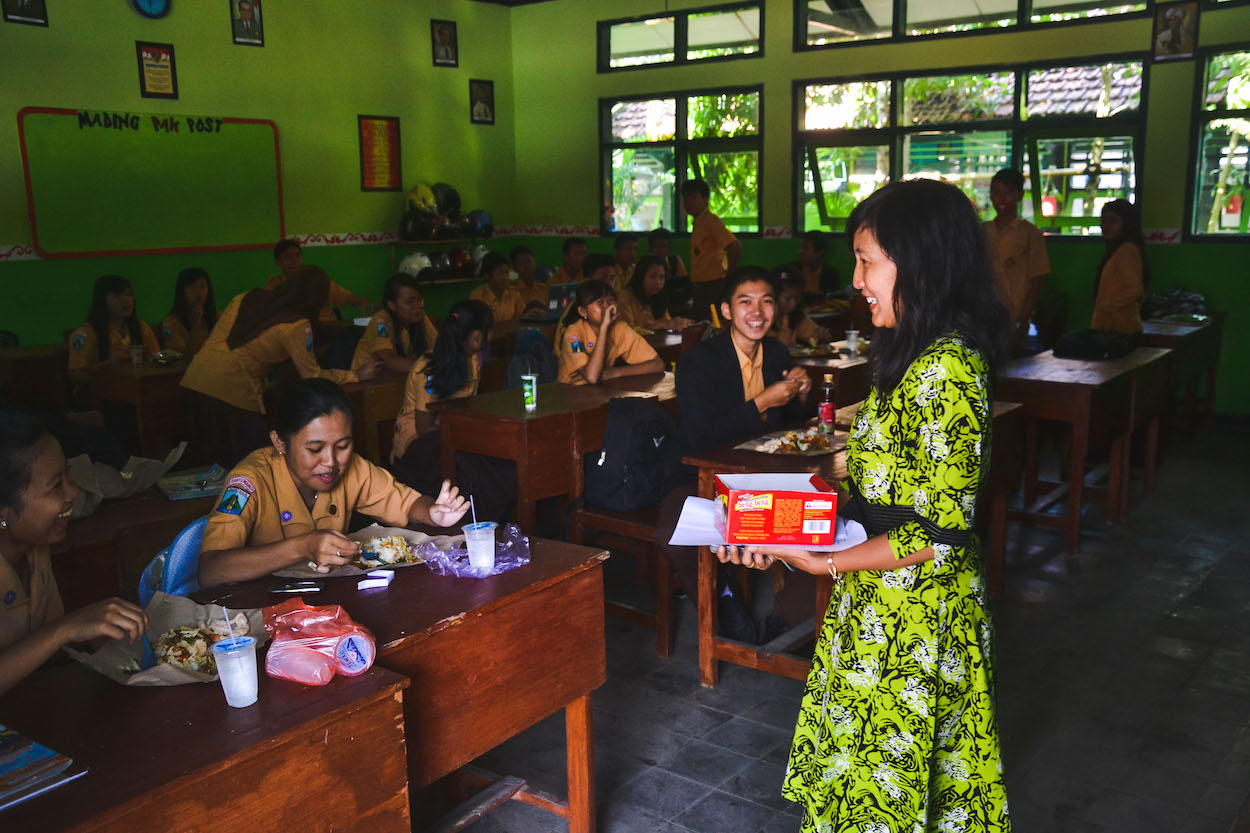 We learn how to give a Thai body massage
We wanted to learn something completely new. As soon as we arrive in Chiang Mai, we feel like staying there for a week or even longer. A good opportunity to learn how to give a Thai body massage.
We are importing an apple to New Zealand
Does anyone of you know New Zealand's immigration policies? If not: it is strictly prohibited to bring fruits or vegetables of any sort to New Zealand without declaring them. Well, there is this single apple somewhere in Kathi's bag and we totally forgot about it. The customs officer is strict and asks us to pay the $400 fine. Kathi instantly begins to cry which obviously changes his mind. We are asked to sign a letter of reprimand and are able to continue our journey. Thank God!
We are snorkeling with a turtle
While traveling around the world, we noticed how impressive wild animals are. At the top of our list: Meeting this turtle around Gili Meno in Indonsia. It is just us two and the turtle – one of our best snorkeling-experiences ever.
We are having dinner at "Sirocco" in Bangkok
"Sirocco" takes our breath away: Not only because of the impressive views over the city, but also because of the steep prices. Nevertheless, having dinner at "Sirocco" is without doubt a once in a lifetime experience. We're so glad that Kathi's dad and his girlfriend visited us in Bangkok so we got the chance to experience the restaurant.
We're riding the Yangon Circle Line Train in Burma
Burma. The country itself is an incredible experience. But as soon as we enter the train, noticing dozens of people staring at us, being crowded together with bags full of vegetables and fruits, we instantly know that we won't forget this moment at all. Read more about our adventures in Yangon in this article.
We're exploring Bali's landscape by motorbike
We're feeling the airflow, we're lucky. Without any destination, without knowing where exactly we're going. Exploring Bali's landscape by motorbike epitomizes freedom.
We're biking the temples of Angkor Wat for sunset
Sounds romantic, doesn't it? In truth, we're sweating like hell. Riding a bicycle through Cambodia's horrible traffic is not that easy as it's supposed to be. However, the sunset over the temples was worth every effort. To be honest: we enjoyed the sunset even more than the sunrise.