Young, lively and simply likeable – welcome to Bologna! This University city surprised us a little with its exuberant flair. And on top of this, Bologna also has some impressive sights.
Bologna is far less touristy than Florence – and because of this, it is a very worthwhile destination for a city trip. We found Bologna to be wonderful and can warmly recommend a trip there.
In this travel guide we show you the most beautiful sights, highlights and top things to do in Bologna so that you can perfectly plan and prepare for your holiday. Of course, as always, we also share our detailed, personal tips for your trip.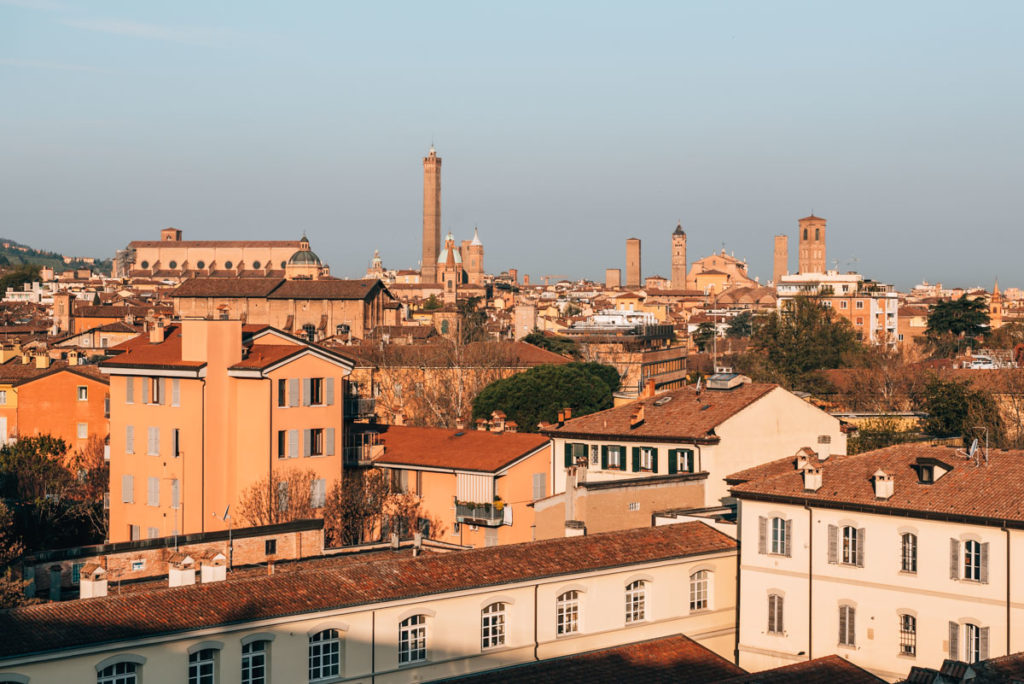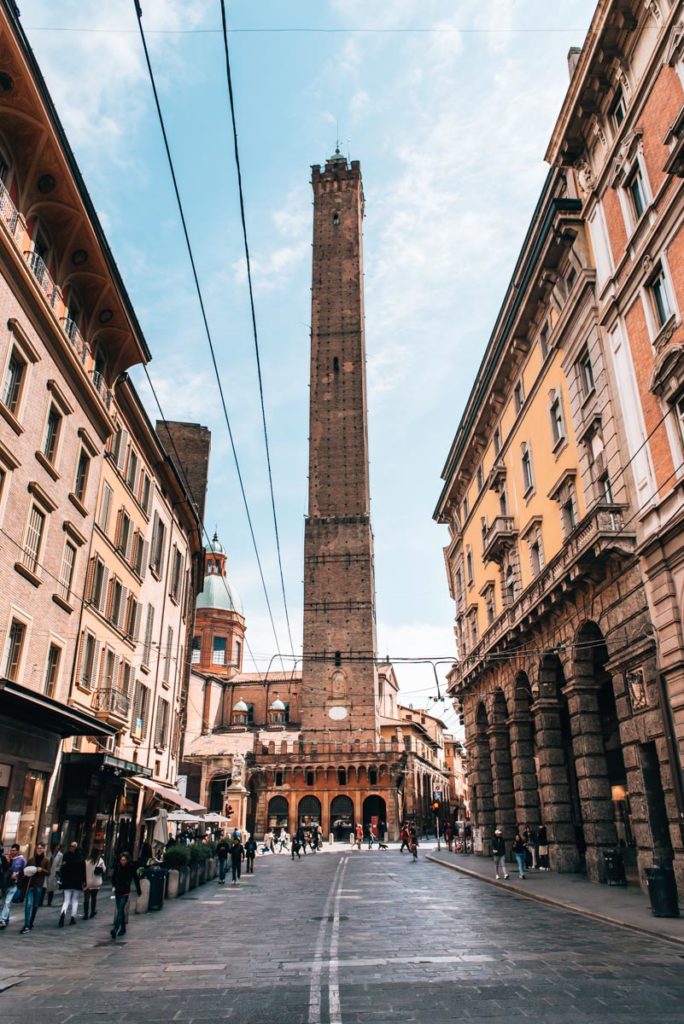 1. Bologna in Italy: Initial travel tips & FAQs
Exciting facts & interesting points about Bologna
Bologna is the city of arcades! The arcades stretch back and forth through the city over a length of 38 kilometres. Bologna's arcades even became a UNESCO World Heritage Site in 2021! The arcades are not only beautiful to look at, but also offer shelter from the rain and sun – very practical.
The oldest university in Europe is found in Bologna. It is immediately apparent that Bologna is a university city. The flair is lively, hip, young and exuberant. The city's bars are not only packed on weekends.
Bologna is the home of the tortellini. So, it's almost mandatory to eat tortellini while in Bologna. Overall, Bologna is a culinary jewel. Of course, our tips for aperitivo, gelato & etc. are provided further down in this travel guide.
Bologna is the capital of the Emilia-Romagna region. Tuscany is only a stone's throw away. Therefore, many include Bologna as a stop off on a road trip through Tuscany.
Bologna has three nicknames: La Dotta, la Grassa, la Rossa. In English: La Dotta – the scholar (Bologna as a university city). La Grassa – the fat one (thanks to the excellent, substantial cuisine). La Rossa – the red (due to the red bricks of the houses).
How many days should I plan for Bologna?
Bologna has close to 400,000 inhabitants. The centre of Bologna, where you will find almost all the main attractions, is relatively compact.
Two nights are enough to gain a good initial insight into Bologna. This way you will have enough time to visit all of the best sights.
If you prefer to take it a little easier and perhaps also include one or two day trips, it is best to stay three to five nights. There are some very worthwhile day trip destinations around Bologna (e.g. Dozza or Ravenna)
Bologna Bucket List: What shouldn't I miss?
For those who want it short and sweet, here is a small best-of list for Bologna. (Of course, more detailed tips about these highlights and sights will follow throughout this travel guide.)
Enjoy the gigantic view of Bologna from the Asinelli Tower.
Marvel at the (unfinished) basilica in the main square.
Visit the old university of Bologna. Wow!
Stroll through Bologna's countless arcades and enjoy the flair.
Dive into Italy's aperitivo culture. Dolce vita at its finest!
Und last but not least: Eat tortellini – or maybe even learn how to prepare it. They originally come from Bologna. Yummy!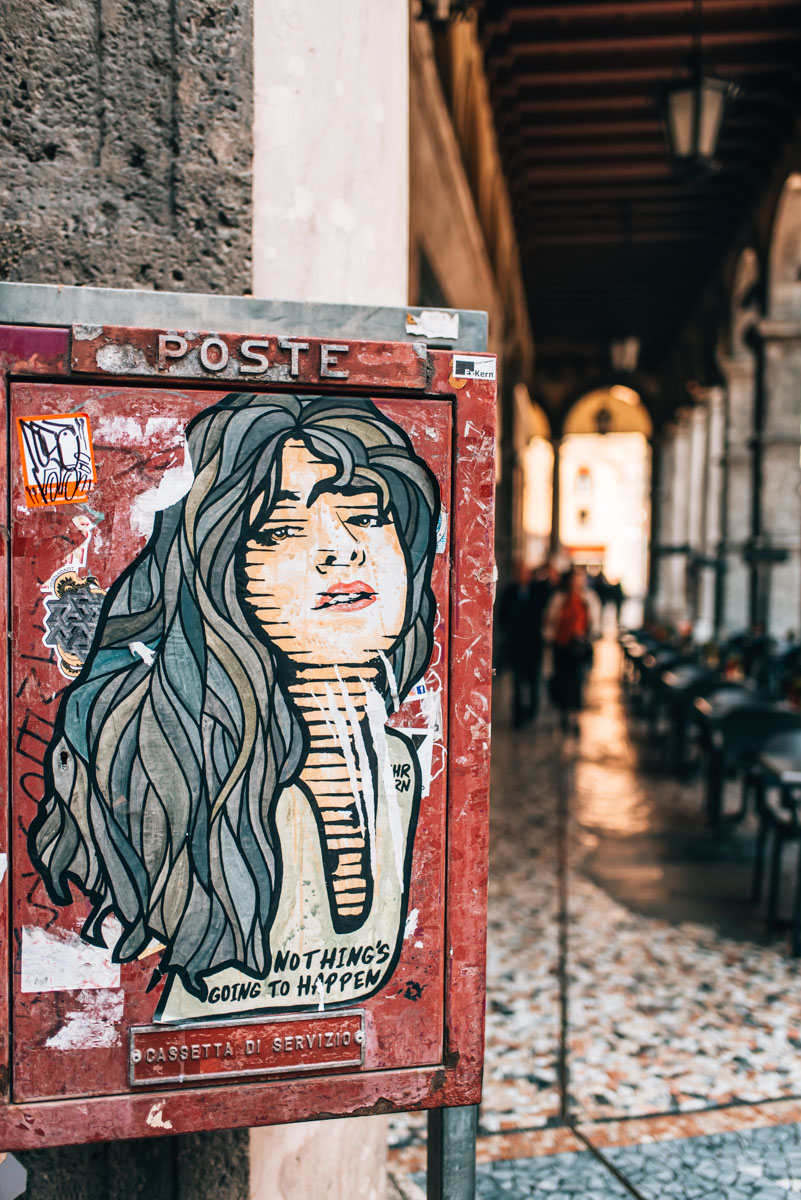 2. Bologna Travel Guide: Top Sights & Things to Do
Piazza Maggiore: The main square
Let's start off at Bologna's central square, the Piazza Maggiore. It is the beating heart of Bologna – every path leads you here. Some of the main attractions of Bologna are nestled here, including of course the Basilica of San Petronio, which we reveal more about for you in the next chapter.
The Piazza Maggiore is lined with countless marvellous palaces and arcades. The Palazzo del Podestà is especially eye-catching. It dates back to the 13th century and is believed to be the oldest palace in the square.
Adjacent to the Piazza Maggiore, the most significant fountain in Bologna, the Fountain of Neptune, is located in the Piazza Nettuno. You should be sure to also take a short photo stop at this sight.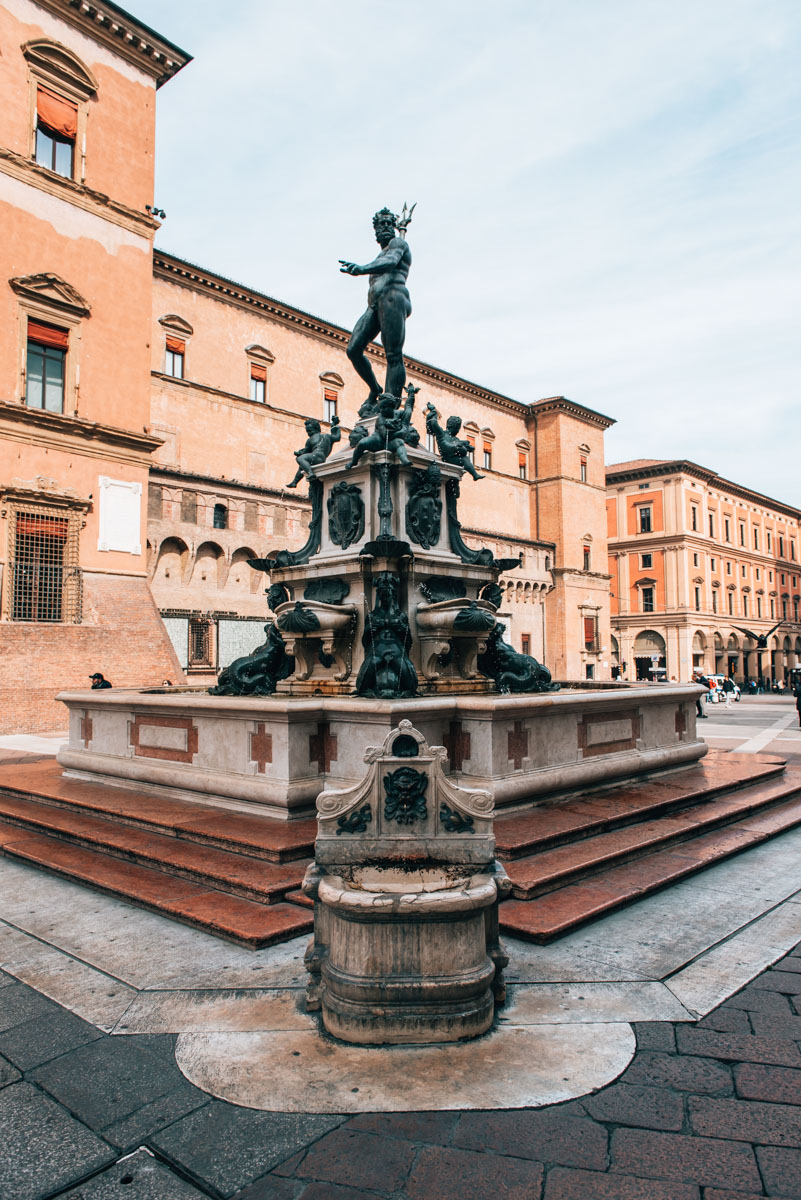 Basilica of San Petronio
The main church in Bologna, the Basilica of San Petronio, is enthroned in the middle of the Piazza. Its façade is quite eye-catching. It is in fact unfinished and only half covered in marble. (At first glance, you would almost believe that that is how it is meant to be. It somehow seemed right to us.)
The enormous dimensions definitely do not disappoint. The Basilica of San Petronio is in fact the fifth largest church in the world (measured by the height of the nave) and the largest brick church of all.
You can visit the church interior for free. (You only need to pay a fee of two euros if you would like to take photos.) We personally found the church to be surprisingly somplistic on the inside.
One of the highlights in the Basilica of San Petronio is the panorama terrace ("Terrazza") on the back side. You can enjoy a lovely view from this 54-metre-high viewpoint.
Overview of info for visiting the Basilica of San Petronio
Entrance: Free, photo fee 2 euros, terrace 3 euros
Opening times & further info: Basilica of San Petronio (official website)
The Leaning Towers of Bologna: Garisenda & Asinelli
The landmarks of Bologna and one of the main attractions in the city are the two leaning towers called Garisenda and Asinelli. There were once countless of these towers in Bologna. Unfortunately, only a few remain today.
The smaller of the two towers in particular (Garisenda) is leaning so much that you wonder how long it will be until it collapses. Really crazy!
You can only enter the larger tower (Ansinelli). And we would warmly recommend it. After 498 (!) wooden steps, you will reach the absolute most spectacular viewpoint over Bologna.
The sweaty climb up is worth it. The view of the city from the birds-eye-view is simply fantastic. For safety reasons, there is a grating, but you can take photos through it without a problem.
Our tip: Only a limited amount of people are allowed up the tower per each time slot. We strongly advise you book your ticket in advance (preferably several days beforehand). A time slot always takes 45 minutes (including the climb up and down). This means the time up the tower is limited, but more than enough.
Info for visiting the Asinelli Tower
Entrance: 5 euros
Ticket reservations & further info: Asinelli Tower (official website for Bologna tourism info)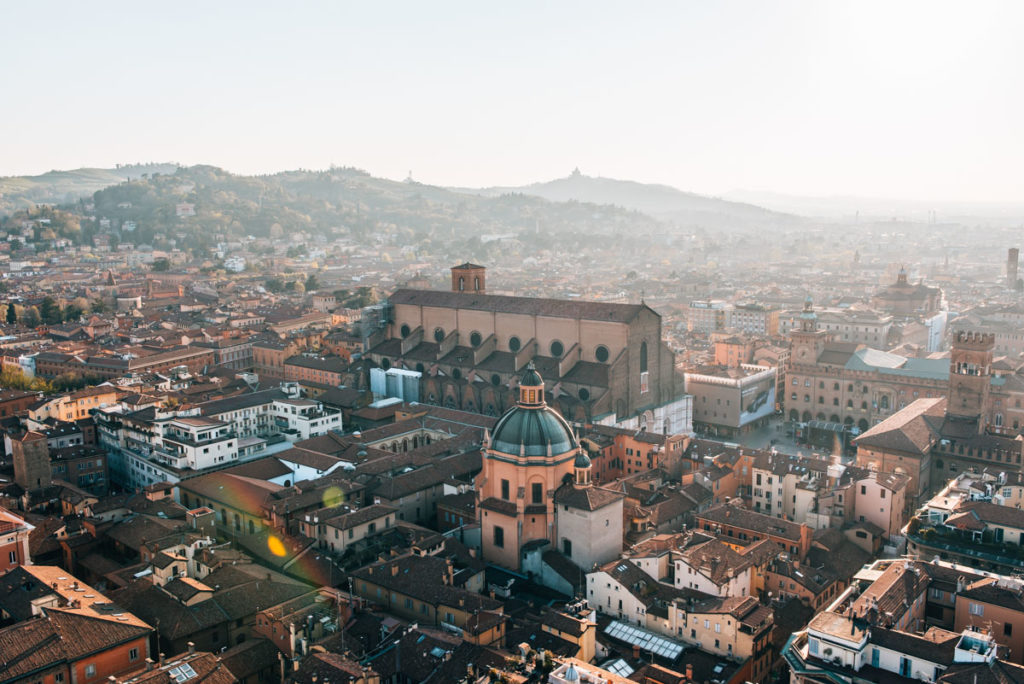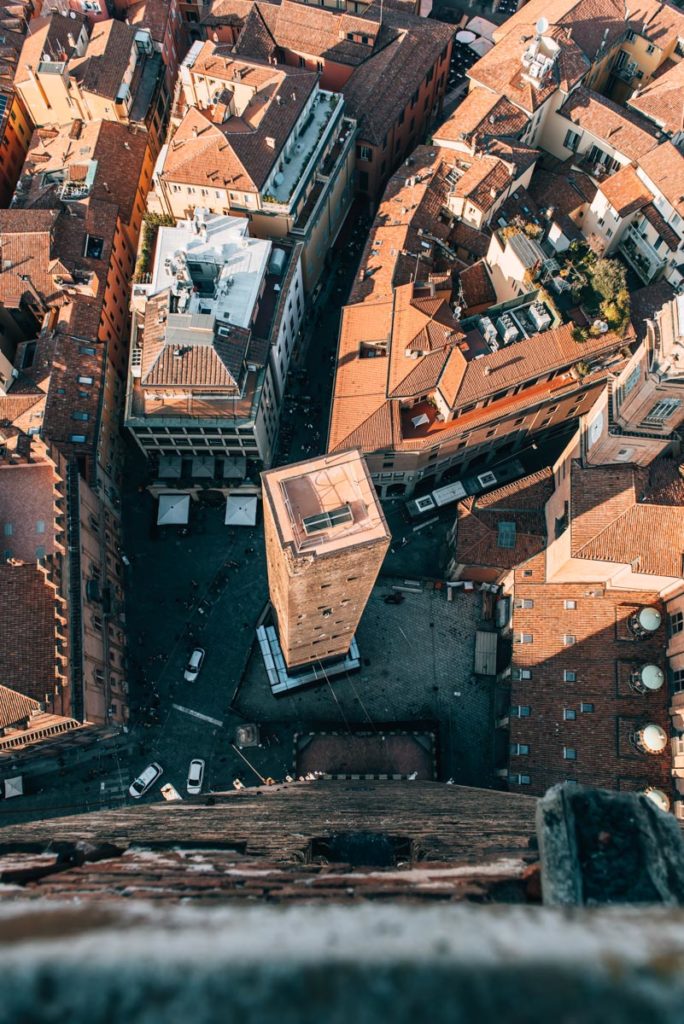 Palazzo dell'Archiginnasio: The old university
Just a few steps away from Piazza Maggiore you will come to one of the main attractions in Bologna, the magnificent Palazzo dell'Archiginnasio. This architectural masterpiece houses the old university of Bologna.
As a visitor you can only view selected areas. A stroll through the inner courtyard and the richly decorated staircase and corridors is free of charge.
For a three-euro fee you can also visit the historical anatomy room and the stabat-mater room. The wood panelled anatomy hall (actually "Anatomy Theatre") is smaller than expected but rather special. The clear highlight in the stabat-mater room is the view into the library area. (Of course, you aren't allowed to enter it.)
Overview of info for visiting the Palazzo dell'Archiginnasio
Entrance: 3 euros (inner courtyard and corridors free of charge)
Tickets: At the counter while there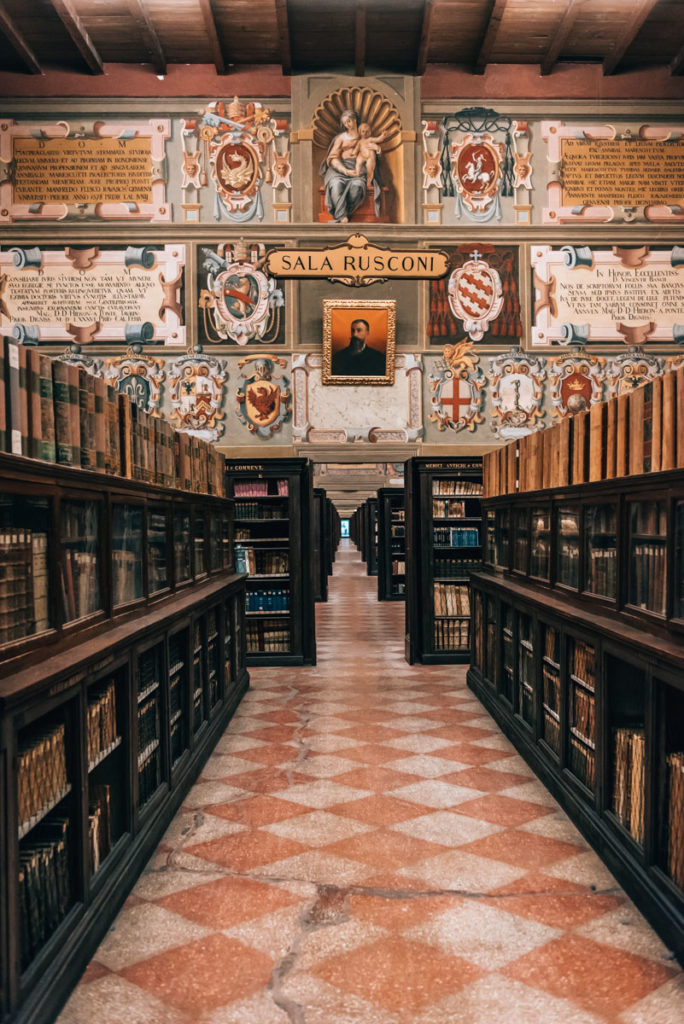 Quadrilatero district
East of the Piazza Maggiore you will reach the small, but very lively district of Quadrilatero, which is well worth seeing. A labyrinth of narrow alleyways, lined with market stalls, delicatessens and restaurants awaits you here.
During the day the locals and tourists casually drink their espressos here and buy their groceries. In the evening people meet for an aperitivo and enjoy an aperol spritz.
Fun additional fact: The delicatessen Ceccarelli, which the Austrian band Wanda sing about in their most popular song "Bologna", is also located here.
Bolognas arcades
Arcades, arcades, arcades! They are everywhere in Bologna and characterise the city landscape. A network of impressive arcades, stretching over 38 kilometres all together, cross back and forth through Bologna. While exploring the city you will (almost) continuously stroll under arcades down some stretches.
Some arcades are wooden, some are lined with columns, some are impressively high. In any case, it isn't without reason that twelve of Bologna's arcades were selected as UNESCO World Heritage Sites in 2021.
The longest and probably the most famous arcade in Bologna is the Portico di San Luca. It stretches itself across a length of four kilometres from Bologna's inner city to the pilgrimage church, Santuario della Madonna di San Luca. You can find more info about these sights in later sections of this travel guide.
Piazza Santo Stefano & Basilica
The picturesque Piazza Santo Stefano (also known as the Piazza delle Sette Chiese) is one of the most beautiful squares in Bologna's old town. In addition to the beautiful facades of the Renaissance palaces, the basilica of the same name, Santo Stefano, attracts everyone's attention.
Our tip: It is definitely worthwhile to also check out the Basilica of Santo Stefano. Strictly speaking, this is a church complex made up of several buildings and cloisters. There is another little treasure to be found around every corner. In addition, entry is completely free – very highly recommend!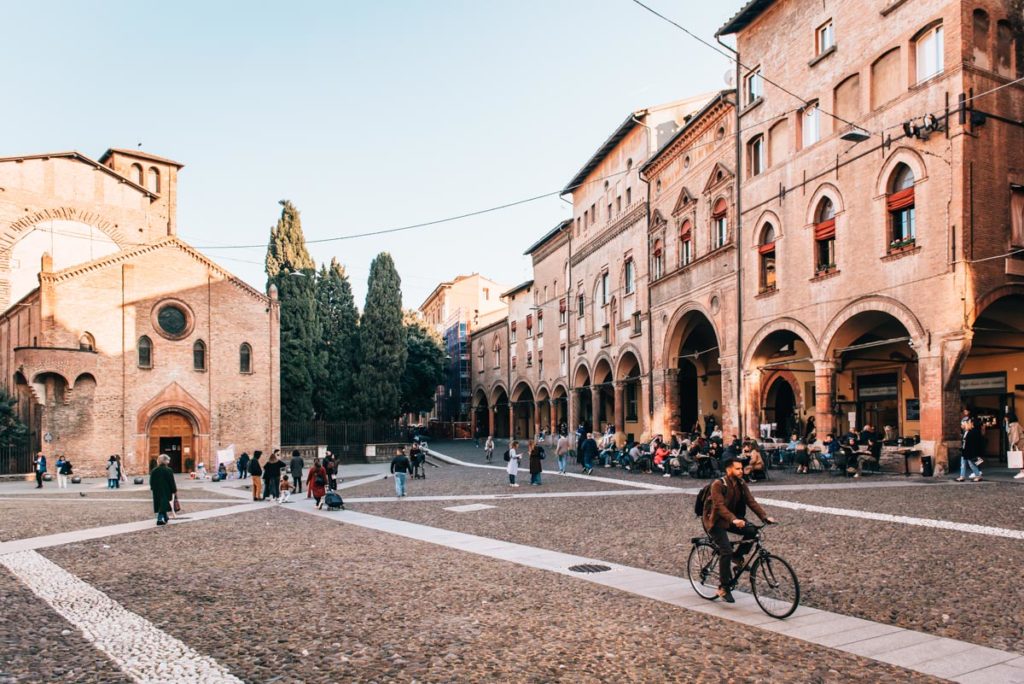 Little Venice
A little touch of Venice can be found to the north of Bologna's city centre. There you will find the remnants of a once fairly extensive canal system in Bologna. (We are deliberately using the term "remnants" here, so we don't create any false expectations.)
You get the most famous "Venice view" from the Via Piella. There you will find a small, unassuming window behind which the iconic view called "Finestrella" is hidden.
Admittedly: The view of the Canale di Reno is really quite picturesque. Although, this attraction is not overly spectacular. Our conclusion: You could do it, but you don't have to.
Santuario della Madonna di San Luca
The pilgrimage church, Santuario della Madonna di San Luca, is enthroned on an approximately 300-metre-high hill, southwest of Bologna's city centre.
The church is most famous for the San Luca arcade. It begins in the centre of Bologna at the old city gates of Porta Saragozza and stretches itself over a length of 4 kilometres from there up to the church.
If you are feeling sporty, you can make your way up on foot. Many (including us) opt for the easy option and take a bus up to the top or drive their vehicle up.
Overview of info for visiting the della Madonna di San Luca
Entrance: Free, 5 euros for the panorama terrace on the roof of the church
Getting there: Either on foot (via the 4-kilometre-long arcade), by car (parking spots are close by), on the tourist San Luca Express slow train (from the Piazza Maggiore) or on the public bus. (If you want to go directly to the church take the bus no. 20 & 58. Alternatively, you can also take the bus no. 20 to Arco Del Meloncello and enter the arcade from there.)
Further info: Santuario della Madonna di San Luca (official website)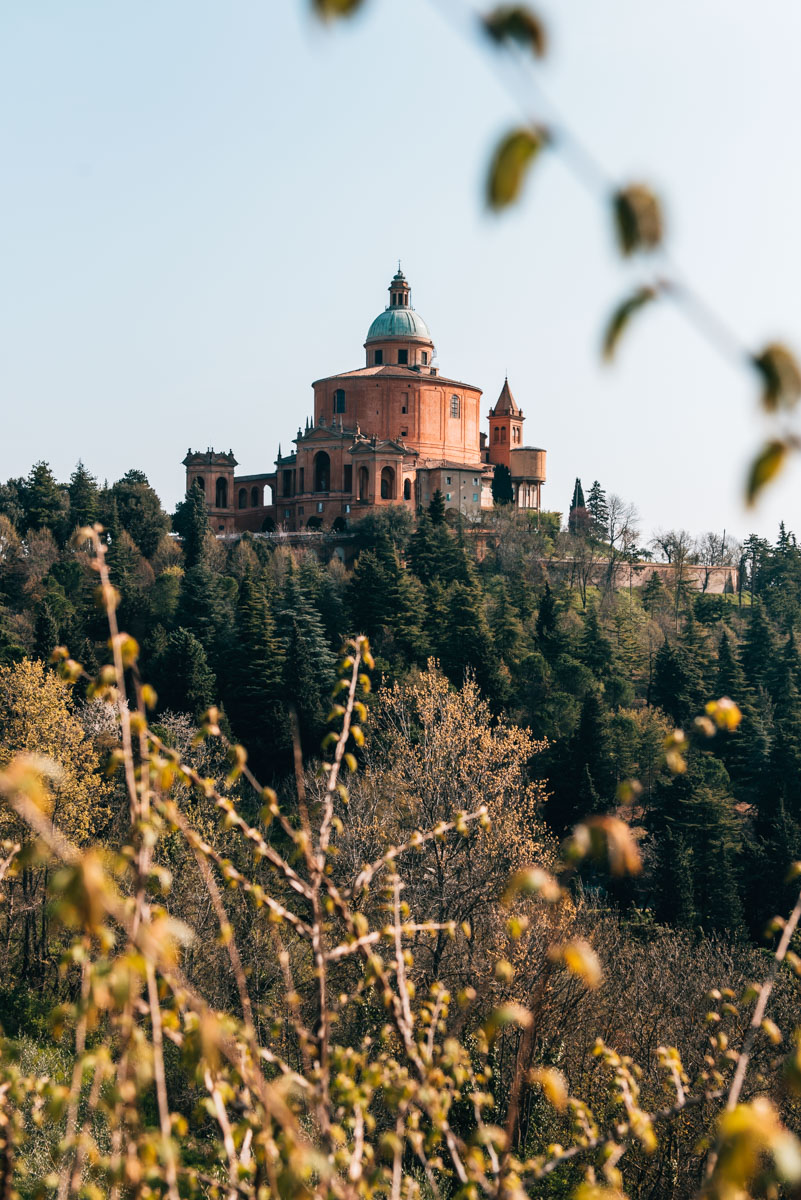 3. Eating & drinking: Culinary travel guide for Bologna
Bologna = a culinary paradise! So many well-known Italian specialties are from Bologna or the surrounding area. Before we reveal our culinary tips, here are a few more useful points to note for your trip.
Locals like to drink their espresso (which is always just called a "caffè") while standing at the bar. It is also cheaper this way than if you take a seat in the restaurant.
Nothing symbolises the Italian lifestyle for us more than an aperitivo. It is kind of like Italy's after work drinks, only that it's really celebrated here. Your drink (Aperol Spritz!) comes with a lot of free appetisers.
They usually charge a "coperto" in Italy, a kind of table service fee. Some bread is usually included in this. Coperto is not a tip, but you can give a little less of a tip when coperto is included. However, rounding up like we do is not common. You leave two euros on the table instead.
Regional specialties
Tortellini: You read right: Tortellini comes from Bologna. The culinary classic is everywhere in the city. They are traditionally eaten "in brodo", so in a clear soup, although of course it is also served with diverse sauces in all the restaurants. You can also buy fresh tortellini in many stores in Bologna to take home. (Caution: Must be chilled and usually consumed within two days.)
Al ragù: Every pasta sauce that we call "Bolognese" is actually called "al ragù" and comes from Bologna. Here it is served with Tagliatelle (and not with spaghetti!)
Mortadella: The famous Italian sausage also comes from Bologna. You can't tempt us with them, but if you want to try them, Bologna is the best place to be. The small store "Mò Mortadella Lab" is very popular for a snack to get you through, where you can get Mortadella paninis to go.
Tips for cafés & restaurants
Caffè Terzi: The absolute perfect café for a short coffee break. It is best to do as the locals do and enjoy an espresso right at the counter. It is cheaper and more authentic. Add in a cornetto – delicious!
Cremeria Santo Stefano: The best ice cream that we have eaten in a long time! There have the classic flavours as well as unusual flavours. It tastes fantastic and the ice cream parlour is also beautiful to look at.
Sfoglia Rina: A variety of Tortellini are served in this very popular, centrally located, pasta place. (You can also purchase pasta here to take away.) Perfect for a quick lunch, although sometimes you need to wait for a table at peak times.
Botanica Lab Cucina: This rather hip restaurant exclusively serves vegan meals. So if you have had enough of Pasta al Pomodoro, you are in good hands here.
Trattoria di Via Serra: Very popular Trattoria. Its value for money has even been recognised by Michelin. Reservations recommended.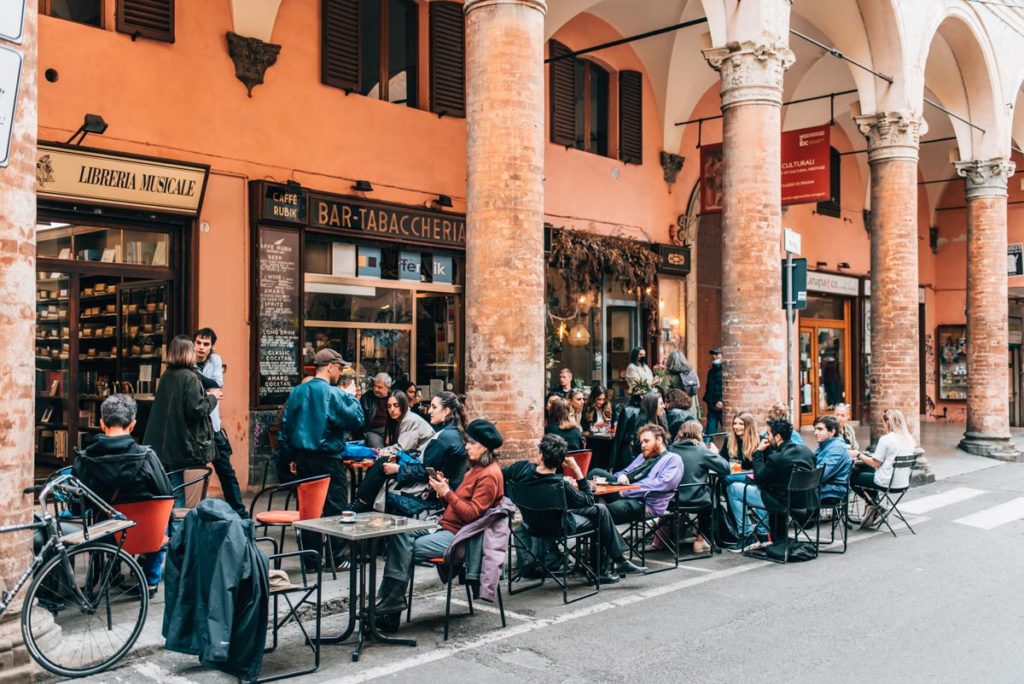 4. Our hotel tip for Bologna
We stayed in Aemilia Hotel Bologna, which we can highly recommend. A modern city hotel awaits you here with comfortable rooms and a really great rooftop terrace – includes a view of Bologna from afar.
The hotel is located in a quiet area, around a 15-minute walk away from Bologna's historic centre. The parking garage right under the hotel is very practical. Perfect for anyone arriving by car and wants to save themselves the hassle of searching for a parking spot.
The rooms are a pleasant size and very comfortably furnished. We opted for the deluxe double room category and with that you get to enjoy a lovely view towards Bologna.
The breakfast is (like in most places in Italy) nothing special, but there are enough choices and delicious croissants. The rooftop terrace is a highlight. There you can enjoy the wonderful evening hours at sunset.
Our conclusion: Even though the hotel is significantly larger and less personal than expected, we felt very comfortable. The location is very practical (especially when arriving by car). We would come again!
You can book the hotel here: Aemilia Hotel Bologna
5. Getting there & transport while there
Getting there: How do I get to Bologna?
Bologna is located in north Italy, more precisely in the Emilia-Romagna region. So getting there by car is an option if you are coming from Austria or Germany. It is around 7.5 hours from Vienna and a good 6 hours from Munich.
You should definitely organise a parking spot in advance. Also keep in mind that the toll fees are not so cheap in Italy. There is no vignette, you pay per section (with card or cash).
A little less stressful (but longer) is travelling there by train. There are countless direct connections with towns in the German-speaking area. The train station is located not far from the old town.
Last but not least, Bologna also has an airport, which is conveniently located close to the city. There are direct flights from several cities in Austria and Germany including Vienna, Berlin or Munich.
You can search for cheap flights here: Skyscanner
How do I get from A to B in Bologna?
The vast majority of sights in Bologna can be reached on foot. So, the main mode of transport for a getting around the city is your own two feet.
There are countless bus lines for public transport. These are not so important for tourist purposes though. Für touristische Zwecke sind diese aber eher nicht von Bedeutung. You could use the bus for your trip to Santuario della Madonna di San Luca (but you don't have to).
6. Map: Overview of all sights & travel tips
To better orientate yourself, you will find all of Bologna's main sights and highlights at a glance on this map. Our tip: Simply click the top right corner to open the map in the Google Maps app on your smartphone. Then you can easily navigate your way from A to B in Bologna.
---
Disclaimer: Affiliate Links
This travel guide contains our personal recommendations in the form of affiliate links. If you book or buy something through the links, we receive a small commission. This does not change the price for you at all. A million thanks from the both of us!
Have you already been to Bologna? How did you like the city? Which sights can you recommend? We would love for you to let us know your tips below this travel guide.