Welcome to Morocco – the land of spectacular nature & oriental flair! Seeing as Morocco is larger than Germany in terms of area – it certainly wasn't easy to put together our ideal travel itinerary.
Are you planning on a road trip through Morocco soon and on the scout for the perfect itinerary? In this blog article, we share our travel route with all our destination stops. It leads from Marrakesh over the Atlas Mountains and spectacular gorges into the desert and on to Fès – bringing you all the highlights that can be seen in Morocco. This road trip itinerary has a great mix of beautiful cities and spectacular nature.
In this article, we also packed some useful tips for planning, as well as a map with the most important places so that you can prepare your best Morocco road trip!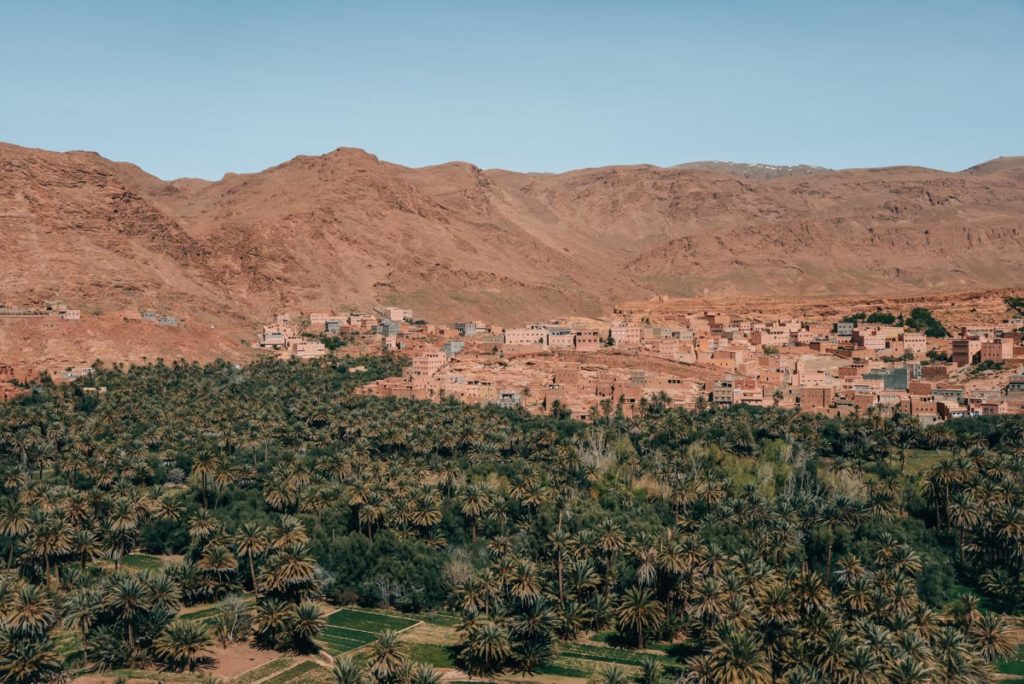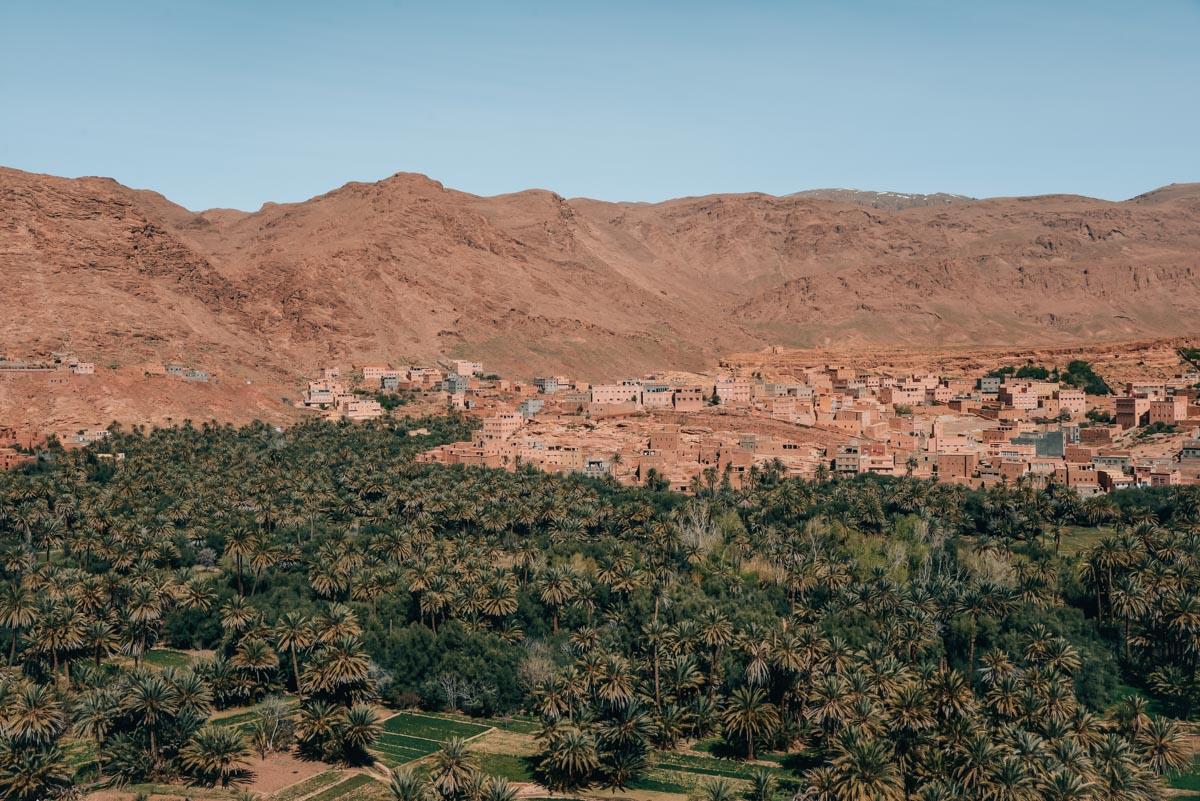 1. Our Morocco Itinerary: All Destinations and Highlights
1. Marrakech
Marrakech is the perfect first stop on a Morocco road trip. Why? First of all, one of the largest airports in the country is located here. Marrakech is also very touristy – even more touristy than we would have expected, which makes easing into the culture of the country a bit easier. For example, there are some great accommodation options and restaurants in Marrakech.
The heart of Marrakech is the crazy main square called Djemaa el Fna. We have never seen anything like it. And then of course there is the medina with its magnificent palaces and souks (markets). Not to forget the gardens, especially the Jardin Majorelle and André Hellers Anima.
We stayed in Marrakech for three nights. During this period you can get a good insight into the city. If you are traveling with a rental car (more on this later in the article), we would recommend you pick up your car on the day you intend to start your road trip. This saves you the unnecessary, nerve-wracking drive through the Old Town traffic.
Detailed blog article: Marrakech Tips
Our accommodation tips: Riad dar Karma (boutique riad), La Sultana (luxury hotel)
Recommended stay: 3 nights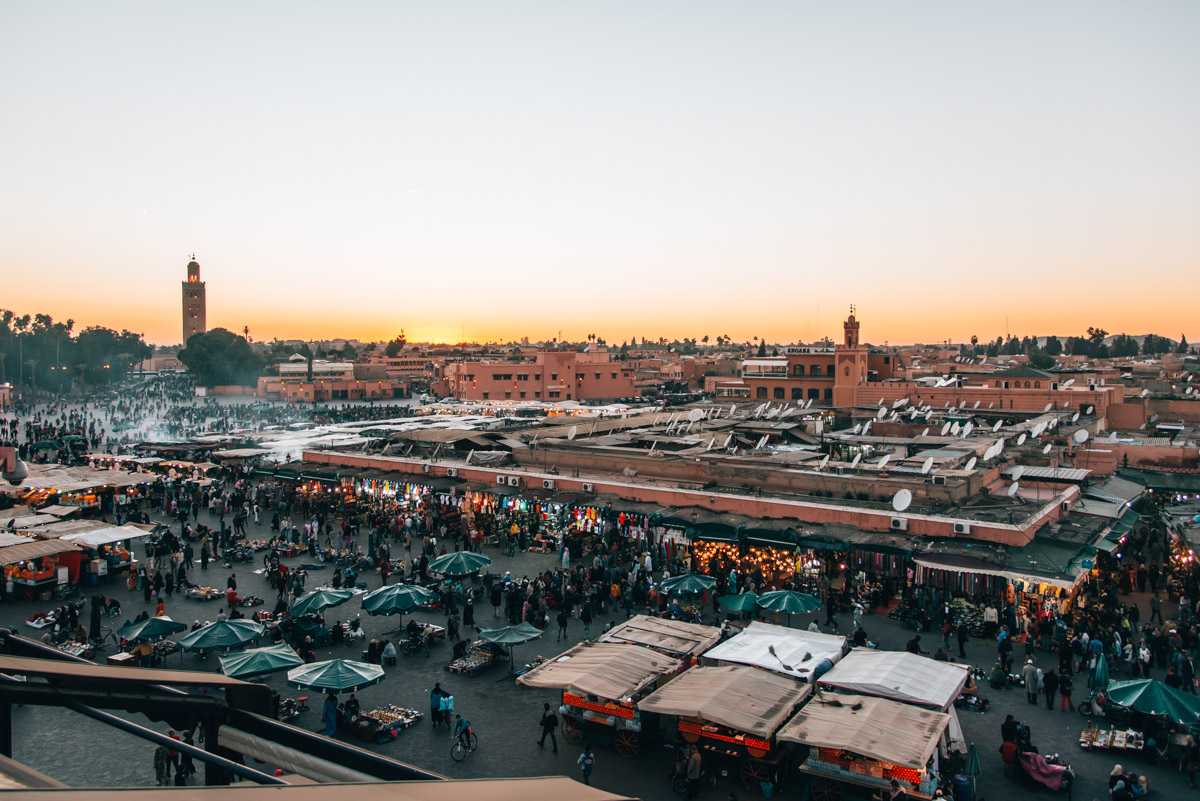 2. Ait Ben Haddou
From Marrakesh you can take the N9 road towards the Atlas Mountains. Our route leads over the impressive Tizi n'Tichka pass to Ait Ben Haddou – the famous clay city.
The road is curvy, but completely paved and therefore easy to drive on. It winds its way up until you reach the Tizi n'Tichka pass at an altitude of 2260 meters. Then it goes downhill again towards Ait Ben Haddou, where you have two options. Either you continue on the N9 (what we did) or you can branch off towards Telouet. This route is apparently bumpier than the main one, but nowadays, it's said that the route is easier to navigate and also a little more impressive in terms of landscape.
We needed about 5 hours for this stretch – including many photo breaks. The nature here is really spectacular and we would recommend that you plan enough time to enjoy the scenery too.
Ait Ben Haddou is one of the most famous photo points in Morocco and is actually a kasbah – fortified city made of clay. Perched on a hill, this clay structure is a prominent sight in the middle of the barren landscape. The Ait Ben Haddou is not only a UNESCO World Heritage Site, but also a film set for countless Hollywood productions.
Depending on how much time you have available on the day of your arrival, you can either visit Ait Ben Haddou immediately or the next morning (which we did). You should take a few hours to enjoy a walk through Ait Ben Haddou.
Our accommodation tip: Riad Caravane
Recommended stay: 1 night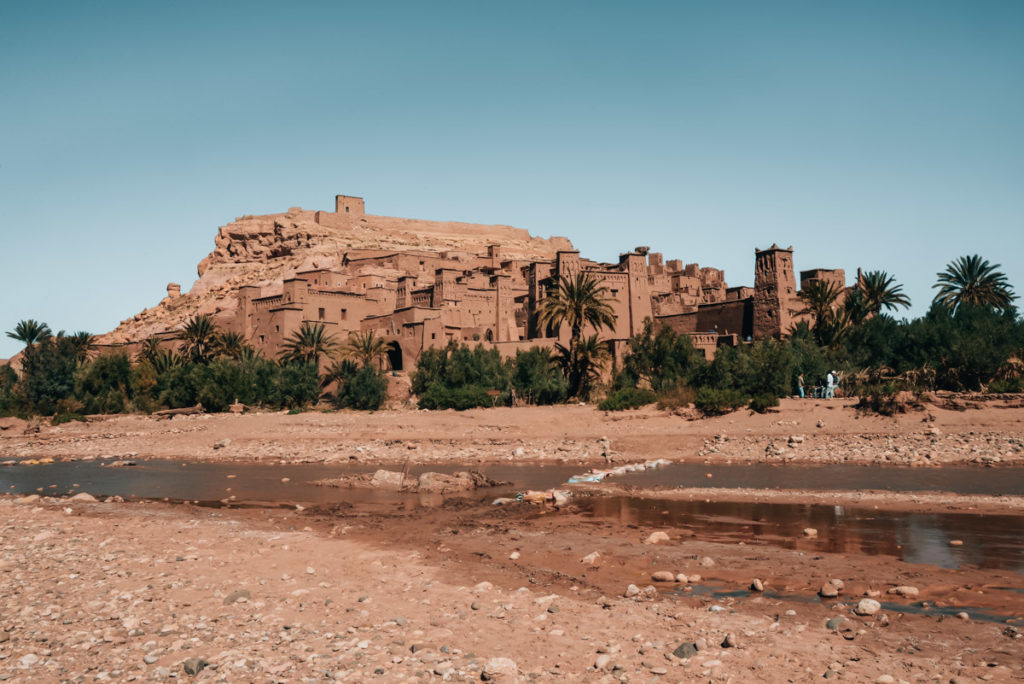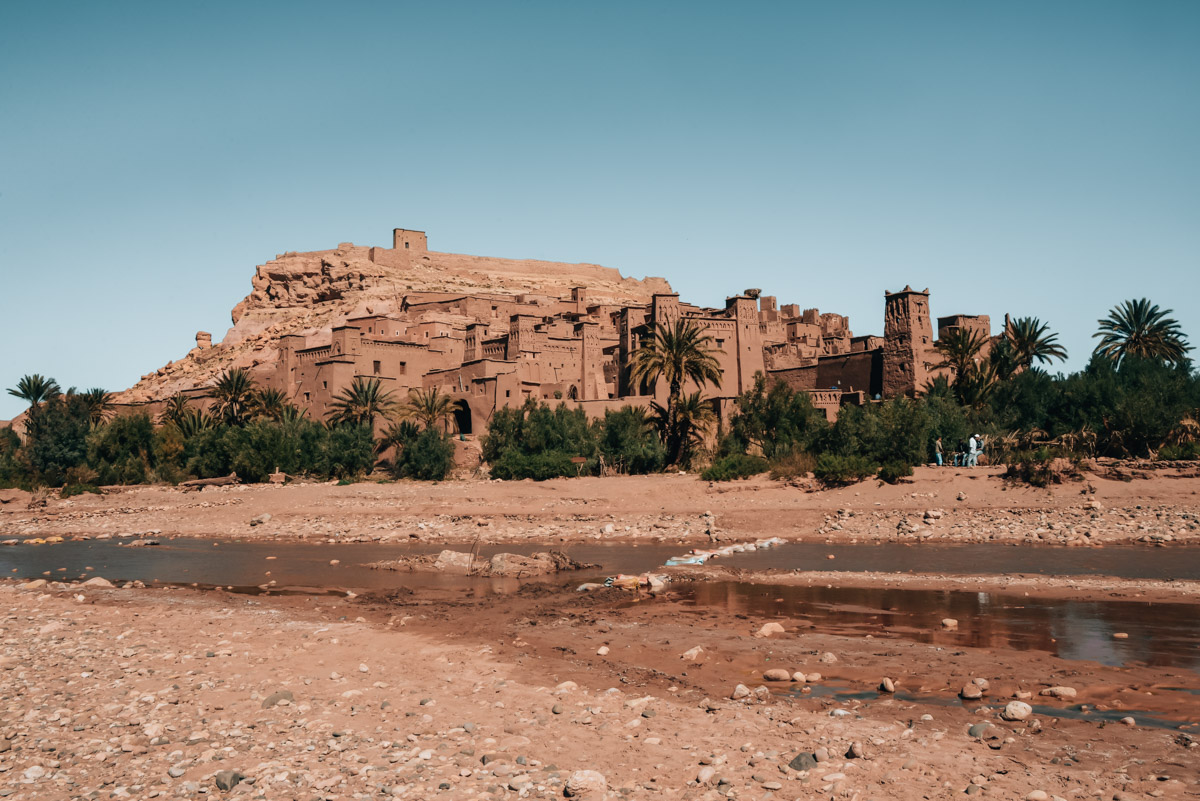 3. Dadès Gorge
The next stage of the road trip leads from Ait Ben Haddou to the spectacular Dadestal (Gorges du Dadès). The Dades river has dug a gigantic gorge here, which is mostly accessible by car.
Our first stop is in the small town of Ouarzazate. The Kasbah Taourirt is also located there – and while you can't quite compare this with Ait Ben Haddou, it's still worth a short photo break.
The route continues onwards to Skoura, a small town known for its huge palm oasis. At Boumalne du Dadès you branch off northwards. This is where the actual Dades Gorge starts. The route is incredibly spectacular and you will be stopping constantly to take pictures.
The most famous section of the Dades Gorge is at the 26th Kilometre – where the road starts to wind upwards in hairpin bends. Once at the top, there is a small lookout point waiting for you – offering one of the most famous and iconic photo spots in the region. The last section of the day's journey is just a few kilometres from here: the accommodation – Auberge Chez Pierre. All in all, it took us about 5 hours to cover the Ait Ben Haddou route, including all the breaks along the way.
Our accommodation tip: Auberge Chez Pierre
Recommended stay: 1 night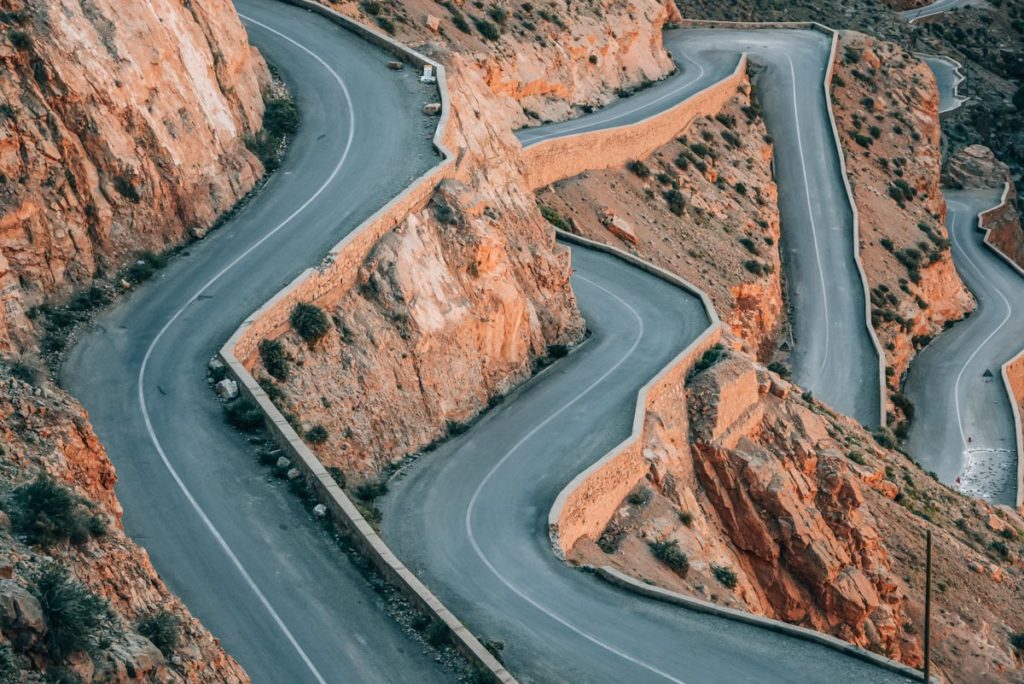 4. Via the Todra Gorge to Merzouga (Desert)
The road trip route then takes you from the Dades Gorge to Tinghir. Definitely worth a stop here to marvel at the beautiful oasis – even if just briefly. In Tinghir, the road branches north into the famous Todra Gorge.
The Todra Gorge is just as spectacular as the Dades Gorge. However, because the Todra Gorge is closer to the main connection between Marrakesh and the desert, there are significantly more buses here.
One of the best-known photo opportunities can be found at the beginning of the gorge – you cannot miss the almost vertically sloping, reddish cliffs that look almost threatening. We strongly recommend you to go further into the gorge. We kept driving on until a river finally crossed our path and signalled a dead end. On the other hand, you can always get out and explore the landscape on foot too.
The longest part of the day is still yet to come: From the Todra Gorge, we will then return via Tinghir to Merzouga. Merzouga is a tiny place right on the edge of the desert. From here you even have a direct view of the dunes – an incredibly beautiful sight!
Our tip: Make sure you arrive with plenty of time to enjoy a stunning sunset in the desert!
Our accommodation tip: Riad Madu
Recommended stay: 1-2 nights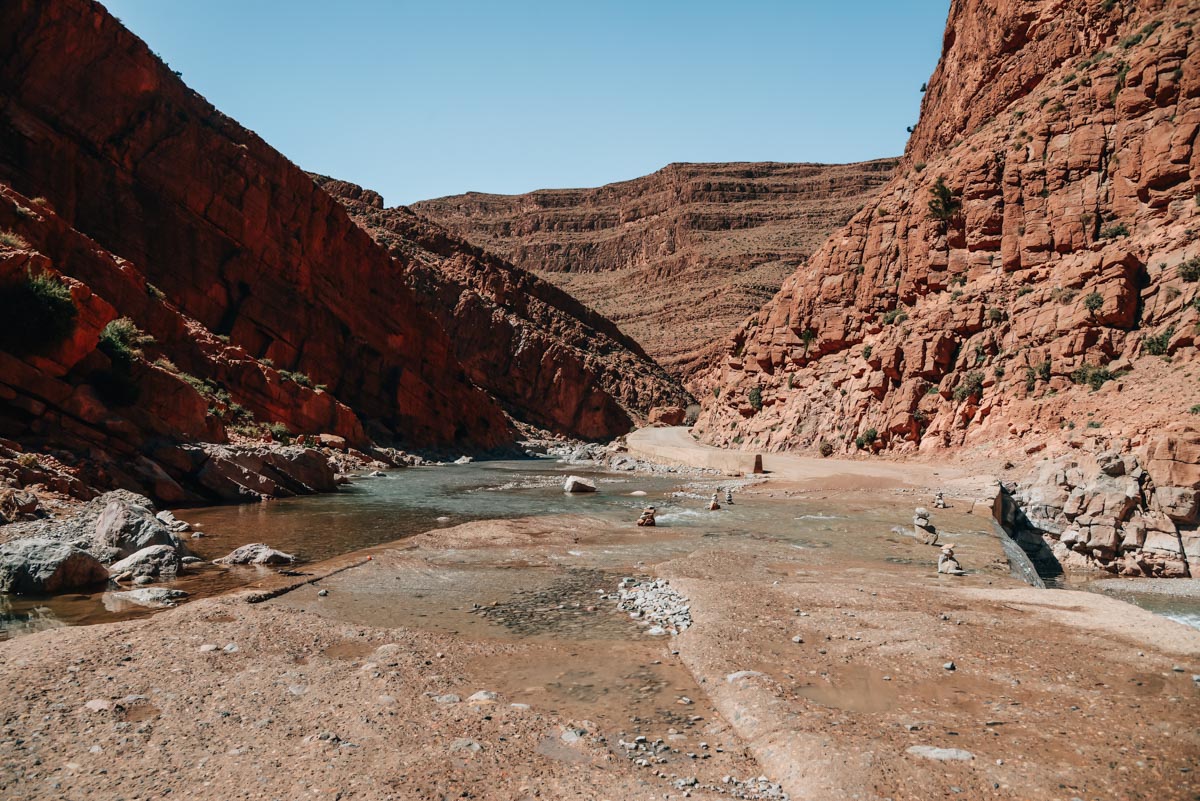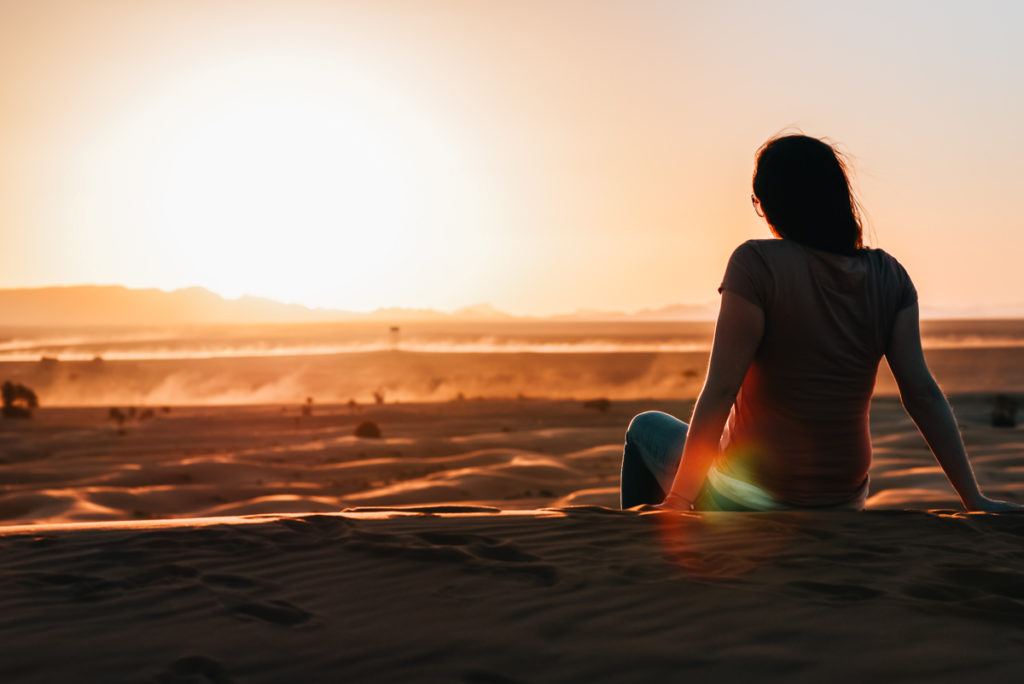 5. Midelt
The route then leads you out from the desert and north-bound towards Fez. Since the entire route was too long for us, at an estimated driving time of over 7 hours – we made the most of the impressive nature here in this region and decided to stop over and stay a night in the small town of Midelt, which is located around the halfway-point.
The landscape between Errachidia and Midelt offered one of the most impressive sceneries in Morocco. We couldn't help ourselves and took dozens of photo stops – thus only reaching Midelt after about 5 hours. Midelt itself is a rather unspectacular place. It has a very nice promenade, but that's about it.
Our accommodation tip: Riad Villa Midelt
Recommended stay: 1 night or directly to Fez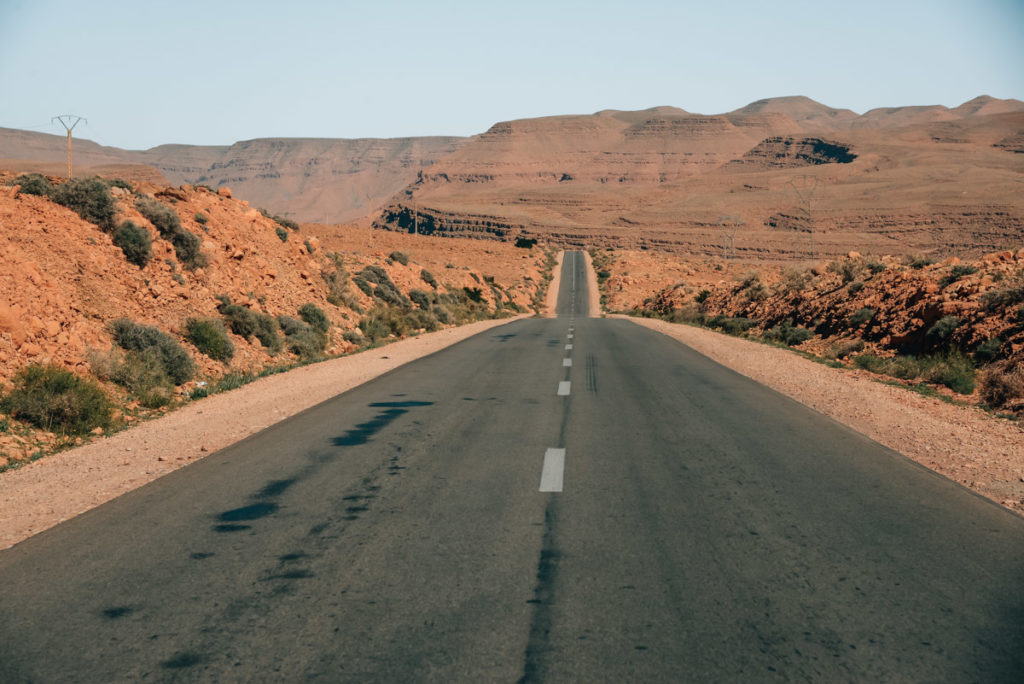 6. Fez
The next stop on our itinerary is one of the most popular highlights in Morocco: Fez. You can reach the Old Royal City from Midelt after a good 3 hours drive. If the tourist city of Marrakesh left you a little disappointed – Fez will make up for it!
The medina (the old town) of Fez is the oldest and largest in Morocco. It's practically impossible not to get lost, so why not just let in and go with the flow. The medina is like a labyrinth and the alleys are sometimes so narrow that even two people can barely fit walking side by side.
In Fez, you can expect a pure sensory overload – especially at the famous tanneries. These are located in the middle of the medina, where they still carry out ancient practices of tanning leather by hand – the stench is unbearable. But there are also many gems waiting for you in the medina, including the Medersa Attarine, a 14th-century Koran school.
Fez is one of the most impressive and exciting travel destinations in all of Morocco. We highly recommend that you stop here on your trip. On top of that, the Karawan Riad was just the most magnificent Riad on our entire trip through Morocco.
Further blog article: Fez Tips
Our accommodation tip: Karawan Riad
Recommended stay: 2-3 nights
7. Casablanca
Casablanca is the last stop of our itinerary, since it is home to the largest airport in Morocco. But to be blatantly honest: Casablanca was our least favourite of all the places we visited in Morocco. This industrial city has little flair and unfortunately we struggled to find anything beautiful about it.
However, that being said – one of the most impressive buildings in all of Morocco is located in Casablanca: the Hassan II Mosque. Not only is it one of the largest mosques in the world, the minaret of the mosque is also the second tallest in the world. The enormous size of this mosque is a sight to behold and we would say that the sight of this monument alone, is worth a stop in Casablanca.
Further blog article: Casablanca Tips
Our accommodation tip: Barcelo Anfa Casablanca
Recommended stay: 1 night
2. Map: Morocco Travel Route Overview
To help give you a better overview of the itinerary, we have drawn our travel route on this map. As you can see, we landed in and flew out from in different places – however, it's also not a problem if you decide (e.g. for price reasons) to take a return flight to Casablanca or Marrakesh.
3. Road trip in Morocco: Extra Tips
With the rental car through Morocco: Our experiences
We highly recommend that you travel around Morocco by rental car. It gives you so much more flexibility and you can make as many photo stops as you like! Many people think that driving a car is unsafe – but don't worry, there is actually very little traffic on the streets and we've personally had no negative experiences. You definitely will not regret it.
As always, we booked our car through Sunny Cars, who act as a middle-man between you and the local car rental company. This means that after you book, you will then be assigned a local rental car company. One of the best and most reassuring policies by Sunny Cars, is that in the event of damage, you will have the deductible refunded to you.
Here you can search for cheap rental cars (fully comprehensive): Sunny Cars
Perhaps you're wondering what the traffic is like in Morocco, whether you need an international driver's license and what other important things you need to consider? You can get answers to all of these questions in our detailed Morocco Travel Guide.
In-depth blog article: Morocco Travel Guide
Travel guide for Morocco
Are you looking for a printed hard-copy travel guide? Then we can highly recommend The Rough Guide travel guide. The Rough Guide travel guides are known for their detailed and well researched information.
The new edition of The Rough Guide's Morocco travel guide was published in 2019 and is therefore quite up to date. Our verdict? It's perfect for all those travelling on their own!
You can take a look at the guide here: The Rough Guide Morocco
---
Disclaimer: Affiliate Links
This blog article contains our personal recommendations in the form of affiliate links. If you book or buy something through these links, then we will receive a small commission. This will not change the prices for you at all. A million thanks from the both of us!
Have you ever taken a road trip through Morocco? What was your itinerary like? Feel free to leave us a comment. We look forward to reading your additional tips and experiences!
Merken
Merken