"Hi, we are Kathi and Romeo. Free spirited Wanderers and Freelancers."
We are so glad that you have landed here and we want to share a bit about ourselves so you get a better feel for who we are and what we stand for.
It's been roughly seven years now, since the day we decided that we wanted to explore and discover more of this beautiful world together. The "Book now" button stared at us and we clicked – without having the slightest idea of where this would lead us.
The spontaneity of our action was what gave rise to this travel blog, which nowadays, is one of the most successful in Austria.
Sommertage: Our Personal Travel Blog
On our travel blog, we share with you our passion for travelling and photography. Both adventures from afar and those right on our doorstep. What exactly does that mean?
We bring to you the most beautiful places and countries in this world: from Myanmar to New Zealand; from Mexico to our home in Austria, and so much more.
We provide you with our best travel tips. Tried and tested, so you can rest assured.
We pride ourselves on presenting our most honest opinions in our travel reports and guides. This means of course, that not everything is perfect and we share both the positives and negatives to give you the best and most realistic representation of these destinations.
We also create travel videos, in which we take you along with us on our journey.
Important Disclaimer: We only ever share our most honest opinions with you and this also applies to the various partnerships we have with brands and corporations. Which means that for us, sponsorship does not always equate to positive reviews, but rather open and honest ones.
And before you ask, we are not backpackers, neither are we flash packers or glampers. We wouldn't want to restrict ourselves to only one style of travelling. We are who we are – free spirited individual travellers. And you are you. Therefore, what may be best for us, may not be the case for you. That's good though! We want you to get the most out of your journey so we definitely don't want to impose our travel style onto anyone. Through our Travel Blog, we hope to show you how it's possible to integrate periods of travel into your life.


FAQ: Your Questions – Our Responses
In almost seven years as travel bloggers, we have collated some of the most relevant and frequently asked questions, which we would like to answer for you here.
"Why is your blog called Sommertage?"
Sommertage in German, translates to Summer Days in English. On our first big trip together (which was exactly seven years ago), we were travelling exclusively to hot/tropical regions. Since every day was a summer day, this gave rise to the name: Sommertage.
"So what do you do in winter then?"
Well then, we escape to other parts of the world where it's summer over there! But at the heart of it all, summer days is our personal metaphor for optimism, the seek for exhilaration and for freedom – because that's what travel is to us.
Therefore, it exists for us in the mind no matter where we are. So we do not only travel to warm tropical places, we are also very passionate about various winter sports and derive much joy from the sight of snow-capped mountains.
"Do you always travel in pairs?"
Yes, we often get this question as well. In most cases, we travel in pairs. Why? We like to share our emotions, the positives and the negatives. In addition, we can capture the moments much better travelling as a pair, whether it be a photo, video or simply a memory.
"What camera do you use?"
One of the most frequently asked questions ever. We photograph 99.9% of the time with our Nikon D750. In this case, when we say 'we', it's mostly Romeo. He is responsible for most of the beautiful photos you see.
"Do you also spend much time at home in Vienna?"
Yes, more often than you might think. Even if, on the outside, it looks as if we are constantly travelling around the world, we spend countless days in front of the laptop. Sounds… not so glamorous? But that's the reality and for us, it's so worth it because we love what we do and we love sharing it with you guys.
"Do you make a living off your blog?"
We are self-employed and our blog is just one source of income for us. Part of our income is derived through affiliate marketing, which means that we recommend accommodation, tours or products in our articles and receive a small commission in return if you use our links. In addition, we also partner up with selected companies on occasion. Apart from that, we both have a second job: Kathi works as a freelance copywriter, Romeo as a freelance journalist.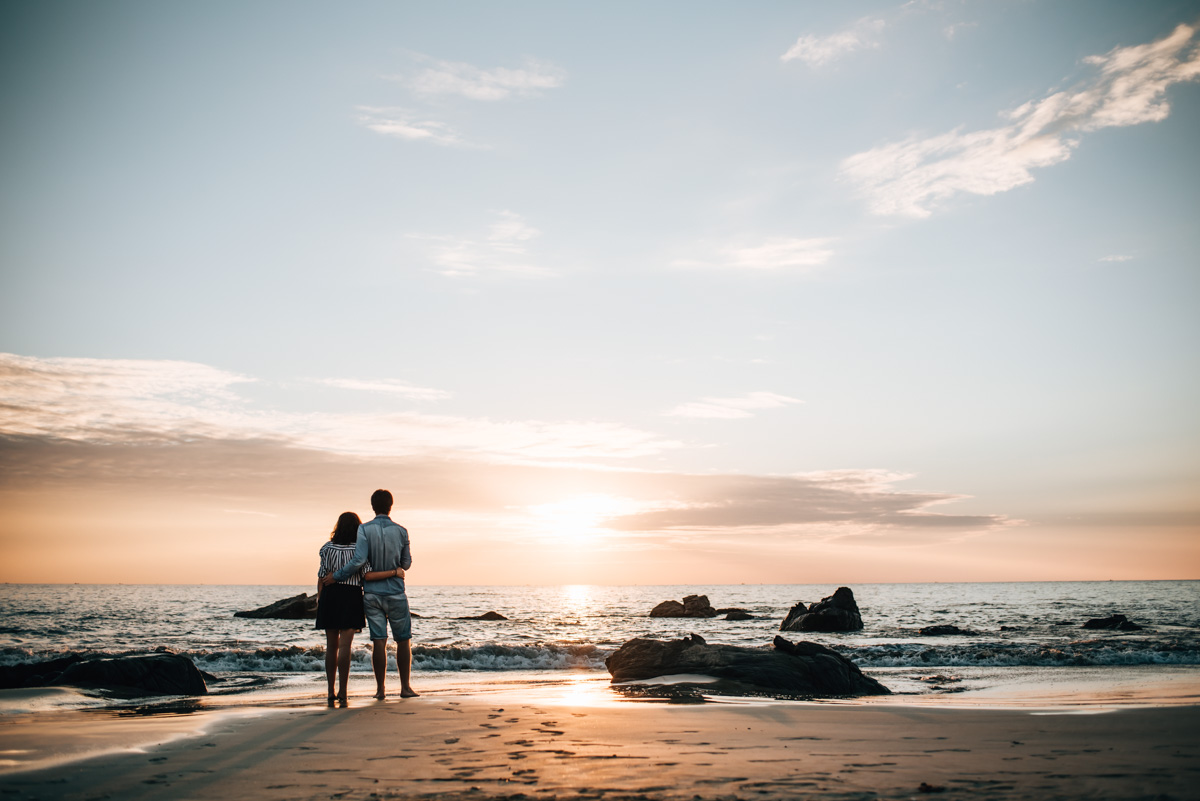 Fun Facts About Us
Romeo
Kathi about Romeo: "Calm, laid back, optimist, individualist and tomato hater. Romeo is the one with the worst orientation in the world and the one who certainly never has a city map with him. Sarcasm is his middle name. I do not know anybody who hugs people with such joy, nor anybody more lovable."
What Romeo has to say: "I agree on all points, but that about my orientation simply doesn't sit well with me. Plus, I only hate tomatoes in their original form – as ketchup they are fantastic."
Kathi
Romeo about Kathi: "Constantly in search of the unique. Perfectionist and scaredy cat. But pushing in the right direction does wonders. If something goes the way she intended, she can hardly keep up with her energy and enthusiasm. If not, then it all comes tumbling down… big time."
What Kathi has to say: "Yes, yes and yes. If I may also add: I'm a huge caffeine lover and true representation of my star sign (Cancer). I also like the Beatsteaks, yoga and reflective people. Intolerance does not mesh well with me."
The Long Version of Our Story (For Those Interested)
Nine years ago, we sat in the same seminar at university. (Before anyone asks: It was Kathi who made the first move.) Ever since, we have been going through life together. We are so similar and yet so different. But on occasions when it really matters, we complement each other perfectly. Our apartment is our oasis, our little tranquil haven on the outskirts of Vienna and in close proximity to beautiful nature.
On sunny days, we love our long strolls through the Lainzer Tiergarten. It's the best feeling when we see wild boars cross our paths. Oh and the Naschmarkt, we love that place. Above all, we love to eat falafels and hummus. Scratch that, we love food in general. This means cooking as well. But above all, what we love most is travelling.
Seven years ago, we set out and went travelling together. In five months we explored New Zealand and Southeast Asia. We swam in the sea with turtles, observed seals and penguins up close. We had a water fight with children in Cambodia, celebrated Songkran in Thailand, climbed volcanoes and glaciers, looked down from the tallest building in the world, we celebrated, laughed, and lived. In short, we had a blast.
And then?
Well, first we came back to Vienna, with a backpack full of memories. And then… no plans. We became restless. Disoriented. We dove into the normal work life. But even before signing the contracts, we knew it would not last.
It's been three years since everything changed drastically for us. Since then we create our own schedule for every day. When we are not on the road, our days are rather unexciting. These non-eventful days consist of sitting in front of the laptop, writing, researching, brainstorming, and drinking copious amounts of coffee. For us, there is no typical weekend, nor do we really have a Sunday (as Romeo works as a journalist on Sundays). But that's okay. For us, this trade-off is worth it.
Why? Because we can choose to travel as often as we like, and usually we like to go to faraway places. Like Mexico. Or Indonesia. Sometimes we stay in Europe, we explore France, Portugal or our neighbouring country, Germany. And sometimes, when we are itching for adventure but cannot go away for too long, then we discover our own beautiful country, Austria. There is beauty to be seen and discovered no matter where in the world you are, you simply have to seek it. That's why we've been writing more about our hometown, Vienna recently. That's the nice thing about travelling: you learn to appreciate the little things, you become more minimalistic and more mindful as a result.
We would love to have you follow us along on our travels. It seems you are interested in our blog and what we do, otherwise you would not have read this far – so thank you for that and for your support! We want to share our travels and be a source of inspiration for you.
If you would like to know more, please don't hesitate to write to us at: info @ sommertage.com. We look forward to hearing from you!
All the best,
Kathi & Romeo