Seville – the perfect Andalusian flair. We daresay that a trip to Andalusia without visiting the capital of Seville would be incomplete. This city has so much character, so much history, and so much spark for life that we were left speechless on more than one occasion.
In the eyes of many, Seville is the most beautiful city in Spain. In this blog article, we will share with you what makes Sevilla so special and introduce you to the most beautiful sights and highlights in Seville – and, of course, our personal tips. Ready for a hit of the Andalusian flair? Here we go!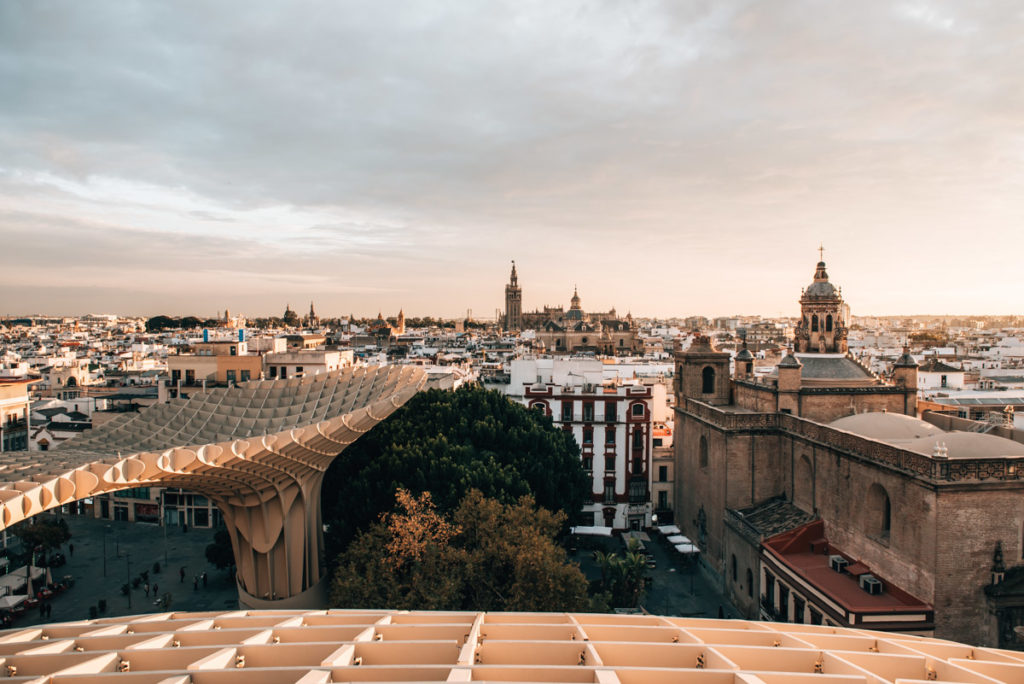 1. Sevilla: Interesting Facts & What to Expect
We have visited many Spanish cities but Seville has a very special vibe and character, which makes it stand out from many other cities. Seville is impressive, magnificent, lively and hot. Apparently in the summer months, the temperature often rises to over 40 degrees Celsius!
On a trip to Seville, you can look forward to countless sights – and we mean higher than the average number. Some of the most outstanding being the gigantic Cathedral and the Alcázar of Seville – which we will tell you all about in our Seville: Sights and Highlights section in this article.)
Seville is also a university city, meaning that there is a very young, buzzy vibe in contrast to all of the history and old buildings. There are countless bars and many hip cafes around the city.
How much time should I plan for Seville?
We ourselves stayed in Seville for three nights. While we had enough time to visit the most important sights, we would have personally preferred to stay longer. Since we also got a rainy day, we did find it a bit of a tight squeeze to fit in all the sightseeing.
If you prefer to take it a little slower and your itinerary (or time) allows, we would suggest four nights in Seville. If you are super rushed, then minimum of two nights, but we would not recommend it. Honestly, there is an incredible amount to see and explore in Seville!
2. Seville Travel Guide: What to do and see
Explore the Old Town of Seville
Although many sights are located in the Old Town, we wanted to briefly share this part of the city to you separately. The Old Town of Seville is a charming labyrinth of streets in which you will most likely get lost in – which is not necessarily a bad thing!
In the Barrio de Santa Cruz (the former Jewish district), you'll find it particularly narrow and winding around here. Located in the heart of the Old Town, just east of the Cathedral and the Real Alcázar – the alleys here are sometimes uncannily narrow and reserved just for pedestrians.
Quaint tapas bars, bodegas and small shops are located in the streets and squares of the Barrio de Santa Cruz. The best thing is to just let yourself wander around – without a city map. Don't forget to look up once in a while to admire the flower-filled balconies.
Seville Cathedral
Seville Cathedral is an icon. In fact, it is the largest Gothic church in Spain and one of the largest in the world. And believe us when we say: once you stand in front of it yourself, you will find it hard to snap out of your amazement. The cathedral is incredibly impressive from the outside already.
But wait till you go inside! It just never stops continuing to impress you! If there's only one cathedral you should visit on your trip to Seville, let it be this one. (Oh and the Mezquita in Cordoba, which is definitely a must-see!). The size of this place is speechlessly enormous.
One of the highlights is climbing the bell tower called La Giralda. It was once the minaret of the mosque, hence the Moorish influence in architecture. The interesting thing about this tower is: instead of climbing stairs, you go up a total of 35, gently elevated ramps. One of the most famous views in Seville is waiting for you at the top.
Because there is a lot to see in the cathedral, we would recommend allowing at least 1.5 hours to explore. Our tip: Depending on the season, you want to get there as early as possible. We visited the cathedral at the end of November (i.e. in the off-season) during the afternoon and the Giralda bell tower in particular was very crowded.
Information about buying a ticket
The rush is enormous, especially in the high season. Therefore, we would strongly recommend that you buy your tickets online in advance during the busy months. You can easily do this on the official website of the Seville Cathedral. There are countless websites, which also sell tickets, but we would prefer to stay with the official site.
Official website: Sevilla Cathedral
Extra little tip: Since the ticket also applies to the Iglesia del Salvador, which is a little further away, you can also buy it there. The queues at Iglesia del Salvador are usually a lot shorter.
Price: 10 Euros (ticket valid for Cathedral, Giralda and the Iglesia del Salvador)
Opening times: can be found on the official website (see above)
Real Alcázar
The entrance to Real Alcázar, the second major highlight in Seville, is directly opposite the cathedral. The Real Alcázar is a palace complex consisting of countless courtyards and gardens. This characteristic Arabic-Christian mix of styles is called Mudéjar.
The Real Alcázar is incredibly impressive. The most famous photo motif is the Patio de las Doncellas with its magnificent arcades. We were also very impressed with the filigree, gold-coloured ceiling of the Salón de los Embajadores.
Even if the Real Alcázar looks a bit overwhelming at first, you can find your way around with the map that you receive at the entrance. All courtyards, rooms and gardens are numbered, so you can just start at 1 and then explore everything on your own step-by-step. We would allow at least two hours for the visit.
Good to know: As you can imagine, the Real Alcázar is extremely popular and always a little crowded. Sometimes you need a little patience if you want to take a good photo. In any case, prepare yourself for lots and lots of people.
Information about buying a ticket
There is a maximum capacity of around 750 people, which is why you sometimes have to wait for hours during the high season. Therefore, we recommend that you buy your tickets online in advance. Although, you might still have to wait a little while at the entrance, there is a separate queue for pre-purchased tickets and online ticket holders get priority.
You can purchase the tickets from the official website (more on that in a moment). In addition, there are many websites also offering tickets (some with options for guided tours). We bought our tickets on the official website without any problems.
The ordering process is a bit confusing (sometimes the page changes to Spanish), but it's really quite straightforward. For a "normal" tour, you should select the ticket named "Visita General" or "General Tour". (Don't be confused by the additional information "desde 1 Euro" (ie "from 1 Euro") – this is the price for the (almost) free entry for under 16 year olds and other people.
This regular ticket does not include a visit to the Cuarto Real Alto (the apartments of the royal family). The Cuarto Real Alto is only accessible on a guided tour. You can also book this ticket option on the official website.
Official website: Real Alcázar
Information about visiting the Real Alcázar
Price: 11.50 Euros (12.50 Euros if you buy your ticket online)
Opening times: October to March daily from 9:30 a.m to 5 p.m // April to September daily from 9:30 a.m to 7 p.m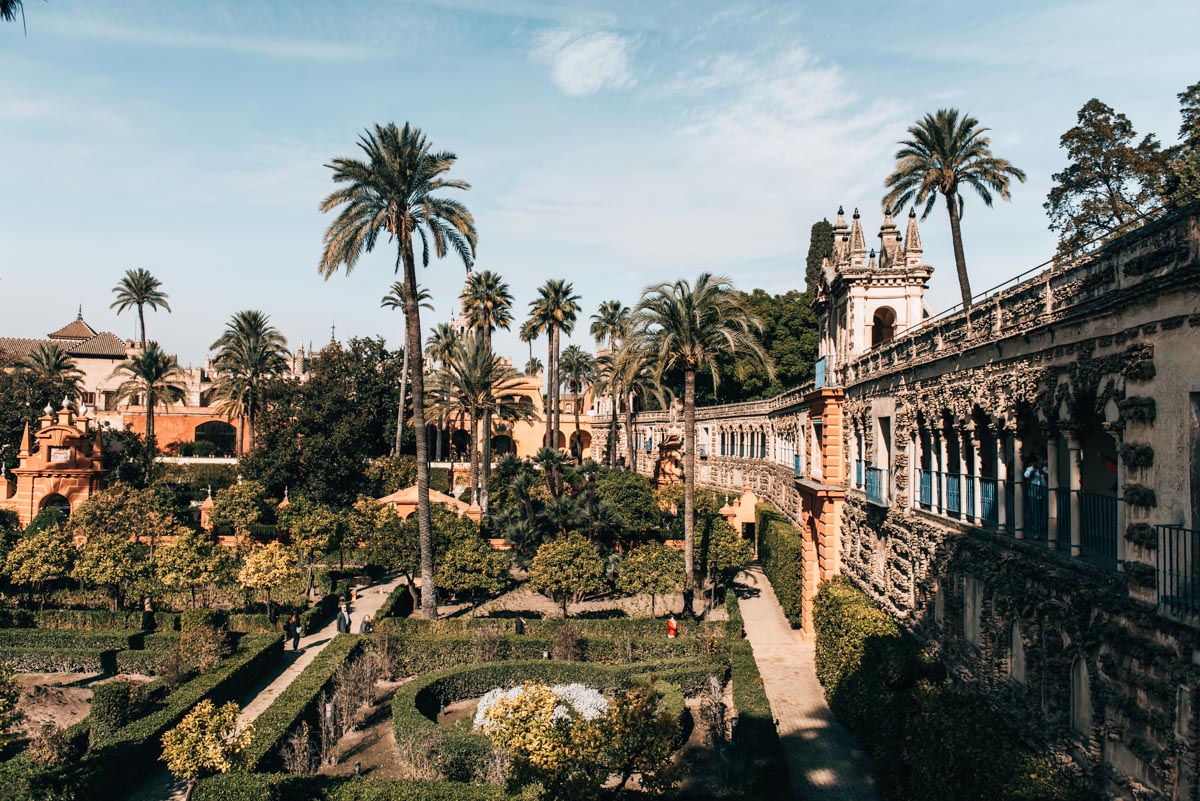 Plaza de España
Venice meets Andalusia! The Plaza de España with its water channels and bridges is simply a dream. The dimensions are enormous. We had read in advance that this place was huge – but we were still profoundly speechless.
We will cross our fingers for you that when you visit, there will be some talented street artists performing a few Spanish folk songs in front of the Azulejos. The nice gentleman in the photo actually gave us one of the most impressive performances in all of Andalusia – too good to be true and a very treasured memory of ours.
By the way: With a wink, the Plaza de España is also called the frying pan of Andalusia – because in the summer, the high temperatures make it rather unpleasant to endure the hottest part of the day. Therefore, an evening visit is often worthwhile, both during the hot season and in general. The Plaza de España is very beautifully illuminated at night.
University of Seville
On the way from the Old Town to Plaza España, you can make a stop at the University of Seville. This is housed in the historic royal tobacco factory and is quite impressive.
The entrance portal on Calle San Fernando is particularly worth seeing. The university is freely accessible. So you can just walk in and look around. Our conclusion: not one of the major highlights in Seville, but definitely worth a short visit.
Palacio de las Dueñas
Seville is known for its magnificent, centuries-old palaces, some of which are hidden behind inconspicuous walls and gorgeous courtyards. One of the most famous in the city is the Palacio de las Dueñas. It dates to the 15th and 16th centuries and is a fine example of the mix of Gothic and Moorish styles. The spacious and well-tended garden area is definitely worth a stroll through.
Incidentally, the Palacio de las Dueñas has only been open to the public since 2016. Good to know: We happened to be visiting on a Monday afternoon and apparently it's Free Entry on Mondays from 4 p.m onwards! Surprisingly, there weren't a lot of people – granted, it was the off-season. We would imagine it to be much busier in the high season – and would probably avoid this time.
Information about visiting the Palacio de las Dueñas
Price: 10 Euros (audio guide 2 Euros extra)
Opening times: April to September from 10 a.m to 8 p.m // October to March from 10 a.m to 6 p.m (last entry 45 minutes before closing), free of charge on Mondays from 4 p.m onwards.
Casa de Pilatos
The Casa de Pilatos dates back to the 16th century and the architecture here was what really impressed us. The inner courtyard of this city palace is somewhat reminiscent of that in the Real Alcázar – a mini version of the Real Alcázar, so to speak. We loved the mix of different style elements. It's incredibly impressive and photogenic.
There is free entry to the Casa de Pilatos every Monday from 3 p.m onwards. Unlike the Palacio de las Dueñas, there was a long queue during our visit (in November 2019). Especially during high season, you might be better off paying the price for a regular ticket.
Information about visiting the Casa de Pilatos
Price: 10 Euros (12 Euros including the upper floor – with a guide), free of charge on Mondays from 3 p.m. onwards
Opening times: April to October from 9 a.m to 7 p.m // November to March from 9 a.m to 6 p.m
Metropol Parasol
At first glance (and probably also at second glance) the modern icon of Seville does not fit into the cityscape at all. A lattice-shaped construction made of wood, concrete and steel winds above the roofs through Seville's old town. The futuristic shape is reminiscent of mushrooms, which is why the construction is also called Las Setas ("the mushrooms") in Seville.
There is an archaeological museum in the basement, but the highlight is on the roof. There is a (short) circuit route with wonderful views over Seville.
Although it is probably the busiest at sunset, we of course chose to come at this time and did not regret it for a second. The Metropol Parasol is honestly the perfect place to catch the last rays of the day.
Information about visiting the Metropol Parasol
Price: 15 Euros
Opening times: Sunday to Thursday from 9:30 a.m to 11 p.m // Friday and Saturday until 11:30 p.m (last entry half an hour before closing)
Plaza del Cabildo
This gem is hidden in a courtyard right next to Seville Cathedral. The Plaza del Cabildo is a semicircular square with a rather impressive architecture. The archways and beautiful frescoes give the place a very romantic flair.
Although Plaza del Cabildo is not an absolute must-see in Seville, we would recommend that you drop in before or after visiting the cathedral. Definitely worth it! Incidentally, it's only accessible during the day (approximately between 10 a.m. and 8 p.m.), as the Plaza del Cabildo is closed at night.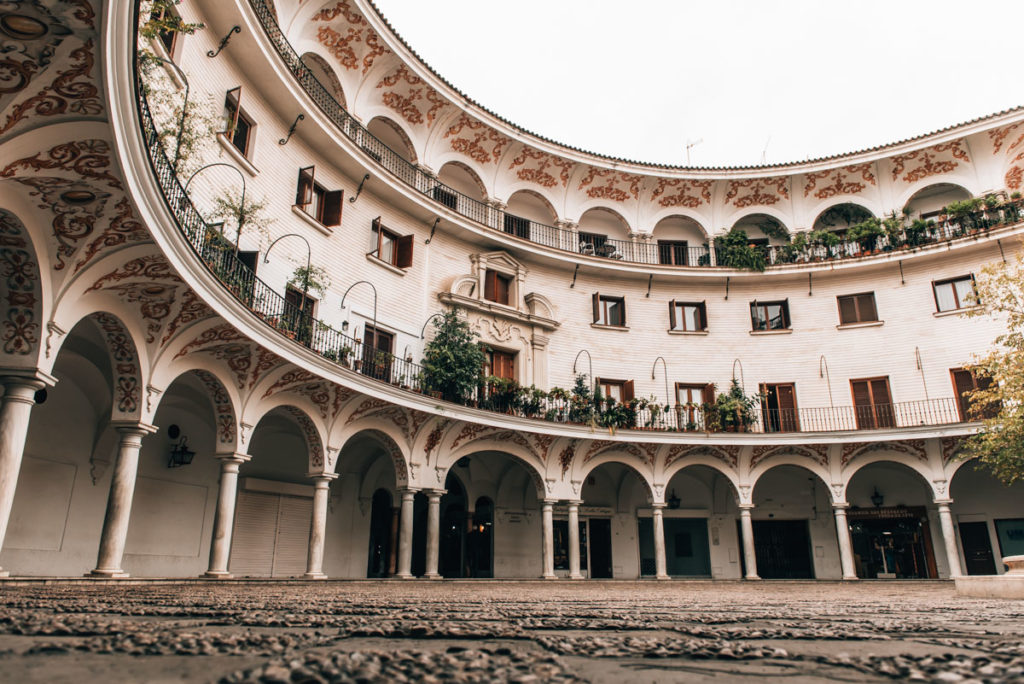 Beautiful Places by the River (Río Guadalquivir)
The river of Río Guadalquivir winds its way through the city of Seville and there are many places worthwhile seeing near the riverside. In this section, we will share with you some of the districts and highlights. You can easily explore these places on a leisurely walk. From the Old Town (Cathedral) you can reach the river bank by foot in about 10 minutes.
It starts with a walk over one of the most famous bridges in Seville, the iron Puente de Isabel II. It leads you more or less directly to the Triana district. Triana is considered one of the birthplaces of the flamenco. The small streets with their colourful houses are worth seeing. It is relatively quiet here during the day, but it should be much more happening at the bars in the evening.
Make your way slowly south to the San Telmo Bridge. The bridge itself is not a highlight, but from here you have a beautiful view of the Torre del Oro, a former defence tower. You can also climb to the top, but we had read from a few sources that it's not super worth it .
The promenade at the Río Guadalquivir is also a great place to watch the sunset. Best way to end the day with something cool to drink from a supermarket and enjoy the relaxed atmosphere.
3. Relaxing Experience: Aire de Sevilla Baños Arabes
All throughout Andalusia, you will find hamams – where you can experience traditional Arabian bathing culture in a modern atmosphere. Seville also has several hamams, with the best known as "Aire". It was just a stone's throw away from our accommodation, which is why we did not think twice on a rainy afternoon and treated ourselves to a session in the hamam.
In the Aire de Sevilla, a dream of 1001 nights await you. Unlike in Moroccan hamams, you are not scrubbed, but bathed in water pools, which have different temperatures. There is also a salt water pool and a steam room.
A bathing session lasts 90 minutes. That is how long you have to bathe in the pool or use the steam bath. If you need a break in between, there is a room with seating and tea – but they don't have your typical relaxation room with chair beds to lie down on.
There is also the option to book a massage with your visit and the massage sessions start from 15 minutes. (Good to know: The massage is done during your session. Although we were not asked to take off our wet swimming trunks, we did find it a bit annoying during the massage.)
In our opinion, they have a strange rule whereby you only get access to the roof terrace with a view of the cathedral if you have a massage booking of 45 minutes. We only have a photo of it because we could see it directly from the terrace of our accommodation. We did not take a photo of the baths themselves, because we locked our things up in the lockers.
Price: 37 Euros (90 minute session for the baths), 76 Euros (90 minutes bathing + 30 minutes massage), they offer many other options too.
You can book your visit to the hammam here (official website): Aire Sevilla
4. Food and Drinks in Seville: Our Tips for Cafes and Restaurants
The culinary offer in Seville is huge and overwhelming to say the least. There are more eateries than you can count, making it rather difficult to choose a place – so we'll share our favourites with you here.
Ovejas Negras: Whilst on the hunt for an authentic tapas bar that also offers vegetarian dishes, we ended up here. Our conclusion: delicious tapas in a great, young and modern atmosphere. The staff were also very courteous. It's a very popular place but we managed to get a seat in the end!
Virgin Coffee: This small coffee bar, which is located right next to the Metropol Parasol, serves delicious espresso. Perfect for a caffeine-hit in between.
Paradas 7: Paradas 7 is a cozy, hip place for a healthy breakfast or lunch. It offers salads, soups and sandwiches as well as delicious cakes.
Bar El Comercio: a trip to Spain wouldn't be complete without churros – the deep-fried dessert made from choux pastry. Supposedly the best churros from Seville are found in the bar El Comercio. Our conclusion: it was good, but personally a little too greasy for us. However, the ambience is really unique – a typical Spanish restaurant that's a bit squished for space and lots of chatter. It's best to take a seat at the bar – this makes the experience even more authentic.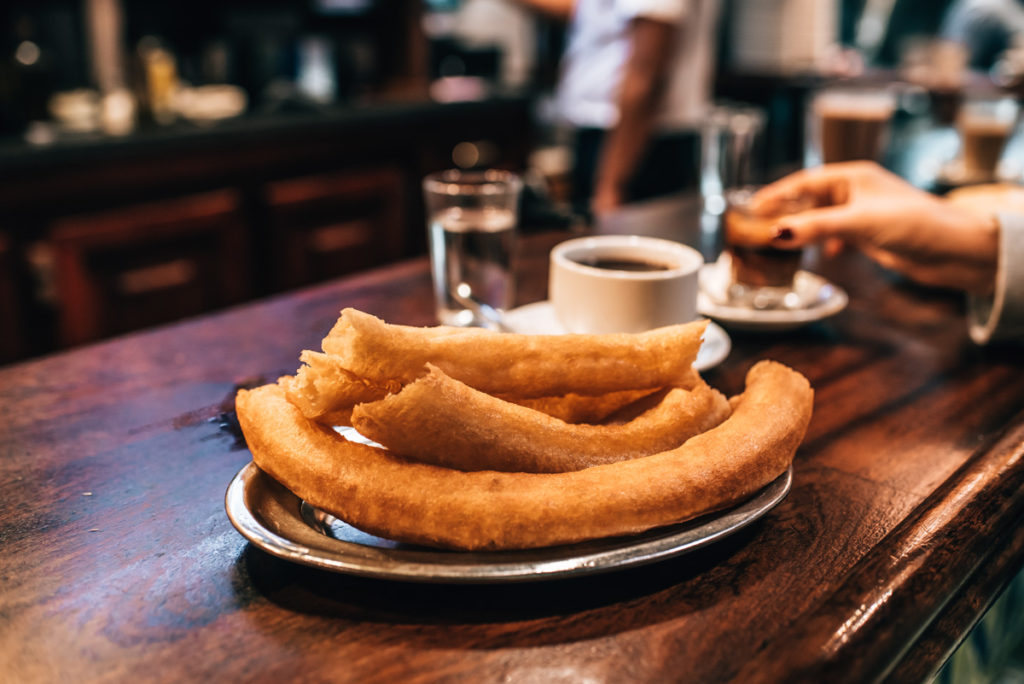 5. Where to Stay in Seville: Our Accommodation Tip
We spent three nights in the magnificent Palacio Marmoles, which is basically a beautiful historic city palace. The atmosphere is very special and unique – you feel like you're in a museum. Despite the Palacio Marmoles being located right in the city center, it's actually very quiet here.
There are only seven apartments in total. We were on the first floor in Apartment 6. Each apartment is individually and very thoughtfully decorated. If we had to find a fault, then we would say that the rooms were a little dark – but that's due to the unique architecture of the house.
The biggest highlight is up on the roof terrace where you can catch a spectacular view of Seville including the cathedral. Honestly, sunset here with this view is simply magical. While it is a slightly more expensive place to stay (depending on the season), it'll be one that stays with you for a long time.
You can book the apartment here: Palacio Marmoles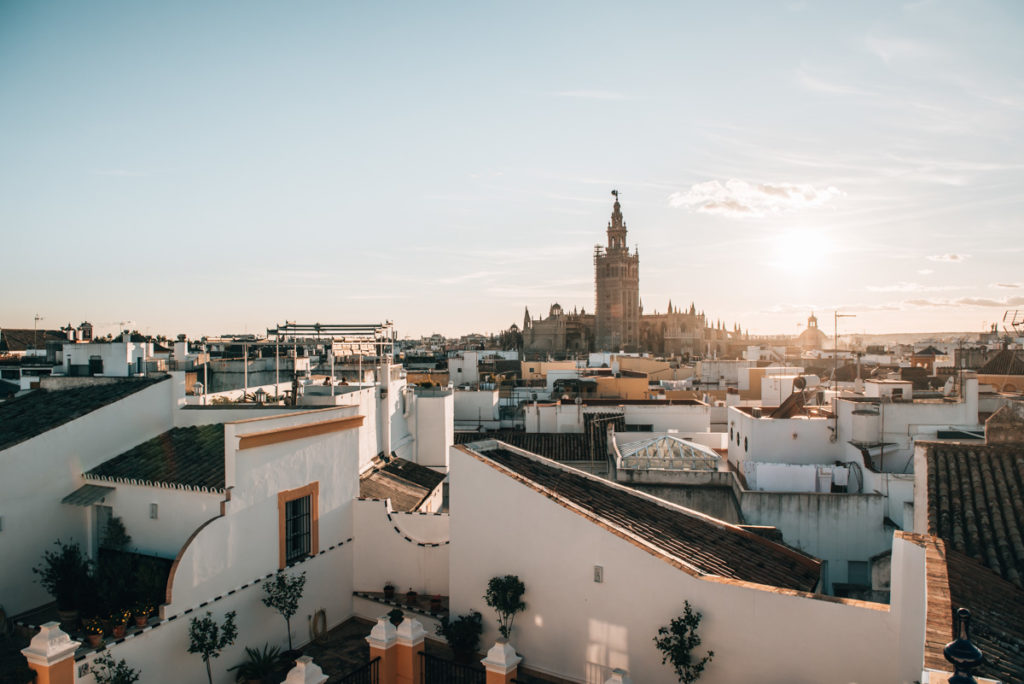 Tip: Parking in Seville
Here's the not so good news: just like in almost every major city in Andalusia, parking can be rather tedious. You can basically forget about finding parking spaces in the old town itself. (Some streets are so narrow that we personally wouldn't even dare to attempt driving though.)
If your accommodation does not have free parking spaces for you, then you will have no choice but to park your car in a public parking garage. The rule of thumb: the closer to the centre, the more expensive parking is. We ourselves parked in an underground car park on Avenida de Menéndez Pelayo. This parking lot was the most run-down but consequently, also the most expensive one on our entire trip to Andalusia. For 24 hours, we paid 25 Euros here!
We would recommend that you contact your accommodation in advance and ask for parking tips. It might even be worth parking on the outskirts of the city and then taking a taxi to the hotel.
---
Disclaimer: Affiliate Links
This blog article contains our personal recommendations in the form of so-called affiliate links. If you book or buy something through these links, we will receive a small commission. This does not change the price for you at all. Many thanks from the both of us!
Have you ever been to Seville? How did you like it? Perhaps you have some extra tips for us? We look forward to hearing your experience!