Majestic mountains and picturesque valleys, kaiserschmarrn and germknödel, imperial flair and quaint mountain villages – all that and much more awaits you on a road trip through Austria.
Spoiler: No other country in the world is as beautiful as Austria! We are possibly a little bias (we were born in Austria and grew up there), but one thing is for sure: You will have countless wow-moments on a road trip through Austria.
In our travel blog we show you the perfect travel itinerary through Austria. It will take you to the greatest highlights of the country in two weeks but has many route options so that you could also easily extend it to four weeks.
We also provide some useful planning tips in this blog article, such as maps with the most important places along our travel route, so that you can perfectly prepare yourself for your trip around Austria.
1. Austria Travel Itinerary: Each of the Stops on our Road Trip
Something to note: Our route starts in Vienna but it is a round trip so you can start at any point you wish. So, if you enter from Germany, for example, then you could easily start in Salzburg or Tyrol.
Vienna
Our Austrian road trip starts in the heart of the country, in our home city, Vienna. Perhaps we are a bit partial because we have lived here for over 30 years but in our eyes, Vienna is simply the most beautiful city in the world.
We love Vienna's baroque, classical flair. The small, picturesque alleyways and the imposing constructions in the inner city look like a film backdrop. We recommend you plan to stay at
Detailed blog article: Travel Tips for Vienna
Recommended length of stay: 2-4 nights
Our hotel tip: 25hours Hotel
Optional: Wachau
Our road trip starts from Vienna towards the west. The first stop is the beautiful Wachau – a picturesque river valley on the Donau between Melk and Krems. We love Wachau but marked this as 'optional'. (There are just so many highlights in Austria!)
What can you expect from Wachau? One of the most scenic river valleys, sun-drenched vinyards, picturesque wine growing villages and impressive castles or castle ruins. You can take a wine tour, for example, or simply enjoy a bit of Austria's wine culture.
Getting from Vienna to Wachau: This is a fairly short stage of the road trip. You drive about an hour out of Vienna before reaching Wachau.
Detailed blog article: Sights of Wachau (coming soon)
Recommended length of stay: 1-2 nights
Our hotel tip: Steigenberger Hotel & Spa
Salzkammergut (Traunsee)
One of our favourite regions in Austria is not to be left off our travel route: The Salzkammergut. The combination of picturesque mountain lakes and rugged peaks is unparalleled.
Traunsee (Lake Traun) is a great starting point to explore the Salzkammergut. The Gosau Lakes and Lake Altaussee are also undoubtedly worth a visit. And last but not least, you can also find one of the most well-known mountain villages of Austria here in the Salzkammergut: Hallstatt.
Getting from Wachau to Salzkammergut: You can expect a two hours drive for this part of the roadtrip. Would you like to make a stopover on the route? Then we can recommend the small town of Enns – quite an insider tip.
Detailed blog article: The best things to do in Salzkammergut (coming soon)
Recommended length of stay: 2-3 nights
Our hotel recommendation: Seehotel Das Traunsee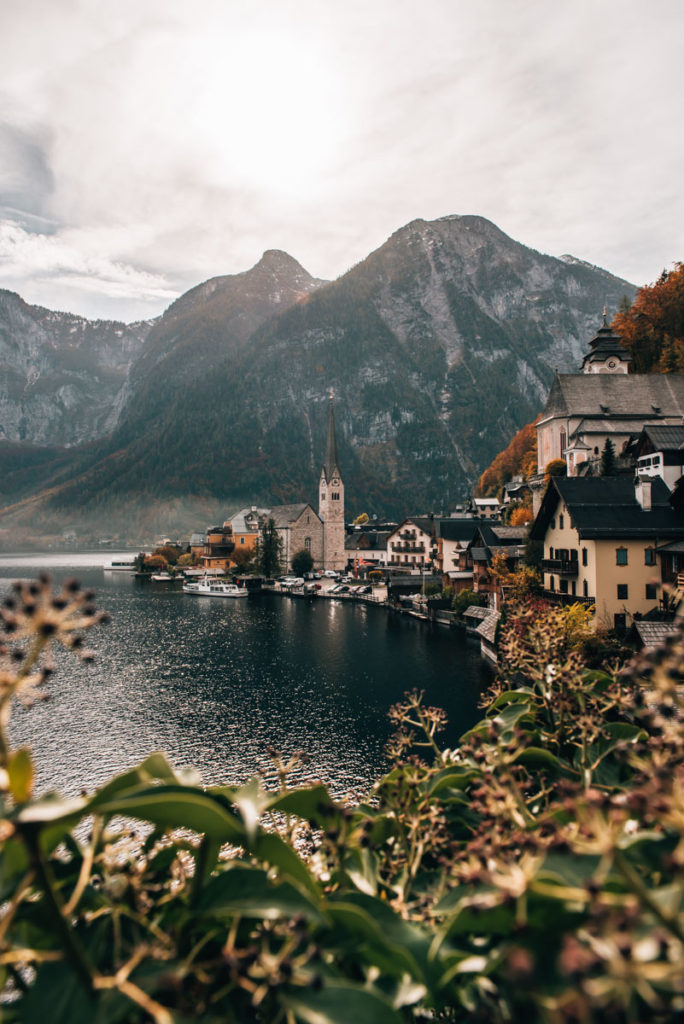 Salzburg (City)
It wouldn't be an Austria road trip without a visit to Salzburg! In our opinion, you shouldn't leave Austria without having paid a visit to the city of Mozart. Yes, Salzburg is very touristy. However, the small city is also just so pretty and cute that we are simply amazed again and again.
Paying a visit to the majestic Hohensalzburg Fortress is on the must-do list, and of course wandering through the picturesque old town. And please be sure to try an original Salzburger mozartkugel (mozart chocolate). These are only available in Salzburg – just delicious.
Getting from Salzkammergut to Salzburg: You can expect just a small drive for this part of the road trip. From Traunsee you will be on the road for just an hour before reaching Salzburg. (Warning: Parking in Salzburg can be a bit of a trouble. It's best to contact your hotel in advance about a parking space.)
Detailed blog article: Salzburg tips
Recommended length of stay: 1-2 nights
Our hotel recommendation: Arthotel Blaue Gans
Bad Gastein
Our travel route takes us out of the city now and in the direction of the mountains. There are countless great destinations in the Austrian mountains, but we dare to say that none are as hip and unique as Bad Gastein.
Belle-Époque buildings, morbid charm & rugged peaks – either you love Bad Gastein or you will never warm up to it. One thing is for sure: There are countless spectacular hikes around Bad Gastein waiting just for you. The nature is really breathtakingly beautiful.
Getting from Salzburg to Bad Gastein: You should allow about 1.5 hours for this stage of the road trip.
Detailed blog article: Holiday in Bad Gastein (coming soon)
Recommended length of stay: 2-3 nights
Our hotel tip: Design Hotel Miramonte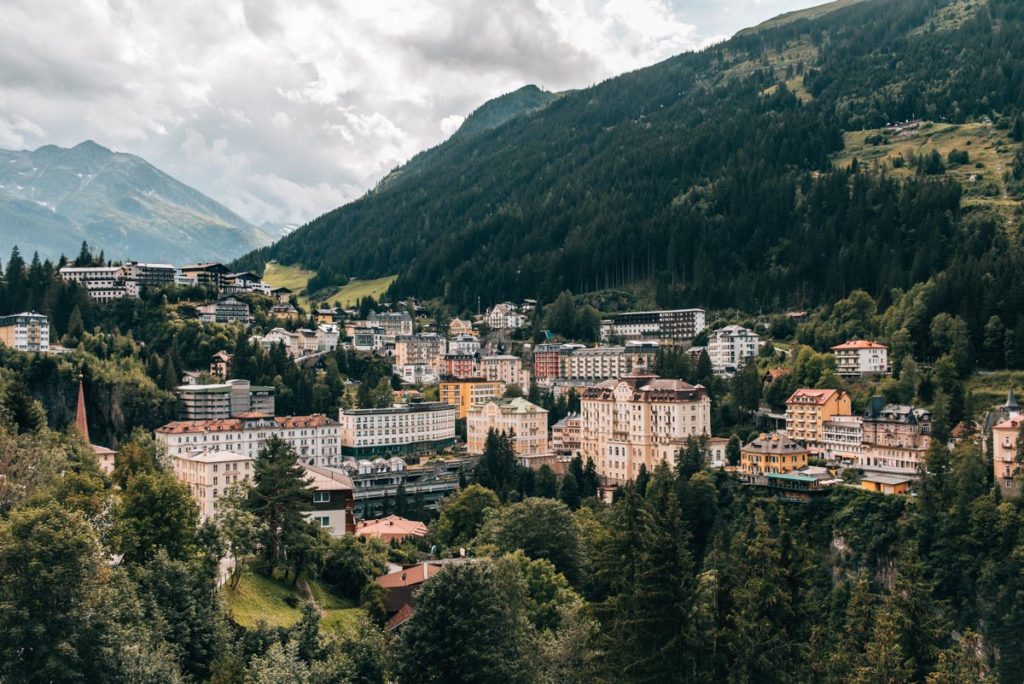 Optional: Innsbruck & Bregenzerwald
Now you have two options for the onward journey of this road trip. Either you drive directly south to East Tyrol (then skip to the next chapter). Or you include the west tip of Austria – more precisely the North Tyrol and Voralberg regions.
The bonus: This is one of the most spectacular scenic areas of Austria. The mountain landscape is unbelievably majestic and impressive. One disadvantage: The region is located a bit off the main route, so you need to allow enough time for it.
As well as a stop-off in Innsbruck (the capital city of the Tyrol region) we very highly recommend the Bregenzerwald (Bregenz Forest) in Voralberg. The combination of picturesque mountain villages, lovely hills and rugged peaks is wonderfully beautiful.
Detailed blog article: Holiday in Bregenzerwald
Recommended length of stay: 3-4 nights (better 5-6 nights with a stop off in Innsbruck)
Our hotel tip: Hotel Hirschen
East Tyrol
We'll say it in short: We love East Tyrol! The rugged peaks and crystal-clear mountain lakes are breathtakingly beautiful. Therefore, we can only warmly recommend including East Tyrol in your travel route.
If you love (high-)alpine hiking, this is the right place for you. There are countless peaks just waiting to be conquered. We would highly recommend East Tyrol to anyone who is looking for impressive mountains, picturesque valleys and rustic huts.
Getting from Bad Gastein to East Tyrol: Here you can expect to experience what might be the most spectacularly scenic stage of the road trip. Be sure to take the route over the Großglockner high alpine road. (Note: only passable in summer and subject to a toll.) The road is already a highlight in itself, so it's almost worth spending one night along this stretch. The complete travel time is around 2 hours.
If you decide to take our optional route to Voralberg, then the stretch will take significantly longer. In this case you should allow around 4 to 5 hours driving time.
Detailed blog article: Holiday in East Tyrol (coming soon)
Recommended length of stay: 3-4 nights
Our hotel recommendation: Hotel Waldruhe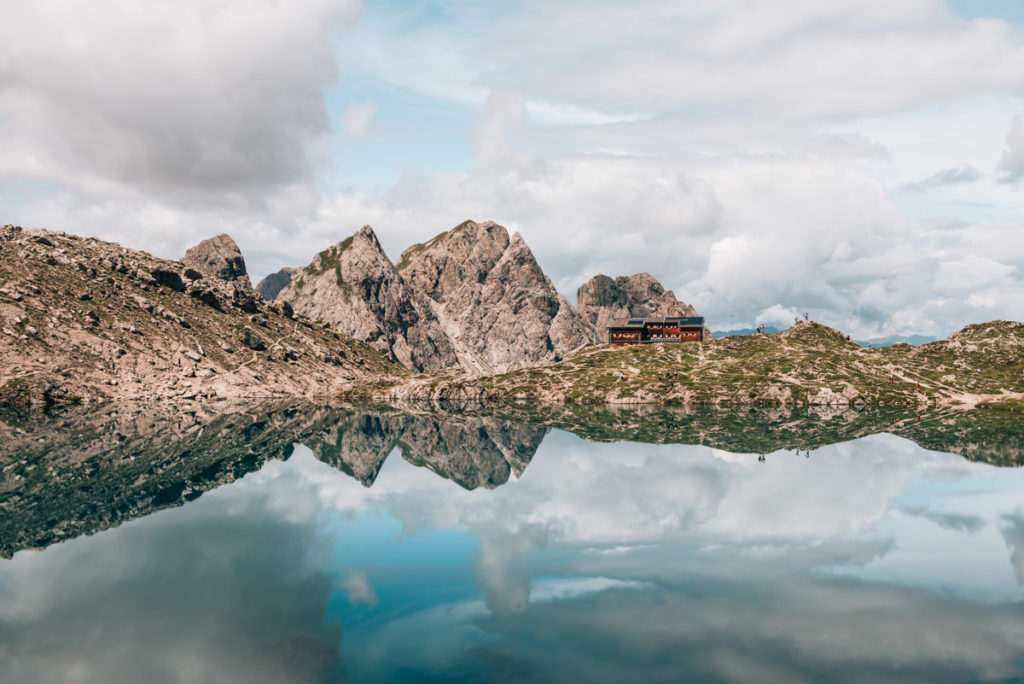 Lakes of Carinthia: Lake Faak and Lake Weissensee
What would an Austrian road trip be without a visit to the lakes in the Carinthia region? Unfortunately, Austria is not located close to the sea but when the weather is good the lakes in the south of the country exude equally as much holiday flair. Therefore, the next stop on our route through Austria is perfect for anyone looking to cool down and refresh.
We personally have two favourite lakes: One of these is the picturesque Lake Faak – a peaceful little spot for a wonderful beach holiday. And the other is the idyllic Lake Weissensee, which is unbelievably beautiful with its turquoise colour.
Getting from East Tyrol to the lakes of Carinthia: This stage is one of the shortest. Plan for around one to two hours driving time – depending on which place you leave from in East Tyrol and which lake you are drawn to.
Detailed blog article: The Most Beautiful Lakes in Carinthia (coming soon)
Recommended length of stay: 3 nights (gladly more, if you visit both lakes)
Our hotel tips: Kleines Hotel Kärnten (Lake Faak) or Seehotel Enzian (Lake Weissensee)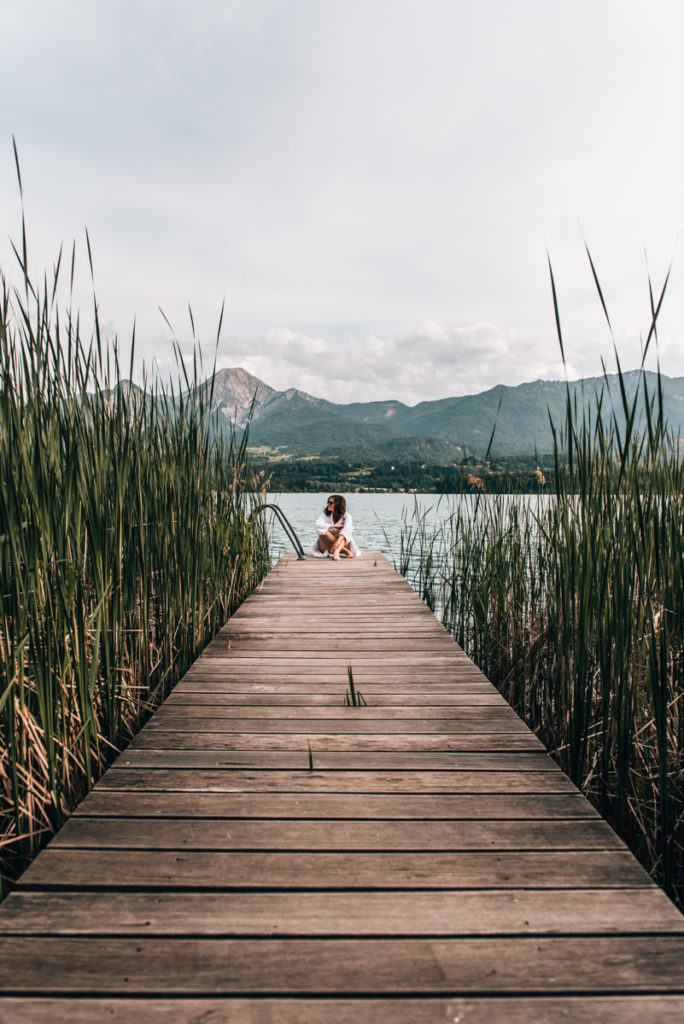 South Styria
If you like wine, you cannot leave out South Styria. The region in the south-east of the country doesn't have the nickname the Tuscany of Austria for nothing.
A wonderful, soft rolling landscape, magical trip destinations, rustic taverns and great hotels await you in South Styria. In short: An enjoyable break and the best way to get to know Austria's wine culture.
Getting from the Carinthia lakes to South Styria: You can comfortably drive this stretch of the travel route in around two hours.
Detailed blog article: South Styria Tips (coming soon)
Recommended length of stay: 2-3 nights
Our hotel tip: Loisium Südsteiermark
Optional: Graz
The last stop on our travel journey is Graz, Austria's second biggest city. This pleasant university city is an unexciting but very worthwhile destination on a road trip through Austria.
The city's landmark is the Graz clock tower on the Schlossberg. A walk (or alternatively a drive) up to it is definitely one for the must-do list. As well as that, the inner city of Graz is really pretty. And last but not least, Graz offers a large range of art and culture.
Getting from South Styria to Graz: This stage of the road trip is one of the shortest. It will take you less than an hour to reach Graz.
Detailed blog article: Graz Tips
Recommended length of stay: 1-2 nights
Our hotel recommendation: Grand Hotel Wiesler
2. Map: Overview of the Travel Route
We have marked the individual stops of our road trip on this map so that you can get a better overview of the roadtrip journey. The travel times of each stage are very manageable. You will usually be on the road for one or two hours.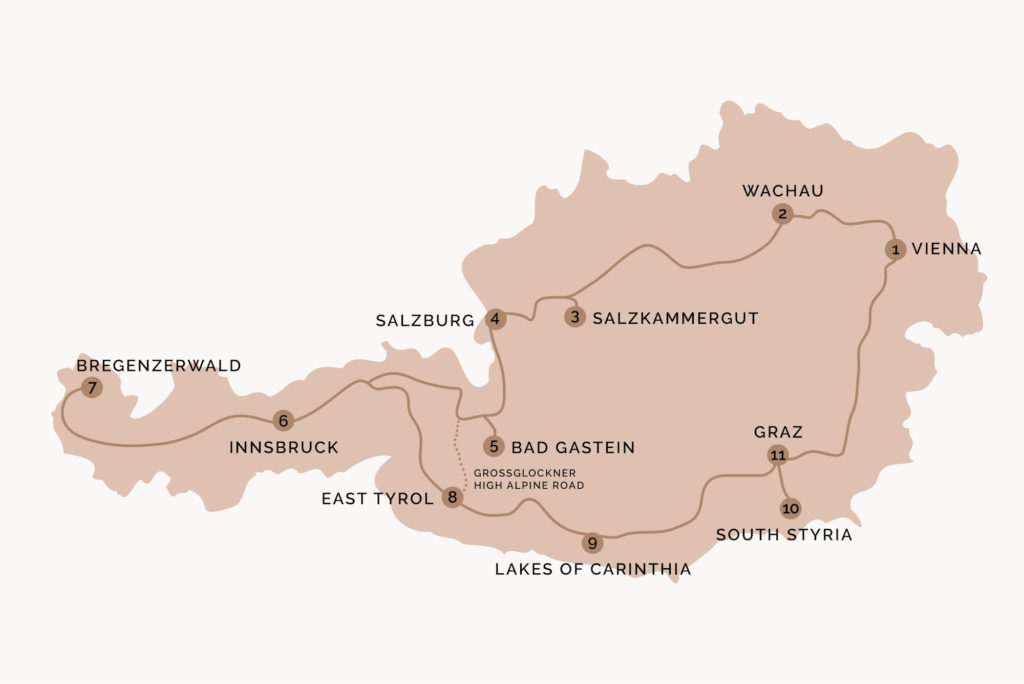 3. Further Travel Tips for your Austria Road Trip
The best time for a road trip through Austria
Our travel route is primarily designed for a road trip in warm temperatures (i.e. spring / summer / early autumn). We would like to take you through the pros and cons of each month.
High season: summer months of July and August
The most popular time to travel is clearly the summer months of July and August, and there are two reasons why: Weather and school holidays.
July and August are ideal for a beach holiday. It is warmest in Austria at this time and the lakes also have the most enjoyable temperatures. (The disadvantage: Many hotels at the lake are booked out or the prices skyrocket – more about that soon.)
Summer is also great for hikes in the mountains. Many huts in the high alpine area open at the beginning or middle of June. Important to know: Thunderstorms occur in the summertime in the mountains. So, definitely keep an eye on the forecasts!
Staying in the city and going sightseeing can be really tiresome in the summer temperatures. We are mainly thinking about Vienna where it can get uncomfortably hot in summer. However, therefore they have some really great outdoor events such as the film festival at the Rathausplatz (town hall square) in Vienna.
July and August are the busiest months due to the summer holidays. The Austrian school holidays last nine weeks. (Some regions begin a week later, so it's actually ten weeks). And then let's not forget the German holidays. In short: There are many families with children underway in Austria during mid-summer.
Some regions (especially Austria's lakes) are booked to the brim in July and August and almost overcrowded. However, we don't find it all that necessary to avoid the summer months. Or in other words: If you want to go on your road trip through Austria during the summer, go for it!
Our tip: late spring / early autumn
If you would like to avoid the summer holidays, then we recommend spring for you. Personally, we find June to be a fantastic time of year for a road trip through Austria. It is usually less busy, and the weather can be quite stable.
Good to know: Some huts in the high alpine region open at the beginning or middle of June (due to snow). Some roads, such as the Großglockner high alpine road, are also only open from around the beginning of May.
The autumn season is equally as great. When the leaves are in colour, the atmosphere of some places is really like something out of a picture book. Of course, you also need to be prepared for changes in weather or unstable weather conditions (rain, cold). The weather is usually still quite pleasant in September.
Booking a rental car
We ourselves always book our rentals through Sunny Cars. Sunny Cars is a platform that compares the offers from various rental car companies. You book through Sunny Cars and then pick up your car at the local company (e.g. Hertz).
The big benefit of Sunny Cars (apart from the cheap price): You always have fully comprehensive insurance. More precisely, in the event of damage, Sunny Cars will reimburse the deductible. That way, according to experience, you can travel a lot more relaxed.
You can book your rental car through Sunny Cars from many different locations in Austria – including Vienna and Salzburg. If you start your road trip in Germany, then of course you can also book the car from Munich, for example. (Note: Sometimes a small fee for border crossings may be added.)
You can search for cheap rental cars here: Sunny Cars
Vignette & tolls in Austria
All highways and expressways in Austria are subject to tolls. Therefore, you can't get around purchasing a vignette for your road trip through Austria.
You can get a vignette for 10 days, 2 months or 1 year. The price for 2 months is just under 30 euros. You can quite easily purchase the vignette right before the border crossing at a service station or store.
Even better: You can purchase it in advance in digital form ('digital vignette'). It's important to know that you need to purchase a digital vignette at least 18 days before you start your road trip. (The Consumer Protection Act applies here, which is why the digital vignette is only valid after this period.)
You can purchase the digital vignette here: ASFINAG (official webshop)
Important to know: Some roads/tunnels in Austria have additional tolls. This includes the Großglockner high alpine road and the Arlberg expressway (Arlberg tunnel). The drive over the Großglockner high alpine road is especially expensive, costing just under 40 euros.
Book accommodation in advance or spontaneously?
If you really want to stay in your dream-accommodation, then we recommend booking your hotels in advance. That especially applies to certain regions during the main season. Popular hotels (such as those directly on the lake or many that have regular guests) are often booked out weeks in advance. Then it could easily be that your desired hotel is already booked out.
However, we have also had the experience of still being able to spontaneously get a room somewhere even during the high season. Often you need to settle for your second (or third) choice, but you will always find a place to stay.
We recommend you do a combination of both booking in advance and spontaneously. (We like to do this on road trips and find it to be the best way to still have some flexibility.) It's best to book the hotels that particularly appeal to you some weeks (months) in advance. Then you can book the rest of your accommodation while on the road.
---
Disclaimer: Affiliate Links
This blog article contains our personal recommendations in the form of affiliate links. If you book or buy something through the links, we receive a small commission. This does not change the price for you at all. A million thanks from the both of us!
Have you already been on a roadtrip through Austria? What did your travel route look like? Are there other stops that you would add to the route? We look forward to hearing about your experiences in the comments.