Oh Andalusia! You sure know how to exceed expectations! White villages against barren landscapes, vibrant cities and wonderful sunsets by the sea, tapas and tinto de verano. The perfect holiday vibes! 
Are you looking for the perfect travel itinerary for your road trip through Andalusia? In this blog article, we share our journey with all the destinations in between and all the best highlights in Andalusia.
We have also packed some useful tips for planning your road trip, as well as a map with the main destinations on our travel route so that you can best prepare for your trip in Andalusia.
1. Our Andalusian Travel Route: The Most Beautiful Destinations in Two Weeks
Málaga
Our road trip journey through Andalusia starts in Málaga. The reason we started here is because it has the most frequented airport in Andalusia, so it's very likely that your trip will also start here. If not – no worries. Our road trip route though Andalusia actually forms a loop, so you can essentially start at any of the stops.
Málaga is a port city. In terms of tourism, it has long been overshadowed by other travel destinations in Andalusia, but nowadays Málaga is very popular. We particularly liked the mix of the sea and the historic Old Town. Wander down the winding streets in the heart of Málaga with the impressive cathedral and then take a stroll along the harbour. Doesn't that sound wonderful?
You can find all the tips in our detailed blog article: Málaga
Our hotel tip for Málaga: Suites Teatro
Recommended stay: 2-3 nights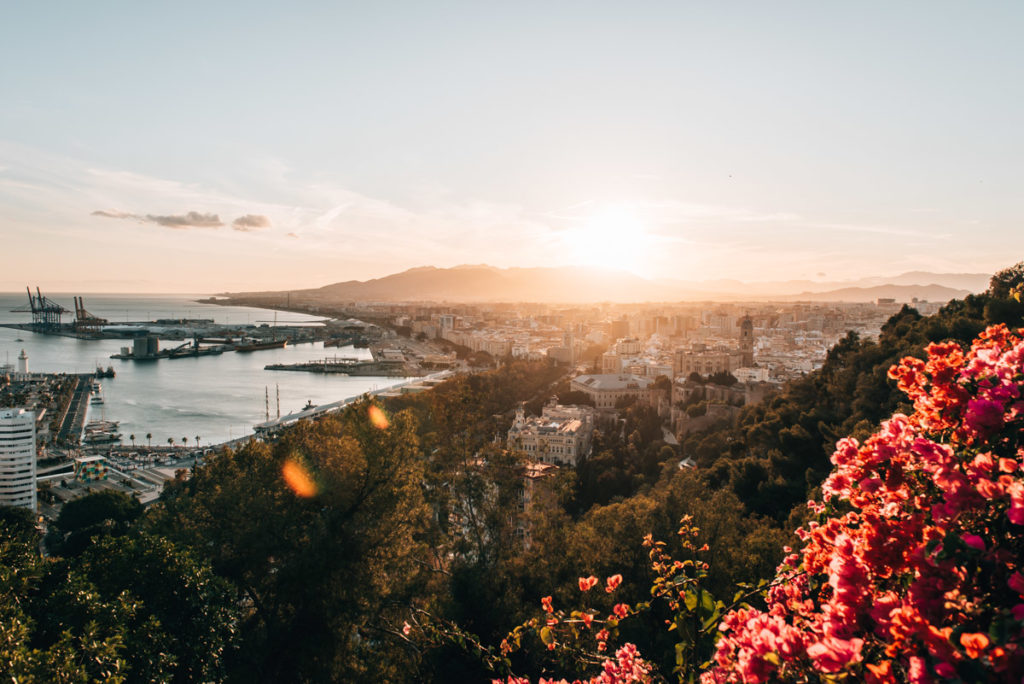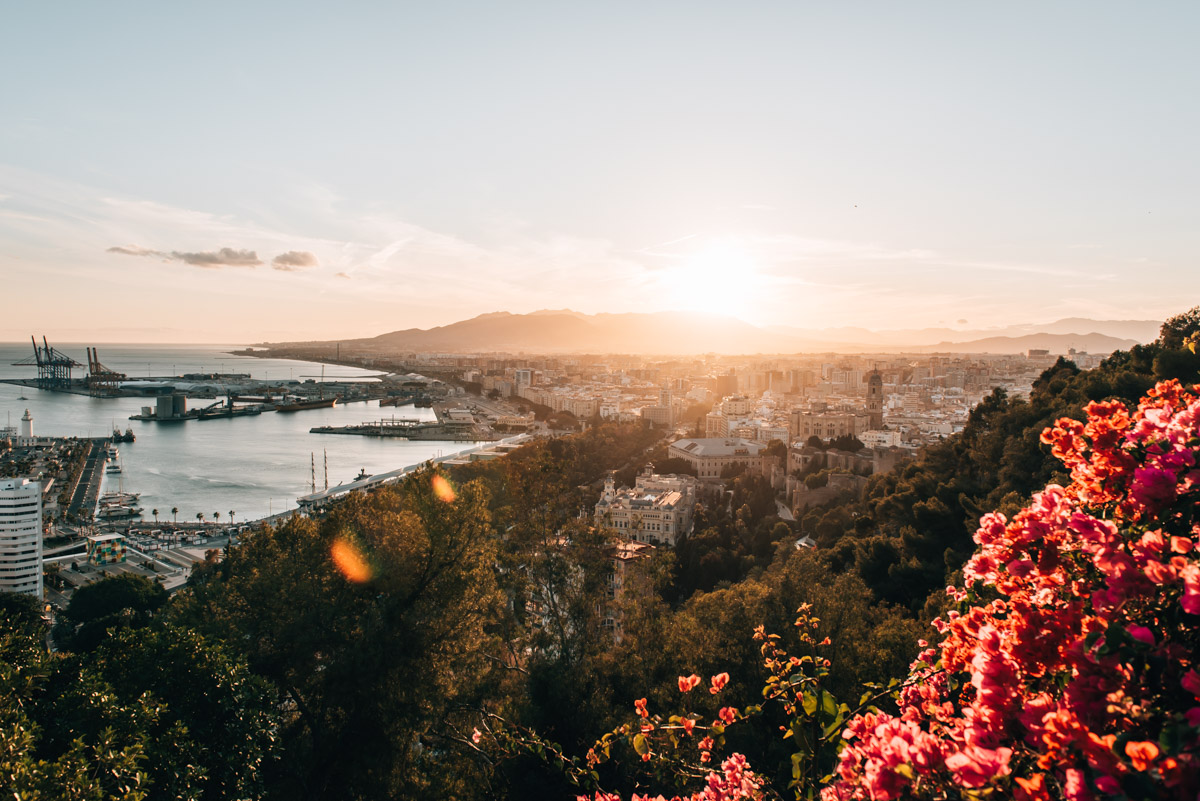 Ronda
The second stop on our itinerary is Ronda, a town upon the mountainous landscape. It takes about 1.5 hours from Málaga. Ronda is incredibly spectacular: The Old Town of Ronda is perched on a steep sloping rock plateau. In the photo you can already see the most famous sight of Ronda, the Puente Nuevo. It spans the El Tajo gorge, which is about 100 meters deep.
Ronda is quite easy to explore, a few hours would be enough to see the main highlights. Nevertheless, we would recommend you to stay one night here and start the next day early in the morning. That way, you will have enough time to visit the famous White Villages of Andalusia along the way.
You can find all the tips in our blog article: Ronda
Our hotel tip for Ronda: Catalonia Ronda
Recommended stay: 1 night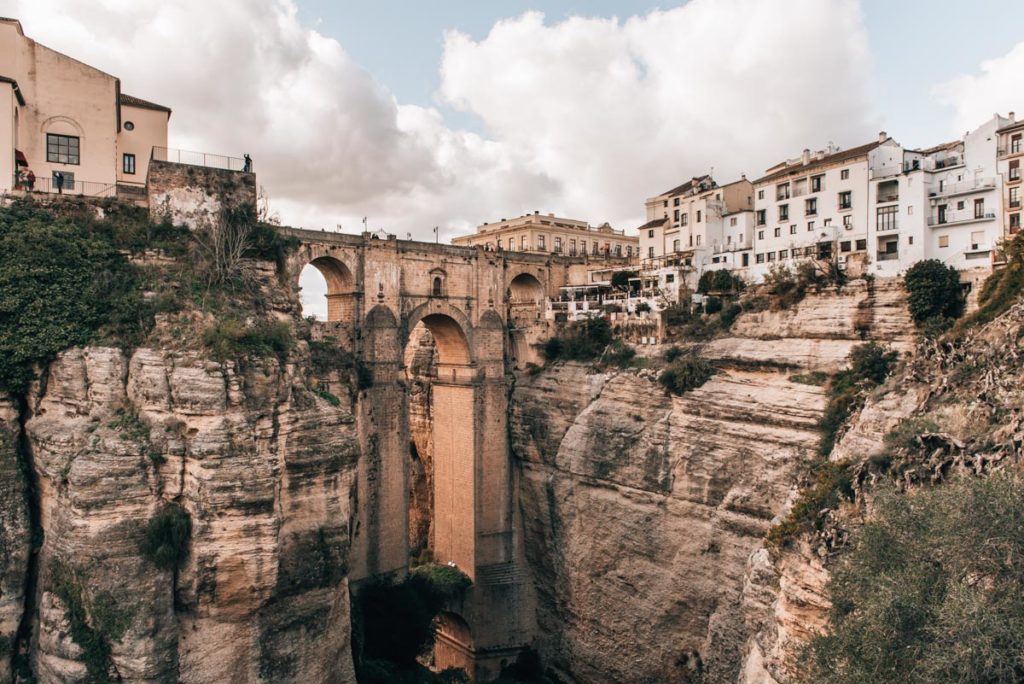 The White Villages of Andalusia (Ruta de los Pueblos Blancos)
Shortly after Ronda begins the Ruta de los Pueblos Blancos, the Route of the White Villages. It winds through the spectacular, mountainous backcountry of the Cádiz province and encompasses a total of 19 villages as part of the Ruta de los Pueblos Blancos. Since the route goes towards Cádiz (the next destination on our journey), these White Villages make for the perfect stop along the way.
The White Villages of Andalusia are like little gems, shining from afar against the barren landscapes. Many of the villages are incredibly spectacular. When you wander the historic town centre, it always feels as if time has stopped. Our personal favourites were the villages of Olvera and Zahara de la Sierra.
Recommended stay: Visit as a day trip from Ronda to Málaga, or alternatively stay for 1 night
Blog article with travel tips: The Route of the White Villages in Andalusia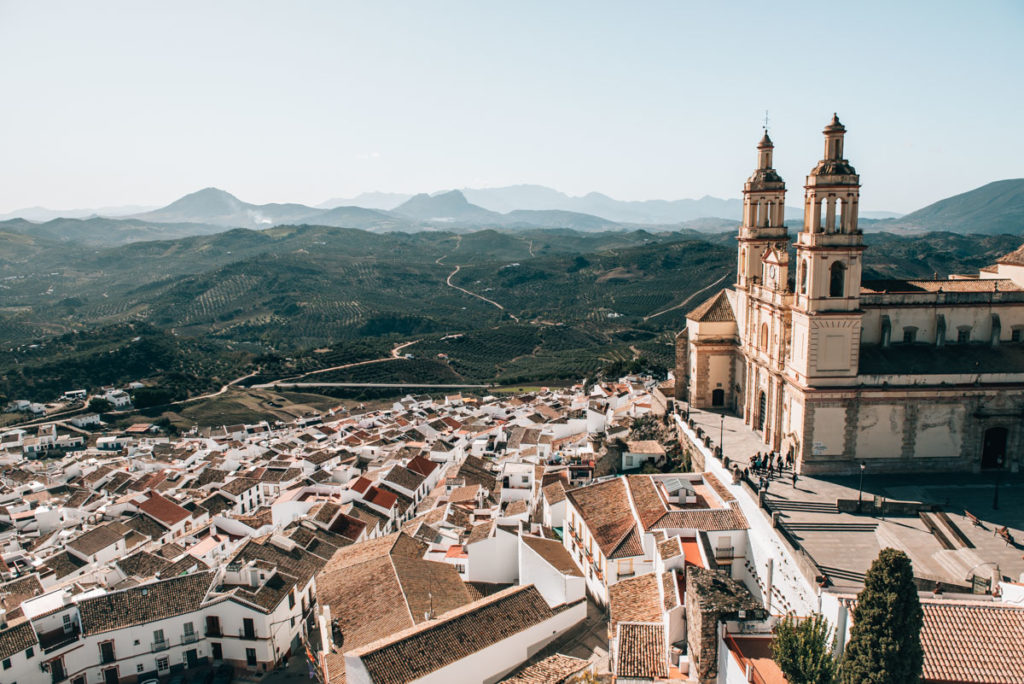 Cádiz
The next stop on our Andalusia itinerary takes us back to the sea, in the coastal city of Cádiz. The Old Town of Cádiz is particularly well located: situated on a headland and almost completely surrounded by the Atlantic Ocean.
One might think that Andalusian cities would be rather similar, but this is not the case. The Old Town of Cádiz has an exceptionally unique and authentic flair. The grid structured Old Town with the tall houses loom over many corners and gives really great insights into the Andalusian way of life.
But don't worry, there are plenty of spacious areas and of course beaches. In Cádiz, you can enjoy a wonderful relaxing sunset on the beach – the best holiday feeling!
Our blog article with travel tips: Cádiz
Our hotel tip for Cádiz: Candelaria 10
Recommended stay: 2 nights
Seville
No road trip through Andalusia would be complete without a stopover in the capital of Seville. Many people say that Seville is the most beautiful city in Spain – and we would not disagree with that. This university city is buzzing with energy and good vibes. From Cádiz you can reach Seville in less than 1.5 hours.
There are endless places to explore in Seville, but the gigantic Cathedral of Seville is one you cannot miss – it is simply marvellous. Behind hidden walls you will also find some magnificent, centuries-old city palaces in Seville – with their beautiful, green courtyards, they are also a major highlight in Seville.
Our blog article with all travel tips: Seville
Our hotel tip for Seville: Palacio Marmoles
Recommended stay: 3-4 nights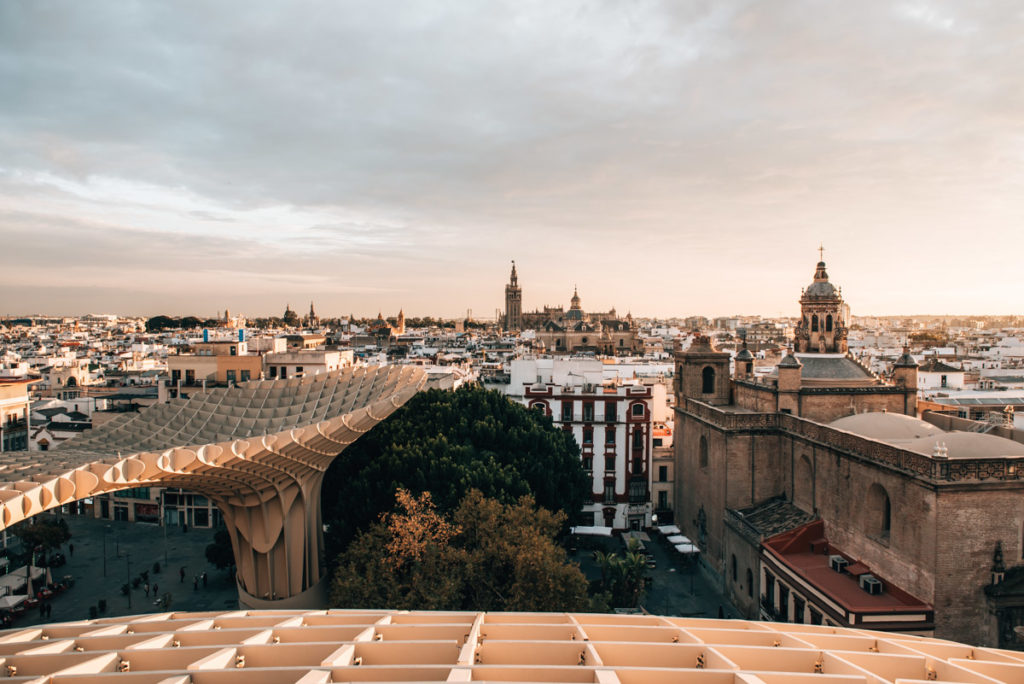 Córdoba
Our route takes us from Seville on a good 1.5 hour drive to Córdoba. There is one building in particular that is highly worth a mention: the monumental Mezquita. It is a mosque-cathedral, a Christian cathedral built in the middle of a mosque. Sounds crazy? It is! Definitely a personal highlight in Andalusia.
We were also pleasantly surprised by the charming Old Town of Córdoba. With its whitewashed houses and narrow streets, we think it is one of the most beautiful in all of Andalusia. Córdoba is relatively quick and easy to explore, but is still worth a stopover on your trip through Andalusia!
Our blog article with travel tips: Córdoba
Our hotel tip for Córdoba: Patio del Posadero
Recommended stay: 2 nights
Granada
The last stop on our Andalusia road trip takes us to the beautiful Granada. You should plan a good 2 hours for this section of the journey. In Granada, you will find perhaps, the most significant sight in all of Andalusia – The Alhambra.
Rarely are we as astounded by a building as we were by the Alhambra – there is simply no comparison. The Alhambra aside, we really like Granada overall. The Old Town is super pretty and there are also beautiful viewpoints from which you can enjoy a great view of the Alhambra.
Our hotel tip for Granada: Boutique Hotel Luna Granada Centro
Recommended stay: 2-3 nights
Optional: Sierra Nevada National Park
If you have more time, we have a little insider tip for you: in the Sierra Nevada National Park (south of the Alpujarras), lies a mountain region with small white villages. From Granada, it only takes about an hour to get here. With regards to tourism, the villages of the Alpujarras are far less known and less visited than ​​the Ruta de los Pueblos Blancos. 
The Sierra Nevada National Park is also home to the highest mountain of the Spanish mainland – the Mulhacén. So if you want to go hiking, you've come to the right place. But even if you just want to enjoy the spectacular landscape and the flair of the pretty mountain villages, we can highly recommend this region.
Recommended stay: 2-3 nights
2. More Travel Tips for your Road Trip through Andalusia
Our Trusted Go-To Rental Car Provider
For years, Sunny Cars has been our trusted go-to rental car provider, and our trip to Andalusia was no exception. Sunny Cars acts as an intermediary platform that compares all the prices from across multiple companies, and presents to you the best deals. You can book your rental car from Sunny Cars website and then collect your car in Spain from a local car rental company. (For us it was Europcar, but this will vary across the board.)
Why go with Sunny Cars? Because they have an amazing comprehensive insurance policy that covers almost every scenario you can think of. In the event of damage, Sunny Cars will also reimburse you the excess, regardless of who was at fault. The Spaniards have a rather "loose and carefree" driving style, so  scratches on the car can happen quite quickly. The fact that you don't have to pay for any damage is a huge relief.
You can search for great rental car deals here: Sunny Cars
What Kind of Rental Car Should I Hire?
The streets of Andalusia are in very good condition, which is why you can book any type of car you like – it's more a question of your personal taste. A small car has the advantage that you can get through the many narrow streets and underground garages in the city with much more ease. However, we would still avoid driving into most of the historic town centres anyway – no matter how small the car is.
We chose a medium sized car ourselves and were very happy with our choice. There are two main reasons why we went for a medium sized car: more space (especially for luggage in the trunk) and better safety. In our opinion, going larger than a medium car doesn't really make sense.
How much does a rental car cost in Spain?
It is quite cheap to rent a car in Spain. We only paid 24 Euros per day for our rental car. A small car would have been significantly cheaper. However, we also rented during a low season (November). In the high season, prices go up a little, but not dramatically.
Tip: also include parking in your holiday budget, it's almost impossible to find parking on the streets in most city centres. Therefore, you will often have to resort to expensive underground parking buildings. In some cities, you often pay 15 Euros a day for parking or even more. It's really easy to overlook this expense and underestimate the cost of parking in Andalusia.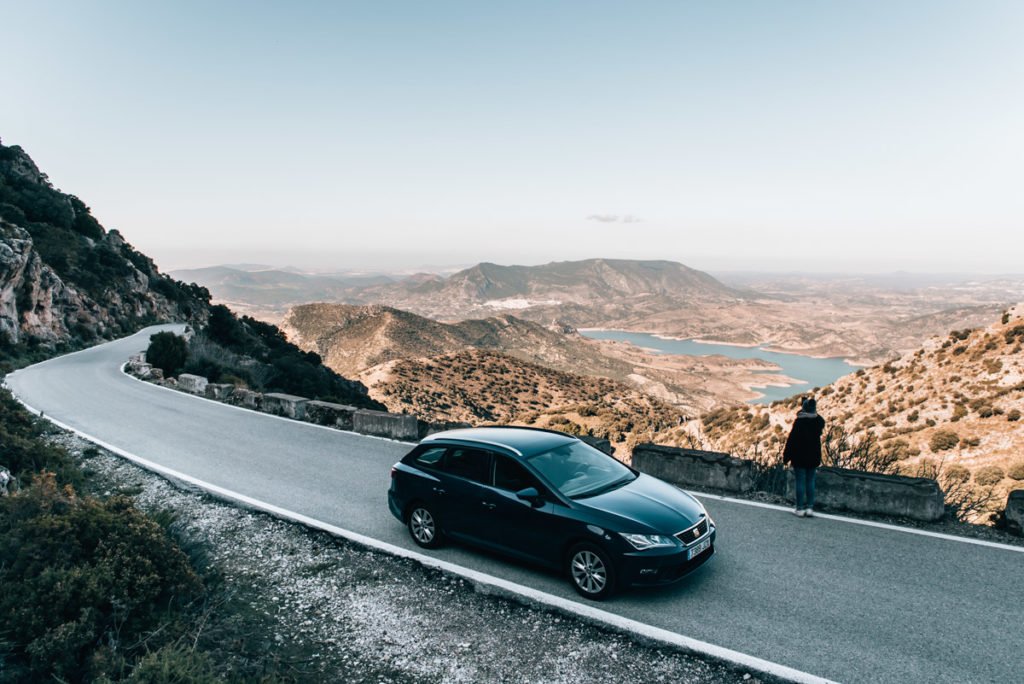 What is the best time of year to visit Andalusia?
Not Recommended: High Season
Why? Because it can get unbearably hot in Andalusia during the summer, so we would personally avoid the months of July and August. The temperature in Córdoba can often reach 40 degrees Celsius during midsummer. Sightseeing in these temperatures is not super fun.
In addition, Andalusia becomes a lot more popular as a travel destination. Therefore, certain parts start to get very touristy and the beaches are of course more crowded than usual.
Another slight disadvantage is that the prices for accommodation rise with the demand during the summer months. Conclusion: Of course it is possible to travel around Andalusia in July or August, but we would only recommend it if that's your only available option. .
Best Time to Visit: Low Season
The best time to travel to Andalusia is clearly in the low season, although there are of course huge variations too. For example, with regards to weather: early September can still be incredibly hot and crowded, while November can sometimes be much cooler and a little rainy.
If you are flexible, then we would recommend that you plan your Andalusia trip for October. During this month, the temperatures are still very warm and you can swim in the ocean without any problems.
We ourselves visited Andalusia at the end of November. Unfortunately, we were a bit unlucky and got caught in a rainy period. On nice days, however, it was still almost 20 degrees and sunshine.
Travel Expenses: How Much Do Things Cost in Andalusia?
Andalusia is surprisingly not a very cheap travel destination. We would say the price level is somewhat lower than in Austria or Germany, with certain things (such as fruit & vegetables) much cheaper in Andalusia, while most other expenses are quite similar to that from home.
However, the entrance fee for various sights is worth the money when traveling through Andalusia. Almost every cathedral will charge for admission (and it's not uncommon to pay 10 Euros to enter). Many other significant sights, such as palaces or castles, also demand very high entrance fees.
Examples: How much does this cost in Andalusia? 
Entrance to Seville Cathedral: 10 Euros
Entrance to the Alhambra: 14 Euros
Beautiful Hotel in Seville with a Double room (in low season): approx. 100 Euros per night (but can also be cheaper)
Parking in Málaga for 24 hours (close to the centre): 22 Euros
Dinner for two at a higher-end tapas bar in Seville (including drinks): 30 Euros
Cortado (similar to an espresso macchiato): 1.20 to 1.50 Euros
Breakfast for two at a café: 15 Euros
3. Map: Overview of our Andalusia Travel Itinerary
To help you get a better perspective of the entire travel route, we have pinned all our destinations on this map. The distances between the individual stops are rather manageable – you usually don't have to spend more than 2 hours in the car.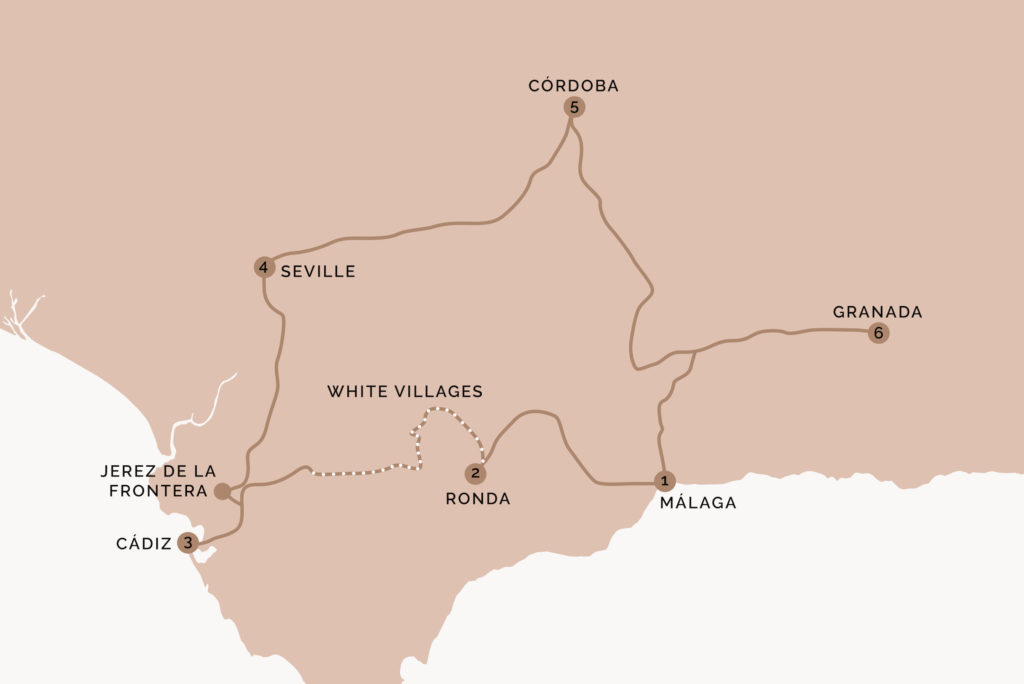 ---
Disclaimer: Affiliate Links
This blog article contains our personal recommendations in the form of affiliate links. If you book or buy something through these links, we receive a small commission from the company. However, this does not change the prices for you at all. We really appreciate it – thank you so much! 
Have you ever done a road trip through Andalusia? What did your itinerary look like? Feel free to leave us a comment or a question. We look forward to reading all your extra tips and experiences!