Anyone who has made their way along Croatia's spectacular coastal road knows: Croatia is simply the perfect road trip destination! In Croatia you can not only look forward to an impressive scenic backdrop but also to lovely coastal towns and dreamy beaches.
But once you start to plan a road trip through Croatia, you will quickly realise: The country is fairly overwhelming. There are simply so many incredible destinations worth seeing in Croatia that it's not so easy to decide which stops to take along the route.
We have put together our perfect Croatia itinerary to make planning your trip easier. Our route is intended for around two weeks but you can however – thanks to a selection of options – extend to three weeks or make it shorter. Whatever suits you.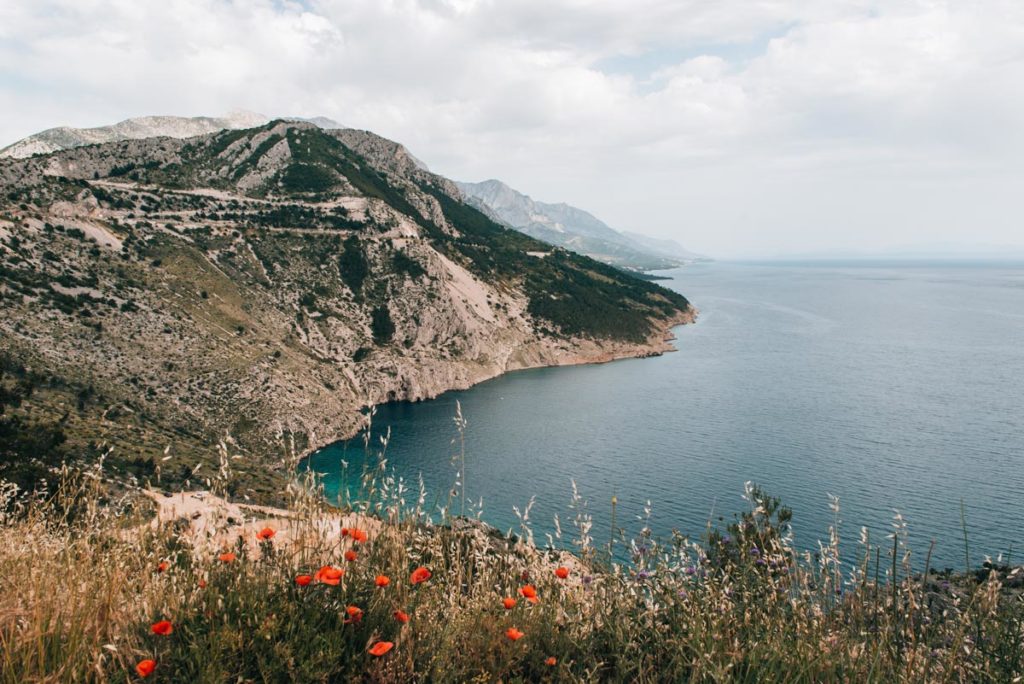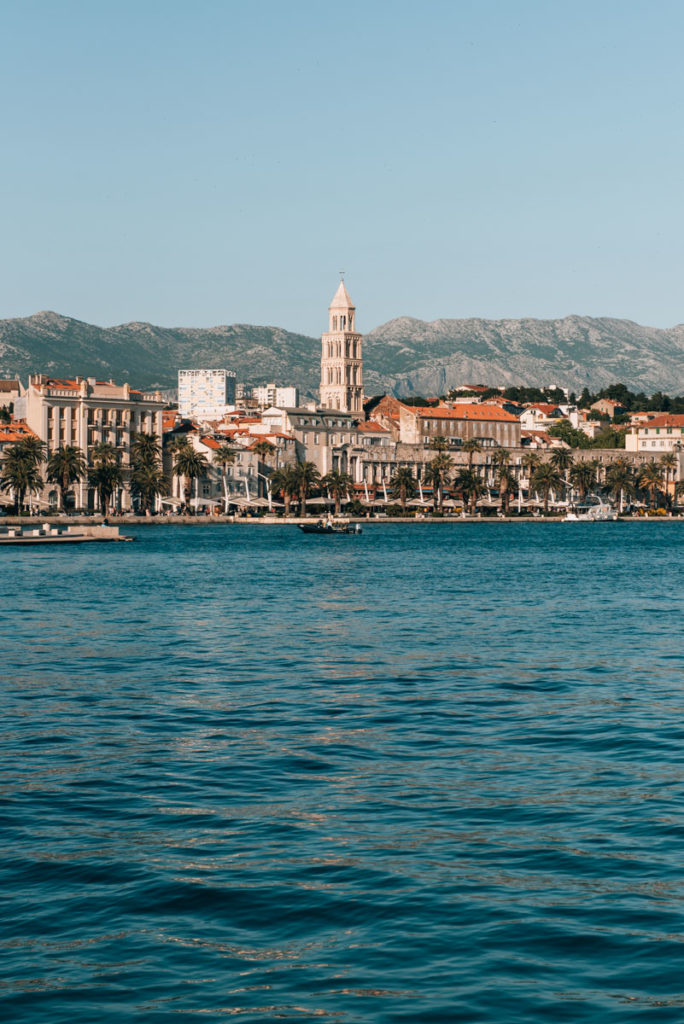 1. Itineary to the Most Beautiful Spots in Croatia
Small note in advance: We begin this itinerary in the north of Croatia. (For good reason, because we drive there from Vienna.) However, if you are flying to Croatia or arriving by train, then you can of course also begin the route at a different stop (e.g. in Split). You can find more info further down in this travel guide.
Istria (Rovinj)
The Italian-influenced Istria is the perfect starting point for you road trip through Croatia. If you travel there with you own car (e.g. from Germany or Austria), Istria is located more or less towards the south.
Istria is the northernmost peninsula of the Adriatic Sea and one of the most well-known regions in Croatia. What awaits you there? You can look forward to picturesque coastal towns. Rovinj in particular really did it for us. The charming port town may be very touristy, yet simply unbelievably worthwhile.
There are also fantastic destinations inland, especially the medieval mountain villages, such as Motovun. In addition, Istria is one of the most exciting culinary regions in Croatia. In our opinion, there is nowhere else in Croatia where you will eat so well as here.
More detailed blog article: Travel Guide to Istria (coming soon)
Recommended stay: 3-4 nights
Our accommodation: The Melegran (Rovinj) or San Tommaso Relais and Wine (Bale)
Optional: Zadar & Dugi Otok
The next stage of our itinerary takes you towards the south to north Dalmatia. A possible next stop is the port town of Zadar. Small warning: This section is one of the longer ones on our route. You will be on the road for about 4 hours from Istria (Rovinj).
Zadar is the second largest city in Dalmatia (after Split). Meaning that many sights are waiting for you to explore them in the historic old town. The historical centre is comparatively small, so one day for exploring should be enough.
Zadar is also the departure point for several Croatian islands. So if you would like to get a taste of a bit of island air early on in your road trip, you can take a detour to one of the islands. One of our favourites is the island Dugi Otok, which still remains a bit of an insider tip. If you are looking for peace and quiet, you are in the right place.
Recommended stay: 1-3 nights (depending on whether you just stay in Zadar or also transfer to an island)
Accommodation tip: Almayer Art & Heritage Hotel (Zadar) and Charming Old Stone House (Dugi Otok)
Stopover: Krka National Park
Before our road trip takes us further along the coast, we recommend a detour inland to Krka National Park. This natural gem with its countless waterfalls is really breathtakingly beautiful.
Krka National Park is fairly expansive. Nevertheless, a stop of several hours is enough to explore the most well-known part of the national park. This takes you (on foot) over wooden steps and in around two hours to the famous Skradinski Waterfall.
You can find more info in this blog article: Krka National Park
Recommended stay: ca. 3-6 hours (depending on how much you would like to see)
Šibenik
The coastal town Šibenik is a likeable mix of impressive sights (including the striking Cathedral of St. James) and picturesque alleyways. The historic town centre is small but promises plenty of photo opportunities.
A specialty in Šibenik are the four fortresses. From the most famous, St. Michael's Fortress, you can enjoy a lovely panorama view over Šibenik and the sea. Overall, Šibenik is definitely a very worthwhile stop on a road trip through Croatia.
More detailed blog article: Travel Guide to Šibenik
Recommended stay: 1-2 nights
Recommended accommodation: Villa Pergola or Hotel Armerun
Stopover: Primošten & Trogir
On the way south, we definitely recommend avoiding certain sections of the inland highway and take the coastal road instead. This takes you to two towns worth seeing: Primošten and Trogir.
Around half an hour outside of Šibenik you will come to the sleepy fishing town of Primošten. Primošten is a wonderfully situated on a peninsula and surrounded by water on almost all sides. You can, for example, take a stroll to the Sveti Juraj church or simply enjoy the flair in a café at the port.
Around a 40-minute drive beyond Primošten you will find the comparatively touristy, but very worthwhile, port town of Trogir. It is noticeably more lively here. We can really recommend going up the clocktower of the St Lawrence cathedral. The view from up here over Trogir is simply fantastic.
Here is more info about both places: Primošten & Trogir
Recommended stay: Approx. 2 hours each
Split
It wouldn't be a Croatian road trip without a stop off in Split! Split is, in our eyes, a jewel of a city and should definitely should not be skipped on your itinerary. The old town around the famous Diocletian's Palace is breathtakingly beautiful. Split is incredibly rich in history and at the same time, a modern coastal metropolis.
Because Split is one of the most fascinating destinations in Croatia, we would recommend you stay at least two nights. Believe us: The flair in Split is really something quite special and definitely remains in your memory. For anyone who wants to dive into the Mediterranean, there are also plenty of beaches around Split.
This way to our detailed blog article: Travel Guide to Split
Recommended stay: 2-3 nights
Our accommodation: Heritage Hotel Fermai
Optional: Hvar
Split is the departure port for a few islands in southern Dalmatia. Of course, there is always one thing with the islands: The ferry ride takes time and needs a little planning. However, if you would like to take a detour to an island, then we can highly recommend Hvar.
Hvar is one of the most expensive and most beautiful islands in Croatia. You can find some incredibly stylish, but also very expensive, accommodation here. You can also look forward to one of the most beautiful cities in Croatia – the island's main town, Hvar.
Recommended stay: 3 nights
Accommodation tip: Town House Rosario
Stopover: Omiš
The road trip carries on down the mainland towards the south. Here we recommend, once again, skipping the highway inland and opting to take the spectacular coastal road instead. It takes you from Split to Omiš, a coastal town well worth seeing, in around 45 minutes.
Omiš is pretty impressively situated at the foot of the mountains. (But it gets even more impressive in Croatia, just as a wee spoiler.) We definitely recommend you climb up to the Mirabella Fortress. You get a fantastic view over Omiš from up here.
You can find more info here: Omiš
Recommended stay: around 2-3 hours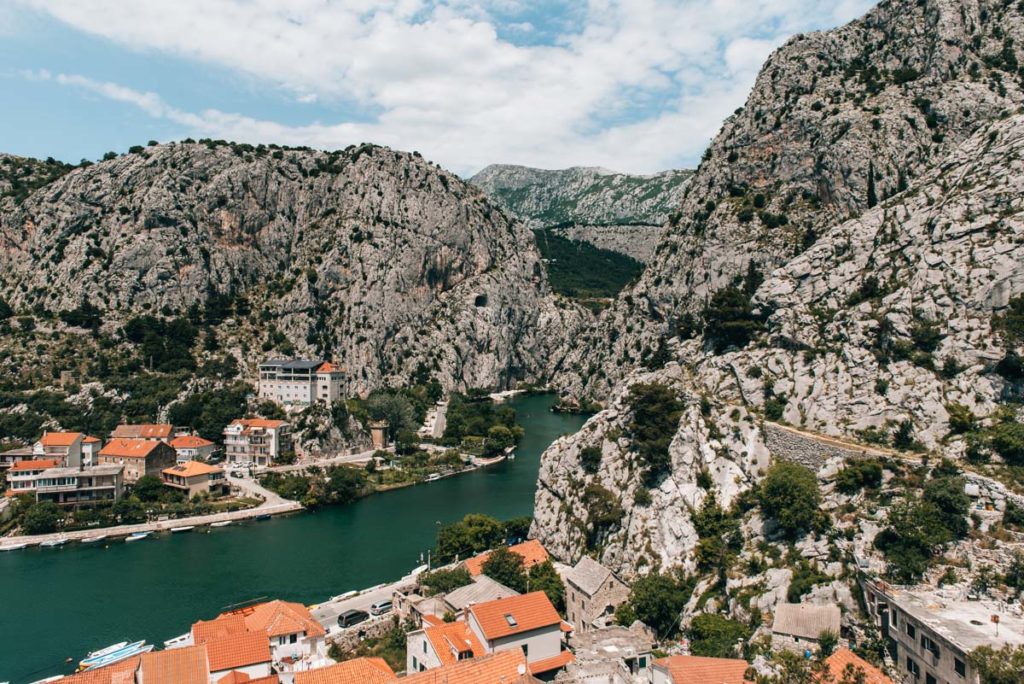 Makarska Riviera
The itinerary takes us from Omiš along the coastal road once more. Now it gets really impressive, as we get closer to the Makarska Riviera – a coastal section characterised by the spectacular Biokovo Mountains. The picturesque towns are tightly nestled at the foot of the mountain range – a brilliant scenic backdrop.
The largest town, which the region is also named after, is the beautiful Makarska. The dreamy beaches that you find here are very unique, especially Punta Rata beach in Brela, which is often voted the most beautiful in the world.
Overall, Makarska Riviera is a great destination for a beach holiday with enough options for active tourists as well, thanks to the Biokovo Mountains. We really enjoyed it here.
You can find a more detailed article here: Makarska Riviera
Recommended stay: 2-3 nights
Our accommodation: Villa Basca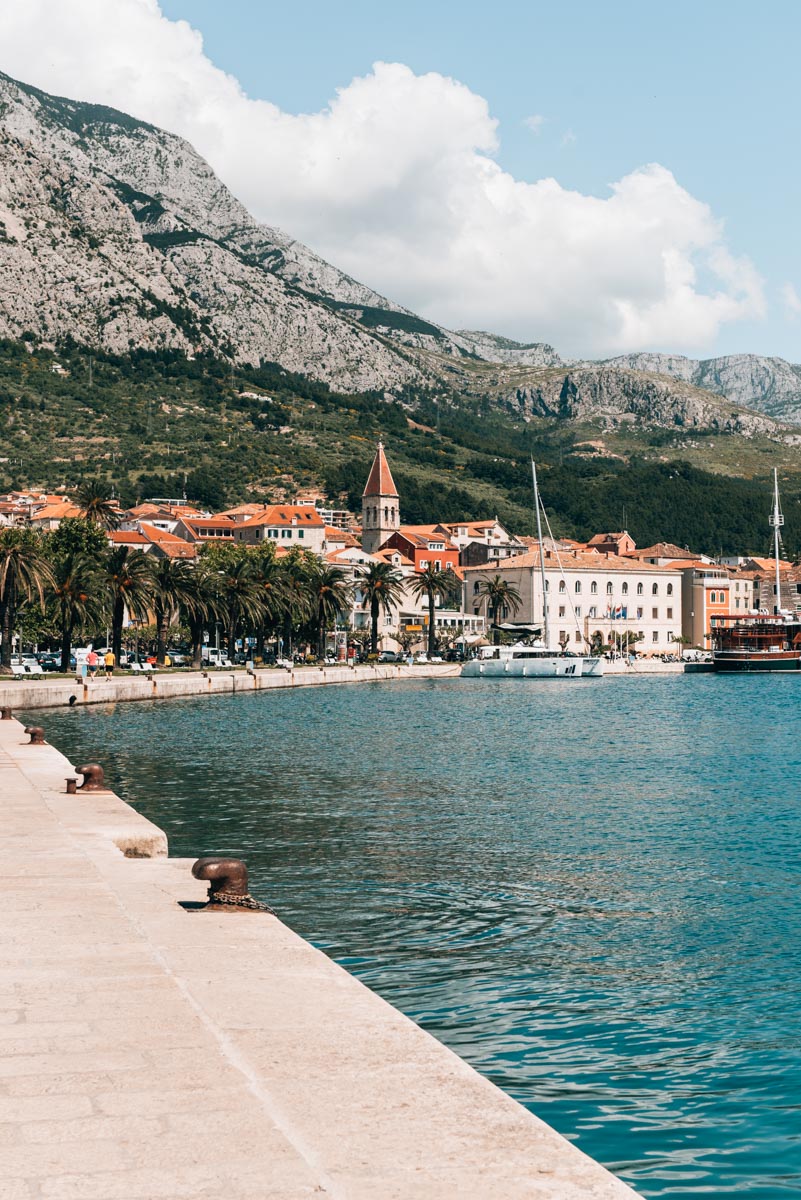 Dubrovnik
Last but not least: Dubrovnik, the spectacular port town at the southernmost tip of Croatia, is the last destination on our Croatia Itinerary. A new bridge (Peljesac Bridge) openend in 2022, so you don't need to cross over the border to Bosnia and Herzegovina (and back again to Croatia) via the so-called Neum corridor anymore.
The journey is certainly worth it: Many consider the UNESCO World Heritage Site city of Dubrovnik to be the most beautiful city in Croatia. Since the series "Game of Thrones" was filmed here, Dubrovnik has grown in popularity once again. You probably already know what that means: Dubrovnik is without a doubt one of the most touristy travel destinations in Croatia.
Still, if you have enough time, then you should definitely plan to stop off in Dubrovnik for a few days. The medieval flair is really something special.
Additional info: You can find a detailed blog article about Dubrovnik in the travel blog Julesandaway (German)
Recommended stay: 2-3 nights
Accommodation tip: The Byron
2. Map: Overview of our Croatia Itinerary
We have marked all the stops on this map, so that you can get a better idea of what the travel route looks like. As you can see: Croatia is very long. To break up the journey back from Dubrovnik, it is of course advisable to plan another stopover on the way.
You have two options here: Either you take out one or two of the stops along the route and pick them up on your way back. Or you take the direct inland route over the highway. Then you can plan to stay overnight at the famous Plitvice Lakes.
3. Transport & Rental Cars in Croatia
Own vehicle vs. rental car in Croatia
Perhaps you can't decide whether you want to take your own car to Croatia or if it's better to hire a car while there? In principle, both have their advantages and disadvantages.
If you are traveling from Austria or southern Germany, taking your own car would probably be your first choice. For example, we have always taken our own car from Vienna to Croatia. This disadvantage in that: You cover an incredible amount of kilometres in Croatia. For example, it's almost 1,000 kilometres just to get from Vienna to Dubrovnik.
Therefore, for many people (especially those coming from middle or northern Germany) getting there by train or airplane is another option. Then you could head to Split or Dubrovnik, for example. We like to search for cheap flights on Skyscanner. Once you arrive in Croatia, you can rent a car from there.
We ourselves always book our rental cars using Sunny Cars. Sunny Cars is a comparison platform. You book via Sunny Cars and then pick up your car from a local rental car company there (e.g. Hertz). The big advantage with using Sunny Cars is the fully comprehensive insurance. If you have an accident (regardless of whether caused by yourself or someone else) you don't have to pay the costs. We personally would never travel without this type of insurance again!
You can search for cheap rental cars here: Sunny Cars
Driving & road tolls on a road trip through Croatia
The Croatian road network is quite well developed. Two routes will be particularly important for your roadtrip: the first is the modern motorway A1, which takes you inland from Zagreb to Dubrovnik. The other is the coastal road, which meanders spectacularly along the waterside and is of course much more attractive in terms of landscape.
Motorways (and some tunnels) in Croatia are subject to tolls. There is no vignette. Instead, you always pay a ticket to drive and pay cash or card at the gate when you leave.
The road tolls are fairly high: You need to allow around 8 euros for 100 kilometres. This adds up quite a bit when you think about how long Croatia is. But it does mean the motorway is in great shape.
On the islands: Ferry connections in Croatia
You can use a ferry to reach Croatia's many islands from the mainland in comfort. The main departure ports are located in Split (e.g. to the islands Hvar, Vis or Korčula) and Zadar (e.g. to Dugi Otok).
The largest shipping company in Croatia is Jadrolinija. Their ships connect practically all the relevant tourist port towns with each other. Now you can even easily book your ferry tickets in advance online, which we would recommend you do in the main season.
Important note: It is only possible to take your car on the large ferries, because the catamarans are only used to transport foot passengers. You can book to take your car while booking your ferry ticket. Ask your rental car company in advance whether you are allowed to leave the mainland.
4. FAQs and Additional Info for your Road Trip through Croatia
What is the best time to take a road trip through Croatia?
Not recommended: July & August
Very, very important: Try to avoid the middle of summer, so July and August, if possible. Croatia is one of those travel destinations where it feels like it gets more and more popular every year. Nowadays, many places in Croatia are unfortunately overcrowded in the summer months.
Of course, we know July and August is the only time available many people can travel, due to the school holidays. If that's the case: Not to worry. You can of course still road trip through Croatia during the main season.
If so, you need to be prepared for a lot of people. The most famous beaches are really quite full at this time and it's not unusual for the popular restaurants to be booked out days in advance. We would definitely recommend you book your accommodation in advance for July and August.
Our recommendation: Spring or autumn
If you are flexible with your time, then we whole-heartedly recommend you plan your road trip for spring or autumn. There is still a lot going on, but it is much more relaxing than in the main season.
Autumn would be our preferred travel time. More precisely, September until the start or mid-October. With a bit of luck, the weather is still stable at this time. The sea is also still warm from summer, so nothing should get in the way of a beach holiday. (Provided an Adriatic low doesn't get in the way.)
Springtime in Croatia is also beautiful. We have been to Croatia several times in May, for example. The thermometer can get to summer temperatures some days. In any case, you can usually look forward to sunny spring days.
How much time should I plan for a road trip through Croatia?
Croatia is huge! If you start to research the most beautiful travel destinations, then you will quickly realise: One trip will never be enough to see everything.
We will leave you with our quick run-through, so that you can get a feel for which routes are possible in what amount of time.
1 week: Is of course rather short for a road trip through Croatia, but still possible. We recommend you concentrate your focus on one region, such as Istria (very possible in on week) or central Dalmatia (Split & Makarska Riviera).
2 weeks: All of Croatia is possible, but rather stressful. You could, for example "only" drive until Split or skip Istria. The travel route described above would be quite an ambitious undertaking, but possible if you take one or two stops out.
3 weeks: The longer the better, of course. Therefore, three weeks is a great amount of time to travel the entire length of Croatia and also quite comfortably take a trip to one of the islands.
Book accommodation along the travel route spontaneously or in advance?
Whether you prefer to book your accommodation in advance or while on the road is a matter of personal preference. We personally always like to book our first stops along the route in advance from home.
If you have a limited amount of time, we would definitely recommend booking your hotels before you leave on your trip. Researching suitable accommodation while on your trip can be rather tiring and take up a lot of time.
Especially in the main season: The earlier you book the better! Popular travel destinations are often practically booked out in July and August. We made the mistake one time of travelling to Split in August without a booking. Never again!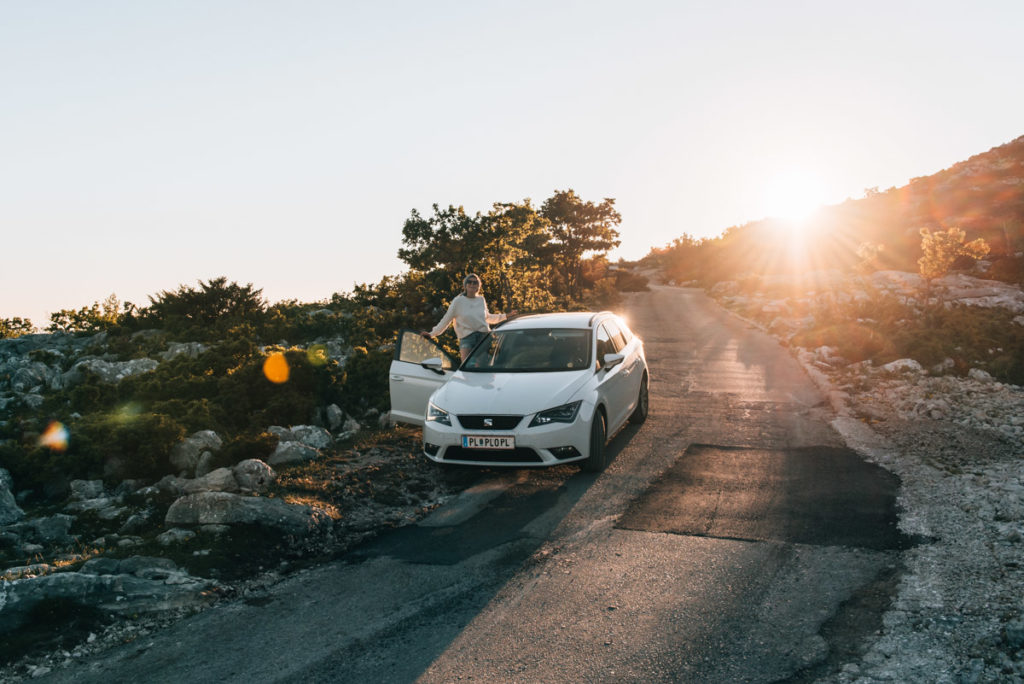 ---
Disclaimer: Affiliate Links
This travel guide contains our personal recommendations in the form of affiliate links. If you book or buy something via the links, we will receive a small commission. This will not change the price for you at all. A million thanks from the both of us!
And now we are curious: Have you ever been on a road trip through Croatia? What was your itinerary like? In your opinion, what were the most beautiful destinations in Croatia? We look forward to hearing about your experiences!