Ciao Toscana! Hello beautiful Tuscany! It's no secret that we fell in love with this region instantly, it was love at first sight. Tuscany has this unique combination of Italian lifestyle and holiday flair. Our road trip through Tuscany was one of our best trips and most memorable trips (not just because we got to spend it with family).
In this travel guide, we share with you our itinerary and which places we visited on our Tuscan road trip. As always, we have included our personal tips as well. All the destinations on our road trip can be found at the end of the article on an interactive map.
1. Tuscany Road Trip: What is Tuscany like?
Olive groves and vineyards as far as the eye can see, rolling hills and picturesque towns: Tuscany is home to some places that are too beautiful to be true, with incredible photo opportunities all around.
In the heart of Tuscany, you'll find beautiful, romantic cities, such as Florence with its stunning cathedral. But the smaller cities are the ones that really captivated us. We were particularly taken by the small charming town of Lucca, with its well-preserved medieval city wall.
However, Tuscany would not be Tuscany without its characteristic landscapes: the gentle, rolling hills are mesmerising in the golden hours – as are the lovely cypress trees and olive groves.
Mornings are best spent with breakfast from local places, and the evenings are best spent enjoying sunset out in the countryside – you can't get more Tuscan than that! You'll find it easier to switch-off and be more in the present – life slows down here, just enough that it's therapeutic.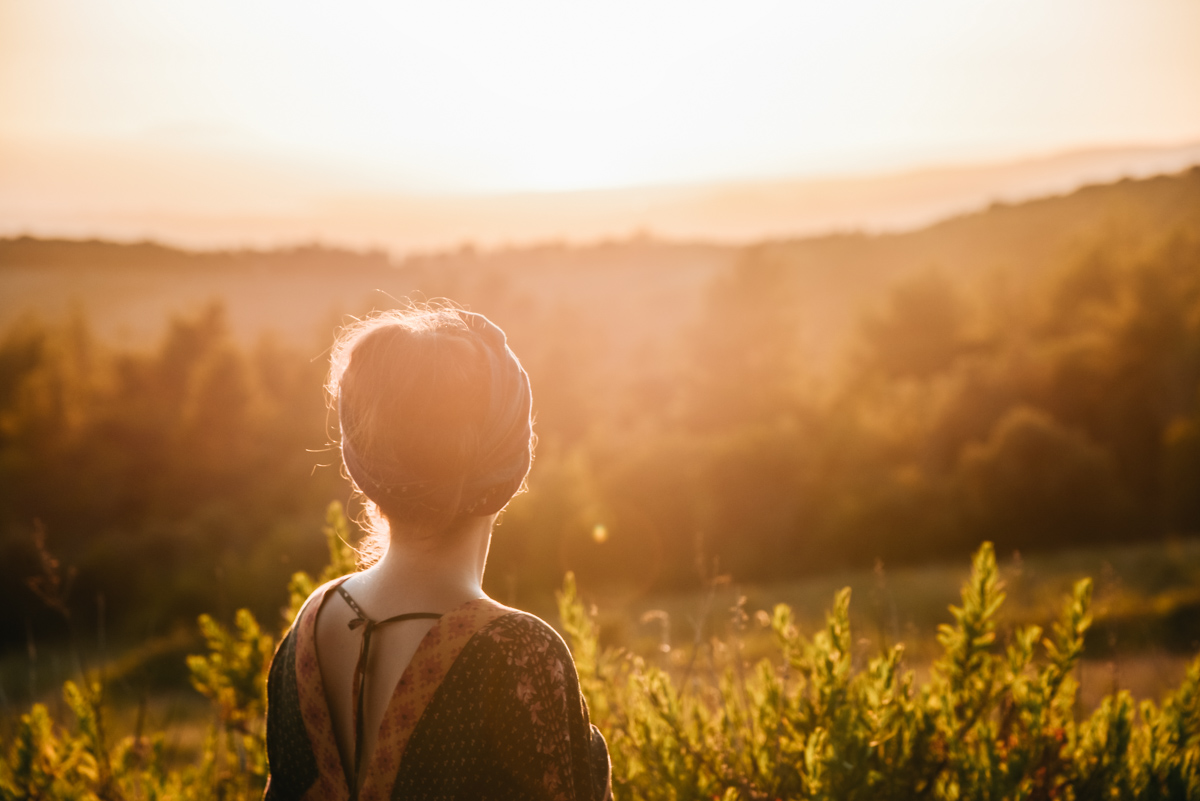 2. Itinerary through Tuscany: The Stops of our Road Trip
Florence
Florence is the ideal starting point for a road trip through Tuscany because being the capital of Tuscany, it is home to one of the largest airports in the region.
With almost 400,000 inhabitants, Florence is not a huge city, but certainly larger than expected. It's also very touristy with large crowds, especially in the centre. Nowhere else in Tuscany was coffee more expensive than in Florence.
The most famous sight in Florence is the Uffizi Gallery – a complex of buildings that has now become one of the most famous art museums in the world. Therefore, it might be a good idea to get your tickets in advance. One of the highlights was the stunning cathedral of Florence called Santa Maria del Fiore. We were speechless at the sight of it, this is one of the most beautiful cathedrals we have ever seen.
Our tip: enjoy a magical sunset overlooking Florence from the Piazzale di Michelangelo. This is far from a secret, but the view from up here is simply incredible.
Our hotel tip for Florence: Corte Calzaiuoli Elegant Suites
Beautiful, very stylish, small boutique hotel right in the centre of florence. Great location, very good breakfast – one of the best accommodation on our road trip.
Lucca
Of all the destinations we visited on our road trip in Tuscany, we found Lucca particularly charming and would highly recommend you to see this place for yourself. The architecture style has a very medieval feel and the city of Lucca is actually surrounded by an excellently preserved medieval city wall, which you can walk or bike around its entire 4 kilometre length.
One of the most famous sights in Lucca is Piazza dell'Anfiteatro. As the name implies, this square was built on the ruins of a Roman amphitheater, which is where it gets its characteristic oval shape from.
Our tip: do not miss the view from the Torre Guinigi (Guinigi Tower). From up here you have a beautiful panoramic view over Lucca.
Our detailed blog article: Lucca Travel Guide
Our hotel tip for Lucca: Il Pozzo di Santa Zita
Very nice boutique hotel in a historic house with individually decorated rooms. It has a fantastic location in the centre of Lucca.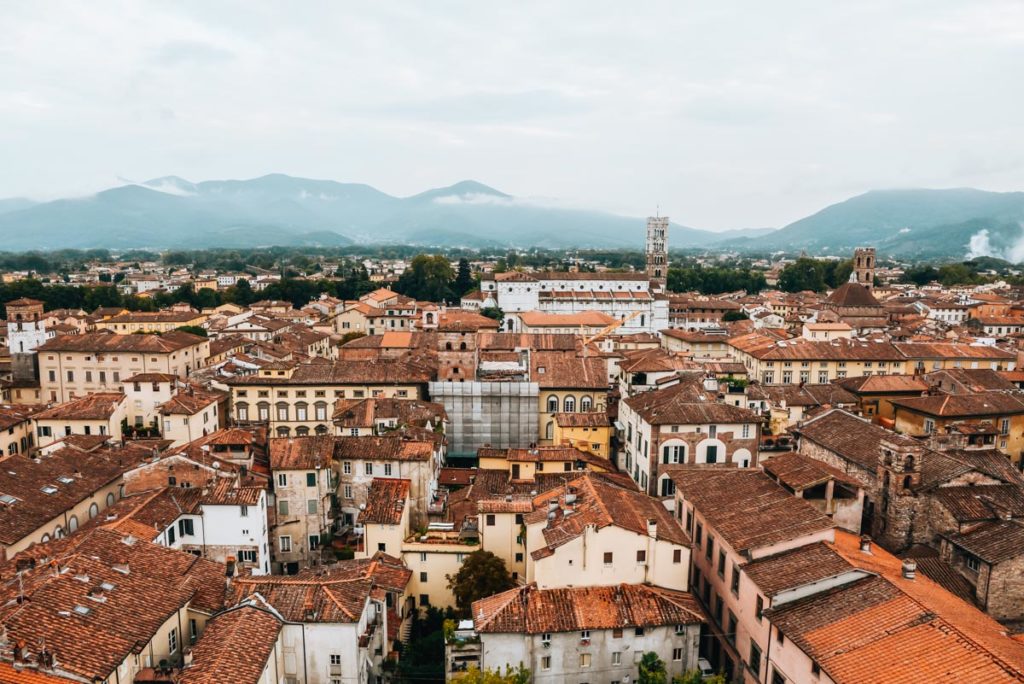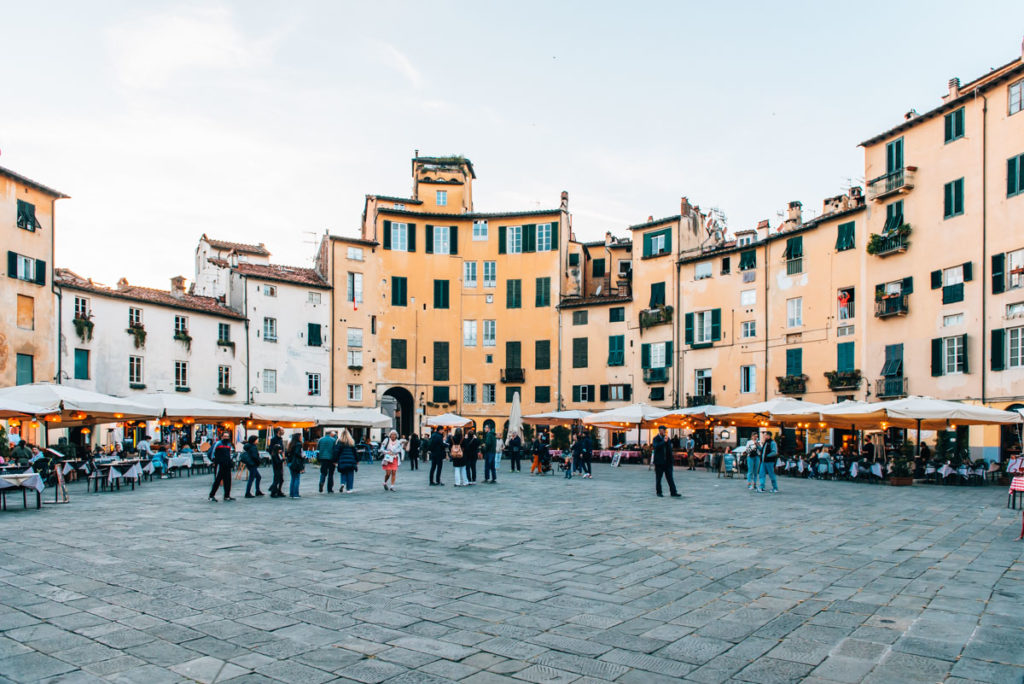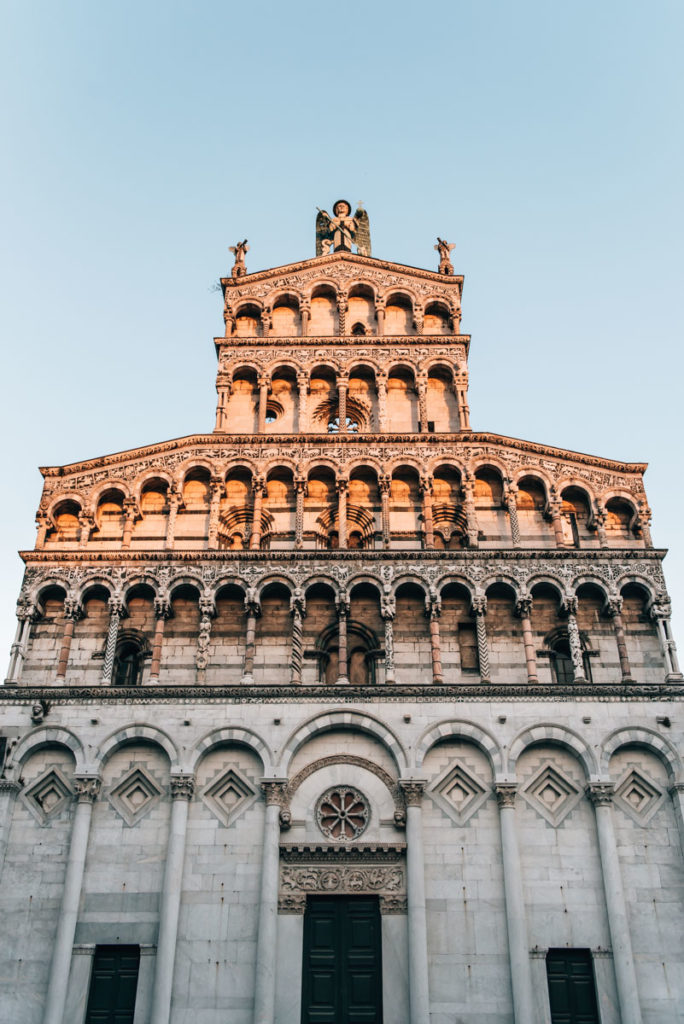 Pisa
Welcome to the city that is home to the most famous attraction in Tuscany: the Leaning Tower of Pisa. The Leaning Tower of Pisa is one of Italy's most well-known landmarks. No wonder the crowd was even bigger than we expected.
Of course it's great to see the tower with your own eyes, but we have to admit that there are definitely more impressive and charming places than the grassy areas of Piazza dei Miracoli around the Leaning Tower of Pisa. During peak summer season, this place is swarmed by tour groups.
Right next to the Leaning Tower of Pisa is the Duomo of Pisa (Cathedral of Santa Maria Assunta). Overall, we found the centre of Pisa less impressive than that of Lucca.
Our hotel tip for Pisa: B & B Di Camilla
Lovely accommodation with a unique country house style. The location is central, but nice and quiet.
Volterra
Upon arrival, we already had a good first impression of Volterra: The medieval city is perched on a hill and visible from a distance. Volterra's twisting labyrinth of narrow streets had the potential to be one of our favourite places in Tuscany, if it wasn't so crowded.
Nevertheless, Volterra is definitely worth a stop. Fun fact: Volterra is also called the alabaster city, as it was well known for its mining and processing of alabaster. That's why you'll find countless shops selling alabaster products in the city centre – most of them are your typical souvenir shops.
Our accommodation tip: Villa Loghino
Very stylish accommodation in an old country house with a pool. It's located outside the centre of Volterra and it's very nice and quiet.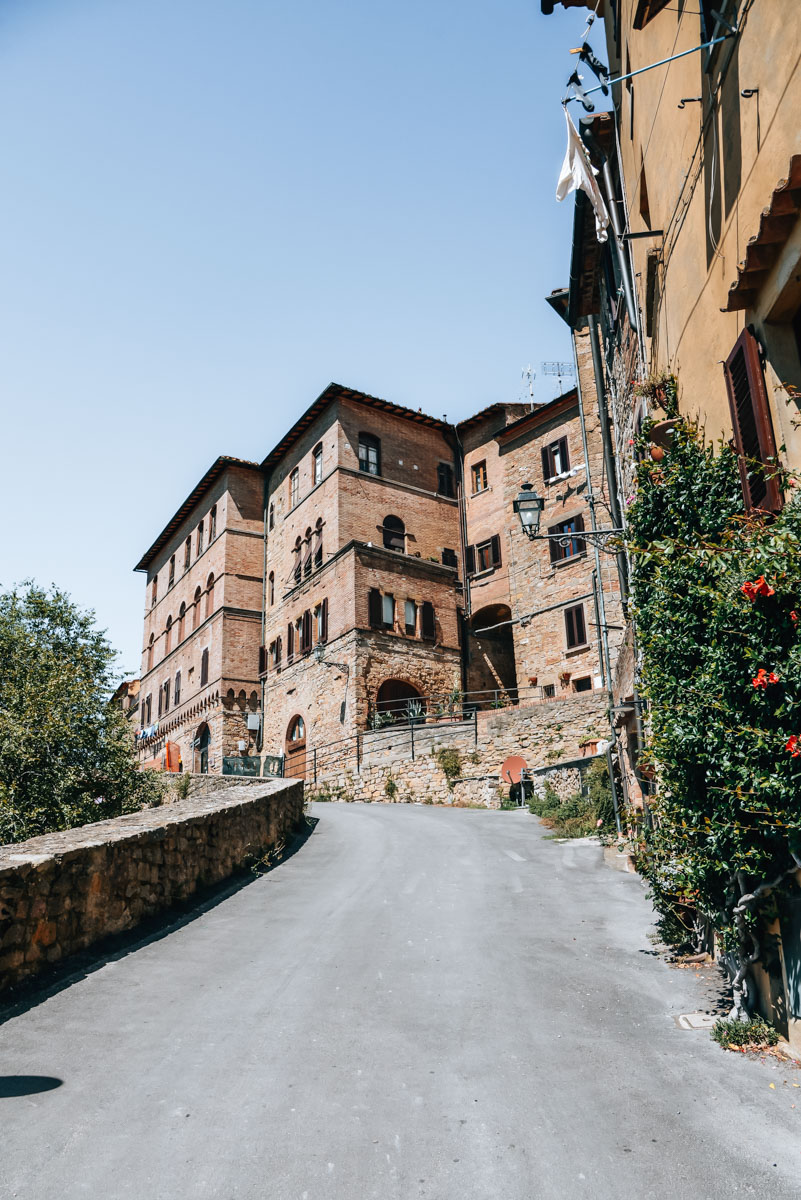 San Gimignano
The next city on our Tuscany road trip is San Gimignano. San Gimignano is one of the most impressive cities in Tuscany and also known as the "Medieval Manhattan". If you approach San Gimignano, then you immediately see why: 15 medieval towers reach up towards the sky, giving the city its strikingly unique appearance.
One of the highlights is the view over San Gimignano from the towers. Perhaps the most famous one is the lookout point from Torre Grosso. Although most of the information you see on the Internet says that this is the only accessible tower, we actually found ourselves on another tower. However, in our particular case, this alternative tower was actually home to an apartment. Therefore, mostly likely only accessible if the apartment is not currently rented out. Either way: San Gimignano from above is a must-see.
Our tip: There is a lovely winery near San Gimignano called Teruzzi & Puthod, where we stopped to look around. If you want to buy a bottle of wine or two, then this is the place for you. One of the classics from this particular winery is the Tuscan white wine – Vernaccia di San Gimignano.
Our detailed blog article: San Gimignano Travel Guide
Our hotel tip for San Gimignano: Podere Sant'Elena
Very nice accommodation in a restored country house with pool and large garden. Just outside San Gimignano, but very idyllic.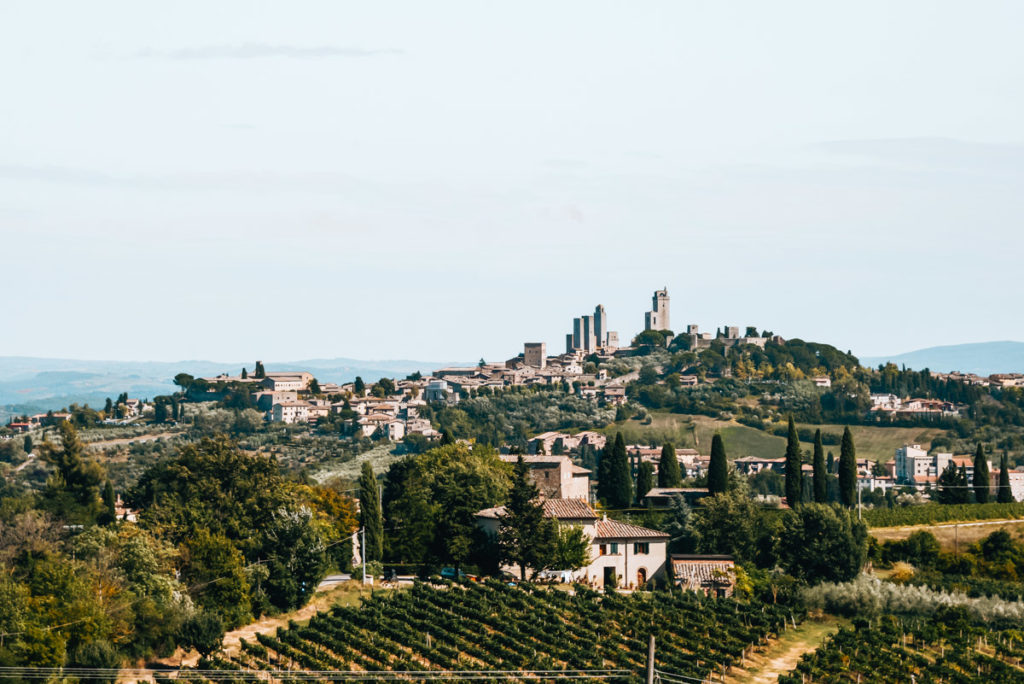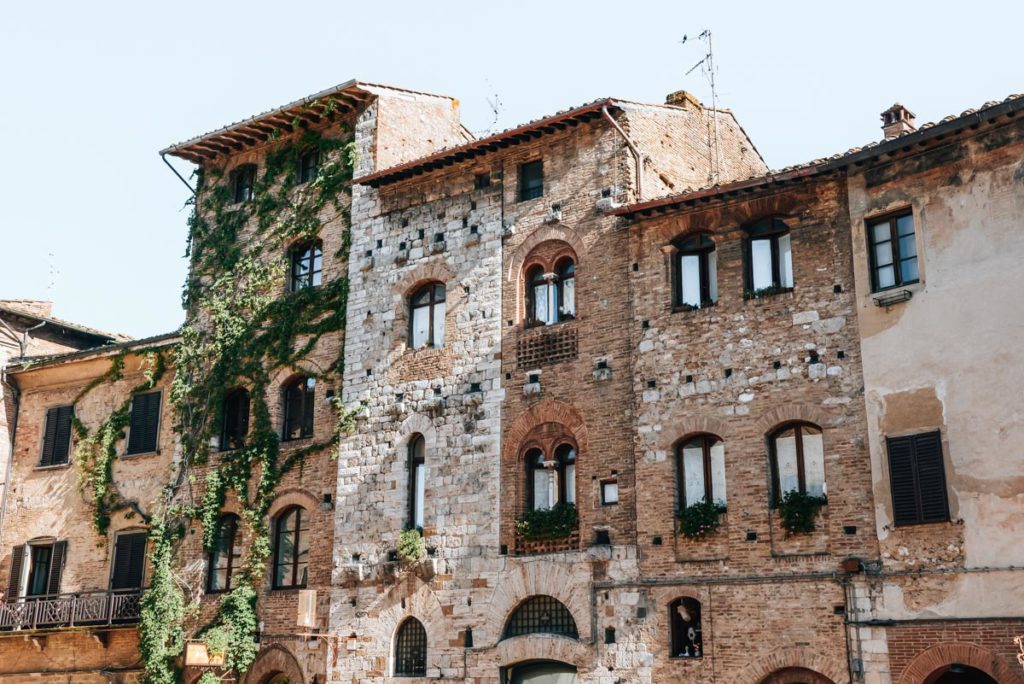 Bolgheri
For two things, the small, charming place is particularly well-known: Firstly, you will find plenty of wineries in and around Bolgheri. And on the other hand, the journey to Bolgheri is very special: you drive through the famous cypress avenue, the so-called Viale dei Cipressi. Centuries-old cypress trees line this street.
Bolgheri itself is a charming little town that is explored fairly quickly. Worth seeing is the castle of Bolgheri, through whose gate you also drive when you come to Bolgheri. Otherwise, you can pass the time in one of the wine bars – there are some in Bolgheri.
Siena
Another must on a Tuscany road trip: Siena. Siena, located in the heart of Tuscany, is considered one of the most beautiful and charming cities in Italy. Not for nothing is the old town Siena UNESCO World Heritage Site.
The best way to start your city tour is in the most important square of Siena, Piazza del Campo. This sprawling, shell-shaped space is a popular meeting place for locals and tourists at any time of the day.
From the tower of the Palazzo Pubblico, the Torre del Mangia, you have a magnificent view over Siena. More than 400 steps have to be overcome before you can enjoy the panoramic view over Siena. He is really breathtaking!
Our detailed blog article: Siena Travel Guide
Hotel tip for Siena: Casatorre dei Leoni
Beautiful and very tasteful accommodation in a historic house right in the center.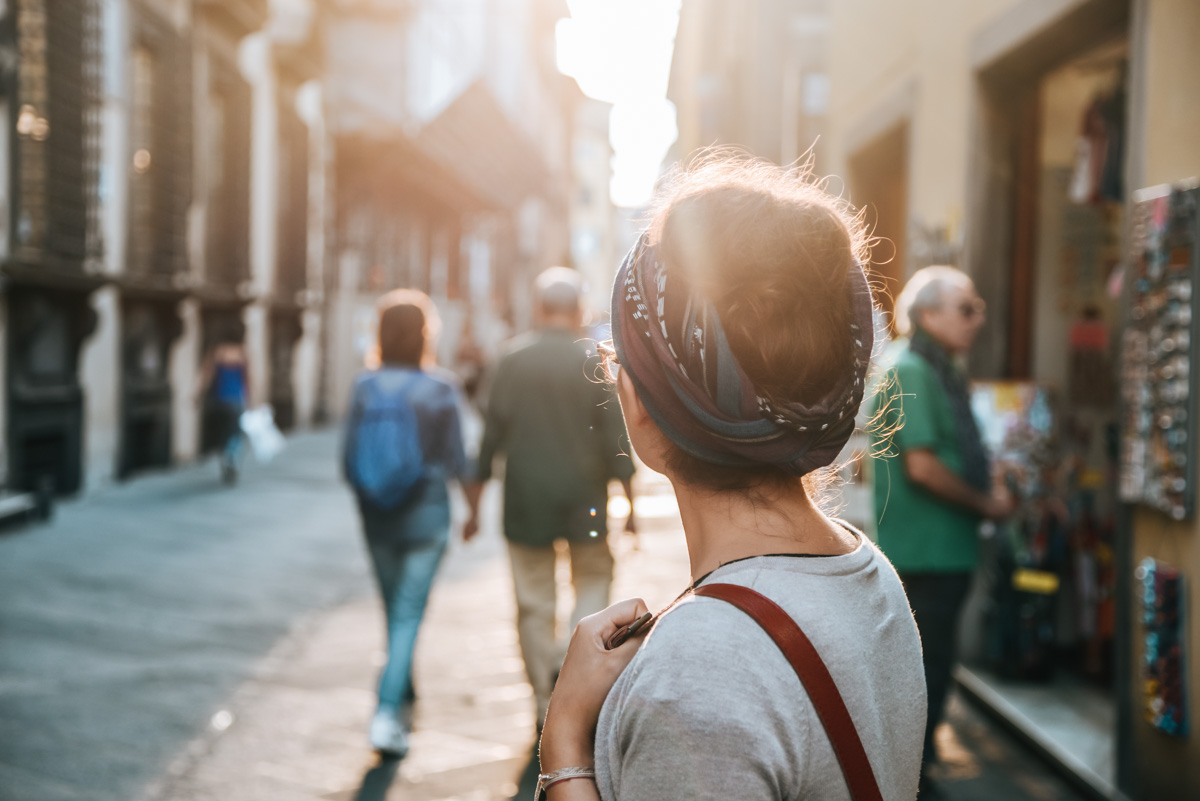 Val d'Orcia
One of the most iconic destinations on our Tuscany road trip is the beautiful Val d'Orcia, located south of Siena. Here all the Tuscany clichés that you have in your head become reality.
You can look forward to beautiful, medieval towns surrounded by a picturesque, gently rolling landscape. We particularly liked Pienza, Montalcino and Montepulciano.
For wine lovers, the Val d'Orcia is also a must on a road trip in Tuscany. The Val d'Orcia is home of the famous Brunello di Montalcino.
Our detailed blog article: Val d'Orcia Travel Guide
Hotel tip for the Val d'Orcia: Borgo Canalicchio Di Sopra Relais
A wonderful hotel in a quiet location surrounded by vineyards and olive groves. This is how you imagine the perfect vacation in Tuscany!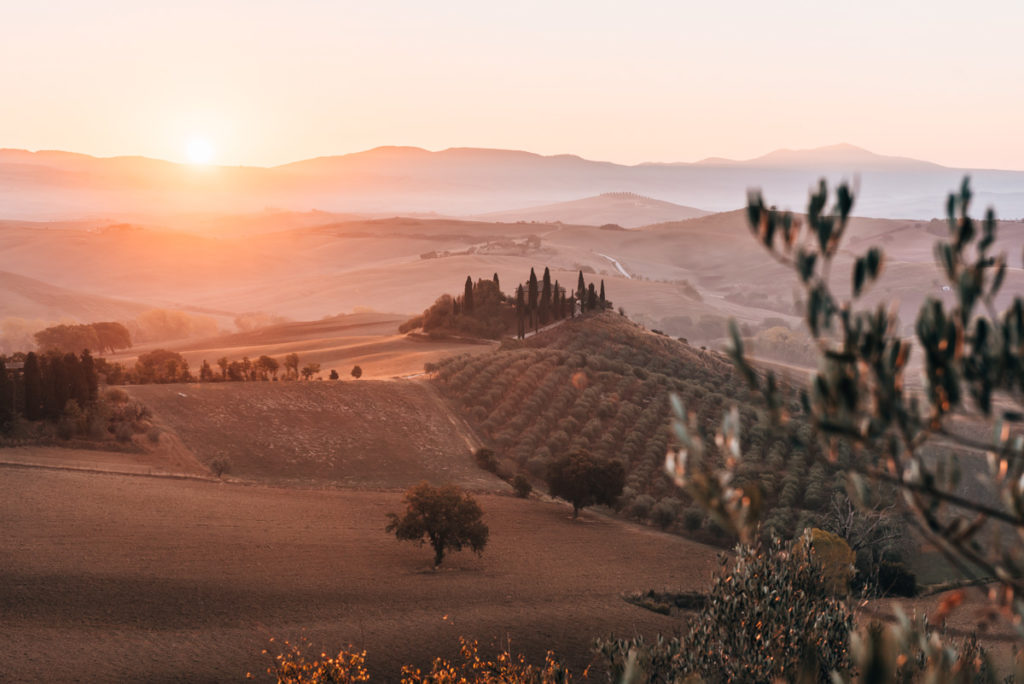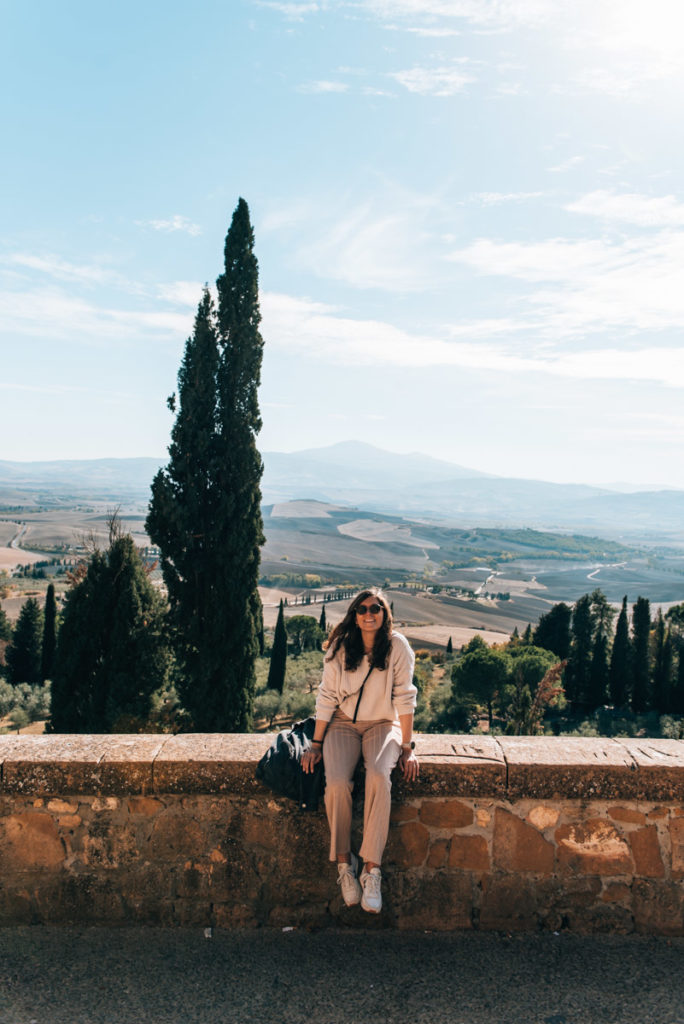 3. Map: Overview of our Road Trip through Tuscany
To give you a better idea of ​​where all these locations are, we've mapped out all our Road Trip Destinations through Tuscany in this interactive map below.
4. Extra Travel Tips for your Tuscany Road Trip
Transport in Tuscany: Car Rental Tips
If you are not planning on travelling Tuscany with your own car, then we can highly recommend you book a rental car. In Tuscany, getting around by bus can be rather difficult, especially when it comes to smaller towns. If you have a car, then you can be much more flexible with your travels, which is a very important aspect for many people (like us).
We always book our rental cars via Sunny Cars, who act as an intermediary. On their website, you'll find an overview of the cheapest rental car offers from different companies such as Hertz or Europcar.
The biggest advantage of Sunny Cars is that you have full comprehensive insurance. So in the case of an accident, you will also be reimbursed the excess or deductible. The type of car is also important (eg. an SUV is perhaps a little unnecessary for Tuscany). We would say a mid-range car is a good ballpoint.
What is the best Season for a Road Trip through Tuscany?
Spring and autumn are most ideal for a road trip through Tuscany. The best months are perhaps May and June for Spring, as well as September and October for Autumn. The climate is usually pleasantly warm during these months and not too hot. Bonus: not so many tourists during these months as you would get in the peak summer months of July and August.
Tip: If possible, avoid the peak summer months (especially July and August). We have experienced what it's like to travel Tuscany in August and can confirm that some places were just hopelessly overrun during this period. Especially places of historically significant sites, such as San Gimignano and Volterra. However, if you want to combine your Tuscan trip with a beach getaway on the coast, then perhaps you might prefer the warmer summer months.
How much Time should I plan for a Road Trip through Tuscany?
Difficult question as it really depends on the individual. We ourselves only spent one week in Tuscany, but at the same time, we could have easily filled in two weeks with beautiful destinations.
If you prefer a slower style of travelling, then we would recommend you allow two weeks, which will also give you enough time to explore a few places off the beaten path.
The distances between destinations should not be underestimated either because the Tuscany region is quite extensive: There are actually nine provinces, which theoretically would take several hours to cover them all. Although Tuscany does not seem as big on the map, you should also keep in mind that some of the roads are not perfect. You might find yourself driving on the country roads, which often take longer than you might have originally planned for.
Day Trips from Base vs Staying in Multiple Places
You have two options here: either you have a fixed base with just one accommodation and do day trips from there. Or you hop around and stay in several places along the way. Both have their advantages and disadvantages.
1) Day Trips from Base: If you're going with this option, then it makes sense to find a good base, preferably somewhere in the centre of Tuscany (such as Pisa or Siena), as this should help minimise the amount of travel time. The good thing is, you just need to pack what you need for the day. But you will end up spending more time on travel than the other option. We stayed in a historic estate in the province of Livorno and it was great being so close to the sea. Our tip: Before you book your accommodation, just check (via Google Maps) how long it will take to get to each of your planned destinations. That way, you can plan your day trips better and thus, make the most of your day.
2) Staying in Multiple Places: If you want to stay overnight in several places on your road trip, then you have the luxury of being a little more flexible. However, this also means you have to travel with all your luggage and you're constantly having to pack and unpack your belongings. A good starting point would be Florence, where they have lots of international connections.
---
Disclaimer: Affiliate Links
This travel guide contains our personal recommendations in the form of affiliate links. If you book or buy something through these links, we will receive a small commission from the company. But this does not alter the price for you at all. A million thanks from the both of us!
Have you ever done a road trip through Tuscany? Perhaps you have extra tips? We look forward to reading your experiences!