What a place, what a charm! Cádiz really stands out against the rest of Andalusian cities. It lies on a headland, surrounded by the ocean on all sides. Sounds like a dream? It is! And by the way, Cádiz is also one of the oldest cities in Europe.
In this blog article, we'll share with you why Cádiz is worth a stop on your trip through Andalusia. We will introduce you to the most beautiful sights and highlights in the area. Plus, our personal tips and recommendations, as always.
1. Cádiz: Interesting Facts about this Coastal Andalusian City
Cádiz is old, very old. Fascinating fact: Cádiz is actually one of the oldest cities in all of Europe. And an authentic one on top of that. Although tourism has become an integral part of Cádiz, the coastal town still portrays a very original impression. Meaning that, while the streets of Cádiz are photogenic, not every house is perfectly renovated down to the last detail.
The inhabitants of Cádiz (who, by the way are called Gaditanos) fill the city with life. Although the main squares and certain streets of Cádiz can be super busy, the city gives off a very calm and serene vibe. Hectic is not something you'll find here, perhaps also because you're right by the sea?
Speaking of, Cádiz is especially well known for its unique location by the sea. The Old Town of Cádiz lies on a headland and is almost completely surrounded by the Atlantic. Upon arrival, you will notice how picturesque Cádiz is when you drive over the huge cable-suspended bridge Puente de la Constitución de 1812.
How much time should you spend in Cádiz?
We spent two nights in Cádiz and found this amount of time to be ideal. Since the centre of Cádiz is fairly small and most sights are close together, two nights are enough to see the highlights. We even had enough time to walk aimlessly through the streets a few times and just let ourselves wander.
If you prefer to take it slow, we would suggest adding some more time on – three nights is probably ideal. If the weather permits, you can also spend a day at the beach. And for those in a hurry: you can explore the most important sights of Cádiz with even just a one night stay.
2. Top Things to see in Cádiz: Our Travel Tips
In this section, we share with you which highlights you absolutely should not miss in Cádiz. What's super practical is that all sights are within walking distance, since the Old Town is quite easy to get around.
Old Town of Cádiz
Let's start right in the heart of Cádiz, in the winding streets of the Old Town. All the sights mentioned in this section are also located in the Old Town. Nevertheless, we wanted to present the maze of streets in the Old Town of Cádiz separately because it's so special.
The chessboard-like Old Town of Cádiz lies on the northwestern tip of the headland. We have to confess: there are some streets in Cádiz, which appear to be a little unwelcoming at first, because they are so narrow and dark and the houses are so high. But the good news is that you can hardly get lost, because every street or alleyway takes you back to the sea at some point.
Authenticity is definitely what makes the Old Town of Cádiz so unique and special. In no other place have we experienced so much authentic Spanish flair as we have here. Of course, there are also more touristic corners (eg. around the cathedral), but overall, the centre of Cádiz is full of local life.
Tip: One of the most beautiful streets, in our opinion, is Calle Virgen de la Palma. As the name suggests, you'll see palm trees towering above creating holiday-like feels.
Torre Tavira
One of our highlights! From the Torre Tavira you can enjoy a 360-degree panoramic view of Cádiz. The lookout tower is actually home to a museum, which we admittedly only glimpsed at in passing. Among other things, it also houses a Camera Obscura.
For us, however, it was clear from the start that we were coming for the view – and it was so worth it! Not only do you have an amazing view of the cathedral from the viewing terrace, but you can also see the Castillo de San Sebastián on the offshore island in the distance.
Unfortunately the tower closes relatively early, so we would recommend you visit some time in the late afternoon. You can hardly see the sunset from here, but we'll give you a tip for that later, don't worry.
Information about visiting the Torre Tavira
Price: 7 Euros
Opening times: October to April from 10 a.m. to 6 p.m. // May to September from 10 a.m. to 8 p.m.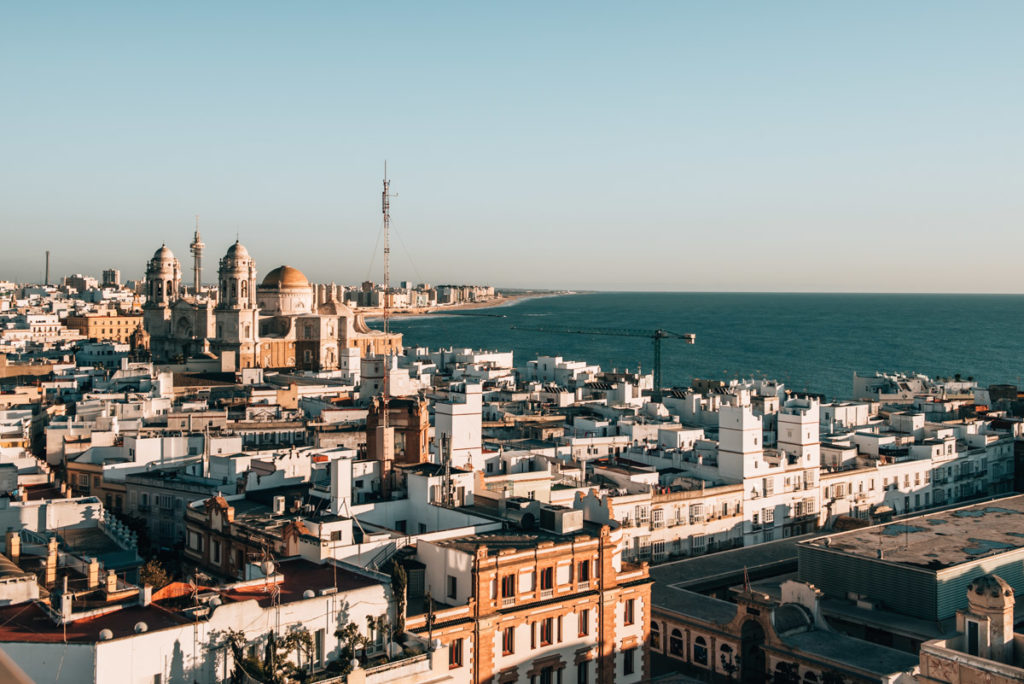 Cádiz Cathedral
Close by the sea, in the heart of the Old Town is the most important building in Cádiz – the monumental cathedral. Just like in most Spanish towns, you have to pay an entrance fee to go in. We did have a little peek inside, but would say that there are more impressive churches in Spain.
But what is definitely worth doing while you're here, is climbing up the church tower. This leads you up on a spiral slope (without stairs). The observation deck is right next to the church bells – so if you are sensitive to loud noises, then pay close attention to the time.
From here, you can look in all directions. Although our favourite viewpoint is the Torre Tavira, the view from here is also fantastic.
Information about visiting the Cathedral of Cádiz
Admission: 6 Euros (valid for cathedral including the church tower view point)
Cathedral & Church Tower opening times: You can find it on the official website
La Caleta: The beach of Cádiz
The city beach of Cádiz is called Playa de la Caleta (La Caleta for short) and is located right in the centre. We can't say much about the busy season (presumably it would be quite crowded), but in the evenings the atmosphere here is really lovely. We think that La Caleta is the most beautiful place in Cádiz to watch the sunset.
Go get something cool to drink at one of the bars (or from a supermarket) and enjoy the last rays of sunshine for the day. The atmosphere on this beach is so relaxed in the evening – just a dream!
Fun fact: A famous scene from James Bond ("Die Another Day") with Halle Berry was shot on this beach. So if the beach looks familiar to you, you know why.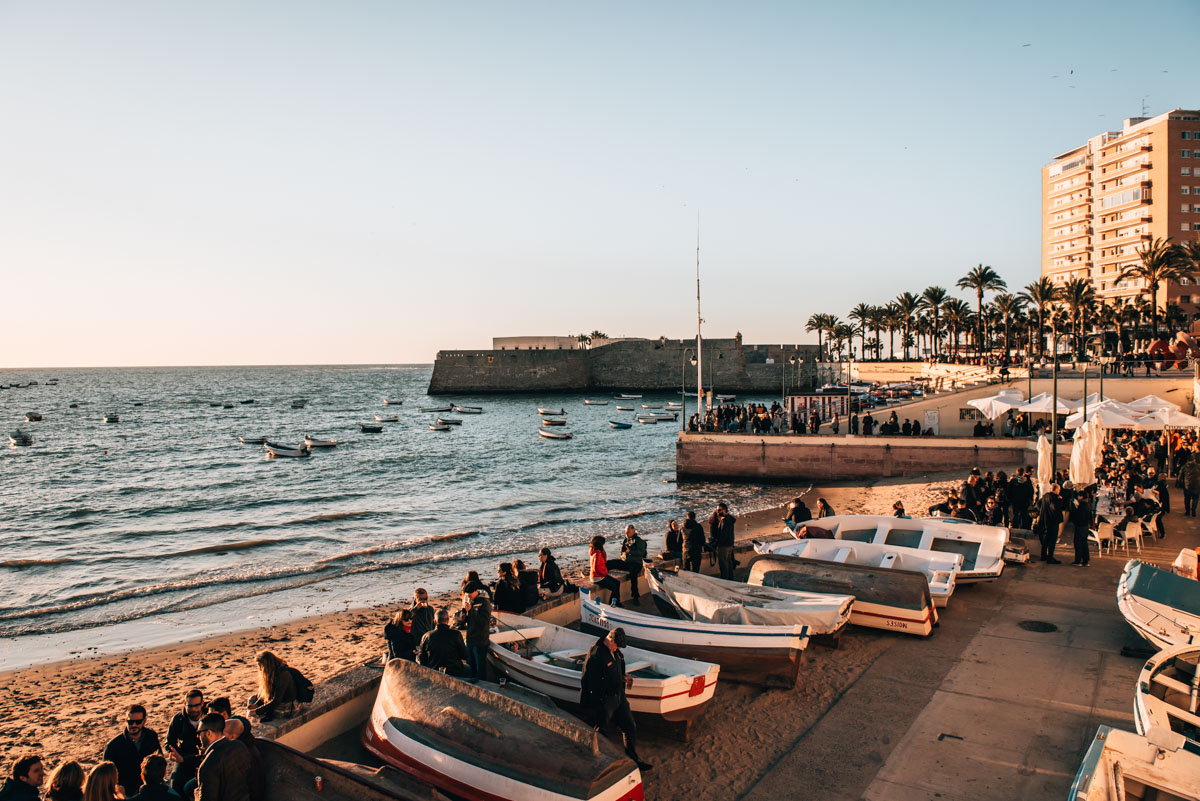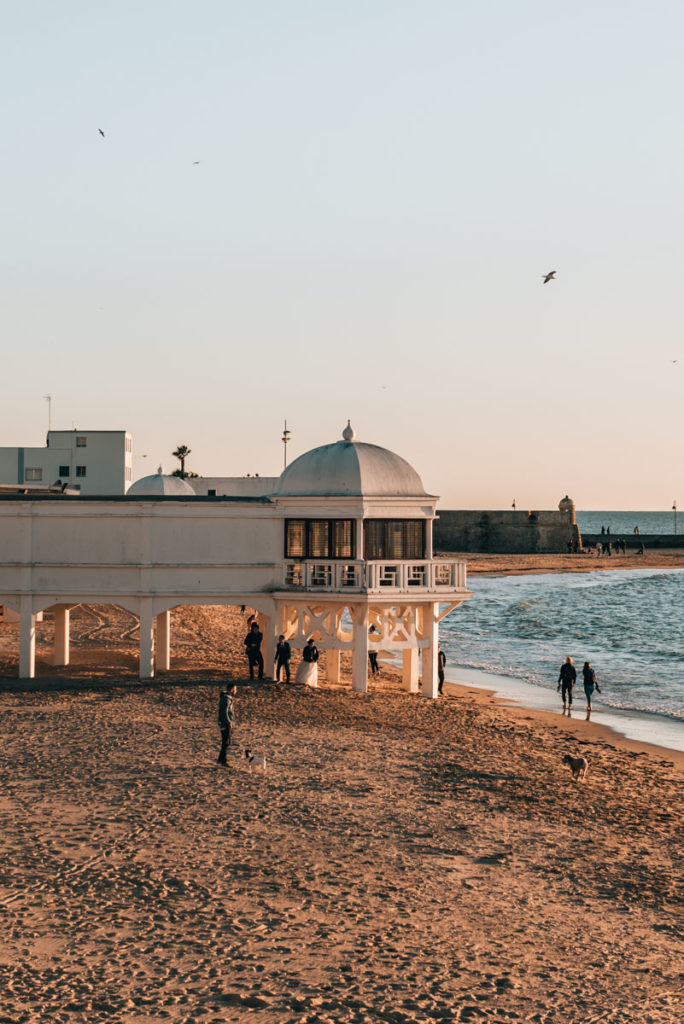 Castillo de San Sebastian
The silhouette of the Castillo de San Sebastián is clearly visible from the mainland. This castle is located on a small island that is connected to the historic Old Town of Cádiz by a narrow promenade. The Castillo de San Sebastián was once used to defend Cádiz.
You can walk to the Castillo from the mainland in about 10 minutes. Depending on the weather, it can be quite stormy out there. The view back towards the Old Town is really worth seeing.
The Castillo de San Sebastián is currently (as of December 2020) closed for renovation. So unfortunately, at the end of the path, there will be closed gates. But don't worry, because what's most impressive is actually just the feeling of being out in the middle of the sea.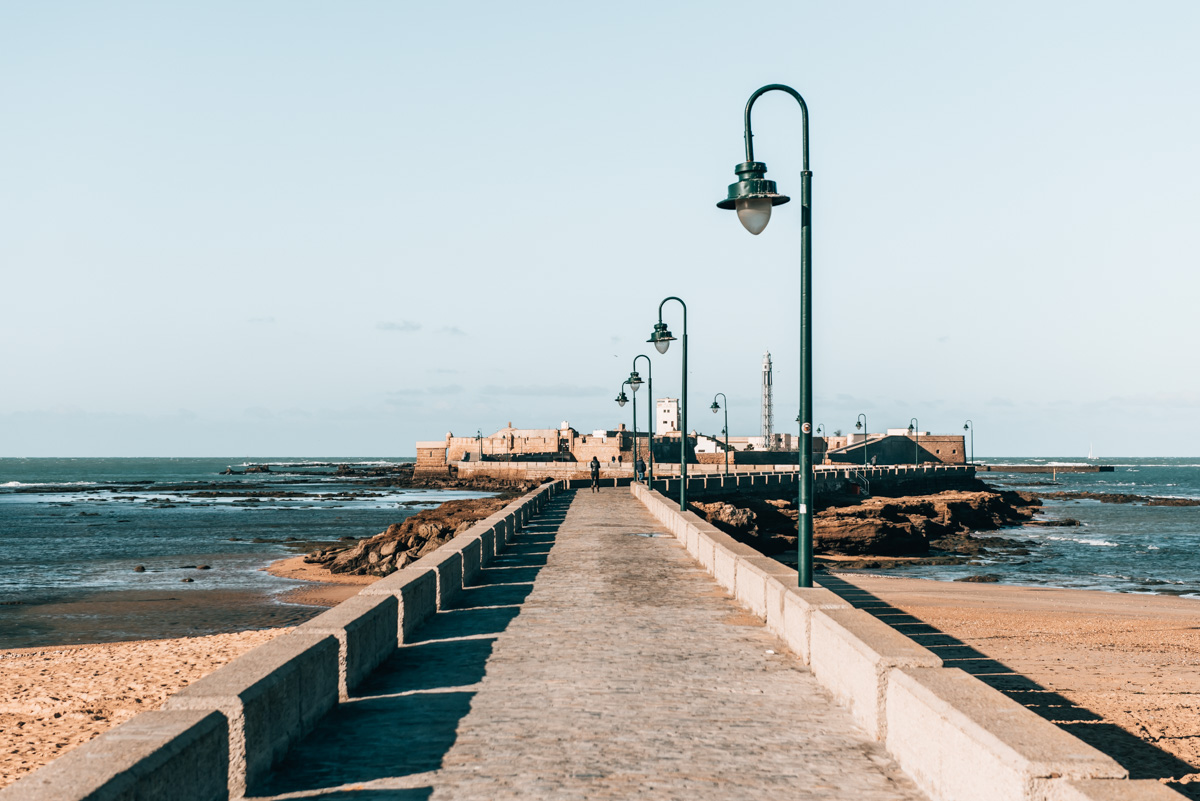 Mercado Central
The most important market in Cádiz is the Mercado Central de Abastos, or Mercado Central for short. It takes place in a historic market hall in the heart of the Old Town.
The area for fish and seafood is particularly large: the inner stands of the Mercado Central are reserved for fishmongers – apparently the variety here is gigantic. Unfortunately we visited on a Monday, the only day of the week where most of the stands were closed. (So ​​as a tip: we would avoid coming on Mondays.)
Around the Mercado Central you will find many tapas bars where you can also have something to eat in the evening. This area of ​​the Mercado Central is called Rincón Gastronómico.
Information about visiting the Mercado Central
Mercado Central opening times: Monday to Saturday from 9 a.m. to 3 p.m.
Opening times Rincón Gastronómico: Monday from 9 a.m. to 4 p.m. // Tuesday to Saturday from 9 a.m. to 3.30 p.m. and from 7 p.m. to 12 a.m. // Sunday from 9 a.m. to 4 p.m. and from 8 p.m. to 1 a.m. // Best to double check the opening hours there.)
Day Trip to Jerez de la Frontera
The Andalusian town of Jerez de la Frontera is about a 30 minute drive north of Cádiz, more or less on the way to Seville.
We debated for a while, whether to stay in Jerez de la Frontera for a night, or if we should "only" explore the town as part of a day trip. We chose the latter and have no regrets. Not that we didn't like it, but overall, we felt that other cities in Andalusia had more to offer.
The most beautiful sights in Jerez de la Frontera
One of the most significant sights in Jerez de la Frontera is none other than the cathedral. From the outside it's already quite impressive, but a visit inside the church is also worthwhile. We were even more impressed by the view from the bell tower of the cathedral. If you climb up, we promise you will be rewarded with a fantastic view. (Admission for Cathedral + Tower: 7 Euros)
Another highlight in Jerez de la Frontera is the city's fortress, called Alcázar de Jerez de la Frontera (admission 5 Euros). Unfortunately, it was closed on the day of our visit. Here you will find a huge complex consisting of palaces, gardens, courtyards and even a mosque.
Fun fact: Jerez de la Frontera is the hometown of the famous sherry – in Spanish "Jerez" even means "sherry". Therefore, you can buy it at every corner. There are numerous sherry bodegas in Jerez, some of which also offer guided tours.
3. Food and Drinks in Cádiz: Our Restaurant and Café Tips
Personally, it was a bit difficult for us to find restaurants in Cádiz, which also offered good vegetarian options. This is probably due to the fact that the food culture in Cádiz is rather traditional, meaning a lot of meat. But in the end, we found what we were looking for.
Café Royalty: Stumbled across by accident as it was right next to our accommodation (which we mention below) and we were so impressed! There's a specialty from Cádiz here, called Picatostes gaditanos, which we ordered thanks to the waitress' suggestion. Picatostes are a little bit like sweet, super fluffy bread – so delicious! The ambience in Café Royalty is very aristocratic. There is also a separate restaurant area, but we were just in the café.
La Candela: The restaurant is rather touristic, but we had a nice meal here. There are lots of tapas on the menu (a few of them are vegetarian). The staff are very friendly and it was quite comfortable.
Sonámbulo: This restaurant was also conveniently located right next to our accommodation, so we spontaneously stopped by. The ambience has a very appealing mixture of "industrial", as well as "living room" atmosphere. The menu features a cross-selection of Spanish and international dishes: from tapas to fish and steaks, you will find all kinds of dishes served here.
4. Staying in Cádiz: Our Hotel Recommendation
In Cádiz, we had another wonderful accommodation on our trip through Andalusia – the Candelaria 10. It is located in a beautifully renovated historic house in the middle of the historic centre. Fortunately, the house is situated on a Main Square (and not in a narrow alley), which means that the room gets a relatively good dose of light shining in during the day.
Speaking of rooms: The accommodation only has 5 apartments – all with a view towards the Main Square. We booked the cheapest room option, which is on the 1st floor. The apartment is of very high quality and most importantly, the bed is incredibly comfy.
Reception is not staffed 24/7, but that personally did not bother us much. Thanks to the key code, you can check in individually. Thoughtful additions: When you check into the room, you'll find some personal tips, such as a city map, waiting for you.
The best surprise awaits you on the roof: there is a lovely roof terrace with a spectacular view. If you climb the spiral staircase, you can even see the cathedral. Our conclusion: we would stay here again any day!
Here is the link to view and book the accommodation: Candelaria 10
Another Tip: Parking in Cádiz
If you are coming to Cádiz by car, then you should consider where you want to park the car. Many of the alleyways in the Old Town are inaccessible by car, let alone have enough space for parking. Therefore, we definitely recommend parking your car in a monitored space, like a Car Park Building.
We chose the Canalejas Park-house at the port of Cádiz, as it was only a 5-minute walk from our accommodation. The price for a day in this car park is around 14 Euros.
---
Disclaimer: Affiliate Links
This blog article contains our personal recommendations in the form of affiliate links. So, if you book or buy something through these links, then we will receive a small commission from the company. But this does not change the price for you at all. Many thanks from the both of us!
Have you ever been to Cádiz? Did you like it as much as we did? Perhaps you have some extra tips for this beautiful city? We look forward to hearing your experiences and responding to your questions in the comments below!