Love at first sight – this is how we would describe the feeling that befell us when marvelling at perhaps the most beautiful sunset on the first evening of our trip to the Franconian region – Bamberg. This positive first impression was not just a one-off. As we explored Bamberg in the following days, we can conclude that Bamberg is undeniably beautiful. 
So, if you are looking for a nice cozy town to relax and escape to on your next weekend off, we can wholeheartedly recommend a trip to Bamberg in Germany. In this travel guide, we will share with you the best sights to see and things to do in this lovely quaint town and why Bamberg reminds us a little of Venice!
1. Why We Fell in Love with Bamberg
It did not take us long to fall in love with Bamberg. It's just one of those places which vibes on a similar frequency with us and the attraction was simply effortless. Have you had that feeling before? For us, Bamberg simply encompasses the perfect combination of everything we adore about cities.
First of all: Bamberg has beautiful half-timbered houses. In all fairness, for people like us who come from Baroque style Vienna – this is certainly something we really like about cities. Secondly: Bamberg also has water, but more specifically the Regnitz, which flows through the city with several branch-like canals. We will touch on that soon about seeing Bamberg with a Venetian gondola. Thirdly: Bamberg is an incredibly vibrant and young city. Well, we did happen to visit during the weekend, but even if you take away the party goers, there are still plenty of people left in the city.
Perhaps it was also the above-average temperatures that coincided with our visit on this very warm June weekend, but Bamberg gave us a very special, almost Mediterranean vibe.
2. Bamberg Travel Guide: Sights and Activities for a perfect Weekend
Although for us personally, it is the lively atmosphere that really gives  Bamberg its charm and character, there are of course also many sights to discover. In our opinion, one weekend (two nights) would be ideal to get a glimpse of this beautiful city.
Gondola Ride down Little Venice
By far the most romantic experience of our weekend in Bamberg was our gondola ride on the Regnitz. Hard to believe, but in Bamberg there is actually a Venetian gondola where you can discover Bamberg from the water. The best part is that there is no money machinery behind it, just a man who has been doing his job for decades with an impressive amount of heart and passion.
25 years ago, Jürgen the Gondolier imported his lovely gem from Venice to Bamberg – without having the slightest idea that it takes three years to master this art. Don't worry: He's certainly a professional now! He even bought a second gondola, so that a group of up to 12 people can ride at the same time. Incidentally, the demand for a gondola ride in Bamberg is quite high: Jürgen told us that he could easily be on the gondola all day and would always have a full boat if he wanted.
Information about the gondola ride on the Regnitz
Gondolier Jürgen runs his gondola only on weekends (Friday, Saturday and Sunday). At 60 Euros per gondola (max 6 people) you can enjoy a half an hour ride along the river. All other information can be found on his website.
Tower of the Geyerswörth Castle
7:38pm: We stand with two keys – one of them oversized – in front of the Geyerswörth Castle and look up.
7:43pm: We reach the castle tower, panting and overheated by the sweltering 40 degree climate.
7:44pm: We both agreed that we just witnessed what was probably the most beautiful sunset we'd seen in a long time.
The view from the tower of the Geyerswörth Castle upon the Old Town of Bamberg as well as the town hall, is just too good to be true. Unfortunately, it is not exactly open to the public. But the good news: it has been confirmed that work is underway to make the tower of the Geyerswörth Castle accessible to the public again. So we will be keeping our fingers crossed for you!
Altes Rathaus – Old Town Hall
The postcard motif in Bamberg can be found rather quickly: The gothic-baroque Old Town Hall, quickly captivates your attentions with its half-timbered extension. Not exactly an insider tip, but something we would  recommended, is viewing the Altes Rathaus (Old Town Hall) from the opposing bridge called the Geyerswörthsteg. You can get a really nice view from over there.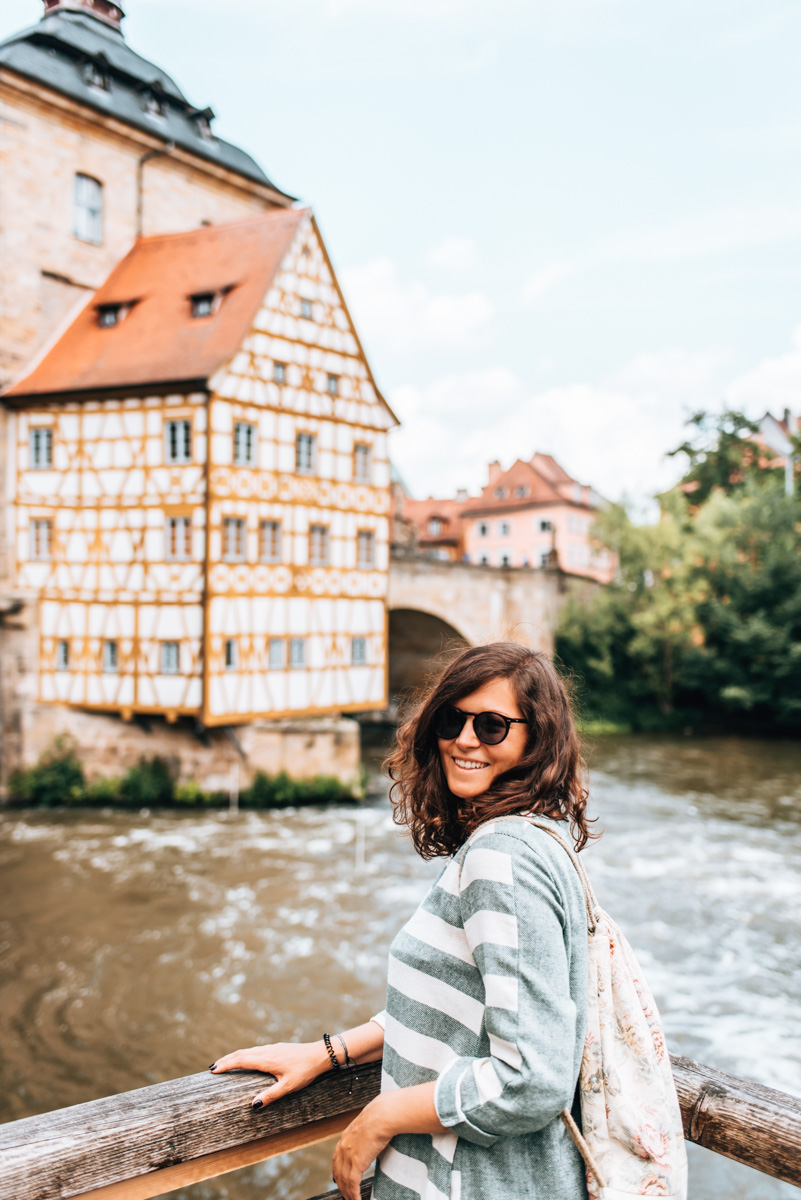 Domplatz: Cathedral, Old Court & New Residence with Rose garden
One place you must see when in Bamberg, is the Domplatz (or Cathedral Square), which is located slightly elevated on a hill. There are several rather important sights located in the vicinity of the Domplatz.
The Cathedral Square first and foremost, showcases the spectacular Bamberg cathedral with its characteristic four towers of the church. It is definitely worth visiting, because this sacred building is not just gigantic from the outside.
You can also find the entrance to the historical building complex of the Atle Hofhaltung (Old Court) in the Cathedral Square. Parts of this Old Court date back to the 11th century.
Last but not least: the Neue Residenz (New Residence) and Rosengarten (Rose Garden). Unfortunately, due to time constraints, we did not see the premises of the residence. Did we mention that there is a lot to do and see in Bamberg? However, we still wholeheartedly recommend a stopover at the rose garden. Not only are there thousands of roses to marvel at, but you also have a really nice view of the city from here.
Gärtnerstadt
What's super cool, is that the Bamberg cityscape is characterised by countless city gardens, in which the locals of Bamberg pick up their fruits and vegetables for daily use. You can visit this district, called the "Gärtnerstadt" which translates to 'Garden Town' in English.
There is a circular route that leads you to 18 themed stations. Alternatively, you can also target specific gardens, just as we did. Our detour led us to the organic farm of Sebastian Niedermaier. So much fresh, real organic vegetables. Both the young and old come here with their cotton bags and come do their daily fruit and vegetable shopping here. That's what we call local!
Bioland Gärtnerei Sebastian Niedermaier:
Address: Mittelstraße 42, 96052 Bamberg
Opening hours: Tuesday, Thursday and Saturday from 9am to 1pm, Wednesday and Friday from 2pm to 7pm
Tip: The BAMBERGcard
You may find it worth your while to purchase the BAMBERGcard: The card entitles you to take part in a 2-hour city tour ("World Cultural Heritage Fascination") that will take you to the main attractions. You also get free admission to seven museums and travel transport by bus and train.
3. Food in Bamberg: Specialties and Restaurant Tips
Restaurant Kleehof
On the outskirts of the Gärtnerstadt, we enjoyed an excellent dinner at the Restaurant Kleehof. The restaurant belongs to the highly recommended Hotel Europa, which is actually the hotel where we stayed (details at the end of the article).
They serve delicious dishes made from regional and seasonal ingredients – the vegan menu was a delight! The friendly and competent service definitely deserves high praise, our waiter even suggested excellent wines which complemented our meals perfectly. As the saying goes: you also eat with your eyes – and this place certainly earns a well deserved praise for amazing attention to creativity and detail. Just top notch! 
Address: Untere Königstrasse 6, 96052 Bamberg
Prices: Vegan menu in 3 courses about 30 Euro per person
Smoked beer at Schlenkerla
An Unwritten law states: that as a beer drinker when in Bamberg, you must try the smoked beer. When brewing smoked beer, the malt is dried off by the smoke of beech wood – a process which gives the beer its typical smoky taste.
The most popular place to taste Bamberger Rauchbier (Smoked Beer) is the Schlenkerla on Dominikanerstraße. It's eminent from first impressions that this brewery restaurant is world famous. You can see crowds gathering on warm days in front of the restaurant and enjoying the various "Aecht Schlenkerla Rauchbier" drinks.
Address: Dominikanerstraße 6, 96049 Bamberg
Spezialkeller
Now comes a rather interesting fact: what a Gastgarten (an open air restaurant) is in Austria, is the equivalent of a Biergarten (beer garden) in Germany. But it gets really confusing because in Bamberg, instead of Biergarten, they call it a 'Keller'. Crazy, right? When someone says "to the cellar", what they actually mean is sitting under chestnut trees and having a distant view of Bamberg. Good to be aware of the cultural differences even amongst the same language!
The Spezialkeller is definitely an institution in Bamberg – and that does not surprise us, because the view you get of Bamberg from this place is just a dream! On a side note: in Bamberg, you are actually allow to bring your own food, but of course, you can also order food at the place.
Address: Sternwartstraße 8, 96049 Bamberg
Zuckerstück
In search of a quick espresso macchiato, we accidentally stumbled across the Café Zuckerstück – and it ended up being our favourite café in Bamberg. Not only do they serve coffee and cake here, but the Café Zuckerstück is also a paradise for interior-trinket-fans like us. I don't think anyone would be surprised to hear that we took home a little something with us back to Vienna… a small but beautiful vase now decorates our dining table!
Address: Obere Sandstrasse 4, 96049 Bamberg
Buonissimo: Excellent Ice Cream
Nomen est omen: We indulged ourselves twice with the delicious ice cream found at the Buonissimo. The pistachio flavour comes highly recommended from us! Kathi thinks it may just have been the best she's ever tasted.
Address: Hauptwachstraße 10, 96047 Bamberg
4. Regional Shopping in Bamberg
In the city centre, the weekly market is definitely worth a visit. It takes place from Monday to Saturday from 7am to 6pm along the Green Market.
Here are a few shops in the town centre, which we can highly recommend:
Schneiders Hutmanufaktur (Hat Factory)
This little hat factory sells fantastic, handmade hats.
Address: Grüner Markt 12, 96047 Bamberg
Dirndl'Lirium at Kaufhausl Schrill
Something different: You can find some chic costumes made of Balinese fabrics here in Dirndl'Lirium.
Address: Hallstadter Str. 168, 96052 Bamberg
Confiserie Storath
For those with a sweet tooth: delicious, handmade chocolates.
Address: Lange Strasse 24, 96047 Bamberg
Mohrenhaus
The name is somewhat debatable, but there are some really great souvenirs in the Mohrenhaus. Worth a short stopover!
Address: Obere Brücke 14, 96047 Bamberg
Die Bierothek (The Beer Shop)
Have you ever wondered what beer tastes like with cucumber? No? We were also in the same boat until recently. But thanks to Craft Beer Brewer David Hertl, we got to experience this! We would even go as far to say that he is the craziest brewer in all of Franconia and for good reason. You can buy his beers at the Bierothek branch in the lower Königsstraße, which he runs. There you will find in addition, over 350 beers from all around the world.
Now that we have met David, we can say that these beer seminars, which he runs regularly, are quite an experience. We've rarely met anyone with so much passion and dedication for what he does. 
Address: Untere Königstrasse 1, 96052 Bamberg
Hours: Monday to Thursday from 11 to 7 pm, Friday and Saturday from 10 to 8 pm
5. Our Hotel Tip for Bamberg
For two nights, the Hotel Europa in Bamberg was our home away from home. The Hotel Europa is a lovely family-run hotel on the edge of the old town and it only takes 10 minutes by foot till you reach the Old Town Hall. We felt very much at home in our cozy room.
The reason why you feel so welcome, has much to do with the staff. From the front desk to the dinner service, every employee and every staff was very courteous here.
The breakfast deserves a noteworthy compliment, which was honestly phenomenal for a hotel of this size. We could have easily spent hours here, they have everything your heart desires, including an incredible amount of home-made goods.
You can book the hotel through this link: Hotel Europa
---
Disclaimer: Advertising
This blog article was written in collaboration with FrankenTourismus. As part of the "14 cities" campaign, we travelled to a total of 14 Franconian cities.
This blog article contains our personal recommendations in the form of so-called affiliate links. If you book or buy something through these links, we will get a small commission. For you, this does not change the price at all. A million thanks from the both of us!
Have you ever been to Bamberg? Were you just as amazed by the city as we were? Perhaps you have some extra tips for Bamberg? Or are you also planning a road trip through Franconia? Leave us some questions and comments below – we always look forward to responding and hearing your thoughts!