Andros is big. Andros is close to Athens. And: Andros is the most untouristic island of Greece we have ever been to. How does it all fit together? We thought about it too. This is the answer from the locals: Andros was a very rich island for a long time and therefore not dependent on tourism. However, the crisis in Greece also led to a rethinking. Still, you can hardly see any of it on Andros. Instead of souvenir shops there are small boutiques, instead of tourist restaurants there are traditional taverns. The road conditions are modest and yet our little island road trip stays in best memory. In this article, we tell you why a trip to Andros is definitely worth it and, of course, also reveal our best tips.
1. Holiday On The Island Of Andros: An Overview
Andros is a comparatively large island, but only about 10,000 people live there. The island is greener than the rest of the Cyclades islands, but do not expect any lush green vegetation. There are essentially three larger towns. First, there is the port town Gavrio in the western part of the island. From there, all ferries arrive and leave. Most tourists spend the nights in Batsi, which is about a 10 minutes drive away from Gavrio. Batsi is a former fishing village and despite the many taverns, coffee shops and hotels comparatively quiet. The picturesque island capital Chora is located in the east. Here, quite untypically, no ferries are arriving or leaving.
2. Activities And Sights On Andros
Road Trip Through Central Andros
First, our most important tip: Definitely rent a car for your holiday on Andros! You will not regret it one second, because to really experience Andros, you just need a vehicle. If you would like to get a first insight into the island vegetation, then we recommend the following route, which we also took:
From Batsi you first drive inland towards Remata. After Remata you reach the village Arni and later Vourkoti. There are many beautiful views of the ocean and the hilly landscape of Andros along the way. After Vourkoti you will have different impressive views of the island's capital Chora – first from afar and later closer and closer. In Apikia it is time for a stopover. You can visit the famous healing spring "Sarisa". For both of us, who are blessed with excellent Viennese high spring water, the water in Larissa was the best throughout Greece.
A stop is also worthwhile in Stenies, one of the island's most known small villages. For the perfect end to your mini road trip, get a Greek feta puff pastry (cheese pie) in one of the bakeries of the island's capital, Chora, and enjoy the view of the sea.
Chora: Visiting The Capital
No one should leave Andros without visiting the capital. "Chora", as the capital of a Greek island is typically called, is located in the east of the island and looks like it came out of a picture book. A large part of the old town is situated on a peninsula and is closed to traffic. This makes Chora a very tranquil place with many nice taverns and coffee shops. Although most tourists on the island meet here, the city is fortunately (still) spared by cheesy souvenir shops.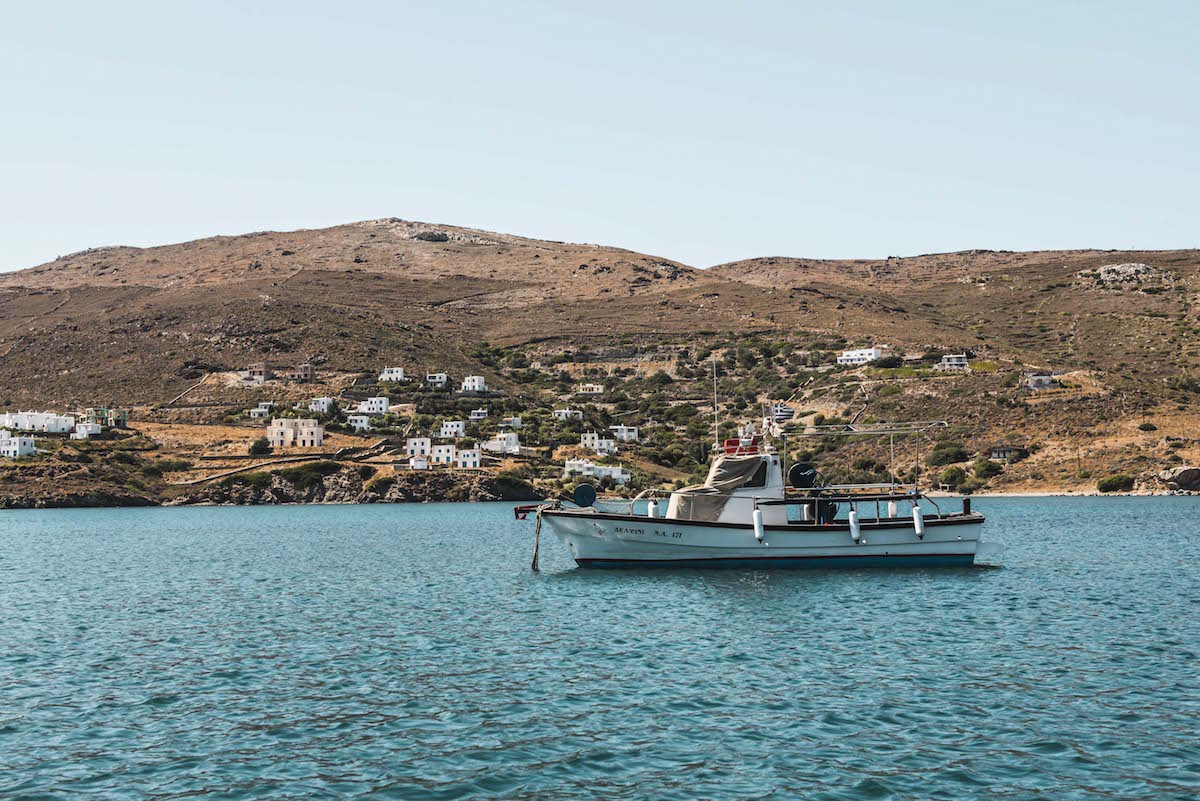 Hiking On Andros
The hiking trails on Andros are pretty good. There are shorter day hikes as well as multi-day routes. There are paths through forests and over rocky terrain. The nice thing is that the trails on Andros are maintained by a group of volunteers ("Andros Routes"). Of course, we could only hike a small part of the trails, but we can at least confirm that the trails are diverse and very well signposted.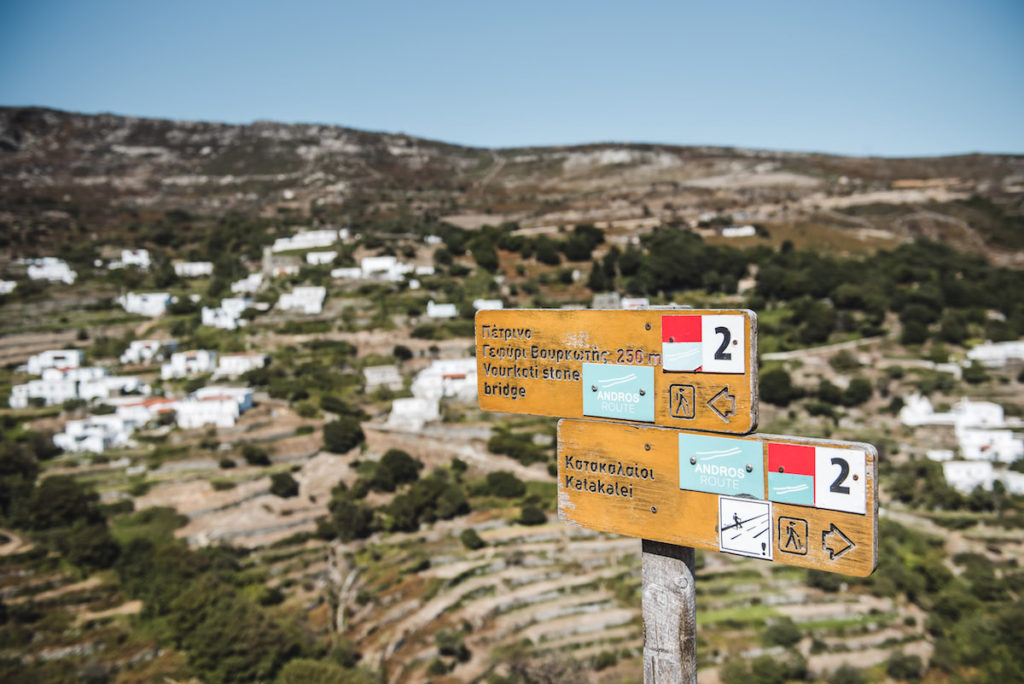 Beaches And Coves On Andros
On Andros there are plenty, partly deserted beaches and coves. Many of them are gravel or coarse sand beaches. Our favourite is Syneti – a beach that is about a 20 minutes drive from Chora. It is directly accessible by car and yet very pristine. There is neither a shop nor a toilet, but at least a shower and a small dressing room. Although Syneti is not a fine sandy beach, the water is extremely clear due to the gravel. There are hardly any shady spots, so take enough sunscreen with you.
Stalactite Cave Foros
It is hard to believe, but on Andros there is actually a pretty imposing stalactite cave. The cave called "Foros" is not huge, but very varied. The beautiful landscape, in which the stalactite cave is located, in itself is worth a visit. Around this area you have a wonderful view of the green vegetation on Andros.
Opening times: July to mid-September: daily from 11 am to 8 pm; Wednesday and Sunday from 11 am to 3 pm. The rest of the year only by appointment.
Arrival: It is not easy to find the cave. The cave is located near the village of Aladino. If you take the road from Aladino towards Fallika, you have to look out for signposts on the right hand side. Park your car by the side of the road. From there it is about a 10 to 15 minutes walk to the entrance of the cave.
Watersports Activities: Boat Tours, Snorkelling And Diving
We are always surprised how different an island looks, once you take a look at it from the water. Therefore, we can highly recommend doing a boat tour along the coast. There are only a few water sports providers on Andros. One of the few is the Hotel Perrakis, which not only offers boat and snorkel tours, but also hosts a PADI diving school ("Scuba Andros"). Unfortunately, we did not have time for diving on our trip, but we were able to enjoy a ride on the RIB boat, steered by the incredibly sympathetic Kostas staff.
Booking a boat tour: on the website of Scuba Andros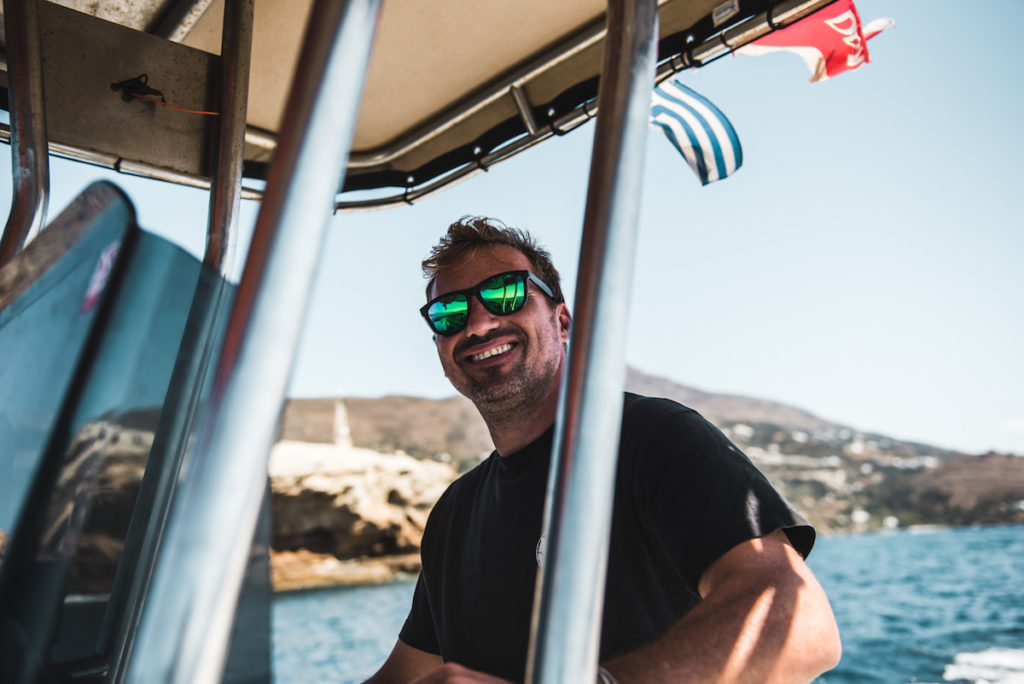 Tower Of Agios Petros
For its age, the ancient tower of Agios Petros is surprisingly well preserved. It dates from the 3rd or 4th century B.C. and lies sublime in the hilly landscape of Andros. Do not expect an island highlight, but if you have some time, we can highly recommend a visit to the tower of Agios Petros.
How to get there: The tower of Agios Petros is located on the number 15 hiking trail of the Andros Routes. Alternatively, you can also – like we did – travel by car. The tower is about a 10 minutes drive from Gavrio towards the midland.
3. Food & Drink: Our Restaurant Tips For Andros
Gavrio: Restaurant Thiriotrofeio
Our favourite restaurant on Andros is located in the port of Gavrio. The restaurant Thiriotrofeio was opened by an Athenian photographer several years ago. Newly inspired Greek cuisine is served, such as: baked feta cheese with honey and nuts, eggplant salad with dried tomatoes and much more. Also suitable for vegetarians! The location at the nice, quiet square among trees is fantastic. Definitely worth a visit!
Address: Gavrio 845 01, Andros (From the port it is perhaps 200 meters by foot.)
Batsi: Restaurant Oti Kalo
In the village Batsi we can highly recommend the restaurant Oti Kalo. In this tavern, native, excellent Greek cuisine is served. Here you will find all the Greek classics from Tzatziki to Moussaka. The baked eggplant was the best we had during our trip to Greece! The restaurant is very small and well visited daily. For quiet, romantic evenings Oti Kalo is not the best choice, but it has a very authentic feel.
Address: Batsi 84503, Andros (The restaurant is located on a terrace at the eastern end of the Batsi harbour promenade.)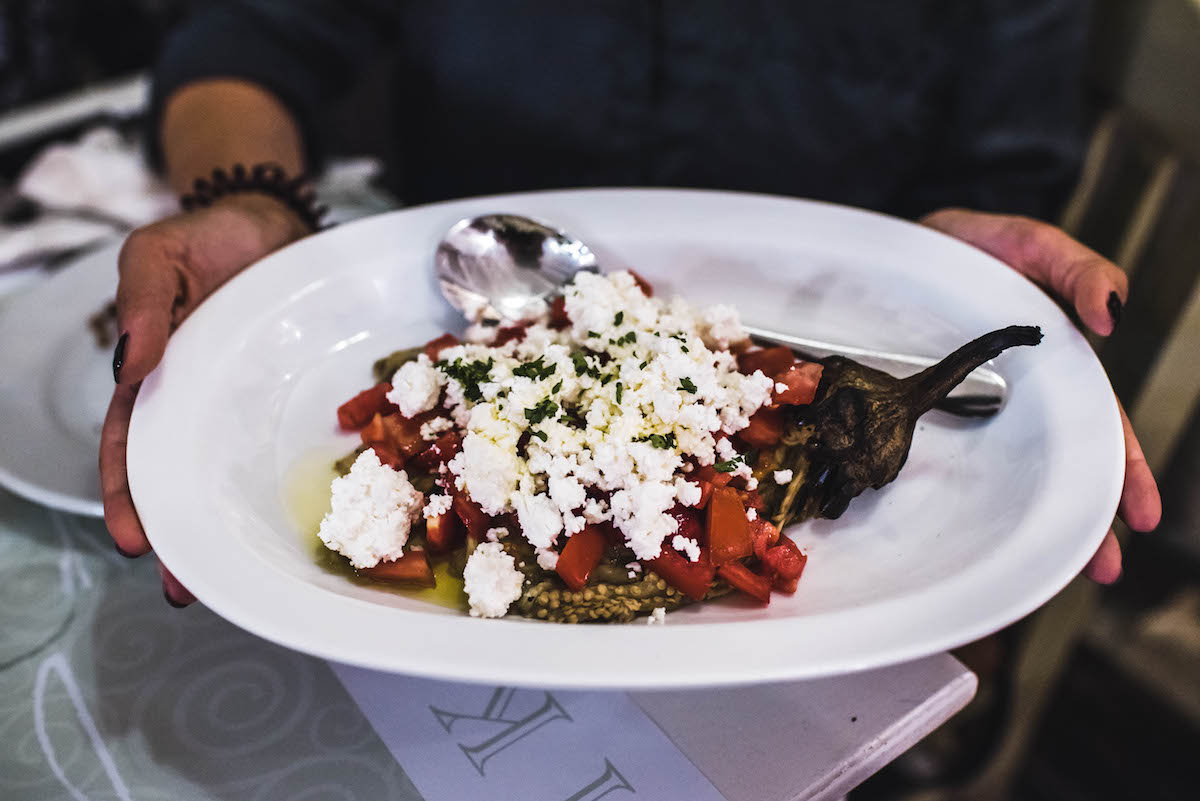 Chora: Restaurant Endochora
We also ate a very delicious meal in the restaurant Endochora, which is located directly in the pedestrian zone of Chora. The restaurant is very nice and comfortably furnished. The menu is pleasantly manageable. They serve creative, Greek cuisine, which means lots of fish and seafood, some salads and pasta dishes. There are several vegetarian dishes on the menu and, without asking, we were also offered vegan food.
Address: Empeirikos, Chora 845 00, Andros (Follow the main street in the pedestrian zone towards the water. The restaurant is on the right hand side.)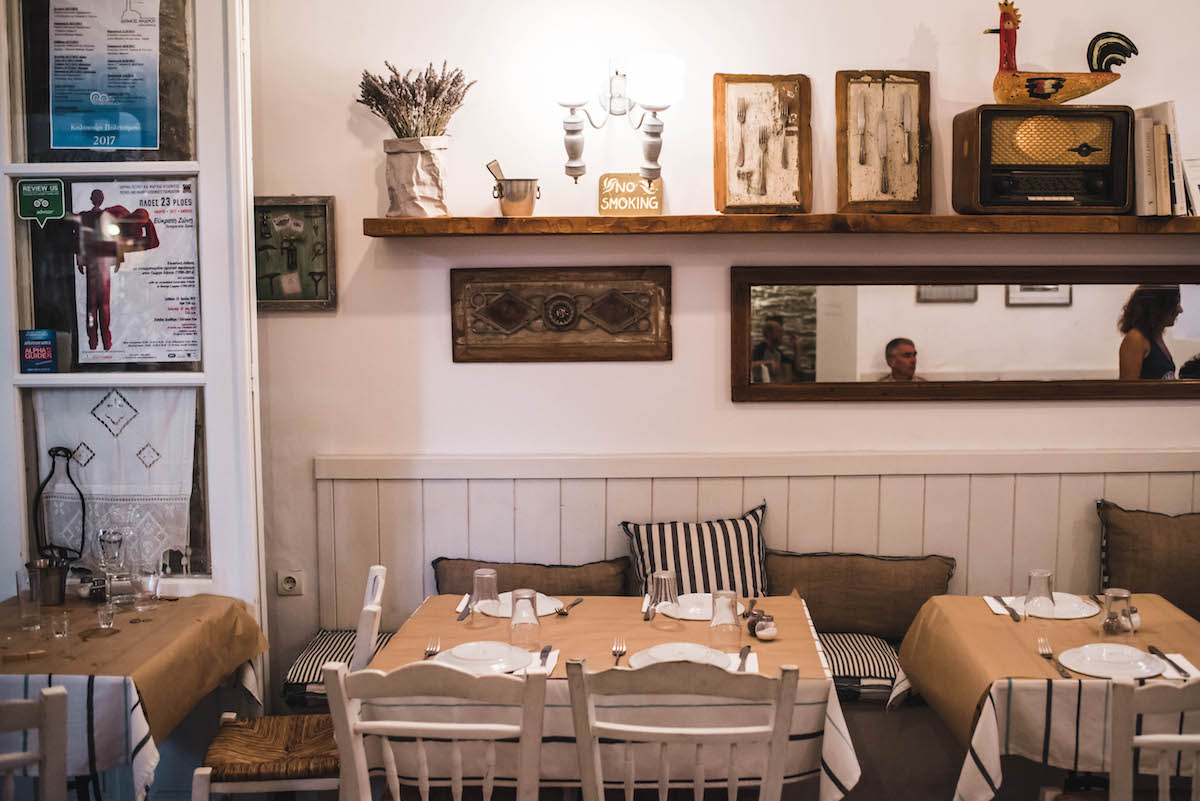 4. Hotel Tip For Andros: Aneroussa Beach Hotel
During our time on Andros we stayed at the Aneroussa Beach Hotel which we highly recommend. It has only 30 rooms, all with balcony or terrace. The rooms are cozy. The decor may be a bit outdated, but you still feel comfortable.
The hotel is located near Batsi, but walking from there is too far. You are dependent on your own rental car. We would definitely recommend such a thing for a trip to Andros anyway. The location of the Aneroussa Beach Hotel is super quiet and very idyllic. The hotel is located on a hillside and you have a wonderful view of the bay, which is also suitable for swimming.
Breakfast can be enjoyed on the hotel terrace. Of course you can not expect an extensive 5 * hotel buffet here, but we do not need it anyway. The food is lovingly prepared and there is something for every taste. All in all, the Aneroussa Beach Hotel is suitable for people looking for a personal, family runned hotel.
5. Getting To Andros
First: Flight to Athens
The fastest accessible international airport from Andros is Athens. For the first time we experienced a flight with the Greek airline Aegaen Airlines to Athens, and can not report anything negative – quite the contrary. Aegaen Airlines regularly flies directly from Vienna, Berlin and many other German cities to Athens. There is no airport on Andros itself. From Athens airport you can reach the ferry port Rafina in about 20 minutes by taxi (about 25 Euros) or alternatively by public bus. The bus only runs about once an hour, the journey takes almost an hour and costs about 5 Euros.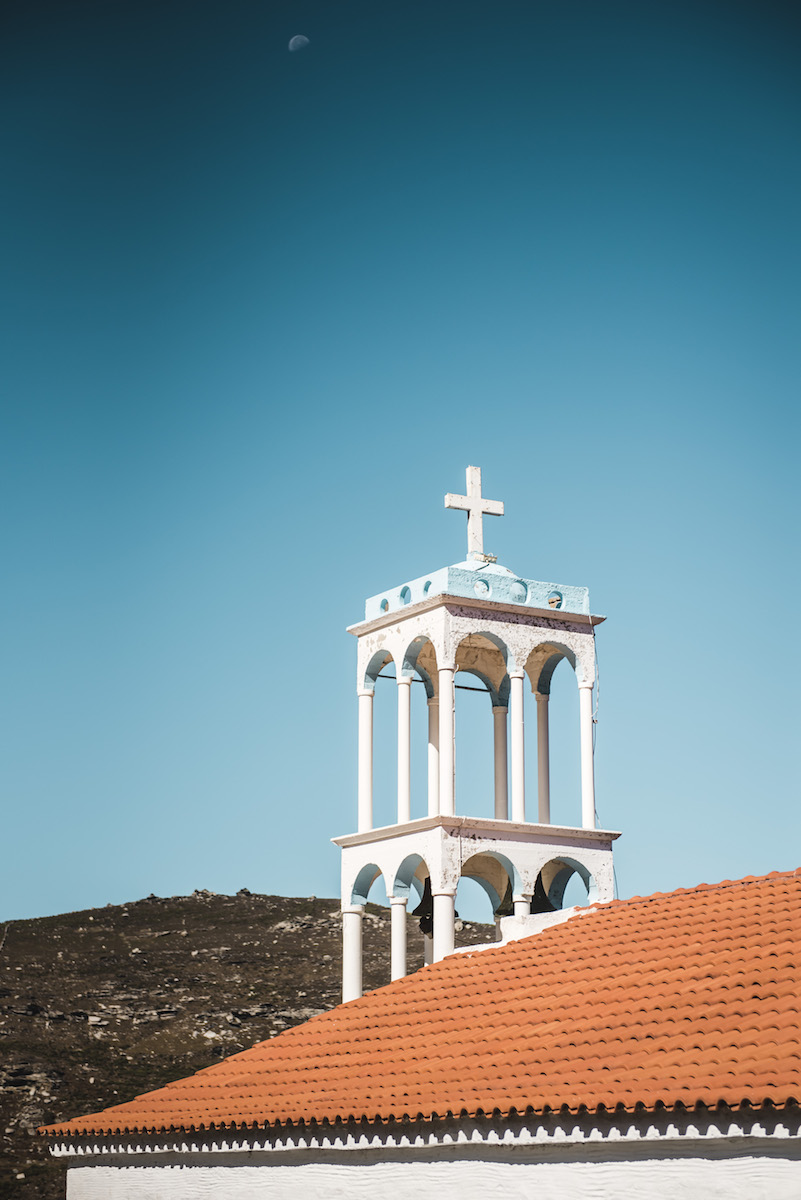 Then: Ferry to Andros
Andros is just a stone's throw from the mainland of Greece. There are several ferries departing daily from the Rafina ferry port to Andros (and further to other Cycladic islands). You reach Andros in less than 2 hours. There are two ferry companies serving the route. We used the provider Fast Ferries for the ferry route from Rafina to Andros (as well as from Andros to Tinos). A ticket for the route Rafina – Andros costs 19 Euros (one way). You can book your ticket online or buy it locally in Rafina.
One more note: When booking a flight, make aware that the ferries to Andros only leave in the morning and late afternoon/evening. If possible, try to avoid spending the night in Rafina. It only costs you unnecessary time and Rafina itself is not really worth to stay.
6. Transportation On Andros
On Andros itself you should definitely rent a car. There's just too much to see, for just spending time at the hotel beach. We rented our car at Tassos Rent a Car. Do not expect a top modern car. Some of the roads on Andros are in not so good condition, so a new car does not make sense anyway. But ours had at least air conditioning. An international driver's license is not necessary by the way.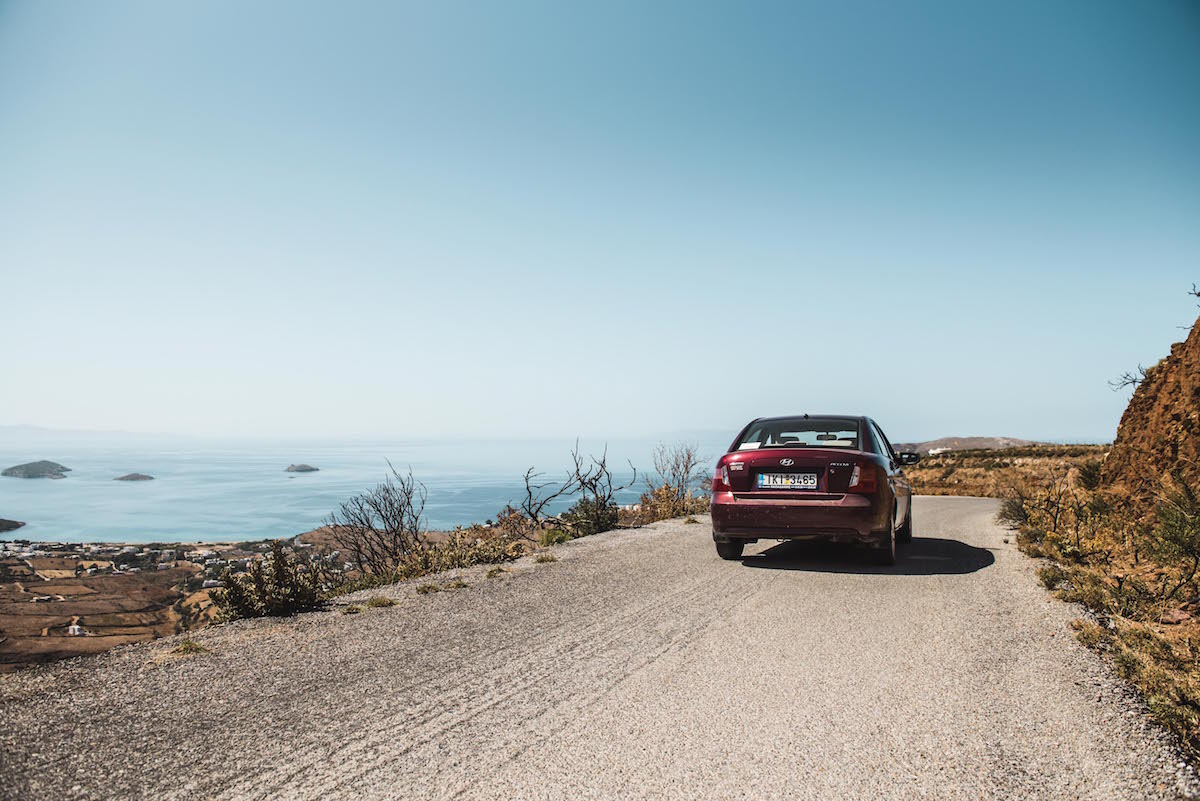 ---
Disclaimer: Press Trip & Affiliate Links
We were invited to this trip by Discover Greece. Our opinion remains unaffected. This travel guide contains our personal recommendations in the form of affiliate links. If you book or buy something via the links, we will receive a small commission. This will not change the price for you at all. A million thanks from the both of us! 
Have you already been on Andros? Or do you have another insider tip for Greece? We would be happy hearing about it in the comments!