Lucca, you absolute gem of Tuscany! The enchanting old town of Luca is a small work of art and to be honest: We are not surprised that Lucca is seen as the most beautiful city of Tuscany in the eyes of so many.
The medieval cityscape is well preserved, so you can stroll through Lucca's picturesque alleyways, across impressive squares and past beautiful sights. In short: Anyone longing to visit a picture-perfect Italian town will love Lucca.
It doesn't matter if you are just planning a day trip or a few days in the area around Lucca on your road trip through Tuscany: In this travel guide, we reveal everything you need to know for your trip.
This of course includes the most impressive sights in Lucca, the greatest viewpoints, best spots for the sunset and – last but not least – our culinary tips and hotel recommendations. Raise the curtains for our very personal guide to Lucca.
1. Overview of Lucca: Initial travel tips & FAQs
Where is Lucca & how do I get there?
Lucca is located in inland Tuscany (more precisely in the north-west), just 20 kilometres away from the sea. To help you orientate yourself: Florence, the capital of Tuscany, is about a good hour's drive away from Lucca. After Pisa it's no more than half an hour.
If you are arriving by plane, you usually land in Florence or Pisa. There you find both the international airports of Tuscany, which several airlines or destinations fly to. From there you can rent a car to explore Tuscany with. (We always book our rental cars through Sunny Cars.)
If you are traveling by car (whether it's your own or a rental) then take into consideration that cars are de facto not allowed in Lucca's old town. Many places to stay in the old town offer parking options. You will need to allow around 30 euros per night for this. (We reveal more info for accommodation and our hotel tips for Lucca at the end of this travel guide.)
What can I experience in Lucca?
Slow strolls & enjoying the Italian flair: For many, Lucca is one of the most beautiful cities in Tuscany, if not the most beautiful. Within the historical city walls an enchanting, almost car-free old town awaits you. Winding alleyways, impressive squares, imposing churches – you can look forward to all that and much more. In comparison to Florence, Lucca is also pleasantly tranquil.
Marvel at the city from above: A lovely viewpoint awaits you with the striking, tree-covered Torre Ginigi. The birds-eye-view over Lucca's terracotta rooftop landscape is absolutely worth seeing. Of course, we provide more details about this and more viewpoints in Lucca within this travel guide.
Take a day trip: Pisa, with its famous leaning tower, is located just half an hour's drive away. Or how about a detour to Cinque Terre, the five magical villages on the Ligurian Coast? Florence is also not far, and you can reach it in around 1.5 hours. We provide our detailed day trip tips further down in this travel guide.
Recommended tours in Lucca
Would you like to spend your time in Lucca a little more actively? Then take a closer look at the following tours on GetYorGuide. Perhaps there is something for you.
How many nights should I plan for Lucca?
Lucca's old town is really quite manageable. Therefore, many visit Lucca on a day trip – just as we also did on our first trip to Tuscany. Theoretically it is quite possible to visit Lucca's main attractions in just a few hours.
On our last road trip through Tuscany, we stayed two nights in Lucca and didn't regret it for one second. Lucca is incredibly charming, particularly in the evening hours.
2. Travel Guide: Top Sights in Lucca
Piazza dell'Anfiteatro
Lucca's main square, Piazza dell'Anfiteatro, is rather curious. It is shaped like an ellipse, so it has an oval shape. Why is this? A Roman amphitheater was originally located here – hence the name.
The Piazza dell'Anfiteatro is really beautiful and something quite special. The pastel-coloured houses in their various yellow tones give the square a very unique charm.
Cafés and restaurants are nestled along the outskirts of the Piazza, all of which are rather touristy. But okay, no wonder in this area. Nevertheless, we enjoyed an aperitivo here in the evening. What a great atmosphere! (However, we would personally look elsewhere for food.)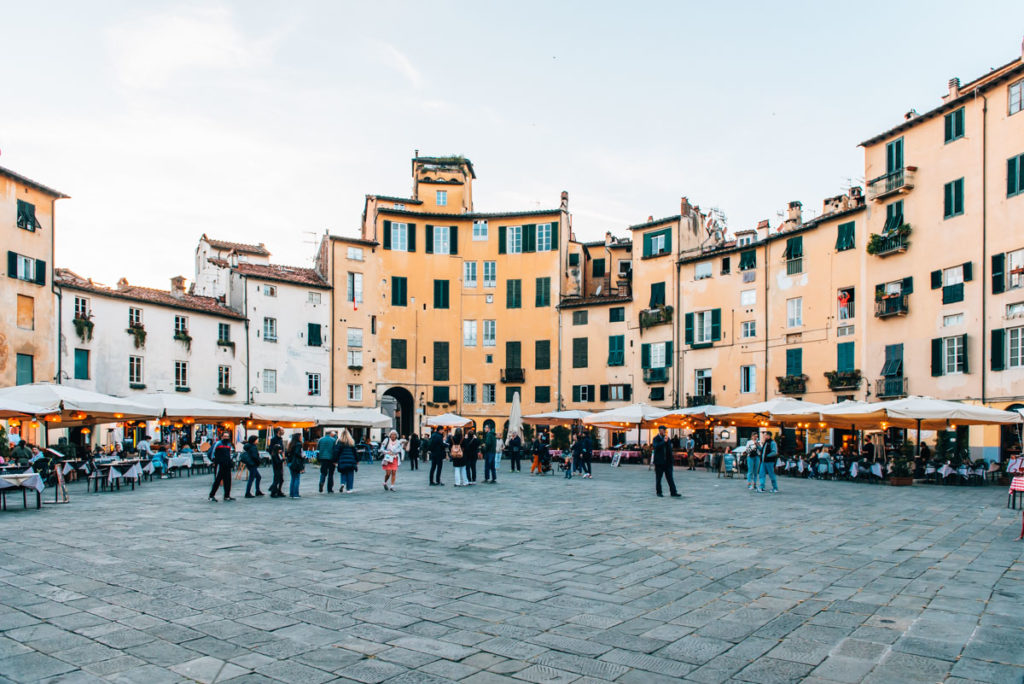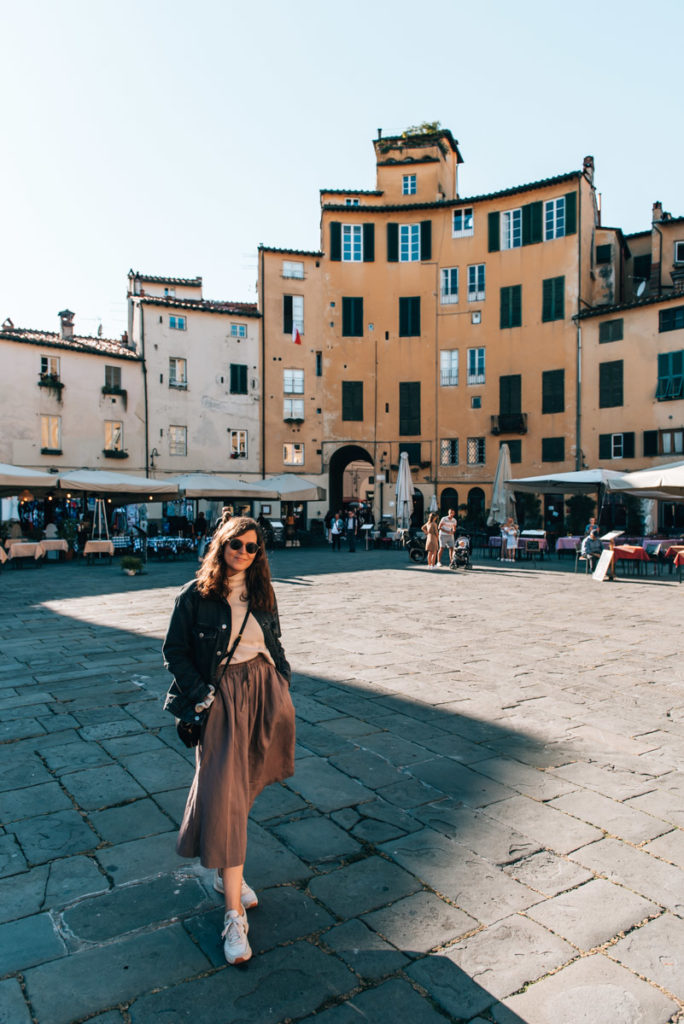 The two most important towers in Lucca: Torre Guinigi & Torre delle Ore
Unfortunately, out of the approximate 250 medieval towers that were once in Lucca only a few remain. The two most well-known are the Torre Guinigi and the Torre delle Ore. Today they serve as viewing points and provide a fantastic view from the birds-eye-view over Lucca for you.
Torre Guinigi
If you spot a terracotta-coloured, tree-covered tower, then you are in the right place! Seven centuries-old holm oaks are enthroned on the rooftop of Torre Guinigi and give the tower its striking appearance. What an eye-catcher.
To reach the rooftop of the 45-metre-high Torre Guinigi you need to conquer its 230 steps. Once you reach the top, a fantastic, completely uninterrupted view over Lucca in all directions is waiting for you. The ambience from the surrounding trees here is also really great.
Our tip: If possible, we would recommend coming at sundown. Unfortunately, this wasn't possible when we visited in October, because the tower closed again in the afternoon.
Price: 5 euros (combo-ticket with Torre delle Ore 9 euros)
Opening times & more info: Torre Guinigi
Torre delle Ore
The second famous tower in Lucca, which you can climb, is Torre delle Ore, also the Clock or Bell Tower. You can recognise it by its huge clockface. At around 50 metres, it is the highest tower in Lucca. You can also look forward to a fantastic panorama view from here.
Price: 5 euros (combo-ticket with Torre Guinigi 9 euros)
Opening times & more info: Torre delle Ore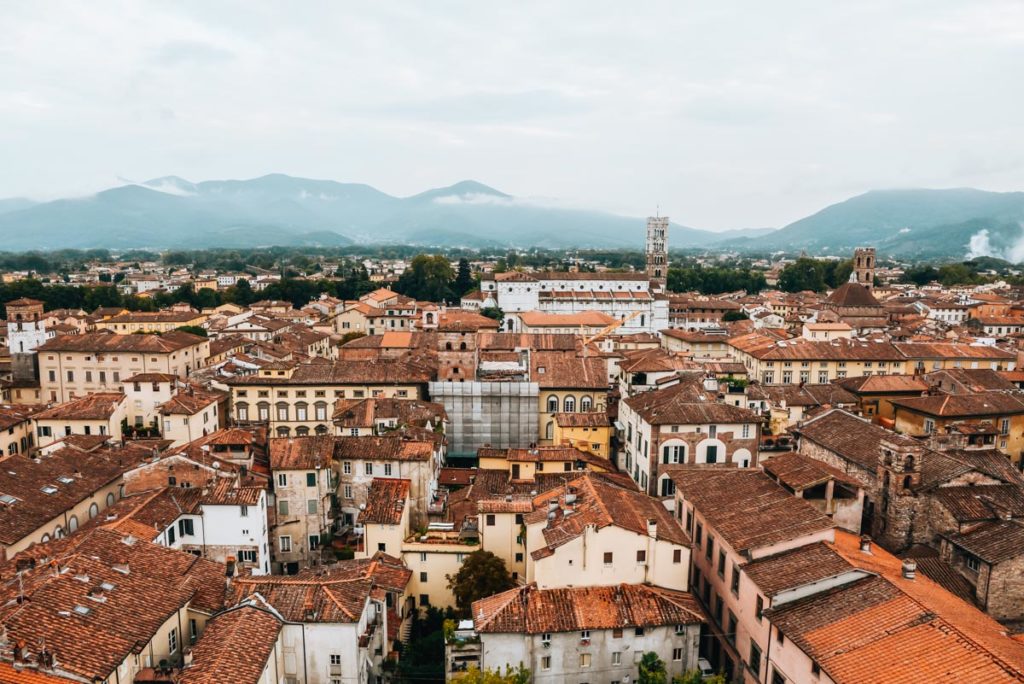 Lucca Cathedral (San Martino Cathedral)
One of the main attractions in Lucca is the gigantic San Martino Cathedral. With its asymmetrical, richly decorated façade and its gigantic bell tower, an architectural masterpiece awaits you here.
Of course, you can also view Lucca Cathedral from the inside. The interior is rather simple and less appealing to the eyes than you might guess from the outside.
However, our personal highlight is the view from the cathedral's bell tower. What many people don't know: You can climb up it. Because the two well-known towers with a view in Lucca close rather early in the off-season, we found a more than worthy sunset spot up here at the bell tower. Woohoo!
It must be noted that taking photos up here is unfortunately a little restricted due to the grating – especially if you are out and about with a SLR camera like us. Nevertheless, we really enjoyed it.
Info for visiting the cathedral at a glance
Price: Cathedral 3 euros, bell tower 3 euros
Opening times & more info: Lucca Cathedral (official website)
San Michele in Foro
The second-most famous church in Lucca, after the cathedral, is San Michele in Foro, located in the heart of Lucca's old town. It dates to the 12th century and is simply impressive to look at with its white, richly decorated façade.
The San Michele Church in Foro sits in the square where the Roman Forum was once located. Today a few cafés and restaurants are nestled here in the square of the same name, the Piazza San Michele. The Piazza is generally well visited throughout the day and a meeting point for young and old.
You can also view the church from within. (The entry is free.) The interior is kept rather simple and, in our opinion, far more imposing from the outside.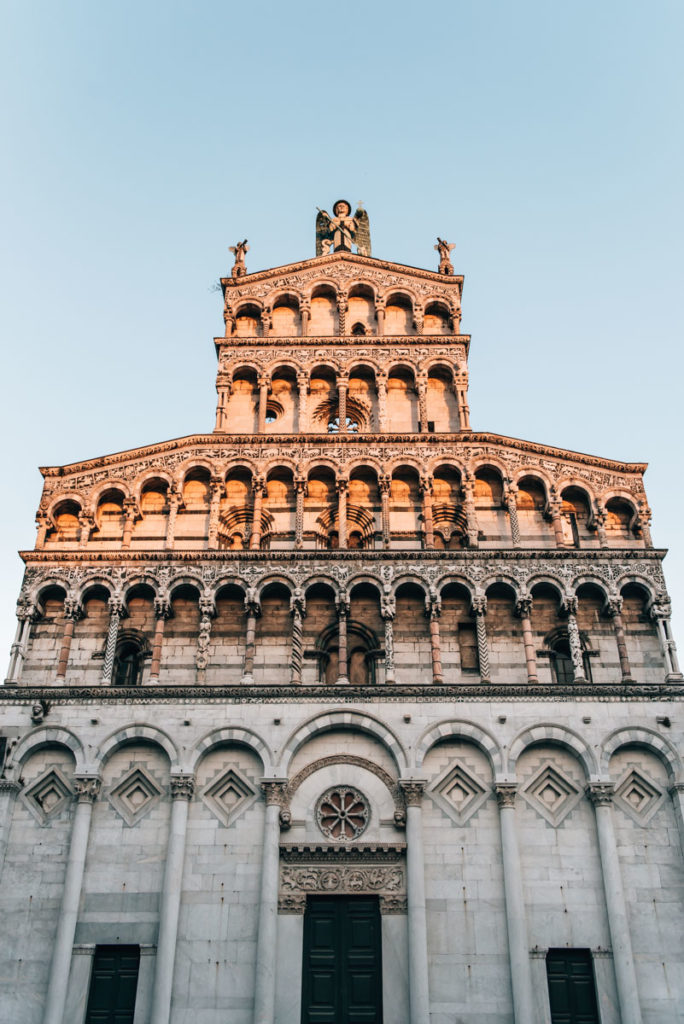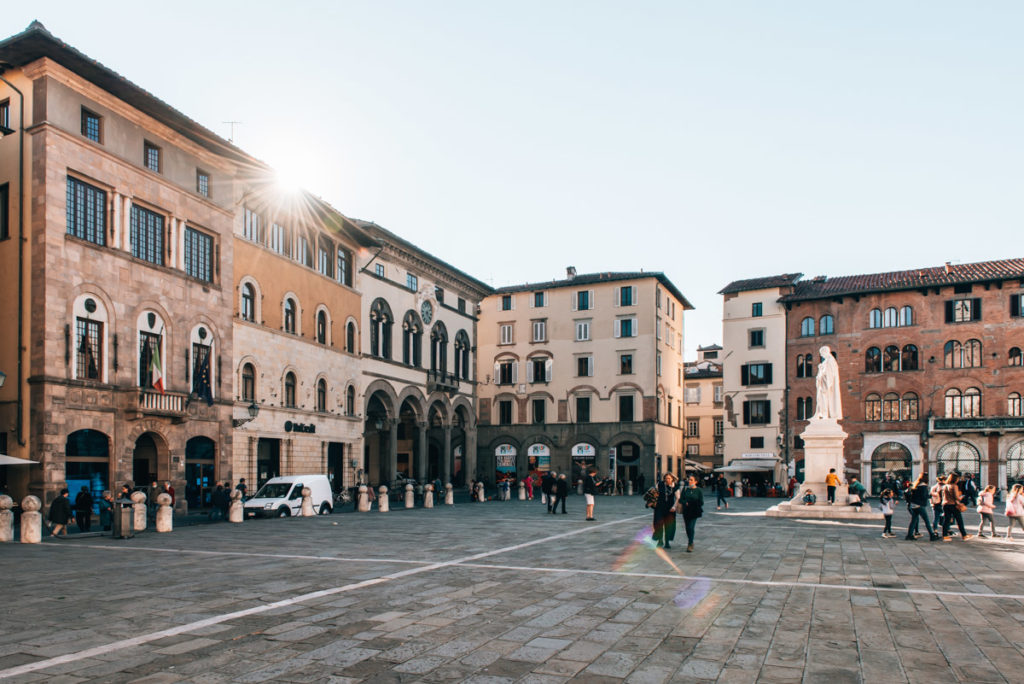 City walls of Lucca
Pretty impressive: Lucca's old town is still surrounded by its historical city wall, as it was earlier. With a length of 4 kilometres, it circles its way around the town centre. The city wall originates from the Middle Ages and was expanded in the 16th or 17th century, to be as it is today.
What – apart from its intactness – is so special about the city wall? It is walkable. Or beyond that: More precisely, you will find yourself in a type of elongated park here. Locals use the tree-lined pathway to go jogging or for walks.
There are regular access points along the up to 12-metre-high city wall, so that you can enter the circuit from practically any point of the old town. Anyone who likes to get around a little faster can also rent a bicycle.
Unfortunately, it's not possible to enjoy proper distant views over Lucca's rooftop landscape from the city wall (it's not high enough for this), but there are always pretty views on offer.
Palazzo Pfanner
A rather hidden, and not so well-known attraction in Lucca can be found to the north of the old town. The Palazzo Pfanner and its garden grounds are an oasis of peace and somewhat of an insider tip.
A beautifully situated garden awaits you here comprising of stone pathways, lemon trees, statues, benches to linger and a beautiful fountain in the middle. Although, the garden is not so wide sprawling.
With the combo-ticket, you can also visit the associated Palazzo and gain a little insight into the historical premises.
Price: Garden and Palazzo 6.50 euros, just the garden or Palazzo 4 euros
Opening times and more info: Palazzo Pfanner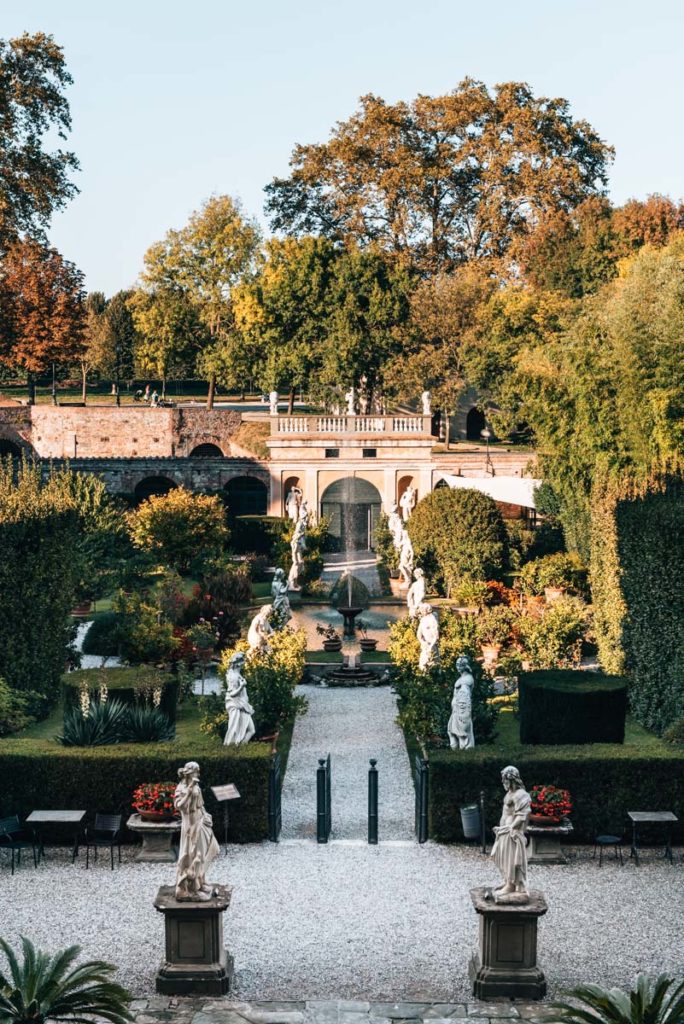 3. Day Trip Destinations around Lucca
Pisa
The classic day trip destination around Lucca is Pisa. The famous leaning tower is enthroned there, making it one of the landmarks of Tuscany.
You have probably already guessed what that means: The crowd surrounding the leaning tower is particularly huge in the middle of summer. Thousands of people frolic around the spacious Piazza dei Miracoli during the day.
However, Pisa is of course much more than just the leaning tower. There are many more attractions in this university town, for example the Santa Maria Assunta Cathedral or the baptistery. Pisa is located on the banks of the Arno. Therefore, you shouldn't miss a stroll along the riverbanks.
Our conclusion: Personally, we find Pisa to be a bit overrated, but it is of course impressive to see the world-famous construction with your own eyes.
Getting there from Lucca
You can reach Pisa from Lucca in just 30 minutes by car. It is possible to park in the paid parking spots outside of the historical town centre. Alternatively, you could also travel by train from Lucca to Pisa.
Cinque Terre
Hello postcard picture! Cinque Terre, the five colourful villages along the rugged Ligurian Coast, are a very popular day trip destination close to Lucca. They are called (in order from north to south):
Monterosso al Mare
Vernazza
Corniglia
Manarola
Riomaggiore
Because the villages are really tiny and lie very close to each other, you can theoretically see all five villages on a day trip. Our personal favourite was Manarola, followed closely by Vernazza.
Important to know: Even if the photos sometimes suggest otherwise, the villages are incredibly well visited and everything but secluded.
Getting there from Lucca & transport while there
We recommend you first drive to La Spezia (around 1 hour drive from Lucca) and explore Cinque Terre by train from there. Trains run regularly between the five villages. The travel time between the villages is just a few minutes.
You can find more info in our detailed blog article: Cinque Terre
4. Culinary Tips for Lucca: Great Cafés and Restaurants
Caffè Santa Zita: Art Nouveau flair in the middle of the old town. We highly recommend this chic café for a coffee break. Inside it has a classic ambience (hello time travel!), outside you are seated quite nicely in the square in front of the Basilica di San Frediano. The delicious Dolci are especially noteworthy – each one a small work of art.
Pizzeria da Felice: If you get hungry during the day and want to eat like the locals, then we can highly recommend this small pizzeria for you. The atmosphere is reminiscent of a fast food place. (There are no actual tables, instead you either eat while standing or seated on the small benches.) Perfect for a slice of pizza to carry you through!
Pizzeria Sud: We can recommend this great, very cosy pizzeria for the evening. It is located in the northern part of the old town and is well-frequented. No wonder because they prepare really delicious, Neapolitan, wood-fired pizza here. Making a reservation is advisable.
Osteria Nova: There is a touch of fine dining in this young, hip osteria. The dishes are of high quality, although we found the vegetarian options could be improved. Inside the ambience with the high roofs is very elegant and special. When the weather is nice you can also sit at a table outside in front of the restaurant. Making a reservation is recommended!
5. Staying in Luca: Our Accommodation Tips
Because we have already been to Lucca several times and our relatives even own a house there, we would love to show you a few accommodation options. Depending on what you are looking for, you will find the right accommodation for you in our tips.
Option 1: In a traditional Agriturismo
A so-called Agriturismo is a special kind of accommodation in Italy. You will stay the night in a kind of estate or farm, so mostly traditional or at least very personal.
Agriturismo Al Podere Di Rosa is located about a 5-minute drive outside of Lucca's old town – perfect if you are planning one or two day trips.
The rooms are traditional, but very cosy. A disadvantage is the lack of soundproofing, due to the historic walls. The family is incredibly hospitable, the breakfast very food and, last but not least, the value for money is great.
You can book the accommodation here: Agriturismo Al Podere Di Rosa
Option 2: For families & larger groups
Are you searching for a special place to stay with your whole family? Then we can recommend Casa San Quirico. Our relatives purchased this historic house and renovated it with a lot of love and a magnificent sense of aesthetics.
Here you stay outside of Lucca's town centre, more precisely in the peaceful district of Monte San Quirico with a distant view back towards Lucca. Perfect if you are planning to do a few day trips by car.
You can book the accommodation here: Casa San Quirico
Option 3: In Lucca's old town
Would you like to stay directly in Lucca's old town? Then we recommend the small boutique hotel, Il Pozzo di Santa Zita. It is located just a small hop away from the famous Piazza dell'Anfiteatro, therefore very central but quiet.
The whole house is incredibly tastefully decorated with a great amount of attention to detail. On top of that are many extras, such as a coffee machine in your room and, last but not least, very comfortable beds.
Our conclusion: A very special place to stay! If you are looking to stay in the centre of town, you are in the right place.
You can book the hotel here: Il Pozzo di Santa Zita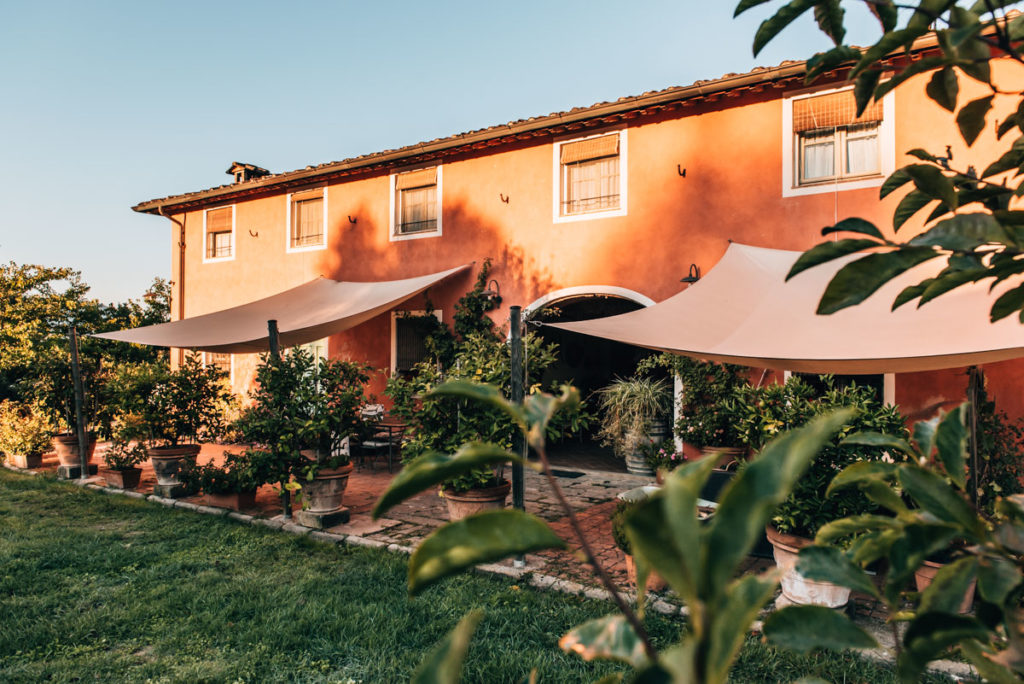 6. Interactive Map: All Sights & Tips at a Glance
Finally, we would like to show you all the sights and highlights on this map. That way you can quite easily navigate your way from A to B when you are there. Our tip: Simply click on the top right corner to open the map in the Google Maps App on your smartphone.
---
Disclaimer: Affiliate Links
This travel guide contains our personal recommendations in the form of affiliate links. If you book or buy something through the links, we receive a small commission. This does not change the price for you at all. A million thanks from the both of us!
Have you already been to Lucca? Did you like this town in Tuscany as much as we did? Perhaps you had some special experiences that you would like to share with us? We really look forward to your additional tips.