Ever wondered how to make pastéis de nata, the famous and delicious Portuguese custard tarts? We tried hard to create a recipe which is very close to the original one in Belém. So if you're looking for the most delicious pastéis de nata (also known as pastéis de Belém), you should definitely try the following recipe.
Ingredients for pastéis de nata
1 puff pastry (250g)
a bit of cinnamon
one piece of lemon peel (5x1cm)
1 vanilla bean (the seeds)
250g of whipping cream
100g of white sugar (75g are also fine if you don't like it that sweet)
4 egg yolks
a bit of milk
1 tbsp. of cornstarch
How to prepare the filling
Put the whipping cream, the sugar, the seeds of the vanilla bean and the piece of lemon peel in a pot, whisk it and then add the egg yolk. Carefully heat the custard. Mix the cornstarch with the milk in another cup and add it to the custard. Continue to heat it and then let it simmer for 10 minutes. Stir occasionally! After 10 minutes, remove the pot from the heat, remove the lemon peel, cover the pot and let the custard cool down.
How to prepare the puff pastry
Unroll the puff pastry, add cinnamon and roll it again. Then cut the roll into 12 pieces. Put each piece with the cut side on top into a muffin tray and spread the pastry with your fingers. Put the tray into the cooler for a few minutes and then place the filling (the custard) in each well of the muffin tray.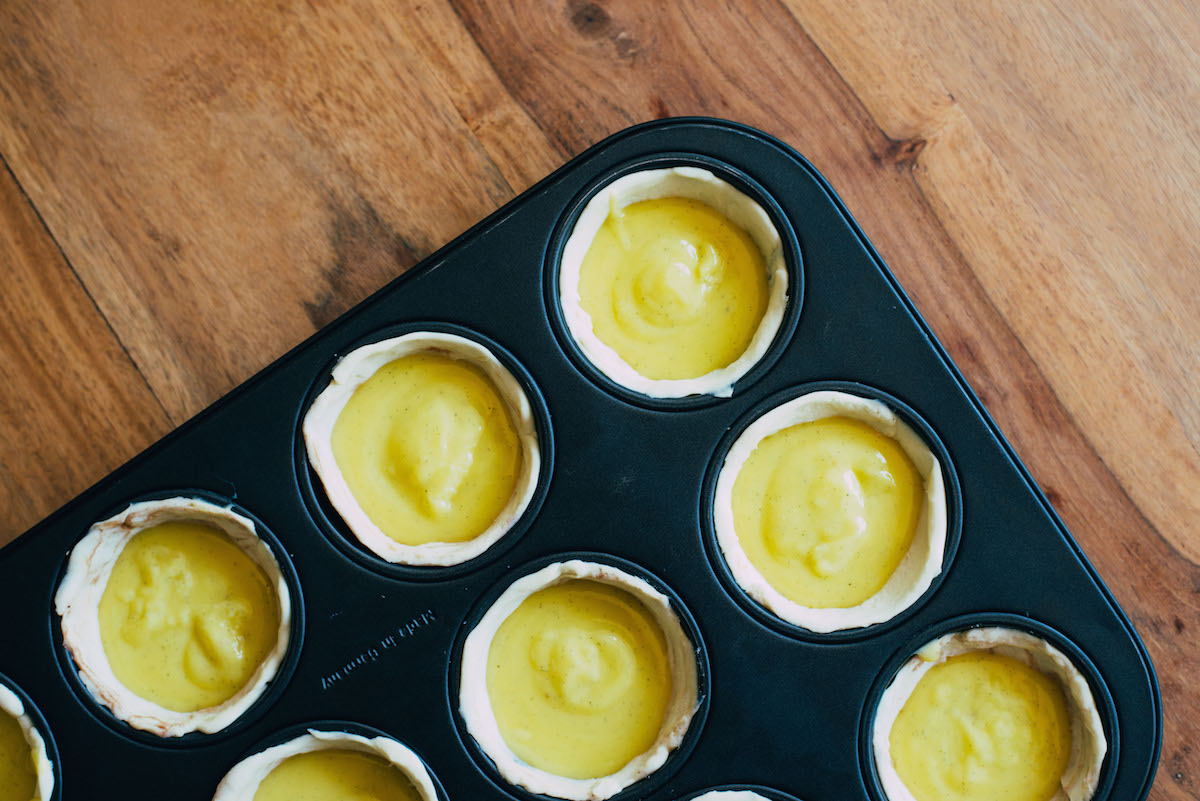 Baking the pastries
Preheat the oven to 220-250 °C (upper and bottom heat). Bake the pastéis de nata for around 15 minutes. The time varies depending on your oven. It is very important to work with high heat so that the puff pastry gets crispy. The pastries are done until they're golden and slightly brown. We always put on the grill during the last couple of minutes. Enjoy the best pastéis de nata!
---
We're curious: have you ever been to Lisbon and tried the original pastéis de Belém? Or did you already try to make them at home? Tell us about your recipe for those delicious Portuguese custard tarts. We're looking forward to your comments!