Oh Rovinj, we like you! The pretty Rovinj is considered the most beautiful city in Istria (Croatia). And when you set eyes on the impressively located old town and its sights, then it becomes clear as to why.
Pastel coloured stone houses are nestled in against the slope. In the centre: Towering over everything and visible from afar is the cathedral's bell tower, which defines the silhouette of Rovinj. And in the foreground: fishing boats, sailing ships, luxury yachts. Rovinj simply exudes the most excellent holiday feeling, that we can promise you.
In this travel guide we show you why you absolutely should take a pit stop in Rovinj on your trip through Istria. We take you to the most beautiful sights and reveal, as always, our personal travel tips for Rovinj.
1. Rovinj (Croatia) Overview: FAQs & initial Travel Tips
What can I expect in Rovinj?
Rovinj is simply beautiful – you can't say otherwise. The coastal city is bursting with energy. What you can look forward to in Rovinj:
Winding, historic old town: Photo opportunities an beautiful sights on every corner. Alleyways that seem to always get smaller. Stone houses that tell a story. That is Rovinj's old town! You can let yourself drift through here for hours without getting bored.
Beaches: Rovinj is located on the Adriatic coast and therefore, you can look forward to bathing in the sea. Important to know: Rovinj is very urban – so it's perfect for combining culture & beaches. If a beach holiday is your focus, we would consider take this into consideration when choosing a hotel (close to the beach).
Great options for day trips: Rovinj is located pretty much in the middle of the west coast of Istria, so it is ideal for numerous day trips. Pula in the south, for example, is popular. Or our favourite: a day trip to the magical mountain villages of Istria. We will reveal more info to you in later chapters of this travel guide.
Is Rovinj overcrowded?
Here we come to the less good news: Yes, Rovinj is really an extremely popular travel destination. You notice it when you take a closer look at the restaurants in the city centre: Everything here is clearly designed for tourists.
We don't want to judge it – after all, we ourselves are also guests that come to Rovinj. However, you need to be aware that Rovinj is definitely well visited.
What can we give as a tip? If possible, plan to travel to Rovinj outside of the high season (so definitely NOT in July and August).
We ourselves were in Rovinj during May. The city was still busy despite the pandemic and shoulder season. Still, we found the hustle and bustle to be absolutely fine and didn't find Rovinj overcrowded. This is not the case in mid-summer though. Through the experiences of Kathi's dad, we know that then it is practically impossible to get a table at a restaurant without a reservation.
How many days should I spend in Rovinj?
Short answer: That depends. Some just visit Rovinj as a day trip (which we definitely don't recommend), others spend a whole week of their holiday here (sounds a lot more tempting).
We personally recommend you spend at least two nights in Rovinj. That way you have enough time to explore the old town and will probably even pass by the same spots several times. There should also be enough time to spend a few hours at the beach.
Perhaps Rovinj is the only travel destination on your Istria or Croatia trip? Then we would recommend staying three to five nights. Then you will have enough time to take one or two day trips.
2. Hotel Tip for Rovinj
Before we come to the most important info (our highlights in Rovinj), we would really like to show you our great hotel discovery. In case you are searching for a really great, hip, boutique hotel, then off you go to The Melegran.
What can you expect? A carefully renovated jewel in the middle of the historical centre. Every room is individually designed and with incredibly lovely details and furnished to a high standard. We ourselves were staying in a room in the luxe room category (= deluxe twin room in the annex), which we can warmly recommend.
What you should know: You are lodging in a historical house. That means: The rooms are not very large. For us it was more than enough. We felt comfortable right from the start and slept superbly during our stay. Also, there are great extras such as a Nespresso machine in your room and great cosmetic products.
The fantastic service also deserves a mention. For example, there is a golf cart shuttle to and from the private car park, which is a 10-minute walk away from the hotel. Also, the employees are very courteous and had great tips on hand.
Our conclusion: Run with a lot of love, great atmosphere and located in the middle of the city centre. We can't help but warmly recommend this hotel to you. We wouldn't hesitate for a second to stay here again.
You can book the hotel here: The Melegran
3. Travel Guide: Top Sights in Rovinj
Good to know: There are not so many classic attractions in Rovinj. Or to put it differently: In our eyes the entire old town ensemble of Rovinj is the special thing about the city.
Therefore, Rovinj is ideally suited for letting the city work its magic without having any big plan. Nevertheless, we of course want to share our favourite spots and sights in Rovinj with you.
Our sightseeing tip: The historical centre (located on the head land) is almost completely paved throughout and closed to car traffic. That is of course very relaxing, but you should definitely choose the right footwear. The paved stones can be very slippery – especially when it's raining.
Church of St. Euphemia with its bell tower
What do we love to do the most when we are in a new city? To climb up to the best viewing point to gain a full overview. In Rovinj there is really only one destination: The outstanding bell tower of the St. Euphemia church.
The church and its tower dominate the city picture and is like no other building. The bell tower rises 60m into the sky. From the top you can enjoy a fabulous 360-degree view over all
Practically all alleyways that lead upwards eventually end up at the church. So the way there is not hard to miss. Directly in front of the church is a green space from which you get a nice view of the sea. The adjoining café is not such a big highlight but is very inviting for a refreshment.
Info & Tips for your visit to the church and bell tower
Entrance: Church free, tower 20 Kuna
Opening times: vary depending on the time of year, in May the tower was open until 7pm.
Ascent: The stairs take some getting used to with their small wooden boards. We didn't feel unsafe, but you should be reasonably good on your feet.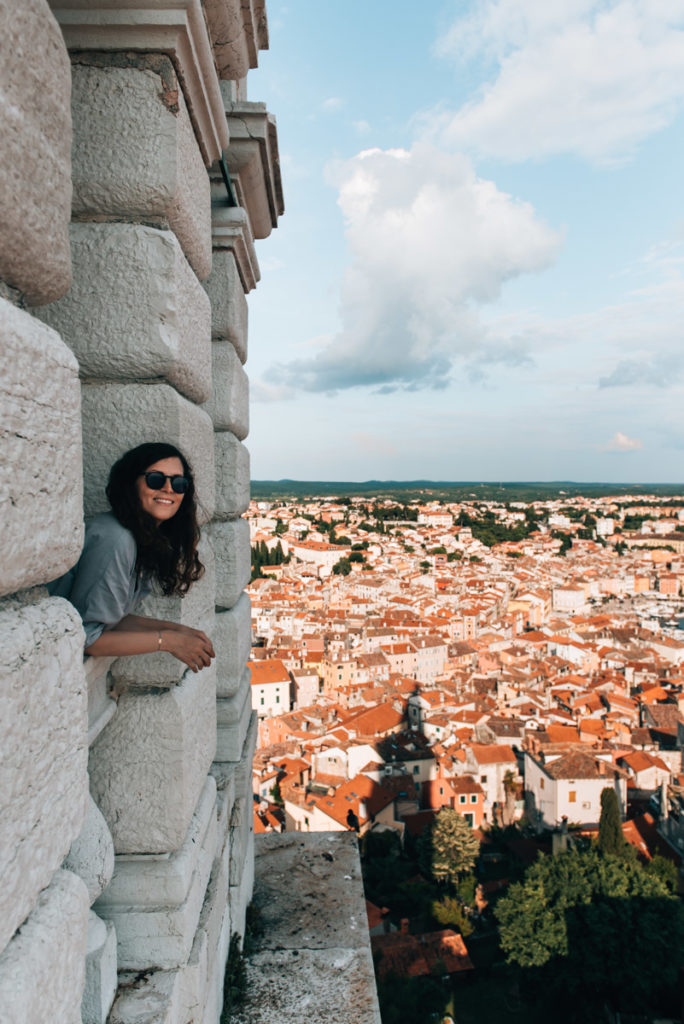 More sights in Rovinj
The church is the most imposing, but not the only highlight of the historic town of Rovinj. Small stone alleyways, colourful window shutters, beautiful photo opportunities – you can really look forward to a magical town centre.
We definitely recommend you let yourself wander and also take a look upwards. You find so many details here. In case you would still like a few clues of where to go or specific sights to visit, then here are our tips.
Mainsquare with its clock tower: The main square (Trg Maršala Tita) is found at the gates to the old city, so to speak. You are guaranteed to pass by here a few times. There are some pretty buildings nestled in this square, including the striking clock tower from the Venetian era. Another highlight is the Baroque Palace Califfi at the northern end of the square. Today it houses the local history museum.
Balbi Gate: Directly across from the clock tower, you go through the Balbi Arc into the winding old town. The main gate to the old city fortifications once stood here. The current gate dates back to the 17th century.
Harbour & Promenade: Sailing boats and restaurants as far as the eyes can see! Rovinj's harbour in the south of the old town shapes the cityscape and is the liveliest place in Rovinj. This is where (as people so wonderfully say) the place goes off. If the hustle and bustle is too much, you can wander a little further to the modern yacht marina. The further you stray from the historic centre, the quieter it becomes.
Carera ulica: Rovinj's shopping street is located off the peninsula. It connects the old town with the newer part of Rovinj, so to speak. It is easy to stroll here. We highly recommend taking a detour to Gelateria Italia and in Augusto Coffee Shop – you can find more info under our culinary tips.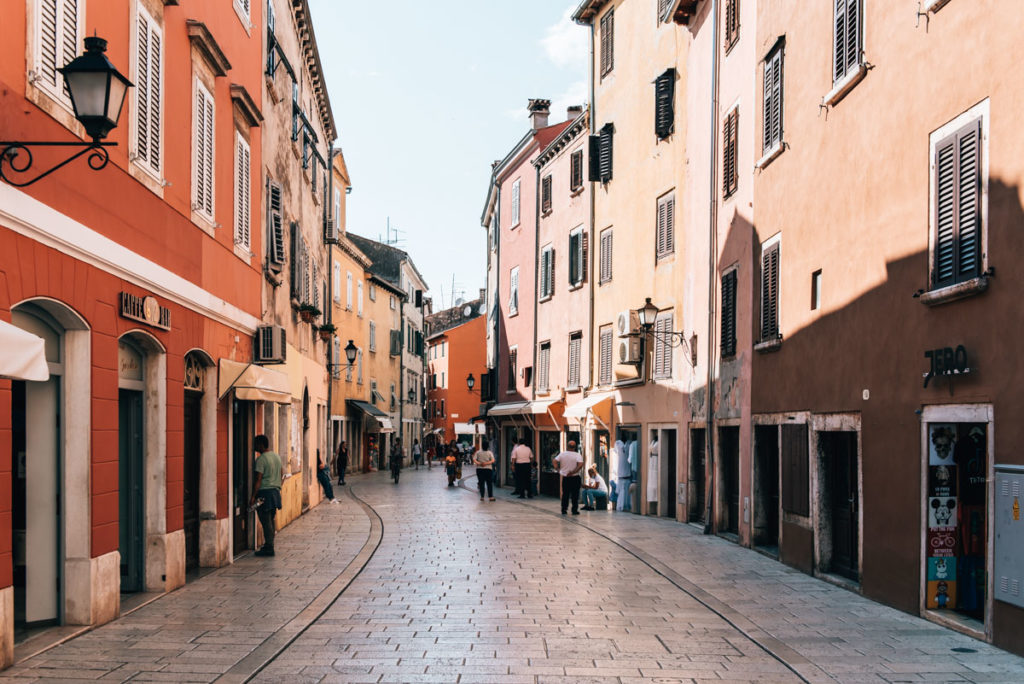 Our three favourite photo spots in Rovinj
Rovinj is so beautifully situated that we find the city view from afar is almost just as beautiful as the alleyways themselves. On our trip we found a total of three photo spots, all of which we can highly recommend. As usual, you can find all the spots marked on the map at the end of the travel guide.
From the carpark north of the old town
We admit: The carpark itself is not so charming but the view of the old town ensemble of Rovinj is fantastic. We came by here just before sunset – lovely!
From the jetty south of the old town
South of Rovinj is a jetty protruding out into the sea where expensive yachts or boats often dock. From here you have a great view back towards the church as well as a fantastic panorama with the many boats and pastel-coloured houses. The best time for a visit is definitely at sunset.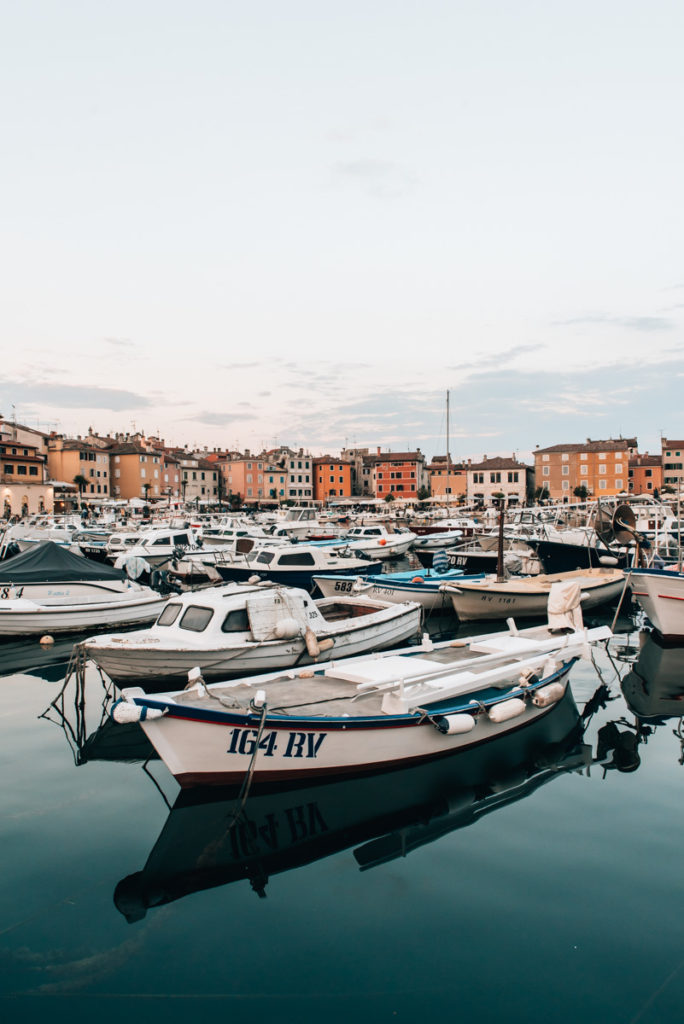 From the promenade next to the Grand Park Hotel Rovinj
Rovinj has a new luxury hotel, the Grand Park Hotel Rovinj. The promenade in front of it is also accessible for non-guests. From here you get a very pretty view of Rovinj – this time from a little further away.
4. Best Beaches in Rovinj
In the middle of the city: Monte Beach (= Baluota)
If you are in the middle of the old town and would like to take a dip in the water, you should definitely visit Monte Beach. This rock beach is Ronvinj's city beach, so to speak, and is in a really cool location.
To avoid confusion: Monte Beach is also commonly referred to as 'Baluota'. However, 'Baluota' is more precisely just one section of Monte Beach.
Here you swim practically directly under the city walls of the old town. Since the beach is so centrally located and the sunbathing options are limited, we would prefer a different location for a day of bathing. However, if you just want to go for a quick dip, this is the place for you. Entrance is free.
Beaches at the forest park (= Punta Corrente)
South of Rovinj's town centre you can find a peninsula, the so-called Zöazni Rt forest park also known as 'Punta Corrente'. Many of the most beautiful beaches around Rovinj are located in this car-free nature reserve, including the flowing two:
Lone Bay: One of the most well-known beaches on the peninsula. A very pretty pebble beach surrounded by fragrant pine trees awaits you here. In the high season it can be very full. You can walk to Lonely Bay from the city centre in around 20 minutes. The path there practically always follows along the water.
Zlatni Rt Beach: This rocky beach is located at the southernmost tip of the peninsula and is considered one of the most beautiful in Rovinj. You can either walk to the beach or bike there. You need to allow about a half hour to walk there from the city centre.
5. Eating & Drinking: Culinary Tips for Rovinj
Start this chapter off with the not so good news: The restaurant options in Rovinj are very geared towards tourists. So if you are hoping to dine surrounded by locals, you probably shouldn't look in the city centre. There you will usually hear more German and English than Croatian.
However: That doesn't change the fact that you can enjoy really excellent food in Rovinj. For example, some of the top restaurants in Istria are located in Rovinj.
Our cafés & restaurant recommendations
Mediterraneo Bar: We are going to lean right out the window and claim that the Mediterraneo Bar is by far the coolest bar in Rovinj. You sit there right on the stone coast with a view over the water. What also made us very happy, aside from the fantastic ambience was: They have a brilliant affogato here. The cocktails should also be very excellent. Very clearly recommended and quite the insider tip for Rovinj.
Gelateria Italia: Probably the best ice cream in Rovinj is found in this inconspicuous ice cream parlour. It is run by an Italian couple with a lot of passion. We 'cheated' one time and got our ice cream from another shop on the promenade. Well, we regretted it right away. It just tastes the best in Gelateria Italia.
La Puntulina: THE fish restaurant in Rovinj. The backdrop alone is outstanding: The tables are on the rocks right next to the water. There is also a fantastic view over the sea. The meals are also impressive – but okay, you are in a Michelin restaurant. Be sure to make a reservation, the restaurant is always well attended.
Restaurant Balbi: This restaurant is located in a small space in the pedestrian zone in Rovinj's old town. Even though (like almost everywhere) mainly tourists dine here, we ate very well. Big plus: There are even vegan options on the menu. If you prefer fish or other meat, there are equally as good options.
Augusto Coffee Shop: Probably the best coffee in Rovinj is found in this café, which is found hidden in passage close to the shopping street (Carera ulica). If you are looking for a great espresso, cold brew, or espresso tonic – you will find it here.
Cafe Bar Limbo: A bar like no other! Here you aren't sitting at the water, but on the steps of the winding old town with a view of the picturesque square. We have had better Aperol Spritzs, but the flair makes up for a lot.
6. Day Trips from Rovinj: Our Tips
Istria mountain villages
Of course, those who travel to Rovinj are mainly looking for sea breezes and coastal vibes. However, we can warmly recommend also taking a detour inland. There you can find numerous wonderful, medieval mountain villages.
They are enthroned on a hill and visible from afar, exuding an incredibly charming flair and lure with photo motifs on every corner. We ourselves visited the following villages:
Motovun: This little treasure is by far the most well-known and most visited and also one of the larger mountain villages in Istria. Even though there was a lot going on, even in the shoulder season, we found Motovun to be beautiful. A trip around the city walls should not be missed. Culinary tip: Stop by Koboba Monda for lunch. We had great food here.
Grožnjan: Studios & galleries on every corner – Grožnjan is the artist town, so to speak! The charming village seems to still be a bit of an insider tip, because it was not very busy when we visited. We found it magical.
Hum: Tiny, tinier, Hum. This village prides itself on being the smallest town in the world, with less than 30 inhabitants. We personally liked it a little better in other villages, but the medieval towns is very charming nonetheless.
Labin: We spent a few nights here and can confirm: Yes, Labin is just great! This exceptionally colourful mountain village is really something special. Labin is one of our favourite places in Istria, not only because it was surprisingly quiet here.
Looking for more info? Then this way to our detailed travel guide (available soon)
Pula & Kap Kamenjak
Around a 45-minute drive south of Rovinj you come to Istria's largest city: Pula. Some impressive sights are located in this Roman decorated city, including the amphitheatre, Pula's landmark.
To be honest, we were more enthusiastic about Rovinj's flair than that of Pula. Or to put if differently: There wasn't an instant 'click' between us and Pula. As we then marvelled at Pula from above in the beautiful evening light, we were definitely convinced otherwise.
At the southernmost tip of Istria (just a 15-minute drive south of Pula) lies Cape Kamenjak. Some of the most beautiful beaches in Istria are found in this protected nature reserve.
You can find more info and our tips in our detailed travel guide: Pula & Kap Kamenjak (available soon)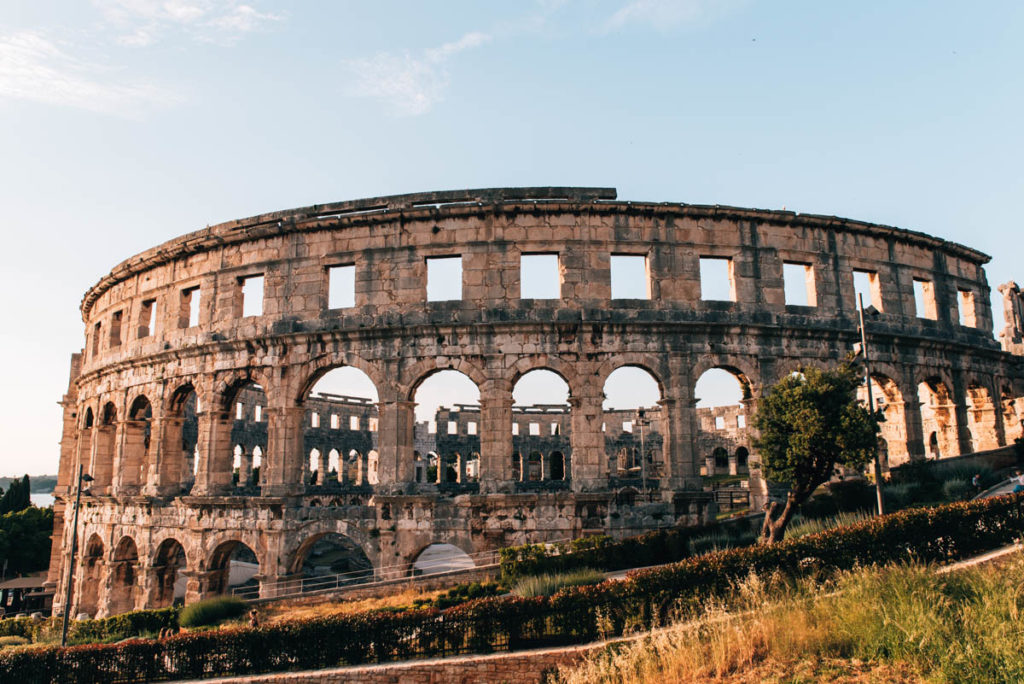 Bale including purchasing wine
Perhaps you would like to buy some wine for home? And combine that with a small day trip to a really pretty village? Then we can only warmly recommend you pay a visit to the enchanting town of Bale.
Bale is a picture-perfect village: The cobbled alleyways in this tiny medieval town are beautiful to look at. In addition, Bale was surprisingly calm when we visited. So, if you need a pause from the hustle and bustle of Rovinj, Bale is the place for you.
Tip No. 1: We enjoyed great food in the restaurant 'La Grisa'. The restaurant, which belongs to a boutique hotel of the same name, is considered one of the best in Istria. Great quality, great service – highly recommended.
Tip No. 2: We warmly recommend the San Tommaso Winery to purchase wine. It is in a lovely, idyllic location around a 5-minute drive away from the centre of Bale. We were warmly welcomed, well advised, and last but not least, the wine tastes amazing.
In addition: The San Tommaso Winery also houses four rooms. We will definitely spend a few days here on our next holiday to Istria, that much is certain. The estate is beautifully renovated, the pool is a dream and the whole ambience makes you feel wonderful.
You can book your accommodation here: San Tommaso Relais and Wine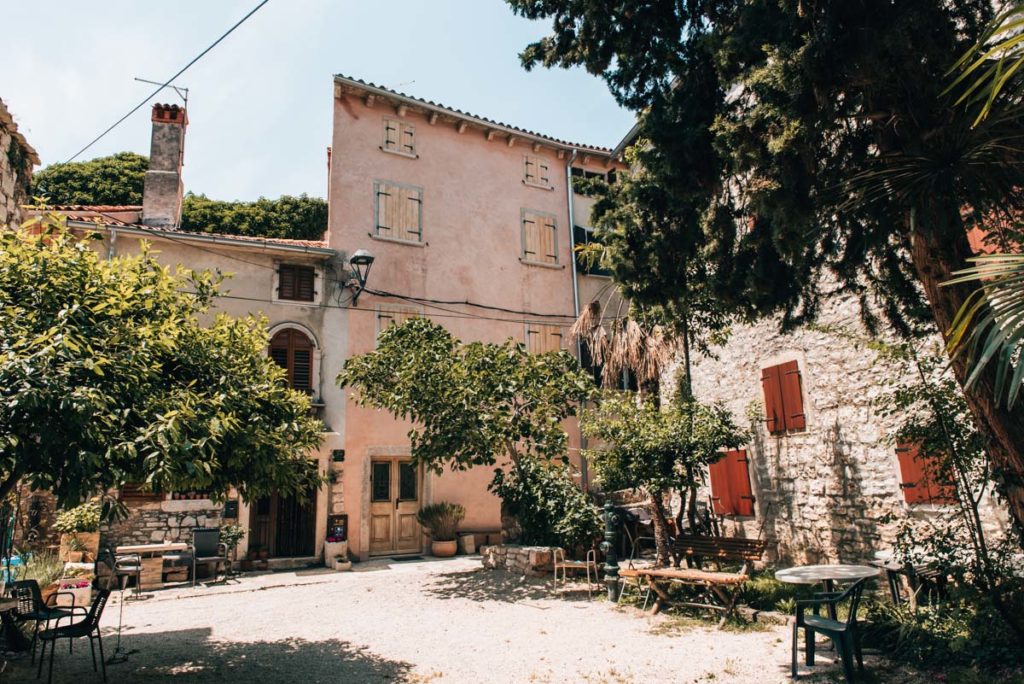 7. Map: Overview of all Tips & Sights
Last but not least, here you can find all of our tips and sights for Rovinj that we mentioned marked on this map. Small tip: simply click the top right corner to open the map on your smartphone or in Google Maps.
---
Disclaimer: Affiliate Links
This travel guide contains our personal recommendations in the form of affiliate links. If you book or buy something through the links, we receive a small commission. This does not change the price for you at all. A million thanks from the both of us!
And now we are curious: Have you already been to Rovinj? How did you like the city? Perhaps you would like to share your experiences with us under this article – we look forward to your additional tips.