Our one and only, Vienna! In our eyes, our hometown is simply the most beautiful city in the world and definitely worth a visit. However, is a trip to Vienna expensive? Or can you also experience Vienna on a budget and save money?
In this blog article we'll tell you how you can save money when visiting Vienna. After all, we've been living here for over 30 years – so we've accumulated quite a bit of insider knowledge to help pull off a cheap city trip to Vienna.
1. Cheap Accommodation in Vienna: Our Savings Tip
Where is it possible to save a lot of money on a Vienna visit? Definitely on accommodation! So first of all, we'll let you know our personal tip for a cheap accommodation in Vienna, the Student Hotel Vienna.
If you're worried that you'll have to stay in an average hostel, we can reassure you the Student Hotel is anything but. Even though it's cheap, you can look forward to the right amount of comfort. Air conditioning, a coffee machine in the room, fitness center – it's got it all!
The only disadvantage (which is not really a disadvantage): The hotel is located a bit outside the center, close to the Vienna Prater. Which brings us to the advantage: You can reach Vienna's famous giant ferris wheel (Riesendrad) on foot from here.
To name a price: A double room costs about 75 euros per night. On weekends, the prices are a bit more expensive, but overall, the Student Hotel is definitely one of the cheapest accommodations in Vienna in this category.
You can book the hotel here: Student Hotel Vienna
2. Explore the Sights of Vienna on a Budget / for cheap
On to the next question: How can I make sightseeing in Vienna as cheap as possible? Is it even possible to visit the most important sights for free?
The bad news first: many sights in Vienna (especially museums) are quite expensive. (For example, the audio guide tour at Schönbrunn Palace costs 18 euros, and admission to the zoo costs 22 euros). If you visit a lot of the classic highlights, that will add up quickly.
The good news: We think the most beautiful thing about Vienna is the flair of the city, which you can experience completely free of charge!
Free Highlights & Sights: Top Places in Vienna on a Budget
Gloriette: You can visit one of the most beautiful places in Vienna completely free of charge. The Gloriette (seen in the first photo in this blog article) is located in Schönbrunn Palace Park. Unlike the palace itself, there is no entrance fee here. This is one place you have to visit – we ourselves are at the Gloriette several times a week.
St. Stephen's Cathedral: You read that right. You can visit Vienna's landmark for free. There is only an entrance fee for certain areas (e.g. the towers).
Nussberg: Our personal insider tip for Vienna. The Nussberg is an inner-city hill where wine is grown. You can walk through the vines here (there are several hiking trails) and enjoy a beautiful view of Vienna.
Live Opera: In April, May, June and September, many performances are screened live on a huge screen right in front of the State Opera. Free musical enjoyment in the middle of Vienna!
Ringstrasse: So magnificent! The Ringstrasse is home to some of Vienna's most beautiful buildings, which are a highlight simply from the outside. Instead of taking the touristy yellow Vienna Ring Tram, simply take tram lines 1 & 2 to go around the Ring. How it works: From the "Karlsplatz" station (near the Vienna State Opera), take tram line 1 in the direction of Prater. Get off at the station "Schwedenplatz" and change to tram line 2 direction Dornbach. After 5 stations you will be back at your starting point, the "Karlsplatz" station. Alternatively, you can walk along the Ringstraße.
Viennese parks: Whether Schönbrunn Palace Park (with the Gloriette – see above), Volkskarten (we love the Theseus Temple!), Burggarten, Lainzer Tiergarten or Belvedere Palace Park – Vienna is wonderfully green and you can enjoy the flair during a walk through the beautifully maintained gardens without paying a cent.
Want to know what sights there are to see in Vienna? Then follow this link to our detailed blog article: The most beautiful sights in Vienna.
Saving Tip for those who want to see a lot of Sights: The Vienna Pass
If you really want to visit a lot of Vienna's sights, then buying the Vienna Pass can be worthwhile. (Emphasis on "can" – we recommend you do the math in advance.)
With the Vienna Pass, you get free admission to all the major sights in Vienna. If you want to see all the main highlights and do the full sightseeing program, then the Vienna Pass could be for you. Important: The Vienna Pass does not include a ticket for public transport in Vienna (more info on this later in this blog article). You have to buy this ticket separately.
You can buy the Vienna Pass here: The Vienna Pass
3. Food & Drink: Cheap Restaurants in Vienna
Although restaurant prices have gone up quite a bit in recent years, we still find it comparatively cheap to eat out in Vienna.
In this chapter, we'll introduce you to a few of our favorite restaurants where you can get good, affordable cuisine. Depending on which dish and which drink you choose, it's possible to eat out for under 15 euros – even much cheaper in some places.
Deewan
Imagine: You pay as much as you want to for your food. Sounds crazy? You might not think it's possible, but the concept is called "pay as you wish" and it really works – and has for years!
We still know Vienna's Deewan from our student days, when we often dined here. They serve Pakistani food – but less spicy, as the owner tells us. How does it all work? Simply grab a plate and help yourself to the small but delicious buffet. Then you can enjoy your meal – and of course, take more. In the end, you pay the price you think is fair. Only the drinks have fixed prices (quite affordable, mind you).
Swing Kitchen
By far our favorite fast food restaurant in Vienna, with two advantages: Firstly, it only serves vegan dishes. Secondly, the prices are really great considering the quality on offer.
There are several Swing Kitchen locations in Vienna. Our favorite option is to get take-out from the Swing Kitchen on Schwedenplatz and then enjoy some leisurely burgers and fries on the Danube Canal. We promise: The price-saturation ratio (as Romeo puts it so beautifully) is great!
Ammerling Beisl
The Ammerling Beisl is a very popular restaurant in Vienna. We were pretty much regulars here when we were still studying. They serve Austrian cuisine with an international influence.
Therefore, you can get both schnitzel and oriental dishes. The combination may sound strange, but as you can tell when you're in the place: it just works. Speaking of which, it's really nice to sit in the green inner courtyard, especially in summer.
The restaurant is located in the 7th district, one of the most beautiful Grätzl (= district) in Vienna called Spittelberg. After dinner, we definitely recommend a short walk through the picturesque alleys.
Viennese Sausage Stands
Vienna's sausage stands are an institution. They are part of the cityscape just like the Eiffel Tower in Paris. They provide hungry people with sausages and beer until late at night. A visit to the sausage stand is a quaint and extremely inexpensive option for a meal.
A legend in Vienna is the Bitzinger sausage stand next to the opera (1st district). This is supposedly where the best cheese meats in town are served. Unfortunately, vegetarian options are extremely limited.
If you are vegan, you should go to the Wiener Würstelstand on Pfeilgasse and Strozzigasse. Our recommendation: The vegan Bosna with oyster mushrooms.
Naschmarkt
Admittedly: The Naschmarkt is one of the most famous sights of Vienna and not exactly an insider tip. Nevertheless, you can eat well here and for pretty cheap. We ourselves can be found here almost every week.
Our favorites for both cheap and very tasty food: Orient & Occident, Tewa and Do An. Above all, the breakfast options and lunch menus at all three restaurants are really reasonably priced. For the sake of telling it all: We like it best at Neni. However, this is clearly the most expensive place.
Yppenplatz
A much less touristy alternative to the Naschmarkt is Yppenplatz. A multicultural melting pot awaits you here. The Brunnenmarkt takes place during the day in Brunnengasse (which leads into Yppenplatz).
Yppenplatz itself is of particular interest because there are several bars located here, some of which are really cheap. For example, we ourselves can often be found at Ando in the summertime. On a cozy summer evening you can sit very nicely in the square in front of the restaurant. The CAY (Café am Yppenplatz) is also very popular. If you like Indian food, we warmly recommend the Dhaka Bistro.
Nguyen's Pho House
You can get cheap Vietnamese cuisine at this small restaurant in the 8th district. Admittedly, the ambience is not exactly a highlight (because the tables are quite narrow), but the dishes are very good and the prices are unbeatable – the vegetarian dishes are especially cheap.
There is a small pub garden out front in the summer. You sit out on the street, but it's still nice. Our conclusion: If you want to eat Vietnamese cheaply in Vienna, you are in good hands here.
4. Arrival and Transport in Vienna: Our Tips for Saving
Getting to Vienna: From the Airport to the City
Very important: If you want to save money, you shouldn't take the CAT (City Airport Train) into the city. The much cheaper (and only a bit longer) option is to take the S-Bahn or regional trains (leaving from the same platform).
Your ticket for the journey can be conveniently purchased at the machine on site. The total price is 4.20 euros.
Note: If you also intend to buy a ticket for public transport in Vienna (more on this soon), then only book your ticket "to the city limits". The Wiener Linien ticket is valid from there and this way the journey from the airport only costs 1.80 euros.
Local transport: Public transport in Vienna
The public transport network in Vienna is well developed. You can get practically anywhere using the Wiener Linien or the Öffis (as they say in Vienna). The intervals are short and the travel times are usually absolutely on point. And the best part: We find that the tickets for the Wiener Linien are pretty cheap compared to other large cities.
What tickets are there?
We recommend to friends who come to visit in Vienna to purchase the 24h, 48h or 72h tickets. This way you don't have to worry about purchasing a valid ticket every time you travel.
In addition to these classic season tickets, there is the Vienna City Card, which costs a few euros more. Some discounts are also included with this official City Card – for example admission to sights or tours.
You can buy all of these tickets on site at any subway machine or conveniently in the official app called WienMobil. The Vienna City Card is also available from GetYourGuide: Vienna City Card.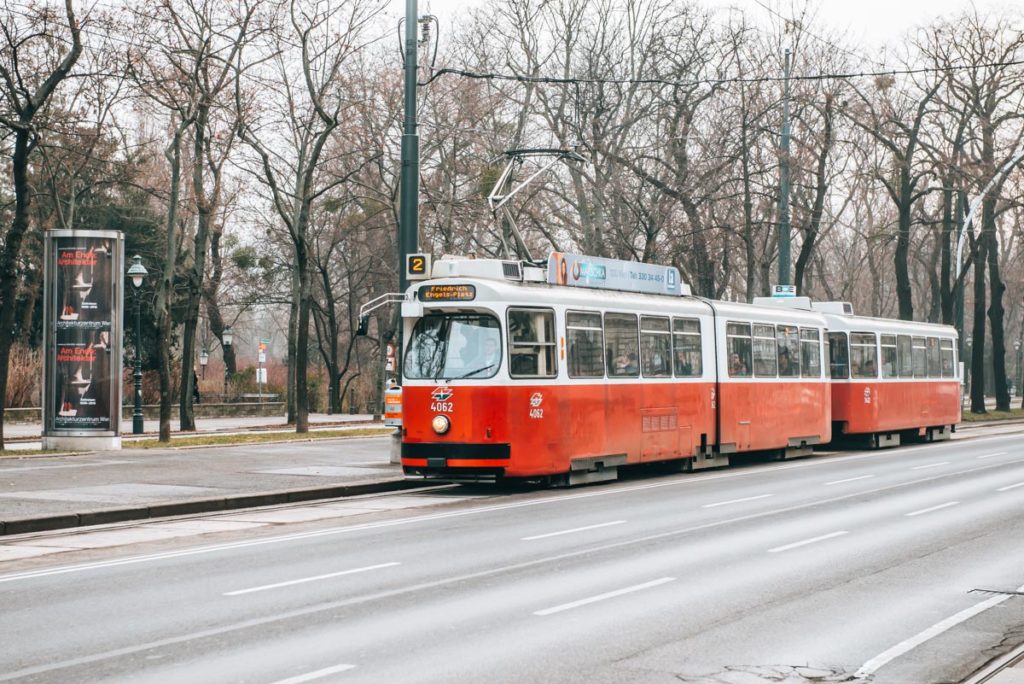 5. Prices & Costs at a Glance: How Cheap can a City Trip to Vienna be?
To give you an idea of a few specific prices alongside our tips, we have broken down the costs for the cheapest possible city trip to Vienna for you. Remember: These are only indications – you can of course travel for even cheaper.
| | Gesamt (für 2 Personen) | Pro Person |
| --- | --- | --- |
| Accommodation (3 nights in a double room, incl. breakfast | 300 € | 150 € |
| Meals (Restaurant-visits, cafes etc.) | 200 € | 100 € |
| Attractions (E.g.: view from Stephansdom, Schönbrunn Palace, ride on the ferris wheel) | 70 € | 35 € |
| Public Transport (72 hour ticket) | 34,20 € | 17,10 € |
| Getting there (E.g. flight from London with a discount ticket) | 200 € | 100 € |
| Total (rounded) | 804 € | 402 € |
6. Video: Vienna on a Budget
Last but not least you can find some of our saving tips in this video. We were featured in the VIENNA/NOW series made by Vienna Tourism. We spent a whole day with a film crew and the presenter Adia in our hometown of Vienna, gathering the best tips for a cheap trip to Vienna.
7. More Vienna Articles on our Travel Blog
---
Disclaimer: Advertisement & Affiliate Links
This article was developed in conjunction with Vienna Tourism – thanks so much that we could be a part of your videos!
This blog article contains our personal recommendations in the form of affiliate links. When you book or buy something via the links, we will receive a small commission. This will not change the price for you at all. A million thanks from us both!
Now we are interested in your opinion: What tips for a cheap city visit in Vienna can you add? Have you already been to Vienna and have some more savings tips? We look forward to your comments!