"How about a trip to the Baltic Sea?" It has been many, many months since we received this e-mail in our inbox. Our first thought was: Brrrr… too cold! Our second thought was: YES, absolutely! The children's film "Pünktchen und Anton" is certainly to blame for the imaginary longing it creates for the Baltic.
We didn't waste a second of hesitation and accepted the invitation in a heartbeat. And now that we are back, we can confirm that the peninsula Fischland-Darß-Zingst is even more beautiful than we could have expected. In this blog article we share with you our best tips for a holiday to the Baltic Sea.
1. Activities and Sights in Fischland-Darß-Zingst
The Fischland-Darß-Zingst peninsula is located in northeastern Germany in the State of Mecklenburg-Vorpommern. At around 45 kilometres long, it is rather sparsely populated. The island is – as the name suggests – divided into three parts:
Fischland: the southern part of the peninsula
Darß: the middle part of the peninsula, which is covered by forest to a large extent
Zingst: the northeastern part of the peninsula home to the town of Zingst
Hike to the Darßer Lighthouse
The Darßer Lighthouse is one of the most popular attractions on Fischland-Darß-Zingst. It is located on the northwestern tip of the peninsula near the village Prerow. The lighthouse was built in 1848 and is still in operation – you can actually climb the 35 metre high lighthouse. From the top you have a great view over the Darß Forest and the Darßer Weststrand Beach.
How to get there: The lighthouse is located in the middle of the Darßer forest and can only be reached on foot, by bike or horse-drawn carriage. From Prerow (Bernsteinweg Parking Lot) it is about 5 kilometres by foot. You can travel part of the way with the Darßbahn (cost roughly 4 Euros). From the terminus of the train it is still another 2.5 kilometres by foot. If travelling by bike, you can ride directly to the lighthouse.
Opening hours: May, September, October: daily from 10am to 5pm; June to August: daily from 10am to 6pm; November to April: Wednesday to Sunday from 11am to 4pm
Admission: 5 Euros


Deer Observation at "Darßer Ort"
There is a simple circular walk, which starts directly at the Darßer lighthouse and leads on for 4 kilometres through "Darßer Ort". In a way, "Ort" (="place" in English) is a misleading term, because you are here alone in nature. The path runs partly over wooden footbridges and partly over sandy beaches across the gigantic, rough coastal landscape.
A very special spectacle can be experienced here in the fall: Darß is namely known for the fact that deer can be observed here during the Hirschbrunft or Stag Rutting season (from beginning of September to beginning of October). We were lucky enough to have had the chance to admire dozens of deer from a distance – as well as several cranes, which then came our way. It goes without saying then, that binoculars and telephoto lens are essential!


Experience on a Zeesboot
This is an experience that we can highly recommend to you – a sailing trip with a Zeesboot. You sail ever so quietly with these traditional fishing boats over the Saaler Bodden, a lagoon that borders the peninsula Fischland-Darß-Zingst from the south. We went with the "Boddenskipper" as our provider and can highly recommend a ride with Skipper Reini!
Start of the Zeesboot ride: Dierhagen Harbour
Price: 14 Euros for 1.5 hours


Crane Watching in Zingst
Every year in the autumn, thousands of cranes rest on the peninsula of Fischland-Darß-Zingst on their migrational journey to the south. Of course, observing these giant birds is something very special and, in addition to the stag rutting, another reason why so many visitors visit the Baltic Sea in the fall.
The migrational stopover for these cranes always takes place from about September to the beginning of November. We were there in Fischland-Darß-Zingst during mid-September and we were told that this crane spectacle had probably just begun and that the highlight is usually during mid-October.
Most visitors (like us) observe cranes in the evenings when they fly back to their sleeping locations. From 5pm you can watch the birds somewhere south of Zingst overlooking the island of Great Kirr. You can ride along the dike here by bike and look for a nice place to stop over. Small note: this is when binoculars and telephoto lens come in handy!


Art Museum Ahrenshoop
Thanks to the rain, we ended up discovering this small art museum in Ahrenshoop. And we have to admit, it's worth a visit even in good weather – assuming, of course, you are interested in art. They have paintings and sculptures on display by artists who lived in and around Ahrenshoop.
Address: Weg zum Hohe Ufer 36, 18347 Ostseebad Ahrenshoop
Opening hours: April to October: daily from 11am to 6pm; November to March: Tuesday to Sunday from 10am to 5pm
Admission: 10 Euros
Weststrand: West Beach
Our favourite beach on the peninsula Fischland-Darß-Zingst is called "Weststrand" or West Beach. It is wild and secluded and has been nominated several times (and rightly so) as one of the most beautiful beaches in Germany and Europe.
The special thing about this beach is that it has very little human interference, meaning that nature alone is responsible for the appearance of the beach. Sometimes trees are uprooted, sometimes there are tree trunks on the shore. Every time you visit, the beach looks different.
How to get there: The west beach is located, as the name implies, in the west of the peninsula in the middle of the national park. Accordingly, the beach is only accessible by foot or by bicycle. From the car park ("Drei Eichen") near Ahrenshoop, it takes about 20 minutes to walk there.


Steep Bank between Ahrenshoop and Wustrow
One coastline particularly worth seeing is the one located between the towns Ahrenshoop and Wustrow. The "high shore" of the peninsula looks very rough and wild in comparison to the long sandy beaches. Along the cliff leads a path that is used by both pedestrians and cyclists. In some places you will find some stairs leading you down to the water.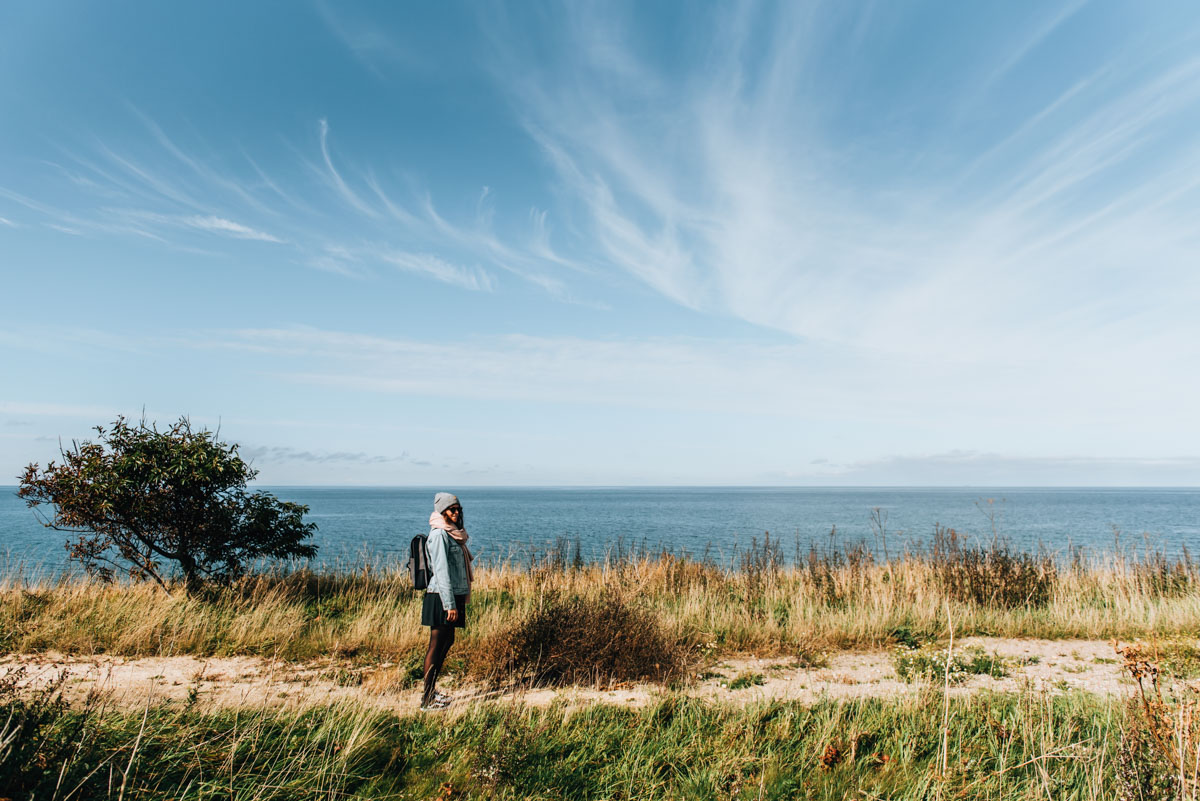 2. Food and Drinks: Restaurant Tips for Fischland-Darß-Zingst
In general, Fischland-Darß-Zingst is certainly not a hotspot for hipster cafés or particularly unusual restaurants. Most restaurants are similar in terms of food and the atmosphere is mostly between rustic and traditional. Food here is good, without a question – we always ate well – but we would have expected more "young" restaurants. Nevertheless, we have two really great local tips for you.
The best coffee: Kaffeemühle Ahrenshoop
We ended up coming here to the Kaffeemühle Ahrenshoop three times because we loved it so much! The atmosphere inside this mill is very cool: a bit shabby chic, a bit of Swedish flair and super cozy. On warmer days you can also take a seat outside in the beautiful garden. The coffee is the best we could find in Fischland-Darß-Zingst. There are also some lunch dishes, including soups and breads. We dined-in here once and found it to be very delicious!
Address: Feldweg 7, 18347 Ahrenshoop


Something special: Zur Alten Filmkiste Restaurant
Out of all the restaurants we visited, we can particularly recommend the "Alte Filmkiste" – which in English, translates to the "Old Film Box". The restaurant is tiny, very quirky and is incredibly charming and inviting – as a guest you feel warmly welcomed from the first minute.
The menu is very manageable with only a few dishes, but the food is really excellent. Tip: make a reservation. We tried our luck on an evening without reservation – no chance, because there are only a few tables. Another note: the restaurant is relatively expensive. We paid almost 60 Euros for 2 people (1 main course and 1 drink each).
Address: Neue Reihe 3, 18374 Ostseeheilbad Zingst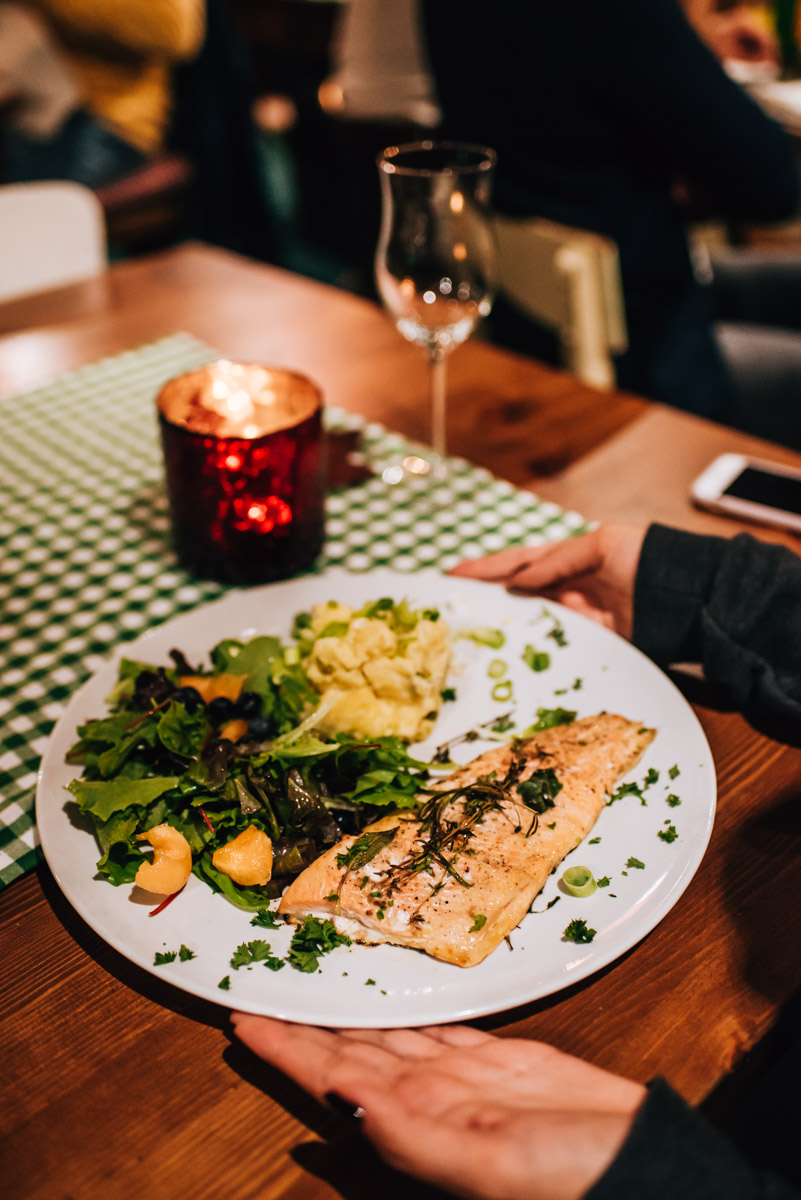 3. The Best Time to Visit Fischland-Darß-Zingst
In general, the Baltic Sea is one of those evergreen destinations that sees visitors all year round. Each season has its own special charm and attracts different crowds accordingly.
Summer is peak season. During this time, you can expect to encounter many families with school-aged children. The advantage in the summer months is, of course, that you can swim in the sea. The water temperature remains rather fresh, however: don't expect more than 20 degrees Celsius.
In autumn it gets a bit calmer, but the Fischland-Darß-Zingst peninsula still attracts a lot of tourists. There is a reason for this: Nature is particularly impressive in autumn. For example, you can observe the stag rutting season in September and the cranes in October. We also noticed that the visitors during this season were almost exclusively pensioners. In any case, at the age of 30 we felt very, very young.
Winter is the lowest season. Nevertheless, you can still visit Fischland-Darß-Zingst in the winter months. After all, there is something especially magical and intriguing about seeing snow-covered beaches.
And of course spring is also a very attractive time to visit. What many people don't know is that you can see cranes on the peninsula even at this time of the year, between mid-March and mid-April.
4. Getting There and General Transport
Coming from Austria, we decided to travel to Hamburg by plane. From Vienna, there are several connections to Hamburg daily. From the Hamburg airport it is roughly another 3 hours by car to Zingst. For this we booked a rental car, which was kindly provided to us by Auto Europe – thank you very much! We were able to pick it up directly at the airport, which was very practical. Auto Europe is an intermediary, which means you can pick a provider of your preference when booking through their website (in our case, we went with Buchbinder).
Not only do we recommend having a rental car to get to the destination, but it's also essential (in terms of efficiency and flexibility) in order to get around various places. For example, Ahrenshoop and Zingst are just under 30 kilometres apart. Alternatively, you can also travel locally by bus. The bus network is well developed, but of course you are less flexible than by car.
An extra tip would be to use the bikes provided on site to get around places in closer proximity because parking on the Fischland-Darß-Zingst peninsula can be rather tricky. There are very few allocated parking lots and are usually paid parking. You can rent bikes anywhere on the peninsula, they usually go for about 5 Euros per day.
5. Accommodation in Zingst: Haus 54
There are plenty of accommodation options on Fischland-Darß-Zingst. From cheaper apartments to expensive hotels, you can find it all. We stayed at the Haus 54 for four nights. The Haus 54 operates as a "hostel", but the atmosphere feels more like a simple hotel – especially if you stay in a double room like we did.
Our beds were comfortable and the bathroom newly renovated. The rooms are not cleaned daily, but that does not bother us too much. One drawback: cappuccino at breakfast costs extra. The Haus 54 is also located a little further from the centre of Zingst.
You can check out the hotel here: Haus 54
---
Transparency: Advertisement
We were invited by the Tourismusverband Fischland-Darß-Zingst for four nights and were paid for the video compilation. The rental car was also provided to us by Auto Europe for free. However, we paid for the petrol, the restaurants and cafes we have mentioned here, along with most of the activities. In terms of the programme design itself, we had complete freedom in our choosing. This blog article contains just one affiliate link. If you buy or book through the link, then we will receive a small commission but this does not change the price for you at all.
Have you ever been on a holiday to the Baltic Sea? Do you have any further tips for Fischland-Darß-Zingst? We look forward to hearing your experiences!