Searching for… A weekend trip to a neighbouring country, not too far away from Vienna with a bit of adventure, good food and cozy town. Found… Brno in the Czech Republic. 
"Everyone goes to Prague", we thought and so we spontaneously decided on its little sister, Brno. Although you cannot compare the two in terms of well-known sights and attractions, this wasn't a big deal because Brno certainly has its own advantages.
In this blog article we will share with you what you can expect and experience in a weekend getaway to Brno, including where you can find the best view points over the city and of course, the best coffee in town. Here is our personal travel guide with our best tips for your city visit.
1. City trip to Brno: What Awaits you
The friendly city of Brno is just two hours by car from Vienna and for us, it is the ideal destination for a short city break. Brno has some of the most amazing sights just waiting for you to discover and while there are certain attractions and places worth seeing, simply "sightseeing" Brno would not do the city justice as it is so much more. 
It is precisely that cozy, authentic atmosphere that we appreciate about Brno. Observing the local Czech lifestyle without the touristy hype that you get in Prague – that's Brno. The city centre is surprisingly easy to navigate – we promise you. Even disoriented people find their way quickly around here. 
From a visual point of view, the centre of Brno is a little bit like Vienna: many turn of the century houses could just as well be in Vienna's first district. The streets here complement the Czech flair beautifully, which makes it a very relaxing and enjoyable travel destination. It is never crowded in a touristic sense and therefore, ideal for those who prioritise chill local scenery over touristic hype.
We would recommend staying in Brno for one night, we think this is enough as you can see a lot during this time without too much time pressure. 


2. Attractions in Brno: Top Things to do and see
Brno has no Charles Bridge (nor does it have a river), no giant magnificent cathedrals and the Brno Castle is not as impressive as its Prague counterpart. What we're trying to say is that you shouldn't expect anything too 'grand' or touristic because that's not really the point of the city. If you like the grand attractions then visit Prague, but Brno scores so highly because of its cozy and pleasant atmosphere. In saying that, there are in fact a few pretty sights that you should not miss.
Špilberk Fortress
The landmark of Brno is Špilberk Fortress, which is located on Špilberk hill. The short walk up to the fortress is a must for a Brno trip. From the top you can enjoy a great view of Brno, however, our favourite look-out point is actually someplace else … keep reading to find out where!
Unfortunately, due to time constraints, we did not explore the interior of the fortress, which in fact, dates back to the 13th century and once housed the most dreaded prison of the Austrian Monarchy. It was a huge pity we didn't go in, as it is currently one of the most important cultural centres in the country and houses several museums within it. During the summer, regular opera performances are hosted in the courtyard. 
Information about visiting the Špilberk Fortress
Opening times: The Špilberk hill is always open for access. However, to find out about the opening hours for the fortress itself, including the lookout tower, then check out the official website for their most up to date details.
How to get there: From the city centre to the fortress, it'll take you about 20mins by foot. Alternatively, there is some parking at the bottom of the mountain, along Gorazdova Street.


Tower of the Old Town Hall
In our opinion, the most beautiful view over Brno is from the 63m high tower of the Old Town Hall ("Stará radnice"). An interesting staircase will bring you up to the top of the tower, where you can see in all directions from above. Being in the middle of the centre, you are also pretty close to the impressive St. Peter and Paul Cathedral. Our tip: Visit the tower just before sunset if possible, when the sun casts the best light and glow over the city.
It is also worth having a look at the entrance of the Old Town Hall. The stone entrance portal with its five turrets from the 16th century is one of the most famous photo motifs of Brno.
Information about the visit to the Old Town Hall
Admission: 70 CZK per person
Opening Hours: Best if you enquire about the current opening hours, as they change depending on the season. However, the tower is usually open until after sunset.
Address: Radnická 8, 602 00 Brno




Farmers Market at Krautmarkt
Sounds strange, but this beautiful place in the town centre really is called Krautmarkt. Instead of once a week, this Farmer's Market is open every day – except Mondays. Local farmers gather and sell their goods, including fruit, vegetables, honey, cider and flowers. Unlike in other cities, this market gave us a very authentic and local impression.
Information about visiting the farmers market
Opening hours: Every day except Monday from 9am
Address: Zelný trh, 601 67 Brno
Villa Tugendhat
Until recently, we have never had the experience of not being able to visit an attraction due to capacity issues… but then came Villa Tugendhat. This modern villa in a Brno suburb is so popular that you have to sign up… wait for it… months in advance for a guided tour. Not days, not weeks – months!
The Villa Tugendhat enjoys cult status in Brno due to its great historical significance. It was built in the late 30s during the last century on behalf of a Jewish couple – Tugendhat. With its modern architecture and huge windows, it is now considered one of the most important villas in the world.
Since we are not the kind of people who plan their city trips months in advance, we unfortunately could not enjoy a guided tour of the villa. However, it is always possible to visit the garden during their opening hours. At least from the garden you can take a peek through the windows to see what it looks like inside. But to be honest, that's only half the fun.
Information about the visit of Villa Tugendhat
Important: Guided tours must be booked 3 to 4 months in advance! Entry to the garden is possible without reservation. More information can be found on the website.
Entrance to the garden: 50 CZK per person
Opening hours: every day except Monday from 10am to 6pm. In January and February the hours are from 9am to 5pm and are closed on Tuesdays. They are also closed on certain holidays (eg. Christmas, New Year)
Address: Černopolní 45, 613 00 Brno
Towers of St. Peter and Paul Cathedral
The Cathedral of St. Peter and Paul is not only the most important church in Brno, but also one of the most important buildings in the city. The impressive cathedral dominates the cityscape of Brno next to the fortress – and all the more so being built upon Petrov hill.
What's worth seeing is the stylish, not so crowded church interior and more importantly, the 84m high towers. However, we have to disappoint those who might be expecting a large wide-viewing platform. It is the opposite here: both towers have a tiny window opening thus the view is rather limited view. Nevertheless, we would still recommend the climb.
Information about visiting the Cathedral of St. Peter and Paul
Tower climb: 40 CZK
Hours: May to September from Monday to Saturday between 10am-6:30pm and Sunday from 12pm-6:30pm. October to April from Monday to Saturday between 11am-5pm, and Sunday from 12am-5pm.
Address: Petrov 9, 602 00 Brno


Obelisk in Denis Park
Just below the cathedral is the Denis Park. Although we think the park could be a bit more well-kept, it is well worth seeing, in our opinion. In the centre of the park rises a 19th century obelisk, in remembrance of the end of the Napoleonic Wars.
From the Denis Park you also have a sweeping view of the south of Brno. In addition, you will find a well-known photo spot at the western entrance with a view of the "Red Church". This particular long exposure that you see below was taken from there.


3. Cafes and restaurants in Brno
Now a trip to Brno wouldn't be perfect without the appropriate culinary experience. This time, we left the hearty Czech cuisine behind in search for more modern, youthful vibes.
SKØG Urban Hub
This is the number one hipster address in Brno. There is hardly a travel guide in which the SKØG Urban Hub is not featured in. We fell in love with the minimalistic design of this cafe on our first visit to Brno two years ago. That impression certainly has not changed! 
If you are looking for excellent coffee specialties in a cozy ambience, the SKØG is the perfect place to go. The Flat White was excellent – for us, the best in Brno. No need to leave the café hungry either as they also serve dishes like soup of the day and burgers. In the mornings, they have alternating breakfast dishes depending on the day. For us, it was porridge and it tasted very good. However, if you're after an extensive brunch menu, then best try some other place.
Address: Dominikánské náměstí 187/5, 602 00 Brno


Café Momenta
This is a great address for good espresso in a central location. The very stylish café is located directly on the Krautmarkt. When the weather is nice, you can look out onto the farmers market from the lounges in front of the café and watch the action. The cheesecake tasted surprisingly good but the service could be a bit more on the ball – fortunately we were not in a hurry.
Address: Zelný trh 314/2, 602 00 Brno


Café Pilát
Traditional Czech cuisine is known to be very hearty and quite a nightmare for those who eat vegetarian food. That's why we looked for alternatives and thanks to Julia's blog article, we found some excellent recommendations. Café Pilát serves modern, oriental-inspired cuisine. On the (very small) menu, we tried their pumpkin risotto and quinoa dish with cabbage sprouts (both shown on the photo). The Café Pilát is not a purely vegetarian restaurant, there are also dishes served with meat.
The prices are very reasonable: For the two of us (one main course and one alcoholic drink each) we paid a total of 500 CZK – equivalent to roughly 10 Euros each. 
Address: Kapucínské náměstí 301/7, 602 00 Brno


Industra coffee
An unusual café in an unusual place. The name says it all – you are in the middle of an industrial area. But that's not all, the café itself is also housed in a kind of warehouse. Since the Industra is located off the tourist centre, it is mainly visited by locals.
The coffee in the Industra is outstanding and the staff was very friendly during our visit.
Address: Masná 9, 602 00 Brno


Trdelník
You simply cannot leave the Czech Republic without eating these delicious pastry rolled delights. Although they are not originally from the Czech Republic, but actually Slovakia, it is still widely seen in the city. The "Trdelník", as it is called here, is a pastry baked on a long cylinder and then rolled into sugar – they taste best when freshly made and still warm. We prefer the traditional coating with just sugar and cinnamon, although there are also many adventurous, and some partially filled varieties.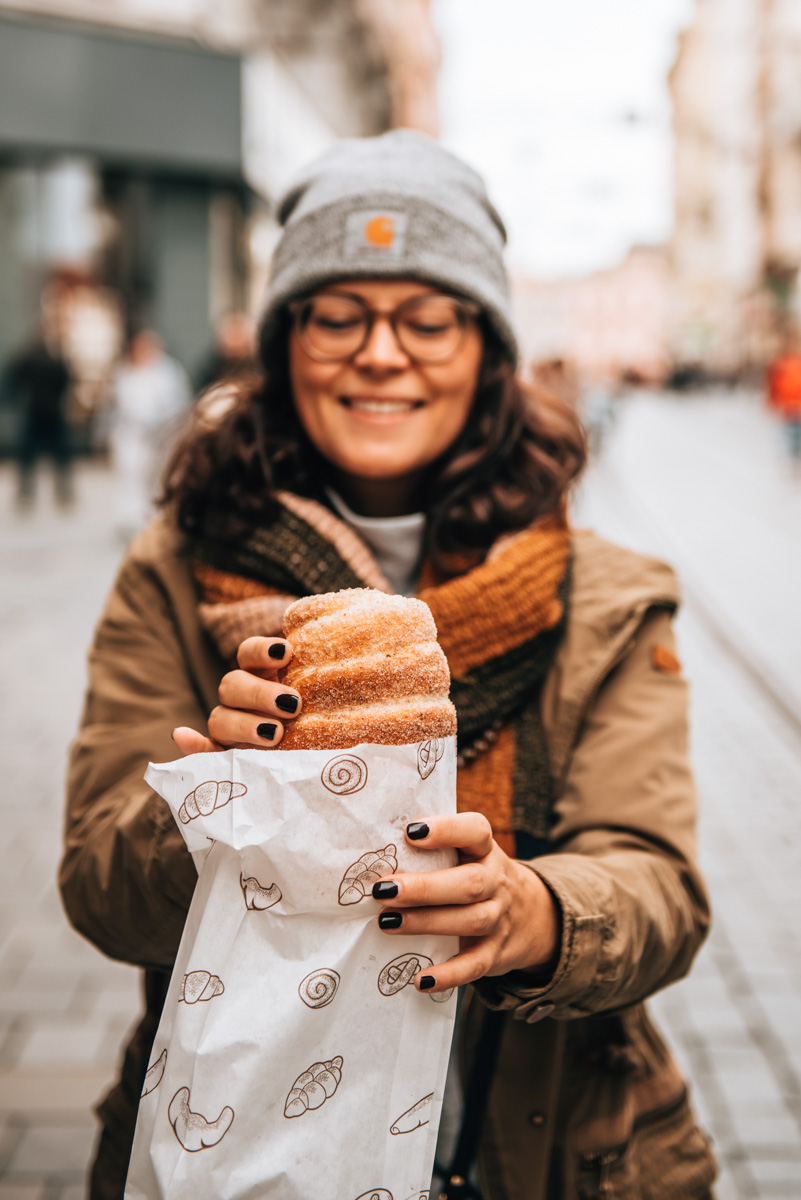 4. Our Accommodation Tip in Brno
After hours of research, we decided on the superbly reviewed Square Apartment and were very satisfied. The apartment is located in the heart of Brno right on the main square, the so-called Freedom Square – the location could not have been better as most of the sights and cafes were just a short distance away. The house where the apartment is located is certainly one of the most beautiful in all of Brno.
We had more than 100 square metres amongst ourselves. The apartment was too big for both of us, but admittedly we enjoyed spreading ourselves out – the apartment would be most ideal for four people because there are two separate bedrooms and a kitchen (which seemed slightly older, but was working fine). The bathroom could be more modern, but we found the bed very comfortable and that is the most important thing. From the balcony we could see directly down to the Freiheitsplatz along with the atomic clock. Good to know: you can park your car directly in the courtyard of the building for 10 Euros per day.
You can book the apartment via this link: Square Apartment


5. More Travel Tips for Brno
Arrival in Brno
Brno can be reached very quickly from Vienna. It is only about two hours by car. Warning: some Czech motorways (not all) are subject to road tolls. Normally you have to buy a Vignette (which serves as your pass and you stick it on your car windscreen) at the border for about 17 Euros or from the ÖAMTC for a slightly cheaper price. However, it is possible to get to Brno by car and avoid the toll motorway. The road toll motorway only begins about 25 km before Brno, the roads prior to that are toll free. Overall, you only need to drive an extra 15 minutes for this toll-free route. The best way to set the GPS or Navi, is to select "avoid toll roads" in your settings. As a heads up, you should leave the highway at Pohořelice.
Alternatively, you can get there by train. From Vienna Central Station, you can reach Brno in just 1.5 hours. With a little luck, the saver fares sometimes cost only 7 Euros one-way, otherwise they usually go for about 30 Euros. Brno train station is located in a rather central location on the edge of the old town. Since you can get around Brno almost everywhere by foot, the journey by train is highly recommended.
Parking in Brno
Finding a suitable car park in Brno is not so easy. As of September 2018, there is a new parking system in Brno, which distinguishes between residents and visitors. Here you can find an English description of the new system: Parking in Brno.
Since the outline is rather abstract, you should make sure when booking your hotel that your accommodation has parking space. For example, our apartment had a parking space and also a permission to drive to the centre by car.
Alternatively, there are several parking garages near the city centre, some of which charge horrendous prices. Be sure to read the conditions at the entrance very carefully! From our experience, just because you are in Brno does not mean that everything is cheap. For example: As a non-hotel guest in the underground car park of the Best Western Hotel, you would pay over 50 euros per roughly 24hrs!
Currency in Brno
Although the Czech Republic belongs to the EU, the official currency in the Czech Republic is the Czech Crown. The current exchange rate (as of autumn 2018): 1 euro is about 25 Czech crowns (CZK).
You can easily withdraw Czech crowns at the cash machine (ATM) on site. The exchange rate for cash withdrawals, however, is usually much worse than when you exchange Euros for Czech crowns locally.
In some places (like certain supermarkets), Euros are also accepted. The change is then normally given back in crowns. If you are in Brno for a short time and therefore do not need too much money, this is one way to get to Czech crowns relatively easily.
---
Disclaimer
This blog article contains our personal recommendations in the form of so-called affiliate links. If you book or buy something through the links, we will get a small commission. For you, this does not change the price at all! A million thanks from the both of us!
Have you been to Brno before? Then leave us a comment with your experiences and tips for Brno – we look forward to them!