Maritime flair, hip cafés and Scandinavian cosiness – welcome to Copenhagen! Copenhagen really is a great city for a getaway. The city has a simple charm and is not repeatedly named as being one of the most liveable cities in the world for nothing.
We have been guests in the Danish capital city several times now – and each time we fall a little more in love with Copenhagen. It's about time we put together our personal Copenhagen tips for you on our travel blog. So it follows: Our big Copenhagen travel guide with all the highlights, our favourite spots and personal travel tips.
1. City trip to Copenhagen: Overview of initial travel tips & info
Copenhagen seems to be the perfect combination of everything we love in a city: Lots of water, plenty of greenery, imposing buildings and a cosy atmosphere. There is even a name for it in Denmark: Hygge. Copenhagen is beautifully hygge.
What else do you need to know about Copenhagen? We have gathered the most important points for you:
Copenhagen is located by the sea. This gives the Scandinavian city a maritime flair, that is also reflected in the cuisine, for example.
Unfortunately, Copenhagen is quite expensive. This starts with the accommodation prices and carries on to the restaurants. So it's best to allow a little more budget for your city trip.
People love cycling in Copenhagen. The city is one of the most cycle-friendly cities in Europe. If you like, you can hire a bike when you're there to explore the city.
The weather in Copenhagen can be quite variable. Generally, we recommend summer as the best travel time (June to August). Although the temperatures are pleasantly mild during that time, it is hardly ever gets properly hot.
How many days should I spend in Copenhagen?
We recommend all those who are new to Copenhagen to plan to stay at least three nights. The city is not gigantic, so you can easily explore the main attractions and corners in Copenhagen during this time.
Of course, more time is always good. So, if you would prefer to have a relaxing stay then feel free to stay longer. Copenhagen will also definitely not get boring if you stay 4 or 5 nights – that way it also allows time for some day trips. (Of course, we reveal our tips further down in this travel guide.)
2. Copenhagen Travel Guide: Best Things to Do and See
Nyhavn: THE postcard motif in Copenhagen
What is the best way to start a trip to the city of Copenhagen? Our suggestion: With a stroll through Nyhavn (in English: "New Port"). With its colourful, crooked houses, Nyhavn is quite rightfully Copenhagen's most popular photo motif.
Nyhavn is anything but a secret. Or (to put it in other words): The area is the most touristy spot in Copenhagen. They try to entice you into boat tours, or a restaurant visit on every corner. But if you move slightly out of the hustle and bustle, then you can enjoy Nyhavn in a more relaxed manner. Our tip for anyone who wants to experience Nyhavn in peace: Come in the morning!
The Little Mermaid: Copenhagen's landmark
Surprisingly small & a little unspectacular – this is the initial impression of many people who stand before the little mermaid for the first time. The little mermaid really lives up to her name. At around 125cm high, she is one of the smallest landmarks in the world.
The bronze statue at Copenhagen's port exudes a calm presence despite all the crowds, which fascinated us in a strange way. She sits just a few metres from the shore on a rock. The little mermaid was built based on the fairytale of the same name by the most famous Danish author, Hans Christian Anderson.
Tip #1: You can quite easily walk from Nyhavn to the little mermaid. The stroll along the shore is really nice and highly recommended. (You also pass by the Amalienborg palace – more about this soon.)
Tip #2: Very close by the little mermaid are St. Alban's Church and Copenhagen Castle. Definitely take a walk through – this fortress with its pretty windmill is an oasis of calm. Entrance is free.
Castles in Copenhagen
As hip and modern as Copenhagen can be – the royal flair is difficult to miss. There are some castles and palaces in Copenhagen that are well worth a visit. The following three castle are the most well-known in Copenhagen:
Amalienborg Palace: This is where Denmark's Queen Margrethe II lives. You can tell if she's home by the Danish flag waving on the roof. Then at midday they also have the changing of the guard – one spectacle that you shouldn't miss if you're there.
Rosenborg Castle: This castle is one of the most beautiful sights in Copenhagen. You can find it on the edge of a lovely, landscaped garden. There are several state rooms to admire inside the castle. The Rosenborg Castle is also well worth viewing just from the outside.
Christiansborg Palace: All good things come in threes. You can find Christiansborg Palace right in the middle of the city centre. Today it is the seat of the Danish Parliament. Just like the other two, you can also view the castle interior.
Our tip: Entry into all three castles is free when you have the Copenhagen Card. So if you are interested in these attractions, purchasing the Copenhagen Card could be worth it.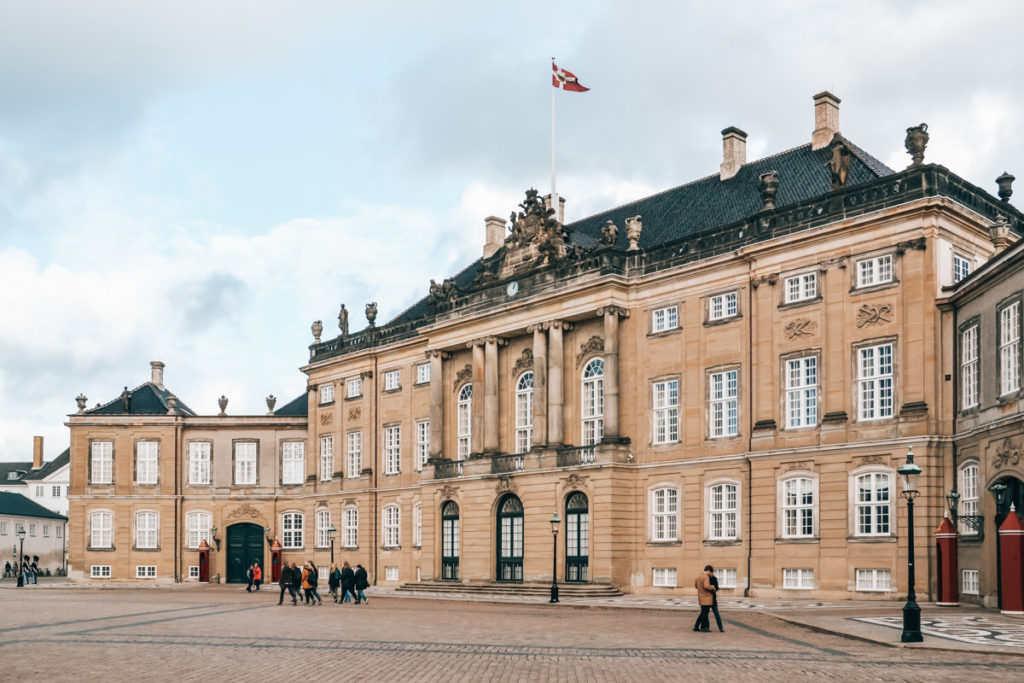 Frederik's Church
When standing in front of Amalienborg Palace, Frederik's Church is hard to miss. Frederik's Church, with its imposing dome, is one of the most important sacred buildings in Copenhagen. It is also known by the name, the Marbel Church.
You should definitely take a peek inside the church. The architecture is very impressive. Entrance into the church is free. There is only a small admission fee to climb the dome.
Torvehallerne
We present: One of our absolute favourite places in all of Copenhagen and our tip number one for all the foodies. Here in this covered, architecturally beautiful market hall you can purchase fresh food and Danish delicacies. It is very relaxed and stylish here – so don't expect to find a hectic market.
The best part: There are also a lot of stalls in Torvehallerne where you can either directly enjoy dishes or take them to go. Our tip: Laura's Bakery has incredible cinnamon rolls. GRØD is popular for breakfast and the Coffee Collective has great coffee.
Christiania
Strange but true: In Copenhagen there is a self-proclaimed free state called Christiania. In the 70s hippies settled on this former military land. Today it is supposedly the largest commune in the world.
But what can you expect in Christiania? To be honest: A very unusual flair with a slightly depressing mood. Yes, Christiania is colourful and quirky where you will find great street art and creative houses. But somehow, we haven't been able to shake this rather strange feeling on all our visits (there have been several).
The centre of Christiania is Pusher Street. This is where drug dealing takes place on the street. Taking photos along Pusher Street is strictly forbidden. (You should absolutely adhere to this!) But otherwise, you don't need to worry about safety and you can visit Christiania without any problems.
The Round Tower (Rundetårn)
You shouldn't leave Copenhagen without seeing the city from above. One of the most famous viewing points in Copenhagen is the Rundetårn (Round Tower in English), which is located right in the city centre.
The architecture is what makes the tower so special: Not a small staircase but a wide, spiral ramp (also said to have been used by horse-drawn carriages once upon a time) takes you up to the top. (Important to know: At the end there is still a small ladder to climb. So, the tower is not without its barriers.)
After the unusual ascent (which is especially a highlight for architecture fans), a really beautiful view over Copenhagen awaits you in all directions. The wrought iron railing makes it easy to take photos through.
Entrance: 40 DKK (free with the Copenhagen Card)
Opening times & more info: Rundetårn (official website)
Assistens Cemetery
A rather unusual attraction in Copenhagen is located north of the city, more precisely in the Nørrebro district. Assistens Cemetery (called "Assistens Kirkegård" in Danish) is the most well-known cemetery in Copenhagen. There are countless famous people buried here, including for example the author Hans Christian Andersen or the philosopher Søren Kierkegaard.
Here you can find not only a cemetery, but also quite an extensive park. The locals use the cemetery park for long walks or jogging. So, if you would like to spend some time out in the greenery, then we can highly recommend a visit to Assistens Cemetery.
3. Day Trip Tips for Copenhagen
Day trip to Sweden: One day in Malmö
Sit down in the train – and bam, a good 30 minutes later you're in a different country. The thought that Sweden is only a hop and a skip away from Copenhagen couldn't escape us, so we decided on taking a wee trip to Malmö.
Getting there from Copenhagen
Just the trip from Copenhagen to Malmö is something special in itself: Here you cross the legendary Øresund Bridge, which connects Denmark and Sweden with each other.
We ourselves took the train, but it is also possible to take a bus. The train ride from Copenhagen Train Station takes around 40 minutes and costs about 13 euros (one-way). The train station in Malmö is centrally located, so you can simply start exploring the city on foot.
Attractions in Malmö
It is best to start your day trip in Malmö's pretty old town, called Gamla Staden. The old town is a picturesque mix of colourful houses, brick buildings and paved alleyways. Places worth seeing include Lilla Tor or the Stortorget.
In the west of the old town lies the second main attraction in Malmö: the castle (Malmöhus) with its two surrounding parks (Slottsträdgården and Kungsparken). An oasis of peace, perfect for taking a leisurely stroll.
It is not very far from the castle to the most well-known market in Malmö, Malmö Saluhall. Here you can buy fresh food in this very stylish and calm market hall as well as sit down in one of the small restaurants and cafés they have there.
In case you still have time you could, for example, make a stopover at the futuristic city library, or take a detour to Västra Hamnen. Here a modern and innovative district was developed at a former shipping yard site. Västra Hamnen is said to be climate neutral and one of the most exclusive residential areas in Malmö. You can take a leisurely stroll along the promenade or taste your way around the great cafés.
Day trip to the beach
Lonely dunes & the sound of waves – how does that sound? If you are drawn to nature, then we can highly recommend this trip to the beach. There are many beaches close to Copenhagen which you can visit. Important to know: It is very rarely properly hot in Denmark – so if you want to jump in, it may take some convincing.
Beach tips close to Copenhagen
Amager Strandpark: The largest and most well-known beach around Copenhagen is located in this protected local recreation area. You can reach the beach from the city centre on the subway. In summer it can be quite crowded.
Ishøy Beach: This beach is more peaceful and natural. Perfect for a bit of that Baltic Sea feeling.
4. Eating and Drinking: Tips for Restaurants & Cafés in Copenhagen
The good news first: Copenhagen is a paradise for foodies! Here they have an incredible amount of hip eateries, and you can – if you like – spend the whole day feasting your way from one café to the next.
The bad news: The prices are not very cheap. For an ordinary restaurant, you will need to allow for around 15 to 20 euro for a main meal. That's not ideal and you could easily spend around 60 to 80 euros for a dinner for two people.
The following two specialties are typical Danish food and found all over Copenhagen:
Smørrebrød: Which sounds fancy, is really 'just' rye bread. But there are no limits to creativity when it comes to the choice of ingredients.
Hot Dog: Of course, how could it be any other way? Danish hot dogs are sold at small stalls around the streets of Copenhagen. Luckily, there are now more and more vegetarian hot dogs, e.g. as found at DØP.
Favourite culinary spots in Copenhagen
Reffen: This great street food market takes place at a former shipping yard area. Here in the colourful containers, you can try delicious food from all over the world. From tacos to Smørrebrød, from Hawaii to Nepal, whether meat or vegan – there is really something for everyone. Highly recommended!
Paludan Bog & Café: Eating breakfast between the books! In café Paludan you are seated in the middle of a bookstore. We can recommend a visit just for the unusual location alone. They have breakfast, lunch dishes and a whole range of cakes and slices. The prices are moderate by Danish standards.
Mother: This very (!) hyped up restaurant serves what is said to be the best pizza in Copenhagen. Whether that is true, we cannot say, but we definitely enjoyed it. Important: The wait times are especially long during the weekend. It is best to reserve a table!
GRØD: Grød translated means porridge and this café specializes in exactly that. Here you can put together your favourite porridge yourself with a wide variety of toppings. There are now many locations in Copenhagen – including the Torvehallerne. A really great tip for a healthy and not to expensive breakfast or lunch meal.
Vaekst: Young Scandinavian cooking of the highest quality in a really cool location – if that is what you are searching for, then get yourself to Vaekst. They serve a three-course meal here every evening. The restaurant is highly praised for its vegetarian version of the menu. Here you are seated in a kind of greenhouse – pretty cool.
Flottenheimer: Do you want to enjoy a simple lunch in the city centre? Then we recommend this cosy café. They have international dishes on the menu, such as burgers and sandwiches.
5. Our Hotel Tip for Copenhagen
Are you looking for a great boutique hotel for your city trip to Copenhagen? Then we can only warmly recommend Hotel Skt Petri.
The rooms are elegant and very comfortably arranged with a very comfortable bed. Small tip: Make sure that you don't choose a room with a window on the inside. This can be clearly seen in the description.
The hotel location could hardly be any better for a city trip to Copenhagen. You are situated right in the centre and many sights are within walking distance (such as Nyhavn, the Rundetårn or the Torvehallerne).
Our conclusion: The range of affordable, yet stylish boutique hotels in Copenhagen is unfortunately limited. However, Hotel Skt Petri is really an exception and highly recommendable.
You can book the hotel here: Hotel Skt Petri
---
Disclaimer: Affiliate Links
This blog article contains our personal recommendations in the form of affiliate links. If you book or buy something through the links, we receive a small commission. This does not change the price for you at all. A million thanks from the both of us!
We are curious: Have you already been to Copenhagen? How did you like the city? Do you have some additional tips for Copenhagen? We really look forward to hearing about your experiences in the comments.