Love at first sight! The sparks were flying between Split and us – so much so that we have been there three times now. What makes Split so special? The city is unlike any other in Croatia. A modern coastal metropolis surrounded by ancient walls – this is how Split can be described.  
During the day you encounter centuries old Roman masterpieces and never cease to be amazed. Then in the evenings you sip cocktails in the city's coolest bars. Split is pulsing, lively, young, and dynamic. And at the same time Split enchants you with its historical charm. 
Are you planning a trip to Split? Wonderful, then let us tell you this: You will love it! In this blog article we let you in on our personal travel tips for the most beautiful sights in Split. On top of this we provide you our hotel tip because we have discovered a real gem of a hotel in Split.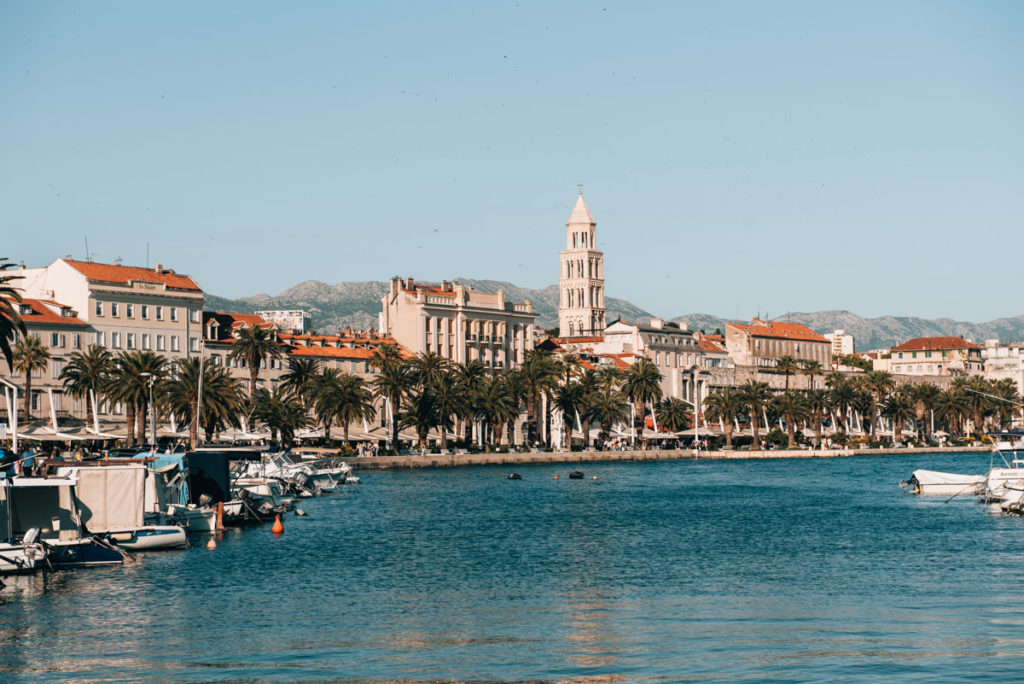 1. Split in Croatia: Overview of Info & Initial Travel Tips 
What can I expect on holiday in Split? 
Taking a wander through Split is like travelling back in time. You can feel the eventful, century old history of the city on every corner. The inner city of Split is a labyrinth of alleyways that is second to none. Getting lost in it (and getting lost) is simply part of a trip to the city. 
Split is an absolutely beautiful town in our eyes. We have tried to capture the special flair and the lifestyle of Split for you in a few words: 
Split's heart = Diocletian's Palace: As soon as you set foot in Split, you will notice: Split is different! You can find the historical centre inside the walls of ancient palace grounds, Diocletian's Palace. Sightseeing amid Roman monuments, magnificent house facades and picturesque squares – all that and much more awaits you in Split. 
Great gastro-scene: You hardly want to believe how many young, modern restaurants, cafés and bars have opened in Split in the past years. Split is really a paradise for foodies in Dalmatia!
Beach-hopping & day trips: There are some great beaches to be found around Split. Split is also an idea destination when you want to combine city and beaches. Also, there are great day trip destinations such as the UNESCO town of Trogir or the Krka National Park. 
How many days should I plan for Split? 
All the sights in the centre of Split are within walking distance. So, if you are on your feet for the whole day, then you could theoretically rush by the main highlights – emphasis on 'theoretically' and 'rush'. To be honest: Split is so beautiful that it's no fun to rush through it. 
We recommend you plan to stay two to three nights in Split. Then you still have enough room to take a relaxing stroll alongside visiting the classic sights, and maybe even for a trip to the beach. 
If some day trips (such as to Trogir or Krka National Park) are also on your radar, then we would plan to stay a little longer. Four to five nights would be ideal then. It's guaranteed that you will not get bored in Split – there is so much to see and experience, we promise. 
The best time to travel to Split 
Our number one tip: Avoid – if somehow possible – the high season! An unbelievable amount of people travel to Split during July and August. We ourselves have also been to Split in August and found that the beaches around Split were particularly uncomfortably full. Also, the day trip destinations, such as Krka National Park, are often completely overcrowded in summer. It can also be difficult to find a place in popular restaurants in the evening. 
The far better option for taking a trip to Split is to go during spring or autumn. We have been to Split twice in May and find this month to be ideal. The temperatures are pleasantly spring-like (and with a bit of luck even summery). Also, it is far less busy than in summer and the prices are more moderate.  
However: the sea is still quite fresh in spring. (This in no way prevented us from plunging into the waters anyway.) If you enjoy swimming in warm water though, then it's better to aim to take a trip to Split during September. 
2. Hotel Tip for Split: A Gem of a Hotel 
We searched long and hard to find the perfect place to stay in Split, and we dare to say: We have found it! The Heritage Hotel Fermai is a dream of a hotel. It is a historic art nouveau building, which has been revitalised and renovated with an incredible amount of feel and love for detail. The result: A boutique-hotel, that you never want to leave. 
Our room on the third floor provided us not only with a great view in the direction of the cathedral, but on top of that it was so stylishly designed that we felt like we were in 7th hotel-heaven. The design is elegant, pure, and extremely well put together. You can tell that every piece of furniture and accessory has been carefully selected. In short: An absolute feel-good atmosphere. 
The last part runs like a red thread through our entire stay. Particularly noteworthy is the excellent breakfast. It was served to us (due to the pandemic) and was exquisite. Not to mention, the service staff are incredibly courteous. 
The hotel location is very central. You can walk right to the centre of Diocletian's Palace in just a few minutes. If you want to find a small negative, then okay: The hotel is located on a street. However, we didn't notice the traffic at all and instead we were happy that we could drive right up to the hotel and park there comfortably. 
Our conclusion: We aren't lying when we say that we haven't felt so good in a hotel for a very long time as in the Hergitage Hotel Fermai. Everything is just right here. Very clearly recommended! 
You can book the hotel here: Heritage Hotel Fermai. 
3. Sights and Best Things to Do in Split
Diocletian's Palace
Diocletian's Palace is mentioned in the same breath as Split. You shouldn't imagine one enclosed building. Rather, Diocletian's Palace refers to the remains of a gigantic ancient building complex, which stretches through the old town of Split and now the two melt in with one another. 
Diocletian's Palace dates back to the 3rd century. The Roman Emperor Diocletian built the palace at this time as a retirement home. The architecture of the palace has been modified and added to throughout the centuries, however the Roman influence is still unmistakable. 
Dioceletian's Palace (which is a UNESCO World Heritage Site, by the way) comprises of numerous structures. Each one is a special attraction. Therefore, we will also tell you about some of these separately:  
Cathedral of Saint Domnius: The highlight in Split with its distinctive bell tower. 
Peristyl: The central square in Diocletian's Palace 
Vestibule: The striking foyer of the old imperial chambers 
Podrumi: The cellar vault 
Various gates such as the golden gate or the silver gate 
Cathedral of Saint Dominius (=THE Cathedral in Split) 
The landmark of Split is the Cathedral of Saint Dominius, often just called the Split Cathedral. With its five-story tall, distinctive bell tower, the cathedral catches you eye from afar and characterises the silhouette of the city. The cathedral was once the Diocletian's Mausoleum. 
Good to know: You can visit different areas of the cathedral, which is why we find purchasing the various combo tickets can be a little confusing. There are five areas in total: The actual cathedral, the temple of Jupiter, the crypt, the treasury, and the bell tower.
In our opinion, you definitely should not leave out the bell tower. You can climb up top and enjoy the breathtaking 360-degree panorama view over Split. We reveal more information and tips about this for you in the chapter on the most beautiful viewpoints. 
Peristyl = The central square in Diocletian's Palace 
Directly next to the cathedral, you come to the Peristyl – the most impressive and beautiful square in all of Split. With its Roman elements, this place really exudes a magical and very special flair.  
We promise that you will come by here a few times during your holiday in Split. Just like the saying, all roads lead to Rome, all roads in Split lead to Peristyl. The atmosphere is also very special depending on the time of day: Very quiet in the morning, full of people during the day, and in the evening a lounge atmosphere sets in thanks to the adjoining bar. 
Vestibule
A great photo opportunity, and absolutely worth a stop off, is the vestibule. It is located just a stone's throw away from Peristyle. This was once the foyer of the imperial chambers. With a bit of imagination, you momentarily feel transported back in time. You can just walk through here – there is no entrance fee. 
Riva waterfront 
Not your typical type of sight, but the palm-lined waterfront in Split, called Riva, is still worth seeing. The life is pumping here particularly in the evening in the many bars and restaurants along the promenade. (Athough, there are guaranteed cheaper and more recommendable places for dinner in Split, but we will come to our culinary tips later). 
Out on the street musicians perform their works, locals and tourists enjoy the last rays of sun with an aperol spritz and a view out over the sea. In short: Anyone wanting to soak up the relaxed Mediterranean lifestyle is in the right place at the Riva waterfront.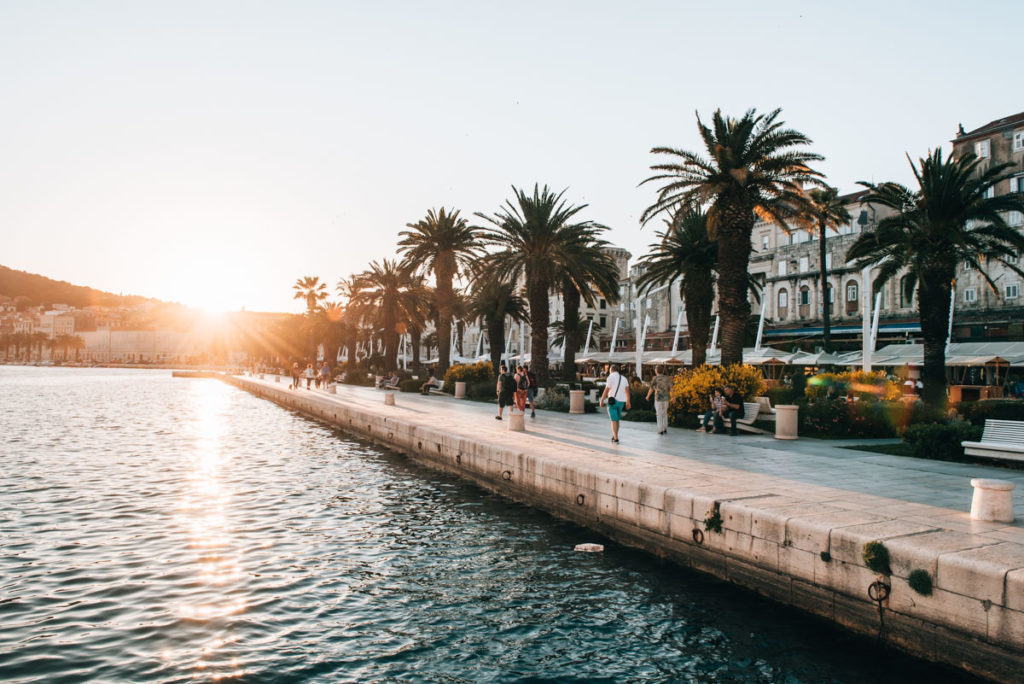 Squares worth seeing in Split
Apart from the impressive Peristyl (you can find tips about this above), there are many more squares in Split that are also well worth seeing. The most well-known (and also our favourites) are: 
Pjaca: Very atmospheric, comparatively spacious square in the middle of the old town. Officially called the 'People's Square' or 'Narodni trg' in Croatian. There are numerous historical structures nestled here. In the evening people meet in the cafés and restaurants for an aperitif or for dinner. Our tip: Around the corner from here you can find Ela's Ice Cream. 
Voćni trg: This picturesque square is characterised by the striking Venetian tower, which immediately catches the eye. It has its name ('Voćni' = fruit, so fruit square) because a fruit market once took place here. 
Republic Square: You wouldn't expect to find such a spacious square on the edge of the labyrinth of alleyways in Split. You can find this square in the west corner of the old town right on the Riva waterfront. The Republic Square was designed based on St. Mark's Square in Venice and is lined with arcades and neo-renaissance style facades on three sides.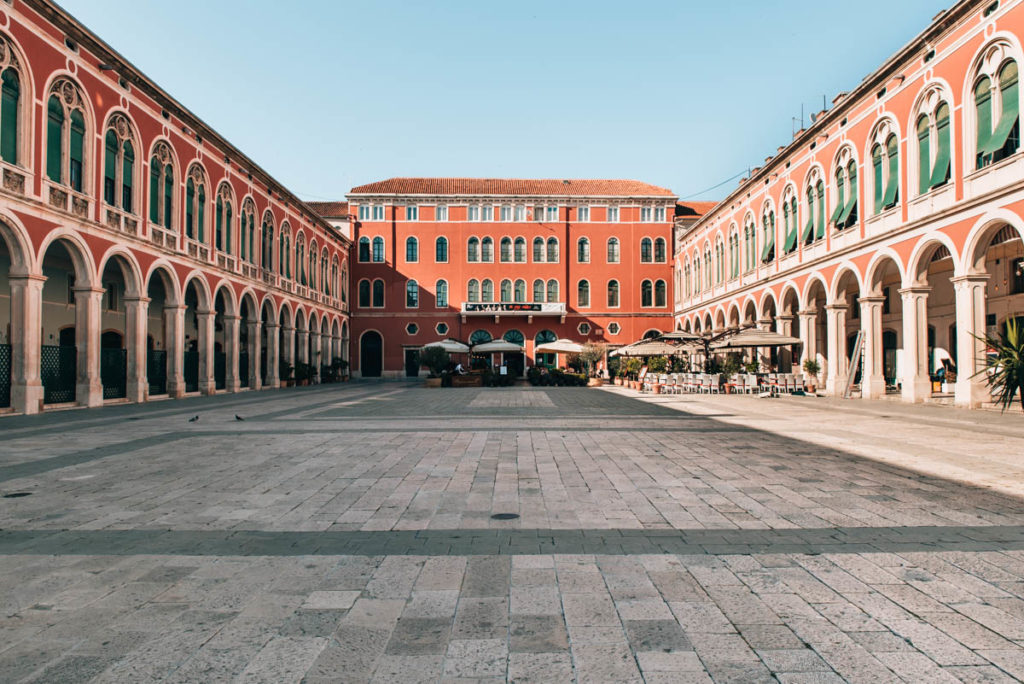 4. Viewpoints in Split
Viewing terrace on the Marjan Peninsula 
If you ask the locals what their favourite place for the sunset in Split, then the answer is usually the same: Marjan Park! Marjan is a green, little developed, hilly peninsula, which is practically adjacent to the historic centre of Split. Here also happen to find some of Split's stalls, but more about that later.  
There are numerous viewpoints to be found on the Marjan Peninsula from which you can enjoy a lovely view of Split. The most well-known viewing terrace (and closest to the old town) is located just about a 15-minute walk away from the centre of Split (or cathedral). 
There are a few steps, and therefore also some vertical metres, to conquer. However, the effort is definitely worth it. We have marked the exact spot on the map at the end of the article. There are (in our opinion) two disadvantages: One is that you are comparatively far away from the historic old town. And the other is that you are not facing in the direction of the sunset. 
If that bothers you, you can walk further up to the summit of the Marjan Peninsula. This doesn't solve the first problem (because you are even further away from the historic centre up here), however you have a fantastic view all around. 
Cathedral bell tower 
Probably the most impressive viewpoint in the centre of Split is found in the bell tower of the cathedral. You will usually see the striking, six-story structure several times during your holiday in Split. When you look carefully, you will spot people up there because it is possible to climb the tower. 
There are around 200 steps to conquer before you are rewarded with a panoramic view in all directions. It is most beautiful before sundown when the sinking sun bathes Split in a beautiful light. (Tip: Check the opening times shortly before your visit because these vary depending on the time of year). 
Entry to the bell tower is 40 Kuma. There are also special combo tickets which you can visit several areas of the cathedral with. You should be reasonably good on your feet because the stone steps at the beginning are rather steep. But don't worry – the ascent is nothing that a half sporty person can't manage. 
5. Beaches in Split: Out Tips
Split is no classic beach destination, but rather more of a city trip destination, thanks to its rich history. Nevertheless, those who would like to jump (or rather walk, due to the rocks) into the sea will not miss out. 
There are several beaches to be found around the old town. Many of these (including the two that we show you) are located on the green, forested Marjan Peninsula. Having a car, or better yet a bicycle, is recommended because it is quite a bit of a walk.  
Kasjuni Beach
Maldivian feeling in Croatia! This pebble beach immediately stands out with its snow-white stones and the azure-turquoise blue water. The setting is really breathtakingly beautiful.  
According to the friendly staff at our hotel, Kasjuni Beach is a favourite amongst locals. And what should we say: We understand why! Mainly young people, but also families with children, are drawn to this beach. 
Outside of the high season, you can enjoy a great afternoon at the beach here. In July and August, we would personally advise you to come in the morning because Kasjuni Beach is very popular and also referred to as 'overcrowded' in many reviews. 
There are a few beach bars and dixi toilets, but you shouldn't expect perfect infrastructure here. However, it is possible to rent deck chairs and beach umbrellas. The sun is pretty ruthless without the latter, especially in the afternoon. 
Tips for getting there 
You can reach Kasjuni Beach directly with the car. The carpark (free) can however get full fast. If you want to save the hassle of parking, then you can also get there directly on the bus. The station is located about 150 metres (uphill) away from the beach on the main road. 
Alternatively, you can also walk to Kasjuni Beach from the centre of Split. You need to allow around 45 minutes for the route. 
Section of beach at Bene Beach
The rocky beach called Bene is one of the most well-known beaches on the Marjan Peninsula. It's hard to find a free place here in summer because the beach is so popular. The rock is partially artificially concreted to provide spots to lie on. All in all, we weren't overly impressed with this beach. 
Our tip: Around 100 metres east of Bene Beach are several bathing spots that are a hundred times more relaxing and less touristy. You can also find shady spots under the pine trees here and there are even showers. 
Due to the rocky nature of the coast, beach footwear is recommended. A sea urchin could easily be hiding here, and you don't want to step on it. 
Tips for getting there 
Bene Beach (just like the neighbouring sections of beach) is located in a car-free area on the Marjan Peninsula. It is around a 20-minute walk to Bene Beach from the closest parking area (see the map at the end of the article to find the Ulica Antuna Gustava Matoša). 
Therefore, many people come here by bicycle. (It is sometimes even possible to rent a bicycle at the entrance to the forest park.) Alternatively, you could also walk from the historic centre of Split. Plan around 45 minutes for this. 
6. Eating and Drinking in Split: Our Culinary Tips 
Favourite cafés in Split
D16 Coffee: This café serves superb self-roasted coffee, which can be found in the middle of a small alleyway in Diocletian's Palace. Highly recommended for a short pit stop! 
KaKantun: This jewel of a café can be found in a small hidden square in Diocletian's Palace. The ambience is very nice, especially on the tables outside. As well as the coffee, KaKantun also specialises in gin, curiously enough. 
4coffee soul food: They have absolutely fantastic coffee at this tiny coffee stand on the edge of the old town – even with oat milk! Perfect for a takeaway coffee. 
Restaurant tips for Split
Pandora Greenbox: Are you vegan? Then this restaurant, situated in the middle Split's old town, is not one to miss. The menu has exclusively vegetarian dishes, most of which are even vegan. 
Bokeria Kitchen & Wine Bar: You will recognise this hip, popular restaurant right away from its good Buena Vista Social Club style music. They serve Mediterranean cuisine here – everything from fish to meat to (some) vegetarian dishes. Make a reservation!
Kat's Kitchen Deli: If you are ever on the Marjan Peninsula and get hungry, then we can recommend this small, lovely run deli. Here you can have breakfast and lunch including salads, bowls, tacos or changing lunch dishes. There are plenty of options for both meat lovers and vegans. 
The best ice cream in Split 
Ela's Icecream: They serve great ice cream in this modern ice cream parlour. The pistachio flavour was a stunner and one of the best that we have ever had. There are also a few vegan options on offer. 
Gelateria Emiliana: You will know you are in the right place right away from the irresistible scent: Their waffle cones are actually made on site! You can even watch through a window. The ice cream is also very good. Highly recommend! 
7. Day Trips around Split  
Trogir
The most well-known coastal town close to Split is Trogir, which you can drive to from Split in a good half an hour. Trogir is a real tourist magnet, especially in summer. Nevertheless, we warmly recommend a trip to this pretty UNESCO World Heritage town. 
Trogir is small and manageable. We recommend you plan around 3 to 4 hours for a visit to the old town. Of course, we want to share our personal highlights with you. 
Our tips for a trip to Trogir
The best view in Trogir: You can get a beautiful view over the old town from the bell tower of the Cathedral of St. Lawrence. For a few euros entrance fee, you can climb the 47-metre-high bell tower. Once up top you have views in all directions – wonderful!
The best ice cream in Trogir: Without knowing the alternatives, let's throw caution to the wind and claim that the best ice cream in Trogir is in the gelato bar Bella. Simply delicious!
Waterfront: A stroll along Trogir's palm-lined waterfront is an absolute must-do. Here they have cafés lined up one after the other. At the end of the promenade, you come to a historical fortress, Kamerlengo. You can climb the walls and watch towers to observe the promenade from a bird's eye view.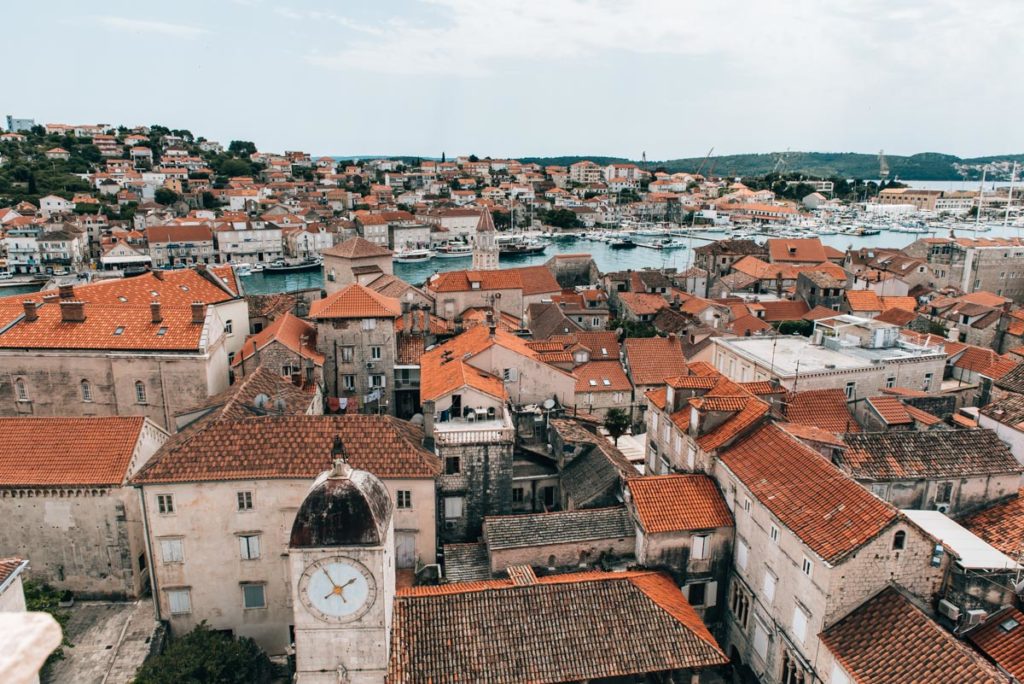 Omiš
Less well-known as Trogir, but also very worth a visit, is the small town of Omiš. It is located about 25 kilometres south of Split on the coast on the way towards Makarska Riviera.
Omiš is spectacularly situated on the mouth of the Cetina River, which has carved a gorge through the massive rocks here. The mountains rise up directly behind the town. We recommend a stay of around two to three hours in Omiš. 
Our tips for a day trip to Omiš
Coffee & cake: Probably the best espresso in Omiš is available at the friendly café bar, I Gemelli, which you can find right in the old town. The cakes look like small works of art – and taste delicious. It is really nice to sit outside in the small courtyard. 
The best view: You definitely should not miss a visit to the Mirabella fortress (= Tvrđava Mirabela). This historical castle grounds practically border on Omiš' old town. The ascent is rewarded by a lovely view over the town, the river, and the surrounding mountains. The stairs are particularly steep near the end. Therefore, you should be reasonably good on your feet.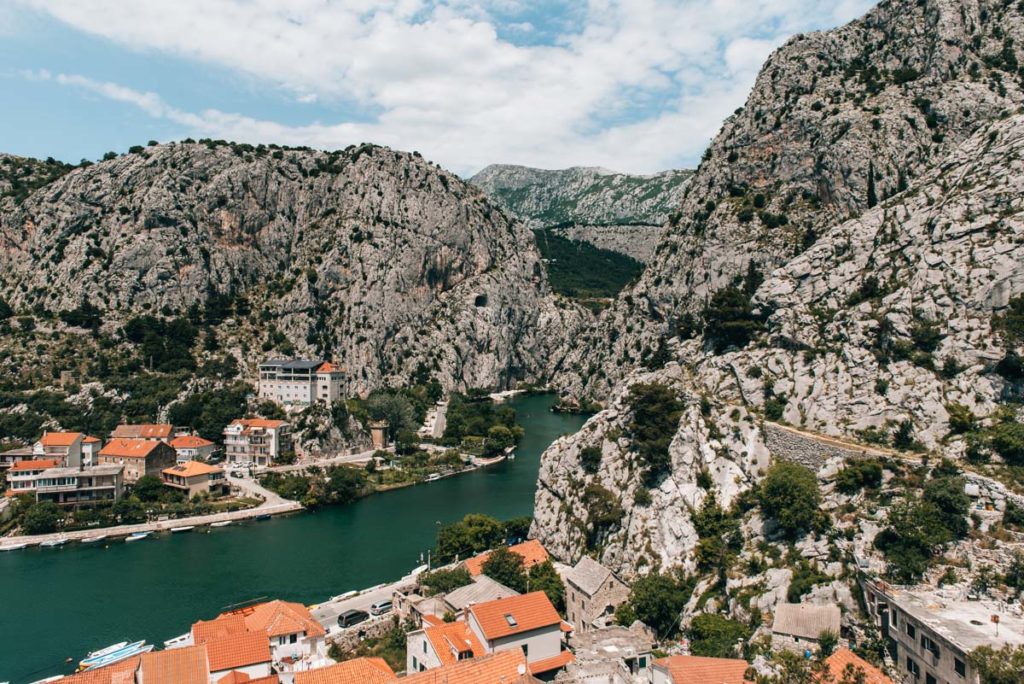 Krka National Park & Šibenik
One of the most well-known day trip destinations near Split is the world-famous Krka National Park. With its impressive waterfalls, the national park is a real natural gem. You can get to Krka from Split in around an hour by car. 
If you are driving this route, then in our opinion it is absolutely worth it to take a stop off in the pretty town of Šibenik. We would plan a whole day for this trip. You can find all of our recommendations for your visit in this article: Šibenik Tips (incl. Krka National Park). 
8. Map: Overview of all Sights and Tips 
You can find all of our highlights marked on this map so that you can better navigate your way to all of the sights in Split when you are there. Small tip: simply click on the top right corner to open the map with the Google Maps App on your phone. 
---
Disclaimer: Affiliate Links
This blog article contains our personal recommendations in the form of affiliate links. If you book or buy something through the links, we receive a small commission. This does not change the price for you at all. A million thanks from the both of us!
We are curious: Have you ever been to Split? Did you enjoy this dreamy coastal town just as much as we did? We are excited to hear about your experiences. Also let us know your additional tips and recommendations – we look forward to it!