Marrakech – just a four hour flight from Europe, but a totally different world. Marrakech is overwhelming yet full of life, it will fascinate you and take your breath away. Anyone who travels to Marrakech expects a dream from the Arabian nights but is brought to the ground of reality pretty quickly. Why? We will tell you about it in this blog article.
So if you are planning a trip to Marrakech and are looking for reviews, then you've landed in the right place on our travel blog. We show you the most beautiful sights and highlights in Marrakech and reveal our personal tips. Ready for a full-on experience? Let's go!
1. Marrakech: Expectations vs. Reality
Marrakech – some love it, others hate it. Ok, hate may be an exaggeration, but let's put it this way: we know enough people who traveled to Marrakech with very high expectations and were subsequently left very disappointed. The reason for this is quite simple: many associate Marrakech with a dream from 1001 Arabian nights. Unfortunately, this is not quite the reality. Let's go into that a little more.
Marrakech: what REALLY awaits you
Almost nowhere in Morocco is tourism as strong as in Marrakech. The locals react with such behavior that you cannot even accuse them of: they are just trying to make as much money as possible. In the souks (the markets) you get ripped off quickly. And when you are invited to a mint tea, it is clear what follows: of course they want to sell you something.
In addition, there is of course the Arab culture: In patriarchal Morocco (sadly) men are in charge. And you can see that on the streets, too, because comparatively, you find few local women. As a European-looking woman, you immediately stand out and are often addressed.
The feeling that someone is constantly trying to sell you something is not a nice one. And after the 10th time "No, thank you." It will – admittedly – also be annoying. In this respect we can understand people who find Marrakech exhausting.
The good news: if you adjust to it, it's not half as bad. We personally have had no negative experiences in Marrakech. Sure, the dealers sometimes get uncomfortably close, but fortunately physical assaults are rare.
Marrakech is not the same everywhere as what Instagram shows
The hotels and riads (traditional Moroccan accommodation) in Marrakech are at least as nice as you would expect. To be honest, we have never traveled to a country where the hotels are as tasteful as in Morocco. If you are looking for the dream of 1001 nights in Marrakech, you will almost certainly find it in your own accommodation.
However, the streets are a different story. You have to be aware of that. The bustling souks, the people, the donkey carts and other animals, the rushing mopeds, the smells and new impressions that are pounding on you – all this can be overwhelming pretty quickly. Marrakech is an adventure – and not just a pretty Instagram feed.
How many days should I plan for a trip to Marrakech?
Our biggest recommendation to you is this: Please don't just stay in Marrakech. Morocco has so much more to offer and we highly recommend exploring more of this country. (We also liked many other destinations, such as Fez, better than Marrakech.)
If you are planning a tour of Morocco, Marrakech is a good first stop. We would recommend that you stay here for about 3 to 4 nights. During this period you get a good insight and can easily visit the most important sights of Marrakech.
If Marrakech is your only travel destination in Morocco, we would stay a little longer, maybe about 5 nights. So you can take one or two extra day trips (e.g. to the Atlas Mountains).
2. Marrakech Travel Guide: Best Places to Visit
Medina & Souks
Let's start right here, where the action is: the medina. The medina is the old town of Marrakech and a labyrinth of allegedly narrow streets. Some of the sights that we will list here are also in the medina – nevertheless, the medina is definitely a highlight in itself, so we wanted to describe it separately.
Keeping your bearings in the medina is practically impossible. So just go ahead and see where your path leads you. It is particularly crowded in the souks, i.e. the markets of Marrakech. If you go north from Djemaa el Fnaa (the huge square – more on that in a moment), you will get straight to the souks.
Teapots, carpets, lamps, spices, shoes, scarves – if you want to buy souvenirs or new favorite items for your apartment, you've come to the right place. Very important: negotiating or bartering is part of the experience! Traders will initially ask for at least double to three times what they imagine.
Would you prefer to visit the souks accompanied by an experienced guide? Then we can highly recommend a guided tour of the markets.
You can book the tour here: Tour of the souks of Marrakech
Djemaa el Fna
The infamous big square of Marrakech is the heart of the city and probably the most important sight of Marrakech. The official name of the square is Djemaa el Fna – in Marrakech, however, the French word "La place" is usually used interchangeably.
On the Djemaa el Fna, a vibrant, colorful hustle and bustle of jugglers, drummers and food stalls awaits you. The place is incredibly spacious, incredibly chaotic – and incredibly touristy. After the first sensations have pelted on you, someone will probably be standing in front of you trying to sell you something.
Important: On Djemaa el Fna, it is common for you to be asked for money as soon as you point your camera at locals. (Incidentally, this is the case in many larger cities in Morocco.) With the bustle you don't even notice that you might have someone in front of your lens. So just stay polite and tip. But please leave the animal shows with snakes and monkeys!
The later the afternoon, the fuller it gets on the Djemaa el Fna. The flair becomes very special in the evening when the street restaurants start their grills and smoke plumes spread over the square.
Our tip: There are countless rooftop bars and restaurants on the edge of the square. You shouldn't miss out on watching the sunset over the rooftops of Djemaa el Fna. The best thing to do is order a fresh mint tea and be a witness of how the place changes from minute to minute.
Bahia palace
One of the most beautiful sights in Marrakech is without a doubt the magnificent Bahia Palace. The palace dates back to the late 19th century and beautifully combines Andalusian and Moorish architecture.
When visiting, you usually follow the tour that leads you through countless rooms and courtyards. You will pass orange trees, fountains, elaborate carvings and mosaics – in short: a paradise for all those who can do something with Moroccan architecture.
Because the Bahia Palace is one of the highlights in Marrakech, the rush is usually quite large. We therefore recommend that you come as early as possible so that you can visit the palace in peace.
Admission: 70 Dirhams
Opening times: 9 am to 5 pm
Ben Youssef Madrasa
One of our favorite places in Marrakech! The Ben Youssef Madrasa is a former Koran school. No kidding, it looks like a scene taken from a picture book! We have to say that we were really lucky because we came during a time slot in which there were hardly any other people on site. (A huge tour group arrived after us – so it's unfortunately not always so 'empty'.)
The Ben Youssef Madrasa probably dates back to the 14th century. Although the building is not too spacious, we spent at least an hour soaking up the flair and taking photos of the mosaics.
Current note: The Koran school is currently being renovated (early 2020), but should be opened again soon.
Entry: 50 Dirhams
Opening times: 9 am to 5 pm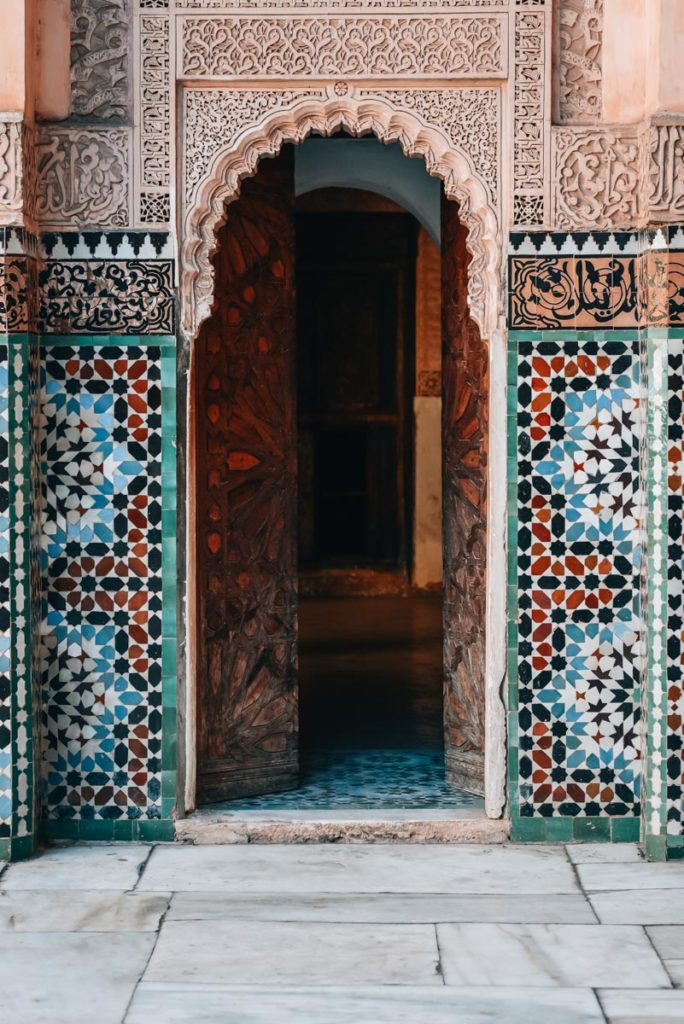 Koutoubia Mosque (= Kutubiyya Mosque)
The Koutoubia Mosque is the largest mosque in Marrakech and the symbol of the city. Its impressive 77 meter high minaret is visible from many places in the city and is a good point of orientation. The mosque dates back to the 12th century, making it one of the oldest in the country.
The downer: The Koutoubia mosque can only be visited by Muslims. Other believers are denied access. Even though we could only admire the mosque from the outside, it was still quite a highlight.
Majorelle Gardens (Jardin Majorelle)
The Jardin Majorelle is one of the most visited attractions in Marrakech and is highly praised in many travel guides. This botanical garden was once bought by the French artist Yves Saint Laurent and extensively redesigned in several stages.
The color scheme is rather strange: cobalt blue and yellow are predominant. In the midst of huge cacti and palm trees, cobalt blue and yellow elements such as pavilions or benches flash out.
The Jardin Majorelle is an oasis away from the hectic medina of Marrakech. But we have to be honest: personally, the garden didn't impress us as much as we were expecting. Although we did find it a little overrated, the Jardin Majorelle is of course still worth a visit.
In addition to the Jardin Majorelle itself, you can also visit the Berber Museum and the Yves Saint Laurent Museum. We generally recommend that you avoid lunch time, because there is usually a lot going on at that time. It is not uncommon to have to queue at the entrance for a really long time.
Admission: 100 Dirhams (Jardin Majorelle only), 220 Dirhams (combined ticket for Jardin Majorelle, Berber Museum and Yves Saint Laurent Museum)
Jardin Majorelle opening times: May to September from 8 am to 6 pm, October to April from 8 am to 5:30 pm, during Ramadan from 9 am to 4:30 pm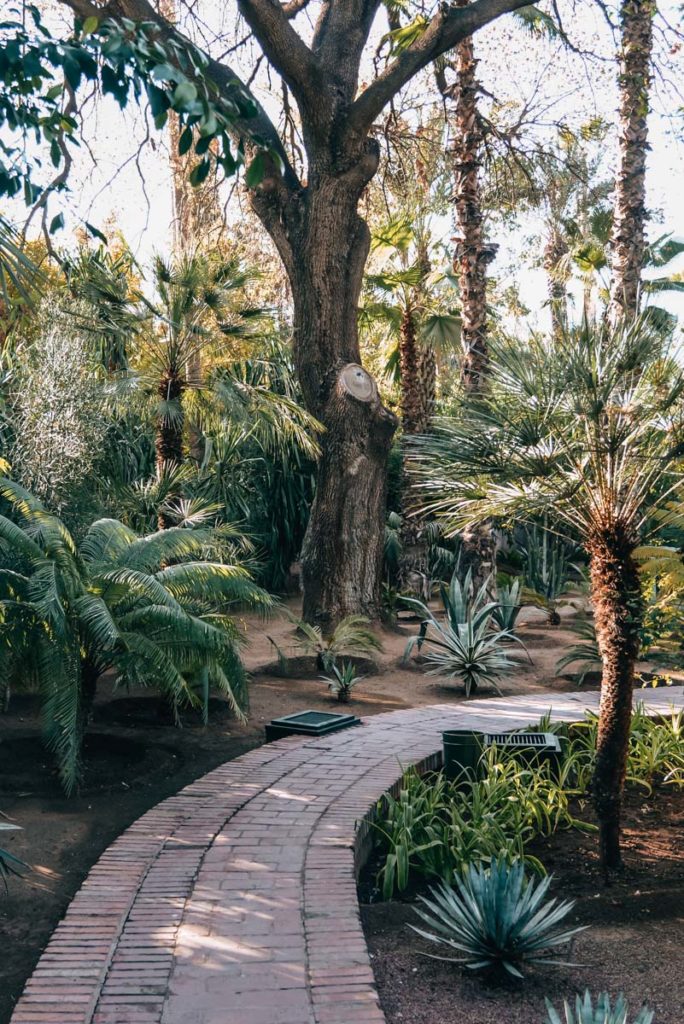 Anima: André Heller garden
One of the newest sights in Marrakech is André Heller's garden called Anima. The garden is by no means as crowded as the Jardin Majorelle, but it is made a lot more impressive and complex.
What awaits you here? A three hectare (!) Large garden that combines wonderfully lush vegetation with art. You are surprised as you peer around every corner and there are so many botanical and artistic details that you can never pay attention to everything during a visit.
The Anima Garden is located a few kilometers outside the center of Marrakech. There is a free shuttle that runs about three times a day. Departure is from the parking lot behind the Koutoubia mosque (Parking + Lavage La Koutoubia). The journey takes about 40 minutes.
You should take enough time for your visit. You can stroll for several hours without any problems and you will always discover something new. There is also a nice café on the site, Café Paul Bowles, which is perfect for a break.
Entry: 120 Dirhams
Opening times: 9 am to 6 pm
La Maison de la Photographie
The Maison de la Photographie is a photo museum that shows historical photographs from Morocco. The museum is housed in a beautifully renovated riad and is therefore worth visiting.
If you are interested in photography, we can warmly recommend a visit to this museum. We personally really enjoyed the Maison de la Photographie. It is a small oasis away from the lively medina.
Our tip: The pinnacle of the visit is waiting for you on the roof terrace of the museum. There is a small restaurant with a wonderful view – be sure to drop by!
Entry: 50 Dirhams
Opening times: 9:30 am to 7 pm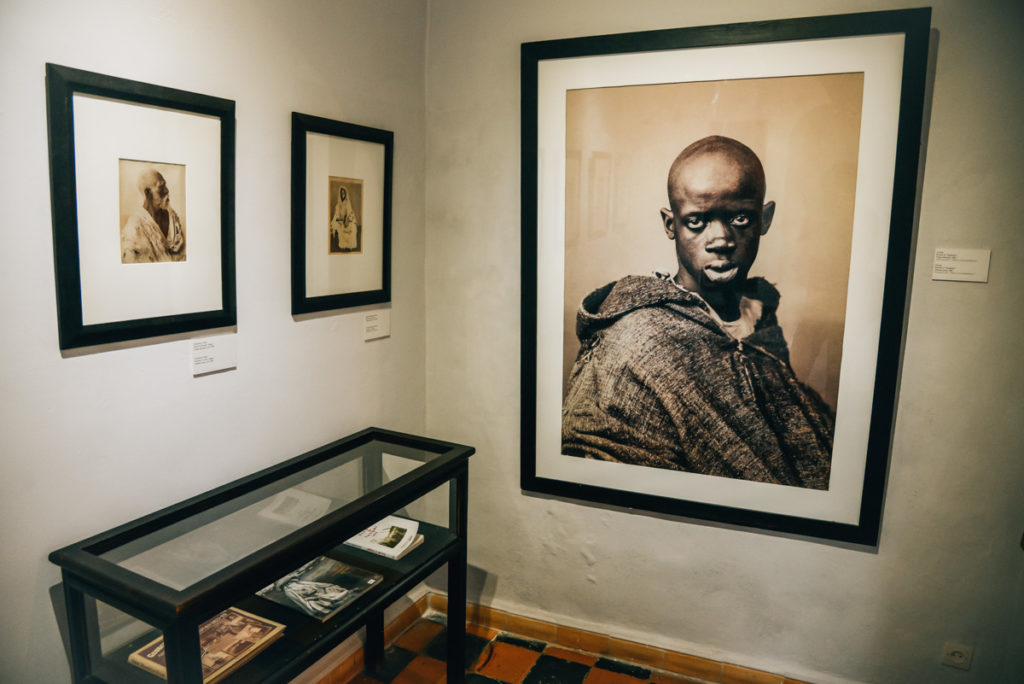 3. Eating & Drinking in Marrakech: Our Tips
Marrakech has an incredible variety of restaurants and cafes. There are simple, inexpensive street restaurants as well as hip, international trendy restaurants with fusion cuisine.
You shouldn't miss two specialties in Morocco. First of all, there is fresh mint tea. This is drunk on almost every occasion in Morocco and is characterized by the fact that it is very sweetened. And the second specialty would be Tajine, a braised vegetable and meat dish that is prepared in the clay pot of the same name and is often served with couscous.
Tajine is often available as a vegetarian version, but unfortunately this is often the only meatless dish in traditional restaurants. If you have a vegetarian or vegan diet, we recommend the HappyCow app when searching for a restaurant.
Tips for restaurants and cafes in Marrakech
Nomad: trendy place with a beautiful roof terrace from which you can see the Atlas Mountains. Creative Moroccan dishes are on the menu.
M Rooftop: Very nice, young rooftop restaurant with a view of the minaret of the Koutoubia mosque. Traditional dishes with a modern touch are served at a very high level. Highly recommended!
Café Clock: Young, artistically inspired restaurant with good cuisine. Moroccan dishes are served.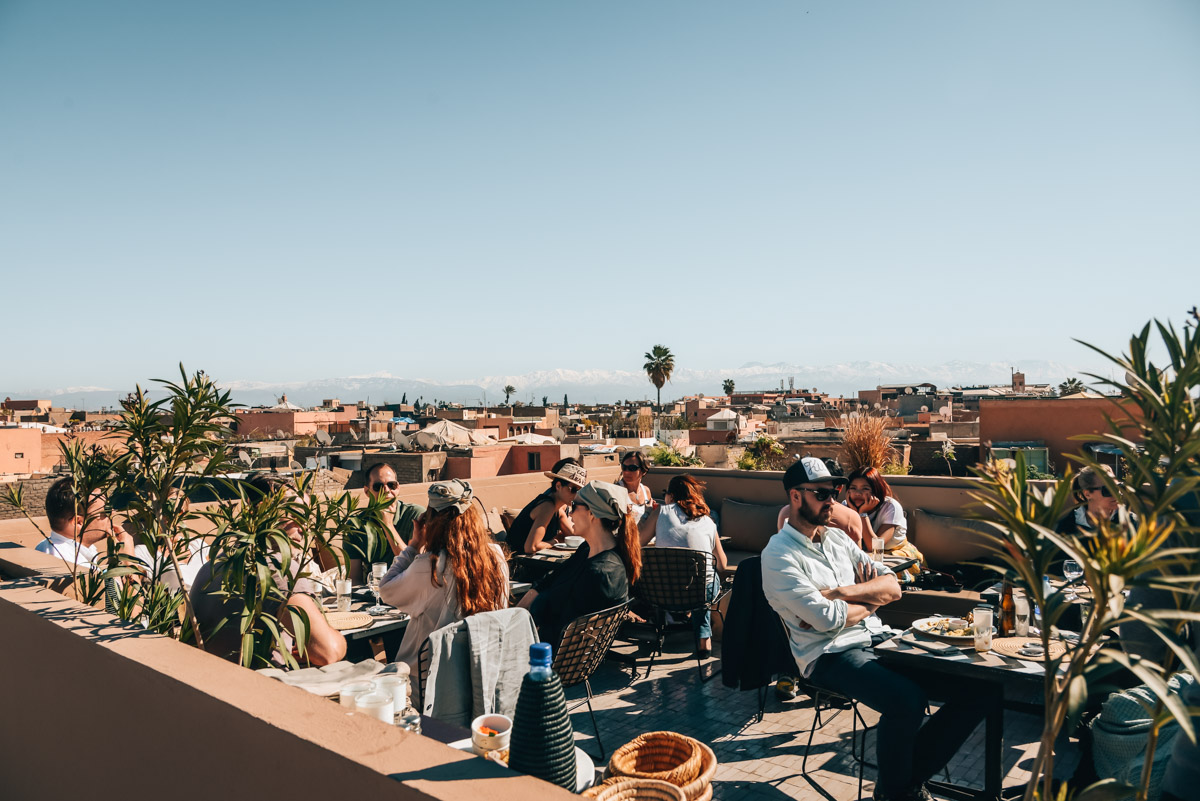 4. Where to Stay: Hotel Tips for Marrakech
The accommodations in Marrakech (and generally in all of Morocco) are to die for. If possible, we would recommend staying in a riad. Riads are traditional Moroccan houses with a beautiful courtyard. We stayed in two very different accommodations in Marrakech, both of which we highly recommend.
Tip for boutique riad: Riad dar Karma
The Riad dar Karma is a beautiful boutique riad located in a hidden alley in the center of Marrakech. From the outside you cannot imagine what kind of an oasis awaits you behind the gates.
You spend the night here in traditional and very tasteful rooms. There are only six rooms or suites in total, which is why the Riad dar Karma has a very personal, pleasant atmosphere. There is a small pool in one of the two courtyards. The highlight, however, is on the roof: the roof terrace is literally a dream. In good weather, breakfast is served here every day. There is no better way to start the day.
The Riad dar Karma is located in the so-called Kasbah district, which is about a 20-minute walk from Djemaa el Fna. The advantage: It is comparatively quiet in the Kasbah district, but you are pretty central and you can reach all sights on foot.
You can book the riad here: Riad dar Karma
Tip for luxury hotel: La Sultana Marrakech
Would you like to treat yourself to a little luxury? Then we can recommend La Sultana Marrakech. We stayed here for one night. A palace-like, stately hotel with a unique flair awaits you here. There are 28 rooms, but over 100 employees – that actually says it all.
Breakfast is terrific and the spa is in a class of its own. The indoor pool is a dream of 1001 nights and rightly the most photographed motif in the whole hotel. Another highlight is the roof terrace, from which you can enjoy a wonderful view.
If you could find a fault in anything, it would be the location of some rooms on the ground floor, which get very little light entering the room. Nonetheless: a unique, highly recommended hotel.
You can book the hotel here: La Sultana Marrakech
5. Extra Travel Tips: Transport and Security in Marrakech
Local transport: How do I get from A to B in Marrakech?
Most of the sights in the center of Marrakech can be easily reached on foot: The Djemaa el Fna, the souks, the Koutoubia mosque and the Ben Youssef Madrasa, for example, are all within walking distance. In addition, the alleys in the medina are sometimes so narrow that you cannot even get in with a car.
However, some distances (for example to the Jardin Majorelle) are too far to walk – or of course you are just too tired at some point. Then we recommend a so-called petit taxi.
Taxis in Marrakech
There are Grands Taxis (i.e. large) and Petits Taxis (i.e. small) in many cities in Morocco. Petits taxis are more for inner-city transportation. They are so small that they can drive in very narrow streets.
A petit taxi ride in Marrakech costs around 30 Dirhams. There should actually be a taximeter in every taxi, but the driver will almost certainly try to convince you that it doesn't work. Arguing often makes little sense, so it's best to set a fixed price. If the price seems clearly excessive (50 Dirhams or more are often asked for), just ask the next taxi driver.
From the airport to the city
The easiest way to get to the hotel from the airport is by taxi. You can take both a petit and a grand taxi for this. Be sure to set the price in advance! The trip should not cost more than 150 Dirhams – best case you are bartering down from there.
Travel Guide to Marrakech
Option 1: Complete travel guide for Morocco
If your trip not only takes you to Marrakech, but also to other parts of Morocco, we can highly recommend the Rough Guide travel guide. Rough Guide travel guides are well-known by the fact that they are fairly detailed and very well researched.
The new edition of the Morocco travel guide by Rough Guide was published in 2019 and is therefore quite up to date. Our conclusion: perfect for all individual travelers!
You can buy the guide here: The Rough Guide Morocco
Option 2: Travel Guide to Marrakech
If you only travel to Marrakech, an entire Morocco travel guide makes no sense. In this case we recommend the Lonely Planet Pocket travel guide. This guide is rather compact, but sufficient for a city trip to Marrakech. We really like the clear design of this travel guide series.
You can buy the guide here: Lonely Planet Marrakech
Security in Marrakech
We have to honestly admit: In Marrakech we felt the most uncomfortable of all places in Morocco. Fortunately, nothing happened to us, but the narrow streets of the medina were really not a place to relax, especially at night.
As already described in the introduction to this blog article, some of the men are very pushy. Poverty is also a big issue in Morocco. Pickpocketing is just a norm. We therefore strongly recommend that you carry your valuables as close to your body as possible instead of simply hanging them loosely around your shoulders.
Would we still go back to Marrakech? For sure! Would we recommend women traveling alone to Marrakech? On condition, to be honest. But we wouldn't specifically advise against it either. At any rate, we would only avoid the medina at night.
---
Disclaimer: Affiliate Links
We were invited by La Sultana Marrakech for one night – thank you very much! This blog article contains our personal recommendations in the form of affiliate links. If you book or buy something through these links, then we will receive a small commission. This will not change the prices for you at all. A million thanks from the both of us!
Have you ever been to Marrakech? How did you like it? Are you perhaps one of those who were rather disappointed? Maybe you have other recommendations? We look forward to reading your comments with any extra tips!