Casablanca was not love at first sight for us. And even after a day in the largest city in Morocco, we have to admit that, unfortunately, we just never warmed up to Casablanca. Of all the places we visited in Morocco, Casablanca is the one that we least liked.
Nevertheless, we do have to say that one of Morocco's most impressive buildings is located in Casablanca: the Hassan II Mosque – its size is truly jaw dropping. Many travelers also come to Casablanca as the start or end point of their Morocco tour, because this is where the country's most important airport is located.
So if you are planning a stay in Casablanca and are wondering what to expect, we'll tell you all that in this blog article. You will also find our tips on what you can see and do in Casablanca, if you're just passing through for a day.
1. Casablanca: Expectations vs Reality
Honestly, we had completely contrasting ideas about Casablanca. Somehow we had been misled by its romantic sounding name. We were expecting nice coffee houses, authentic restaurants, pretty alleys, oriental flair. Our expectations, unfortunately, did not match reality at all.
The most important thing to know is that Casablanca is a financial city. Casablanca is the economic center and the largest city in Morocco. 3 million people live in Casablanca. The cityscape of Casablanca is characterized by gray skyscrapers rather than charming old buildings.
And unfortunately that also means an absence of the authentic oriental flair. There is a medina, but it is not even comparable to that in Marrakesh or Fez.
However, on the upside, there is a magnificent sight waiting for you in Casablanca: the Hassan II Mosque. We would say that a stopover in Casablanca is worthwhile just to see this gigantic building. The rest of Casablanca certainly did not win us over.
But as always, we are sharing our own personal experience. Just because Casablanca didn't have us overly enthused, it doesn't mean that it will be the same for everyone. In the end, the best thing is to make up your own mind.
2. Travel Guide: One Day in Casablanca – The Best Sights and Tips
Hassan II Mosque: The Largest Mosque in Africa
If you only have time to visit one attraction in Casablanca, then let it be the Hassan II Mosque. The sheer size of this mosque, which is located directly on the coast, is utterly incomprehensible.
Not only is it one of the largest mosques in the world, the minaret of the mosque is also the second tallest in the world. Once you stand in front of it, you can hardly believe your eyes, this building looks so gigantic. The Hassan II Mosque is one of only two mosques in Morocco that can be visited by non-Muslims.
Unfortunately, the interior of the mosque can only be visited on a guided tour. Guided tours take place every day at certain times in several languages. The downer: The groups are really big. We had an estimated 50 people in our group, which of course, did have an effect on our overall experience. 
Information about visiting the Hassan II Mosque
Entry: 130 Dirhams
Guided tour: The mosque can only be visited as part of a guided tour. The respective times can be found on their website: Hassan II Mosque
Habous District: the New Medina
Probably the most beautiful district of Casablanca is called the Quartier Habous. This district was created in the 1920s under French colonial rule and is also known as the New Medina.
The Quartier Habous reminds us a little of a souk (i.e. a market) – but a very cozy one. You will find many different shops where you can buy spices, souvenirs and handicrafts. If you want to buy something: don't forget a little barter! In Morocco, it is common to whittle the final agreed price down to less than 50 percent of the dealer's starting bid!
Our tip: The very best Patisserie Casablanca, the Patisserie Bennis Habous, is also in this district. If you come here, you must either have a distaste for marzipan or practice discipline. Otherwise, you might end up leaving the store like us – with a huge box full of almond and marzipan cookies. So good!
The oriental palace – Mahkama du Pacha – is also worth a visit. If you are looking for oriental flair in Casablanca, you've come to the right place. Beautiful mosaics and carvings await you in this city palace – and makes for a wonderful photo opportunity. However, it seems there's a little misunderstanding when it comes to access: many say that the palace can only be visited with a guide. But the security guard might just let you in, upon a little tip, so that you can take a few photos in peace.
Morocco Mall
The modern mall, aptly named Morocco Mall, is one of those places you wouldn't expect in a country like Morocco. It feels like a collision of two different worlds here. In the Morocco Mall, Casablanca's narrow, sometimes dirty streets suddenly feel very distant.
The shopping center could just as well be in any other metropolis. But, you can tell by the clothes of the people around you, that you're definitely still in Morocco. Our verdict: you can visit if you want, but you don't necessarily have to.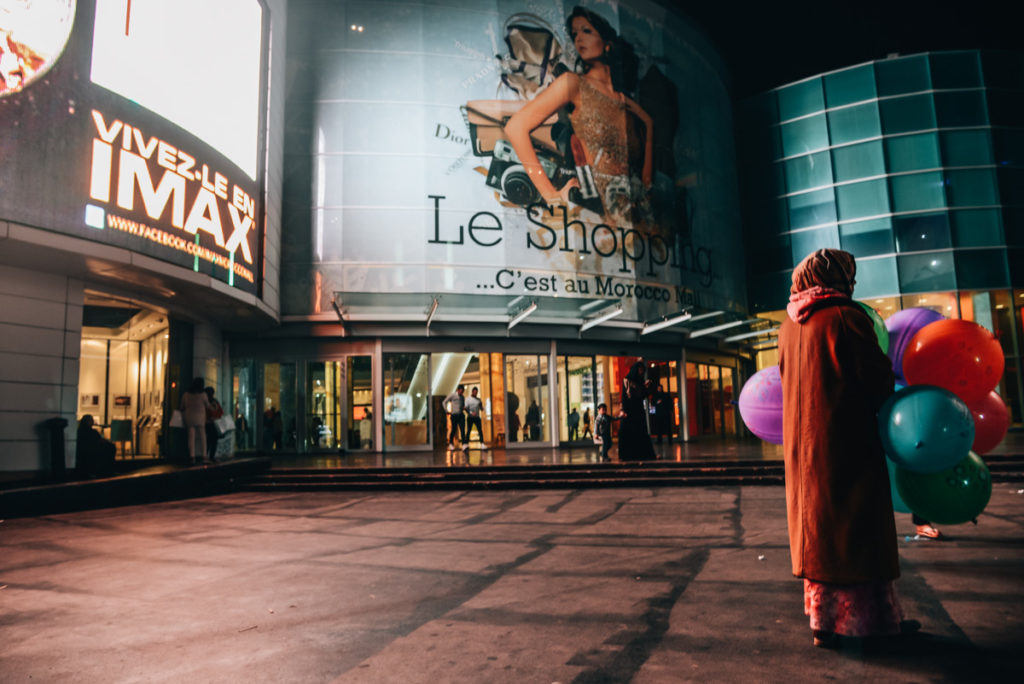 3. Modern Hotel stay in Casablanca
Unlike in other parts of Morocco, the hotel offerings in Casablanca are more geared towards business travelers. Therefore, you're likely to find an extortionate number of large and rather impersonal hotels in Casablanca with very few really individual accommodations.
But we have a good tip for you: the Hotel Barcelo Anfa Casablanca. This modern city hotel comes very highly recommended. The rooms are spacious, comfortable and tastefully decorated – it feels nice and cozy. The beds are also very comfortable.
There is a very nice pool area and the breakfast buffet is also impressive. Conclusion: great value for money and a very good choice if you want to stay in Casablanca.
You can book the hotel here: Barcelo Anfa Casablanca
---
Disclaimer: Affiliate Links
This blog article contains our personal recommendations in the form of affiliate links. If you book or buy something through these links, then we will receive a small commission. This will not change the prices for you at all. A million thanks from the both of us!
Have you ever been to Casablanca? How did you like it? Were your expectations too high or did you experience Casablanca differently? We look forward to reading your comments with any additional tips!