Planning to travel to Morocco and looking for some trusted travel tips? Well then, read on for an adventure filled plan and our top tips! Morocco is only a four hour plane ride away from Europe – and yet it's like you've just been dropped into a completely different world. Morocco is an ideal travel destination for a road trip, with adventures, oriental flair and a pleasantly warm climate.
We have compiled everything we know from our experience and all our best travel tips for Morocco in this one post so that you can best prepare for your road trip. When is the best time to travel? How safe is a trip to Morocco? How do I get from A to B? You'll find the answers to these questions and more, in this special travel guide for Morocco. 
1. Pre-travel Tips: Important Facts about Travelling to Morocco
What to expect in Morocco
What images come up when you think of Morocco? Probably one that shows the Arabian-night lifestyle in flawless perfection, right? Yes, you can definitely look forward to that when you travel to Morocco. But: Morocco is SO much more than that.
The following three things make this country special and speak for a trip to Morocco:
Oriental flair: it starts with the colorful markets, continues through the typical cuisine to the hamams and the wonderful hotels (riads): in Morocco you can soak up the oriental way of life from dawn to dusk.
Landscape: From the Atlas Mountains to gigantic canyons, from the desert to the mountain passes – Morocco's landscape will take your breath away. We had high expectations before, but we have to admit: it was even better!
Geographical proximity to Europe: you are in a completely different world within just a few hours from Mainland Europe. No nerve-wracking jet lag, no long-haul flight. A perfect travel destination for anyone who doesn't want to travel too far.
Do you want to know which sights you shouldn't miss and where all the highlights are around the country? Then we recommend our detailed blog article, where we show you which places we have traveled to and what you can expect there.
You can read that here: Our Itinerary: All Destinations in Morocco
Best time and season for Travelling to Morocco
You can travel to Morocco all year round, but of course there are months that are better and those that are less suitable. It also depends on which regions of Morocco you want to travel to.
The ideal travel times for a round trip through Morocco are spring (if possible avoid the holiday season, i.e. Easter) and autumn. While it can still be cool in Europe in spring, you can usually expect bright sunshine in Morocco. And you can also spend wonderful late summer days in Morocco in autumn.
We would not recommend midsummer (July and August), especially if you want to see the desert. In addition, sand storms in the desert start brewing between April and October. Sightseeing at 35 degrees in the shade can also become unbearable. You have to expect restrictions during Ramadan, as some restaurants are closed during the day.
Around Christmas and New Year many flee into the warming sun and it gets very crowded in Morocco and accordingly more expensive. If you want to avoid this, you should also avoid this time.
We traveled to Morocco in late February / early March. During the day it was pleasantly warm, sometimes even quite hot in the sun. It cooled off in the evening. Our accommodations were all equipped with heating. Our tip: in the colder months, be sure to find rooms with heating, otherwise the nights will be rather uncomfortably cold.
Travel Guide to Morocco: Our Tip
Although you can find many tips for Morocco on the Internet, such as on our blog, we still recommend that you get a printed travel guide. Here we can highly recommend the Rough Guide Travel Guide. Rough Guide travel guides are well-known by the fact that they are fairly detailed and very well researched.
The new edition of the Morocco Travel Guide by Rough Guide was published in 2019 and is therefore quite up to date. Our conclusion: perfect for anyone travelling to Morocco!
You can buy the guide here: The Rough Guide Morocco
2. Arrival Tips: Getting into Morocco
Good news: Austrians and Germans do not need a visa to enter the country. On the plane you will receive an entry card that you must fill out. The border police will take the card and may ask you a few questions. That was it basically.
You can expect the same procedure awaiting you as you leave. Anyone who works in journalism or in another area that could be a thorn in the side of the police should prepare for a somewhat longer question-and-answer game. That was the case with us, but all in all things are relatively relaxed, so don't worry!
3. Accommodation Guide for Morocco: Where to Stay?
Traditionally, you spend the night in Morocco in so-called riads. Riads are traditional, multi-storey buildings that have a wonderful courtyard and often have a grand roof terrace. From the outside, it is often hard to believe which oasis is hidden behind the gates of a riad.
We swear: Nowhere else in the world have we seen such a high density of grand and stylish accommodation as in Morocco. In larger cities you are literally overwhelmed by the offerings. If possible, we definitely recommend that you stay in a riad. For about 70 to 100 Euros per night you can get a very nice room with breakfast for two people.
Here you will find all our recommendations: Hotel tips for Morocco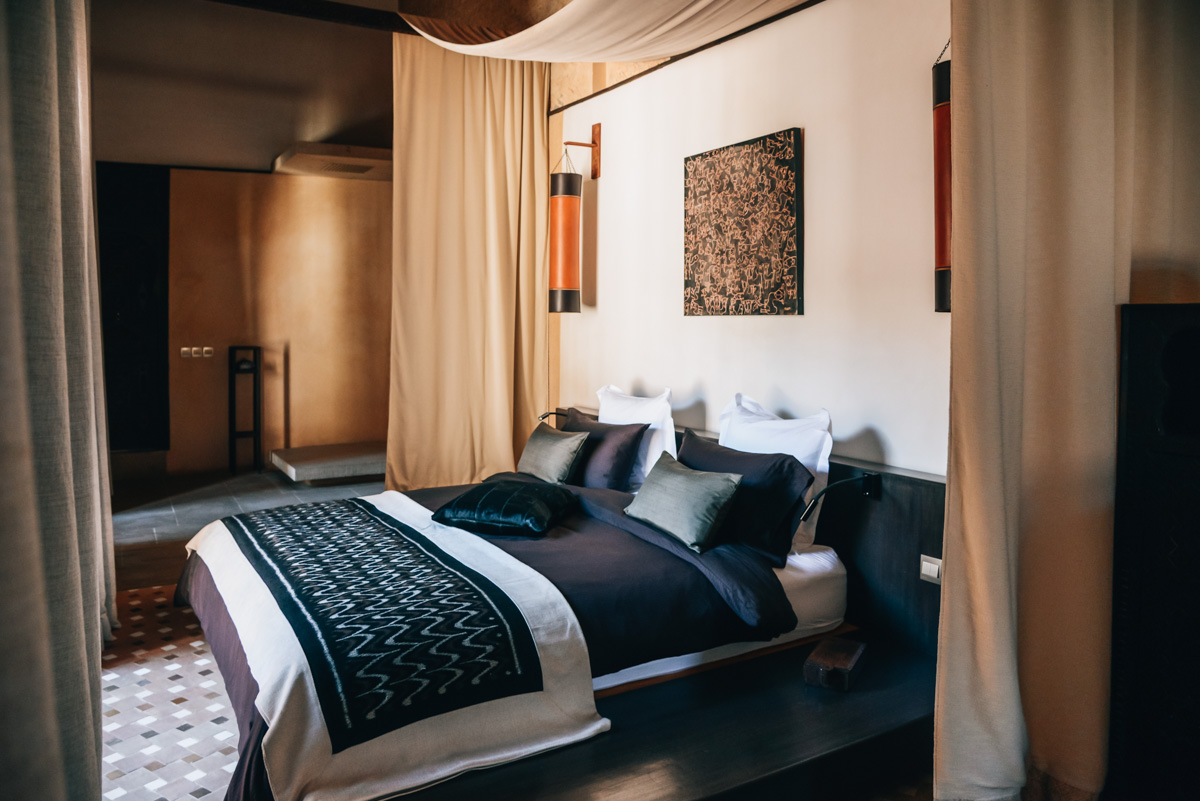 4. Eating and Drinking in Morocco
In Morocco, people love the combination of sweet and salty, and dried dates, apricots and raisins are used in many dishes. Honestly, we're massive fans!
Typical of Morocco is the so-called tagine, a dish that is prepared in a clay pot (also called Tagine) and is often served with couscous. This stew usually consists of meat and vegetables, but there are also meatless options.
Although we liked Moroccan food, to be honest the culinary offerings got a bit boring over time. Especially for vegetarians, you'll find the same dishes being served, as the selection is unfortunately rather limited, unless you eat out at hip trendy restaurants. Meat is often eaten in Morocco, unfortunately vegetarian dishes are less common on the menu than in some other countries.
An exception is breakfast, which is almost always very bread and carbohydrate-heavy. Breakfast is included in most accommodations. You will almost always be served different dishes, including Moroccan pancakes, bread, jams and homemade yogurt.
5. Religion and Culture: Dress and Behaviour Tips in Morocco
As is well known, Islam is the state religion in Morocco. Knowing that in advance will help you adapt to the culture shock faster. Unfortunately, this means, among other things, that the patriarchal structures are very visible. You'll find mostly men on the streets.
We therefore, especially recommend women not to wear skimpy clothing. Loose blouses, long trousers and long dresses and skirts are more practical. Honestly, as a tourist, you already stand out immediately so it's more pleasant to be dressed as covered and casually as possible.
There is no obligation to wear a headscarf, but admittedly: even in direct sunlight we like to use a cloth. Exchanging tenderness or PDA in public is a no-go in Morocco.
Good to know: Non-Muslims can only visit two mosques in Morocco – the Hassan II mosque in Casablanca and the tomb mosque of Moulay Ismail in Meknes. But don't worry: there are beautiful palaces and Koran schools in Morocco that you can visit.
6. Security: How safe is Morocco to Travel?
One of the questions we were asked most often: how safe is it to travel around Morocco? First of all, we would advise you to read the most up to date section on the website of your home country's respective Foreign Ministry Office. In terms of security, this should always be your first point of contact.
However, we will of course also be happy to share our own personal experiences and that is where the good news comes. Nothing bad ever happened to us in Morocco. We had no negative experiences. We were not robbed or harassed. Yes, we probably paid too much for a few things, but that's about it.
Our specific tips for security:
Travel as a couple if possible. Of course there are also many who travel through Morocco alone – including women. To be honest, we personally found it very nice to travel as a couple. 
Avoid the medina at night. The medina (the old town) of some cities consists of very narrow streets. Especially at night, these dark alleys can feel a little shady. Try to avoid walks at night. We recommend this to women traveling alone.
Do not flaunt your valuables. We typically are the kind of people who are often too lazy to safely stow our (rather expensive) camera gear and instead let it hang loosely around our shoulders instead. Apparently, you shouldn't make a habit out of this – especially in crowds.
Don't be fooled by self-proclaimed guides. At every corner in Marrakech someone will offer to show you the way to "La Place" (the large square). In truth, he wants to take you to his shop to sell you something, or he really shows you the place and then of course charges a good amount. Our tip: If you really get lost, it's better to ask a woman the right way.
Cities vs. Rural region: We personally found the men in larger cities (above all in Marrakech) to be much more intrusive and uncomfortable than in rural regions. While, for example, tips are constantly demanded in cities (e.g. for photos), people in the countryside are much more chill about it. We'll give you more tips for taking photos later in this blog article.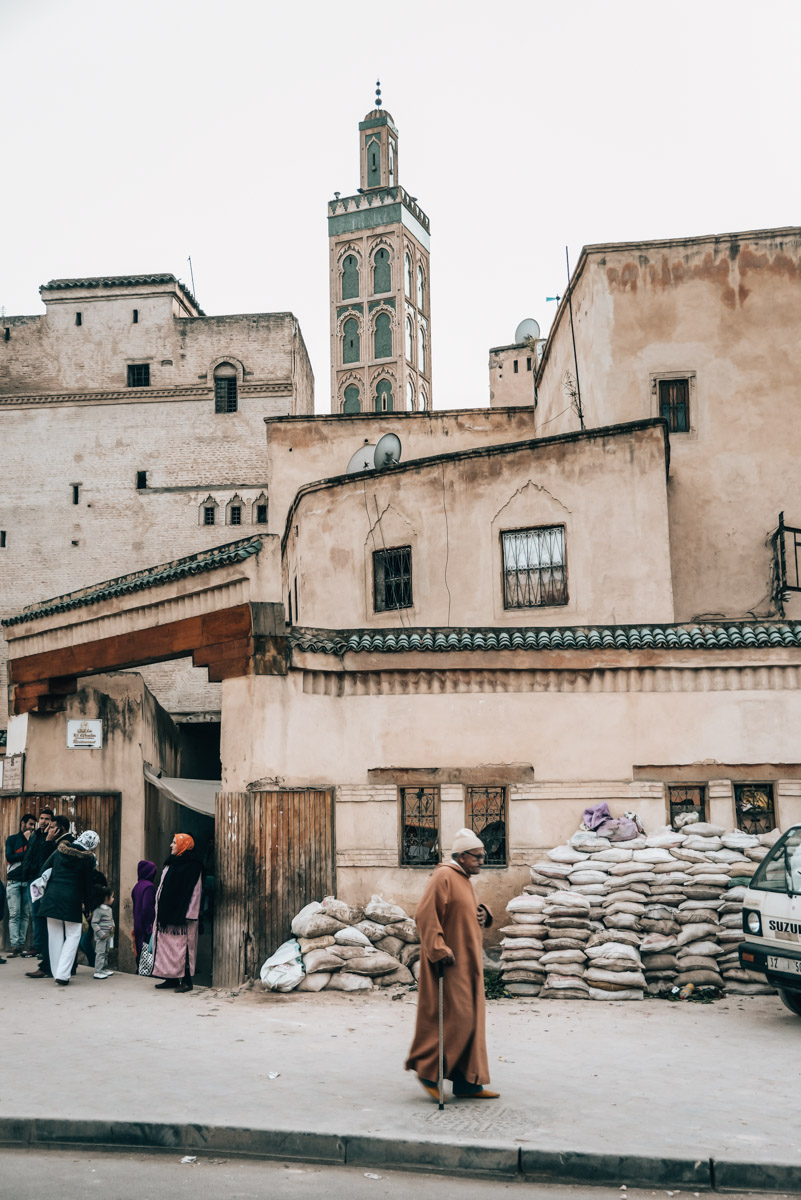 7. Transport Guide: Road Trip through Morocco by Car
Morocco is a really ideal place to travel with a rental car. There are several reasons for this:
First of all, the main streets are largely in good condition. Even with a small car you can easily reach most places.
Traffic is very limited outside of the larger cities. It may be that you don't see any other cars anywhere.
There is right-hand traffic in Morocco, so you don't have to get used to it (unless you're from NZ, Australia, UK or other Commonwealth Countries)
Most places are signposted in two languages ​​(English, Arabic).
The prices for a rental car are comparatively cheap: For our Peugeot 301 we paid around 250 Euros (excluding navigation system) for a week.
Renting a car in Morocco – what should I watch out for?
Provider and deductible
We booked our rental car through Sunny Cars. We've only ever had good experiences with them, because when you book through Sunny Cars you get full insurance including reimbursement of the excess in the event of damage. Sunny Cars acts as an intermediary here: You book your car on the Sunny Cars website and collect it from a local car rental company (e.g. Hertz, Europcar, etc.).
What does a deductible mean? In some countries, this is also called the 'excess' or 'deposit'. e.g. If you drive a dent into the car, you will receive a refund on any additional costs incurred with that accident from Sunny Cars. However, if you book the rental car "with a deductible/excess/deposit" (this is the case with many other platforms), you have to pay a certain amount (usually a few hundred Euros) in the event of damage, which you won't get back.
You can search for cheap rental cars (fully comprehensive) here: Sunny Cars
Is it safe to drive through Morocco with a rental car?
Honestly, we had our hesitations at first, but it was absolutely no problem! The streets are mostly in very good condition. There is little traffic. We have never met any dubious people. We only avoided driving at night, but mostly because it is easy to miss a pothole.
Other tips for renting & driving in Morocco
We are happy to rent the car ourselves at the airport, because there is usually less traffic than in the stations in the city and you can get used to the traffic conditions in peace. We picked up our car from Marrakech on the day of departure for two reasons: Firstly, you don't need a car in Marrakech so we were able to save costs. Secondly, as soon as you drive towards the medina, the traffic is horrendous. We didn't want to do that to ourselves.
We bought a navigation device, but would not recommend it. It was quite expensive (approx. 12 Euros per day) and we didn't find much benefit from having it. In addition, we couldn't find a lot of the places in the navigation system and had to trust our own orientation or the travel guide map.We'd recommend you to better download an offline app for your smartphone. It makes a lot more sense.
An international driver's license is usually not necessary when renting and we were never asked for it. Nevertheless, we recommend that you get one for insurance reasons alone. You can easily get your international driver's license for around 15 Euros at the ÖAMTC (Austria) or ADAC (Germany).
In larger cities, you should avoid the car, which saves you time and stress. It is best to park the rental car as close as possible to the accommodation (e.g. in a guarded parking lot or at best at the hotel car park) and switch to taxis for the duration of the stay or cover the distances by foot.
Police controls in Morocco
What many stories are circulating on the Internet are the police controls in Morocco: Yes, it is true. They are everywhere and you are likely to be controlled if you travel to Morocco in your own car.
Our personal experience: We never had a negative experience with the Moroccan police. Even when we were stopped after crossing a stop line during an overtaking manoeuvre, the policeman was very understanding ("French campervans are always slow, I understand that.")
However, corruption is definitely an issue: we managed to negotiate the amount of our penalty down by half. Otherwise, the control was quite heavily regulated.
8. City Transport in Morocco: Taxi Tips
Even in the larger cities (Marrakech, Fez, Casablanca etc.) you can do most of the walking. For longer distances, it is common to take a taxi. A basic distinction is made in Morocco between Petit Taxi and Grand Taxi.
The Petit Taxi (small taxi) is – as the name suggests – a very small car that can pass through narrow streets.
A Grand Taxi tends to be used for longer distances, i.e. between two cities or for destinations that are slightly outside the city.
The fare is generally determined by a taximeter, but of course they will try to convince you that it is not currently working. Therefore, you should either ask another driver or negotiate the fare in advance if they try to pull the 'taximeter trick' on you.
Prices vary from city to city – depending on how much people are used to tourism. In Marrakech, for example, you can expect a short distance ride to cost 50 Dirhams or more. However, you should really pay a maximum of 30 Dirhams. In Casablanca, we often only paid 20 Dirhams for a longer distance. Also, you can expect a surcharge at night.
9. Travel Costs: How expensive is it to travel Morocco?
Currency & Paying in Morocco
Morocco's currency is the Moroccan Dirham (MAD). 1 Euro corresponds to about 10.70 Dirham (as of early 2021). With the prices written in Morocco, you simply mentally omit a zero at the end to get the approximate amount of Euros.
You can easily withdraw money from ATMs. If you are from Austria, make sure that the GeoControl function is deactivated at your bank before you leave. You can usually do that online.
Travel expenses in Morocco: price level and price examples
What does it cost in Morocco …?
Double room in a beautiful riad in Marrakech: 70 to 100 Euros per night
Car rental for a week: 200 to 250 Euros
Taxi ride in Marrakech or Fez: 20 to 30 Dirhams
Dinner for two in a nice restaurant: 200 Dirhams
Entry to the Majorelle Gardens in Marrakech: 80 Dirhams
Entry to the Bahia Palace in Marrakech: 50 Dirhams
We would describe the price levels in Morocco as somewhat lower than in Austria or Germany. But don't expect to have a super cheap trip in Morocco.
Tipping Culture
Tipping is not only seen as desirable in Morocco for many services, but is actually expected. In restaurants, 5 to 10 percent is appropriate. We would also leave the service staff from our accommodation around 10 to 20 Dirham per day in the room.
If you ask for directions or if you take a picture of someone, he or she may also ask for money. We would also then give about 10 to 20 Dirhams.
10. Photography Tips & Restriction in Morocco
Morocco is a paradise for photography enthusiasts. And yet there are a few things to consider: Especially if you want to take pictures of people (and Moroccans are really photogenic), you should always ask for permission. In larger cities where people are used to tourists, you will almost always be asked to tip if you want to take pictures of someone.
An extreme example is the Djemaa el Fna in Marrakech. There are dozens, if not hundreds, of people who earn their daily bread as a photo model. Unfortunately, you are often asked for money here, in a not overly kind approach.
On our trip, we preferred another way to get great portraits: We would simply buy something from someone and then asked the person for a photo.
It should be borne in mind that in Islam, the depiction of people is prohibited or not welcome. You should keep this restriction in mind when taking pictures, especially if you are in highly religious areas. If in doubt, we would advise against taking a photo and retreat rather than attract attention.
Under no circumstances should you photograph military facilities and uniformed officers (police, security guards, etc.) (thanks to Ricky for the tip).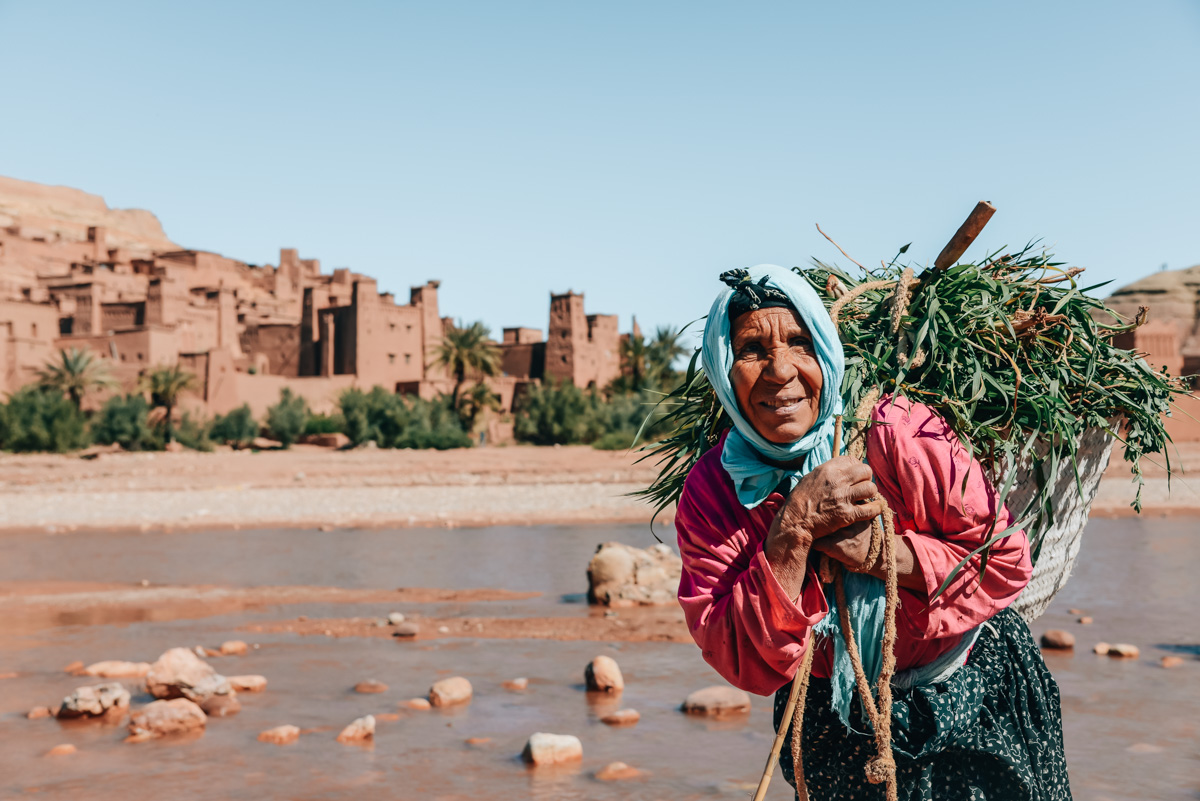 11. Internet & Apps for Travelling Morocco
Mobile Internet: SIM card in Morocco
Nowadays, most of us are used to being online while traveling. Therefore, we would highly recommend that you buy a local SIM card for your smartphone when you get there. It is a great way to navigate from A to B and can also be used to search for tips on restaurants or sights.
You can buy the SIM card directly at the airport. It is important that your smartphone is unlocked for all networks (i.e. not limited to one provider). The SIM card is usually setup and activated directly by the staff – without any problems. The price will depend on the data volume, but generally speaking SIM cards are quite cheap.
Network coverage in Morocco is good, although there are places where you don't have a network. Especially in sparse, barren regions between the cities you often have to do without reception. However, the reception is very good in the cities themselves.
Also WiFi is quite widespread in Morocco: the vast majority of hotels offer WiFi. However, the speed leaves somethings to be said.
Helpful apps for your trip to Morocco
Google Translate (download the French version so you can use it offline): Especially in rural areas, you'll find many speak little to no English, but instead speak French.
maps.me or CityMaps2Go (download the Morocco map so that you can also use it offline): perfect for marking individual sights and restaurants.
Maps app (iPhone) or Google Maps: Great for navigating from A to B.
Happy Cow: great for finding vegetarian restaurants nearby.
---
Disclaimer: Affiliate Links
This blog article contains our personal recommendations in the form of affiliate links. If you book or buy something through these links, then we will receive a small commission. This will not change the prices for you at all. A million thanks from the both of us!
Do you have any other travel tips for Morocco? Let us know in the comments. We look forward to reading about your experience!