"Oh you will love Rothenburg!" No matter who we talked to about our trip through the 14 Franconian cities, one things was for sure: if there was to be one town they had visited, then let it be Rothenburg ob der Tauber. We were never aware of the prominence of this quaint little town, but all the better, because we were able to discover the city with absolutely no expectations – which is always a good thing.
Looking back on our time in Rothenburg we can confirm that the hype is real and one hundred percent rightly so. The charming charismatic flair of Rothenburg can hardly be described in words. We still can't quite decide what impressed us the most: the pretty lanes, the beautiful half-timbered houses or the location of the city. Rothenburg happens to be perched on a hill, surrounded by a well-preserved city wall. In this blog article we reveal our favourite places and personal tips for Rothenburg ob der Tauber.
1. Rothenburg ob der Tauber: Medieval Flair in Perfection
Let's get the bad news out of the way first. Rothenburg is no secret, so you will have to learn to share this beautiful quaint little town with many other tourists who also flock to admire this medieval German town. Just be warned, the main sights and alleyways can be very crowded.
On the bright side, the hustling bustling crowds of Asian tour groups end as soon as you leave the main tourist path. The best time to wander this pretty town is in the evening, when most of the day trip tourists have moved on and the town becomes more tranquil.
As we mentioned in the intro, the location of Rothenburg is something very special, as it's essentially a small town perched on a hill above the Tauber river. From the Burggarten, you can get a glimpse of the town and it's beautiful view.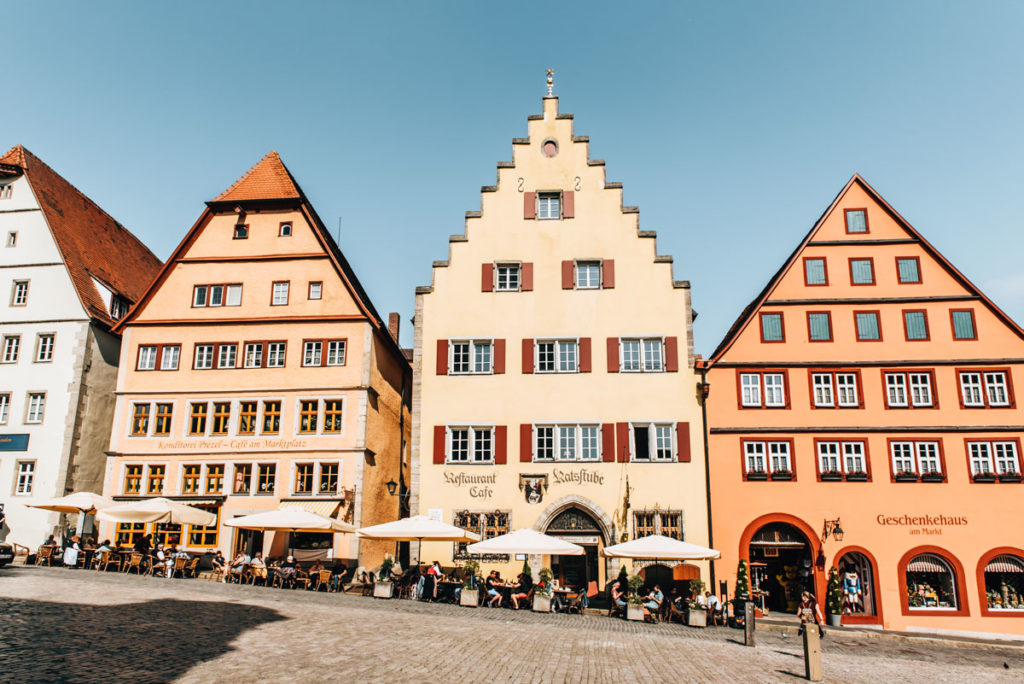 2. Sights and Activities in Rothenburg
The main sights in Rothenburg are mostly only a few minutes away from each other. Most of the tourists tend to congregate along Schmied- and Herrngasse as well as at the marketplace. One of our personal highlights was walking along the old city wall in the calm evening.
Ascension of the town hall tower
220 steps and 52 meters later, you find yourself at quite an impressive height with an even more impressive 360-degree panoramic view over the old town. Towards the end the stairs do start to get a but strenuous but… no pain, no gain! The view from atop the town hall tower is so worth it!
The higher up the tower, the narrower it gets, so only a limited number of people are allowed on the tower at any one time. You'll probably end up having to wait a little while, but we promise you… there will be no regrets once you're at the top!
For those sunset chasers: Unfortunately the tower closes rather early in the summer, usually 5pm, which is such a pity as we imagine the sunset from up here to be absolutely breathtaking. If the access was postponed till past sunset, then we would have most likely watched the sun go down here every day! In winter, however, the tower is actually open till 6-7pm! Which means that you can catch sunset in winter… if you can stand the cold! :D
Information about visiting the Town Hall Tower
Address: Entrance via the market square in Rothenburg
Admission: 2.5 euros
Opening hours: April to October daily from 9:30am to 12:30pm and from 1:00pm to 5:00pm. In November and from January to March it is only open on the weekends from 12pm to 3pm and again during the Christmas market from 10:30am to 2:00pm daily and from 2:30pm to 6:00 pm (Friday and Saturday until 7 pm)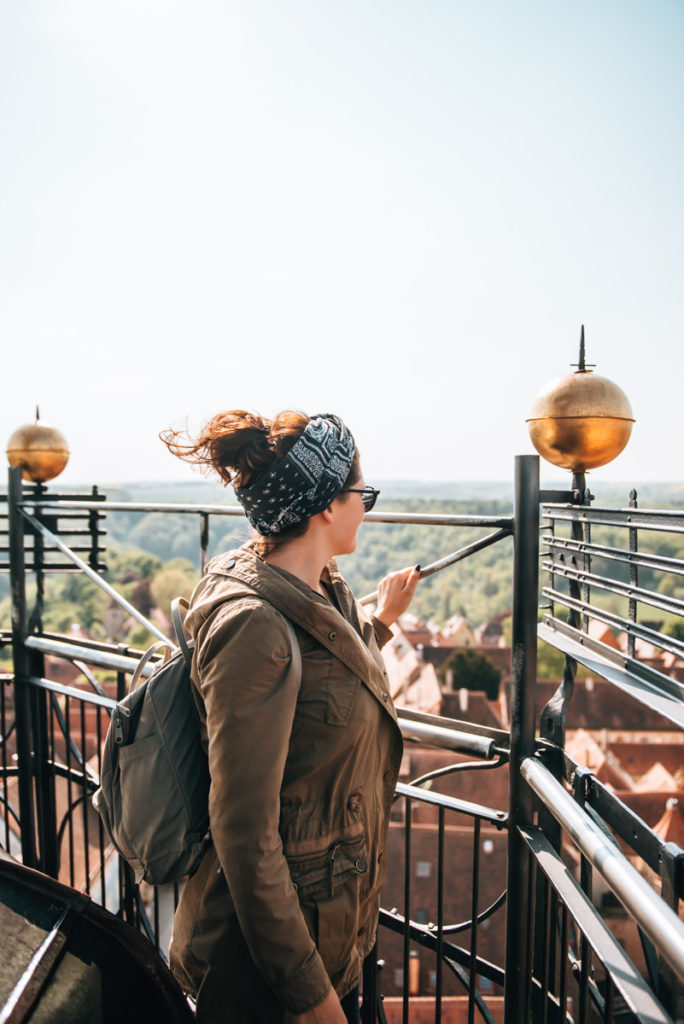 Walk on the old city wall: The Turmweg
Something we found really cool was how the old town is surrounded by a city wall, which is still very well preserved, and that a large section of the city wall can be walked! You can find stairs along the entire city wall leading to the top.
Our tip: You can explore the city wall as part of the so-called Turmweg. This walk takes you to the most important towers of Rothenburg in 22 stations and over 4km. Get the brochure at the tourist information!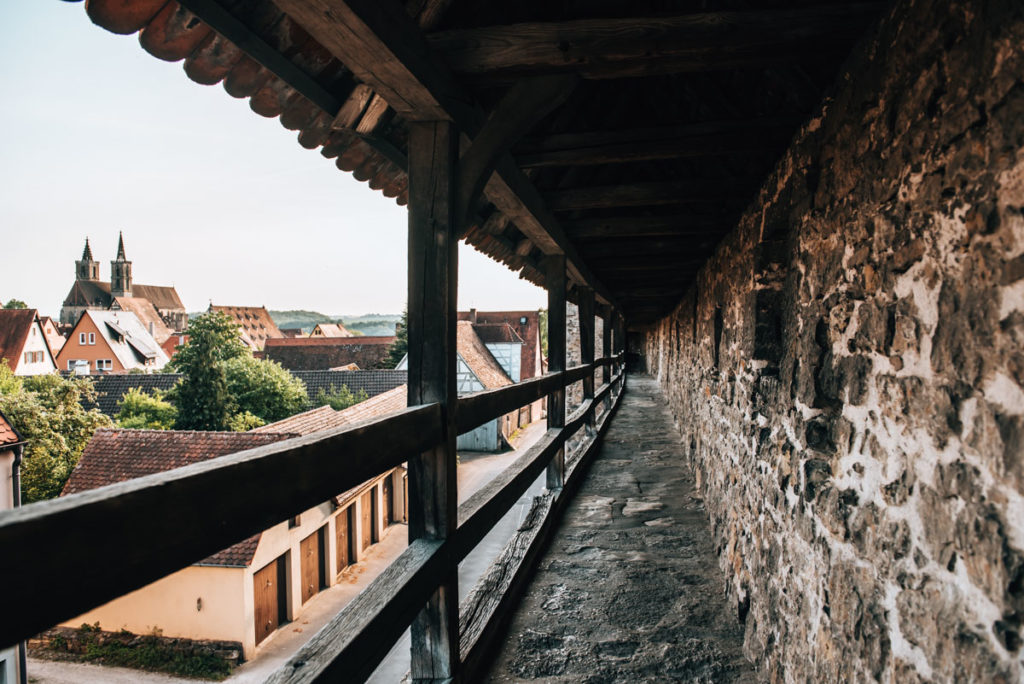 Burggarten
The name itself, which literally translates to "Castle Garden", is a bit of a hoax as you won't actually find any castles here in Burggarten. A few centuries ago maybe, but not today. Nevertheless, this garden is one of the most romantic places in the entire town and from here you have a fantastic view of Rothenburg.
At sunset, the Burggarten becomes a rather popular meeting point. Despite the fact it is very quickly over shadowed, the way the golden sun bathes the building ensemble of Rothenburg is simply mesmerising.
Something we did and would also highly recommend to you, is to do a nice little picnic here in the garden! These well maintained meadows are just perfect for the occasion!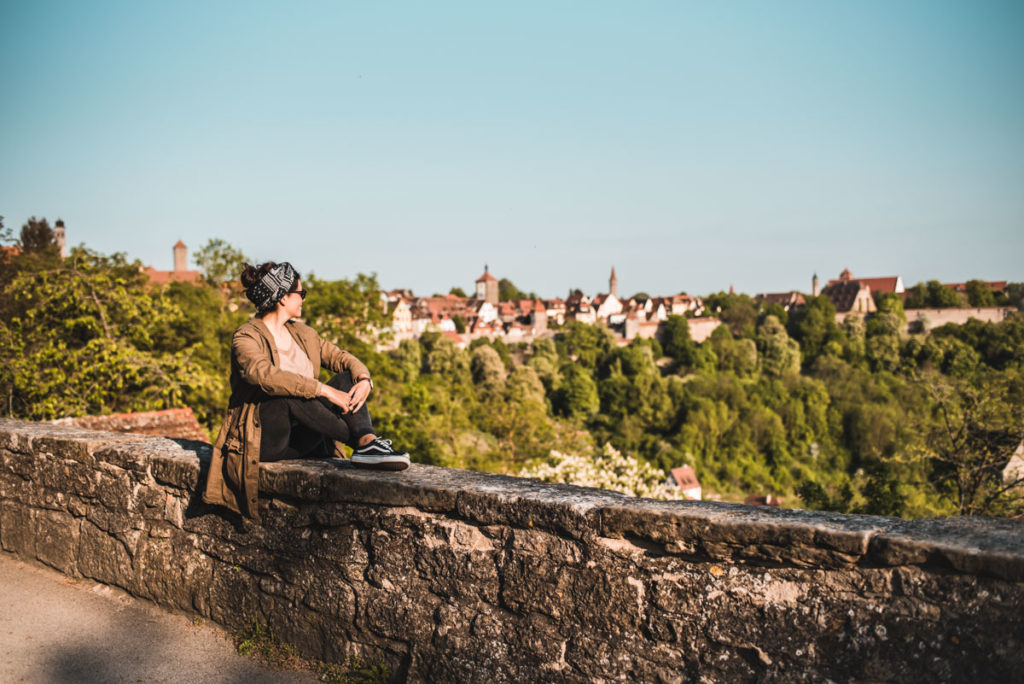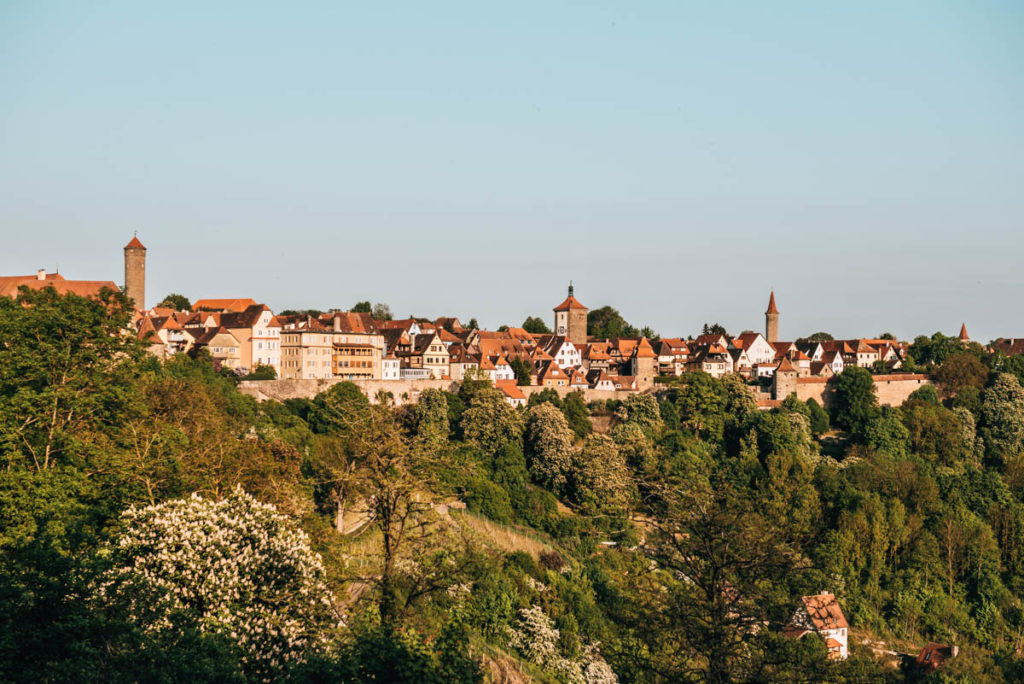 St. Jacob's Church
From a distance, you can already see the two towers dominating the town of Rothenburg ob der Tauber. These two towers, which are actually of different heights, belong to the parish church of St. Jakob. When, at last, you stand before the most famous church in town, you realise how massive it really is and it might also be well worth a look inside, if you want to admire the interior design.
The Plönlein
The most famous photo opportunity in Rothenburg, called the Plönlein, was unfortunately being renovated during our visit (May 2018). The street fork in Unteres Schmiedgasse is rarely deserted, however, we really don't get what all the hype is about because you will find so many pretty places and alleyways in Rothenburg. Of course, this particular corner is, without a doubt, very eye catching to look at.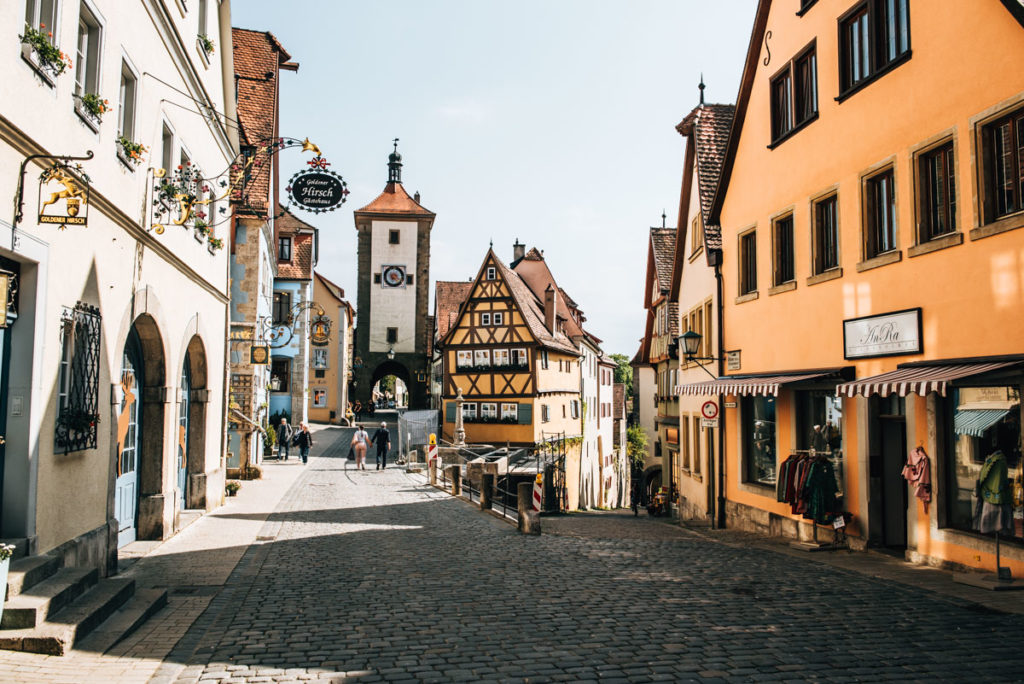 Discover Rothenburg at night
Many centuries ago, the Night Watcher in Rothenburg had the task of keeping watch and protecting the city from fire and other dangers. These days, he gets to roam the beautiful town whilst giving fellow travelling enthusiasts a little evening tour.
Being part of such a night watch tour was a little bizarre and surreal, but highly intriguing and very worthwhile. Within minutes we felt like we'd time travelled back into the past. If you are not too tired in the evening, we would highly recommend you join the guided tour. You can accompany the Night Watcher in Rothenburg every evening during the high season.
Information about the Night Watcher Tour in Rothenburg
Meeting point: Market Square
Price: 7 Euro (no registration required)
Dates/Time in high season: daily at 21:30. Off Season: Between Jan 13th and March 10th, only on Saturdays at 21:30.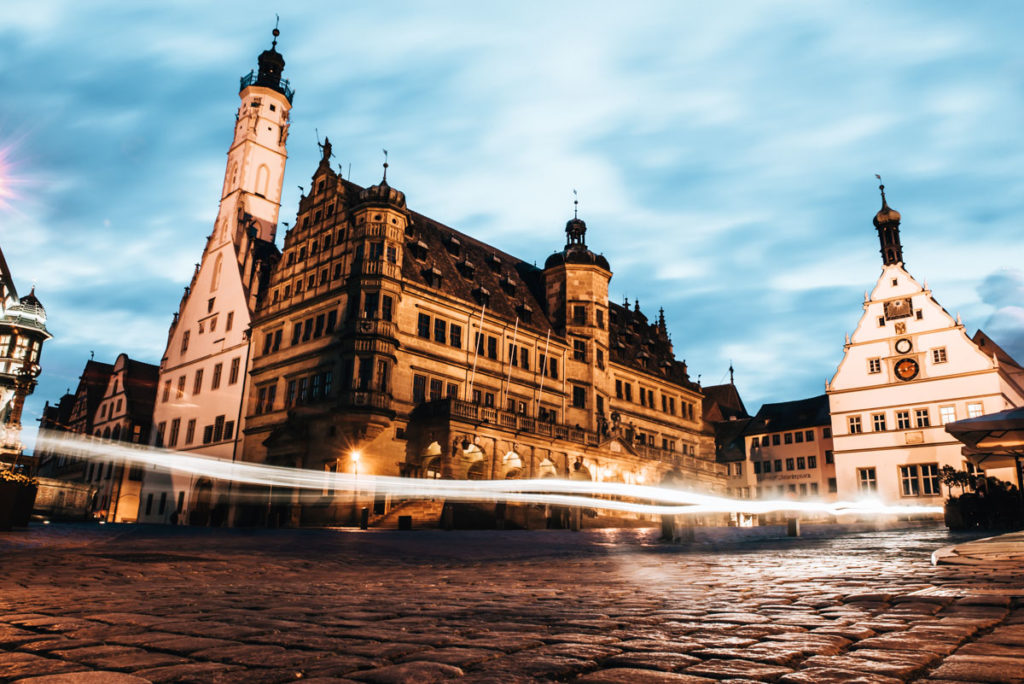 3. Excursion: Bike Tour through the Tauber Valley
If you have enough time, then we would definitely suggest a cycle tour along the Tauber. We only decided to do a short stretch, but even that alone was worth it! We started at the Spitaltor, just behind the Plönlein and after just a few minutes downhill we reached the Tauber Stone Bridge, also known as the Double Bridge. From there you have a great view of the city.
After that we continued upstream along some paved roads, which didn't seem very frequently used. Only a few minutes after the Tauber Bridge you reach the late medieval Toppler Castle, which could easily be missed hiding behind those trees. This particular inhabitance was actually built in the 14th century. Its substructure is composed of stone and the actual building above it is half-timbered. You can actually visit upon request and see the interior of the Toppler Castle, including furniture from the 16th and 17th centuries. Unfortunately, we didn't have enough time for that.
One stop you must absolutely make, is at the restaurant "Unter den Linden". In lower Rothenburg, the restaurants on the banks of the Tauber river are some of the best kept secrets. The Tauber Valley Cycle Path continues further on to Steinbach. There you can swap sides and cycle on the opposite side of the river back towards Rothenburg. It took us roughly two to three hours in total, including breaks and photo stops.
You can also easily walk a shortened round. Behind the Inn "Unter den Linden" leads a relatively steep path back to the old town. It takes a little over an hour to complete this trail.
Tip: rent a bike in Rothenburg
You can rent bikes in Rothenburg from Rad & Tat. The price for a city bike is 14 Euros for the entire day. It is best to book or make a reservation in advance, so that you don't miss out.
Address: Bensenstraße 17, 91541 Rothenburg ob der Tauber
4. Food & Drink in Rothenburg
Snowballs at the Striffler Bakery
In the shop window of every bakery, you'll notice that the specialty of Rothenburg are the delicately rolled snowballs. It's almost impossible to walk through Rothenburg without encountering these snowball delights.
A snowball is essentially made from shortcrust pastry, traditionally dusted with powdered sugar. As you pass by the Striffler Bakery, you can look through a glass window and watch the pastry chefs at work. We managed to tie this treat in with our breakfast, which was perfect!
Address: Untere Schmiedgasse 1, 91541 Rothenburg ob der Tauber
Café Einzigartig
We had the pleasure of enjoying a very delicious breakfast with a unique and special atmosphere. The interior of this "Shabby chic" café come from all over the world and can be purchased. Not only was the breakfast made with love, but absolutely scrumptious. (We still rave about their homemade Mediterranean spread.) So if you are looking for a café with a cozy home like atmosphere, you will feel very comfortable here at this Café – we promise!
Address: Galgengasse 33, 91541 Rothenburg ob der Tauber
Restaurant Eisenhut
On the beautiful terrace of Restaurant Eisenhut, we enjoyed a superb lunch with a very special view out into the distance, surrounded by lots of greenery. The restaurant serves fine-dining style cuisine. The ambiance is classy but still retains a slight down-to-earth vibe. We felt very comfortable – which is also partly due to the incredibly friendly staff. Huge thumbs up from us!
Address: Herrngasse 3-5 / 7, 91541 Rothenburg ob der Tauber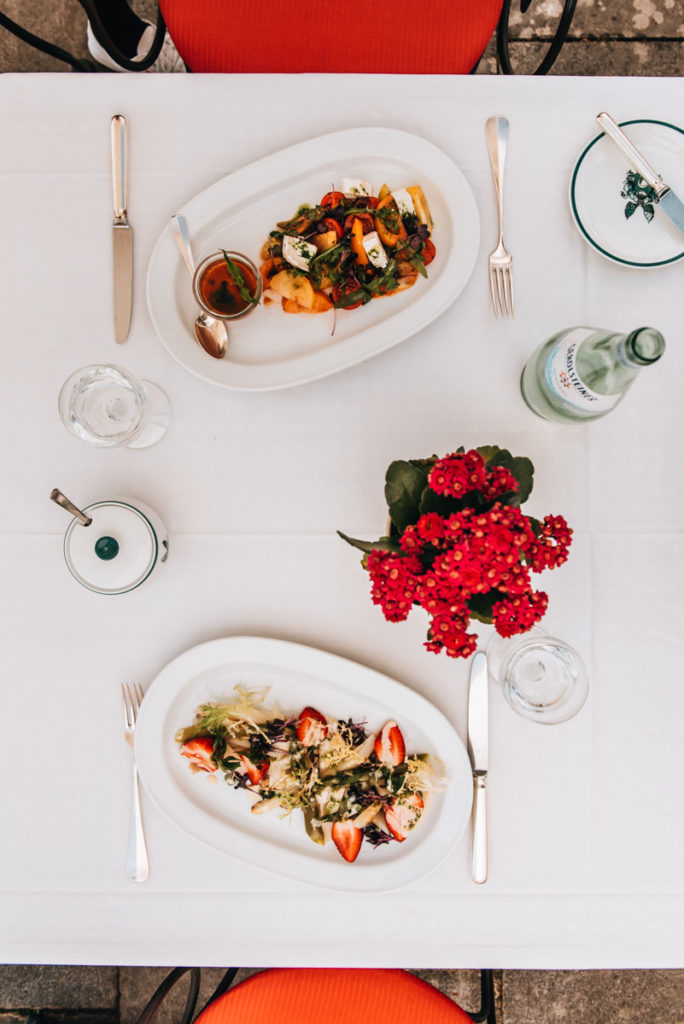 Reichsküchenmeister
The restaurant of this Hotel, which both share the same name, serves traditional cuisine from this region. What was so special about our visit was that we got to dine in the hotel's cellar vaults, more specifically St. Michaels-Keller. There is room for up to six people here and the ambience is really unique. If you want to treat yourself to something special or have a special occasion to celebrate, then this really is the perfect place for it. Our tip: definitely book in advance!
Address: Kirchplatz 8, 91541 Rothenburg ob der Tauber
5. Regional shopping in Rothenburg
Allegra chocolate
We have now become huge chocolate fans, not a big surprise really. The pastry chef Alexander Hildebrand was very accommodating and told us about how he was able to turn his passion and knowledge into opening his own shop here a few years ago. We were very impressed by his handmade chocolates, they were so delicious that we took a small supply with us.
Address: Georgengasse 9, 91541 Rothenburg ob der Tauber
Käthe Wohlfahrt Christmas village
We are not typical Christmas fans, but we could not miss a visit to Käthe Wohlfahrt. This very special Christmas village is hard to put into words. At more than 1,000 square meters, it sparkles at every corner. Somewhere between Christmas baubles, nutcracker and Christmas trees, we found ourselves sliding into the Christmas spirit – in May!
Address: Herrngasse 1, 91541 Rothenburg ob der Tauber
Leyk light houses
When we think of Christmas, we also think of ceramic lighthouses, which have been handmade by Leyk for decades. Just like Allegra, this family-owned company is one of Rothenburg's "handmade" manufacturers. There are two locations in Rothenburg. We visited the following branch:
Address: Untere Schmiedgasse 6, 91541 Rothenburg ob der Tauber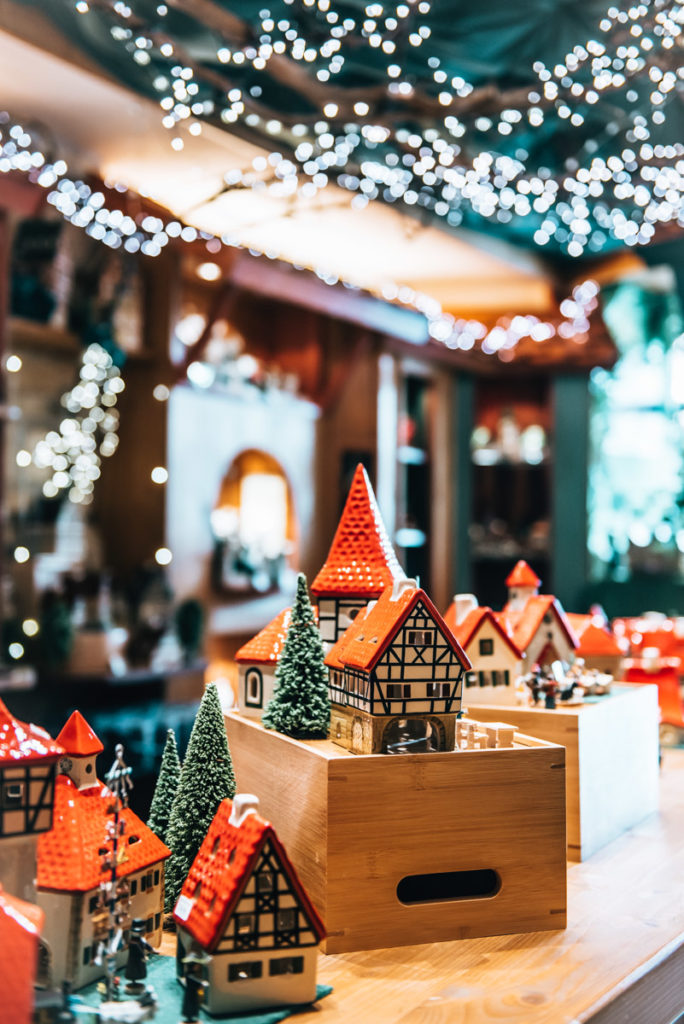 6. Our accommodation in Rothenburg
We can highly recommend our beautiful accommodation in Rothenburg. We stayed for two nights in the guesthouse on Plönlein, which – as the name already reveals – is right around the corner of the picturesque fork.
The guest house is very central, but very quiet. The historic building was completely renovated in 2017 and has three guest rooms. We were on the first floor in the apartment "Marlies". A special highlight of our room was a balcony with a view of the Tauber Valley.
The bed was also really comfortable. Breakfast is not served at the Gästehaus am Plönlein, but that didn't really bother us as there are lots of great breakfast places just around the corner.
Also, the host family don't live in the house, but they are super accommodating. Clear recommendation from us!
You can book the guest house here: Gästehaus am Plönlein
---
Disclaimer: Advertisement
This blog article was written in collaboration with FrankenTourismus. As part of the "14 cities" campaign, we visited a total of 14 Franconian cities in the spring and summer of 2018.
This blog article contains our personal recommendations in the form of so-called affiliate links. If you book or buy something via the links, we will get a small commission. For you, the price doesn't change at all. A million thanks from the both of us!
Have you visited Rothenburg ob der Tauber before? If you have any further recommendations in terms of attractions, activities or restaurants, then leave us a comment!