Valencia – our most spontaneous city destination so far. It was thanks to a super low last minute deal that meant we had less than 24 hours between booking our flights and departure. We were pretty sure from the start that we had made the right choice with Valencia, as sunny Spain is always a favourable tourist destination for us. Whether this holds true for Valencia as well… read on and you will find out!
We were immediately captivated by the pleasant chill vibes of Valencia and its charming old town. In this blog article, we will share with you the highlights of our short trip. Warning: Proceed reading with a very high possibility that we will infect you with our travel bug and you may find yourself planning your own spontaneous trip to Valencia! (Don't say we did not warn you!) In addition, you can find all of our tips and spots for Valencia pinned on a map, right at the end of the article!
1. Valencia at a glance
We never realised before, that Valencia is actually Spain's third largest city. But despite the fact it's also host to roughly 800,000 inhabitants, we found the historic city centre rather pleasant.
Pre-departure, we read somewhere saying that Valencia lacks impressive sights. Bingo! That was the moment we clicked on "book". Why? Because to walk from one "must-see" location hastily to the next was absolutely not what we were after. Instead, we wanted to enjoy the flair of the city.
Retrospectively, we can confirm that in Valencia you will not find a building like the Sagrada Família or a museum like the Museo del Prado. Meaning that the sights in Valencia are not superlative, such as those in Barcelona or Madrid. But what you will find, are countless charming alleyways, a lovely cathedral with superb views from up the bell tower, a fantastic market, and most importantly, the authentic Spanish flair.
Ok we don't want to ruin any dreamy ideas you might have of Valencia, but we do have to confess something… we personally found downtown Valencia way more touristic than we'd expected. Souvenir shops would adjoin one another in a crowded flurry, various artists show their performances and you will see the majority of people with phones and cameras out. The good news is that if you move away from the main hotspots, then you can immerse yourself in authentic Valencia life fairly quickly.
How many days should I plan for Valencia?
We spent three nights in Valencia and considered it perfect for our short trip. Enough time to see some sights, but more importantly time to chill and enjoy the atmosphere in between. However, we should mention that we start our exploring very early in the morning and end quite late. If you prefer to take it easy or if you are travelling with children, we would add an extra night or two.
2. Sights & places of interest in the old town of Valencia
When you arrive in Valencia, take a walk through the historic old town. You can cover all the major attractions here in one day.
The Cathedral of Valencia (Catedral de Santa María de Valencia)
A great first stop for your city walk is the Cathedral of Valencia. It is located in the northern part of the old town. With its mix of different architectural styles, it is no ordinary cathedral.
Around it are some public places from which you have a great view of the cathedral, including the Plaza de la Reina and the Plaza de la Virgen. We found it rather intriguing how the cathedral always looked a little different from different angles.
The cathedral's 63 metre high bell tower, called El Miguelete, can be climbed via a spiral staircase. More info on this climb, which we would highly recommend, will be shared in Chapter 4 of this blog article.
Mercado Central
Not far from the cathedral is the Mercado Central. The market hall is quite eye-catching with its Catalan style architecture and design. The fact that you can find a bustling market inside the hall, is a massive bonus.
A visit to Mercado Central is a must when staying in Valencia. For some, the Mercado Central is too touristy and not very authentic. Of course,  tourists do tend to crowd around here, but for good reason because the market really is worth seeing. Plus we noticed that the market is also rather well frequented by locals.
The further you make your way through the halls, the more exciting it gets: one of our highlights was the fish market at the far end of the hall. We were pretty baffled, at all the variety offered here.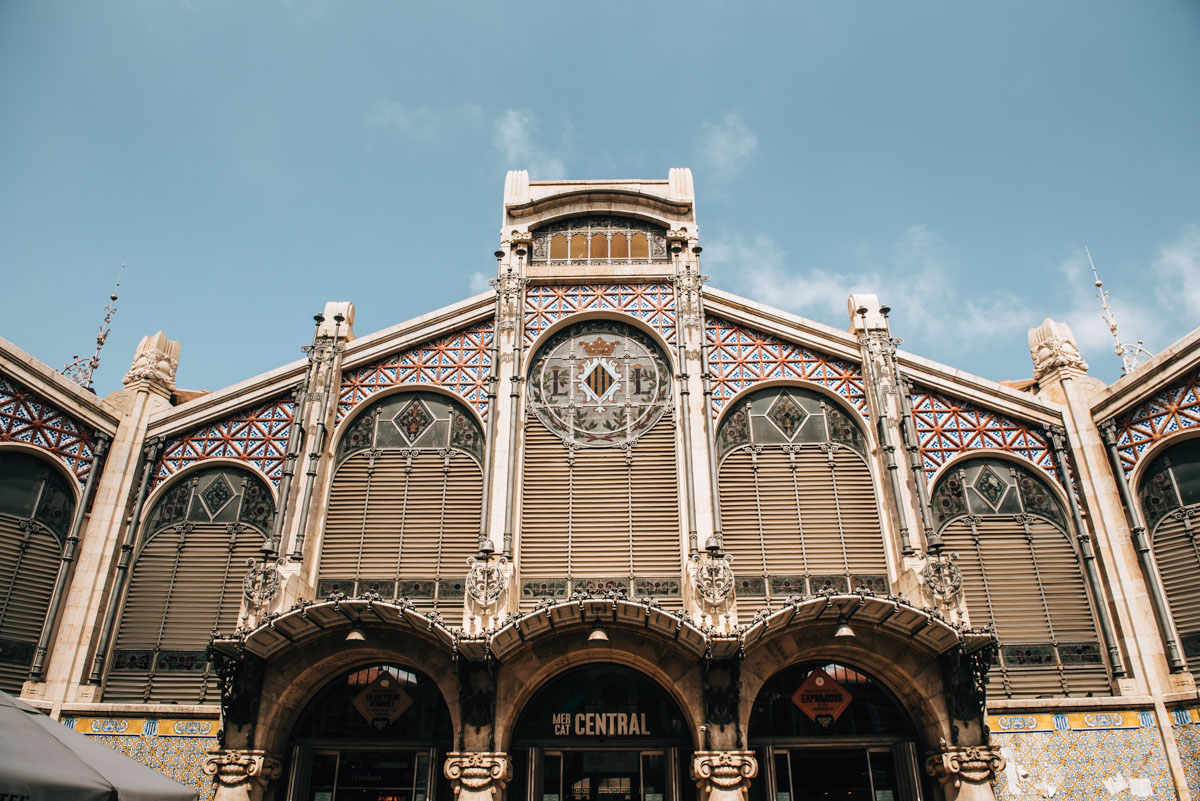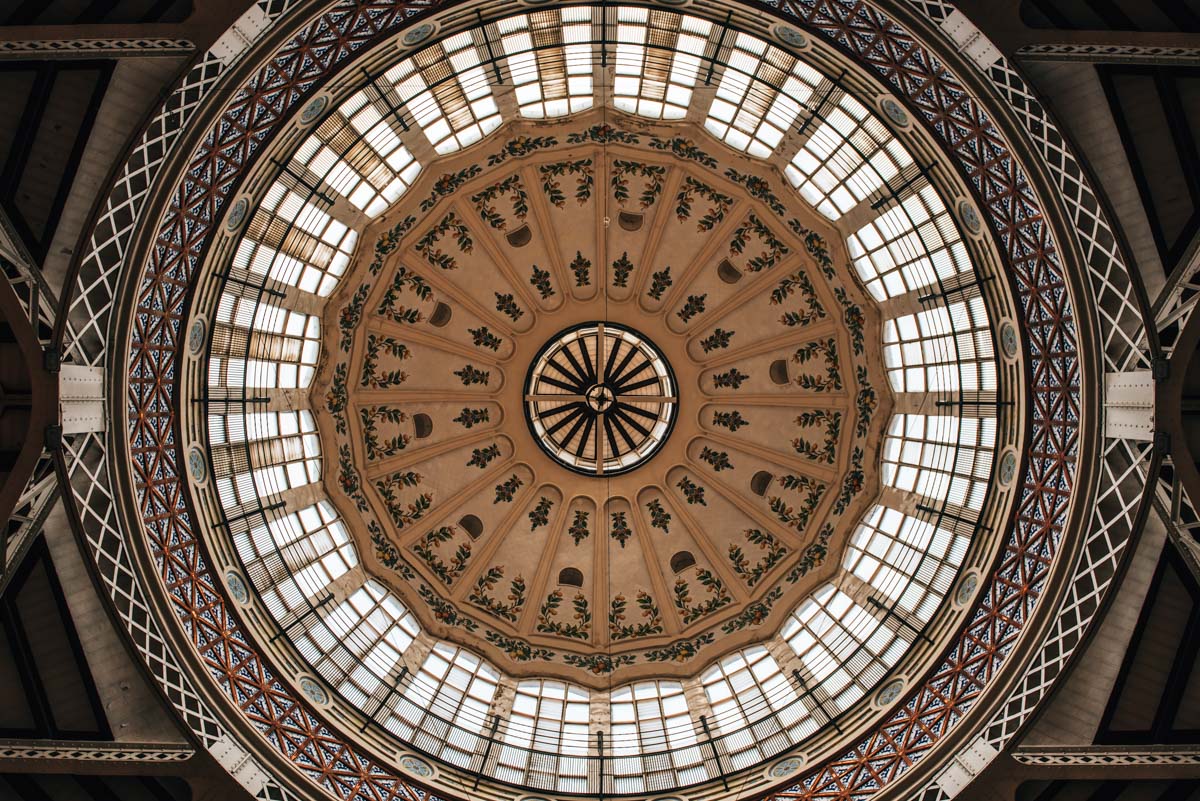 Mercado de Tapinería
Just around the corner from the tourist hotspots, you will find this hidden place. The Mercado de Tapinería is a bit of a secret. It is not a market in a strict sense, but rather a cultural centre with a few small pop-up stores, cafes and restaurants.
We had breakfast here on the square at Bar & Kitchen and really enjoyed the atmosphere. For us, the Mercado de Tapinería is a pleasant and refreshing change in the otherwise touristic old town.


Torre de Serranos
The former medieval city gate, reachable by foot, is located near the northern border of the old down and very much worth seeing. From the outside it is already impressive, but the best is the view from the top looking down to the city. For more information, see Chapter 4 of this blog article.
Admission: 2 euros (free with the Valencia Tourist Card)
Opening hours: 10 am to 7 pm (Monday to Saturday) or 2 pm (Sundays and public holidays)
3. Attractions in other parts of the city
Ruzafa
Ruzafa is what you would call a "hipster district" in Vienna or Berlin. It is located south of the old town. Unlike the tourist centre, you can tell immediately that Ruzafa is very quiet. The restaurants and cafés are quite abundant here in Ruzafa, and boasts some good vintage shops too.
Dulce de Leche
We would highly recommend visiting the café "Dulce de Leche". Its large selection of cakes and pies had us overwhelmed! With some luck, you can even sit outside if weather permits. The only drawback was the coffee quality, which just lacked a bit.
Address: Carrer del Pintor Gisbert 2, Valencia


Ciutat de les Arts i les Ciències
The building complex "City of Arts and Sciences" is, without a doubt, the most futuristic and bizarre attraction in the all of Valencia. Honestly, we weren't quite sure, what to make of it. But this modern landmark is still worth seeing in our opinion.
The individual buildings house different museums. The most famous among them is L'Oceanogràfic. It's the largest aquarium in Europe and we didn't end up going! But main point is, if you're travelling with kids, then you're in good hands here.
How do I get to Ciutat de les Arts i les Ciències?
From the northern part of the old town (along the drained river bed) we took bus number 95. It stops at several stations along the Ciutat de les Arts i les Ciències – depending on which section you want to go to. A one-way ticket costs 1.5 euros, which you pay directly to the bus driver.
The beach of Valencia: Playa de la Malvarrosa
Bonus when the city also happens to be by the sea! The beach of Valencia is a bit out of town, but no big deal because you can get there pretty quickly with buses.
We visited the city beach called Playa de la Malvarrosa. The beach is miles long and very wide. On hot summer days, you can imagine the beach completely crowded with people. Luckily, when we visited, it was rather chill and quiet.
You'll find restaurants lined up, one after the next, along the beach promenade. If you have time, then rent a bike as it's a practical way to explore the promenade.
How do I get to Playa de la Malvorrosa?
It is best to combine your visit to the beach with a trip to the Ciutat de les Arts i les Ciències – the latter is already halfway to the beach. At the Ciutat de les Arts i les Ciències, you can easily get on the number 95 bus. Hop off at the "Marcos Sopena" stop, from there it's just a short walk to the beach. The trip costs 1.5 euros and you pay directly to the bus driver.
Former riverbed of the Turia
Water no longer flows down this riverbed and hasn't since the 70's. After multiple devastating floods, the government decided to divert the Rio Turia to end potential flooding in Valencia for good. Since then, the riverbed has been converted into a recreational area.
The kilometre-long green belt runs north along the old town to the Ciutat de les Arts i les Ciències. You can go for a walk here or explore the former riverbed by bike, which is very popular.
4. Views over Valencia
We still find that the most impressive views of a city, is from above. So we searched up some of the best and highest viewpoints in Valencia.
El Miguelete
The most famous view point in Valencia is located on the bell tower of the cathedral. We won't lie, climbing 207 steps on a winding spiral staircase gradually becoming narrower, does take your breath away… and quite literally! Because from the top you have a 360-degree view over Valencia and believe us when we say it's so worth the stairs!
Con: The view is guarded with a metal fence for safety reasons, so you can't really take great photos. On top of that, there were crowds of people on the platform during our visit.
By the way, if your visit happens to fall on the hour's dot, then you can put your hands in position and give the bell a chime. The ring is very loud and ears should be covered to avoid any hearing damages.
Admission: 2 euros
Opening hours: in the summer daily 10am to 7:30pm (shortened in winter)
Torre de Santa Catalina
A beautiful panoramic view of Valencia and its cathedral can be found at the Torre de Santa Catalina, which belongs to the same named church. 129 steps to overcome, before you can finally enjoy the view.
The Torre St. Catalina is much less visited than the observation deck of the cathedral. The biggest and most obvious advantage is that you have the cathedral in view if you are here.
Admission: 2 euros
Opening hours: 11 am to 1 pm (Monday to Saturday)


Torres de Serranos
The view over Valencia from this medieval city gate is beautiful, and the ascent takes much less time and effort than the Cathedral's bell tower (El Miguelete), plus the view is just as impressive. Unfortunately, you can't come here for sunset, as the Torre de Serranos closes at 7pm or on Sunday at 2pm even.
Admission: 2 euros (free with the Valencia Card)
Opening hours: 10 am to 7 pm (Monday to Saturday) or 2 pm (Sundays and public holidays)
5. Food and Drink: Restaurants & Cafes in Valencia
Lo de Ponxe and Kinto Pino
Finding creative, vegetarian food in Spain is not so easy, but the Lo de Ponxe stands out on its own. If you are vegetarian or vegan, then this tiny restaurant is a must. We did a lot of research and then stumbled on this gem by accident.
No way, could we have ever expected such delicious & varied dishes, including vegetarian and vegan tapas. The menu changes regularly, but is exclusively in Spanish, as the very friendly owner doesn't speak English. So naturally, we turned to Google for translation aid.
It seems that the Lo de Ponxe has quite a regular customer base, as most of the guests were all very warmly embraced. Just note that for dinner, don't arrive before 9pm (we speak from experience) as the Spanish people usually start dinner around 9:30-10pm. For lunch, they offer a variety of dishes which change daily.
Also note that patience is required because it may take a little longer before the ordered tapas are served. Just relax, chill and enjoy the bustling vibes. From us, it's a clear thumbs up – we would come back any time and can highly recommend this place to you!
Address: Plaza Rojas Clemente 5, Valencia (about 15 minutes walk from the Cathedral)


Horchatería Santa Catalina
Throughout Valencia, you will come across a particular drink: Horchata (aka. Orxata). The soft drink is made from Tiger Nuts and sugar.
The most famous and definitely the most touristic cafe to taste Horchata, is the very pretty Horchatería Santa Catalina. It is located in a small alley near the Plaza de la Reina and a glass of Horchata will cost you about 3 euros here. The taste takes a bit of getting used to, but since you're in Valencia, you should definitely try the "national drink". Incidentally, the Horchata is traditionally served with "fartons" – a long, sweet pastry.
Don't worry, if the Horchatería Santa Catalina is too busy, you can try this drink almost anywhere in Valencia.
Address: Plaza de Santa Caterina 6, Valencia (just around the corner from the cathedral)


Retrogusto
The best coffee in Valencia for us, was at Retrogusto. This small coffee shop is located at a market stand in the Mercado Central.
When you enter the Mercado Central via the main entrance, the Retrogusto is on the left in the second row.
Tyris on tap
The Spanish craft beer brewery "Tyris" has its own shop in downtown Valencia, where you can taste all their beers. During our visit, we noticed that the customers were almost exclusively young locals. Here, it is customary to order some tapas along with your beer. The place is not as chic as other corners in Valencia, but we still liked the atmosphere.
Address: Carrer de la Taula de Canvis 6, Valencia


6. Our hotel tip for Valencia
We spent three nights at the MD Design Hotel, which is located in the north of the old town. The rooms are stylish, but really small. Of course, we did book the cheapest standard room. Plus, since we spend most of our time in the city exploring anyway, the hotel location was more important than the size of the room.
The hotel has a very ideal location, with the cathedral just a 5mins walk away. They don't offer breakfast, which didn't really bother us, as we wanted to try a variety of breakfast bars here anyway. A big highlight for this hotel is its small roof terrace. We enjoyed a beautiful sunset there with delicious "empanadas" (Spanish dumplings).
You can view and book the hotel here: MD Design Hotel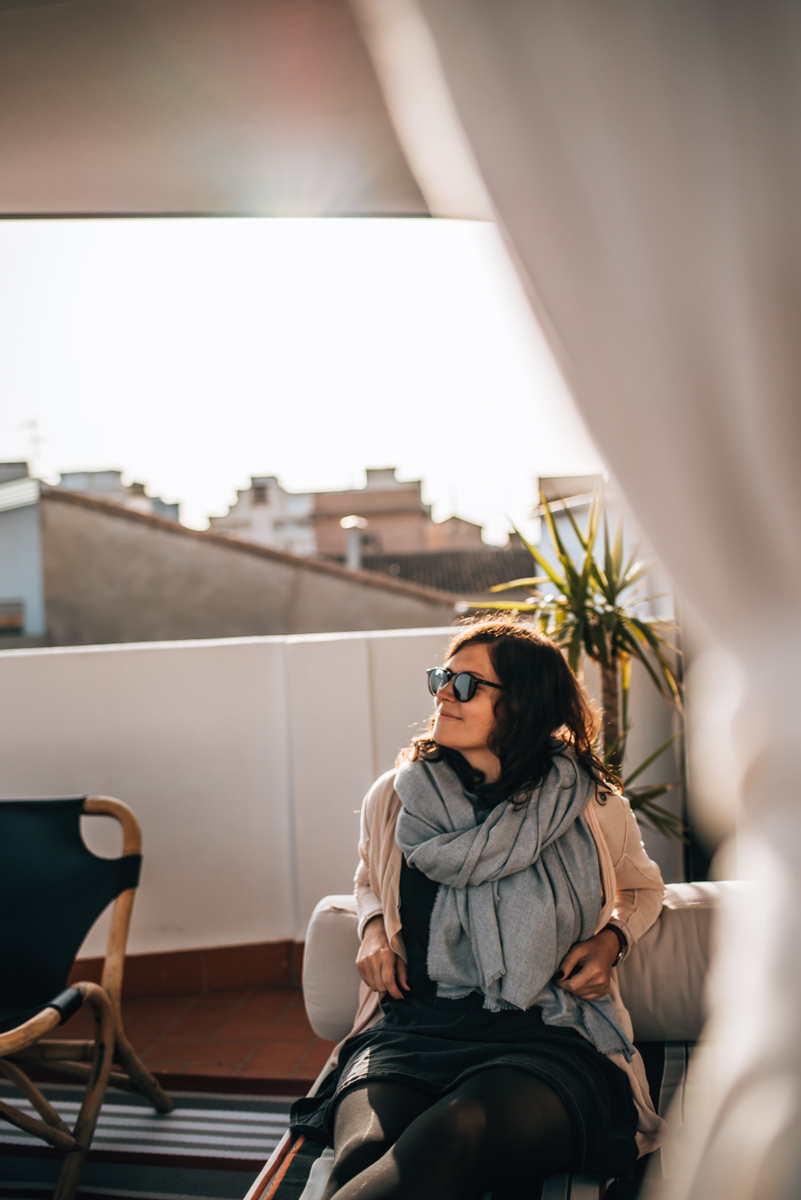 7. Arrival and transportation
The majority of visitors will probably arrive at Valencia airport, which is unusually close to the city. By taxi you only need about 15 minutes to the city centre. A taxi ride will cost you about 25 euros (fare is about 20 euros but plus additional airport surcharge when driving from the airport).
Cheaper option is to travel by metro: line 3 (red) and 5 (green) bring you to the old town and journey takes around 25 minutes. The Valencia Tourist Card actually includes the ride from the airport.
In the old town you can easily reach most attractions on foot. For destinations that are a bit outside, the public bus is ideal. Travelling by bus costs 1.5 euros each (regardless of the distance). With the Valencia Tourist Card you can also take the bus for free.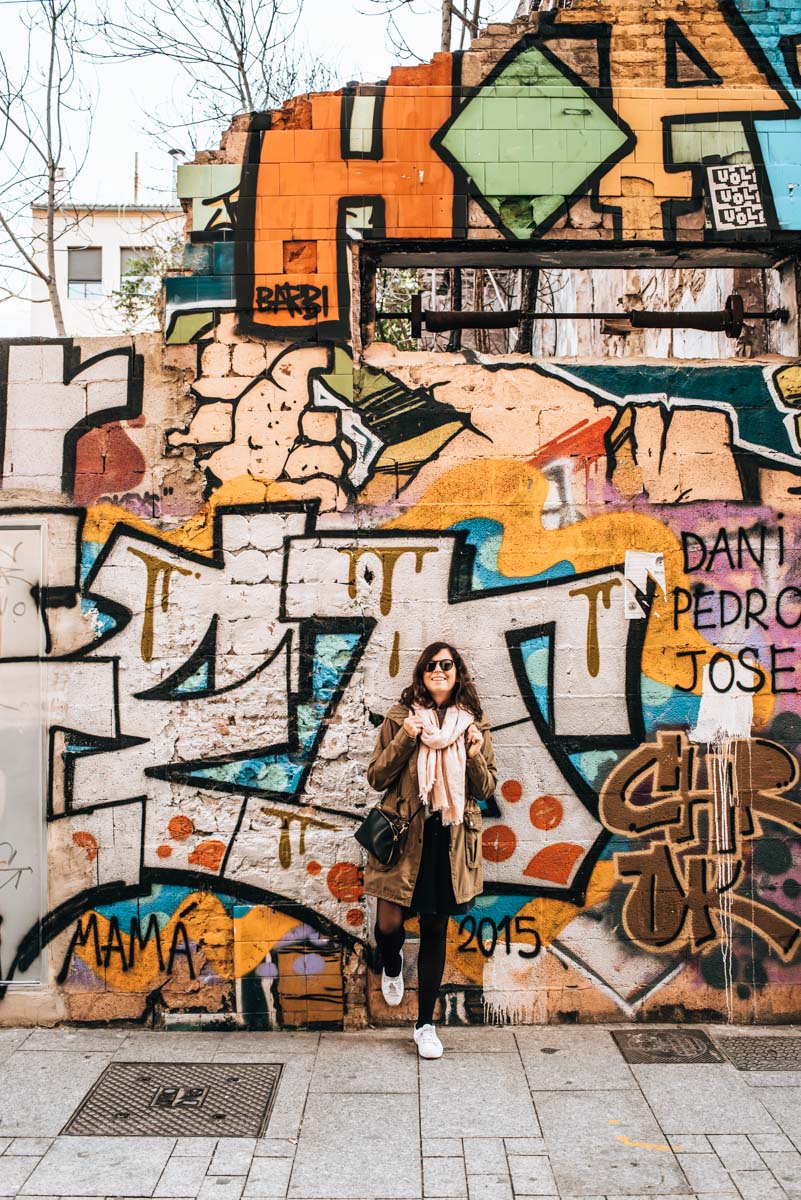 Valencia Tourist Card
If you want to visit multiple sights, then the purchase of the Valencia Tourist Card might be worthwhile. The card is available for 24, 48 or 72 hours and costs between 15 and 25 euros. With the card you have free admission to a few attractions and can use the public transport for free. Also included is the trip to / from the airport by metro.
Here you can buy the ticket in advance: Valencia Tourist Card
---
Transparency: This blog article contains our personal recommendations in the form of so-called affiliate links. If you book or buy something via the links, we will get a small commission. For you, this does not change the price. Cool thing, right? Many thanks from the both of us!
Have you been to Valencia? Did you also like the flair of the city like we did? Or do you have any more tips for Valencia? We welcome your comments and look forward to hearing from you!