Ciao Venice, the most romantic city of all the cities in Italy! We have to admit: when it comes to Venice and us – it was more like love at second sight. Because Venice is not only romantic, it is also one thing above all: full! And touristy! Especially during the main season.
But unsurprisingly – Venice simply needs to be seen to be believed. The flair of this lagoon city is indescribable. Water everywhere you look, artistic Venetian facades, postcard motifs on every corner and tremendous sights to see (especially St Mark's Basilica). Venice is an amazing city!
We have compiled a detailed Venice travel guide with all of our tips for the best sights, so that you can plan your trip to perfection. And on top of that, as always, we also provide a few great culinary tips as well as our hotel tip.
1. Overview of Tips for Venice: Initial Info & FAQs
Exciting facts about Venice at a glance
Venice is a lagoon city and was built on more than 100 islands, which are connected with one another via around 400 bridges.
Countless canals flow through Venice – some very small, some on the other hand (such as the famous Canal Grande) are quite wide.
There are no cars in Venice. Really none at all, zero! There is a bridge connecting Venice to the mainland, but right afterwards you'll be met with: please park your car. In Venice you get around either on foot or using the Vaporetto (=water bus).
All the water can pose great danger: acqua alta, meaning "high water", is the winter natural event that regularly causes parts of Venice to be flooded. The consequences of climate change and resulting sea level rise are devastating for Venice. Science predicts that it is only a matter of time before Venice will skink.
Is Venice overcrowded?
YES, Venice is without a doubt, hopelessly overcrowded. You just can't deny it. There is barley any other city in Europe that has become as overcome by mass tourism in the past decade than Venice.
This is not least due to the monstrous giant cruises, which were still allowed to dock at St. Mark's square up until 2021. With thousands of people streaming into the historic old town all at once and also spending hardly any money – so exactly the opposite of sustainable tourism.
The good news: The pandemic has put a damper on this questionable development. Even though Venice is still as incredibly popular as before, we experienced the city as pleasantly quiet in December 2021.
A few tips to experience Venice as comfortably as possible:
Definitely avoid the main season. That includes not only the summer months but also other holidays, such as easter. Venice is also bursting at the seams during carnival. We very distinctly recommend the off-season – particularly during winter.
Also avoid the weekend. Venice is much less busy during the week.
If you would like to experience the most famous sights, such as St Mark's square, as empty as possible, then we also recommend you not visit Venice as a day tourist. You can enjoy Venice without the crowds in the early morning hours and at sunset.
How many days should I plan for Venice?
Venice is comparatively small – both in terms of area and in terms of the number of main attractions. It is more the special flair of Venice that makes the city so incredible.
If you stay two nights, you can see easily explore all the main sights in Venice. If you also want to explore one or two museums or take a day trip (e.g. to Burano) then we recommend staying three or four nights.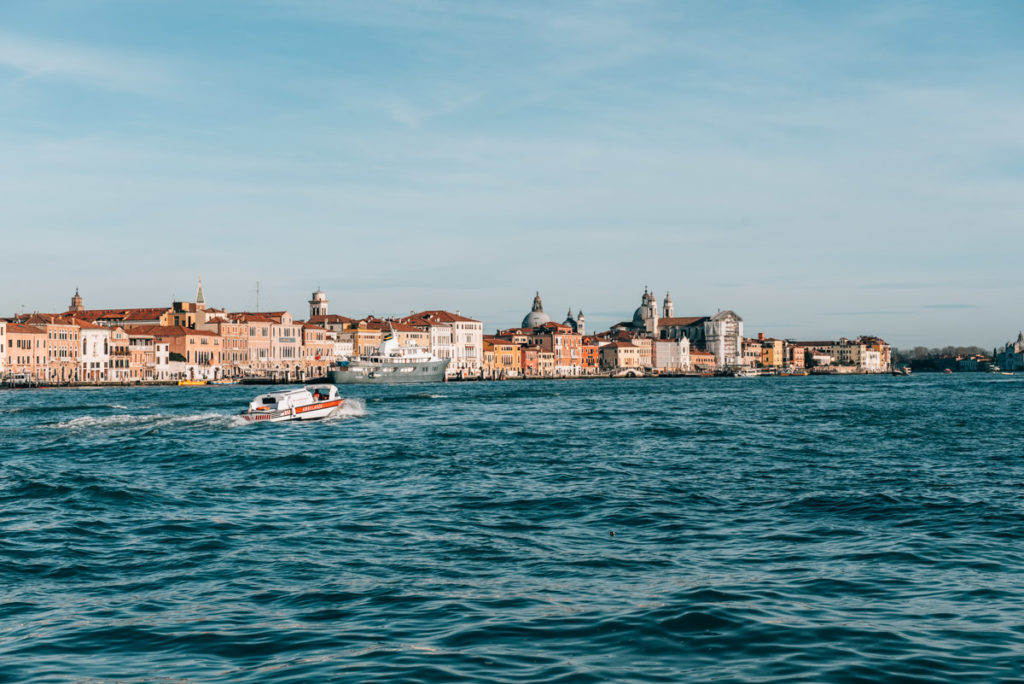 2. Venice Travel Guide: The Top Things to Do and See
St Mark's Square (Piazza San Marco)
There is no avoiding the most famous square in Venice during your holiday. The dimensions of St Mark's Square are gigantic: It is 175 metres long and 82 metres wide. You only realise just how spacious St Mark's Square is when you're standing in front of it.
Most of Venice's main buildings are nestled around the outskirts of St. Mark's Square. This includes the following sights:
St Mark's Basilica (= Basilica Di San Marco), Venice's central cathedral
St Mark's Campanile (= Campanile di San Marco), the cathedral's free-standing bell tower
Doge's Palace (= Palazzo Ducale)
Clock tower (= Torre dell'Orologio)
St Mark's Square opens up towards the water. The morning hours in particular are simply magical. And to give you a tip: if you come at sunset, it is also possible to catch St Mark's Square free of the crowds.
St Mark's Basilica (Basilica Di San Marco)
St Mark's Basilica is the building in the centre of St Mark's Square and undoubtedly the most striking church in Venice. It is a true architectural masterpiece both inside and out and will immediately stun you.
The first thing to catch your eye are the five mighty domes and ornately decorated façades. The architecture was influenced by the Byzantine architectural style. And we promise you: we have never seen any church quite like it.
Of course, you can also visit the interior of St Mark's Basilica (which we would highly recommend). Entrance into the church interior is free, an extra entrance fee applies to all the additional sights inside the basilica.
Our tip: there is usually a large waiting line in front of the basilica, especially during the main season. This wasn't the case when we visited in December, but it's still best to get there early, or alternatively in the late afternoon. Also be sure to dress appropriately, i.e. your shoulders covered, and no shorts or short skirts.
Sights inside St Mark's Basilica
Campanile: The astounding, free-standing bell tower of St Mark's Basilica. We reveal more info about this in the chapter about the most beautiful viewpoints in Venice.
Museo di San Marco: The basilica's museum, which displays several artistic treasures the of the basilica. You also get to the basilica's terrace through the museum.
Pala d'Oro: The precious altarpiece made of gold and precious stones, which is more of interest for art connoisseurs.
Tesoro di San Marco: the basilica's treasure.
We decided (in addition to visiting the bell tower) to visit the Museo di San Marco, the basilica museum, and for good reason. We really wanted to enjoy the view of St Mark's Square and the Doge's Palace from the terrace of the cathedral. During your tour you will also get an impressive birds-eye-view of the nave of the cathedral.
Opening times & additional info: Basilica di San Marco (official website)
Doge's Palace (Palazzo Ducale)
The next top thing to see in Venice awaits you right beside St Mark's Basilica: Doge's Palace. This massive, pastel-coloured building is a Gothic architectural masterpiece and an incredible sight to behold.
Doge's palace was once the seat of the Doge (i.e. the head of the state of Venice) and therefore also the centre of power in Venice. The building is equally as pompous – both inside and out.
If you have enough time, you should therefore also visit the rooms inside Doge's Palace. You dive right into Venetian history on a tour through the huge state rooms.
Our tip: Doge's Palace is among the most meaningful sights in Venice and draws in the crowds like magic. We recommend you book your ticket in advance during the main season.
Tickets, opening times & further info: Doge's Palace (official website)
Bridge of Sighs (Ponte dei Sospiri)
A rather inconspicuous sight awaits you right beside Doge's Palace: the Bridge of Sighs. This eleven metre long, covered bridge, made of limestone connects Doge's Palace with with the former prison (Prigioni Nuove) and spans the picturesque Rio di Palazzo canal.
The bridge's unusual name is no coincidence: as legend has it, the prisoners on their way to prison let out a last sigh overlooking the Venetian lagoon.
You get the best view of the Bridge of Sights from the Ponte della Paglia. The photo spot is hard to miss, because it is located directly on the water at the lively promenade.
Rialto Bridge (Ponte di Rialto) at the Grand Canal
We present: The most famous bridge in Venice and one of the city's main attractions. The beautiful Rialto Bridge spans over the Grand Canal – the main canal in Venice, which snakes its way through the old town in the shape of an S.
Taking a stroll over the Rialto Bridge is a must-do while visiting Venice. The iconic view over the Grand Canal awaits you from above.
The Rialto Bridge is always well-visited. There is always a dense crowd on the bridge during the main season, which unfortunately means the a bit of the special charm is lost. If you would like to catch the Rialto Bridge free from people, you can try your luck in the early morning hours.
Ponte dell'Accademia
Hello Venice postcard picture! The Ponte dell'Accademia to the south of Venice is not nearly as famous as the Rialto Bridge, but does offer you one of the most famous photo opportunities in Venice. From the Ponte dell'Accademia you can enjoy a fantastic view of the Grand Canal and the imposing Santa Maria della Salute church in the background.
Because the bridge was on the way to our hotel, we were there at many different times of day – you can take especially great photos here in the morning and evening hours.
The bridge itself is quite unusual with its striking wood and steel construction, but is definitely not one of the most impressive sights in Venice. The highlight here is clearly the view.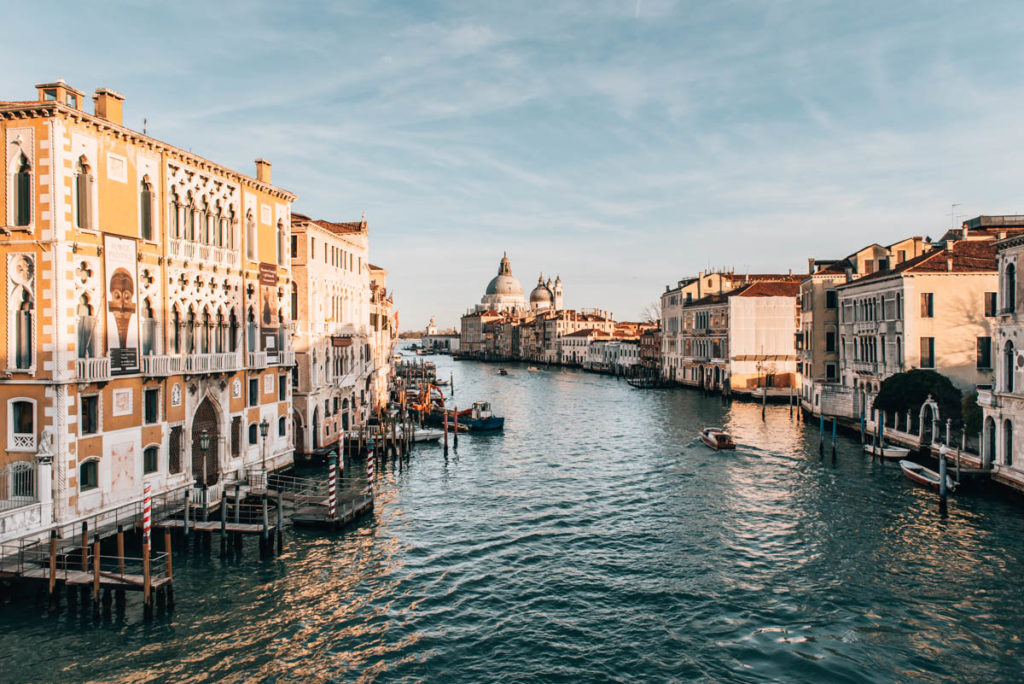 3. Additional Things to See in Venice if you Have More Time
Gondola ride through Venice
Not a classic sight, but still, one of the greatest highlights for many is a gondola ride through Venice. The singing gondoliers are as much of a part of Venice as the Eiffel tower is to Paris. Sailing on a historic gondola through Venice's canals is definitely an experience that will stay with you.
The problem with it: a gondola ride is comparatively expensive. You have to allow around 100 to 140 euros (per gondola, not per person) for a private gondola ride. The trip takes about half an hour. The prices are often higher at sunset.
It is cheaper to share the gondola with other people. However, a bit of the charm is lost somehow. You can book the gondola ride on just about every corner in Venice.
Our conclusion: we really enjoyed our private gondola ride, but wouldn't necessarily say that you shouldn't leave Venice without taking a gondola ride.
Dorsoduro District
Venice is made up of six districts. Most of the sights are located in the San Marco district. But if you have enough time, then we definitely recommend you also go a little off the beaten track. Here we can highly recommend Dorsoduro District.
Dorsoduro is Venice's university district. You will notice just how popular Dorsoduro is with young people at the latest when you go to Campo Santa Margherita for an Aperitivo. There are countless bars and restaurants nestled in this spacious square, which are well-frequented, especially in the evening hours.
If you want to experience the authentic Venice, Dorsoduro is the right place. You can take a very relaxing stroll along the canals and enjoy the Venetian flair in peace. A few more concrete tips for Dorsoduro:
Have an aperitivo in Osteria Al Squero: here they have Venetian tapas ("Cicchetti") with a view of the canal and an old gondola shipping yard.
Enjoy sweets from Dal Nono Colussi bakery: Venetian specialties have been baked in this tiny authentic "Pasticceria" for over 60 years.
Marvel at the view from the Ponte dell'Accademia: This bridge crosses the Grand Canal and connects Dorsoduro with the San Marco district.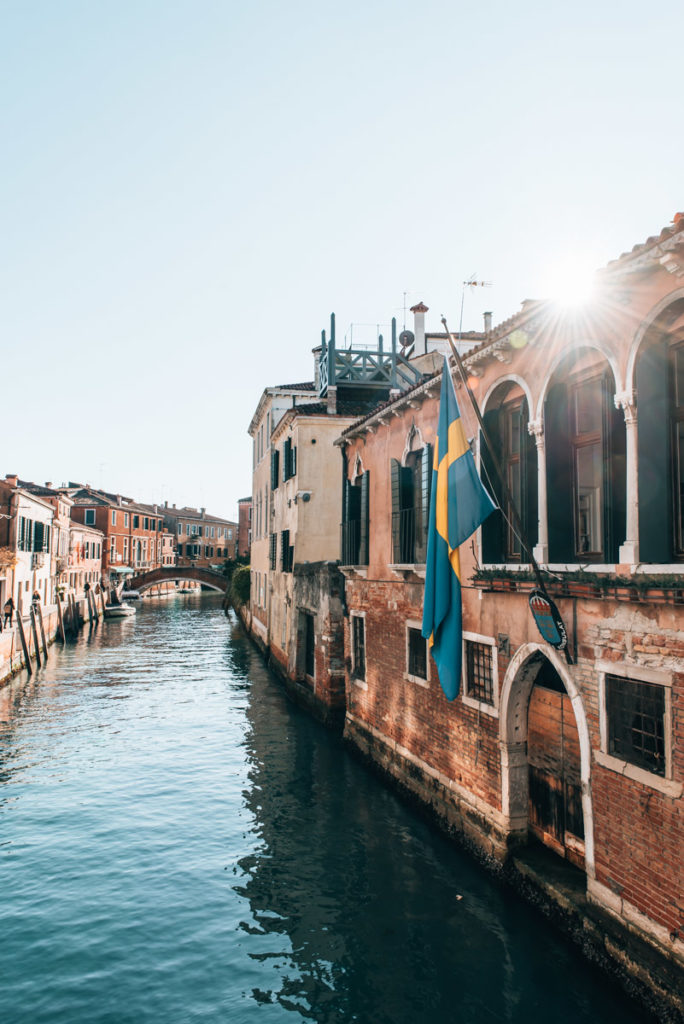 Libreria Acqua Alta
The sign in front of the entrance reads: "The most beautiful book shop in the world" . Not so modest, but one thing is certain: this book shop is definitely one of the most unusual sights in Venice.
The charm is very unique and original: every last corner stacked full, an old gondola as a book shelf, several cats and of course not to forget the small book terrace at the back of the store, which has blossomed into one of the most beloved Instagram photo spots in Venice.
The Libreria Acqua Alta is definitely not a secret any more. Even when we were here in December it was a lot more busy than expected. Personally, we find the hype around book store a little exaggerated, but if you have enough time, then you should definitely stop by.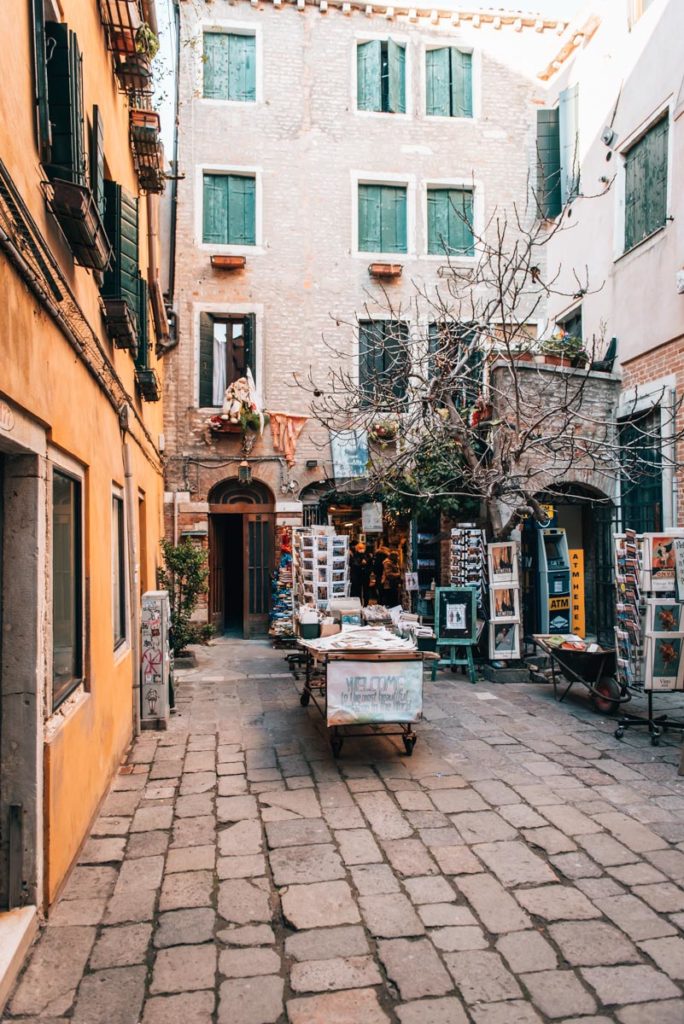 Santa Maria della Salute church
The baroque church, Santa Maria della Salute, characterises Venice's cityscape. In addition to being one of the most significant churches, it is definitely also one of the most photogenic sights in Venice.
You can get a good view of the church from many points around the city, such as from the Ponte dell'Accademia, from St Mark's Square or of course from the top of St Mark's Campanile. If you have enough time, then we also recommend viewing the church up close.
The church is located in the Dorsoduro district, right on the water – more precisely at the entrance to the Grand Canal. You can visit it for free, however the church interior is much less magnificent than St Mark's Basilica.
4. Venice from above: The Best Viewpoints
Rooftop terrace of the T Fondaco dei Tedeschi shopping centre
A small insider tip for the most beautiful viewpoints in Venice is the rooftop terrace of the popular shopping centre, T Fondaco dei Tedeschi. Located directly above the Rialto Bridge, it gives you a fantastic 360 degree view over Venice.
The best part: entry is completely free, you just need to make a reservation for your desired time slot. We decided to visit shortly before sunset and can only warmly recommend it.
Reservations & further information: Rooftop Terrace T Fondaco dei Tedeschi (official website)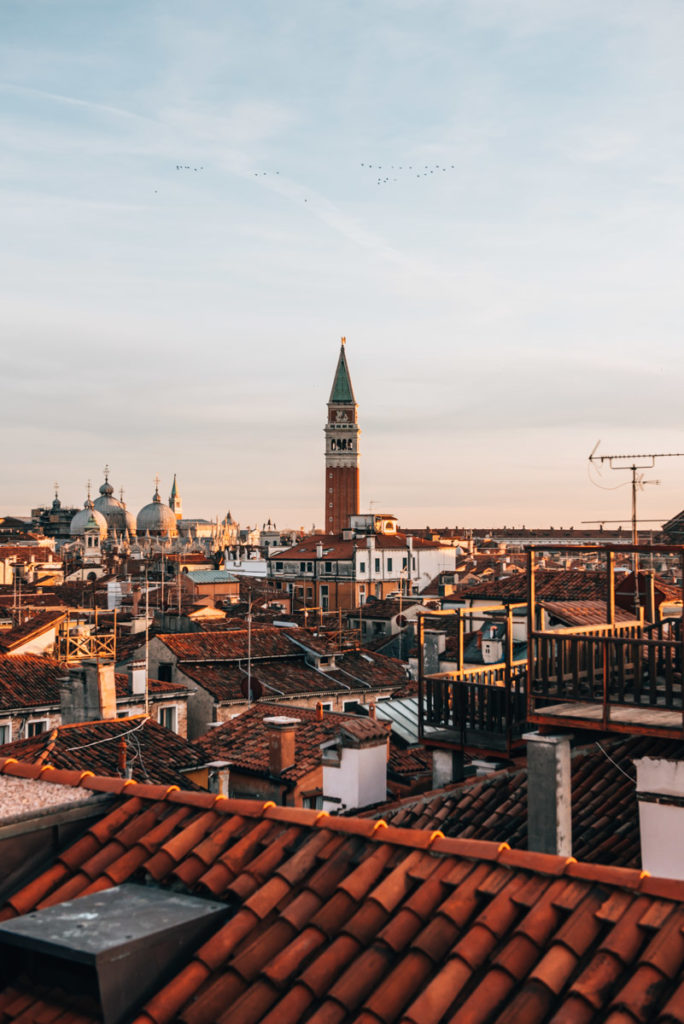 Campanile di San Marco (St Mark's Tower)
The free-standing bell tower of St Mark's Basilica is the highest building in Venice. At the top of the almost 100 metre high St Mark's Campanile, you can find of the most famous and undoubtedly also the most spectacular viewpoint in the city.
The viewing platform gives you a dizzying view back towards St Mark's square – what a perspective – wow! You get a view out in all directions from up here.
An additional bonus: The safety net has a nice, large mesh, so you can take photos through it without a problem. Unlike other similar towers, you reach the viewing platform quite comfortably via an elevator.
Tickets: Available on site
Opening times & further info: Basilica di San Marco (official website)
Spiral staircase of Palazzo Contarini del Bovolo
Less spectacular, but still worth seeing, is the viewpoint from the highest floor of the Palazzo Contarini del Bovolo. This gothic, hidden palace is quite an eye-catcher with its striking façade.
You can take a look at the palace for free from the outside. If you would like to climb up the iconicspiral stone staircase, you need to have an entry ticket. Once you reach the top, a lovely view over Venice's rooftop landscape awaits you.
One downside: We find the entrance fee of 7 euros per person a little too high for what is on offer. (The entrance fee also includes a small, but not so noteworthy, art exhibition. The highlight is definitely the stairs and the view.) Nevertheless, we really enjoyed it.
Opening times & further info: Palazzo Contarini del Bovolo (official website)
5. Eating & Drinking: Culinary Travel Guide for Venice
The bad news first: The cuisine on offer in Venice is unfortunately very, very touristy. You will notice at the latest when you're standing in St Mark's Square and feel like having a coffee. 6.50 euros (!) for an espresso – not us! You definitely need to search a little to find great restaurants in Venice.
Before we provide you with a few culinary tips, we will reveal a few important tips for your trip to Venice:
If you take a seat at a table in a restaurant in Venice and want to be served, a "coperto", i.e. a cover charge, will be added. Often it is just 1 or 2 euros per person, but sometimes they definitely also ask an unreasonable price. Often a service fee will also come on top of the coperto.
As in the rest of Italy, the aperitivo is sacred to the locals. You meet early evening before dinner in the city's wine bars ("Bàcari") and ring in the end of the day. Cicchetti are served alongside the drink, which are small appetisers, similar to tapas in Spain.
We definitely recommend making a reservation for the evening – especially during the main season.
Restaurant & Café recommendations for Venice
Farini: Perfect for a very good pizza-to-go! This bakery chain is in several locations in Venice – including near the Rialto Bridge on the way to St Mark's Square. We can also recommend Farini for a quick coffee. The pistachio croissant is delicious!
La Tecia Vegana: This tip is especially for everyone who eats vegan. They serve really great Italian food in this restaurant – and exclusively organic and vegan. If you have also already had enough pizza and pasta, you are in the right place. Definitely make a reservation, so that you don't have to walk to the restaurant for nothing.
Osteria Al Squero: This authentic Osteria is a small insider tip in the Dorsoduro district. They serve so-called Cicchetti, these are small appetisers (usually breads with different toppings). The best way to do this is with an aperol spritz. The Osteria is located directly on the canal, so you can enjoy the appetisers outside with a view of the water.
Dal Nono Colussi: Sweet treats baked according to family recipes have been served in this tiny "Pasticceria" for over 60 years. Among other things, you can buy "fugassa veneziana" here – a specialty of Venice, similar to Panettone. Just as a tip, if you are searching for a special culinary souvenir.
Restaurants at Campo Santa Margherita: Many bars and restaurants can be found at this spacious square in the Dorsoduro district, away from the usual tourist paths. We went to the restaurant Bakarò and found it (despite having few vegetarian options) surprisingly good.
Best ice cream in Venice: As in the rest of Italy, there are also countless ice cream parlours in Venice. Included in the most popular are Gelato di Natura and Gelatoteca Suso.
6. Practical Tips for Getting to Venice & Transport
Getting there: How do I get to Venice?
Arriving by car
Venice is located in northern Italy, more precisely on the east coast of the Venice region. Those arriving from east Austria or from the south of Germany, often travel by car. It will take around six hours from Vienna or Munich.
Tolls are compulsory on Italian motorways.You quite easily pay the fee at the gate: You take a ticket when you enter and pay the fee when you leave with cash or card.
Venice is a lagoon city and connected to the mainland via a bridge. Although: shortly after crossing you have to park your car and get into a Vaporetto (water bus)! Therefore, Venice is a car free city. It is absolutely impossible to drive a car there. (Even the post is delivered via the waterways here.)
There are several parking garages on offer. We ourselves decided on the very modern Tronchetto parking garage and have absolutely nothing negative to say about it. You can catch a Vaporetto just a minute walk away from the parking garage and take it directly into the old town. The price is around 22 euros for one day (24 hours).
Arriving by plane
You can also get to Venice by plane. There are two airports: The central airport Venezia-Tessera ("Marco Polo") and the airport located approximately 25 kilometres north of Venice, Treviso airport, which is the primary airport for low-cost airlines.
You can search for cheap flights here: Skyscanner
From the Marco Polo airport you can take the bus to Piazzale Roma, a bus station right on the doorstep of Venice's Old Town. From there you can then walk or take a Vaporetto further to your hotel.
You can book your bus ticket in advance here: Express bus from Venice airport to the city
Arriving by train
Last but not least, there are also good train connections from some cities to Venice. For example, there are night trains that go between Vienna and Venice, which take around 9 hours.
The train station (Venice Santa Luca) is located relatively close to the town centre. Depending on where your hotel is located, you can either walk there or take a Vaporetto.
Transport while there: getting from A to B in Venice
Getting around on foot
If you like to be active, you will love Venice. Because we can promise you one thing: you will cover many kilometres on foot while in Venice. The main mode of transport in Venice is without a doubt your own two feet.
But not to worry: Venice is not too sprawling. The main attractions are located in the San Marco district and are located just a stone's throw away from one another. Nevertheless, be sure to pack comfortable shoes – your feet will thank you for it.
Taking a Vaporetto
You can use a Vaporetto, the water bus, to cover the slightly longer distances. The Vaporetto are the public transport network of Venice, so to speak. There are several lines at regular intervals. For example, you can take a Vaporetto to reach the parking garages at the city outskirts or to the neighbouring islands of Murano and Burano.
Vaporetto tickets are comparatively expensive. A single fare costs a whopping 7.50 euros. There are also day tickets (20 euros) or concession tickets. You can purchase your ticket at the ticket machine or also on board.
Our tip: these days you can easily use the Google Maps app to search for the best way to get from A to B. It also displays the Vaporetto connections – very practical! In addition: The Vaporetto are not the same as the (touristy) gondola, which are first and foremost intended to be used for panoramic round trips.
You can find the network plan here: Vaporetto Venice (official website)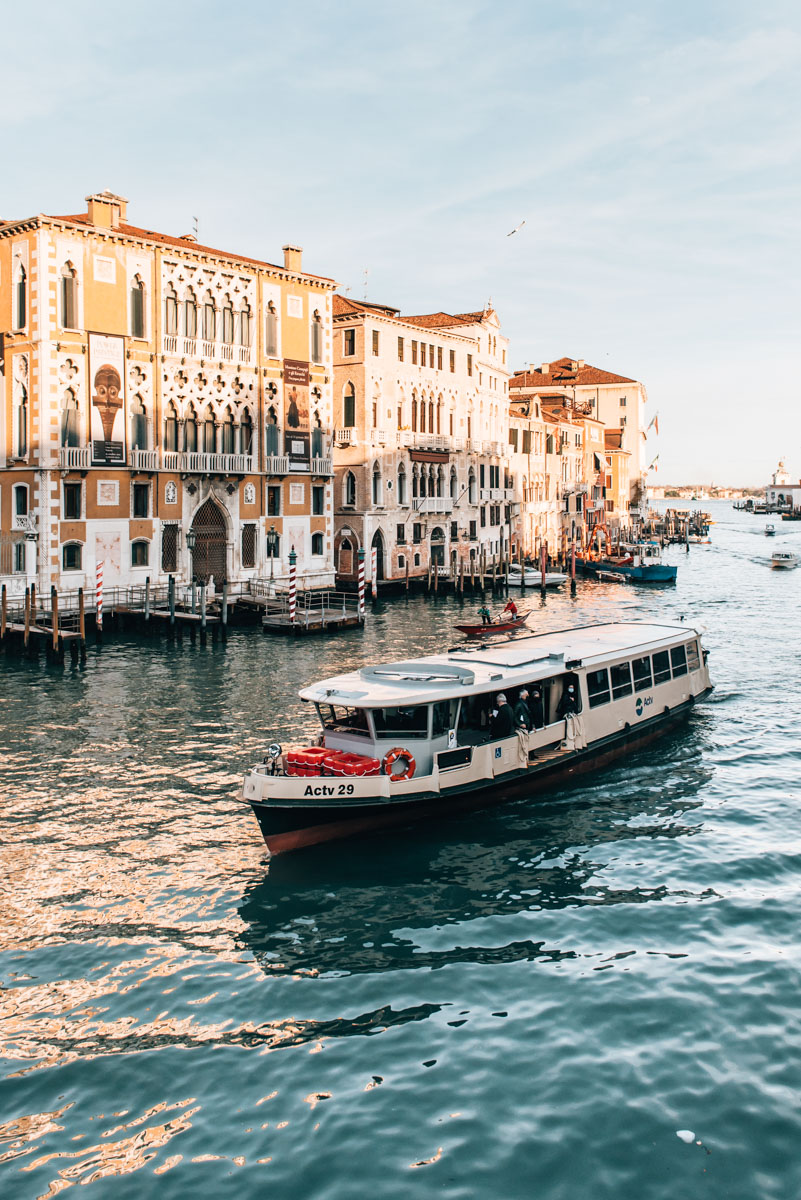 7. Tip: Day trip to Burano
As magnificent as Venice is – if you have some time left over, then we recommend you definitely also take a day trip to one of the other lagoon towns surrounding Venice. In addition to Murano (home of the world famous glass art) the island Burano in particular, with its colourful house façades, magically attracts visitors from around the world.
Burano is tiny: you can easily make your way around the island within an hour. (Or better said, the islands – because Burano is more precisely made up of four islands, connected to each other via bridges.)
Be that as it may: there are no notable attractions (aside from the leaning church tower). The very special charm of the lagoon town is definitely in the foreground. The colourful, densely packed houses try to outshine each other. You can definitely look forward to plenty of photo opportunities.
We reveal even more tips in our detailed travel guide: Day Trip to Burano
8. Our Hotel Tip for Venice
Are you looking for an incredible hotel for your Venice holiday? Here is a tip for you: Il Palazzo Experimental.
The art deco style weaves itself like a red thread through the whole house. If you are into designer hotels in this style, you will love it here. This hotel is definitely one to remember.
If your budget allows it, then we definitely recommend you book at room with a view of the canal. There is simply nothing better than starting your day with a coffee (coffee machine in the room!) and watching the hustle and bustle on the water.
Speaking of water: The hotel is located directly on the water, more precisely on the promenade in the Dorsoduro district. Unlike the touristy district of San Marco, Dorsoduro is somewhat more relaxing and more "local". We really enjoyed that.
It takes around 20 minutes to walk to St Mark's Square (the district in Venice where the main attractions are located). Of course that's not just a hop and a skip, but there is so much to discover in Venice that we really didn't mind the walk at all. Another bonus: the Vaporetto station, San Basilio, is located just 150 metres from the hotel.
Our conclusion: an absolutely wonderfully comfortable hotel! The design is something special, the area fantastic, the view out over the water is fantastic. One down side is the rather high price. You can always get a good deal in the off season. We would choose to stay in this hotel again in an instant!
You can book the hotel here: Il Palazzo Experimental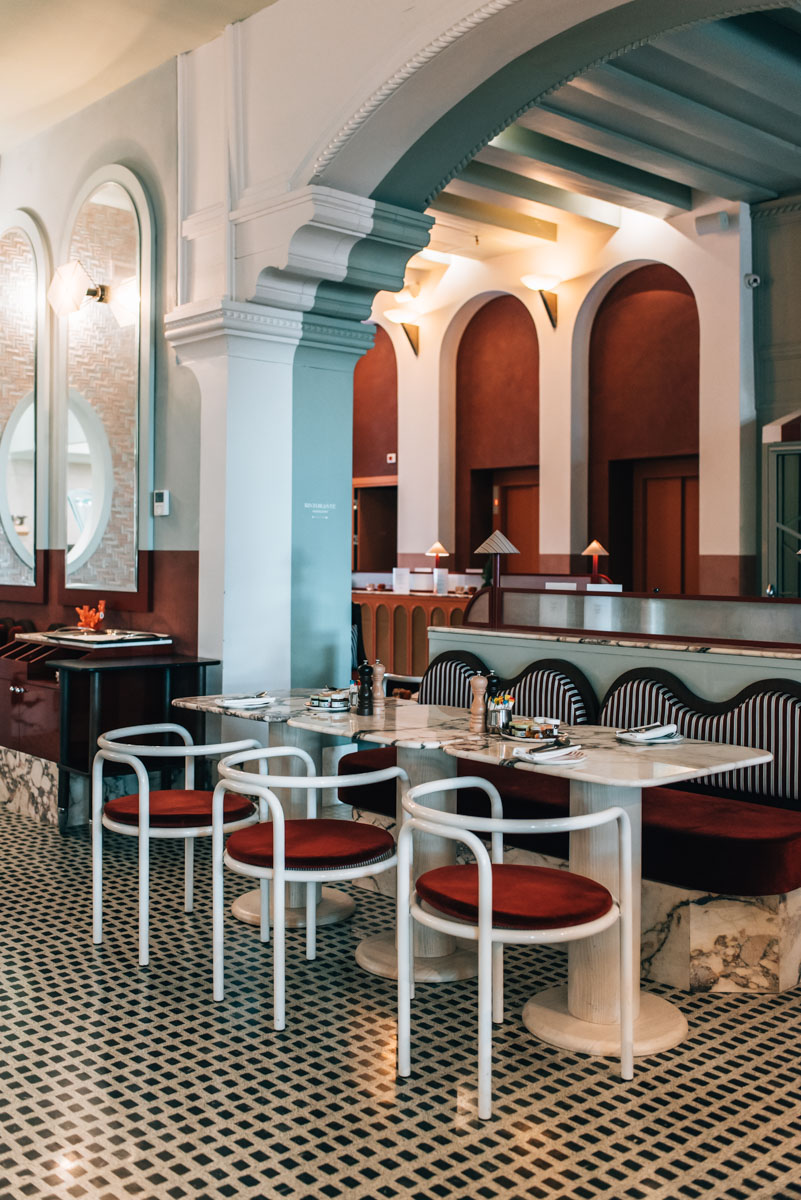 9. Map: Overview of all Things to Do & Tips for Venice
You will find an overview of all the main attractions and highlights in Venice on this map so you can better orientate yourself Venice.
What is the best way to use the map? Our tip: if you click on the top right corner, you can open the map in the Google Maps app on your smartphone. That way you can easily navigate your way from A to B while in Venice.
---
Disclaimer: Affiliate Links
This travel guide contains our personal recommendations in the form of affiliate links. If you book or buy something via the links, we will receive a small commission. This will not change the price for you at all. A million thanks from the both of us!
We are curious: Have you been to Venice? Are you a fan or did you not really warm up to the city? What other sights and things to do can you recommend? We really look forward to your additional tips in the comments.