Colourful. More colourful. Burano! Perhaps you have already seen a photo of the colourful houses in the fishing village of Burano? This lovable island in the Venetian lagoon is quite rightfully one of the most popular day trip destinations in the Region.
Burano covers the whole colour palette: Rusty red, violet blue, mint green – it's not without reason that Burano is considered the most colourful island in the world. The flair is completely different than in Venice, which makes a detour to Burano all the more attractive.
In this travel guide we reveal all the important information you need for a day trip to Burano. We show you the main attractions (spoiler: there aren't very many!) and provide you with a few important travel tips for your day trip.
1. Burano: Overview of Info for your Day Trip
Exciting facts about Burano at a glance
Burano has around 2,750 inhabitants and is teeny tiny – more precisely 650 metres long and a maximum of 450 metres wide.
The island is actually made up of four islands, which are connected to each other by eight bridges.
Burano is especially famous for two things: For the colourful fishing houses, and their traditional embroidered lace. Even today, the many lace souvenirs are made in this traditional craft.
The ride across from Venice takes around 40 minutes. You can find additional trips about this trip further down in this travel guide.
On the way to Burano you can also make a stopover on the island Murano (home of the world famous glass art).
What awaits me on a day trip to Burano?
Burano is very small, but all the more photogenic! Many photo opportunities await you around every corner. The colourful house facades are what gives this fishing town it's really special charm.
Anyone hoping for some classic sightseeing will be disappointed by Burano. There aren't any of your typical must-see sights. The focus is much more on taking a stroll through this very special lagoon town.
Burano is also not an insider tip (any more) – you should definitely be aware of that. We experienced a very peaceful Burano on our December trip, but it is very busy here during the main season.
Why are the houses in Burano so colourful?
As legend has it, the fisherman once painted their houses in the most colourful colours to provide better navigate. That way, it is said, they could better navigate their way to their home port in fog or after a night of drinking. Whether that is really true, we can't say for sure.
What you will definitely notice as soon as you stroll through Burano: the houses beside one another are never painted the same or even a similar colour. Here azure blue meets violet or mint green meets bordeaux.
Nowadays, as people are aware of the touristic appeal, more attention is given to the overall picture of the house façades. Therefore, homeowners cannot simply pain their façade one of their favourite colours.
How much time do I need for a day trip to Burano?
Burano is really tiny. To demonstrate just how compact the island town is: you can walk from the ferry port through Burano and reach the other side in 5 to maximum 10 minutes. Burano is just 670 metres long and never wider than 450 metres. Tiny – we told you.
We ourselves spent about three hours in Burano, which was more than enough. So we not only saw the main corners several times, but also took a coffee break and generally allowed ourselves a lot of time to stroll around.
Because the ferry ride on the Vaporetto takes 40 minutes, we would allow about half a day altogether for the trip. If you also want to visit Murano on your day trip, which is on the way to Burano, then we recommend a full day.
2. Travel Guide Burano: The Best Things to See on a Day Trip
Sight #1: the colourful houses
The main attraction in Burano is found throughout the whole town: it is the colourful house façades, which Burano is so well-known for.
You will quickly notice that there is not just one photo spot here, rather Burano is photogenic from practically every angle. We can only provide one tip in this regard: Keep your eyes open and simply take a relaxing stroll through the streets and along the canals.
One house that definitely stands out above the rest is Casa di Bepi Suà. Its previous owner, Giuseppe Toselli, gave the house quite a special look with geometric forms and many colours.
Small tip: it is busiest around the houses next to the Tre Ponti (more about this soon). It is more quiet if you walk towards the east of Burano – to the two canals Fondamenta Pontinello and Fondamenta Cao di Rio (e.g. at the Ponte della Vigna).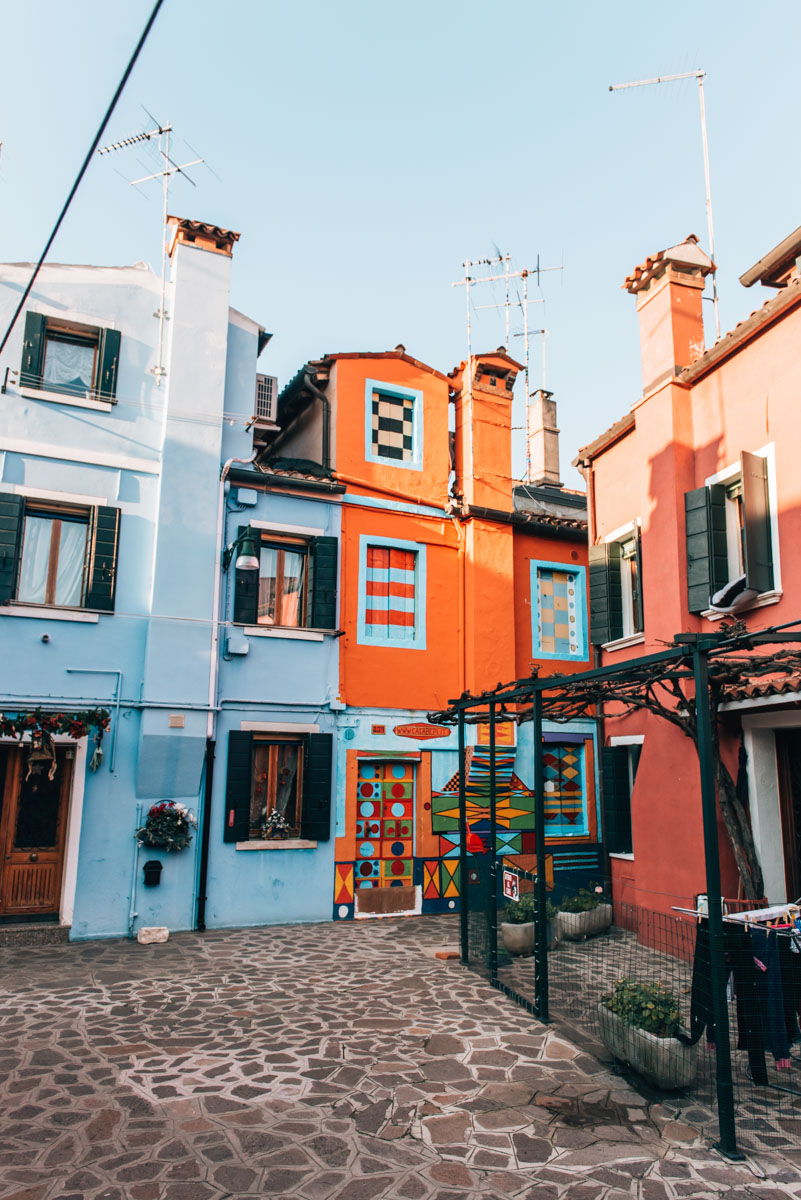 Tre Ponti: Burano's famous photo spot
From this (actually rather inconspicuous) bridge you can enjoy a postcard picture view of Burano. The bridge is located right in the centre of Burano and is hard to miss. When you see the crowd of people with cameras and smartphones in hand, then you know you're in the right place.
Tre Ponti means "three bridges" in English, although we find the name's origin rather confusing. (There are actually only a maximum of two bridges here, which are also connected to each other, but okay.)
When we visited in December, we found it especially beautiful right before sunset, although the lighting is definitely different in the summer.
Chiesa di San Martino
The most striking building in Burano is undoubtedly the San Martino church (Chiesa di San Martino), or more precisely it's bell tower, the Campanile. It is so crooked that we asked ourselves more than once how long it would be before it collapsed.
The church dates back to the 17th century and of course it wasn't always so crooked. The structure may have become unstable due to a subsequent raising of the tower. For about 50 years now, the church tower has been on such leaning so much that the overhang of about 1.85 metres is hard to overlook. Fascinating!
The Chiesa di San Martino is located in the Piazza Baldassarre Galuppi, the main square of Burano, but which in our opinion, is not such a highlight of the island.
Wooden bridge to Mazzorbo
Mazzorbo is Burano's peaceful neighbouring island. A 60 metre long wooden bridge connects the two islands, so that you can quite simply walk over during your time in Burano.
Mazzorbo is more influenced by agriculture and not quite as colourful as Burano. But if Burano gets too full for you, then a visit to the authentic Mazzorbo is definitely worthwhile.
If you are interested, you can pay a visit to the Venissa winery, which can be found in the historic clock tower – a really great location. Incidentally, the winery also includes the highly recommendable restaurant Venissa (in case you are hungry). And last but not least: You can also stay here overnight. We reveal more about our hotel tips at the end of this travel guide.
Pescarìa Vecia at sunset
Our small insider tip for a great sunset on the island is the old fish market, called Pescarìa Vecia. It is located to the south of Burano near the Tre Ponti. There is now also a café there of the same name – so the place is hard to miss.
You can certainly experience a lovely sunset here from the shore – either you make yourself comfortable on the low wall (which you can see in the first picture in front of the pavilion) or you can visit the café and have an aperol spritz.
3. Eating & Drinking in Burano
The array of restaurants on the island is really quite small. Many restaurants (especially along the "main routes") are clearly catered towards tourists. Still, there are a few restaurants and cafés that are very recommendable.
Venissa: Are you looking for an incredible dining experience? Then you can't go past this restaurant, which has been awarded a Michelin star. Venissa is located on Burano's neighbouring island, but is easily reached thanks to the bridges. The setting surrounded by grapevines is something special. The somewhat cheaper alternative to the restaurant is the Osteria. Definitely make a reservation!
Riva Rosa: Riva Rosa is a very popular restaurant in Burano. You sit outside in front of the restaurant situated very nicely right by the canal. The menu features mainly fish and seafood dishes. Not so cheap (like almost everywhere in Burano, unfortunately).
In Pescaria Vecia: We can recommend this rather inconspicuous café for an espresso or an aperol spritz at sunset. They have small Venetian tapas ("cicchetti") but personally, we would go elsewhere for food. In any case, the view of the water from the old fish market is lovely.
Panificio Pasticceria Garbo: This family-run bakery has a great selection of Venetian biscuits and baked goods. If you are after a few (sweet) snacks, you're in the right place.
4. Staying the Night in Burano
Most visitors (including us) visit Burano on a day trip. That of course has the downside of missing out on the peaceful morning and evening hours. It is therefore a good idea to stay one or two nights on the island.
The accommodation options on Burano are quite limited. So, we can recommend the two best accommodation options.
Venissa
This highly recommendable accommodation option is located on Mazzorbo, Burano's sleepy neighbouring island, which you can quickly reach via a bridge. Here you stay in a very stylish bed & breakfast, which belongs to the Venissa Winery, and are therefore surrounded by grapevines.
If you really want to treat yourself, then you should pay a visit to their restaurant, Venissa, which has been awarded a Michelin star.
You can book the accommodation here: Venissa
Casa Burano
Would you like to stay directly in Burano? Then Casa Burano could be something for you (which by the way also belongs to Venissa). The name is a little misleading, because it is not just one house, but spread over several. Here you spend the night in one of the historic fisherman's houses.
You can book the accommodation here: Casa Burano
Our Hotel Tip for Venice
If you are after a really great hotel in Venice, then we have a very special tip for you: Il Palazzo Experimental. We felt incredibly at home in this designer hotel. You can find a more detailed account of our experience in this travel guide: Venice travel tips.
You can book the accommodation here: Il Palazzo Experimental
5. Getting to Burano: Our Travel Tips
From Venice to Burano
You can get directly from Venice to Burano using the Vaporetto (line 12). The departure port (Fondamente Nove) is located in northern Venice. It takes 40 minutes to travel from there to Burano. Once you arrive in Burano, you simply follow the street and are already right in the middle of the action.
A one-way ticket for the Vaporetto ride costs 7.50 euros. It might also be worthwhile to get a day ticket (20 euros). You can purchase your ticket before your departure at the ticket machine or also while on board.
Our tip: You can quite easily search for the fastest connection from your location in Venice to Burano using the Google Maps app. The Vaporetto connections are also shown on there – very practical.
You can find the network plan here: Vaporetto Venice (official website)
From the mainland (e.g. Jesolo) to Burano
The Vaporetto line 12 then continues from Burano further to Treporti on the mainland. So, you can also get from there to Burano. This is particularly useful if, for example, you are on holiday in Jesolo and want to take a day trip to Burano.
The trip across from Treporti to Burano only takes 15 minutes. The ride from here also costs 7.50 euros. You can park in Treporti in the paid carpark.
Guided tour to Burano
Perhaps you would like to travel with an experienced guide to Burano (& Murano) to discover more of the history. Then a guided tour could be something for you. There are countless tour providers – you can easily book a tour through Viator or Getyourguide, for example.
You can book a half-day boat tour here: Trip to Murano and Burano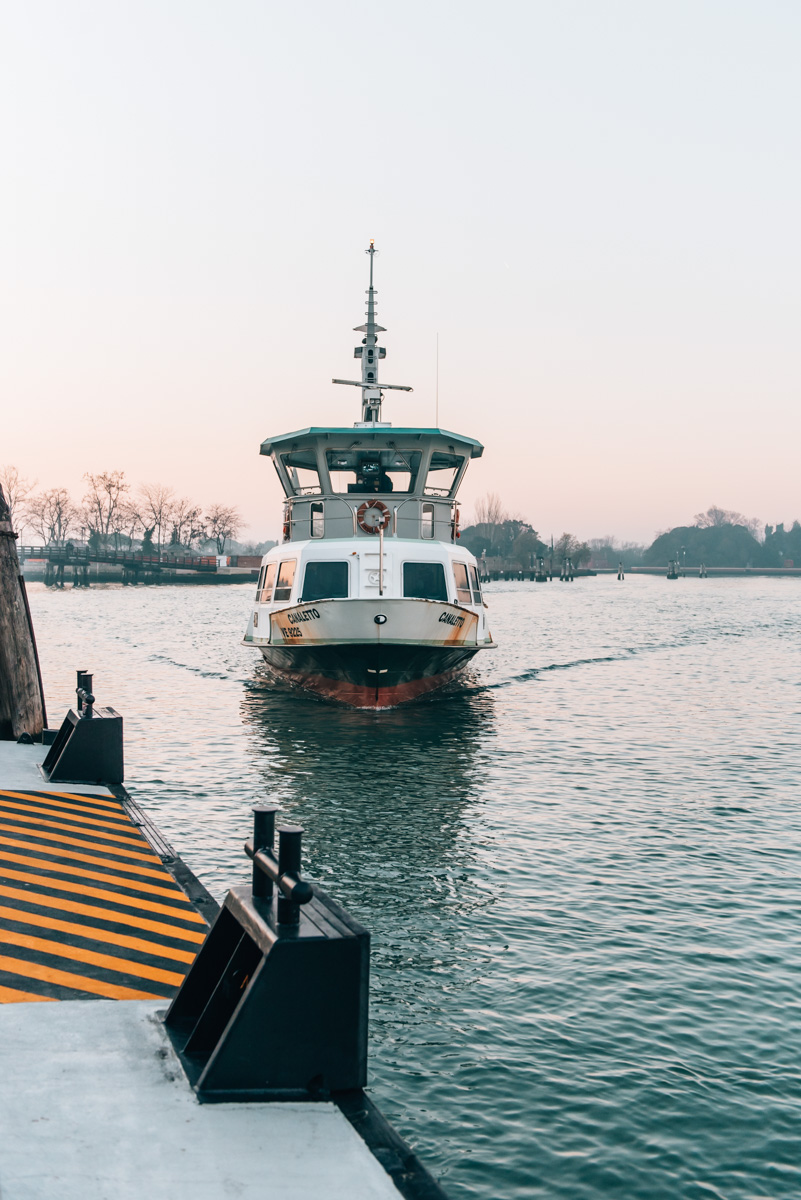 ---
Disclaimer: Affiliate Links
This travel guide contains our personal recommendations in the form of affiliate links. If you book or buy something via the links, we will receive a small commission. This will not change the price for you at all. A million thanks from the both of us!
Have you already been to Burano? How did you like the colourful fishing village? We really look forward to hearing about your experiences and additional tips in the comments.