Oh, Verona – the city of love! And by that we don't mean the tragic love story of Romeo and Juliet that takes place in Verona and is present all across the city. Verona in Italy is simply a city that you fall in love with at first sight.
In Verona you can look forward to wonderfully beautiful buildings, to lovely viewpoints and perfect Italian flair. So if you are searching for another destination for an Italian city trip, then we can whole-heartedly recommend Verona.
In this travel guide, we take you to the most beautiful sights, things to do and our favourite places in Verona. As always, we also provide you with our personal travel tips for your trip to Verona.
1. Verona (Italy): Overview of initial Travel Tips & FAQs
Where is Verona and how do I get there?
Verona is located inland in northern Italy, more precisely in the Veneto region. There are many well-known travel destinations in the area around Verona such as Lake Garda (approx. 45 minutes by car to Sirmione) or Venice (approx. 1.5 hours by car).
Verona has an airport – so theoretically you could fly. We recommend taking the train instead, especially if you are travelling from the south of Germany or from Austria.
And last but not least, traveling by car is also possible. Note that parking fees will be added here. Depending on the hotel or garage, you need to allow for around 30 euros per night. You definitely don't need your car in Verona (quite the contrary). We would consider taking the car if you are planning to take day trips or a road trip through several regions of Italy.
What should I expect in Verona?
Perfect Italian flair: Verona is Dolce Vita at its best! Look forward to espresso & gelato, pizza & pasta and of course a dreamy, beautiful atmosphere in Verona's old town.
Impressive architecture: Roman relics, Middle Ages & Renaissance – in Verona you will find a remarkable selection of impressive buildings, including of course the Verona Arena. But the rest of the Verona's cityscape is simply beautiful to look at. It's no wonder that the old town has been a UNESCO World Heritage Site since the year 2000.
Great viewpoints: Verona is the city of impressive panorama views. Or to put it another way: Anyone who enjoys viewing a city from a birds-eye-view can get excited. Verona has some really great viewpoints – of course, we will let you know more about this within this travel guide.
How many days should I plan for Verona?
With 250,000 inhabitants, Verona is a comparatively compact city. What does that mean for you? You can explore all the sights in the city centre on foot without a problem and most are located just a stone's throw away from one another.
Theoretically, you could therefore visit all of Verona's highlights in one day. For example, many people "only" take a day trip from Lake Garda to Verona.
We mean it when we say "theoretically", because we would definitely recommend spending a few days in Verona. The small city is really beautiful – especially in the morning and evening hours when the day tourists are gone.
We ourselves stayed two nights in Verona and found this amount of time to be ideal. We had enough time to calmly visit the main attractions and also take a leisurely stroll through the city. If you would like to have an even more relaxing time, it's better to stay three to four nights.
Tip: Save with the Verona Card
If you are thinking about seeing a lot of the sights in Verona, then perhaps purchasing a Verona Card would be worthwhile for you.
The card is available in two versions: Either for 24 hours (20 euros) or for 48 hours (25 euros, each valid from the first use. With the card you get free entry into almost all the main attractions including the Arena, the Torre dei Lamberti or the Castelvecchio. At the Arena the card is twice as worthwhile because it gives you preferential admission and often you can skip the long waiting line at the ticket counter. 
You can purchase the Verona Card at every participating attraction. Alternatively, you can buy it at the tourist information office in Piazza Brà. (You can also pick up the card there if you purchase it online in advance.)
You can book the card in advance here through GetYourGuide: Verona Card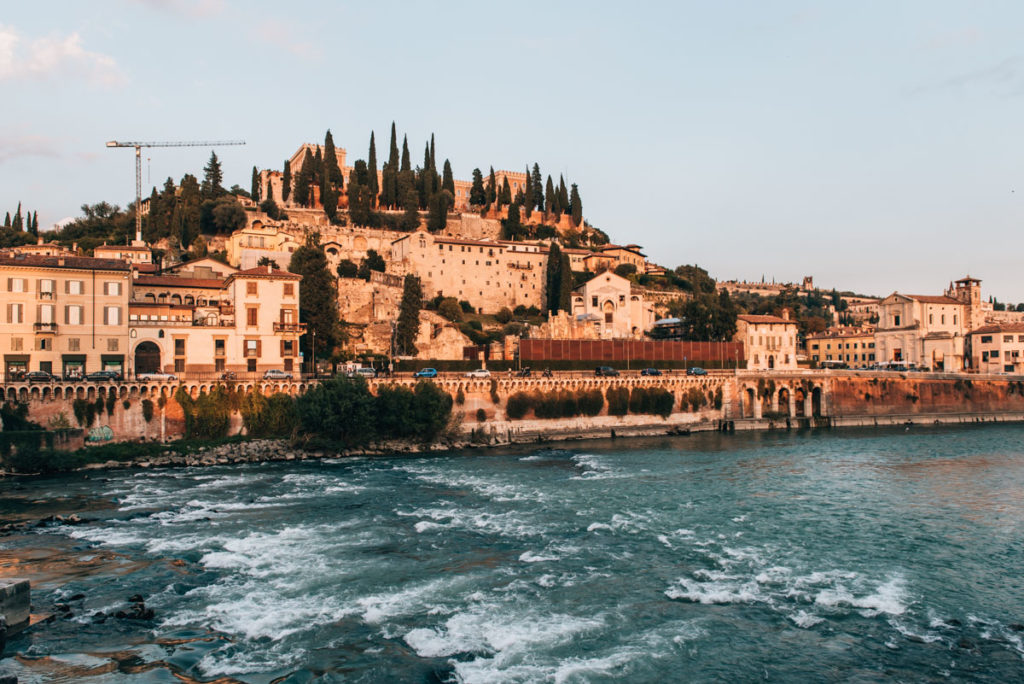 2. Verona Travel Guide: Best Sights & Things to Do
Verona Arena & Piazza Brà
We are starting directly with the landmark and architectural highlight of the city, which simply cannot be missed, namely the Verona Arena. The monumental amphitheatre is reminiscent of a Roman colosseum and is simply impressive to look at.
What is the best way to visit the Verona Arena? Well, ideally when a concert or an opera is playing. In summer the famous Verona Opera Festival takes place in the midst of this historical backdrop.
Verona is definitely at its fullest during this time, but don't be too sad if you miss the opera festival: You can visit the Arena year-round and take a peek inside.
The Arena is located directly in the Verona's main square, the Piazza Brà. Sure, all eyes are on the Arena, still there are even more historical buildings to be found here including the Palazzo della Gran Guardia or the Palazzo Barbieri.
Our tip #1: Depending on the time of year and time of day, a really long queue can build up in front of the Arena. With the Verona Card you get preferential entry. In case you are thinking about visiting several sights in Verona, the Verona Card can definitely pay off.
Our tip #2: If you would like to photograph the Verona Arena without crowds of people, you should visit in the morning. Also good to know: the atmosphere in the morning light is simply wonderful.
Info for a visit to the Verona Arena
Price for a visit: 10 euros (free with the Verona Card)
Info: Verona Arena (only available in Italian)  
Tickets & opera festival info: Arena Opera Festival
Torre dei Lamberti
The striking Torre dei Lamberti reaches 84 metres into the sky and clearly towers over all the other surrounding buildings. You possibly already know what we would like to say with that: The view from up top is simply fantastic and absolutely worth seeing!
If you're feeling sporty, you can take the stairs like we did. There are 368 steps to climb. Alternatively, you can also reach the viewpoint in quite a relaxed manner with the elevator. (Note: You need to go up the last two floors on foot.)
Once you reach the top, a fantastic panorama view in all directions is waiting for you. We found the view towards Piazza delle Erbe, in particular, to be very spectacular. Good to know: The net, which is probably there to keep away the pigeons, makes it quite easy to take photos through. But taking nice portraits is a little more challenging.
Our tip: If possible, we recommend you visit at sunset. We secured a ticket for this timeslot in advance via email.
Info for visiting Torre dei Lamberti
Price: 5 euros (free with the Verona Card)
Opening times and more info: Torre dei Lamberti (official website)
Squares to visit in Verona
Verona's old town is a small work of art. (We remind you: It is a UNESCO World Heritage Site.) You don't need to search too hard to find the most beautiful corners and squares. We would like to briefly show you the most well-known, or in our opinion the most beautiful, squares.
Piazza Brà: We already briefly mentioned Verona's main square up above. It is hard to miss because the monumental Verona Arena is located here. It is very touristy at Piazza Brà. If you would like to photograph beautiful buildings without crowds, then we recommend stopping by in the morning.
Piazza delle Erbe: You will find yourself in the most central square in the street labyrinth of Verona's old town here. The Piazza delle Erbe is one of the oldest squares in Verona and was the forum during the Roman times. A market is held here during the day from Monday until Saturday. In the evening tourists and locals meet for an aperitivo. You can marvel at the square from a birds-eye-perspective from Torre dei Lamberti
Piazza dei Signori: Right around the corner from Piazza delle Erbe is the enchanting Piazza dei Signori. It is usually a little less busy here, but the square is definitely not any less beautiful. It is lined with imposing structures dating back to the Scaliger era, including the Palazzo del Governo. The Loggia di Fra Giocondo also catches the eye, a remnant of the Renaissance. Our tip: Be sure to go through the archway at the northernmost end of the square and marvel at the Scaliger tombs. Wow!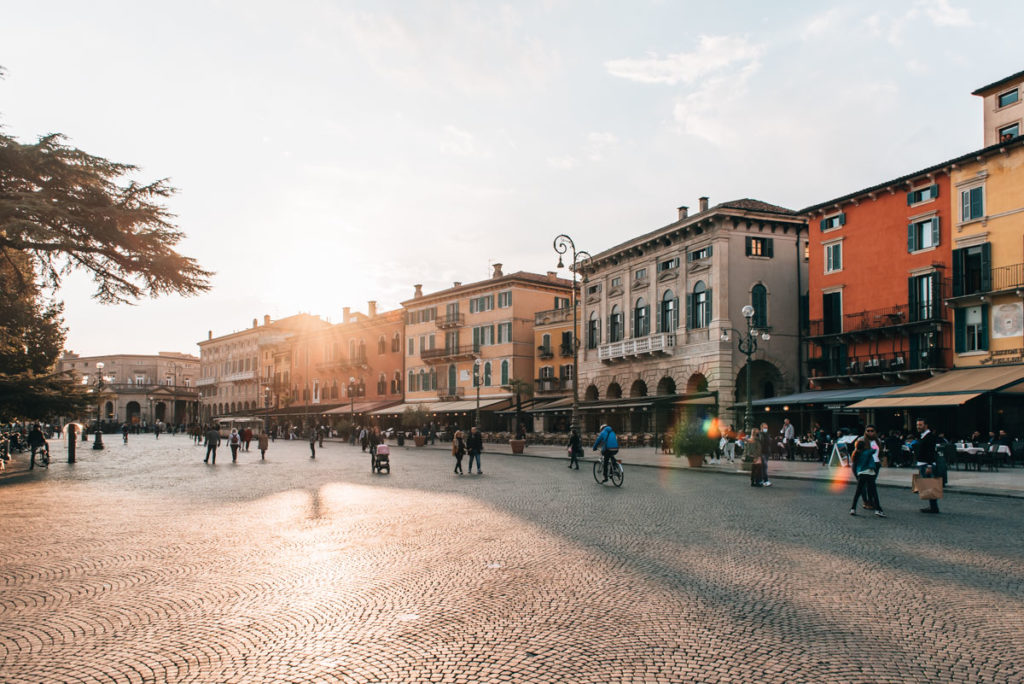 Casa di Giulietta & Casa di Romeo
If you are in Verona, Romeo and Juliet is difficult to miss. The tragic love story from William Shakespeare plays out in Verona. And there is – oh wonder – of course a place that, according to legend, served as the inspiration. Or more precisely, two places.
One of these is Juliet's house, called Casa di Giulietta in Italian. It once belonged to the wealthy Veronese family, the Dal Cappello family. The resemblance of the names (Cappello – Capulet) probably led to the idea that, as according to legend, it is Juliet's house.
You will probably easily spot Casa di Giulietta by the long queue that forms in front of the house. The inner courtyard is tiny and therefore usually quite overcrowded, so you have to wait to enter. 
It is free to take a look inside the courtyard. There is only an entrance fee for the small museum in the interior of Casa di Giulietta, which also includes access to the balcony.
And then there is the comparatively less well-known and also much less spectacular Casa di Romeo. This house cannot be visited. But of course, as someone with the name Romeo, it's necessary to take a photo in front of it.
Info for visiting Casa di Giulietta
Entrance: Free for outside, for museum (incl. balcony) 6 euros (free with the Verona Card)
Opening times and more info: Casa di Giulietta (only available in Italian)
Giardino Giusti
If you need a break from Verona's old town, you should take a detour to the idyllic Giardino Giusti. Italian garden art from the Renaissance awaits you here within a wonderfully situated historical garden.
From the entrance of the Palazzo Giusti, you continue to walk up higher. We find the spot at the pavilion to be very nice. From here you can enjoy a really fantastic view back towards the city.
Then the path goes past the tower even further up to the city wall, which dates back to the 14th century. The panorama view over Verona is particularly beautiful at sunset.
Info for visiting Giardino Giusti
Price: 10 euros (7 euros with the Verona Card)
Opening times and more info: Giardino Giusti (official website)
Castelvecchio & Ponte Scaligero
Caught a bad weather front? How about a museum visit? In this case we can recommend a visit to Castelveccios. Today an art museum is housed inside this medieval castle complex.
You could of course also marvel at Castelvecchio or its inner courtyard simply from the outside. To also view the premise from the inside you need to visit the art museum, Museo di Castelvecchio. Here you can look forward to a journey through Veronese paintings from the Gothic period to the 17th century.
In general, the exhibits are probably more interesting for art lovers. But we found the tour through Castelveccio quite exciting.
At the end of your museum visit you should definitely also take a stroll across Castelveccio's Ponte Scaligero. This medieval bridge is one of the most beautiful and striking in Verona.
The Arco dei Gavi is also worth taking a detour for, which sits enthroned in the northeast of Castelveccio directly on the riverbank. The benches in front of it are ideal for a short break from sightseeing.
Overview of info for visiting the Museo di Castelvecchio
Price: 6 euros (free with the Verona Card), the inner courtyard is free
Opening times and more info: Museo di Castelvecchio (only available in Italian)
Churches in Verona
Of course, Verona also has some impressive sacred buildings. None of which are quite so spectacular as the Siena Cathedral. However, for the final attractions we would like to introduce you to the two most famous churches in Verona.
Verona Cathedral Complex (= Cattedrale di Santa Maria Matricolare)
The Verona Cathedral comprises of several buildings and therefore is commonly referred to as the "Cathedral Complex". This complex includes the actual cathedral, the canons' church of Sant' Elena, the baptistery of San Giovanni in Fonte, the canons' cloister and the chapter library.
The church, the actual cathedral, with its façade of Roman and Gothic components is quite the eye-catcher and well worth seeing just from the outside. Of course, you can also take a look inside the cathedral.
Price: 3 euros (free with the Verona Card), or alternatively a combo-ticket (6 euros) for the 4 of Verona's main churches
Basilica di San Zeno Maggiore
Unlike the cathedral, this rather remarkable church is located a little outside the main tourist area and therefore away from the hustle and bustle. You can walk to it from Piazza Brà in around 15 minutes.
The Basilica di San Zeno Maggiore is considered one of the most beautiful Roman churches in all of Italy. Its interior is very noble and not as elaborate as many other churches. The adjoining cloister is also quite a highlight.
Conclusion: If you have a little more time, you definitely should not skip this detour. At the end of your visit, you can also take a stroll through the San Zeno district and enjoy a gelato here.
Price: 3 euros (free with the Verona Card), or alternatively a combo-ticket (6 euros) for all four of Verona's main churches
3. The Most Beautiful Views of Verona
Castel San Pietro
A classic view in Verona – particularly at sunset! From the walls of the historic castle complex, Castel San Pietro, Verona's old town lies at your feet. The panorama is simply fantastic.
To get to Castel San Pietro, you first walk over the beautiful Ponte Pietra. Then you can either take the relaxed option of using the cable car or make the hike up by foot. Don't worry: It takes a lot shorter than you think. In 10 minutes, you've already reached the top. 
It is also worthwhile to take a bit of a walk around – you always get varied perspectives back towards the city from different spots. Hot tip: Take a cool drink in your backpack up with you and enjoy it up top as a sundowner – wonderful!
Torre dei Lamberti
You definitely get the best birds-eye-view close to the town centre from Torre dei Lamberti. This striking tower rises up from Verona's town centre 84 metres into the sky.
We reveal more info for visiting this highly recommendable viewpoint further up in this travel guide in the chapter with the most beautiful sights in Verona.
Rooftop Bar at Hotel Milano
Last but not least: You can enjoy an impressive view of the historical wing of the Verona Arena (called "ala") from the roof of our hotel, Hotel Milano. There you can find a rooftop bar, which is also open to non-hotel guests.
The prices are of course a reflection of the location and rather high, but you can still treat yourself to an Aperitivo. It is located on the fifth floor – so not so high, but high enough to have a dreamy view over Verona's rooftop landscape in all directions.
Our tips: Be sure to come at sunset. When the sinking sun colours Verona in an orange light, the Aperol Spritz just tastes better. If you are here during the height of summer, we definitely recommend making a reservation – the number of spots available is quite limited.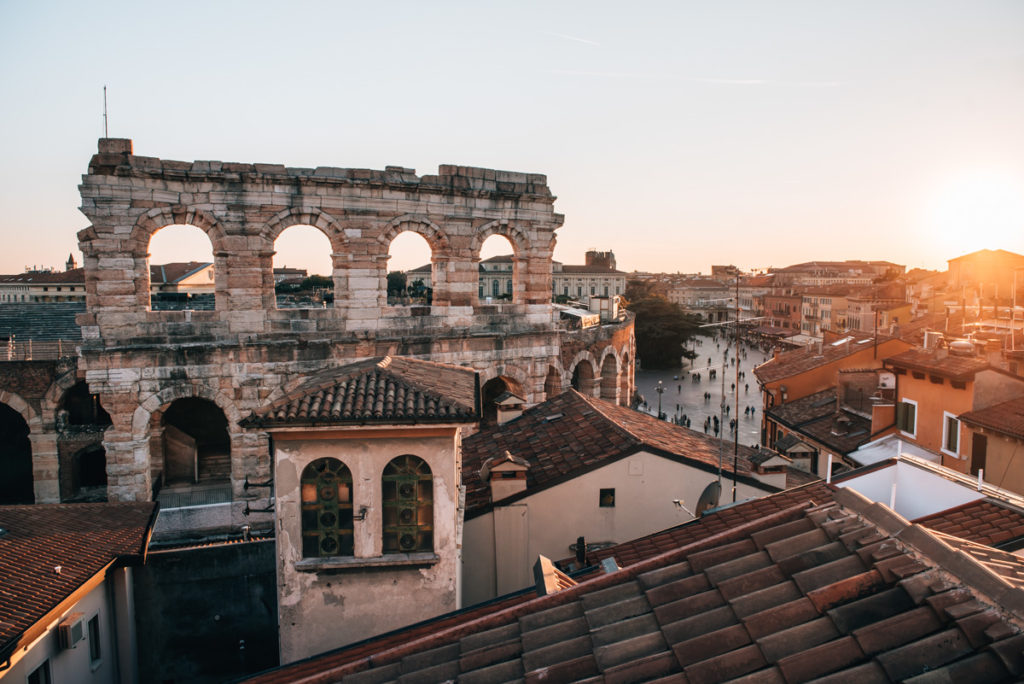 4. Eating & Drinking in Verona: Culinary Tips
Of course, we wouldn't miss including a few culinary tips for Verona in our travel guide. First up, we'll let you in on a few important and helpful tips for your trip.
Espresso is traditionally drunk at the counter in Italy. It is cheaper there and usually just costs 1 to 1.5 euros max. By the way: If you order a "caffè" you will get an espresso. 
Do it like the locals and enjoy an Aperitivo! In Italy they eat very late in the evening. People meet each other in the city bars beforehand for an Aperitivo. A free snack is usually served with the drink.
If you take a seat at a table and are served there, a so-called "coperto" will be charged, which should be understood as a kind of service surcharge. You usually get some bread. (And it almost always tastes worse than you are used to in Austria and Germany – just to warn you.) The coperto-charge varies and is usually around 1.50 to 3 euros per person.   
Tipping is rather uncommon in Italy compared to Austria or Germany. Often (but not always) you pay at the counter or at the cash desk near the exit on your way out, and not at the table.
Generally, we recommend in Verona – particularly in the main season and especially in the evening – that you make a reservation.
Café & restaurant recommendations
La Lanterna: Vegan & organic – if that sounds like your tastes, you pay this restaurant a visit. It is located a little outside of the inner-city but is the perfect place to be for anyone who is plant-based. Fantastic value for money!
Elk Bakery: Here you will find one of the hippest cafés in Verona. Whether breakfast, an afternoon coffee, or an evening meal – this youthful, stylish eatery is well-frequented at all times of day. You can reach it after a short stroll over the Ponte della Vittoria from Verona's old town in under 10 minutes.
Ziga: This very nice, vegetarian bistro is located right next to the Elk Bakery. Here they have breakfast, lunch, and dinner meals such as burgers and pasta.
Osteria Caffè Monte Baldo: This authentic Osteria is located in a small alley in the midst of the old town. A lot of locals meet here for an Aperitivo. On the menu you can find traditional Veronese risotto (prepared with the red wine Amarone della Valpolicella). Something cool: They even have vegan meals!
Focacceria La Figaccia: The best focaccia to get you through is found in this tiny store close to Castelvecchios. The only downer: the vegetarian options are quite limited.
Ice cream tips: What would a trip to Verona be without gelato? There is incredible ice cream on practically every corner in Verona. Some noteworthy ones are L'arte Del Gelato or Gelateria La Romana.
5. Our Hotel Tip for Verona
Long researched and finally found: The perfect city hotel for our trip to Verona. In Hotel Milano you stay very central (1 minute away from the Arena) and still peaceful. Huge recommendation!
The rooms are very comfortable and modern and – most importantly for us – the hotel beds are really comfortable. We would definitely recommend not booking the smallest room category, because it would be quite cosy. In any case, there is no lack of amenities – from huge TVs to a free minibar, everything is there.
One highlight is the rooftop bar on the rooftop terrace on the 5th floor. Here we enjoyed our daily Aperitivo with a view of the Arena. Wow! If you wish, you can also make yourself comfortable in the hot tub, although it is integrated into the bar area, so there is not so much privacy.
Something really great: If you arrive by car, you can drive directly to the hotel. Your car will then be parked by the staff in the hotel parking garage – perfect service! We recommend reserve a parking spot before you arrive (price point: approx. 30 euros per night)
We only found that the breakfast could be improved a little – although the very friendly staff make up for it a lot. But okay, breakfast in Italy simply cannot be compared to that of Austria or Germany. Next time we would probably skip it and have breakfast out somewhere.
Our conclusion: A really great hotel, which couldn't be more centrally located. The service could be a touch more personal, but it is incredible efficient, and the staff are very friendly. We would stay here again anytime.
You can book the hotel here: Hotel Milano
6. Map: Overview of all the Sights in Verona
We have marked all the sights and our personal tips on this map, so that you can better navigate from A to B while you are there. Small tip: Simply click the top right corner to open the map in the Google Maps App on your smartphone.
---
Transparency: Affiliate Links
This travel guide contains our personal recommendations in the form of affiliate links. If you book or buy something through the links, we receive a small commission. This does not change the price for you at all. A million thanks from the both of us!
Have you already been to Verona? Did you also enjoy it as much as we did? Perhaps you have additional recommendations for sights or travel tips that you would like to share with us? We look forward to your comments!