Vietnam is 1,650 kilometres long from north to south. Therefore, not only an incredibly long stretching country awaits you, but also a multi-faceted one like no other. A rugged karst landscape to the north and a fascinating river delta in the south. And in between: hundreds of kilometres full of culture, adventure and more.
We must admit: Vietnam is not one of the countries in Southeast Asia that had our heart right away. A second trip to Vietnam also didn't change anything. Somehow there weren't the same sparks as there were with other countries. However, that still doesn't change the fact that Vietnam is utterly worth seeing and culturally a very interesting country to travel to.
Are you planning a trip to Vietnam and are looking for the perfet itinerary? In this travel guide we reveal to you our itinerary and all the stops. It takes you to the highlights of Vietnam – from the iconic Halong Bay in the north to the impressive Mekong Delta at the southernmost tip of Vietnam.
1. Vietnam Three-Week Travel Itinerary: All the Stops and Highlights
Hanoi
Here we begin in the city of all cities in Vietnam: Hanoi. Hanoi's old town is the epitome of Vietnam for us and definitely an must on your itinerary. The streets are bustling with swarms of honking scooters. Exotic smells of all kinds waft out from the roadside food stalls. And in between you have to be careful not to overlook the people sitting down on tiny plastic stools.
Vietnam just like in the picture books – that's how Hanoi feels sometimes. Hanoi is full of energy, chaotic, loud, and quite overwhelming. Hanoi's old town is a labyrinth of thousands of alleyways lined with colonial houses, some pretty and some crumbling.
You can find one of Vietnam's most popular photo motifs in Hanoi. Along the so-called Train Street the train tracks are so close to the houses that you think the train will run into them. Nowadays (since May 2020) the entrance to Train Street is guarded by police, but if you have a drink in one of the cafés, you can still get to the train tracks.
Recommended stay: 3 nights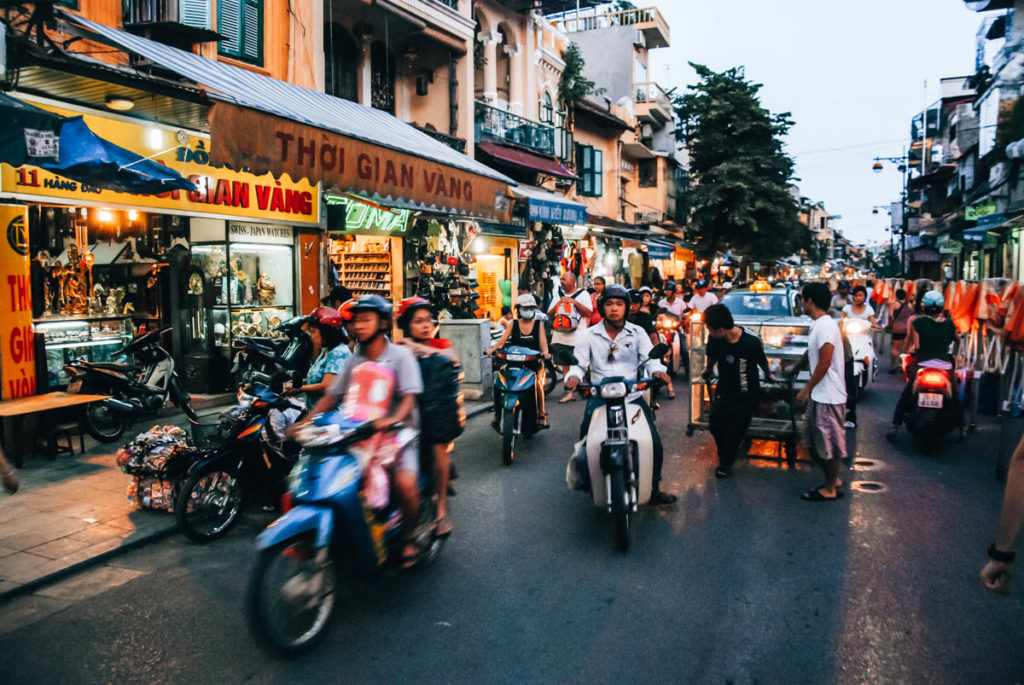 Sa Pa
The next place on your itinerary is the mountain region around the small town Sa Pa which is comparatively little visited by many travellers. The reason: Sa Pa is not usually on other itineraries and getting there from Hanoi on the night train (or night bus) might be a little daunting for some. We can offer reassurance though: travelling on the night train is rather relaxing.
Sa Pa itself is certainly not the highlight of the region. The cities have become fairly touristy. However, the lush green vegetation here in the northwest of Vietnam on the boarder to China is truly amazing. For example, the highest mountain in Vietnam, the Fansipan, can be found here. Interestingly, nowadays you can reach the summit in a cable car.
In addition, we would warmly recommend taking a trekking tour. The tours run by Sa Pa Sisters are recommended. Talking of tours: sometimes in Hanoi you might come across pre-booked excursions to Sa Pa. This is really not necessary. It is better to organise the trip yourself and take a little more time to spend in Sa Pa.
Recommended stay: 2 to 3 nights
Halong Bay
The next stop on the itinerary is one of the main highlights of Vietnam, which you probably would have already heard of: Halong Bay. Some 150 kilometres east of Hanoi hundreds of limestone islands rise out of the sea into the sky in Halong Bay. Halong Bay is really the most wonderful postcard picture. Although: the idyllic atmosphere is sometimes very clouded by the brisk boat traffic. No, Halong Bay is no secret and yes, many parts of Halong Bay are extremely touristy.
We decided against taking a quick day trip from Hanoi and instead spent our time on the largest island in Halong Bay, on Cat Ba. We would do that again any time.
Unfortunately, the weather wasn't on our side during our stay. Our planned boat excursion fell through. The best way to experience Halong Bay is on an overnight tour. Be aware: Not all operators are recommended.
Recommended stay: 3 nights (e.g. 2 on Cat Ba and 1 on the boat)
Hue
If you want to immerse yourself in the history of Vietnam, the once imperial city, Hue, is the right place for you. The Imperial Citadel is the highlight in Hue, which was based on the Forbidden City in Beijing. Even though many parts of the citadel were unfortunately destroyed in the Vietnam war, it is still very impressive.
In addition, many more temples and pagodas also rise up out of Hue. The most well-known pagoda and one of the most significant buildings in the city is the Thien Mu Pagoda. If you are interested in Palaces and Temples, then you should definitely include Hue on your itinerary.
Recommended stay: 2 to 3 nights
Hoi An
Hoi An is considered one of the most beautiful cities in Vietnam – if not the most beautiful – and definitely a must on your itinerary! Pretty colonial houses line the streets of Hoi An's old town and colourful chains of lanterns characterise the street landscape. Although: Hoi An is without a doubt a tourist town. The bus groups in particular flood the streets during the day and spoil the experience quite a bit.
Still, we really enjoyed Hoi An and we would definitely recommend integrating a stop in Hoi An along your itinerary. The region around Hoi An is also very pretty. For example, you can take a day trip by bicycle to the beach.
Our more detailed blog article: Tips for Hoi An (coming soon)
Recommended stay: 3 nights
Saigon (Ho Chi Minh City)
A small note beforehand: theoretically, two beach towns are located between Hoi An and Saigon: Nha Trang and Mui Ne. We ourselves were in Mui Ne – but we can't really recommend it.
Saigon (or Ho Chi Minh City, as the city is now called) is the second largest city in Vietnam, after Hanoi. In contrast to Hanoi, Saigon is more westernised and urban. You can find many more skyscrapers here, but you can also immerse yourself in the busy, authentic hustle and bustle. You will also witness the moving history of Vietnam in Saigon. For example, the Reunification Palace is worth visiting.
Our more detailed blog article: Saigon Tips (coming soon)
Recommended stay: 3 nights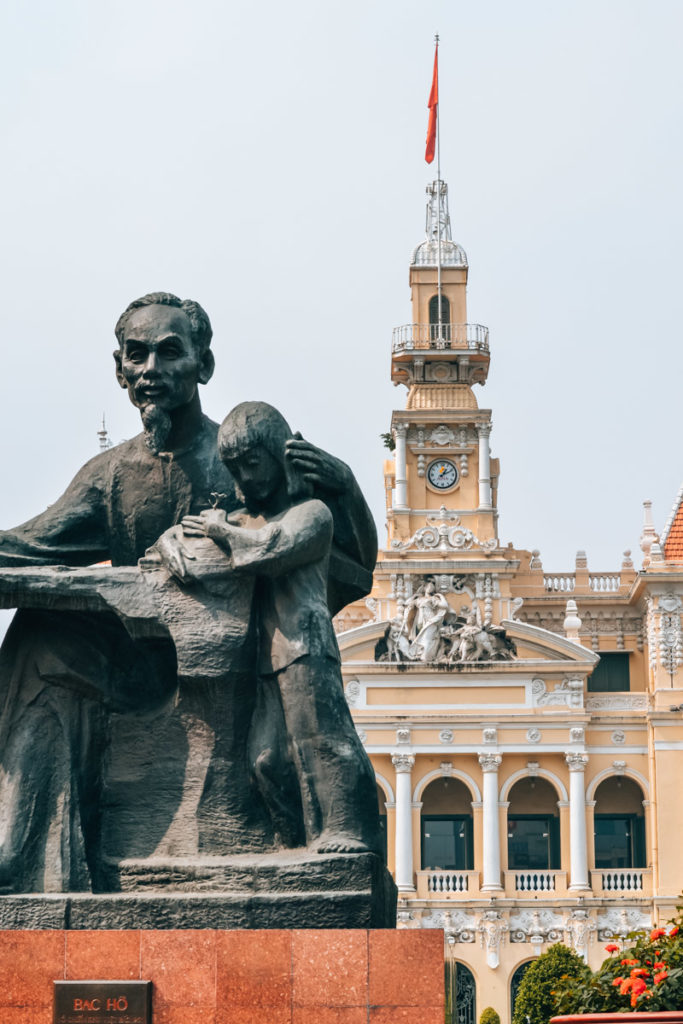 Mekong Delta: Can Tho & Ben Tre
Last but not least: your itinerary should definitely also take you to the Mekong Delta. The river delta is at the southernmost tip of Vietnam and was our favourite stop in Vietnam. Here you gain an authentic insight into the everyday life of the people that takes place on and close to the water here at the Mekong Delta.
One of the highlights of the Mekong Delta is a visit to the floating markets. Two of the most well-known floating markets are located close to Can Tho, the largest city in the Mekong Delta. We also really enjoyed it in the so-called coconut province, Ben Tre.
Additionally: Unfortunately, many travellers only visit the Mekong Delta on a day trip. Even though that is theoretically possible, we would not recommend it. We didn't regret spending a full four nights in the Mekong Delta for one second.
Recommended stay: 2 to 4 nights (e.g. 2 in Can Tho and 2 in Ben Tre)
2. Map: Overview of the Vietnam Itinerary
We have marked all our stops on this map for you so you can get an idea of the itinerary. Something you definitely need to keep in mind: Vietnam is very long and therefore distances are quite far. You need to allow around 10 hours for the stretch between Hanoi and Sa Pa. We reveal more info and tips on transport in the next chapter.
3. Further Travel Tips for your Vietnam Itinerary
Itinerary from north to south or the other way around?
You have probably already wondered what makes more sense: To travel from north to south or from south to north. Our perhaps unsatisfactory answer is: it depends. No matter which way you decide – be it north or south, Hanoi and Saigon (Ho Chi Minh City) are the perfect starting point or end point for your trip.
Personally, we would base the decision on two things:
1. Flights: Very pragmatic, but not insignificant – which option can you find the cheapest/most optimal flights for? Here we recommend (as long as you really want to travel the entire country) taking an open jaw flight e.g. arrival in Hanoi and departure in Saigon (Ho Chi Minh City).
2. Season/climate: Keep in mind it can be really cold in northern Vietnam during Europe's winter months. If you travel to Vietnam e.g. in January and definitely want to visit the north, then we would personally start there. The further south you travel on your journey, the warmer it will be. (That is definitely more comfortable than the other way around.)
What is the best time to travel to Vietnam?
The bad news first: There is no ideal travel time that applies to all of Vietnam! Since Vietnam is so long, you will find three climate zones here: north, central and south Vietnam. Depending on the month, the climate can differ massively between regions. For example, while it's warm and sunny in the south in January it can often be quite cold in the north. Meaning a boat tour in Halong Bay isn't much fun.
The good news: In principle, you can travel to Vietnam all year round, but depending on the region, you might need to make some compromises. Some also decide just to focus their trip on one region.
Our personal experiences
We ourselves have been to Vietnam twice: Our first trip took us to northern Vietnam in August. We can confirm that the climate in that month is very humid and rainy. It would be more ideal in September to November. For example, in Halong Bay we had three days straight of rain.
Our second trip took us in December/January to central and south Vietnam. The weather was really pleasant and very sunny – exactly as you would wish for. Although in central Vietnam it was very inconsistent and rather fresh.
An important note: The weather in Southeast Asia doesn't always go according to the weather forecast. That means: you should be prepared for anything – even in the dry season rainfall can't be ruled out. Therefore, you should always pack your rain jacket, no matter what time of year. In addition, we definitely recommend you bring enough warm clothing if you travel to northern Vietnam during the European winter. You really underestimate how cold it can get.
Transport in Vietnam: How do I get from A to B?
An important tip in advance: Vietnam is very long, so keep in mind that the distances can be far apart. Quite often you can sit for 10 hours on a train or a bus before reaching the next destination. Vietnam is definitely one country where you need to be prepared for long trips.
Bus trips in Vietnam
It is most common to travel Vietnam by bus. There are countless service providers. We ourselves often relied on the highly recommended bus company Phuong Trang (Futa Bus Lines). It is very cheap to travel by bus in Vietnam, but not always comfortable. In general, we would especially recommend it for shorter distances.
You can either buy tickets locally while there (e.g. in one of the countless small travel offices or through your accommodation) or you can book your ticket in advance. That is easily done e.g. via the website 12go.asia.
Train travel in Vietnam
Many destinations along this Vietnam itinerary can be reached by train. The trip usually takes just as long as it would by bus. Personally, we find train travel more comfortable, especially for longer distances, because you can get up and aren't confined to your small seat.
For example, we ourselves took the night train from Hanoi to Sa Pa and can definitely recommend it. You can also book train tickets via 12go.asia.
Flying in Vietnam
If you take a closer look at the distances in Vietnam, you will notice: you rarely get from A to B very quickly. So, we really understand why flying is an attractive alternative to on land. The route network in Vietnam is large: many places are connected to each other by plane.
Personally, we flew with the national airline, Vietnam Airlines, and don't have anything negative to say. Depending on when you book, tickets for domestic flights are rather cheap. But the prices can also get really expensive if there is sufficient demand.
Travel guide for your Vietnam Itinerary: Our Tip
We like to trust in the Lonly Planet travel guides for Southeast Asia – which also goes for Vietnam. We can highly recommend the Lonly Planet Travel Guide Vietnam. As you would expect, it is quite detailed, but not too excessive and is very well researched. Perfect for all independent travellers!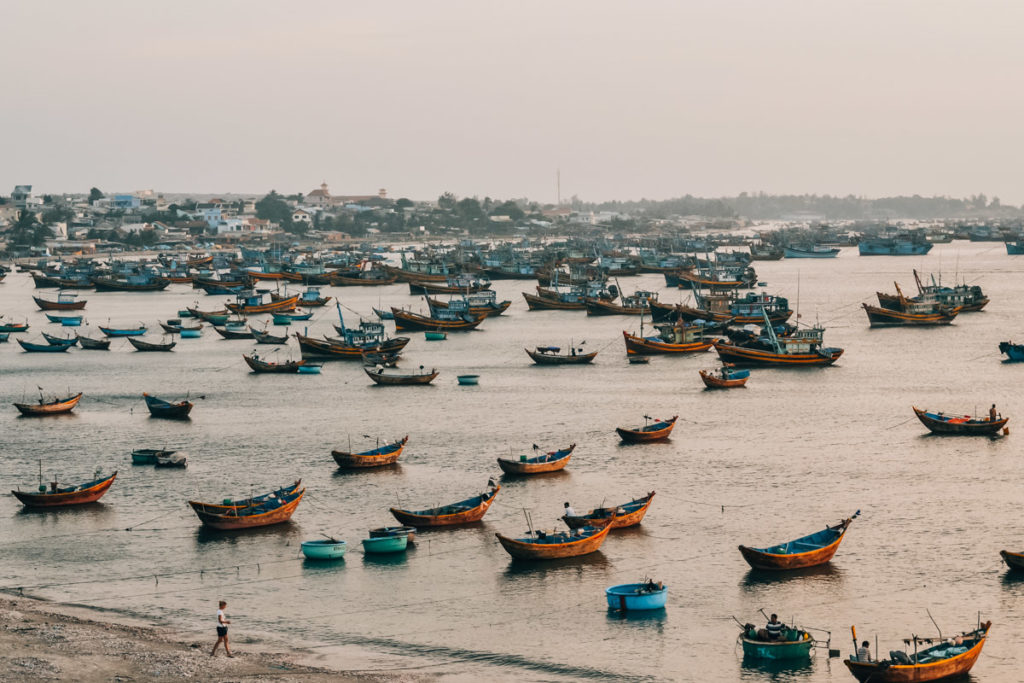 ---
Disclaimer: Affiliate Links
This travel guide contains our personal recommendations in the form of affiliate links. If you book or buy something via the links, we will receive a small commission. This will not change the price for you at all. A million thanks from the both of us!
Have you already taken a trip through Vietnam? What itinerary did you take and what were your highlights? Or do you still have questions about the itinerary? We look forward to your comments!