Aix-en-Provence is the perfect representation of what life is like in the South of France. You certainly cannot help but fall head over heels in love with the crooked, pastel-coloured, crowded houses; the moss-covered fountains and the hustle and bustle at the farmer's markets. On sunny days, which there are fortunately plenty of, this university city is buzzing with youthful energy.
Aix – as it is fondly called in this country – embodies a Mediterranean flair like no other city in South of France. We are not surprised that Aix is ​​one of the most expensive cities in France, but this is justified by being one of the most liveable cities as well. 
In this blog article, we will share with you the attractions in Aix-en-Provence that we particularly liked and which highlights you should not miss. We will also share with you a spectacular trip to the famous mountain called Montagne Sainte-Victoire.


1. Attractions in Aix-en-Provence: What to do and see
If you ask us: The most beautiful sight in Aix is ​​the city itself. The Mediterranean flair of Aix-en-Provence is basically a work of art in itself. But of course there are some special places that are more well known and/or photogenic, which we will be sharing with you too. 
Atelier de Cézanne (Art Studio)
A must-see when you're in Aix-en-Provence is a visit to the former studio of Paul Cézanne. This also applies to those of you who are perhaps not so well-versed in his artworks. The studio of Cézanne has maintained an indescribable charm despite the number of visitors.
The studio is strictly speaking only a single room, so don't expect a museum in the classical sense. It is more about putting yourself in the painter's shoes and to get an idea of how he lived and worked. Therefore, we would certainly advise you to use an audioguide. It's thanks to the good explanation and descriptions that made this visit to his studio so insightful.
Information about visiting Cézanne's Studio
Opening Hours: In April and May from 9:30am-12:30pm and again from 2pm-6pm; from June to September from 9:30am-6pm; from October to March from 9:30am-12:30pm and again from 2pm-5pm.
Admission: 6,50 Euro (the audio guide costs an extra 3 Euro on top)
Address: 9 Avenue Paul Cézanne, 13100 Aix-en-Provence
Getting there: Either on foot (from the city centre it takes about 15 to 20 minutes) or by public bus (Number 5 to the stop "Cézanne")


Cathedral of Aix-en-Provence (Saint-Sauveur)
In the old town of Aix, Saint-Sauveur Cathedral is the tourist magnet, so of course we had to stop by as well. With its eye-catching mix of styles, the cathedral is certainly a monument that will be well remembered. Its interior is simply spectacular to look at. We were particularly impressed by the oldest part of the cathedral, the so-called Baptistery, which you can see in the photo below.
Information on Visiting the Saint-Sauveur Cathedral
Opening hours: every day from 8am to 7:30pm
Admission: free
Address: 34 Place des Martyrs-de-la-Resistance, 13100 Aix-en-Provence


Place d'Albertas
One of the most charming places in Aix-en-Provence is Place d'Albertas. Despite, or rather because of the partially faded rustic look, this place gives off a very special charm. The historic fountain looked like a movie set, perfectly complemented with moss covered cobblestones. If our photo session had not been permanently interrupted by selfie stick-armed groups, we could have stayed here for half an eternity.
Address: Place d'Albertas, 11 Rue Espariat, 13100 Aix-en-Provence
Market on Place Richelme
In the heart of Aix-en-Provence, every morning, a wonderful Farmer's Market is bustling away on Place Richelme. The usual Provencal delicacies are sold, including fruits, vegetables, cheese, fish and meat. Our tip: there are some very nice cafes on the edge of the square. We ourselves were in the Pâtisserie Weibel – more on that later in this blog article.
Opening Hours for Farmers Market: Monday to Sunday morning (all year round) until about 1pm
Address: Place Richelme, 13100 Aix-en-Provence


Pavillon de Vendôme
Also worth a visit is the 17th century Baroque palazzo called Pavillon de Vendôme. Don't expect any big highlights but if you have enough time in Aix available, then it's worth a walk to the Pavillon de Vendôme just for a look. It is located in a beautifully curated and well maintained garden – so perfect if you need a short break from sightseeing. There is also a museum inside, which is apparently not overly spectacular.
Address: 13 rue de la Molle, 13100, Aix-en-Provence
Cours Mirabeau
Once upon a time, the carriages of the nobility rode here. Today the Cours Mirabeau is the most famous boulevard of Aix-en-Provence. Every Tuesday, Thursday and Saturday, there is a textile and art market lining the 500m long avenue. Most worth seeing are the old fountains as well as the magnificent house fronts of the historic mansions.
In a side lane of the Cours Mirabeau is also the Caumont Center d'Art (3 rue Joseph Cabassol). The much-praised art museum is housed in a historic city palace and displays two exhibitions each year. Unfortunately, we did not make it there in time.


2. Restaurant Tips for Aix-en-Provence: Where to eat
Restaurant "La Tomato verte"
We had an excellent lunch here in this young, friendly bistro. It is located in the middle of the Old Town in the Rue des Tanneurs, where other restaurants are also located. They serve modern French cuisine at a surprisingly high level of quality. However, this also means that the restaurant is subject to higher prices: for lunch, they offer a 3-Course Menu at just under 30 Euros per person. Main courses alone cost between 16 and 25 Euros. The restaurant is also open in the evenings.
Address: 15 Rue des Tanneurs, 13100 Aix-en-Provence


Restaurant "Les Baratineurs"
This young establishment is located on the edge of the bustling Place des Cardeurs. This area boasts a number of good restaurants nearby and is especially well visited in the evenings. The menu at "Les Baratineurs" offers a mix of tapas and international dishes, including burgers and salads.
Address: Place Forum des Cardeurs, 13100, Aix-en-Provence


Pâtisserie Weibel
We fell in love with the amazing Pâtisserie Weibel before even setting foot in the store. We ate the best Tarte au Citron of our entire trip to France right here. Our Tip: In the Pâtisserie you can also buy the famous Calissons d'Aix in a variety of pack sizes. If you like marzipan, you'll love their almond cake as much as we do!
Address: 2 Rue Chabrier, 13100 Aix-en-Provence


3. Destination: Hike to the Montagne Sainte-Victoire
Just outside the city, the landmark of the region towers above the sky – the spectacular Mountain of Sainte-Victoire. On first impressions, it's no wonder that this sandstone mountain is so often depicted by the painter Paul Cézanne over and over again on canvas. It is actually because of this that the Montagne Sainte-Victoire is famous beyond its French borders.
The Montage Sainte-Victoire has been awarded the "Grand Site de France" and is one of the 17 areas in France that are very well known in tourism. But don't worry, if you're expecting a crowd, you might find quite the opposite. On our 3-hour hike, we only met a handful of people.
Speaking of hiking: The Montagne Sainte-Victoire is an Eldorado for outdoor enthusiasts. Most come for hiking or climbing. The southern flank (which you can see on the first photo) is very scenic, while the northern side is flatter.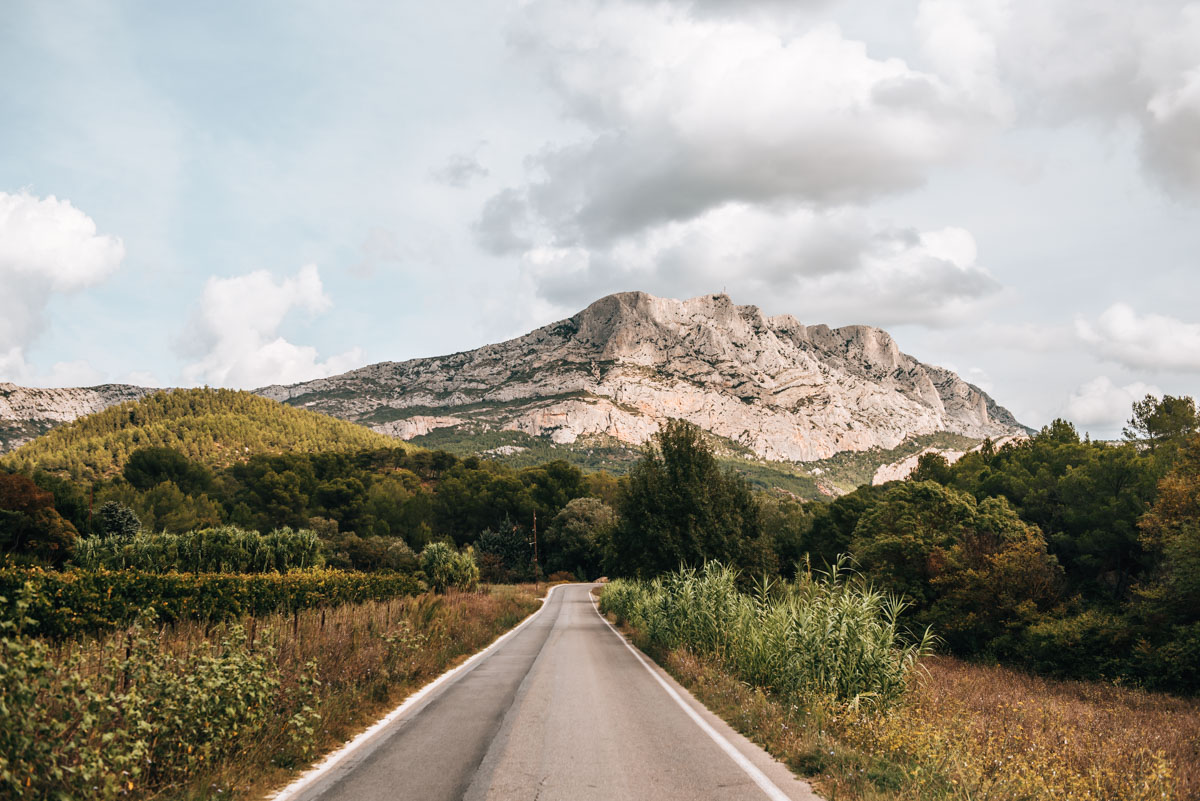 Hike to Chapelle Saint-Ser
We ourselves started the hike to the Chapel of Saint-Ser. The best part was that we were joined by the lovely company of Stéphane. Let's just say that there is no one who knows the Montagne Sainte-Victoire better than he does. Stéphane is a trained biologist and now passes on his knowledge of flora and fauna to his guests on his guided tours. (We'll tell you more about his tours at the end of this chapter.)
The hike to the Chapel starts on the south side of Montagne Sainte-Victoire. From the parking lot you can reach the Chapel in about 1.5 hours. Although it goes steadily uphill, the hike is not overly strenuous – unless the sun is beating down as it was for us. At over 30 degrees, we got pretty sweaty.
The hike offered beautiful views the entire way, but of course it was even more spectacular from the top. Seeing we had come this far, it would have been a pity not to see the summit("Pic des Mouches"). Unfortunately, the marked trail ends at the chapel. It is possible to climb further, but we would recommend this only in the company of an experienced guide! The way back to the parking lot is via the same route.
In addition to this trail there is another point called "Croix de Provence", the supposed summit cross, which is very popular. However, the actual summit is in fact the "Pic of the Mouches". You usually reach the "Croix de Provence" from the north side. On the way to the cross you will pass the monastery "Prieuré Sainte-Victoire".
Getting there & important information about hiking the Montagne Sainte-Victoire
The hike to the chapel starts at the Saint-Ser à Puyloubier car park. You can reach this from Aix-en-Provence in about 40 minutes. (We drove the route via Tholonet.) At the car park, you can park your car for free.
Between 1st June and 30th September there is an increased risk of fire due to drought. If you would like to go hiking at the Montagne Sainte-Victoire during this period, it is up to you to find out if a hike is possible. You can check the information here.
In Vauvenargues (on the north side) and in Beaurecueil (on the south side) there is an information centre where you can get up to date info.
Here is the link to their website: Grand Site Sainte Victoire
"Nature en soi" – hiking with Stéphane
If you do not want to do the hike alone, we highly recommend a tour with Stéphane! Stéphane is a nature lover through and through. Ask him any question – and he has an answer for you. It was also necessary to trust in his knowledge, as we repeatedly tried plants that we had never heard of along the way.
Stéphane offers a variety of tours, including "survival trainings" for children and trips for handicapped people. He speaks primarily French, but also good English – even if he was constantly apologising for his English. However, he also has a colleague who performs the English tours.
You can visit the website here: Nature en soi.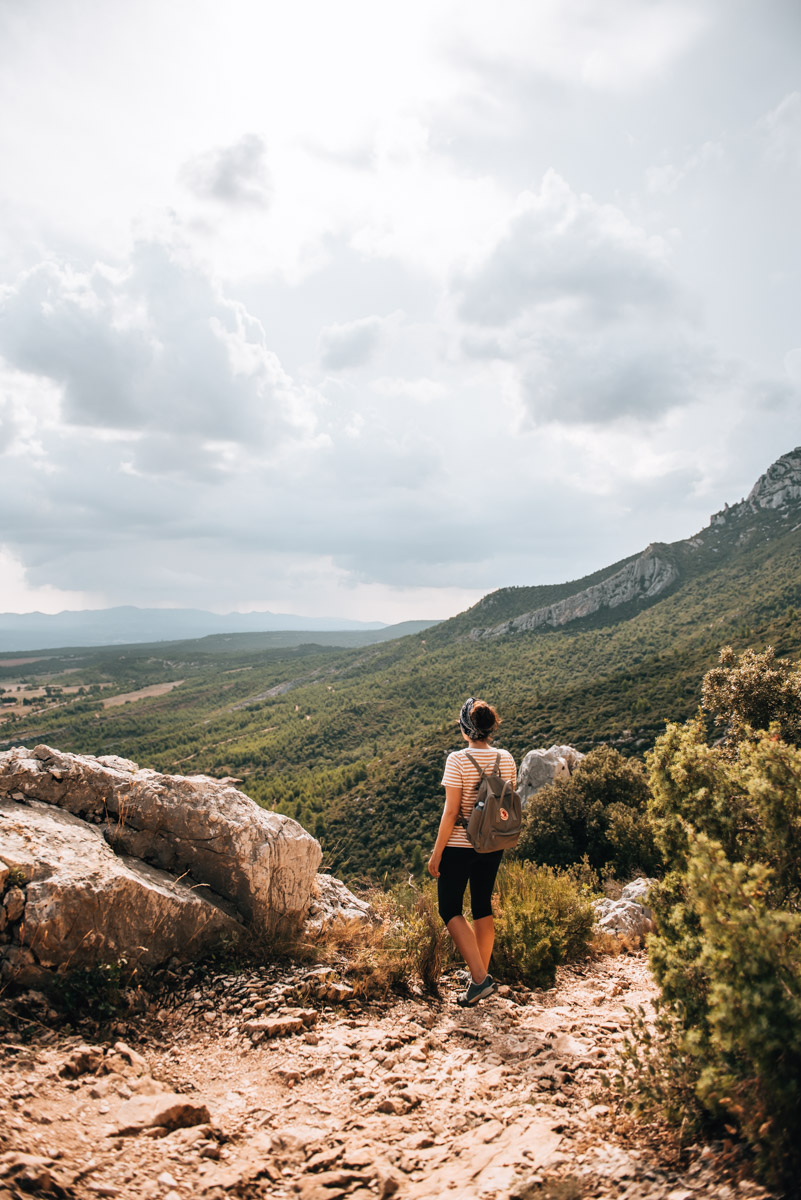 4. More travel tips for Aix-en-Provence
How much time should I plan for Aix-en-Provence?
Aix-en-Provence can be explored rather quickly and you can easily cover the main attractions in just a few hours. Nevertheless, we recommend you to stay in Aix for at least two nights so you can get a better feel for the culture here and enjoy the atmosphere, which is an attraction in itself. If you would like to hike the Montagne Sainte-Victoire, you could even add in a third night.
When is the best time to go to Aix-en-Provence?
Generally speaking, Aix-en-Provence is blessed with many hours of sun and a very mild climate. We would not recommend visiting during the hottest months (July & August), because sightseeing at over 30 degrees is quite exhausting – not to mention a hike up Montagne Sainte-Victoire. In addition, there is an increased risk of forest fires during this time.
Spring and Autumn are popular travel times for Aix-en-Provence. If you want to see the lavender blooming, they bloom from the beginning/middle of June until mid August, and are much fuller in bloom the later you go. We ourselves were in Aix-en-Provence during the month of September and can highly recommend this period to travel as it was still very warm during the day and sunny all day long.
How to get to Aix-en-Provence?
The largest airport in the vicinity is in Marseille. From Marseille you can reach Aix-en-Provence by car in about half an hour. In general, we recommend that you hire a rental car when traveling through Provence. There are so many beautiful destinations along the way, which you can be more flexible about in terms of 'exploring', if you have a car.
Other Destinations in Provence
In addition to Aix, there is so much more to see in the region of Provence. For example, in this blog article: The Mountain Villages of Provence – we outline our destinations for a road trip through the most beautiful villages in Provence. You can complement your visit to Aix-en-Provence by combining it with this mini road trip itinerary.
5. Accommodation in Aix-en-Provence
Unfortunately, the hotels in Aix-en-Provence are rather expensive. Therefore, it's not easy to find a good accommodation with a reasonable price-performance ratio. However, we can highly recommended the stylish Maison Dauphine – which is located right in the centre of a beautiful, historic building.
The Maison Dauphine is not a hotel but rather a building made up of several apartments. They come beautifully furnished, which adds to its cozy vibe. The location is perfect – you will find the Maison Dauphine situated down a small alleyway and therefore, very quiet. However, you are still close enough that you can reach all the city attractions by foot.
You can view and book the hotel here: Maison Dauphine
---
Transparency: Advertising
For this blog article we collaborated with the French National Tourist Board (Atout France). As part of the nature campaign #gesichterfrankreichs we had the privilege to travel for two weeks through the South of France – including Aix-en-Provence. Of course, this cooperation does not influence our opinion in any way.
This blog article contains our personal recommendations in the form of so-called affiliate links. If you book or buy something through the links, we will receive a small commission. For you, this does not change the price at all. A million thanks from the both of us!
Have you ever been to Aix-en-Provence? Were you also amazed? If you have any more tips or questions, please leave a comment below!