Longing for the South of France. A proper road trip through this part of the country has been on our wish list for what feels like an eternity. Is it the lavender fields? The mountain villages of Provence? The coastal roads of the Côte d'Azur? After two weeks "on the road" we would say that it's definitely the scenic variety, which makes a road trip through South of France so special.
One day we could be enjoying the idyllic houseboat in the Camargue, the next day we could be stumbling across the market of L'Isle-sur-la-Sorgue. The South of France can be full of stereotypical spots (such as the Provence) as well as surprises. Would you have ever imagined that South of France also has spectacular canyon landscapes??
In this travel guide, we will describe the itinerary of our two-week road trip through South of France. At the end of the article you will find useful tips for planning your trip as well as a map with the most important places in our itinerary. Wanderlust guaranteed!
1. Two Week Road Trip in South of France: Our Itinerary
Via Carcassonne to Narbonne
Our road trip through southern France starts at the airport in Toulouse. The city is said to be charming – unfortunately, we didn't stop here due to time constraints and headed straight to Carcassonne in the Départment Aude. The medieval fortified city of Carcassonne is the most visited destination in the region and we think rightly so! Our road trip then continued on to Narbonne – the pretty French town on the Canal de la Robine captivated us immediately.
You can find our more detailed travel article here: Aude in Southern France: Our Tips for Carcassonne, Narbonne
Our Accommodation in Narvonne: La Maison Gustave
Lozère: the gorges of the Tarn and the Jonte
From Narbonne, our Southern France road trip takes us inland to the north and for two days we explored the Lozère, the most populated Département of France. With our rental car we cruised along the spectacular gorges of the Tarn and the Jonte and explored the tiny mountain villages scattered along it.
The region is so sparsely populated that sometimes it would be many many miles before we encountered another car. One of our highlights here was our visit to sheep farmer Anaïs and Fromagerie La Fédou.
You can find our more detailed travel article with our tips here: Lozère: The Tarn and Jonte Gorges of the Cévennes National Park
Our Accommodation in Lozère: Le gîte de La Doline
Pont du Gard & Camargue
The next stage of our itinerary takes you to of the most important sights in the South of France: the Pont du Gard. The aqueduct is one of the best preserved Roman buildings and we got to explore the monument by foot as well as paddle under the Pont du Gard by kayak.
After that we were in for one of the most amazing experiences and the highlight of our entire South of France journey… a trip with a Houseboat! Yes, you heard right! We navigated our our 12m long boat around the Camargue and discovered some beautiful places. Our journey with the Houseboat extended all the way down to the pretty town of Aigues-Mortes.
Our Accommodation in Aigues-Mortes: Boutique Hôtel des Remparts & Spa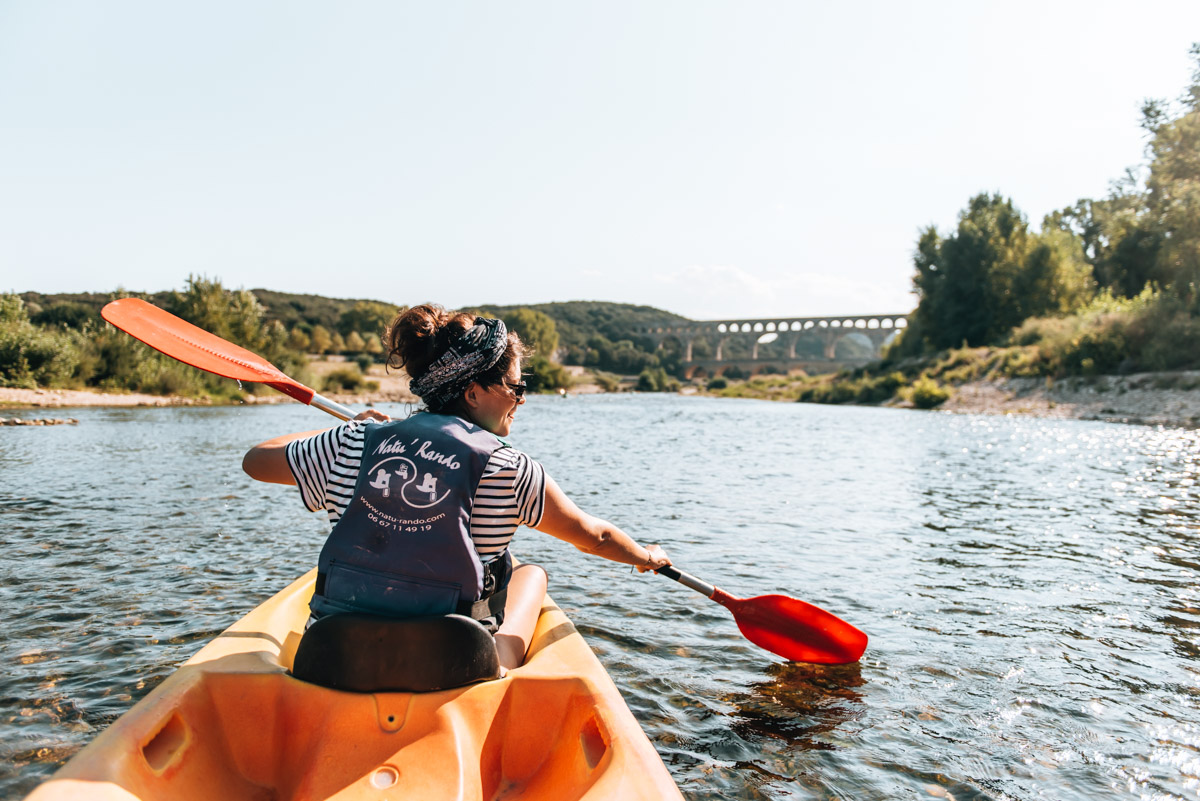 Provence: The Villages of the Luberon
The entrance of the Provence! For two days we explored one of the most beautiful places on earth: the villages of the Luberon, including Bonnieux, Lourmarin and Roussillon. If there is anywhere that the stereotypes of Provence come true, then it is here: lavender scents, local farmer's markets and picture-perfect streets lined with olive trees. Honestly, this section of the road trip will positively astound you as much as it does us.
You can find our more detailed travel article about Luberon here: Provence: The Charming Villages of Luberon
Our Accommodation in Lourmarin: Mas La Cheneraie
Aix-en-Provence
Our itinerary takes us to the former capital of Provence: Aix-en-Provence. The young, vibrant city sure knows how to impress! In the narrow streets of the old town we felt right at home. We visited the studio of Paul Cézanne, admired the many old wells and even made a trip to the mountains. But not just any mountain, the most famous mountain in the region, the Montagne Sainte-Victoire. The artist Cézanne was well known for his canvas work of this repeatedly painted mountain.
You can find all our highlights shared in this travel article here: Best of Aix-en-Provence: Our Travel Guide & Tips
Our Accommodation in Aix-en-Provence: Maison Dauphine
Roquebrune-sur-Argens
From Aix-en-Provence our road trip continues to Roquebrune-sur-Argens. The pretty, relatively untouristic village is located directly on a structure of rocks: the Rocher de Roquebrune. Since we were there, we simply had to see the view from the summit.
Said and done. About three hours later, we conquered this rather challenging hike and were rewarded with spectacular remote views of the area. The following day, we explored the area from the water: During our kayak trip along the Argens River, the Rocher de Roquebrune would frequently reappear in front of us.
Our Accommodation in Les Issambres: Mer du Mer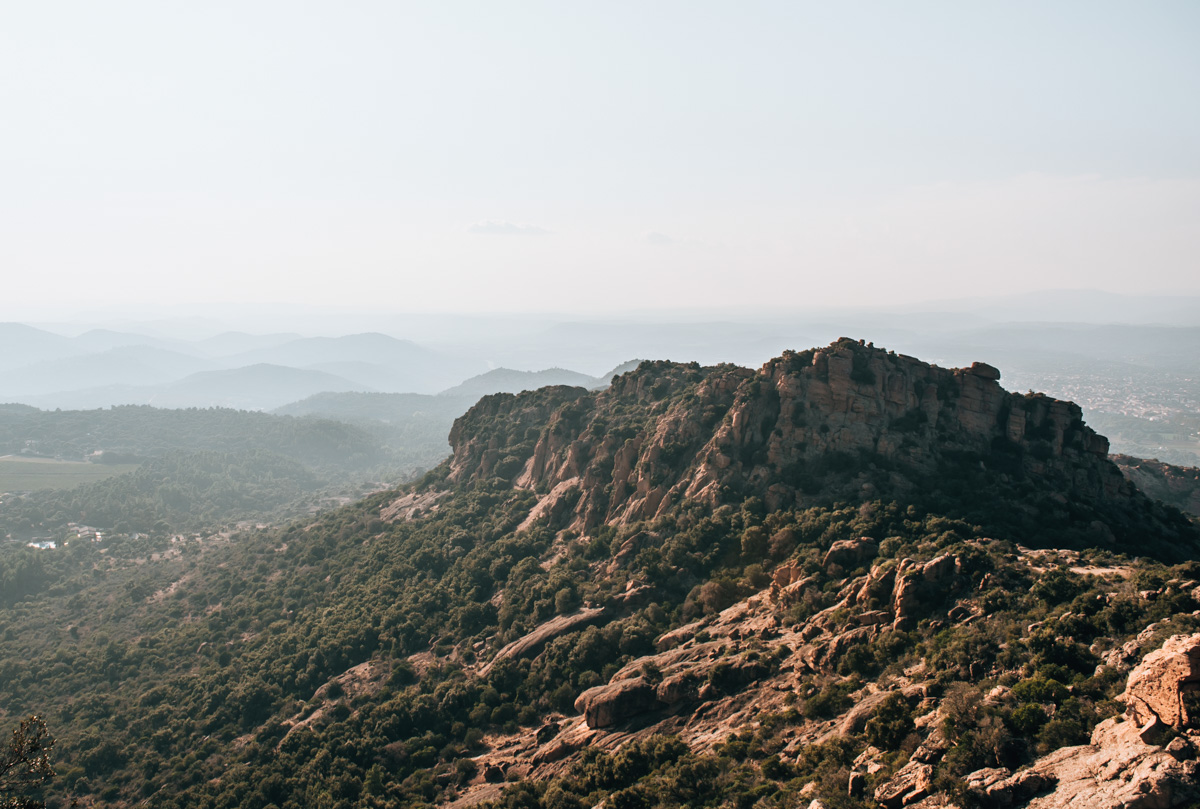 Cannes on the Côte d'Azur
The last stop on our South of France road trip was the vibrant Cannes on the Côte d'Azur. You could easily spend two weeks along the Côte d'Azur alone. There are so many places worth seeing here, but out of all the possibilities, we decided on the film festival city of Cannes – smaller than Nice, but not quite as luxurious as Saint Tropez. We love the combination of urban and Mediterranean flair and even made a trip to the offshore island of Sainte-Marguerite.
You can find more detail about our tips and sights in Cannes here: Cannes Travel Guide: Top things to do and see
Our Accommodation in Cannes: B&B Villa Du Roc Fleuri
2. General Travel Tips for South of France
Car Hire: Tips & Info
In principle there are two possibilities: Either you travel with your car from Germany or Austria to France. Or you rent a car on the spot. We picked up our rental car directly at the Toulouse airport and returned it two weeks later at the Nice airport.
Important thing to pay attention to when booking rental cars, is having the right insurance. We ourselves always book the best option with reimbursement of any liabilities without question. This means that any liabilities made in case of damage will be refunded afterwards.
We have had good experiences renting via Sunny Cars and have been the victim of a non-witnessed hit-and-run incident to our parked car in New Zealand. Sunny Cars reimbursed us for the 700 Euros in liability with no questions asked. This is a liability we would have had to pay if not for the right insurance with Sunny Cars.
Tolls on Highways
Important to know: Most highways in France are subject to road tolls and the fees are quite high. However, the motorway network is operated by several companies. The toll fees therefore vary depending on the region you are in. For our route we paid a total of about 40 Euros in tolls.
You pay at the Toll Gates, in French it's called "Péages" – either in cash or by credit card. There is also an electronic billing system, called "Télépéage". For this you need a special automatic device in the car (which costs extra), so it was out of the question for us. Beware: Make sure you're in the right lane at these toll booths! They have signs and symbols above: for example money and coins, which means you can only pay by cash at that Toll Booth. Card payments will be accepted at the toll booths under the card symbol.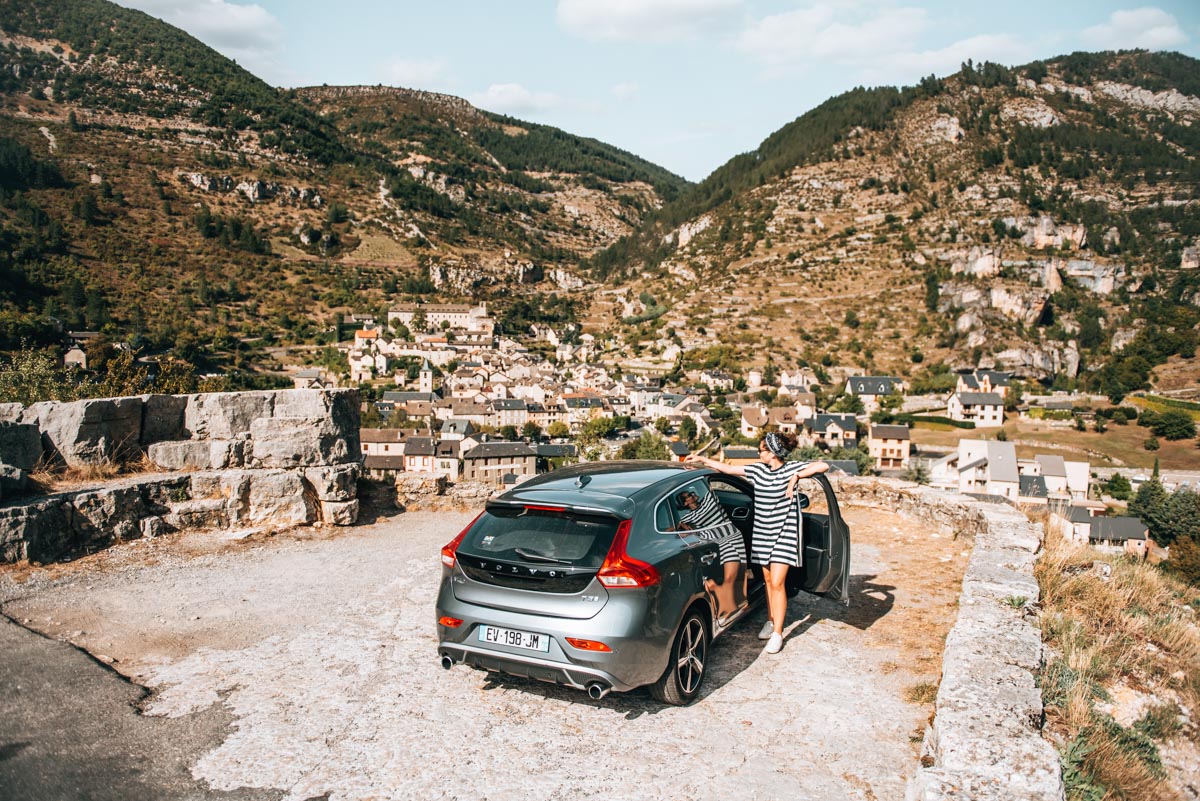 Safety in South of France
Before our trip, we read some horror stories about car burglaries in the South of France and along the Côte d'Azur. Thankfully nothing happened to us, but we talked to a lot of locals about this issue and many have confirmed that this is becoming a huge problem.
To minimise the risk, you should not leave anything and certainly no valuables in the car. This is of course easier said than done, because every so often you might like to visit some other attractions on the way to a new destination. More often than not, it's simply easier and more practical to just leave the suitcases in the car.
In such cases we have taken the following two precautions:
Always looked for monitored or well-frequented parking lots.
We make sure that you can't see there is luggage in the trunk from the outside and that there are no incentives for them to break in.
Of course these are just precautions and ultimately if you're unlucky then there's nothing more you can do about it. Don't let this fear drive you crazy however.
The keywords 'terrorist threat' in Southern France seems to be brought up as an issue for some. Granted, if you follow the media coverage, then you will let them instil unnecessary fear in you. However, we strongly advise you not to let the recent media play with your head too much. The chances of something happening is like a pin in a haystack – there are more fatalities per year due to car accidents than terrorism and warfare combined. The only thing you need to get used to is the sight of military machine guns patrolling certain places. We noticed this in Aix-en-Provence for example, but in general, we never felt unsafe.
Food & Drink in Southern France
France is a country full of indulgence. Meals, especially dinner, are a big deal here. You rarely only ever eat just a main course, but rather a 'Menu' of three courses consisting of Entrée, Plat and dessert. Prior to your meal, you will usually be served fresh baguette with tapenade (a delicious olive paste). Throughout the courses you will drink Vin in huge quantities. Okay, we may be exaggerating, but the Frenchmen do love their excellent wine and almost always order at least one bottle for the table. In the south of France, Rosé tends to be amongst the favourites.
Meat and fish dishes dominate the menu. In all seriousness, these are the only two divisions you will find on the menu apart from appetisers and desserts. In France, meat is traditionally always part of a meal. Hard to believe but we got ourselves some very shocked expressions on more than one occasion when we asked for a vegetarian dish. But not to worry: the vegetarian culture is slowly gaining momentum – after all, we dined in an  excellent vegan bistro during our time in Aix-en-Provence. However, one has to accept that the selection of meat-free dishes is very limited.
What lacks in creative, vegetarian dishes, France makes up for with its patisserie. Simply to die for. We stopped counting how many 'tartes au citron' we ate in the two weeks. There are countless French desserts, which have you on your knees and for us, crème brûlée is one of them!
As far as coffee is concerned, there is still room for improvement. In other words, really good espresso was hard to come by. An interesting cultural difference however, is that what is known as an "Espresso Macchiato" (or in Austria "Kleiner Brauner") is a "Noisette" in France.
Travel Costs: Prices in South of France
Dining in Restaurants: Eating out in France unfortunately has its price. Restaurant visits are at least 50 percent more expensive than in Austria. Main courses in a good restaurant usually cost around 15 to 20 Euros. For special meat dishes you should account for about 30 Euros. The three-course dinner menu is usually also offered at around 30 euros. The price-performance ratio in these three-course-menus is usually great, but then it very quickly adds up to 80 Euros for one evening if you include the wine, which is much more affordable.
Fuel prices: petrol is a bit more expensive in France than in Germany and Austria. One Litre of gasoline during our visit (September 2018) cost around € 1.50. For a full tank, we paid about 70 Euros.
Toll and Parking Fees: For our itinerary you can expect about 40 Euros in tolls. (More info can be found earlier in this article.) The amount of parking is very different: in general, the larger and more touristic a place is, the more expensive parking is. In small towns you can sometimes park for free, but in Cannes, for example, we paid just under 20 Euros for a few hours.
Hotel prices: Hotel accommodation is of course a flexible cost factor. In the high season the prices rise. But you can definitely expect to budget around 100 Euros per night for a double room if you want to have a certain level of comfort. This is very realistic as even in Cannes, our hotel did not cost much more than that. The stereotype that South of France is so expensive, is by no means true.
Best Travel Period in South of France
The summer months of July and August are absolute high season. The beaches are often overcrowded, because the locals also migrate down here for the summer holidays in their own country. Another reason why summer is a very popular travel time, are the lavender blossoms. It starts around the beginning/middle of June and goes until the beginning/middle of August. These fields of ​​flowers in Provence is the main tourist magnet during this period. You can find more information about lavender flowers, in this blog article: Provence Travel Tips.
September sees the end of peak season and tourism starts to quieten down. We ourselves visited during the 2nd and 3rd week of September in southern France and found this time ideal, because it was not so crowded. Still averaging 30°C during the day, we were able to swim in the sea just fine. You can also get good weather still in October if you're lucky. Another popular travel period is in spring. The sea is not yet warm enough for swimming perhaps, but you can witness the slowly blooming landscapes.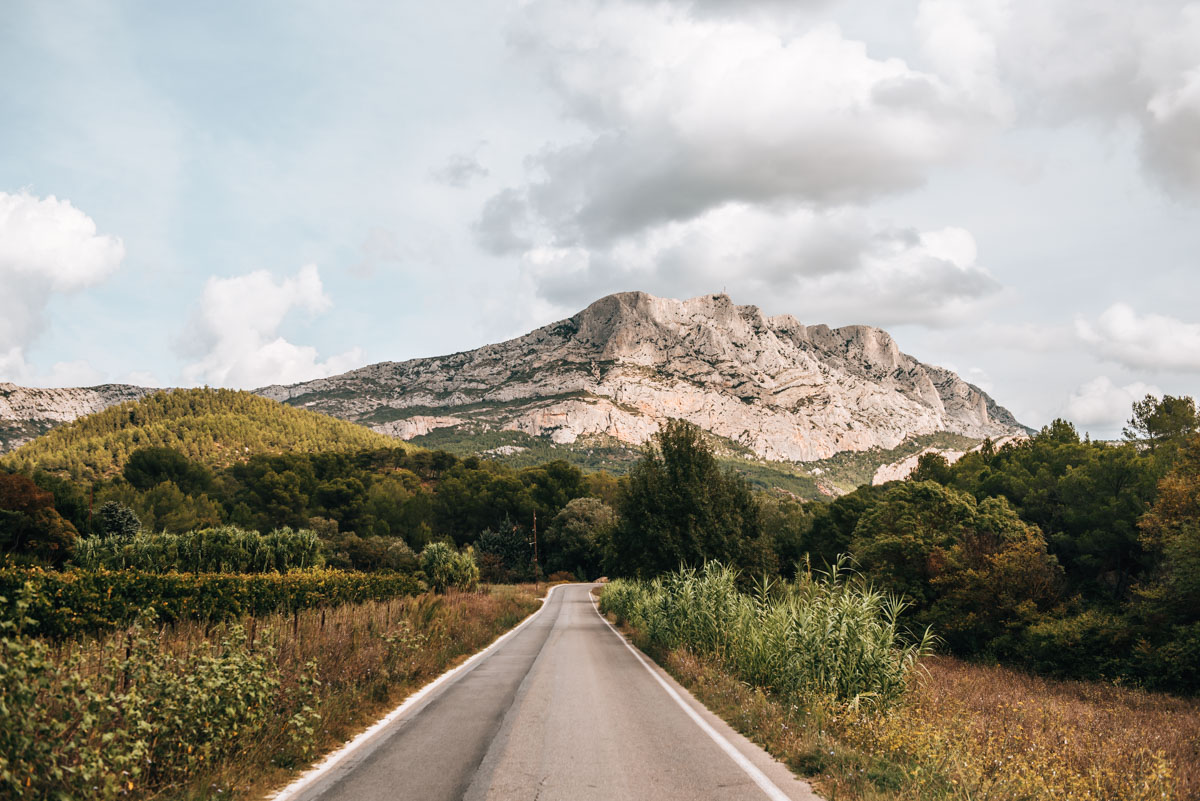 Getting around without any French Knowledge?
Don't fret, it's a fairytale that you have to speak French to travel to France. Even though in more rural areas, where people don't have good English, you can still get by just fine. You can almost always find someone who speaks at least a little bit of English. If necessary, one can also communicate with hands and feet and if you have data roaming in France, then it's also easy to use google translation.
However, from experience it is definitely easier to know at least a few phrases in French. We both learned French at school, and although we have unfortunately forgotten most of it, we can still remember many of the basics. This benefited us a great deal because we were able to read the menu, for example, without having to use our phones constantly to help us translate. In addition, we had very pleasant encounters with locals who seem very happy when tourists speak their language. So… Bon voyage!
3. Map & Video: More Impressions from our Road Trip in South of France
---
Disclaimer: Advertising & Affiliate Links
For this travel guide we collaborated with the French National Tourist Board (Atout France). As part of the nature campaign #gesichterfrankreichs – we had the privilege of travelling for two weeks through the South of France. Of course, this collaboration does not influence our opinions in any way.
This travel guide contains our personal recommendations in the form of so-called affiliate links. If you book or buy something through the links, we will get a small commission. For you, this does not change the price at all. A million thanks from the both of us!
Have you ever done a road trip through the South of France or another region in France? How did your itinerary go? If you have any more tips or questions, please leave us a comment!