The dreamy shimmer of these turquoise waters seem almost unrealistic and somewhat out of place here in the Caribbean coast. This small, secluded township is located by the well-known Lake Bacalar, whose brilliant shades of blue and turquoise have earned it the nickname "Lagoon of seven Colours".
In some blog articles, you might read comments saying that Tulum is a sleepy town – well, they have obviously never been to Bacalar. Located in the very south of the eastern Yucatán Peninsula within the state of Quintana Roo, Bacalar is a place that takes ​​coziness and idleness to a whole new level. Time really slows down here and you just can't help but feel deeply relaxed. In this blog article, we will tell you what you can expect and experience in Bacalar and why a trip is so worthwhile.
1. Bacalar: Visiting the Lagoon of seven Colours
The one question everyone wants to know: Is the lagoon actually as blue as the photos you see on the internet? Yes, it really is! Only when we saw the lagoon for the first time with our own eyes, did we realise that they were not exaggerating.
It was formed due to a combination of several Cenotes, which created the lagoon overtime – however, technically it's actually a lake. The "Laguna de Bacalar" has since, astounded its visitors time and time again with its stunning shades of blue and turquoise.
The Lake Bacalar is 42 km long, but very narrow: it is just 2km at its widest point to the other side. All the accommodation are located along the west side of the lagoon, most of them being in and around Bacalar. The centre of Bacalar (the largest town in the area) is a collection of a few, quiet streets, with some accommodation options, cafés and the largest collection of street art found in all of Yucatán. Bacalar is pleasantly tranquil and the perfect place to recover from the strain of travelling.
Swimming in the Blue Lagoon: Are there any Crocodiles in Bacalar?
The sparkling shimmering blue draws you, ever so temptingly, to jump into its cool waters. And, like everyone else, we simply could not pass up the opportunity of jumping into the lake. We only later learned, that crocodiles do in fact live in the Bacalar Lagoon. In fact, you can find many reviews from people on the Internet who have spotted these crocodiles in various places.
However, we have not yet heard or read about a crocodile incident. The crocodiles are apparently very shy and the likelihood of you seeing one is very small. Anyway, even if we did know that crocodiles lived in the lagoon, it would not have stopped us from going into the water.
Who is Bacalar suitable for?
If you want to relax and unwind for a few days, then Bacalar is the place for you. There is nothing here to distract you. The place is made for letting your inner self rest in tranquility. But we warn you: If you are someone who is used to being very active, then you might get bored pretty quickly here.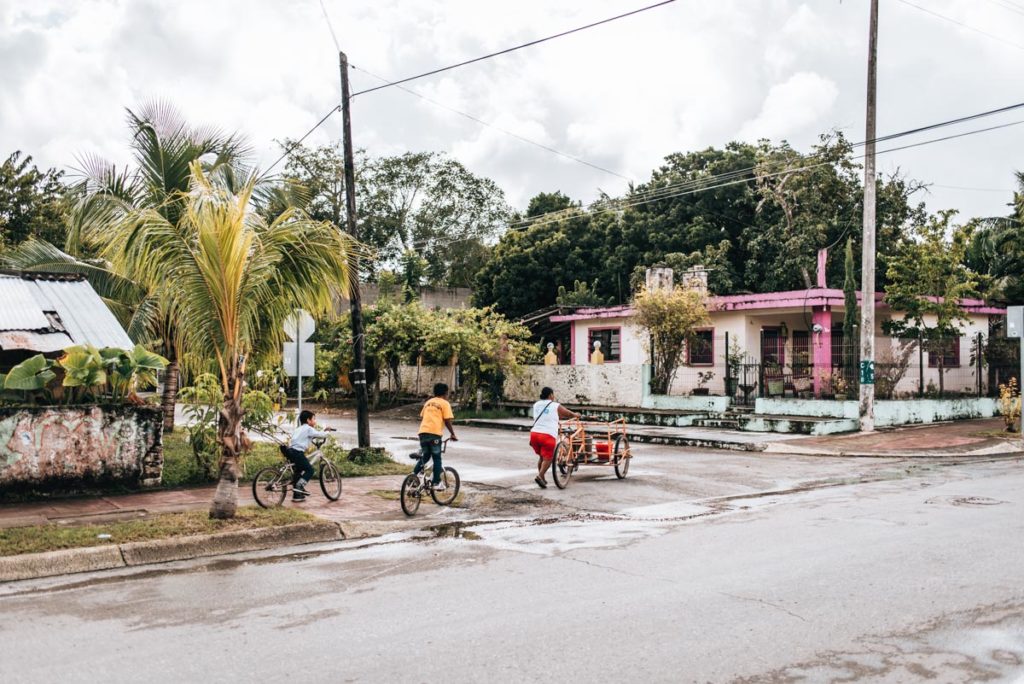 2. Sights and Activities in Bacalar
Bacalar is paradise for comfort seekers! To be honest, there is not much to discover here as the whole point is not to run around sightseeing, but to relax. Plus, most of the highlights are located near the beautiful multi-coloured lake.
Swimming at "Cocalitos"
While there are no proper beaches along the lagoon, they do offer some public swimming areas. After a quick search we decided to go to "Cocalitos", situated south of the town centre. A small entrance fee is required to get in, but so worth it. Your heart might just skip a beat, especially when you see the swings and hammocks out on the water – it's as if it were taken right out of a picture book!
There is a rather small grassy lawn, where you can rest after swimming. But in Bacalar, you can also find a couple of free public swimming areas – for example, there is one in the centre at Calle 14.
Admission: 50 Pesos per person (free parking)
Getting there: About 10 minutes by car, south of Bacalar Centre along the main road.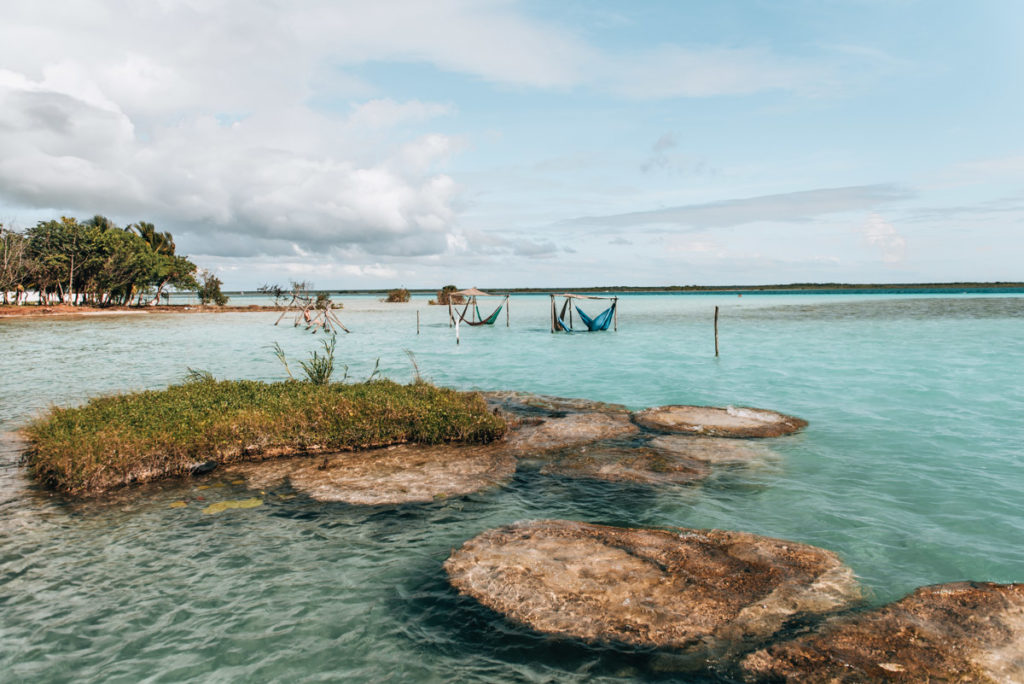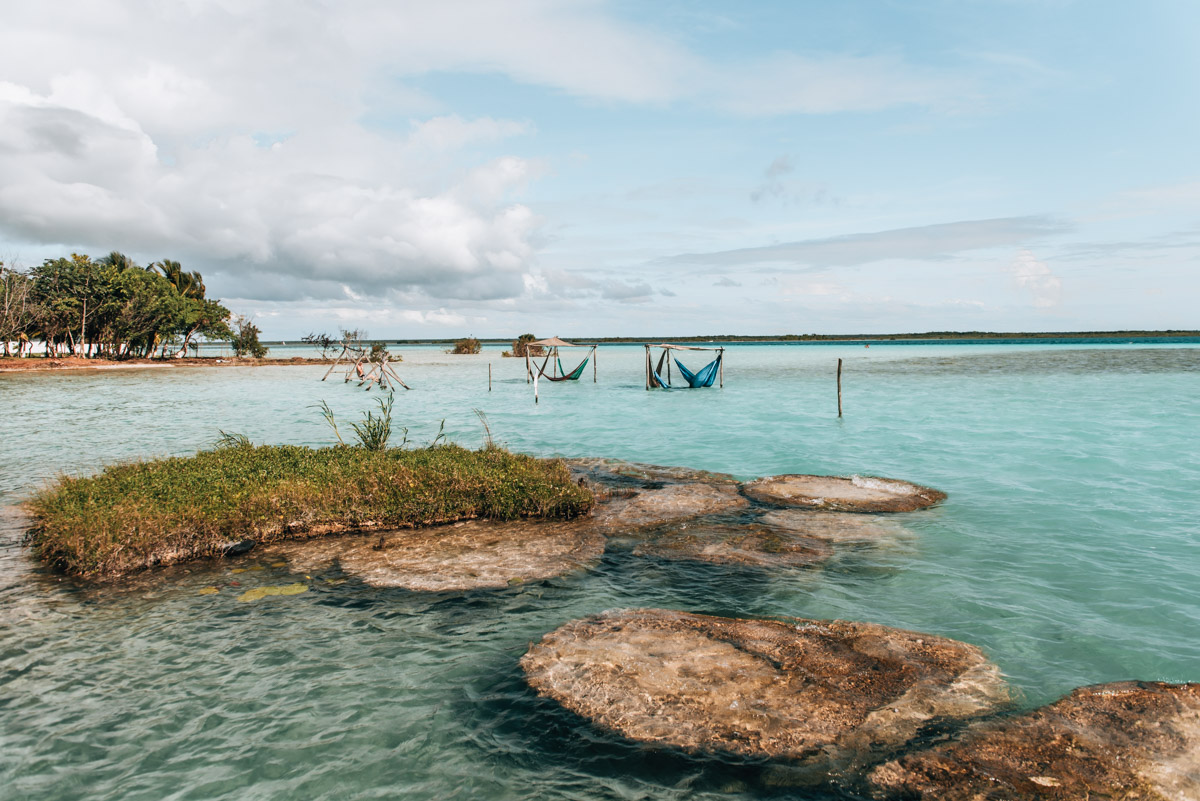 Cenote Azul
Close to Cocalitos, you will find the Cenote Azul. Although the water colour of the Cenote is not quite as spectacular as that of the lagoon, the Cenote Azul is also perfect for a dip in the water.
This Cenote is great for swimming, but don't expect one of those cave-like Cenotes. If you find yourself hungry, there is a fairly large restaurant right on the shore, which we did not try out.
Admission: 25 Pesos per person (free parking)
Getting there: About 10 minutes by car, south of Bacalar Centre along the main road.
Fuerte de San Felipe: Walking along the Former Fort
The only real attraction in the centre of Bacalar is the small castle called Fuerte de San Felipe. Again, come with low expectations, because you will discover everything in just a short space of time. Nevertheless, we believe that a short stopover is worthwhile. From the castle walls you have a beautiful view over the lake. There is also a museum, which we personally did not find too exciting.
Admission: 110 Pesos per person
Address: Avenida 3, Centro, 77930 Bacalar (Right in the town centre near the waterfront)
Street Art
In Bacalar, you will find an abundance of street art. You could walk through the village all day and still discover new graffiti – there are just so many. Be sure to spend a little time admiring these if you come here, as we were very impressed. The street art with the woman (see photo) on Calle 18 has unfortunately been painted over.
Enjoy the sunrise
The bad news first: Unfortunately, you won't get to see sunset going down behind the horizon of the lake from the west side, which happens to be where all accommodation options are located. The good news: Sunrises are much better here and can be admired from the lake shore – which is what we did. The lake is even quieter at this time than during the day. Our tip: check the weather in advance. In pouring rain, we would rather stay in.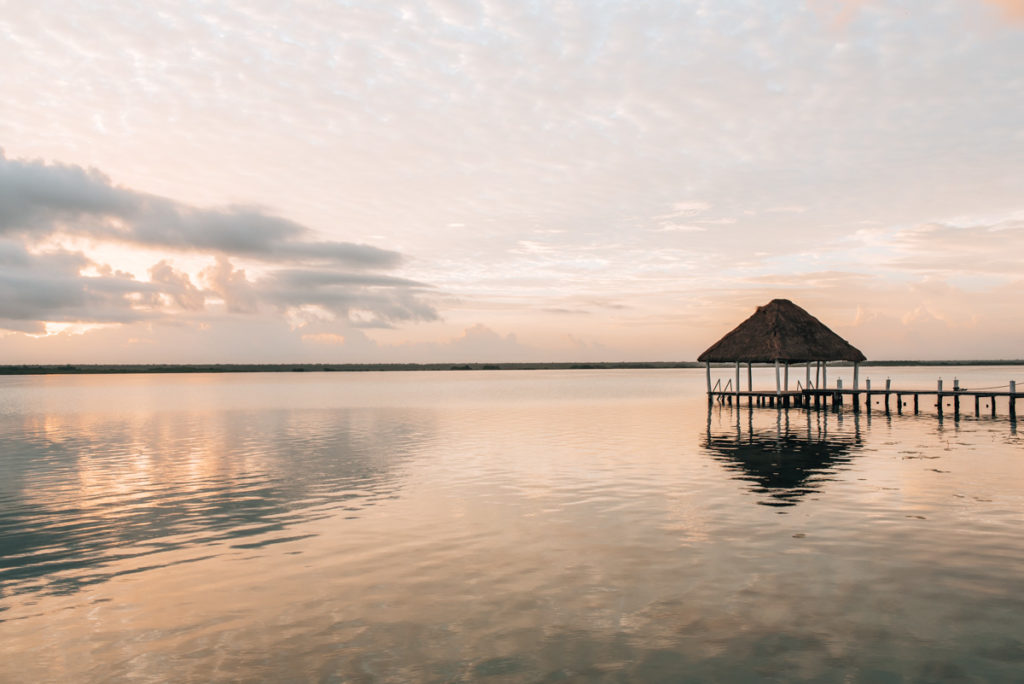 Boat Tour
Boat tours are offered to you in the village centre on every corner. Most take about 3 hours and take you to several destinations, including the well-known Canal De Los Piratas, also a good spot for snorkelling. Apparently the tours run by Amir AdvenTours come highly recommended – we would have personally loved to do a sunset tour, but unfortunately ran out of time.
3. Restaurants and Cafes in Bacalar
A few years ago, the selection of restaurants and cafés was rather limited. However, that is currently changing and more and more trendy restaurants are opening. As always, we love sharing our favourite food and coffee recommendations with you where we did enjoy delicious food.
Enamora
For a delicious breakfast or lunch we can highly recommend the Enamora. Here, we had by far the best coffee in Bacalar. They also serve some breakfast items, sandwiches, cakes and smoothies. You can either sit outside under the shade of trees or very comfortably inside as well. Verdict: We would come back anytime!
Address: Calle 18 Corner Avenida 5, 77930 Bacalar
Prices: breakfast sandwiches about 100 Pesos, espresso 30 Pesos
La Piña
We stopped counting the number of times La Piña (= "pineapple") was recommended to us. So of course we had to stop there and find out for ourselves if it really is as good as everyone says it is (including the excellent reviews we read on the internet. It has a very family, in-house feel to it: for example, you have to first pass the kitchen to get to the garden.
They serve some Mexican dishes as well as pizza. We were a bit surprised at first, but then decided to go for a pizza and did not regret it for a second. Delicious. As vegetarians, we felt that there were enough options to choose from. The service is extremely friendly, albeit a bit slow. But well, we're in Bacalar – so there's no hurry. Tip: Don't forget mosquito spray in the evening and to wear long sleeved clothes.
Address: Avenida 3 between Calle 26 and 28, 77930 Bacalar
Prices: a dinner for two people – 200 Pesos
More culinary tips for Bacalar
El Manatí Bacalar: A nice mix of gallery, shop and café / restaurant with an amazing garden. Great for breakfast and enough vegan and vegetarian options.
Mr. Taco: One of the best Taquerías in Bacalar. Although the restaurant is mainly visited by tourists and expats, the quality is still very high. Great value for money.
Barbanegra: A really stylish taco bar with very special taco creations.
Yerbabuena: Cute little café. They have great, fresh smoothies, sandwiches and good coffee.
4. Accommodation Tips for Bacalar
For our stay, we ended up at The Yak Lake House, which is located directly on the lake. The hostel has several shared rooms, but we chose a double room. It was super tiny but as we didn't spend much time in our room anyway, this didn't bother us.
The location was superb though – right on the waterfront of Lake Bacalar. The atmosphere in the hostel is very relaxed. You can get something to drink in the evenings from the bar along the shore, and then sit down comfortably at the pier. Breakfast here was very basic. What we found less pleasant was that at check-in, you get a paper tape on your wrist, so the staff know that you belong to the hostel. This felt very unnecessary, especially for an all-inclusive holiday, but what can you do? Due to its location, the hostel is not exactly cheap: Our small double room cost at least 70 Euros per night.
Unfortunately the Hotel Aires Bacalar was already booked for our travel period. We then happened to walk past it and were very impressed by the atmosphere. The hotel is quite new, very stylish and exactly our taste. It's not directly by the lake, but just one street behind it and offers great value for money. (The double rooms are even cheaper than The Yak Lake House.) If you are looking for a stylish hotel, this is the place.
Here is the link to view and book the hostel: The Yak Lake House
Here is the link to view and book the hotel: Hotel Aires Bacalar
5. Getting to Bacalar and Transport
Getting to Bacalar
From Tulum, the fastest and most comfortable way to travel to Bacalar is with your own rental car. As always, we booked ours via Sunny Cars for the entire duration of our road trip. It takes about 2.5 hours to get from Tulum to Bacalar. Tip: As the region south of Quintana Roo state is very sparsely populated, it is best to fill up the tank in Tulum. There is a petrol station on the way to Bacalar, but better to be safe than sorry.
Alternatively, you can travel from Tulum to Bacalar by public bus. The most famous and most popular Bus Company is ADO. There are several ADO buses going from Tulum to Bacalar daily, and the journey takes just under 3 hours. You can search on the ADO website for the bus timetable and book the tickets directly online. The ADO bus terminal in Bacalar is about a 20-minute walk from the lakeshore.
Transport
The centre of Bacalar is very easy to get around as you can reach almost everything by foot. If you plan to venture a little further out, then you can hire a bike – either from your accommodation (often for free) or from one of the rental shops (for about 150 Pesos). If you are travelling by car, you will find free parking almost everywhere in the centre of Bacalar.
---
Disclaimer: Affiliate Links
This blog article contains our personal recommendations in the form of so-called affiliate links. If you book or buy something through these links, we will get a small commission. For you, this does not change the price at all. A million thanks from the both of us!
Have you ever been to Bacalar? Leave us a comment below about your experiences – we would love to hear them!