Mysterious Mayan Ruins. Paradise Caribbean beaches. Turquoise blue Cenotes. No doubt about it: the Mexican peninsula of Yucatán sure knows how to impress. For three weeks, we made way around the Yucatán Peninsula with our rental car.
Which stops are worthwhile? Which destinations should you leave out if you are tight for time? Where can you find secret locations and insider tips? Is there an ideal route? And how safe is it to travel by rental car through the Yucatán region in Mexico? What should you watch out for? We've put all of our tips in this blog post so you can prepare the perfect itinerary for your Yucatán road trip.
1. Our Yucatán Itinerary: All Destinations and Info
First of all, to avoid future possible confusion, we have to tell you that: "Yucatán" refers to both the state of Yucatán and the entire peninsula ("Yucatán Peninsula"), which consists exactly of the three states – Yucatán, Quintana Roo and Campeche (which is also shown on the map above). Our itinerary passes through all three states.
Arrival and Departure Airport: Cancún
Cancún Airport is the largest airport on the Yucatán Peninsula. Most international flights arrive or depart from here. We did not actually see anything in Cancún except the airport as we came across too many negative reviews about the hotel-bunker-strewn Cancún beaches, which put us off.
Tulum
Shortly after our arrival, we drove our rental car from Cancún airport to Tulum. Tulum is one of the most popular seaside resorts along the Riviera Maya. We deliberately chose a more touristy place as the first stop on our road trip. The reason: We wanted to give ourselves time to get used to the new country and in a place with good infrastructure. For example, we got our Mexican SIM card here in Tulum.
It was not love at first sight between us and Tulum, but over time we did warm up to the place. The beaches and the Mayan ruins on the cliffs were very exciting and very impressive. But overall, we found the direction of the tourism in Tulum rather unsettling. In Tulum, the word "Instagram Hotspot" takes on a whole new meaning. The fact that Tulum is so popular is also reflected in the price level. Tulum was the most expensive stop on our entire tour.
Arrival from Cancún to Tulum: The route runs through well-developed roads. Don't worry, if your flight arrives in the afternoon: We drove in the dark ourselves and did not reach Tulum until around 8pm. That was no problem at all on this road. The journey takes just under 2 hours.
Our accommodation: Biwa Tulum
Detailed blog article: Tulum Travel Guide
Recommended stay: 3-5 nights (we stayed 4 nights)
Bacalar
We went further south to the small, cozy place of Bacalar, which is located on a turquoise blue lake. The fascinating shades of blue and turquoise gave the lake its nickname the "Lagoon of Seven Colours".
The bad news: There is not much to do around here. The good news: This is not entirely true, because you are surrounded by shimmering blue waters which also happens to be swimmable. If you want to relax for a few days, you are in good hands here in Bacalar.
Getting from Tulum to Bacalar: From Tulum you can reach Bacalar after about 2.5 hours by car. Our tip: Best to fill up the car (with petrol) while still in Tulum. There is also a remote petrol station on the way, but you'd rather not have to rely on that.
Our Accommodation: Hotel Aires Bacalar
Detailed blog article: Bacalar Travel Tips
Recommended stay: 2 nights (unfortunately we only stayed 1 night)
Xpujil (Calakmul & Becán)
From Bacalar we went inland to the tiny town of Xpujil. Xpujil is the ideal base from which to explore the fascinating Mayan Ruins of Becán and Calakmul. Both ruins are still comparatively untouched by mass tourism.
While Becán is easily accessible (almost right next to the main road), the mysterious Calakmul is in the middle of the deepest jungle far away from any civilisation. Both ruins are among the most impressive we visited on our road trip through the Yucatán.
Getting from Bacalar to Xpujil: Xpujil is accessible from Bacalar in less than 2 hours. Parts of the road along this route are not in very good condition… so get ready for some potholes! Incidentally, you only pass by a few towns/villages, as the region is very sparsely populated. Heads up: There is a time zone difference of one hour between the states of Quintana Roo and Campeche – so you gain an hour on the way to Bacalar.
Our Accommodation recommendation: Casa Ka´an
Detailed blog article: Calakmul & Becán
Recommended stay: 1 night (enough to visit both ruins)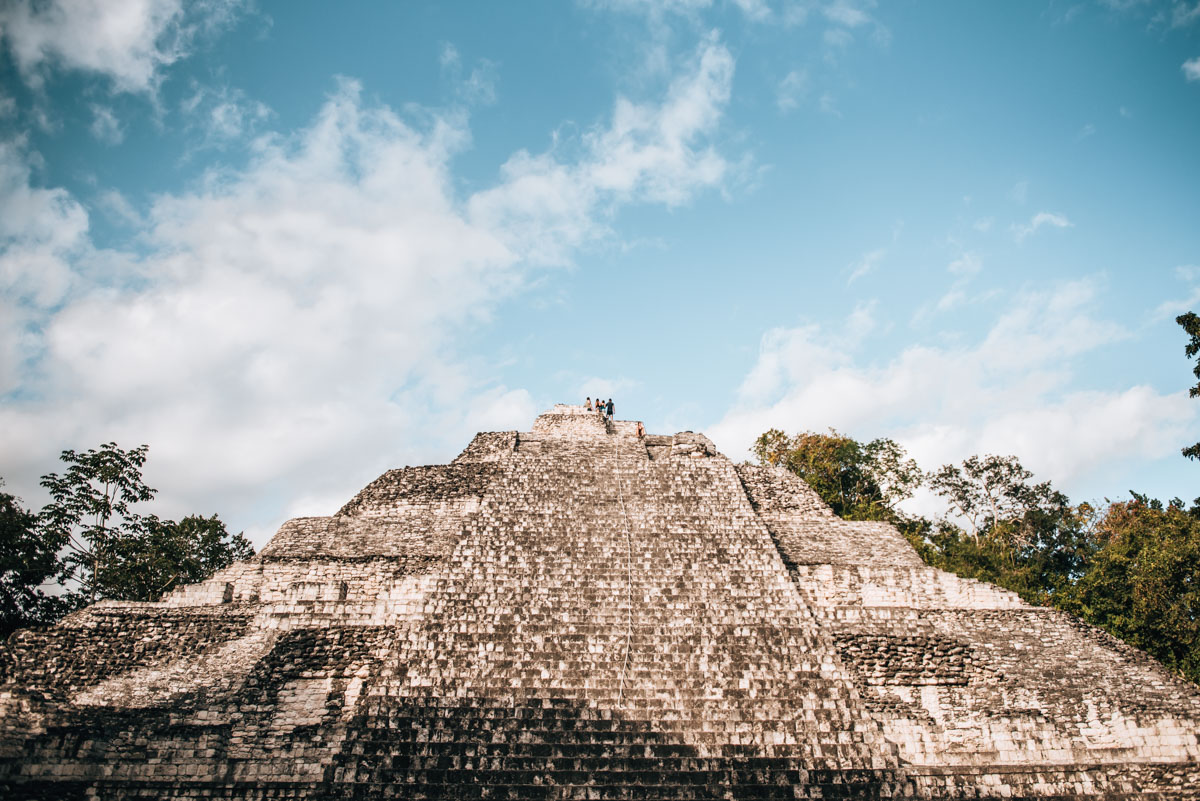 Campeche
The cozy colonial town of Campeche had us besotted from the very first moment. Although you will not find any impressive sights here, the lifestyle and the atmosphere of the city is just fantastic. There is no sign of mass tourism here: Campeche has retained a very authentic charm.
Incidentally, the pastel-coloured, beautifully renovated house fronts make for a popular photo motif. Along certain streets, Campeche looks like a Mexican picture book city.
Getting from Xpujil to Campeche: This stretch is one of the longest of the entire journey. Overall, you are travelling for about 4 hours. There are only a few major locations along the route. Often you drive through no man's land. The road conditions in some places are heavily deteriorated, so you definitely need to pay close attention to potholes. The last part of the journey is back on the highway (Toll fee: 72 Pesos).
Our accommodation: Casa Mazejuwi
Detailed Blog Article: Campeche Tips
Recommended stay: 2-3 nights (we stayed 2 and found it perfect)
Mérida
Mérida is the capital in the State of Yucatán. Unsurprisingly, the centre is very vibrant and lively. Mérida is probably the most visited colonial town on the Yucatán peninsula. Meaning: Mérida was more touristic than we expected. Nevertheless, we liked it very much: The various colourful streets and the colonial flair are just too beautiful.
From Mérida, there are some great day trips you can do: For example, there are the Mayan ruins of Uxmal, the flamingo colonies in Celestún or a visit to the "yellow city" of Izmal.
Travelling from Campeche to Mérida: It takes about 2 hours by car from Campeche to Mérida. However, we decided to visit the Mayan Ruins of Uxmal on the way to Mérida. Although the Ruins of Uxmal was not exactly on our route to Mérida, we found the detour very worthwhile.
Our accommodation: Viva Merida
Detailed blog article: Merida Sights & Tips
Recommended stay: 3 nights (which is what we did)
Chichén Itzá
To go on a Yucatán trip without seeing the World Wonder of Chichén Itzá – is practically unthinkable. This famous ruin site is quite a tourist magnet, so we knew that we had to find a way to escape those peak hours. Our alternative? We decided to explore Chichén Itzá at sunrise – an experience we can highly recommend.
Getting from Mérida to Chichén Itzá: Chichén Itzá can be reached in about 1.5 hours by car from Mérida. We took a little detour (+30 minutes) to Izamal on the way. The so-called "yellow city" is very worth seeing.
Our Accommodation: Mayaland Hotel & Bungalows
Detailed blog article: Sunrise at Chichén Itzá
Recommended stay: 1 night (sufficient for a visit to the ruins and the Cenote of Ik Kil)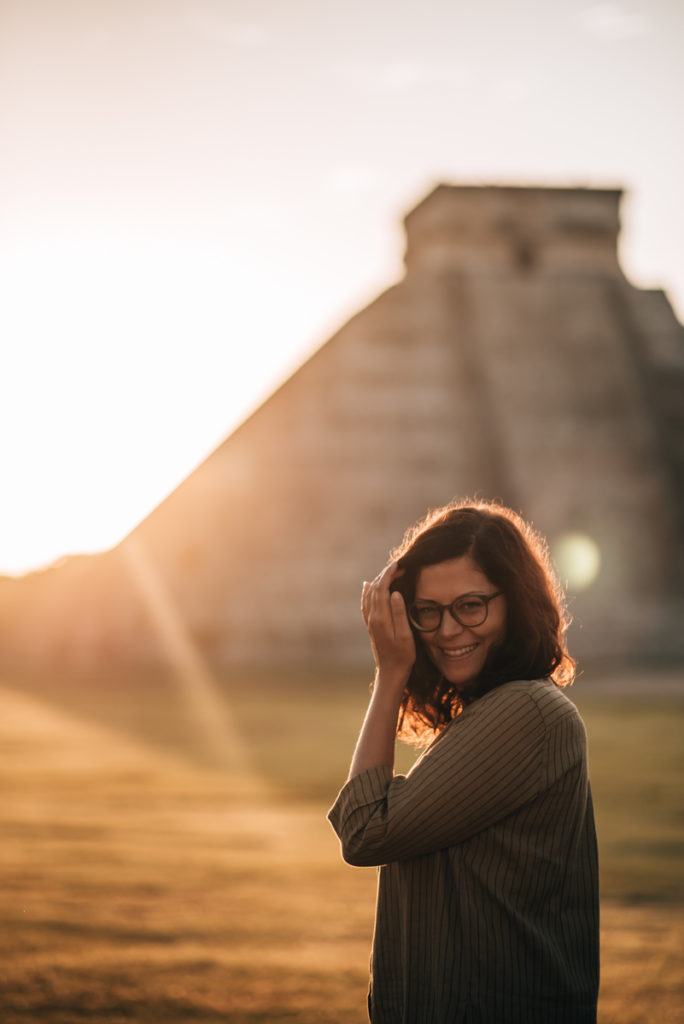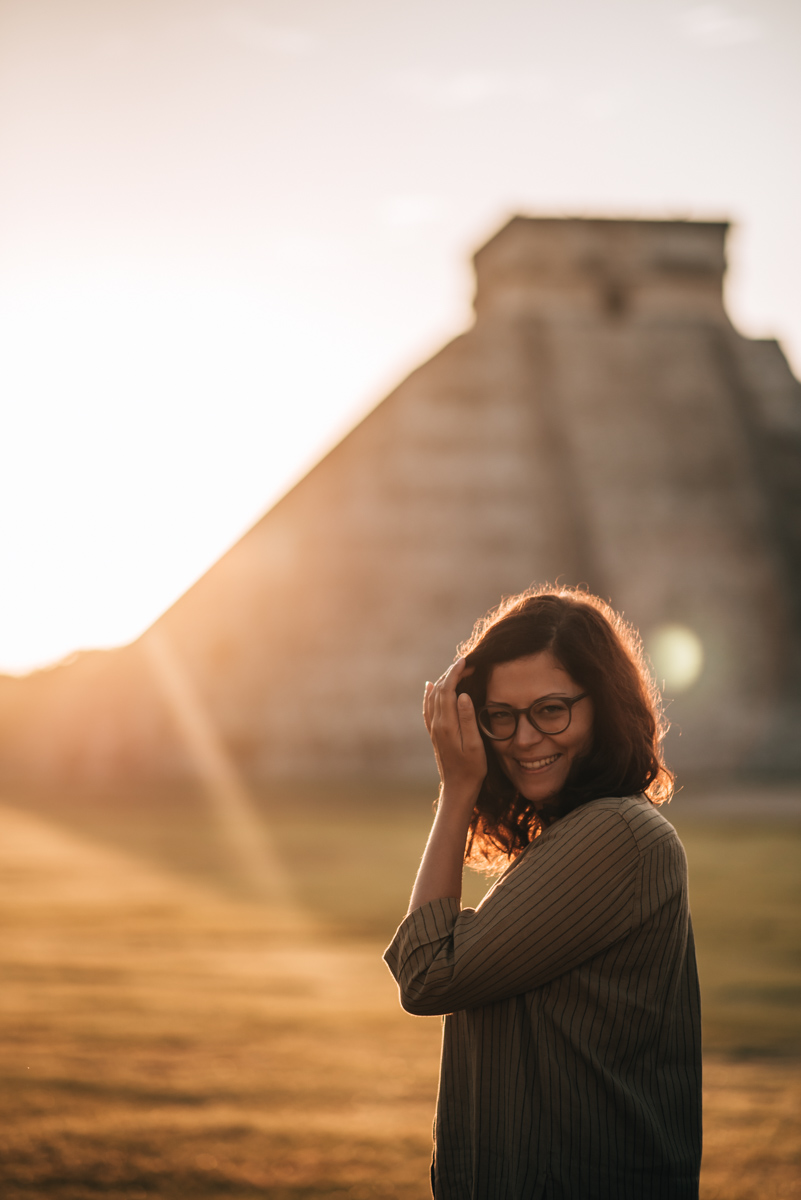 Valladolid
Valladolid comes quite close to the idea of ​​a typical Mexican town. We felt right at home here. In our opinion, Valladolid combines the comfort of Campeche and the liveliness of Mérida. Again, there are pretty streets with pastel-coloured colonial houses and cobble stones.
From Valladolid you can also visit some destinations, including the Mayan Ruins of Ek Balam, the pink salt lakes of Las Coloradas and several Cenotes – some of which are very impressive.
Travelling from Chichén Itzá to Valladolid: This was actually the shortest leg of our journey – just 45 minutes by car to Valladolid.
Our accommodation: La Flor Casa Boutique
Detailed blog article: Valladolid Tips
Recommended stay: 2-3 nights (depending on how many trips you want to do – for us, we stayed 3 nights)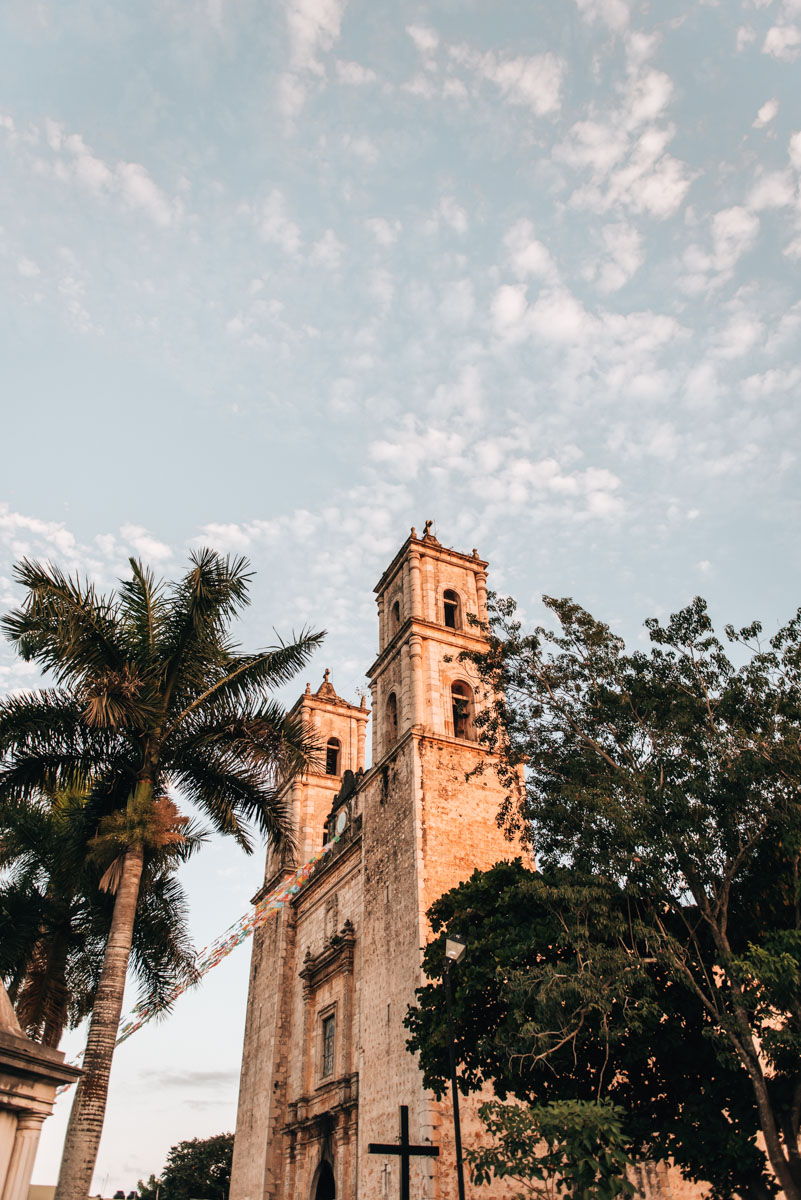 Isla Holbox
Before returning home, we wanted to spend some relaxing days on a Mexican island. We decided on the highly praised Isla Holbox in the north of Yucatán. To be honest, we did not have the best start to our time in Holbox, mainly due to a bad weather front, which turned the supposed paradise into various shades of grey.
In the end, we did warm up to Holbox and we can highly recommend the island to you if you want to switch off for a few days. But do not expect an untouched paradise, as the island's capital is rather touristic.
Getting from Valladolid to Isla Holbox: First you have to drive by car to Chiquilá (about 2 hours). You then have to leave your car in Chiquilá and pay for parking (100 pesos per 24 hours). Then you take the ferry transfer to Holbox. The boats depart daily from Chiquilá at every hour and every half hour. The journey takes just 15 minutes and costs 200 pesos (one-way). Here, you cross another time zone – this time in the other direction. Coming from Valladolid you "lose" an hour.
Our accommodation recommendation: El Corazón Boutique Hotel
Detailed blog article: Isla Holbox
Recommended stay: 3-5 nights (we stayed 3 nights)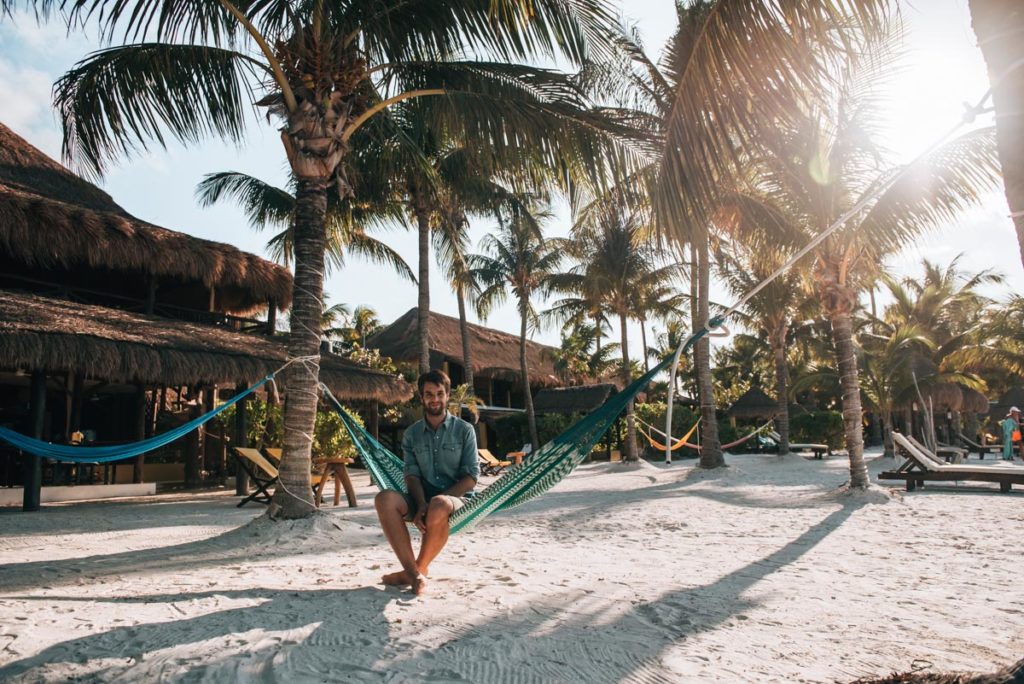 Playa del Carmen
For us personally, it was a little to "tricky" to travel all the way from Holbox to Cancún Airport in one go (although it is definitely possible in theory). But we stayed for two nights in Playa del Carmen, so that we were at least on the mainland for the day of departure.
To be honest though, the real draw was actually our own curiosity. We wanted to see if Playa del Carmen really did live up to its negative stereotypes of crowded hotel bunker beaches. Our conclusion: Playa del Carmen is definitely not our favourite place on the Yucatán and in our opinion can easily be skipped. We were so glad to have discovered the beach named Xpu-Ha – luckily, we got to enjoy a wonderful last day in Mexico on the beach.
Our accommodation recommendation: Hotel Morgana
Detailed blog article: Playa del Carmen Travel Guide
Recommended stay: a maximum of 2 nights
2. By Car through the Yucatán: Travel Tips & Facts
Security & Crime: Is It Safe To Travel By Car Through Yucatán?
If you search the Internet for crimes in Mexico, you would probably feel like cancelling the flight immediately. The culprit is the Mexican drug war, which brings the country an absurdly high murder rate. However, only in very rare cases, are tourists involved in these. Plus, the Yucatán Peninsula is one of the regions in Mexico that is considered most safe.
We can only speak from our personal experiences. In the three weeks we spent travelling by car across the Yucatán Peninsula, we had zero negative experiences. Not a single one. Not even remotely. On the contrary, the locals always responded to us in the most hospitable and helpful manner.
But we do not want to downplay anything, because the fact is, there are (very rare) cases of robbery. Therefore, if possible, we recommend that you only drive during the day and avoid driving in the dark. We did not always succeed in this regard either – so do not panic if you do have to drive by car in the evenings.
You should also be aware of the dangers of car burglaries in parking lots. Although you have to be very unlucky for something like that to happen. It goes without saying that valuables should never be left in the car.
Military Checkpoints & Police Checks
Something you have to get used to are the numerous military controls along the roads. It seems quite frightening at first: Men in uniform (usually with a machine gun) controlling the passing cars. Luckily, we were not stopped once. The military is primarily there to detect or prevent drug smugglers and other illegal goods.
Should you be stopped anyway, then it's worth having Google Translate on hand, unless you speak Spanish.
We read some horror stories about some corrupt police just before our trip. Fortunately, we were spared. When we did encounter police officers, they were always very friendly and helpful. Nevertheless, we recommend that you do not keep all your money in your wallet when travelling around. We really adhere to this – why? Because if you are ever stopped by a corrupt police abusing their power and insisting you pay, then at least you won't lose all your cash.
Traffic on the roads & road conditions
Good news: In Mexico, they drive on the right! Therefore, for those who come from Europe and other non-commonwealth countries, you don't have to change anything. For those who come from the UK, Australia, NZ and other Commonwealth Countries with Left Hand traffic – you have to get used to driving on the opposite side, so be careful and drive mindfully. Outside the cities, there is relatively little to no traffic on these Mexican roads. Be prepared for many narrow one-way streets (but with oncoming traffic).
The speed limits are always well written. On country roads they are usually between 80 and 100 km/h, on highways they are at 110 km/h – but never more.
Beware of potholes! There's a lot of that on the streets of Yucatán. Some of them are very small, others are gigantic and quite hazardous. Therefore, another reason why would recommend you drive during the day, because it can be dangerous at night, when you can't spot the potholes in advance.
Special Surprise on the streets of Yucatán: Topes
A very typical sight on Mexican streets, are the abundance of speed bumps – what they call "topes" here. They make your driving experience a bumpy affair and you will normally find these topes (speed bumps) especially before and after villages. Topes are – according to the local people – something like the sleeping policemen on the streets of Mexico.
Those we speed over a tope, will certainly not make the same mistake again so soon. Topes are often pointed out and there is usually a sign to warn you (but this is not always the case!). Especially on the outskirts, it's so important to drive carefully and reduce your speed significantly.
Our (self-proven) tip, if you miss a tope once and come at it with high speed: then shortly before the tope, you should let go off the brakes so that you don't rush over the speed bump with the brakes pressed. That spares the shock absorbers.
Road Tolls
Most of the roads on the Yucatán Peninsula don't have road tolls ("libre" – free). But the road conditions of these 'free' paths are often worse than the tolled roads ("cuota"). Tolled roads are marked with the letter "D". However, there are not many on the Yucatán peninsula – the most famous is that of Cancún or Playa del Carmen to Mérida.
The tolls are not overly expensive. For example: Valladolid to Chiqilá (Holbox) cost 187 Pesos, and Chiqilá (Holbox) to Playa del Carmen was 107 Pesos. You can often avoid the tolled roads but you do so at the expense of time.
Parking
For most places in the Yucatán, finding a free parking space for your car is no problem. The sign for parking in Yucatán is an "E" – abbreviated from "Estacionamiento". A crossed out "E" means parking is prohibited.
In the cities like Campeche and Mérida: when driving in the city centre, you have to pay careful attention to the coloured marking along the sidewalk edge on the ground. If it is marked in yellow, this means no parking. If you do park there, then you risk having your car towed. While we parked in Campeche on the street without any problems – in Mérida, we were advised to park in a supervised, paid car park for safety reasons. Either way, both are possible.
In Tulum Beach (along the Beach Road), it is becoming increasingly difficult to find free parking. We have discussed the problem and how you can get around this in more detail here: Tulum Travel Guide.
The Mayan Ruins often have free parking. But sometimes there is a charge (for example in Uxmal and Coba), but there, the parking is also monitored with security cameras for safety reasons.
Petrol Prices & Fuelling Up
One Litre of Petrol currently costs 20 pesos, which is about 90 cents. The majority of gas stations are state-owned and called PEMEX. Nowadays, you can also find smaller gas station companies. Usually the staff will come and help you fill up, so you simply tell them how much you want to fuel up for and they do it for you. Small tip: Very rarely does it happen, but some petrol stations only accept cash payment.
Do you need to know/speak Spanish?
Yes and no. We both hardly speak a word of Spanish. On our trip to Mexico, we wished that we spoke a little more Spanish so that we could at least converse with the locals. Outside of major tourist destinations such as Playa del Carmen and Tulum, there is often little English spoken on the Yucatán Peninsula.
We recommend that you keep Google Translate (or a comparable offline translation app on your phone) handy. That helped us a lot in many situations. You can download the 'Spanish' and 'your native' language on Google Translate App, so that you can use it 'offline'.
Do I need an International Driver's License?
No – at least not to pick up the rental car. But just in case, we had our International Driver's License issued in Austria and brought it with us, but no one ever requested for it. We also have to say that we have never been stopped by the police.
3. Booking a Rental Car in Mexico: Our Tips
Important Information about Motor Insurance in Mexico
Very, very important: In order to drive on Mexican roads, you need a Mexican Insurance. At first glance, car rental deals in Mexico often appear extremely cheap. With such low offers, however, you can almost guarantee that the price for the insurance has been excluded from that – therefore, upon pick up, you might be in for a surprise, when the final bill is almost double what you initially expected.
Especially if you are looking for a rental car in the USA, many rely on credit card insurance, but this is not accepted in Mexico. In any case, we didn't want to take the risk, because in the case of an accident, it would not look good for us at all.
Tip: this is how we book our rental cars
For the reasons mentioned above, we always insist on a full comprehensive insurance with reimbursement of the deductible/excess. That's the safest way to go about renting a car and that is also why we always book our rental cars through Sunny Cars and have done so for years – Mexico was no exception.
Sunny Cars acts as a middle-man. So you book through Sunny Cars and pick up your car at one of the local car rental companies (EuropCar was ours). The big advantage: You have all necessary insurance included and in case of damage you will also be reimbursed by Sunny Cars for any deductibles or excess paid.
Because we have read so many horror stories in advance, we inquired about this issue once again with regards to the insurance. The very helpful staff then confirmed that everything was covered. Our pro tip: Always make a short video upon picking up the car and showcase all sides of the car, including any existing damage… just in case.
You can search for cheap rental cars via this link here: Sunny Cars
Which class or type of car should I rent?
The road conditions are relatively good and there is certainly no need to fork out on an SUV. Nevertheless, we almost never rent out the smallest models because in the case of an accident, we personally prefer to have too much rather than too little in terms of crumple zone. You cannot go wrong with the lower middle class or middle class cars.
Do I need a GPS?
A classic GPS is definitely not worth it. Most of these are expensive and/or are obsolete (not updated). Instead, our tip is: buy a local sim card from a store nearby and use your smartphone as navigation.
It is also possible to drive completely without a GPS, as long as you have at least one road map. However, we were both very happy that we could rely on the Maps app on our smartphones.
---
Disclaimer: Affiliate Links
This blog article contains our personal recommendations in the form of so-called affiliate links. If you book or buy something through these links, we will receive a small commission. For you, this does not change the price at all. A million thanks from the both of us!
Have you done a road trip through the Yucatán region of Mexico before? If so, what did your itinerary look like? We look forward to reading your experiences and tips in the comments below.