Playa del Carmen – back in the 70s this was a sleepy fishing village. Today it is one of THE hotspots in Mexico. This doesn't surprise us: Playa del Carmen blessed with beautiful, dreamy Caribbean beaches.
Mind you (we have to be honest): Out of all of the places we visited on our Yucatán round trip, Playa del Carmen was our least favourite destination. In this travel guide we reveal why that was and how it's still possible to have a wonderful time. Here goes with our personal tips and experiences for Playa del Carmen.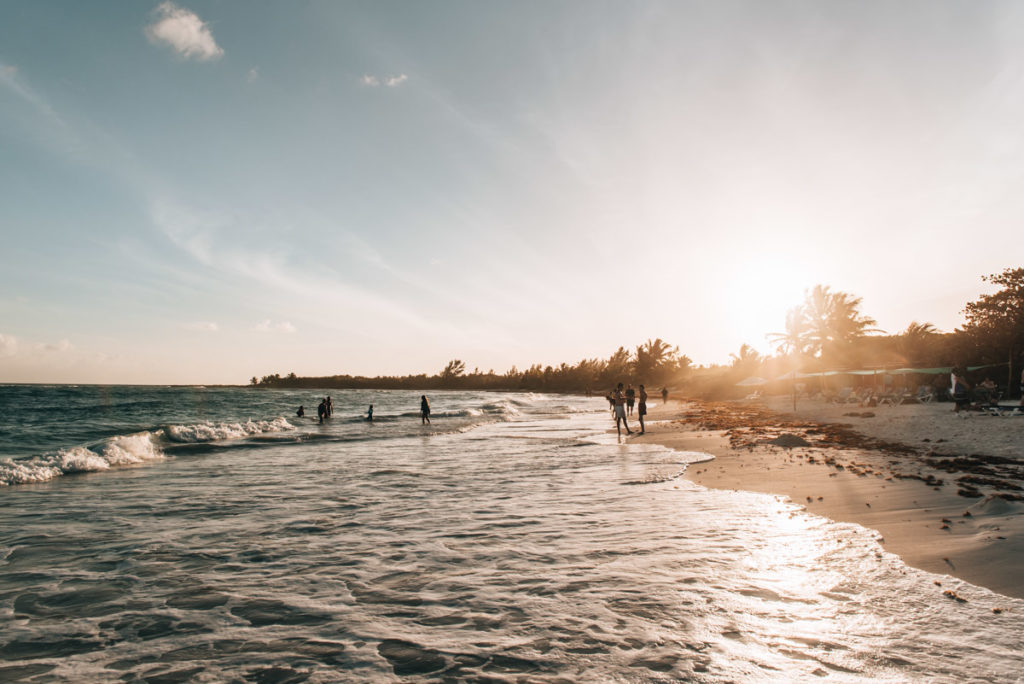 1. Playa del Carmen: Useful knowledge, experiences & FAQs
What can I expect in Playa del Carmen?
Picture-perfect Caribbean beaches
Let's start with the positives: We have hardly seen such beautiful beaches as those found along the Riviera Maya. White, fine sandy beaches & a turquoise blue ocean await you here.
Package tourism
Not so great: along some sections of Playa del Carmen, the hotels are lined up right next to each other. Many of these are all-inclusive hotels or targeted towards American package tourism. We told ourselves that it was much 'worse' in Cancún, still one thing is for sure: the hustle and bustle was really not our thing.
Lack in authentic flair
Anyone who walks down the Quinta Avenida ('5th Avenue') in Playa del Carmen will notice: authentic flair? Non-existent! Typical fashion chains dominate the streets here. Playa del Carmen is clearly much more catered towards international tourists in comparison to other travel destinations in the Yucatán Peninsula.
Is it worth making a stop off in Playa del Carmen?
Yes and no. We visited Playa del Carmen at the end of our trip to soak up the sun before our departure. This made sense seeing as though Playa del Carmen is less than an hour's drive away from Cancún airport.
Do we regret ending up in Playa del Carmen? Absolutely not! We had a really good time there in our favourite beach club. (Tip to follow in a later chapter of this blog article, of course).
Would we travel to Playa del Carmen again? Probably not, because other beach destinations on the Yucatán Peninsula were much more appealing to us.
How many days should I spend in Playa del Carmen?
We ourselves spent two nights in Playa del Carmen and honestly found that to be enough. We need to add that Playa del Carmen was just the end destination of our round trip on the Yucatán Peninsula and therefore, we had already spent a lot of time at other beaches.
Are you looking for a longer beach holiday in Mexico? Then personally, we would recommend going to Tulum rather than Playa del Carmen. Even though Tulum is just as touristy, the 'hippy flair' definitely resonated with us more.
2. Travel Guide: The most beautiful Beaches in Playa del Carmen
Playa del Carmen is blessed with endless long beach stretches that partially merge into one another. The following beaches are the hot favourites or best known.
Playacar Beach
Playacar is a city inside a city, so to speak. Countless hotels are located in this sprawling area, south of the city centre. Despite this (or perhaps because of it), the beach of Playacar is known as the most beautiful beach in Playa del Carmen.
The downside of Playacar: If you are not staying in one of the hotels there, you have to make your way to Playacar beach on foot. Playacar is not accessible by car for external guests.
You can walk to Playacar in about 10 to 25 minutes, depending on where you leave from in Playa del Carmen. Alternatively, you could also take a taxi to Playacar (costs around 120 Pesos).
Surprisingly, there is usually very little going on at Playacar beach and a picturesque Caribbean beach awaits you there. There is no infrastructure (beach clubs, restaurants etc.) – so be sure to take something to eat or drink with you.
Mamitas Beach
You will find the classic Playa-del-Carmen-Flair at this beach called Mamitas, named after the beach club with the same name. The beach is referred to as the home beach of Playa del Carmen and is located very close to the city centre. You can find access to Mamitas beach, for example, at the end of the Calle 28.
DJ-sounds and beach clubs – the vibe is alive at Mamitas Beach. There are a lot of young people here and also the occasional beach party.
For us personally, there is a little too much happening to enjoy a relaxing day at the beach. However, there are other peaceful spots, so it is definitely possible to find a nice place to relax. It is also possible to hire a beach chair with an umbrella, for a small fee (or sometimes minimum consumption).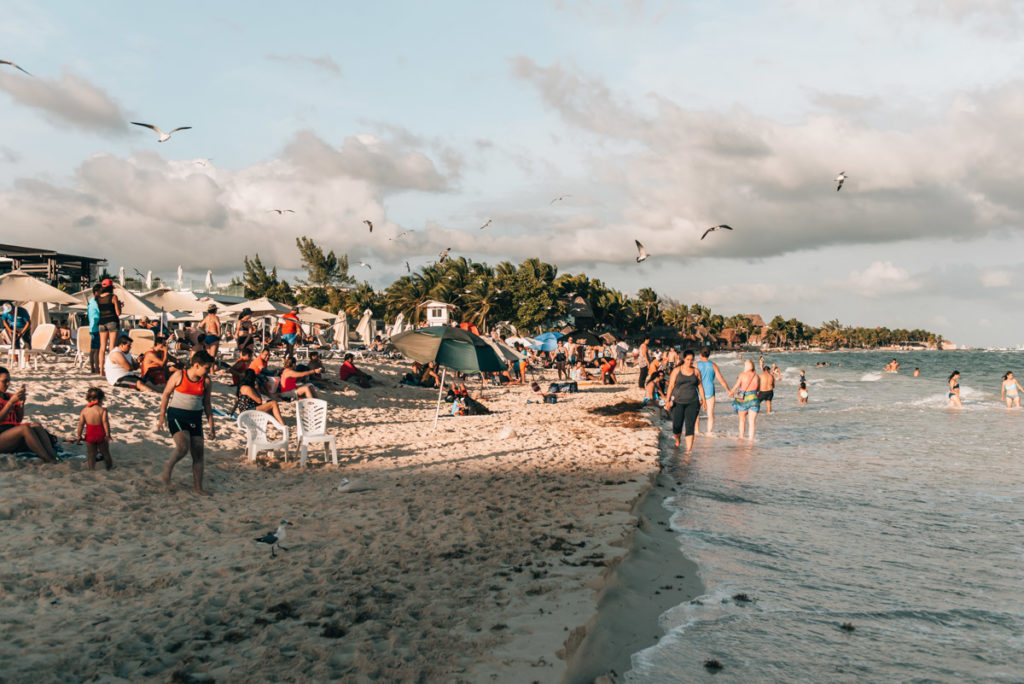 Our Tip: Xpu-Há
On our search for the perfect beach for our last beach day in Mexico, we found ourselves at Xpu-Há Beach. And what should we say: it was the best decision!
Xpu-Há beach is located outside of Playa del Carmen, approximately 25 minutes' drive from the centre. A postcard-perfect beach awaits you here: fine sands and turquoise blue water – just beautiful!
We spent our time at Xpu-Há beach in the KSM Beach Club. The usual beach chairs (not the beach beds) are free, as long as you consume something from the beach club. (It's best to check first if there is a minimum consumption amount – for us there was not.) We just continued to order things throughout the day (fresh coconuts, cocktails, nachos). That was perfect for us!
Of course, it's not absolutely necessary to go to a beach club, in case you're not into that. Something to note: there is a small entrance fee at the Xpu-Há Beach of 60 Pesos. Parking spots are available.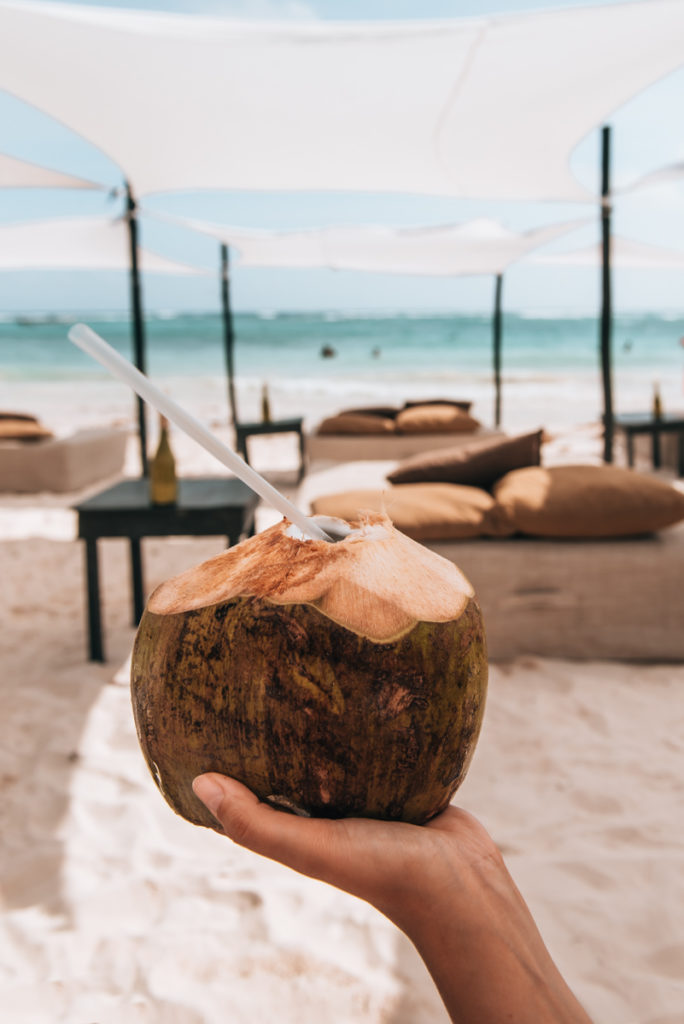 Important note: Sargassum problems in Mexico
Maybe you've heard of 'sargassum' before? In case you haven't, then keep reading. Just like the entire Riviera Maya in Mexico, the Playa del Carmen is also affected by the brown algae problem.
What does this mean? Depending on the season (and other partially researched factors) a lot of sargassum (often called seaweed) washes up onto the coast. This situation has gotten out of control over the years, meaning that an algae layer covers the bottom of the sea, and swimming is not really pleasant there.
The brown algae are also deposited on the beach and give out an unpleasant smell. Most of the beaches in front of hotels or the well-known beaches are nicely cleaned. However, this is not the case in the less frequented areas.
How do I know which beaches are affected?
Bad news: The situation can change daily and can affect different regions. Therefore, it's practically impossible to know in advance.
However, we have a super tip for you. There is a Facebook group that provides daily photos and updates from different beaches in Mexico: Sargasso Seaweed Updates Riviera Maya. You can find more information about our personal experiences in this blog article: Tulum.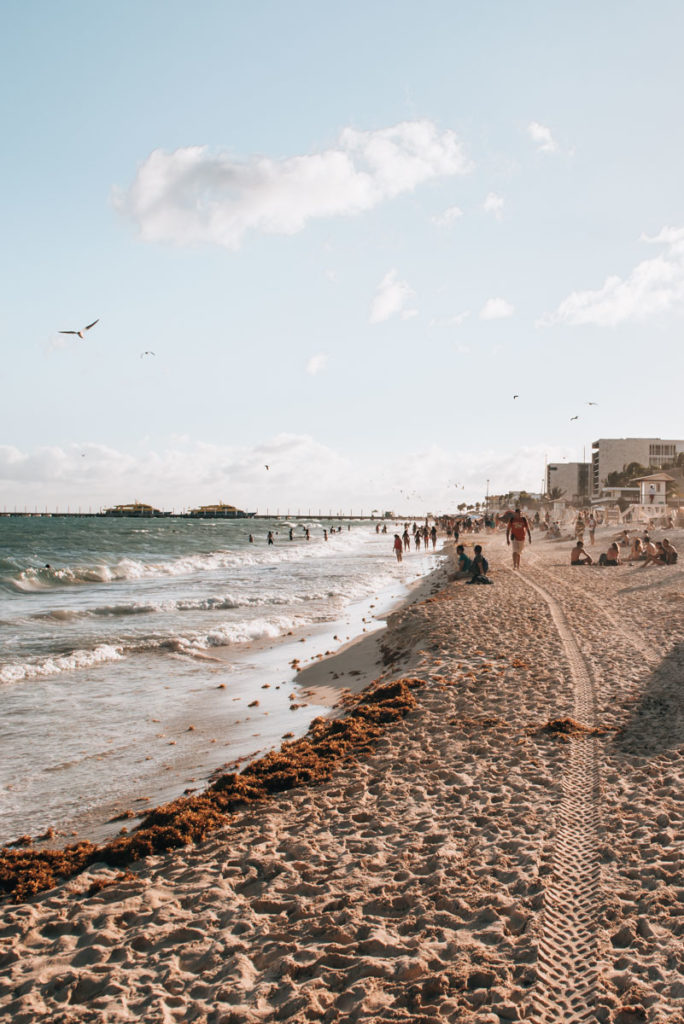 3. Food & Drink: Tips for Restaurants and & Cafés
There are endless choices of restaurants in Playa del Carmen and very international. You can find sushi, Thai food, burgers, pizza and also of course – how could it be any other way – Mexican restaurants.
The abundance of restaurants can be pretty overwhelming. Therefore, in this chapter we will let you in on our culinary tips.
Lara & Luca
Looking for a cool breakfast spot? Then we recommend a visit to Lara & Luca. On the menu you can find avocado toast, eggs benedict and other classics. On top of that, you can get a really good coffee – also with plant-based milk options.
You will mostly find expats and young travellers in Lara & Luca. The place is generally quite busy and the tables rather narrow. Nevertheless, we can definitely recommend this hip café.
El Fogon
This simple Taquéria serves delicious typical Mexican dishes. So, if you're on the search for tacos, quesadillas etc. we would definitely recommend a visit.
The ambience is simple and traditional, the prices cheap and the crowds are usually large. The restaurant is a favourite for locals. Our conclusion: it's worth the stop by.
La Cueva del Chango
Fantastic food & a great atmosphere – that's how to best describe this restaurant. It's situated in a beautiful, delightfully landscaped garden. Just lovely!
They even serve breakfast as lunch and dinner. The menu includes specialty Mexican dishes. A big plus: there are also countless vegan and vegerarian options.
Bio Natural
As you can probably tell from the name: Bio Natural uses all organic ingredients. Most of the meals are vegan, and some vegetarian. They serve fusion cuisine here – for example, salads, bowls, pitas or Indian curries.
The restaurant is located right in the centre of Playa del Carmen, more precisely around the corner from the famous Quinta Avenida ('5th Avenue'). The ambience is less than fancy, but we liked it very much.
4. Our Hotel Tip in Playa del Carmen
One of the reasons we quite enjoyed our time in Playa del Carmen was our wonderful accommodation in the Hotel Morgana. We can warmly recommend this lovely boutique hotel.
Every room is a little bit different and styled with fine attention to detail. The beds are very comfortable, and you just feel good here. Our tip: take care when booking that you select a room in the higher category, because the cheaper category rooms don't really have windows. (This is clearly evident the description though).
The hotel is not located directly at the sea, but you can reach the beach in a few minutes on foot. Also, you can look forward to a really cool rooftop pool. The hotel personal also deserve a lot of praise. We received such a warm welcome and they also provided great tips during our stay.
You can book the hotel here: Hotel Morgana
5. Our conclusion about Playa del Carmen
Is Playa del Carmen a must see destination? We don't think so. Playa del Carmen's artificially hyped city centre is not all that charming. Out of all of the beach destinations on the Yucatán Peninsula, Playa del Carmen would not be our first choice. (We enjoyed Tulum a lot more).
This is of course high-level criticism, because the beaches are incredibly beautiful. Given its close proximity to the Cancún international airport, it is also perfect for enjoying a few beach days before returning home.
We've marked our highlights and the most beautiful beaches in Playa del Carmen on this map so that you can get a better overview. We wish you a lovely holiday!
---
Disclaimer: Affiliate Links
This blog article contains our personal recommendations in the form of affiliate links. If you book or buy something via the links, we will receive a small commission. This will not change the price for you at all. A million thanks from the both of us!
Have you already spent time on vacation in Playa del Carmen, Mexico? How did you like it? Do you have some tips that you would like to add? We look forward to hearing your experiences!