So close yet so underrated! It takes just an hour to reach Bratislava from Vienna, which makes it an ideal destination for a short break or weekend trip.
We have actually been to Bratislava several times now and we are always so impressed at how much this little town on the Danube has to offer. In this travel guide have packed our experiences and our best tips for a city break to Bratislava.
1. 

Things to do: 

Sights and Attractions in Bratislava
Bratislava Castle ("Bratislavský hrad")
One of the highlights of the city is the imposing castle, which towers high above Bratislava. The short ascent to the castle only takes about 20 minutes and you are rewarded with an incredibly beautiful view of the Old Town and the Danube.
You don't have to pay for admission to the Bratislava Castle, unless you want to visit the museum, which would then costs a few Euros. We did not end up visiting the museum.


Bratislava's Old Town
Something we can highly recommended is a walk through the picturesque Old Town – the heart of Bratislava, which is situated in the middle of the city. Depending on where you park, you could start your round trip tour, for example at the old building of the Slovak National Theatre on Hviezdoslav Square.
From there you can then make your way to the well-known Michael's Gate (Michalska brana), which also has a tower you can climb up to (more information can be found in the next chapter of this blog article). Incidentally, at the corner of the Fish Gate (or Rybárska brána) and Panská Street, you can also find the well-known "Čumil" or "Man at Work", which is the bronze statue of a sewer worker who peeps out of a manhole.




View from the Tower of Michael's Gate
Michael's Gate dates back to the 14th Century and is considered the only preserved gate of the city fortress. Today, the 51 meter high tower houses a weapons museum, so if you want to enjoy the beautiful panoramic view of Bratislava, then you will have to pay admission to the museum.
Information about getting up the tower
Admission: 5 euros
Opening hours: Tuesday to Friday from 10am to 5pm, Saturday and Sunday from 11am to 6pm


Slavín War Memorial
The Slavín War Memorial was erected in honour of those Soviet soldiers who died in the course of World War II during the conquest of the city of Bratislava. At 52 meters, it is the largest war memorial in Central Europe. The monument is located on a hill, north of the Old Town. From the top you also have a nice distant view of the Bratislava Castle. It takes about half an hour by foot to get there from the Old Town – of course, you can also get there by car, which is both faster and more comfortable.


UFO Observation Deck
A highly recommended location for sunset, is a visit to the UFO Observation Deck. It is situated on the main bridge of Bratislava, but on the side opposite of the Old Town. There is a lift, which will take you up in a few seconds – but the last flight of stairs up to the viewing platform can only be reached by foot. The tower also hosts a restaurant, but we didn't end up trying it out.
Admission: 7.4 euros
Opening hours: every day from 10am to 11pm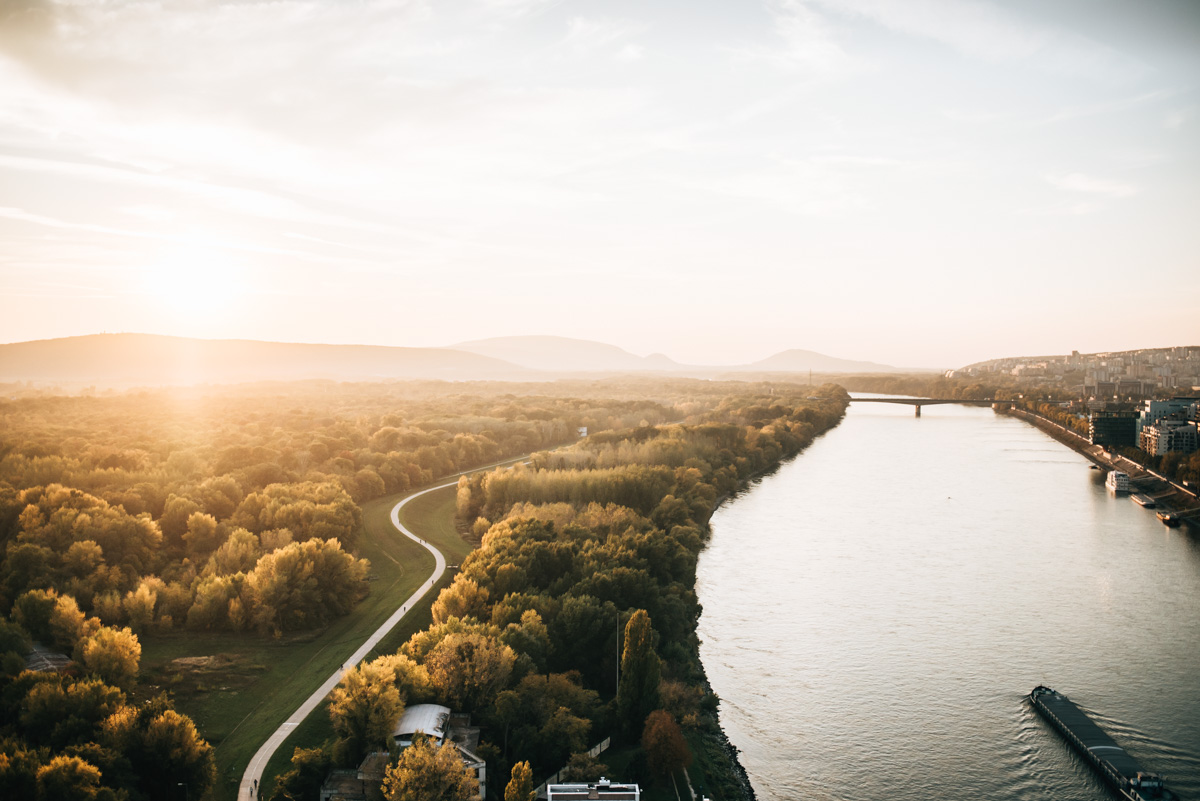 2. Restaurants and Cafes in Bratislava: Our Tips
Urban House
The Urban House is a small institution in the Old Town of Bratislava. The cafe is not a secret, but definitely worth a stopover. It belongs to the Gorila.sk – and it's easy to tell! The ambience is very hip and cozy. They serve breakfast, lunch and dinner as well as a variety of cakes and pies. We can certainly recommend the fresh mint tea here, which have missed so much since our trip to Morocco.
Address: Laurinská 213/14, 81101 Bratislava
Soho – Bistro and Coffee
We had a very good lunch at Soho – Bistro and Coffee. Here, they serve a small, but fine selection of Asian food – mainly wok dishes and soups. In total, we paid € 17.50 for two main courses and two drinks. Small note: There seems to be another branch in the city centre as well. We were in the one at the address Dunajská 20.
Address: Dunajská 20, 81101 Bratislava


Schöndorf Organic Café
For a quick coffee in between, we can recommend the Schöndorf Bio Café. The cafe is located just outside the Old Town in a courtyard. They serve delicious coffees and have a variety of homemade cakes and tarts on offer – some of which are vegan.
Address: Obchodná 528/48, 811 06 Bratislava
Mondieu
This café is located in the middle of the Old Town and they serve breakfast, lunch and dinner. We were here in the afternoon for coffee and cake. Both the espresso macchiato and the caramel cheesecake were excellent.
Address: Laurinska 7, 81101 Bratislava


3. Hotel Tip for Bratislava: Grand Hotel River Park
We stayed in Bratislava in the former Kempinski Hotel, which is nowadays called Grand Hotel River Park. Everything fits really well together here: from the rooms and the breakfast, to the spa area with a view of the Danube.
We also had an excellent dinner at the hotel. If you want to treat yourself to a luxurious escape: this place is "the place to be". Just note, however, that the hotel is located outside the Old Town – about 15 minutes walk away.
You can book the hotel here: Grand Hotel River Park
4. Getting to Bratislava
From Vienna there are several ways to get to Bratislava. We have always travelled there by car, but beware: there are road tolls in Slovakia. You can easily avoid the Slovak road toll by driving through Kittsee. Parking wise, there are quite a few parking garages in Bratislava, which you can budget for at roughly 25 Euros per 24 hours.
Alternatively, you can also travel from Vienna by catamaran boat charter called Twin City Liner. The journey takes 75 minutes and costs about 35 euros (one way). A cheaper alternative is a train ride.
You can book the ticket here: Catamaran Transfer between Vienna and Bratislava
---
Transparency: Affiliate Links
During one of our visits to Bratislava, we were invited by the Grand Hotel River Park for one night.

This blog article contains our personal recommendations in the form of so-called affiliate links. If you book or buy something through these links, then we will receive a small commission. For you, this does not change the price at all. A million thanks from the both of us!
Do you have any further tips for a city trip to Bratislava? Which sights and restaurants/cafes in Bratislava can you recommend? We look forward to hearing your experiences and responding to your comments!
Merken
Merken
Merken