Kampot and Kep, two sleepy towns on the coast of Cambodia, impressed us right from the start. Because Kampot and Kep are only a good 20 kilometres away from each other, they are ideal to combine with one another.
In Kampot you can look forward to French colonial architecture, and the pleasantly understated Kep is the perfect place for anyone looking to enjoy a relaxing few days. If you are looking for party and action, you're in completely the wrong place. However, if you want to immerse yourself a little into the local life, you will love Kampot and Kep.  
We warmly recommend including a stop off in Kampot and Kep on a trip through Cambodia. In this travel guide, we show you the best things to do and reveal our personal tips for Kampot and Kep.
1. Travel Guide: Overview of Useful Info about Kampot & Kep
What to expect in Kampot & Kep
Had enough of the chaos and hecticness of the Cambodian capital Phnom Penh? Then off to the coast with you! All is still very calm and tranquil in the two neighbouring provinces of Kampot and Kep.
The town Kampot is clearly the more beloved of the two. It is located on the Teuk Chhou River and is known for its remnants of French colonial architecture. You'll quickly come to notice that there is little money for repairs: The plaster is crumbling on every corner and relatively few buildings are renovated. Nevertheless (or perhaps because of this) we really enjoyed the unique flair in Kampot.
Kep on the other hand was once one of Cambodia's main bathing spots. The beach is however not such a highlight – we definitely wouldn't recommend Kep for a classic beach holiday. The main attraction in Kep is the crab market: Here they have a huge selection of seafood on offer.
One more thing makes the region special: One of the best varieties of pepper in the world, Kampot pepper, is produced here. You can visit some of the pepper plantations and gain an insight into the production of this expensive pepper. However, the best part of all is definitely the fresh pepper, which is often served in the restaurants in the region. Once you have tried proper fresh pepper, you won't want to go without it again – simply delicious!
Another side tip: Reports of stray, barking dogs in the Kampot and Kep provinces are increasing. It is best to avoid night time strolls away from the town centre. We personally haven't had any negative experiences, but we still wanted to add in a little warning.
How many days should I plan to stay in Kampot & Kep?
We ourselves decided to take a stop off in both locations: We spent three nights in Kampot, two in Kep – so five nights altogether. That way we could really take it easy and also had enough time for a day trip to the offshore island of Koh Tonsay (more about this soon). 
However, because Kampot and Kep are, as stated earlier, so close together (a 30-minute drive away from each other), you can also easily visit the other town on a day trip. In this case, we recommend staying in Kampot. Firstly because Kampot is, in our opinion, the more attractive destination and also because the selection of hotels is simply better there.
We ourselves stayed in the highly recommendable hotel, The Columns, in Kampot. We will let you know more details about it near the end of this travel guide.
Cambodia travel guide: Our tip
We almost exclusively use the Lonly Planet travel guides in Southeast Asia. They are very well-researched and have brilliant tips – which also goes for the Lonly Planet Cambodia Travel Guide. We really like the layout and structure of the Lonly Planet travel guides. They are primarily aimed towards individual travellers – so perfect if you are want to make your own way around Cambodia.
You can purchase the travel guide here: Lonly Planet Cambodia Travel Guide
2. Kampot: The Best Places, Things to Do & Travel Tips
It is very quiet and calm in the 50,000 inhabitant town of Kampot. Kampot is the capital of the province of the same name and is well known for its more or less well-preserved buildings from the French colonial era.
First of all: You shouldn't expect to find classic tourist attractions in Kampot. Rather, it is the relaxing flair that makes this town a worthwhile stop.
Kampot's colonial centre
We begin in the heart of Kampot's old town, the French quarter close to the riverbank. Cambodia was under French colonial rule for almost one hundred years. The architectural remnants from the colonial era still remain – although the plaster is crumbling on many corners.
It is best to take a bit of time to explore the side alleys – where you can discover some exciting photo motifs. You should not expect a well-kept city in Kampot, but the centre definitely has a lot of flair, that much is certain.
Teuk Chhou: Sunset at the riverbank
The Teuk Chhou river snakes its way through Kampot. You can experience a wonderful sunset from the east riverbank (right next to the French Quarter). The atmosphere is very calm and relaxing.
There are a few cafés and bars – many also advertise "happy hour" at sunset. One of these places is Rikitikitavi. They have great food there and you can enjoy a nice view of the river from some spots.
Kampot pepper: Visit a pepper plantation
The provinces Kampot and Kep and famous worldwide as pepper growing regions. Kampot pepper is considered one of the best and most expensive in the world. You can visit some of the pepper plantations. If you are already in the region, then we would recommend taking a visit to a plantation to get a bit of an insight into the production of pepper. The following two companies are especially well-known:
La Plantation: A large organic plantation run by a French-Belgian couple. La Plantation is located a good half an hour east of Kampot. They offer regular free tours during opening times.
Farm Link: Farm Link is a comfortable 15-minute walk from the centre of Kampot. The focus is not on pepper cultivation here, rather Farm Link work together with the local pepper farmers. You can observe how the pepper corns are sorted. If you want to visit the plantations, you're better to visit La Plantation.
Discovering the region & the salt fields by bike
What did we love most in Kampot? It definitely wasn't a classic attraction, but immersion into the local life. It is best to rent a bike (it doesn't need to be a scooter) and discover the surrounding area in a relaxing style.
For example, we ourselves rode our bikes to Farm Link (kampot pepper) and to the salt fields. On the way there we took a spontaneous stop off and had a water fight with the kids in the photo. (It rained a bit, so there was plenty of water.)
If you just go a few kilometres outside of the centre of Kampot, you notice how rural life is here. Many people live in unbelievably poor conditions – sad to see and yet we were also amazed by the hospitality we were greeted with here.
Eating & Drinking in Kampot: Our restaurant tips
Good news: There are many nice cafés and restaurants in Kampot where you can enjoy a great meal. Some of these are surprisingly stylish and there are even plenty options for vegans. We can especially recommend the following restaurants:
Sabay Beach Restaurant and Cocktail Bar: This little gem is located on the riverbank, however unfortunately about a 25-minute drive away from the centre of Kampot. Here you enjoy your meal with a view of the water. Highly recommendable – especially at sunset!
Rikitikitavi: Very famous restaurant, located on the riverbank. Perfect for a sundowner or an evening meal – the food is great here.
Atelier Kampot: A wonderful, surprisingly stylish, French-inspired restaurant located on the Kampot waterfront. The prices are rather high.
Deva Cafe: If you are searching for a vegan restaurant, then you should definitely pay a visit to Deva Cafe. This relaxing restaurant is a little outside of the centre (you can reach it in around 5 minutes by moped). You can get delicious food here for not so much cost.
3. Kep: Highlights & Travel Tips
Did you think Kampot didn't have many attractions? Then you haven't been to Kep yet. The fact that the local crab market is the touristic highlight says it all, doesn't it?
Up until the Cambodian civil war, Kep was one of the country's main seaside resorts. Unfortunately, there is not much of this remaining today. Kep does have a beach, but to be honest: We definitely wouldn't recommend Kep for a classic beach holiday. Kep is however a great town to can gain an authentic insight into the Cambodian lifestyle. Because, as we mentioned, Kep is only 30 minutes away from Kampot, you can easily visit on a day trip.
Crab Market
The crab market runs daily from around 9am until the evening. Seafood fans will love it here: mussels, shrimps, crabs etc. – here they have it all. You can select food for yourself and then have it prepared right there on the spot – street food just as you imagined it.
The crab market also includes a number of classic restaurants. Here you can eat a little more comfortably with a view of the water. It is particularly enjoyable and recommendable at sunset.
Eating & Drinking in Kep
Khmer Roots Café: This small, authentic restaurant is located between Kep and Kampot in a very lovely, idyllic spot next to a small lake. It is worthwhile to stop by here after a visit to the pepper plantation, La Plantation.
Kep Coffee: Nice little café where you can enjoy a great breakfast or lunch. The coffee is also said to be very good here.
Kep Sur Mer Restaurant: In case you would like to eat at one of the restaurants at the crab market, then we can recommend this one for you. It is especially nice to sit at the tables at the front with a view of the sea.
4. Day trip to Koh Tonsay (Rabbit Island)
Would you like a few relaxing hours at the beach? The most beautiful beach in the region is not located on the mainland but on an offshore island – Koh Tonsay, also known as Rabbit Island. Koh Tonsay is located about a half-hour boat ride away from Kep.
On Koh Tonsay you are literally forced to do nothing: Apart from a few bars and simple bungalows, there is no infrastructure on Koh Tonsay. So, if you are looking to enjoy a relaxing beach day, then you are in the right place. Some travellers spend a few days on Koh Tonsay, but that would be too monotonous and isolated for us personally.
That's why many people prefer to go on a day trip. The boats depart from Kep at 9am and at 1pm. A ticket costs 8 dollars per person. It is best to check these times again when you are there.
You can walk around Koh Tonsay: The hike takes around three house and is said to be very worthwhile. We fear that you will unfortunately have to see washed up rubbish on the loop track. However, the main beach was fairly clean when we visited.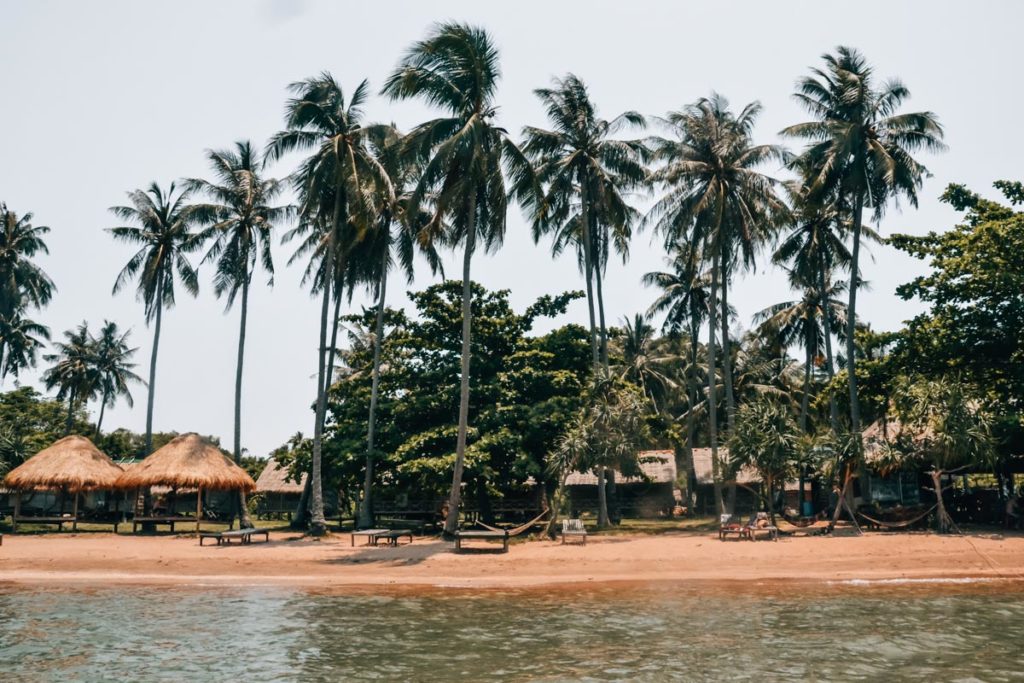 5. Our Hotel Tip for Kampot
We spent our time in Kampot at the beautiful hotel, The Columns, which we highly recommend. The hotel is housed in several colonial houses, which are very beautiful and have been renovated with a lot of love and great attention to detail.
You stay right in the centre of Kampot (in a very peaceful alleyway), and it is perfect for exploring the town on foot from the hotel. Due to the architecture of the houses, some rooms are a little dim, but are very comfortably furnished. In any case, the value for money is excellent.
We really enjoyed the breakfast. Served in a beautiful lobby, it is the perfect way to start the day. Our conclusion: If you want to stay in the centre of Kampot (which we would recommend), then this hotel is a fantastic choice.
You can book the hotel here: The Columns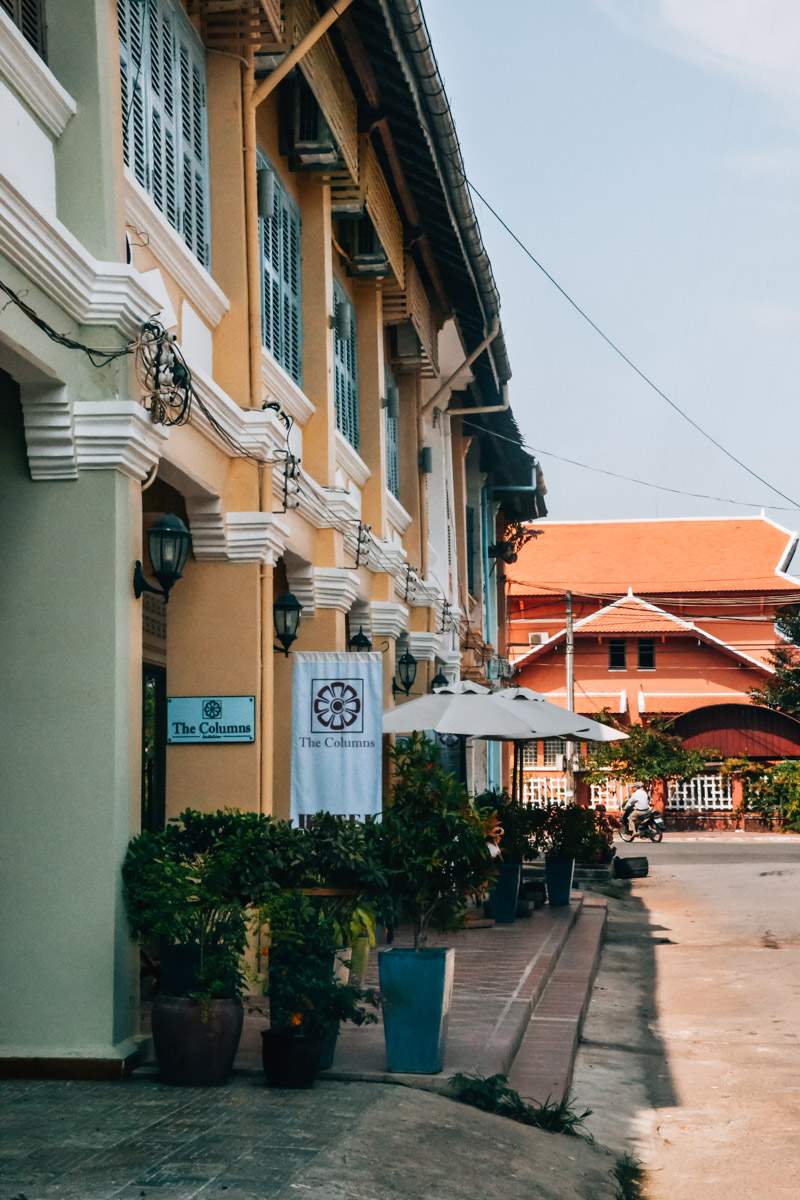 ---
Disclaimer: Affiliate Links
This travel guide contains our personal recommendations in the form of affiliate links. If you book or buy something through the links, we receive a small commission. This does not change the price for you at all. A million thanks from the both of us!
Have you already been to Kampot or Kep? How did you like it? Are there any other highlights and things to do that shouldn't be missed? We look forward to your additional tips!