Are you on the search for a itinerary through Cambodia? In our blog, we tell you which places we visited and the hotels we stayed in.
The most important sights to see in Cambodia and also one of the biggest attractions in the whole of Asia are the world-famous Temples of Angkor. They are the main reason most travelers want to visit Cambodia. However, alongside Cambodia's city of temples, are many more beautiful and authentic places to discover.
What other stops are worth seeing in Cambodia? Which destinations are better left out? What does the ideal route look like? We've packed all of our tips into this blog article so you can plan out your perfect travel route through Cambodia.
1. Travel itinerary through Cambodia: All stops, info & hotel tips
Siem Reap / Angkor Temples
Most people start their route through Cambodia directly in Siem Reap to marvel at the world-famous temples of Angkor. The gigantic temples are without a doubt the number one highlight of Cambodia. They are a UNESCO World Heritage Site and national treasure. Siem Reap is perfectly connected with the international airport. However, you could also enter from another country, such as Thailand, like we did.
For many, Siem Reap remains the one and only destination in Cambodia. That's a real shame! We stayed in Siem Reap for four nights. We wanted to take our time exploring the temples, but most of all we also wanted to have time to take a look beyond of the facade of luxury hotels. For example, we visited a school in Siem Reap and did a lot of cycling. Angkor Wat is breathtaking – without a doubt. However, there is much more to Siem Reap than just Angkor Wat.
Our accommodation tip for Siem Reap
Link: Popular Residence Hotel
Info: A gorgeous hotel with a pool, away from the hustle and bustle. You can reach the city centre quickly using the free shuttle. Very friendly staff and good value for money.
Battambang
Battambang is most well-known for the bamboo train. The original bamboo train was intended for a trade route. It has been rebuilt elsewhere in the meantime and is purely a tourist attraction – what a shame! The trip is still fun though. You rush along at an adventurous speed and watch the landscape go by. As soon as there is oncoming traffic, one of the wagons has to be dismantled and then reassembled.
Battambang itself is the second biggest city in Cambodia, after Phnom Penh. Even though it is very loud and chaotic along some of the streets, the region around Battambang is very original and definitely worth a visit. If you have time, we whole-heartedly recommend a bike tour with Soksabike. Our young guide was very knowledgeable and brought us to visit a few local families.
We recommend you stay two or three nights in Battambang. You can find more information about Battambang in our blog article: Tips for Battambang
Our accommodation tips for Battambang
Link: Maisons Wat Kor
Info: A wonderful retreat! The authentic hotel is located in a large garden. The only downside: the hotel is about 10 minutes' drive with a tuktuk outside of the city centre, however located closer to the bamboo trains.
Phnom Penh
Anyone who plunges from the serenity of Battambangs into the hectic hustle and bustle of the capital, Phnom Penh, may find it difficult to gain value from this city. Don't give up! While in Phnom Penh, you will constantly be confronted with the history of Cambodia and learn a lot about the country.
The gruesome past of the Red Khmer and the genocide that occurred in Cambodia are nowhere more present than at the Killing Fields (Choeung Ek) and the Tuol Sleng Museum. We don't know anyone who wasn't completely stunned after visiting these who memorials. The royal palace and silver pagoda are also well worth a visit. Ultimately – as chaotic as it is, Phnom Penh is a valuable experience.
We would plan to stay at least three nights. There are more tips for Phnom Penh to be found in our blog article: Highlights of Phnom Penh
Our accommodation tip for Phnom Penh
Link: Aquarius Hotel and Urban Resort  
Info: A very stylish hotel with a great rooftop terrace. The rooftop pool is a highlight with views over Phnom Penh.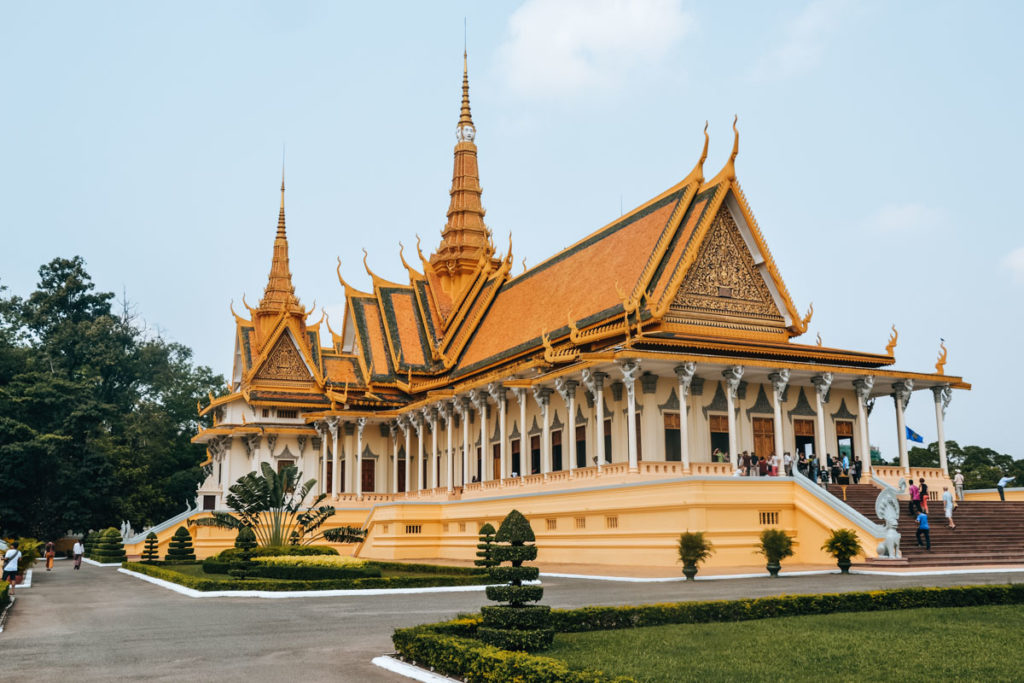 Kep
The journey continues along further from Phnom Penh to Kep, a small town on the coast of Cambodia. You will come across a lot of locals in Kep and hardly any tourists. Kep itself is not so beautiful but it's a wonderful place to eat delicious fish with fresh Kampot pepper on the beach at sunset.
Kep was one of the most important seaside towns in Cambodia before the civil war. You shouldn't expect a picture-perfect beach in Kep but theoretically you could spend a beach day here. We would recommend you head over to the nearby island of Koh Tonsay instead, which you can reach in around 30 minutes by boat.
Kep is most famous for its crab market, located in the town centre. There are several restaurants right beside the crab market where you can eat fresh fish dishes while enjoying a view of the sea. Kep is the right place to be for anyone who likes to experience the life of the locals.
We think spending two or three nights is ideal. It is possible to visit Kep 'just' as a day trip from Kampot – more about this soon. You can find our detailed blog here: Tips for Kampot and Kep
Our accommodation tips for Kep
Link: Le Logis de Kep
Info: A small oasis with individual bungalows and a pool. The hotel is not located directly on the beach, however the tranquil atmosphere is amazing.
Kampot
The small city of Kampot amazed us right from the start. This is probably because of the charming colonial houses that are dotted around the city. Cambodia was under French colonial rule for almost one hundred years. You can find some architectural remnants in Kampot from that era. Most of the buildings are very run down, but that doesn't detract from the town's charm.
Kampot itself does not have any of the classic sights. The flair and the relaxing atmosphere is more what makes this city so special. We absolutely recommend hiring a bike to explore the area. For example, you can reach the famous pepper plantations by bike: Kampot pepper is one of the best in the world. Our tip: Our favourite place to be at sunset was the terrace of the restaurant called Rikitikitavi with a view of the river.
We recommend staying three nights in Kampot. You can find more recommendations for Kampot in our blog article: Tips for Kampot and Kep
Our accommodation tips for Kampot
Link: The Columns
Info:A very tasteful colonial style hotel in the city centre with spacious rooms and a brilliant breakfast.
Sihanoukville
Sihanoukville is the most well-known beach destination in Cambodia. The centre of Sihanoukville is one big party area that really did not speak to our tastes. To really enjoy Sihanoukville you should find yourself a peaceful stretch of beach and skip the souvenir shops.
We spent our time on Otres Beach – Sihanoukville is much better there than its reputation. Still, we didn't feel so at home in Sihanoukville. Next time we would choose to go to Koh Rong to enjoy a few beach days.
Our accommodation tips for Sihanoukville
Link: White Boutique Hotel and Residences
Info: Beautiful and tranquil hotel at Otres Beach.
2. Map: An overview of our Cambodia travel route
We've marked out our Cambodia travel route on this map so you can get a better overview of the travel route. Cambodia is more of a small country. Even though the travel distances are luckily within reason, you have to take into account the road conditions, which are not the best. Therefore, you need longer for most trips than you'd think.
Some short examples: It takes around 3 or 4 hours to reach Battambang from Siem Reap on the bus. It is around 5 to 6 hours from Battambang to Phnom Penh. From Phnom Penh to Kep is around 3.5 to 4 hours. We will let you know more info about Cambodia's transport in the next chapter.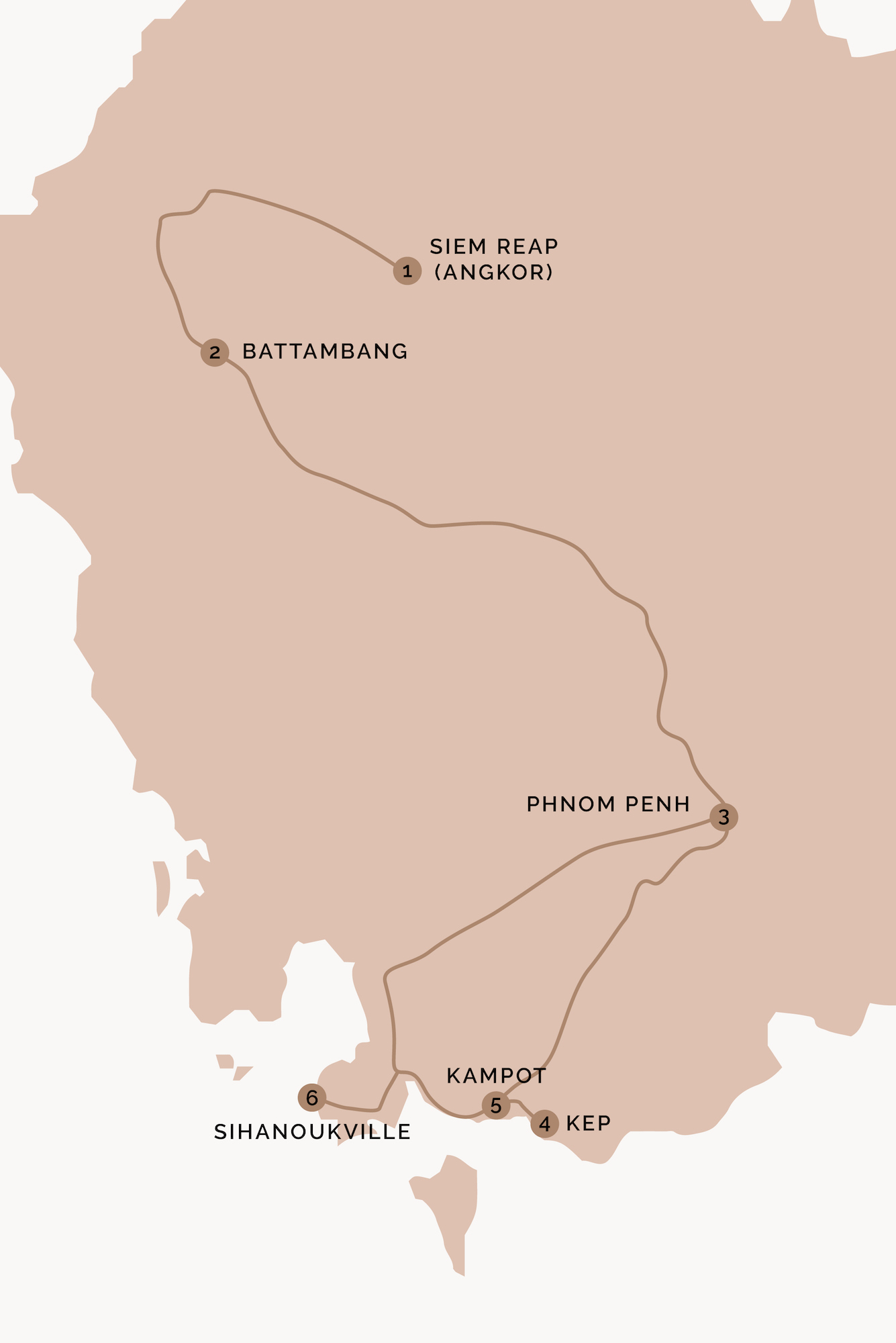 3. More travel tips for Cambodia: Transport & Co
Transport: Getting from A to B in Cambodia
In Cambodia, it is most common to get around by bus. All of the most relevant tourist destinations have bus connections. The levels of comfort can vary: There are modern buses with air conditioning and also very old, rickety buses.
The more touristy the city or travel destination, the more options there are, and usually the buses are more modern. Mostly, we travelled around in large buses. But sometimes there are also minibuses. 
The price to take the bus in Cambodia is very cheap. To give a rough guide: A ticket for Battambang to Phnom Penh (approx. 6 to 7 hours) costs around 8 to 10 US dollars.
Personally, we wouldn't fully rely on the specified travel time. Usually it does take about that long, but bus journeys sometimes take longer due to the road conditions. Breakdowns can also occur. During one of our bus trips the passengers had to get out and push the huge bus so that the engine would start again.
You can usually purchase bus tickets from place to place to reach your next destination without a problem. For example, often we booked the bus ticket the day before through our accommodation – that worked really well. In case you prefer to purchase your tickets in advance, you can do this through 12go.asia.
Travel guides for Cambodia
When it comes to South East Asia, we highly recommend using the guide by Lonely Planet, which is very well researched. The new edition about Cambodia was published in August 2018. You can't go wrong with this travel guide and will be well prepared.
You can purchase the travel guide here: Lonely Planet Cambodia Travel Guide (August 2018 edition)
The best time to travel in Cambodia
The dry season is the most popular time to travel to Cambodia: The temperatures are pleasant between November and March and there is comparatively less rainfall. After March it is noticeably hotter, and the so-called hot dry season starts. In April, it's possible for the thermometer to reach up to 40 degrees – sightseeing is quite exhausting at this time due to the high temperatures.
Important to know: There is a high influx of tourists during the Christmas and New Year period. Personally, we would not recommend visiting at this time – not least because the hotel prices tend to rise.
The rainy season begins from May/June and reaches its high point in October. Rainy season means that you need to expect more rain showers. The climate is relatively unpredictable: often it can be sunny the whole day before a heavy downpour in the afternoon. But there can also be longer showers lasting the entire day. Generally, you have to take into account that you might need to postpone some plans during the rainy season due to rainfall.
Getting to Cambodia
Option 1: Travel by plane to Siem Reap or Phnom Penh
The most comfortable travel option is to arrive via airplane. The two largest airports are located in the capital, Phnom Penh, or in Siem Reap. Both airports have connections to international destinations, including primarily destinations South East Asia or Asia (Bangkok, Kuala Lumpur, Hongkong etc.). There are no direct flights from Europe to Cambodia.
We would probably organise transport from the airport through the accommodation. In case this isn't possible or is far too expensive, you can find taxis at both airports to take you to your hotel.
Option 2: Over land from Bangkok or Koh Chang to Siem Reap
The slightly more adventurous option is to make your own way into Cambodia over land. We did this over the Thailand-Cambodia border in Aranyaprathet/Poipet. Caution: you need to be really careful, especially just before the border, not to get ripped off.
First stage: Getting to Aranyaprathet (Thailand)
First you need to make your way to Aranyaprathet, the last large town in Thailand, located around 6km away from the Cambodian border: Numerous buses go to Aranyaprathet every day (duration approx. 4 to 5 hours from Bangkok, approx. 200 baht). Alternatively, you could also take the train: The train leaves twice daily from the Hualamphong Train Station in Bangkok to Aranyaprathet (duration approx. 5 hours, approx. 50 baht).
We ourselves travelled from Koh Chang to Cambodia. We planned out the trip from Koh Chang to Siem Reap as follows: 7:30am shared taxi to the ferry (60 baht per person) – 8:30am ferry(80 baht per person) – 9:30am shared taxi to the Trat bus station (60 baht per person) – 3:30pm bus to Aranyaprathet (40 baht per person).
Second stage: Border crossing to Poipet (Cambodia)
Now comes the more tedious part, crossing the border. You make your way from Aranyaprathet to the border (distance: approx. 6km) and the risk of falling into the hands of fraudsters on this stretch is relatively high – we are speaking from our own experiences. 
It's best to take a tuk-tuk (80 baht) or travel with a shared taxi. Important: if someone tries to take you to a small hut or something similar ("Cambodian Consulate") before you reach the border, then politely but firmly say that you already have a visa. The reason: They will try to talk you into buying an overpriced visa for Cambodia.
You get your visa for Cambodia after (!) you have left Thailand. It is easy to get your visa on arrival for a fee of 30 US dollars. You should also have a passport photo with you – if not, it will cost extra. When we crossed the border for the second time, we encountered a 'nice' border official who only gave us our passport back after we gave him a small bribe of 100 baht. So you see: you should be prepared for all situations.
Third stage: From Poipet to Siem Reap
After you have arrived in Cambodia you 'just' need to make your way to Siem Reap. You should decline the transport options offered to you directly after you cross the border. This is also a fraudster zone. The best thing is to walk further along the street. A taxi to Siem Reap should cost around 30 US dollars (takes around 2.5 hours).
You can also take a bus from Poipet to Siem Reap. However, the bus costs around 9 US dollars per person, therefore it's not really a cheap alternative to taking a taxi. Apparently, there are cheaper daily connections to Siem Reap (5 US dollars) but they depart at 8 o'clock in the morning.
Visa for Cambodia
You will need a visa to enter. The tourist visa allows you to stay 30 days in Cambodia, although you are able to extend it one time for a further 30 days. It is only possible to extend it from in Phnom Penh.
The visa currently costs 30 US dollars (as at February 2019). There are three possibilities for getting your visa:
Visa on arrival (i.e. directly upon entry at the airport or over land)
E-visa (plus a processing fee of 6 US dollars)
Embassy (e.g. in Berlin)
Our personal opinion is that it is easiest (and cheapest) to get your visa upon entry. This is especially so when you are arriving by plane. There is a larger risk of being ripped off by fraudsters when arriving over land. But getting a visa yourself once you arrive is not a problem.
To get a visa on arrival you just fill out a form, provide your passport photo and passport and then you will receive your visa a short while later, attached inside your passport.
Important: You should therefore have a passport photo with you. You will need one of these for all of the three ways to get your visa. Your passport also needs to be valid for at least three more months.
4. Our conclusions about Cambodia
Cambodia blew us away: In a positive way as well as a negative way. Cambodia's history is unbelievable. Words cannot describe the horrific things that occurred under the rule of the Khmer Rouge. Our time in Phnom Penh in particular really gave us food for thought in this regard.
A trip to Cambodia is an adventure, not a relaxing holiday – that is for certain. Anyone planning a trip around Cambodia should have the urge to experience something. And we promise: you will experience a lot there!
Cambodia is unbelievably authentic. The people are what give the country its special charm. Yes, Cambodia inspired us and made us think. Therefore, we can't help but advise you: Go there! Visit this country! You won't regret it.
---
Disclaimer: Affiliate Links
This blog article contains our personal recommendations in the form of affiliate links. If you book or buy something through the links, we receive a small commission. This does not change the price for you at all. A million thanks from the both of us!
Have you already been to this fascinating country and have some more tips for traveling through Cambodia? We look forward to your comments about your experiences!