Phnom Penh is a pure sensory overload. The Cambodian capital city is not your typical travel destination that you fall in love with right from the start. The big tourist highlights are missing. Phnom Penh's main attractions are a stark reminder of Cambodia's moving, gruesome history.
No, Phnom Penh is certainly not the type of city that welcomes you with open arms. And yet, in our opinion, you should definitely pay a visit to the capital of Phnom Penh on a trip through Cambodia.
Would you like to know what awaits you on a trip to Phnom Penh? In this travel guide, we let you know our experiences. We show you the main attractions and things to do and reveal our personal tips for your trip.
1. Info & Overview: What Awaits you in Phnom Penh
If you want to understand Cambodia's history, you have to travel to Phnom Penh. According to estimates, during the rule of the Khmer Rouge from 1975 to 1979, two million people (so a quarter (!) of the whole population) lost their lives. That is so ubelievable that there are really no words.
Two of the main memorials of the gruesome genocide are located in Phnom Penh. To be honest: We still get chills down our spines when we think back to the day we visited.
Phnom Penh is definitely not a beautiful city. Phom Penh is exhausting, overwhelming, chaotic and often loud and hectic. In short: Phnom Penh is an adventure you have to embark on. Nowhere else in Cambodia is the divide between poor and rich as evident as in Phnom Penh: Expensive cars on one side of the street, begging children on the other.
How many days should I plan to stay in Phnom Penh?
We ourselves spent four nights (so three full days) in Phnom Penh and one more night at the end of our trip (before flying out). We wanted to allow enough time to let Cambodia's capital city wash over us.
Generally, we recommend staying three nights. That way you have enough time to see the main attractions in Phnom Penh. Travelers in more of a rush could also just stay two nights and still manage to gain a good insight.
Cambodia travel guide: Our tip
We almost always use the Lonly Planet travel guides in Southeast Asia. They are very well researched and have great tips – that also applies to the Lonly Planet Cambodia Travel Guide. We really like the layout and structure of the Lonly Planet travel guides. They are primarily aimed towards individual travelers – perfect if you want to make your own way through Cambodia. 
2. Travel Guide: Best Sights & Things to Do in Phnom Penh
Killing Fields of Choeung Ek
Frightening. Disturbing. Horrible. Gruesome. We could go on like this forever. It doesn't seem right to call the killing fields an attraction. And yet, in our opinion: Anyone and everyone who travels to Phnom Penh should pay a visit to this place of remembrance.
What exactly are the killing fields? All the places where the Khmer Rouge carried out brutal mass killings are called killing fields. There are hundreds of killing fields across Cambodia. The most well-known killing field in the country is found in Choeung Ek, about 17 kilometres south of Phnom Penh.
You can discover the area yourself as part of an audio guide tour. The history is told so movingly that you really need to fight back the tears. We needed the entire rest of the day to try and collect ourselves again.
Entrance: 6 US dollars (incl. audio guide)
Getting there: approx. 30 minutes from Phnom Penh (e.g. by tuk tuk – the price for the ride should be around 15 US dollars)
Tuol Sleng Genocide Museum
The second important memorial is the former security prison (S-21), which is located in the centre of Phnom Penh. People were imprisoned and tortured here during the Khmer Rouge rule.
Here you can also experience Cambodia's gruesome history up close. Just as with the killing fields, a visit to the Tuol Sleng Genocide Museum will also bring you to tears. You enter former prison cells, see photos of the prisoners, and hear moving stories about them. You should allow around two hours for your visit.
Entrance: 5 US dollars (plus 3 US dollars for the audio guide)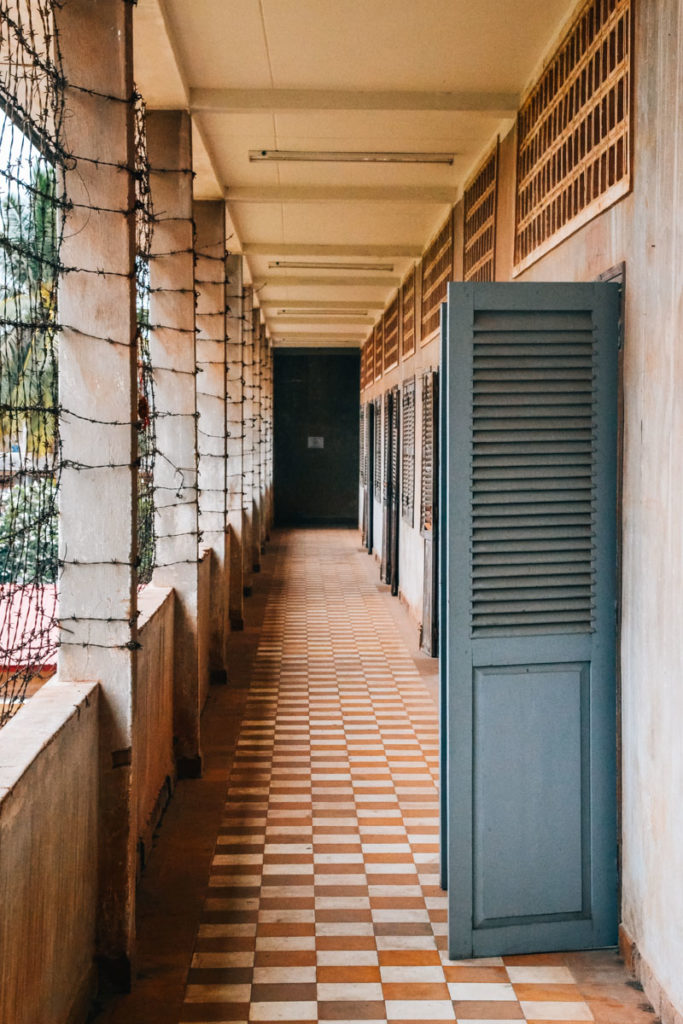 Royal Palace of Phnom Penh with Silver Pagoda
These palace grounds are located in the centre of Phnom Penh and are considered one of the city's main attractions. The king still resides here today, therefore you can only visit part of the complex. You can only marvel at many of the buildings from the outside. The architecture of the royal palace in Phnom Penh is a little reminiscent of that in Bangkok, however less imposing and not nearly as spacious.
The heart of the royal palace is the silver pagoda. In case you're wondering where the name comes from: The silver pagoda owes this to the more than 5,000 silver tiles that cover the floor of the silver pagoda. However, visitors aren't really able to view them.
If you are interested in learning more about the history and background, then we can recommend a guided tour. Otherwise, a visit to the royal palace is not so informative.
Entrance: 10 US dollars
Tip: Dress appropriately (knees & shoulders covered)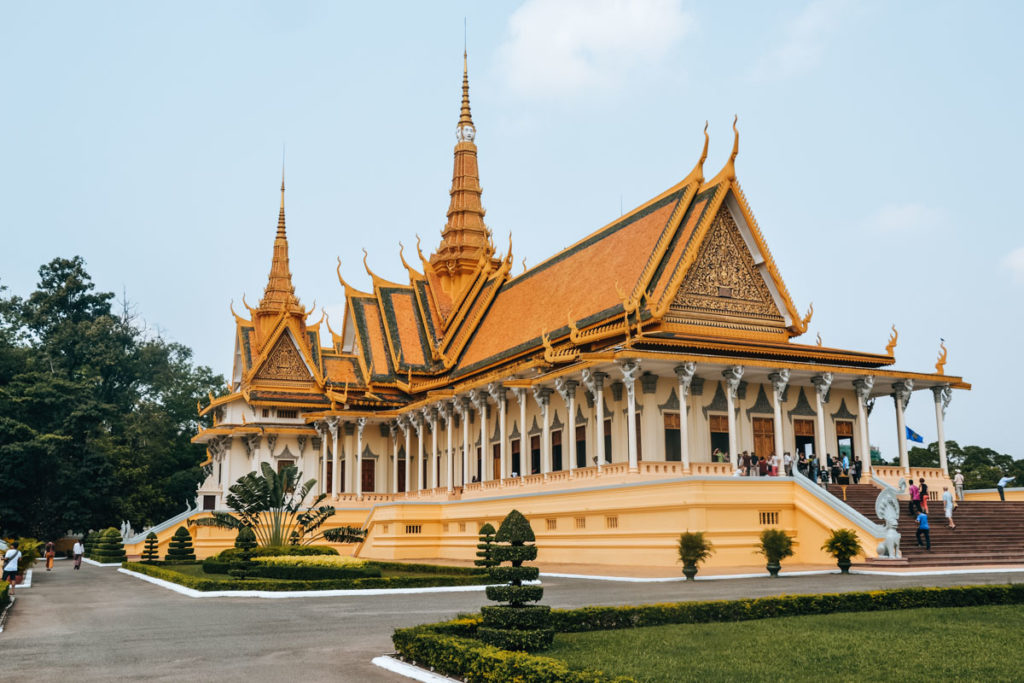 Wat Phnom Temple
The Buddhist Wat Phnom is the most well-known temple in Phnom Penh. It is enthroned on a close to 30 metre high, artificial hill in the heart of Phnom Penh. You reach the temple after a short climb up the stairs.
The temple is very pretty to look at, but you shouldn't expect a big tourist attraction. The park around the temple is a welcome retreat in the heat of the day and an oasis of peace.
Entrance: 1 US dollar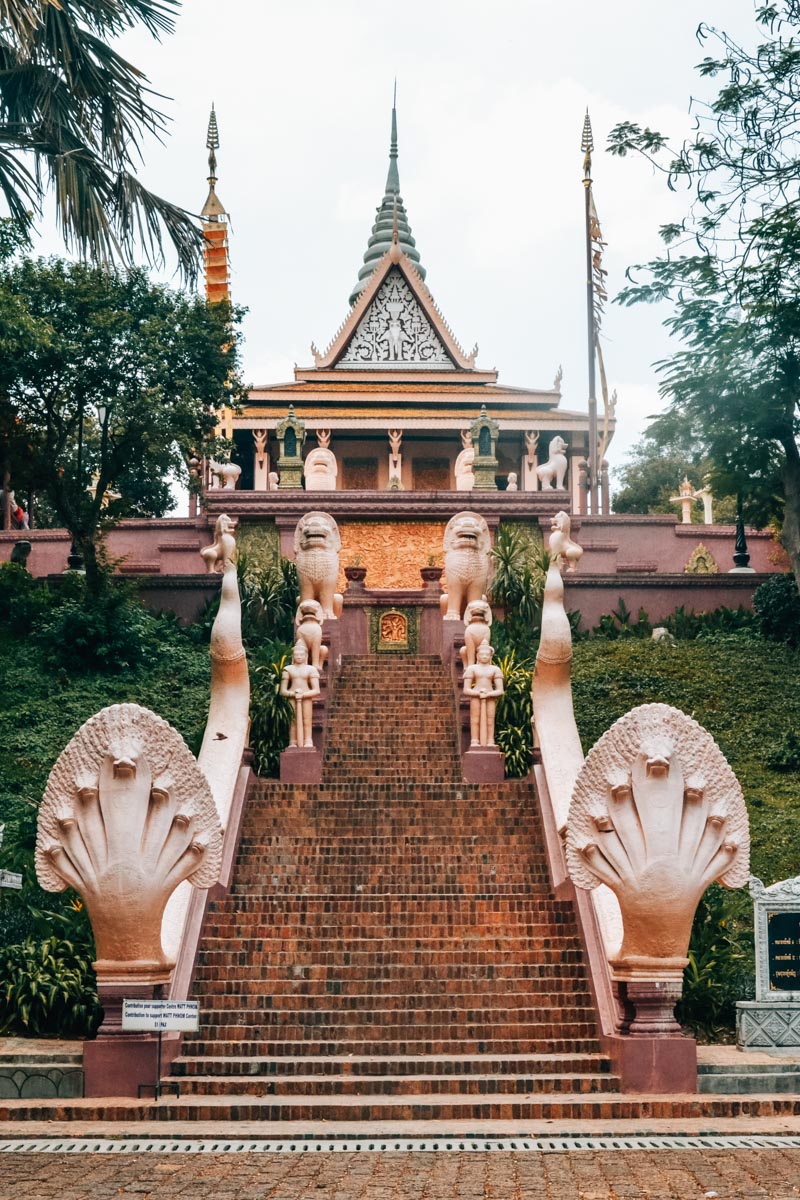 Phnom Penh Waterfront (Sisowath Quay)
Not your traditional type of sight, but the Waterfront – commonly called Sisowath Quay – is well worth a visit. It is situated along the banks of the Tonle Sap River. This district is surprisingly well kept: Some houses have been renovated and the palms give the promenade a nice flair. It is worth stopping by Wat Ounalom.
Locals use the Promenade as their outdoor fitness centre. It is not unusual to sit and observe aerobic groups from the cafés along the promenade. Speaking of cafés: Many of these are quite touristy, so it's best to check the reviews in advance.
Important note: There are some reports of pickpocketing at Sisowath Quay. We personally haven't had any bad experiences. It is however advisable to be vigilant here and carry your valuables close to your body.
Our tip: An evening boat trip along the Mekong or Tonle Sap River is said to be quite beautiful. Watch the sunset from the boat along with cocktails and dinner.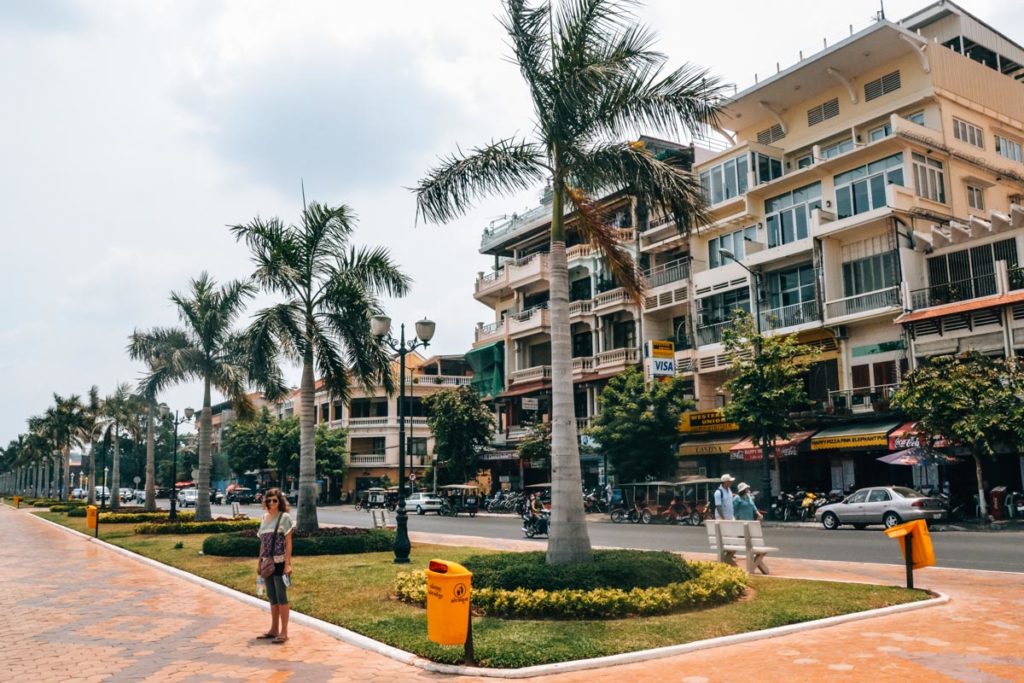 Views of Phnom Penh
We highly recommend you marvel at Phnom Penh from above at least once. The sea of houses of the Cambodian capital are pretty crazy. We ourselves decided on a free viewpoint: On the top floor of the Sorya Centre Point shopping centre. Important to note: The shopping centre was recently renovated. We are not sure if the view is still the same or easy to get to. (If you try, then let us know in the comments.)
Rooftop Bars in Phnom Penh
There are now more and more skyscrapers and along with them also rooftop bars in Phnom Penh. The following are well-known and recommendable:
Eclipse Sky Bar: One of the most impressive views over Phnom Penh awaits you here. The Eclipse Sky Bar is located on the 23rd floor of the Phnom Penh Towers. The lighting atmosphere at sunset is especially beautiful.
Sundown Social Club: Not located quite as high, but the Sundown Social Club is hipper and more relaxing. Here you have a view over the sea of houses of the Russian market.
Markets in Phnom Penh
Local Markets: Some markets in Phnom Penh are not at all catered towards tourists. Sometimes it can be quite the adventure. One of these markets is the Kandal Market close to the waterfront. Not far from there is also Phsar Chas.
Russian Market (Tuol Tom Pong): Possibly the most touristy market in Phnom Penh. In this covered market you can buy countless souvenirs. The quality is not always the best. Don't forget to haggle!
3. Eating and Drinking in Phnom Penh: Our Tips
Surprisingly, there are a lot of nice cafés and restaurants with great food to enjoy in Phnom Penh. Some of these are French inspired or French run. (Cambodia was under French colonial rule for almost one hundred years.)
Some restaurants are also operated by NGOs. Youth and young adults are often trained in these restaurants and receive a place to work and future prospects.
Café and restaurant recommendations
Daughters of Cambodia: This non-profit café supports women at risk from human trafficking and prostitution. Not so cheap, but we enjoyed a great meal. There is also a small shop where you can purchase a souvenir or two.
Vibe Café: Hip, cool café close to the Russian Market. The prices are quite high, but the atmosphere is really great.
Tip: Street food tour
That's the thing with the street food in Phnom Penh. Unlike Bangkok, for example, it is not so easy to find good street food that you would really dare to try in Phnom Penh.
So, if you are more of the sceptical type, then we can warmly recommend you take a street food tour. Accompanied by a guide, you get to experience the Khmer cuisine specialties.
You can book the tour here: Phnom Penh Street Food Tour
4. Staying the Night: Our Hotel Tip
These days there are some pretty cool hotels in Phnom Penh. We can recommend the Aquarius Hotel and Urban Resort. This modern, stylish hotel is very centrally located (but still peaceful), so you can walk to most of the attractions without a worry.
The hotel's highlight is without a doubt their infinity pool on the roof. From here you have a fantastic view over Phnom Penh – perfect for recharging your batteries after a long day of sightseeing.
The rooms are rather puristic, but very stylishly decorated and comfortably furnished. The breakfast is also recommendable. Our conclusion: in terms of value for money, this hotel is a great choice for Phnom Penh!
5. Additional Travel Tips for Phnom Penh: Safety & Transport
How safe is Phnom Penh?
It is not unusual to read that Phnom Penh is a dangerous travel destination. Of course, we can only speak from our own experience, but subjectively we didn't feel unsafe in Phnom Penh and also didn't have any negative experiences.
However, we would like to say that pickpocketing is not unusual in Phnom Penh. We do know of someone whose bag was stolen in Phnom Penh by a moped driving by. That is a popular scam that you should be wary of. Smartphones are also often stolen out of the hand by people driving by.
Our recommendation: Stay vigilant and keep your valuables on your body. Don't let that worry you too much though – like we said, nothing happened to us at all.
Transport: Getting from A to B
Even though Phnom Penh is the capital and largest city in Cambodia, you can easily walk to most of the tourist highlights in the city centre. We only occasionally took a tuk tuk for the somewhat longer stretches (or when we were already tired).
Tuk tuks are a popular mode of transport in Phnom Penh and much more common than traditional taxis. You should definitely confirm the trip price in advance. For shorter stretches the price is between 1 to 1.50 US dollars for a few minutes. For a return trip to the killing fields (30 minutes from Phnom Penh) you pay around 15 US dollars. Our tip: The streets are very dusty, especially outside the centre of Phnom Penh. It is best to take a towel with you. That can protect you a little.
A taxi from the airport into the city costs between 12 and 15 US dollars. If you don't have too much luggage, you can also do the trip with a tuk tuk – you should allow around 7 US dollars for this.
---
Disclaimer: Affiliate Links
This travel guide contains our personal recommendations in the form of affiliate links. If you book or buy something through the links, we receive a small commission. This does not change the price for you at all. A million thanks from the both of us!
Have you already been to Phnom Penh? What experiences did you have in the capital city of Cambodia? We look forward to your comments with your additional tips and recommendations for the best things to do!