With just as many inhabitants as Graz and already a capital: Ljubljana is one of those underrated gems and often overlooked when it comes to a city vacation in Europe. Although from Vienna, we live just a mere 3.5hrs from Ljubljana by car, we only ever drove through the city, passing by on our way to some final destination in Italy.
Mind blowing, right? How can one have lived so close (for decades) and have never explored the capital of the neighbouring country? We wanted to change that, therefore, we finally made a longer stay in Ljubljana on our little road trip to Trieste. If we were to describe Ljubljana in one word, it would be: Underrated. The three of us all shared the same opinion: the beautiful Ljubljana deserves more praise and exposure. In this blog article we will share with you why we think a city trip to Ljubljana is totally worth it and our our tips for this city getaway.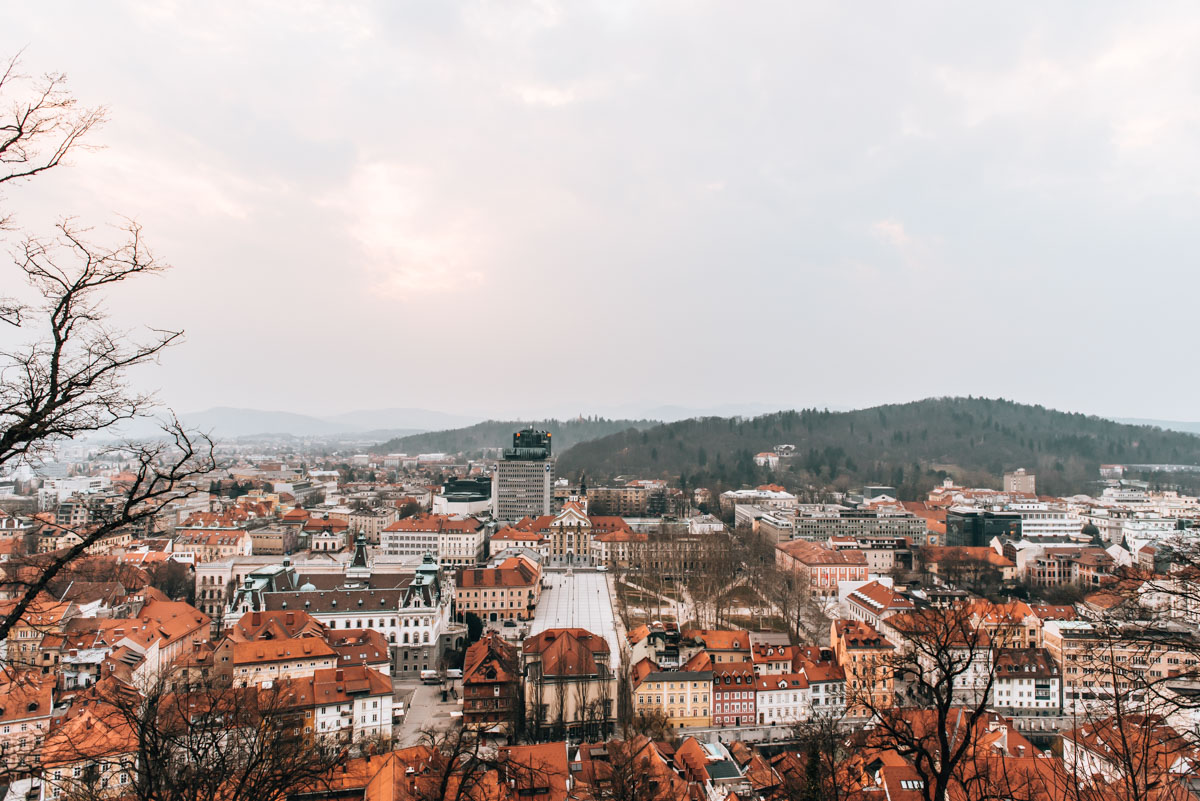 1. City Vacation to Ljubljana: What to Expect
The picturesque, almost car-free old town of Ljubljana is very easy to get around and quickly explored on foot. The river "Ljubljanica" weaves through the city and we just love seeing water in the city – it just gives the centre a completely different vibe. Many cafes and restaurants in Ljubljana are located by the river. Had it been warmer during our visit, we would never have left this part of the city.
Ljubljana is a university town, which gave us the impression that the city was quite young. Compared to our last short stopover a few years ago, we noticed the emergence of more and more young, hip cafés. We also found it refreshingly pleasant not to be bombarded with big brands and international fashion chains in the Old Town. The many small and local individual shops here just have so much more charm.
As we walked through the narrow streets, we wondered how we could best describe Ljubljana. It was pretty evident that Ljubljana is a bit like the "Salzburg of the East" with a touch of Italian flair. With the castle and its narrow streets, Ljubljana reminds us much of the Old Town in Salzburg – but much less touristic of course and not so "spruced up".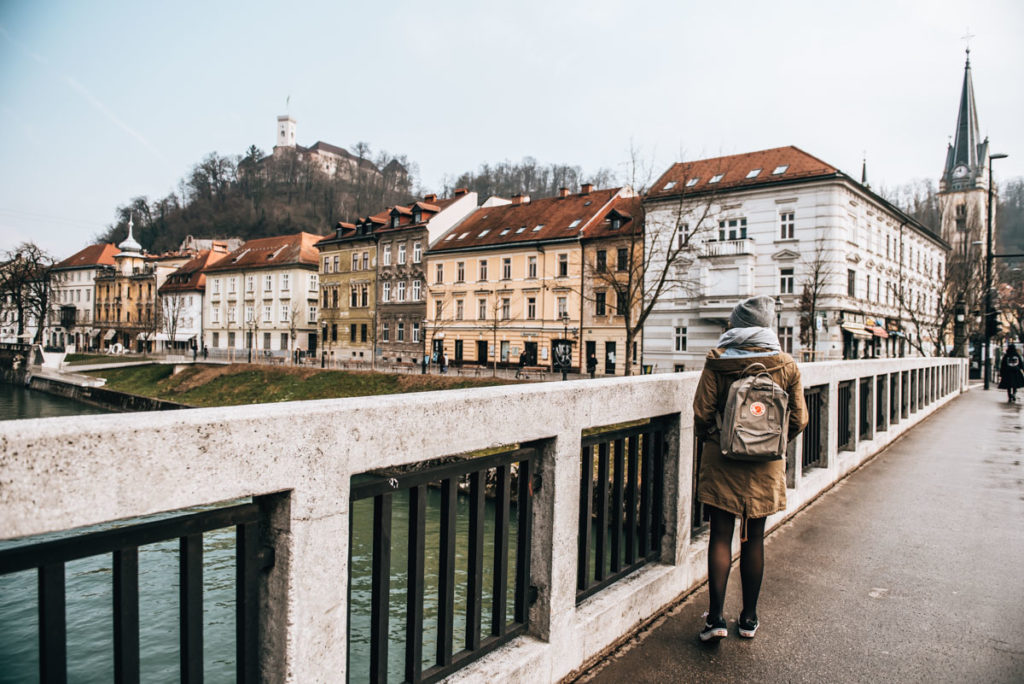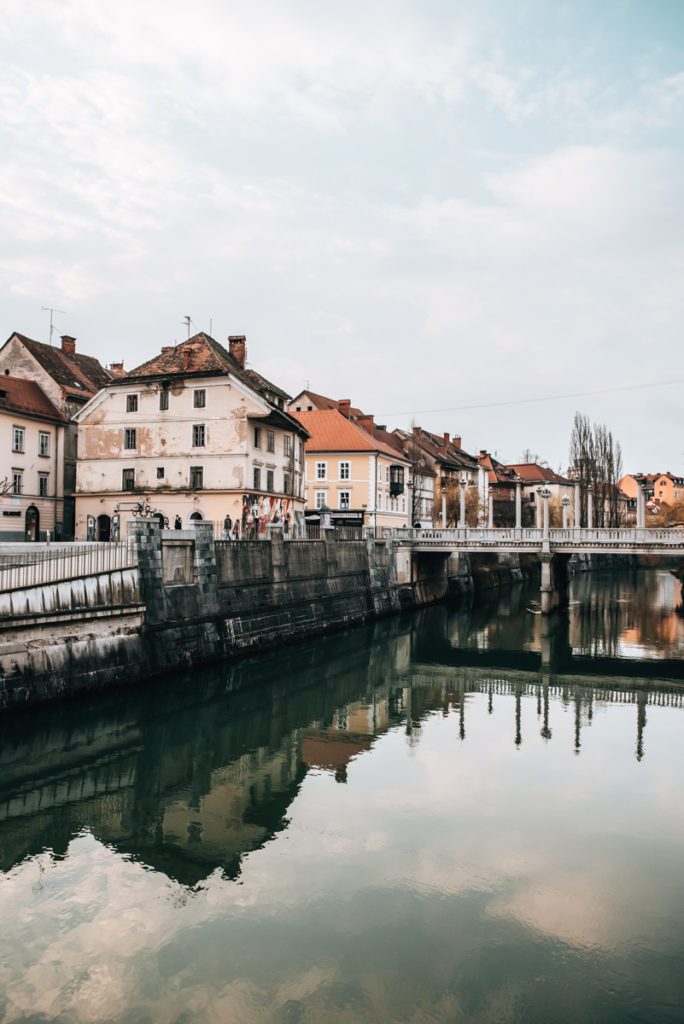 How much time should I plan for Ljubljana?
Before our trip, we had read quite a few comments about how tiny Ljubljana actually was and that one could easily visit the highlights in one day. After our stay we can confirm that Ljubljana is indeed very small and easy to get around. With just a one night stay, you can derive a rather nice impression of the town.
Of course two nights is even better. It allows you to enjoy the city flair a little longer and take a few more coffee breaks in between.
The best travel time for Ljubljana
Of course you can visit Ljubljana all year round. If you really want to enjoy the picturesque flair of the city centre, then we would recommend a visit in the spring. At this time of the year, the trees start to blossom, but it is not as hot as in peak summer season.
We ourselves visited Ljubljana at the end of March. At this time of year, it can usually be quite warm already if you are lucky. But, unfortunately luck was not with us. In fact, nothing had begun to blossom yet during our visit. We asked a local who confirmed to us that May is apparently the best month to visit Ljubljana.
2. The most beautiful Sights in Ljubljana
Ljubljana's main attractions are perfect for exploring the city on foot. Since most attractions are very close together, the walking distances are not far. The city centre is almost traffic-free, which of course is wonderful. We can also imagine it to be super nice discovering Ljubljana by bike.
Castle of Ljubljana ("Ljubljanski grad")
The castle of Ljubljana is perched on a hill above the Old Town and from up here, you can enjoy a beautiful view of Ljubljana. Don't worry, the ascent is absolutely feasible even for those who aren't so fit. There are several paths that lead up to the castle, we opted for the 10-minute walk from the Central Market Square ("Vodnikov trg"). Alternatively, there is also a funicular near the footpath, which provides easy access to the castle. A ticket (round trip) costs 4 Euros for adults.
We had read in advance that some visitors from the castle itself found it a little disappointing. We cannot say that was the case with us, as we liked the combination of historical substance with modern elements. Of course, you should not expect a grand and majestic knight's castle, but just for the view alone, we think it's worth a visit to the castle.
Inside the castle itself there are some museums and exhibitions, which we did not end up visiting. However, we can highly recommended a visit to the restaurant Strelec, which is located in the walls of the castle.
Our tip: If the weather is nice, visit the castle at sunset. The light and mood is simply at its best at this time of day. (The sky was unfortunately overcast on the day of our visit, so we could only imagine what the sunset would have been like.)
Central Market Square ("Vodnikov trg") ​​and Market Arcades
A visit to the Central Market Square would be ideally combined with an ascent to the castle (provided you visit during the day and are not on the Castle hill in the evening). Locals visit this outdoor market for fruit, vegetables, cheese, etc. The market stalls are open every day except Sundays and public holidays: weekdays from 6am to 6pm (in winter 4pm), Saturdays from 6am to 4pm.
Hard to miss are the market arcades, which are located directly next to the central marketplace right on the riverbank ("Plečnik's Colonnades"). On the lower floor, you will find a fish market that's also quite worth having a look.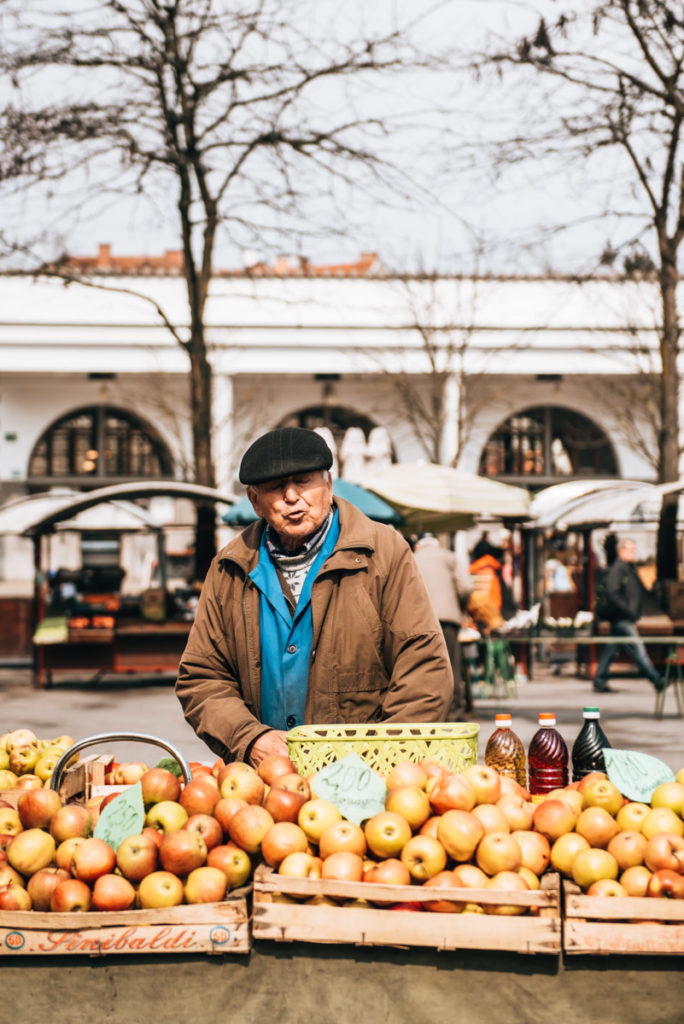 The three Bridges ("Tromostovje") & Prešeren Square
Just a stone's throw away from the Central Market Square, you will reach one of Ljubljana's landmarks: The Three Bridges along with the Prešeren Square. As the name suggests, three stone bridges lead more or less parallel across the river – the Ljubljanica.
We were quite fortunate that the sun came out when we visited the three bridges because there are some really nice photo opportunities here. However, the downside is that the place is by far the most visited in Ljubljana. A "photo shoot" is going to require a lot of patience.
The middle bridge has a long history: it was first built as a wooden bridge in the 13th century. While the characteristic triple bridge you see nowadays, was first built in the 1930s.
When you cross the Three Bridges, you will reach Prešeren Square, the main square of Ljubljana. Here are some important buildings, including the salmon-coloured Franciscan church.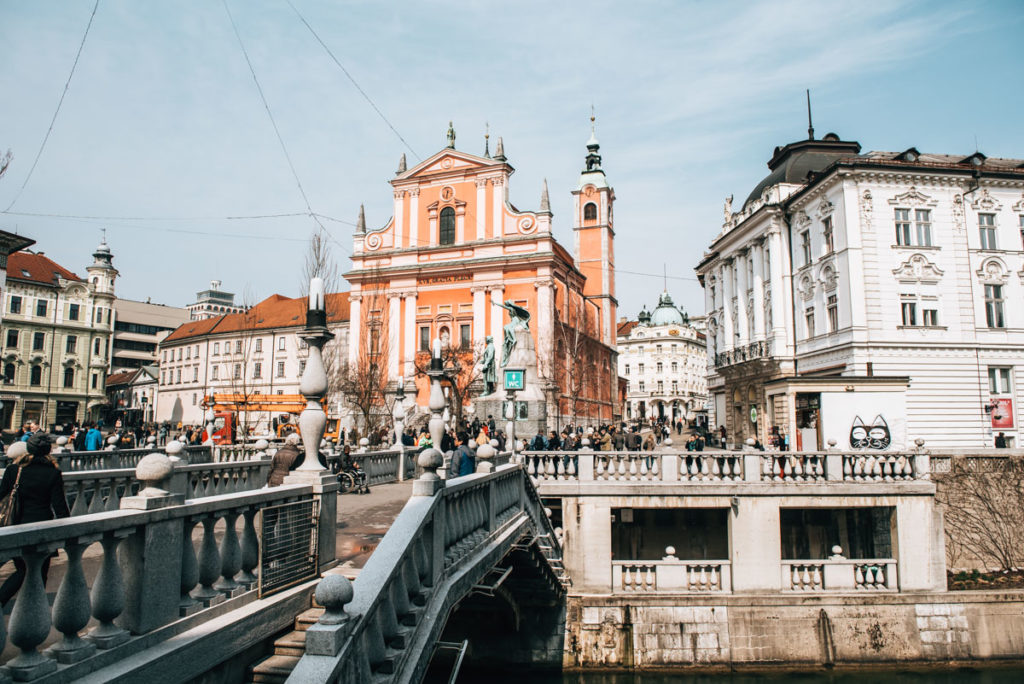 Historical Center: Mestni trg & Stari trg
Parallel to the river bank runs Mestni trg, which flows into the Stari trg. Together they form a kind of boulevard with some local and international shops. Here you will also find a few of those well-known brands (L'Occitane, Quicksilver etc.). Most unusually however, there are very few large chains represented here on the whole. You should not leave Ljubljana without at least taking a stroll down here once. The historic centre has, for the most part, been amazingly renovated.
Metelkova
A rather unusual place just outside the city centre near the Ljubljana station is Metelkova. An alternative cultural scene has developed within the last decades in this empty former barracks complex.
We visited during the day and our first thought was that of Copenhagen's free city of Christiania. Somehow, in Metelkova, we were not quite sure if people were living there (which is what it seemed like to us) or "just" spending a lot of time there. In the evenings (and especially in summer) Metelkova is host to many concerts.
Getting There: South of the train station, turn into Metelkova ulica.
3. Restaurants, Cafes & Bars: Our Tips
Slovenska Hiša
This restaurant was recommended to us by a local. The Slovenska Hiša ("Slovenian House") serves – as the name already suggests – traditional Slovenian dishes, which are quite modern in its inspiration and presentation. The interior also has quite a youthful vibe. Note: The Slovenska Hiša has two locations with slightly different concepts.
Slovenska Hiša – Figovec
If you want to have lunch or dinner in peace, then the bigger Slovenska Hiša – Figovec is the right choice for you. There are plenty of tables and seating, as well as a more extensive menu. We can definitely recommend you to try a Gibanica there. This 4-layer strudel (apple, poppy seeds, cottage cheese/quark, and nuts) is one of Slovenia's sweet specialties.
Address: Gosposvetska cesta 1, Ljubljana
Slovenska Hiša in the Old Town
If you are after more of a quick snack, then stop by the Slovenska Hiša in the Old Town. This is more like a small bistro as there are almost only high tables with stools and the menu is not overly extensive. In front of the restaurant there is also a small Schanigarten (an outdoor terrace with chairs and tables). We opted for the cheese platter and even ordered a second serving – absolutely delicious!
Address: Cankarjevo nabrežje 13, Ljubljana
TOZD
It was already clear to us, when we first laid eyes on the café from the outside, that this would be our favourite. And that's exactly what it became: The TOZD is a hip café right on the banks of the river that might as well have easily been in Berlin or London.
The coffee here was very good. We did not eat anything, so we can not judge the quality of the food. However, snacks are served rather than sophisticated dishes. Incidentally, the TOZD also turns into a bar in the evenings. In any case, it's well worth a visit at any time of day.
Address: Gallusovo nabrežje 27, Ljubljana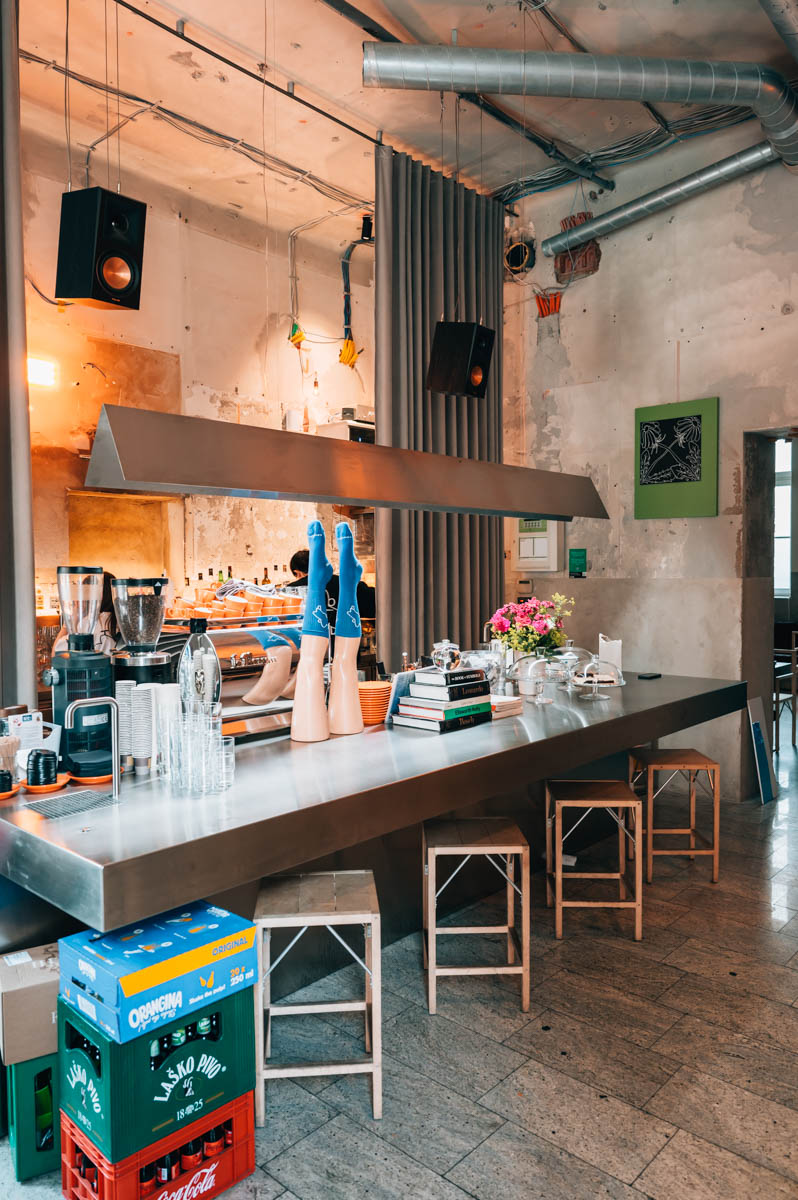 Črno Zrno
This tiny, very likeable cafe is located right in the Old Town. The people here prepare coffee with a lot of passion. In addition to the classics such as espresso, cappuccino, etc., you also get the more unusual coffee specialties such as Cold Brew.
Address: Gornji trg 17, Ljubljana
Nebotičnik Cafe
A café that undoubtedly focuses on the view and not the restaurant is the one on the top floor of the Nebotičnik. Translated, the name means something like "skyscraper". The Nebotičnik is quite far away, but with its thirteen floors it is one of the tallest buildings in the Old Town.
The interior design is debatable, but from the café terrace you can enjoy a really beautiful view of Ljubljana and its castle. This place – or rather the view – comes highly recommend!
Address: Štefanova ulica 1, Ljubljana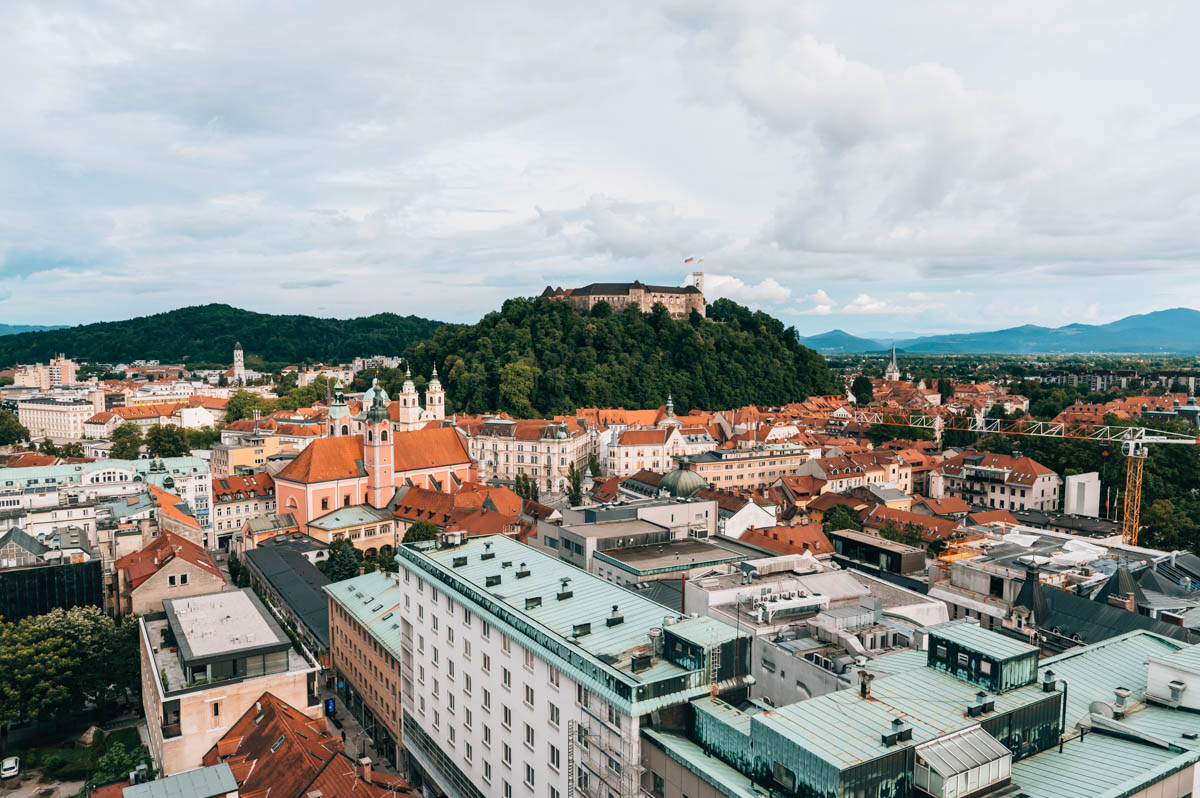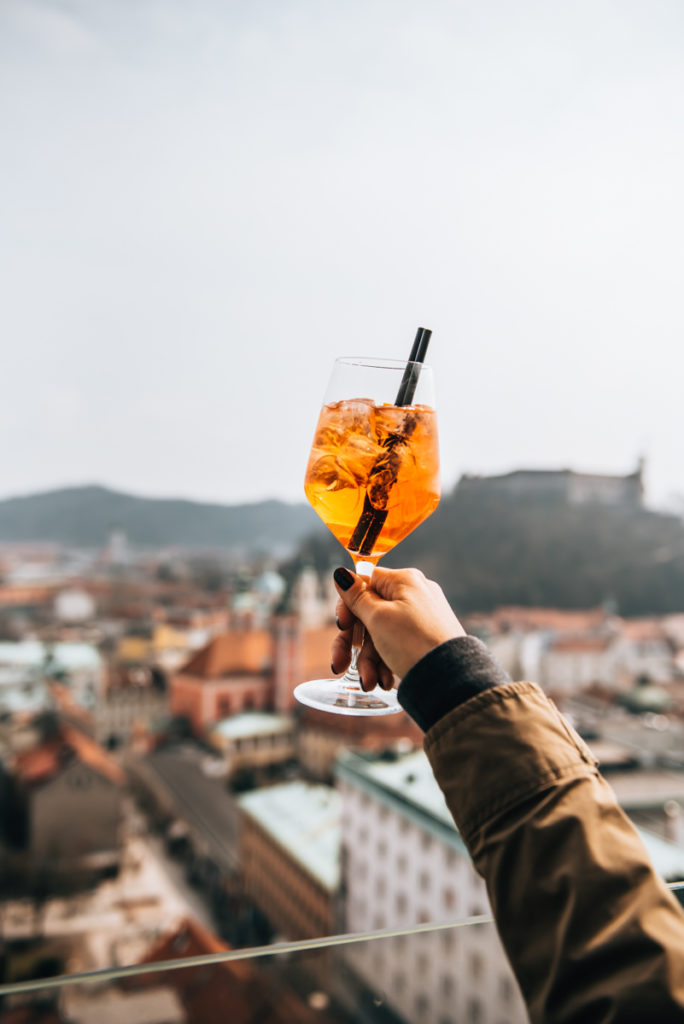 Le Petit Cafe
When it comes to breakfast in Ljubljana, the "Le Petit Cafe" often comes up as a popular recommendation. So we decided to swing by and test out their breakfast. Personally, we found it a bit too hearty. In other words, we just had a different idea of ​​"Eggs Florentine" (which you can see in the photo).
The atmosphere is cozy – very "full", but we really like that. The café was jam-packed on a Tuesday morning and we only just got a seat. Maybe it's worth making a reservation beforehand.
By the way: Right next to the "Le Petit Cafe" is a fairly modern café ("Bazilika Bistro"), which also looked very nice.
Address: Trg francoske revolucije 4, Ljubljana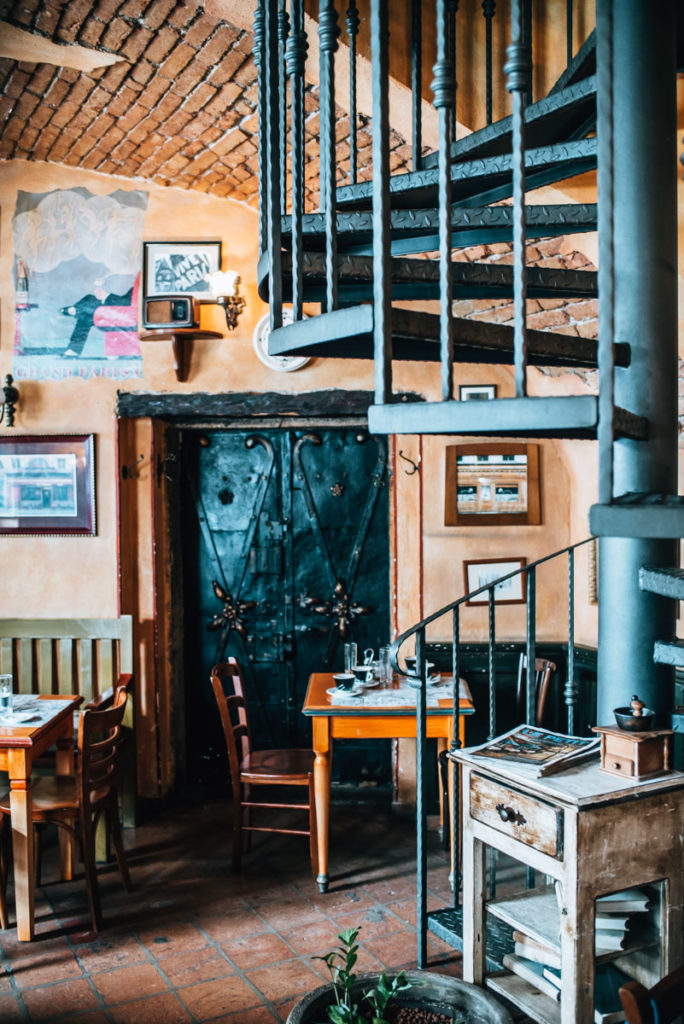 Cacao
Although we were visiting Ljubljana on a rather fresh day in March, every outdoor table at Café Cacao was filled (and no kidding, there were a lot of them!). Somehow we had the feeling that Cacao is one of the most popular hotspots for both tourists and locals for a short coffee break.
The tarts were good, but didn't exactly knock our socks off. However, the location of the café is great – you will find Cacao directly on the river where you also have a beautiful view of Ljubljana's famous market arcades.
Address: Petkovškovo nabrežje 3, Ljubljana
ČINČIN
Perhaps the coolest bar in Ljubljana is located in an old tobacco factory ("Tobačna") just outside the city. We only discovered this place because our accommodation was in the same building complex.
On the evening of our visit, live music was played and the bar was full. The bar menu itself is rather extensive – in fact, we were a little overwhelmed by the huge selection of gin-tonic creations. The cheaper categories of gin and tonic cost around 5 to 6 Euros.
Address: Tržaška cesta 2, Ljubljana
4. Our Accommodation in Ljubljana
After much research, we found a really cool apartment, which is located in an old tobacco factory ("Tobačna"). It is a two-storey accommodation: on the lower floor is the kitchen, living room & toilet, on the upper floor is the bathroom and bedroom.
The tobacco factory where the apartment is located is actually huge. Here they house various companies, start-ups and even apartments. At first, the atmosphere is a bit strange, especially as the building and the long corridors look rather deserted, but that also makes it quite unique.
From the apartment, you are just a pleasant 10-15mins stroll away from the Old Town. This place is great for those with vehicles as you can park (for free) directly in front of the factory where there is a parking lot. We would certainly stay here again.
You can view and book the apartment via this link: Tobačna White
5. Getting to Ljubljana: Our Tips
To get to Ljubljana by car, a Slovenian vignette (Road Toll Pass in the form of a sticker, which you affix to your windshield) is required. The cheapest version is valid for seven days and costs 15 Euros. You can easily buy them just before the border.
Our Tip: Restaurant Hiša Denk
If you are travelling from the east of Austria (Vienna, Graz) to Ljubljana, then we have a special tip for you. Shortly after the border lies the restaurant Hiša Denk, where we stopped for dinner on the way home to Vienna. This is Slovenian cuisine served at the highest level.
The special feature: there is no menu. This means that you chat a bit with the waiter about what you feel like and ultimately of course, leave a little room for surprise. Special requests are indeed fulfilled.
We opted for a 5-course meal and we were thoroughly impressed. Along with a bottle of wine, water and coffee we paid almost 70 Euros per person. Of course it is not cheap, but if you want to complete the trip to Ljubljana with a highlight, then the Hiša Denk is the place for it.
If you wish not to continue driving after the lovely meal, then Hiša Denk also offers accommodation with beautiful rooms. Here is the link where you can view and book the rooms: Hiša Denk.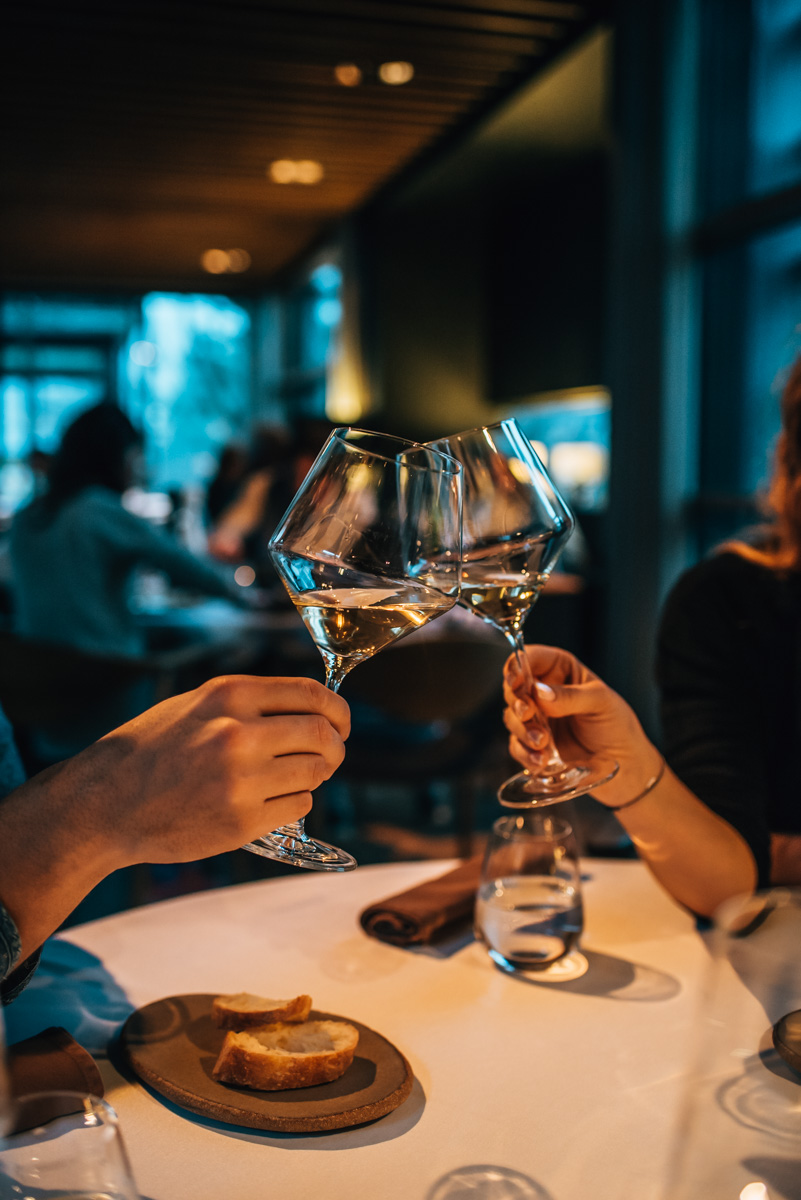 Stopover in Southern Styria
Coming from Vienna, you will most likely pass by South Styria on the way. Here, you can stop for a visit at the Chocolate Factory Zotter or go wine tasting at one of the many wineries in that region.
---
Transparency: Affiliate Links
This blog article contains our personal recommendations in the form of so-called affiliate links. If you book or buy something through these links, we will get a small commission. For you, this does not change the price at all! Cool thing, right? A million thanks from the both of us!
Have you also been to Ljubljana and possibly have some more tips to share? We look forward to hearing about your experiences!