In our opinion, the small country of Slovenia is one of the most underrated travel destinations ever. Slovenia is incredibly diverse with stunning stalactite caves, surreal looking turquoise river, breathtaking waterfalls, magnificent mountains and a rather hipster capital. Of course, we cannot forget the small but beautiful coastal region, home to the picturesque town of Piran.
We have a very special relationship to this neighbouring country, thanks to familial connections – Kathi has been travelling to Slovenia regularly since her childhood. Nowadays, we have lost track of how many times we have been to Slovenia.
Our itinerary is perfect for a week long road trip, which will take you around some of the most beautiful places in Slovenia. It's packed with our best tips and extra travel routes, which you can easily add on and extend your road trip to two weeks.
1. Slovenia Travel Itinerary: The Most Beautiful Stops & Our Tips
Two things you should know in advance: we started our journey from Austria and travelled to Slovenia via the Karawanken Tunnel. However, it is also easily possible to arrive in Ljubljana (for example by plane) and start your Slovenian road trip from there.
The direction of the route is very easily flexible. As the weather is rather crucial for us, this actually led us to Bled being our first stop on the road trip. There is nothing wrong with travelling in the opposite direction or mixing things up a little.
Bled
Let's start at the most famous lake in Slovenia, Lake Bled. The tiny island in the middle of the lake with its impressive church is one of the country's most famous photo spots.
In summer, the lake is very popular for a swim, but that's not all there is to discover. For example, you can do a short hike to one of the view points or visit the beautiful Vintgar Gorge. You also cannot miss the sweet specialty of Bled – their Custard Cream Pastry Squares (Kremšnita).
From Bled, it's not far to the next alpine lake – the Lake Bohinj. This is more local and less touristy than Bled, therefore definitely worth a stopover. In the summer, you can also do some wonderful mountain hikes in the Triglav National Park from this region. You can read more about our tips for Bled in our blog article.
Our detailed blog article: Bled Tips
Our hotel tip for Bled: Vila Mila
Ljubljana
The country's capital is somewhere that should not be missed on a road trip through Slovenia. Ljubljana is an easy-going town with a lot of character. It could even be referred to as the 'Salzburg of the East' with its castle and narrow, cobbled streets – although Ljubljana is not as hyped up or overrun as Salzburg.
Definitely don't skip the walk up to the castle, because you will be rewarded with a great view of the city. What we really liked about Ljubljana is actually the abundance of hipster cafes, some of which are located directly on the river ("Ljubljanica"). You can read more about Ljubljana on our more detailed blog article.
Our detailed blog article: Ljubljana Tips
Our accommodation in Lubljana: Tobačna White
How to get there: From Bled to Ljubljana
On the way from Bled to Ljubljana, we can highly recommend a detour to the small town of Škofja Loka. The picturesque Škofja Loka (see photos 2 and 3) lies at a point where the two rivers converge and is the best preserved medieval town in Slovenia.
If you prefer the more direct route from Bled to Ljubljana, then the journey will take you just 45 minutes. However, if you take the short detour via Škofja Loka, the journey will take about 1 hour and 10 minutes.
An off-the-beaten-track tip: About 20 km from Škofja Loka is a small homestay surrounded by nature called Tesnak. It is run by distant acquaintances of ours. We have not been there ourselves, but it seems like a really great place to stay!
Postojna Caves
From Ljubljana, the road trip continues onwards to some of the most famous caves in Slovenia, the Postojna Caves. Not only are they one of the country's most important tourist attractions, they are also the second largest caves (open to tourists) in the world. The caves are beyond impressive, although this also attracts large crowds.
Another highlight is located just a few kilometres from Postojna. The medieval cave-like Castle of Predjama is built within a giant rock and happens to be one of the most famous photo motifs of Slovenia. You can find more information in our detailed blog article here.
Our detailed blog article: The Postojna Caves
Our accommodation tip for Postojna: Smrekarjeva Domačija
How to get there: From Ljubljana to Postojna
This section of the trip will take you just 45 minutes. Theoretically, you could start from Ljubljana in the morning, visit the caves and then continue onwards. However, we wanted to take it easy and therefore opted for an overnight stay in Postojna.
Piran
Small but beautiful: the coast of Slovenia is just 46 km long. But not that it matters, because here lies one of the most beautiful towns along the Adriatic Sea. Piran is a real gem and should definitely be on your list of places to visit in Slovenia.
Piran is very small and you can explore the entire city in just a few hours. Nevertheless, we recommend you to stay at least one night and enjoy the atmosphere and peaceful tranquility. We immediately fell in love with the pastel-coloured, Venetian style houses.
You can find our detailed blog article here: Piran Tips
Our hotel tip for Piran: Memento Piran
How to get there: From Postojna to Piran
From the Postojna Caves, it is approximately an hours drive directly to Piran. (You can find more information about the rather complicated parking situation in our Piran blog article.)
Our tip: If you find the Postojna caves too touristy, then there is another alternative cave you can visit on the way. The Škocjan Caves are a little less well-known, but by no means less impressive. We visited this stalactite cave years ago and found it very worthwhile seeing.
Soča Valley (Bovec)
We saved the best for last: the scenic Soča Valley is definitely one of the highlights of our entire trip through Slovenia. Along the turquoise blue Soča river you will find beautiful waterfalls, gorges, canyons and suspension bridges. From short walks to longer tracks (for example in the Triglav National Park), you can find everything.
In summer, many people like to go swimming in the Soča – the refreshing river water is a welcome feeling on hot days. There are endless beautiful and worthwhile stopovers awaiting you in the Soča Valley. More information and tips can be found in our detailed article.
Our detailed blog article: Best Places in the Soča Valley
Our accommodation in the Soča Valley: Hotel Sanje ob Soči
How to get there: From Piran to the Soča Valley
On our last trip we decided to take the route over Vipava Valley. This valley is so picturesque and makes for the perfect stopover. After about 1 hour and 20 minutes you reach the bordering town of Nova Gorica (or "Gorizia" on the Italian side). This is where the Soča Valley starts.
Another route you could take is through the Italian side (Trieste) before reaching Nova Gorica. The journey will also be about 1 hour and 20 minutes.
Either way, if you would like to make a stopover before you reach the Soča Valley, we have a secret tip for you. Near Nova Gorica, on the Slovenia side, lies the beautiful wine region called Goriška Brda – in other words, the Tuscany of Slovenia. A few years ago we spent a few days in the picturesque village of Medana (accommodation tip: Belica Bed and Breakfast). What a gem this place is!
Onward journey: From the Soča Valley to the north (Austria)
A route we can highly recommended is the one over the Vršič Pass, Slovenia's highest pass. Once on the other side, you end up in Kranjska Gora on the beautiful Lake Jasna. From there, it's just a few kilometres back to Austria.
If you need to return your rental car in Slovenia (for example, in Ljubljana), then your journey will lead you back to Bled instead. From Kranjska Gora you can reach Bled in just half an hour.
2. Map: Overview of our Slovenia Route
3. Extra Tips for a Road Trip through Slovenia: Driving & Vignette
Booking a Rental Car
If you can't or prefer not to travel by car, that's no problem. Most likely, you will start in the capital – Ljubljana.
For us, we personally always book our rental car via Sunny Cars. Sunny Cars basically acts as a middle man and they give you an overview of the cheapest car rental deals. The big advantage of Sunny Cars is that you have full comprehensive insurance – so in case of accident or damage you will be reimbursed the excess (or deductible). The prices for rentals cars are relatively cheap: In the high season, you can expect to pay around 250 € (excluding petrol) for a week.
Vignette (Road Toll Pass) in Slovenia
The highways in Slovenia do incur in road toll fees. Therefore, to drive in Slovenia, you will need to have a Vignette for your car – which is basically a one off Road Toll Pass. The cheapest option is to purchase the 7-day Vignette, which currently costs 15 Euros (as of April 2019). If you are staying longer than a week in Slovenia, then you will require a monthly Vignette (30 Euros). These can be bought just before crossing the border at one of the shops or petrol stations.
Not included is the drive through the Karawanken Tunnel (cost: 7 Euros). You usually drive through this border tunnel if you travelling from Vienna to Bled, for example.
How expensive is Slovenia?
Overall, we would say that Slovenia is a rather affordable country. However, in the more touristic regions (which include some of the places mentioned on our road trip), we found the prices to be almost comparable to that of Austria and Germany. The high entrance fee to certain sights and attractions definitely took us by surprise.
Here are a few examples to give you an idea of how much things cost:
Entrance price for the Bled Castle: 11 Euros
Entrance to the Postojna Caves in the main season: 27.90 Euros
Dining in a nice restaurant for two people in Bled: 50 Euros
Petrol prices: currently 1.25 Euros (tends to be higher than in Austria – best check in advance and possibly refuel before the border)
Small regional beer (Laško) at an affordable restaurant: 2.30 Euros
1 glass of House Wine at an affordable restaurant: 1.50 Euros
1 piece of Bled's Original Custard Cream Pastry at the Hotel Park in Bled: 4.70 Euros
The best travel time for a road trip through Slovenia
We recommend visiting Slovenia in the spring or autumn months, when there is comparatively much less going on than during the high season months of July & August. Since we travelled in April (spring/off-season), we were able to book all our accommodations quite spontaneously. There were hardly any crowds at the main sights and attractions.
If you want to go hiking in the mountains or swimming (be it the sea or in the Soča river), then the summer months are probably more favourable. However, you must be prepared for the fact that certain places may be very crowded during the peak season. This is especially the case for Bled, so we would definitely recommend that you organise your bookings for accommodation and activities in advance.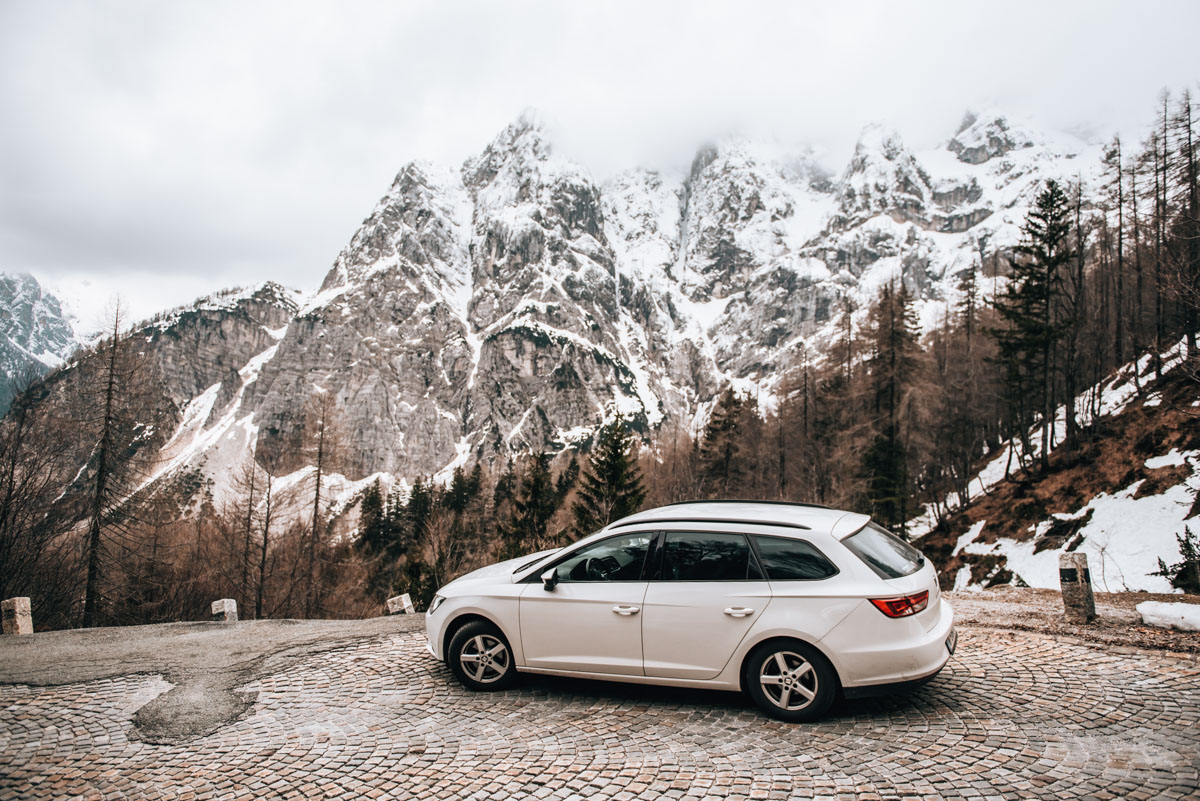 ---
Dislcaimer: Affiliate Links
This blog article contains our personal recommendations in the form of affiliate links. If you book or buy something through these links, then we will get a small commission. For you, this does not change the price at all. A million thanks from the both of us!
Have you ever done a road trip through Slovenia? What did your itinerary look like? If you have any more tips or questions, please leave us a comment below!