We honestly think Morocco has the most beautiful accommodations in the world! Having travelled extensively around the world, we have honestly never seen such tasteful hotels as in Morocco.
In Morocco, you usually spend the night in a so-called riad. Riads are traditional, multi-storey buildings that have a wonderful courtyard and often have a grand rooftop terrace. Usually the entrance of a riad is rather inconspicuous, so you cannot quite expect what kind of oasis is hidden behind it.
This blog article will reveal our personal tips for hotels and riads in Morocco. We will show you exactly where we stayed and what you should consider when booking hotels and riads in Morocco.
1. Hotels / Riads in Marrakech
Our Recommendation: Riad dar Karma
The Riad dar Karma is a really beautiful boutique riad, which is located in a hidden alley in the center of Marrakech. More specifically, you are in the well-known Kasbah district, which is comparatively quiet, but still very centrally located.
There are only six rooms and suites in the Riad dar Karma, which is why there is a very personal, pleasant atmosphere. All rooms are very comfortably and tastefully furnished.
There is a pool in a courtyard, but it was a bit too cool for us when we visited in early March. The in-house hammam is also highly recommended. The highlight is clearly the rooftop terrace. Here you get a (very tasty) breakfast served every day. We would not hesitate for a second and would definitely stay here again.
You can book the hotel here: Riad dar Karma
Luxury Hotel option: La Sultana Marrakech
Are you looking for a really extraordinary hotel? Would you like to treat yourself to some luxury? Then look no further than La Sultana Marrakech! This extremely splendid, very spacious hotel with its many courtyards is reminiscent of a riad. It is also in the Kasbah district, just a stone's throw from the Riad dar Karma.
The breakfast here alone is already worth the stay! In good weather, you can enjoy it on the roof terrace with a wonderful view. We have never experience such good service in a hotel! The spa is pure luxury and (rightly) a very popular photo spot.
We only have one little problem when it come to the location of certain rooms. Some are on the ground floor and are therefore, quite dark. But that doesn't change the fact that you still feel like you're in a palace.
You can book the hotel here: La Sultana Marrakech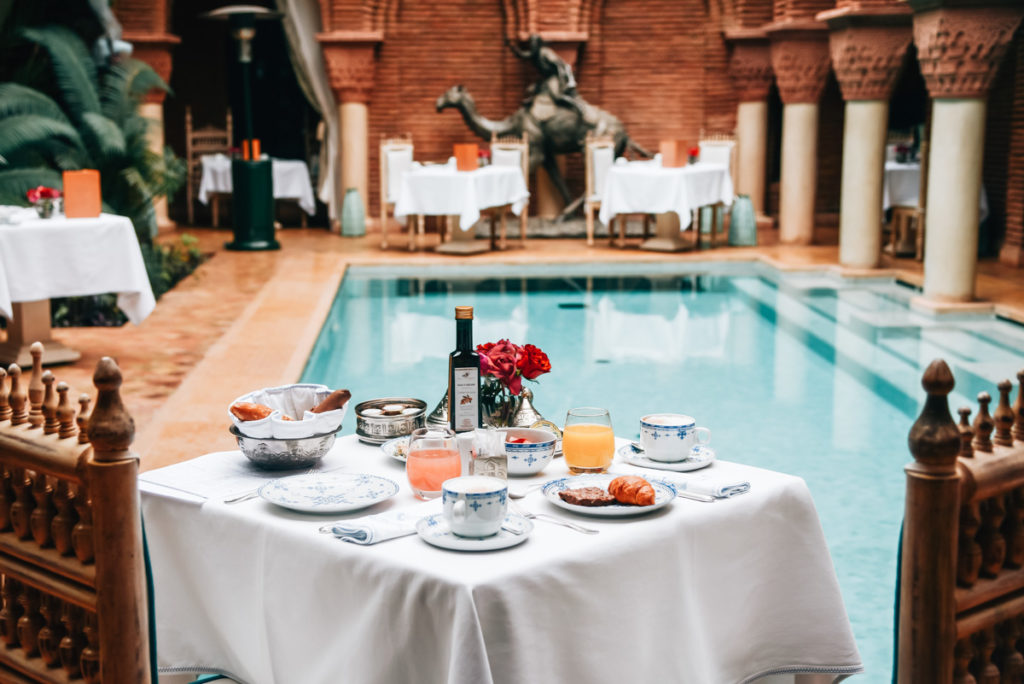 2. Riad in Ait Ben Haddou
Our Recommendation: Riad Caravane
The Riad Caravane is very close to the famous clay settlement (Kasbah) called Ait Ben Haddou. You are in for a real treat here, as not only is the riad extremely tastefully decorated, the employees here are also among the friendliest people we have met in all of Morocco.
The architecture of this riad blends in almost perfectly with the landscape: clay walls, beautifully woven carpets and upholstery covers and great pieces of furniture await you here.
Our room was a little dark, but very stylish in its furnishings – very comfortable indeed . The breakfast with all its many homemade products was super delicious. We also had dinner in the riad, which was also very tasty.
From the terrace you have a wonderful view of the barren landscape including Ait Ben Haddou. Unfortunately we only stayed one night, so we didn't have time to enjoy the pool. Our verdict: very highly recommended and probably the hotel with the best price-performance ratio of our trip.
You can book the riad here: Riad Caravane
3. Where to Stay in Dades Gorge
Our Recommendation: Auberge Chez Pierre
The Auberge Chez Pierre is located just before the impressive hairpin bends in the Dades Gorge. This accommodation is built into the steep slope over several levels. The entire place is really beautiful and designed with great attention to detail.
We stayed in a two-story, very cozy room and even had our own stove. Unfortunately we didn't have enough time for the pool area, which looked very inviting!
The breakfast and especially dinner were superb. Dinner was actually served in several courses and incredibly delicious. Something people are happy to spend a little more money on. Our verdict: We can definitely recommend the Auberge Chez Pierre!
You can book the hotel here: Auberge Chez Pierre
4. Riad in Merzouga
Our Recommendation: Riad Madu
The Riad Madu is located on the edge of the desert near the small town of Merzouga. You spend the night here in a very large, spacious hotel. Its proximity to the dunes is fantastic: You can reach the dunes from the riad in about 15 minutes by foot. Of course we did not miss that and even found ourselves there a second time during our short stay.
The rooms are very large and cozy. However, for us personally, it lacked a bit of the original, oriental charm. Nevertheless, it was a very comfortable stay. Breakfast and dinner were ok (although we had better from other hotels).
The riad also includes a Berber tent in the desert. So if you want to spend a night in the desert, you can also book this experience here. Our verdic: highly recommended because of its incredible location.
You can book the riad here: Riad Madu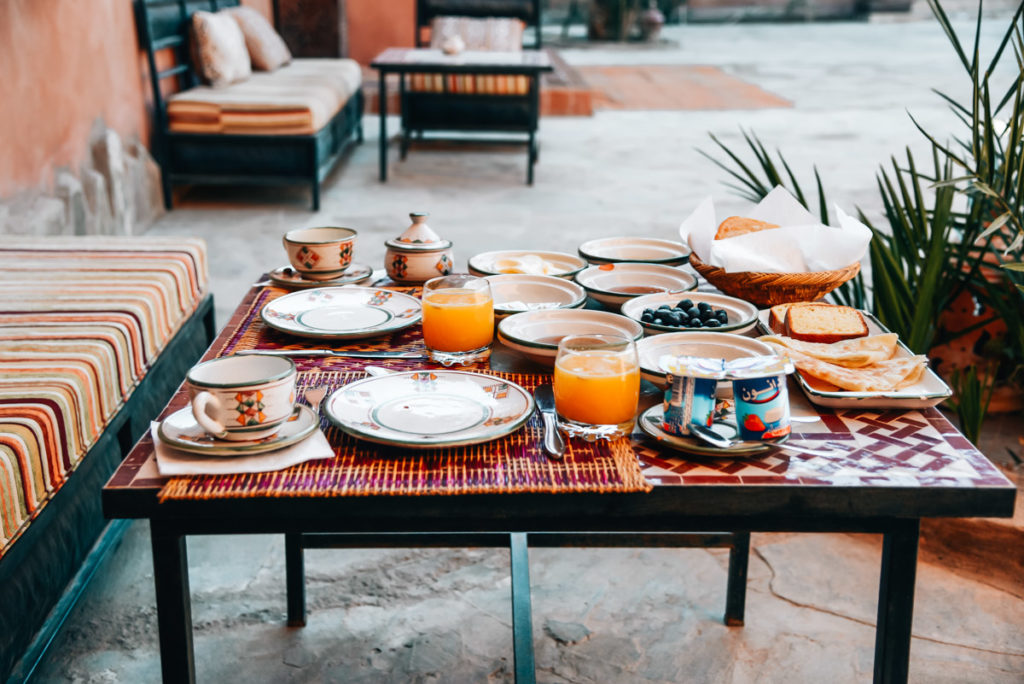 5. Riad in Midelt
Our Recommendation: Riad Villa Midelt
Honestly: At first glance, the Villa Midelt was a little "spooky". It was like staying in a family villa that was a little over-the-top with the furnishings. However, the town of Midelt is really not exactly a metropolis and from that perspective, the Villa Midelt is undoubtedly one of the best accommodations in the city.
The price-performance ratio is great. If you can overlook the fact that the bathroom and the interior are getting old, then the rooms are otherwise, quite cozy. However, you won't find a dreamy 1001-night atmosphere here.
The staff are very friendly and courteous. All in all: a good choice if you want to stop on the way between the desert and Fez.
You can book the accommodation here: Riad Villa Midelt
6. Riad in Fez
Our Recommendation: Karawan Riad
The Karawan Riad was by far the most beautiful riad of our entire trip to Morocco. Here you can really experience a dreamy accommodation that is almost impossible to describe in words. It was previously renovated for 10 years before this jewel opened in the center of Fez.
There are only a few rooms or rather suites. Each one is designed and furnished with a specific theme. We have never seen a hotel with so much attention to detail.
Even the entrance with the gigantic courtyard is breathtakingly beautiful. The rooftop terrace is even more impressive! From here you can enjoy a fantastic view of Fez. In good weather, you can even have breakfast is served on the roof terrace. They also have an excellent in-house restaurant for dining in.
Our verdict: If you'd like to treat yourself to something special, then do not hesitate to book this riad – you won't regret it!
You can book the riad here: Karawan Riad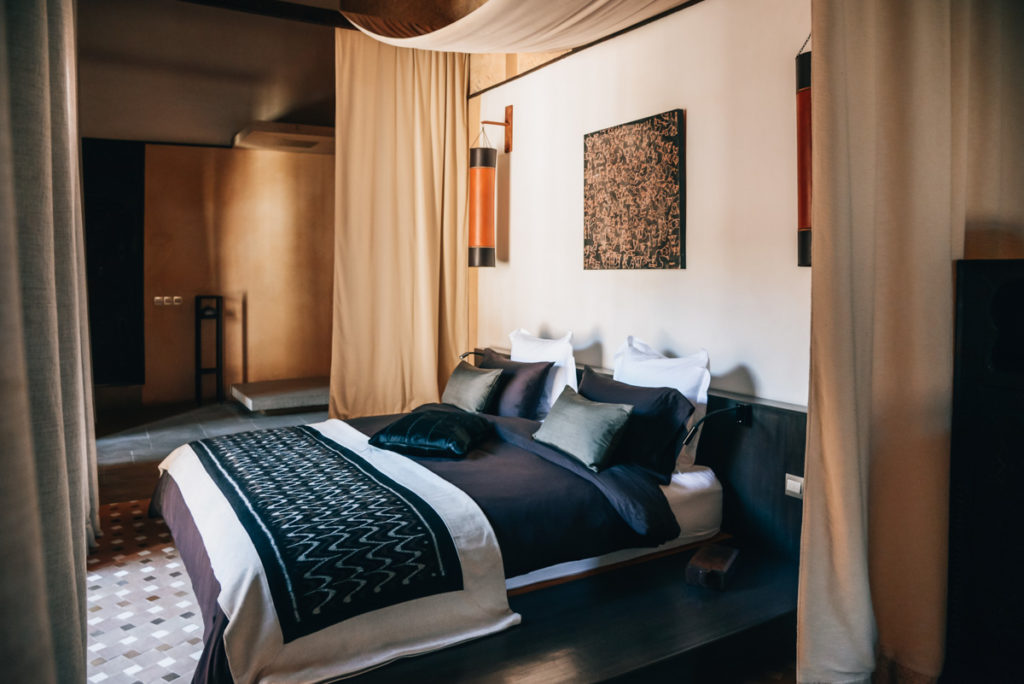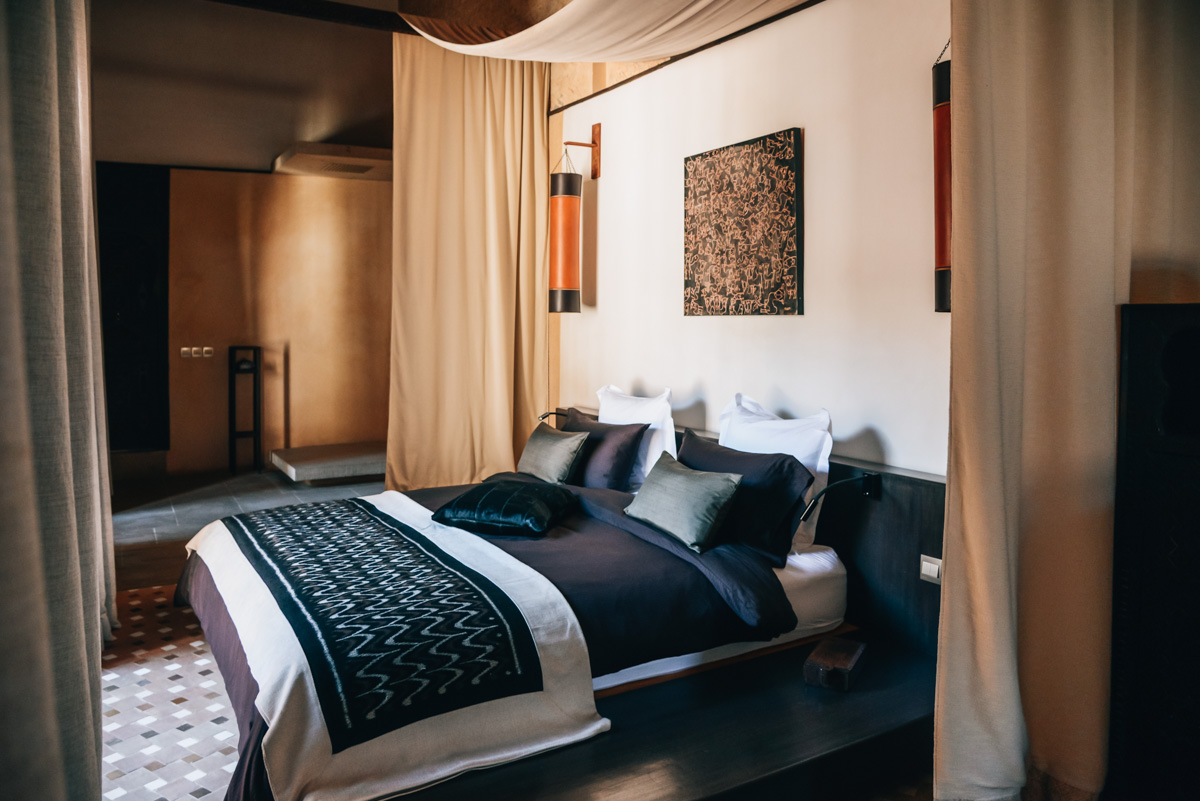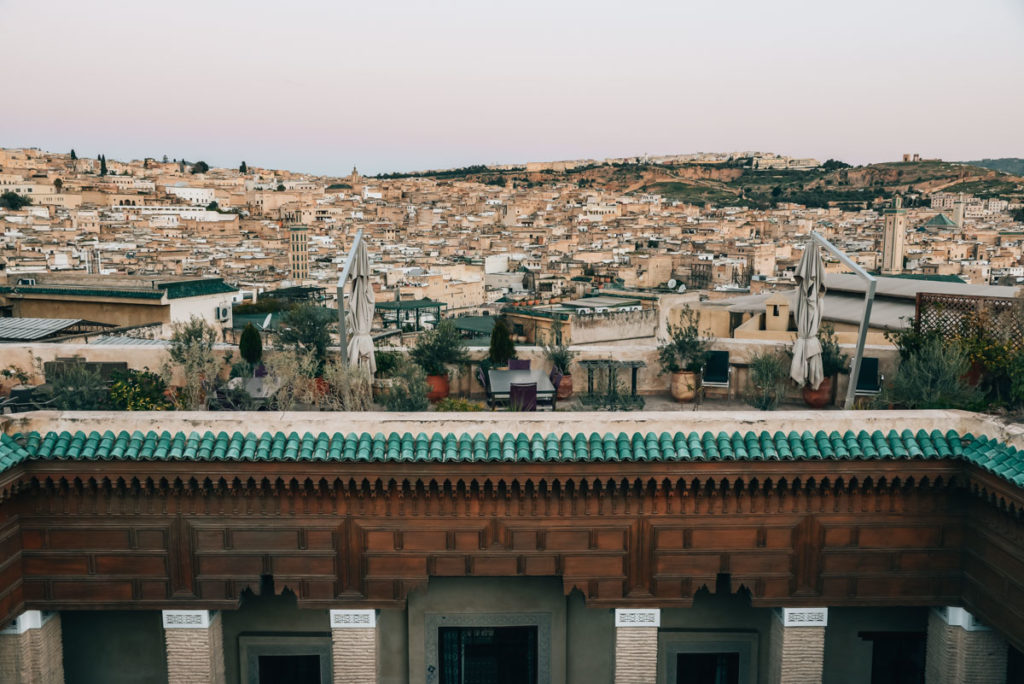 7. Modern Hotel in Casablanca
Casablanca, it seems, is home to the ugliest accommodation in the country. All hotels are clearly designed for business customers, because there are almost only huge hotel buildings. No individual charm, no Moroccan flair, no riads.
Fortunately, there are exceptions. And one of them is the Hotel Barcelo Anfa Casablanca. If you decide to spend a night in Casablanca, we can highly recommend this modern city hotel. It is centrally located and has very modern, beautifully decorated rooms.
Breakfast is great and the pool area is really inviting. Our verdict: Casablanca was definitely not our favorite stop in Morocco, but this hotel is really good place to stay.
You can book the hotel here: Barcelo Anfa Casablanca
8. Practical Tips when booking Hotels in Morocco
Breakfast
Breakfast is often included in the room price. It usually consists of the same things: bread, "Msemmen" (taste a little like fried pancakes), various jams, olives, freshly squeezed orange juice and tea / coffee.
In more expensive riads or hotels, you will be served some extra sides such as homemade yogurt. Breakfast buffets are rather unusual in Morocco and are only offered in large hotels.
If you're avoiding carbs or even have a gluten intolerance, we would recommend that you bring or organise your own food if necessary. Or you can inform the hotel of your intolerance before your arrival.
Dinner
Dinner is usually not included in the room rate. You usually get 3 to 5 courses and roughly pay between 10 and 20 Euros per person.
Except in the big cities (Marrakech, Fez, Casablanca) we always had dinner at our hotels, because there are often little to no dining options in the surrounding area. At first we were a little resistant, but apparently it's actually very common in Morocco to have dinner directly at the accommodation.
Heating / Temperatures
In the winter months it can get really cool in Morocco at night. Depending on where you are in Morocco, the hotel rooms can really drop in temperature as well. If you're not a fan of room temperature dropping below 18 degrees Celsius, like us, then you should make sure that the hotel has heating.
You will hardly find proper central heating systems in Morocco. The air conditioner usually functions as a heater. However, you can usually achieve a comfortable temperature in the room with this.
Parking the car
In smaller towns and rural areas, you can park your car right at the accommodation. In larger cities like Marrakech and Fez, you may have to switch to a public car park – especially if your hotel is in the medina. It is best to contact the accommodation before arrival to find out where you can best park your car.
---
Disclaimer: Affiliate Links
This blog article contains our personal recommendations in the form of affiliate links. If you book or buy something through these links, then we will receive a small commission. This will not change the prices for you at all. A million thanks from the both of us!
Have you ever been to Morocco? Maybe you have extra tips for riads or hotels you'd like to share? Let us know in the comments below!