Cypress avenues, medieval towns on top of hills and an endless expanse – Val d'Orcia is almost precisely the same as all of the pictures people have in their heads when they think of Tuscany. So, if you wish to head to all of Tuscany's typical photo spots: You will find them in Val d'Orcia!
Perhaps you are thinking about spending your holiday in Val d'Orcia? We reveal everything you need to know in our travel guide. We show you the most beautiful cities, towns and photo spots in Val d'Orcia. On top of that, just as always, we have included our personal insider tips for the perfect trip. Let's go!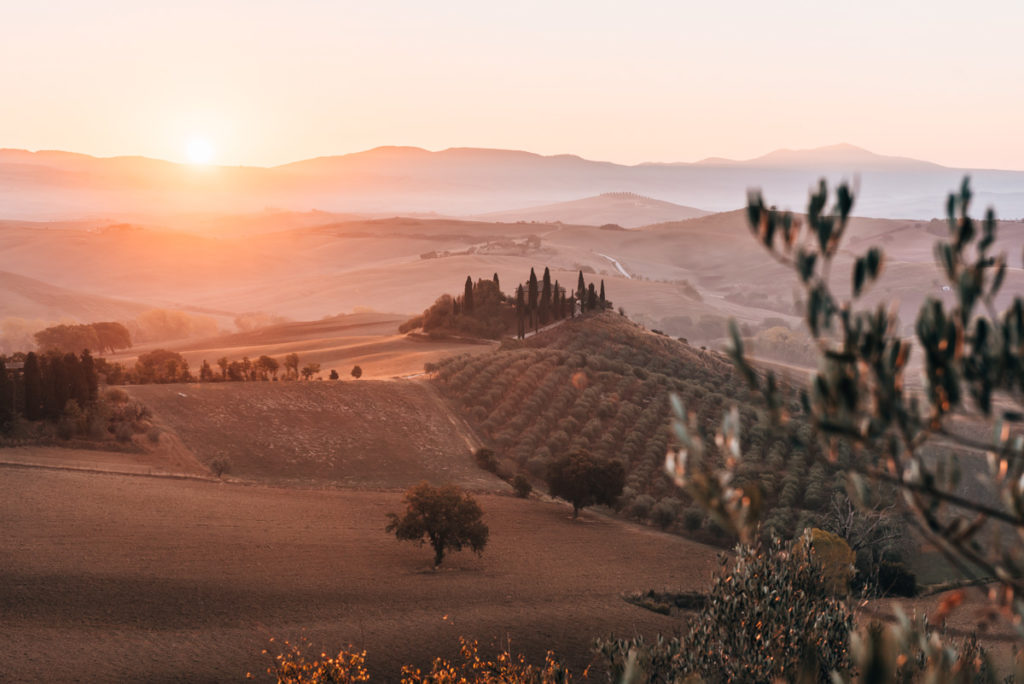 1. Val d'Orcia in Tuscany: Useful things to know & initial travel tips
Where is Val d'Orcia and how do I get there?
Val d'Orcia is located in the south of the Siena province, around an hour drive away from the province's capital of the same name, Siena. The valley is named after the river carrying the same name, Orcia river.
Val d'Orcia is relatively expansive and stretches itself over five districts altogether (and countless small villages). Simply for that reason alone, we definitely recommend you travel by car, so you can be as flexible as possible when you get there.
You have two options: Either you do the entire stretch from Germany or Austria and back with your own car. (Although the 10-hour drive from Vienna already calls for a stop off.)
The somewhat time-saving alternative: You fly and rent a car when you get there. When it comes to airports, Florence is at the top of the list. From there it still takes around a two-hour-drive until you reach Val d'Orcia. Our tip: You can find cheap flights on Skyscanner. We always book our rental cars through Sunny Cars.
What awaits me in Val d'Orcia?
Picture-perfect Tuscany: Cypress avenues meet picturesque agriturismo. And the backdrop: a lush, hilly, picturesque, expansive landscape. Val d'Orcia is renowned as one of the best photo-spots in Tuscany. You can definitely look forward to Tuscany par excellence. It's not for nothing that Val d'Orcia is a UNESCO World Heritage Site.
Medieval towns: Whether Montalcino, Pienza or Montepulciano – in Val d'Orcia there are a few picturesque, tiny, medieval towns to be found. (We call them tiny towns because nearly all of them are small villages.) Most of which are enthroned on a hill and exude a very enchanting flair.
Wine growing: Val d'Orcia is home to one of the most famous and exclusive Italian red wines, the Brunello di Montalcino. So, if you enjoy taking part in wine tastings (our tip on this to follow!) or enjoy one or two glasses of wine, Val d'Orcia is the right place for you.
When is the best time to travel to Val d'Orcia?
Val d'Orcia relatively significantly changes its appearance with the seasons. For example, the spring landscape is quite lush and green. During May and June, you can look forward to the poppy flowers conjuring up a sea of red dots.
During summer the landscape gradually changes and becomes a golden yellow thanks to the wheat fields. This is definitely the hottest time of year – and of course also the time where parts of Tuscany are overrun with people. We personally would prefer to skip the summer.
In terms of climate, autumn is quite relaxing, and it slowly becomes a little quieter again. However, the landscape (especially if it hasn't rained very much and not least due to the harvested fields) is very dry and barren.
We ourselves traveled to Val d'Orcia in October (during a period of very little rain). So, you can get an idea from our photos what we mean by "dry". Next time we would definitely come in springtime. The Orcia Valley must be especially dreamy when the poppies are in bloom.
How much time should I allow for a holiday in Val d'Orcia?
Here there are of course several options. Variant 1: You choose Val d'Orcia as your home base for your Tuscan holiday and take day trips from there (e.g. to Siena or Florence). In that case, we would recommend spending around a week in Val d'Orcia.
Generally, it is then good to know that Val d'Orcia is nestled more to the south of Tuscany and some destinations (e.g. Lucca or Pisa) are located a generous distance away.
Therefore, many people (such as ourselves on our second trip to Tuscany) decide to take a roadtrip with several stop-offs. If that is the case, we recommend around you allow two to three nights for Val d'Orcia.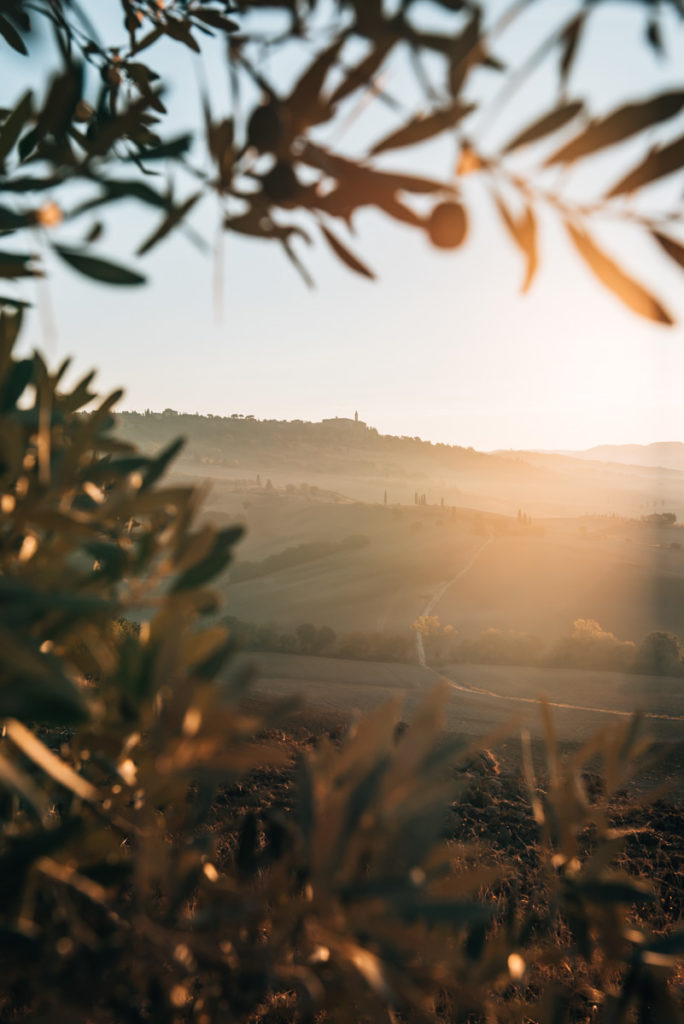 2. Towns worth seeing in Val d'Orcia
In this chapter we present some of the most beautiful towns in the Orcia Valley. In general, you should be aware that: The town landscapes are fairly similar. (So of course you don't need to tick off all the towns, you could also concentrate on one or two instead.)
A historic medieval town centre awaits you in all the towns along with enchanting alleyways. Because all the towns we name are located on hills, you can also enjoy a beautiful view of Val d'Orcia time again.
Montepulciano
Montepulciano is majestically enthroned on a 600-metre-high hill and is already impressive to look at from a distance. But just wait until you get a closer look at this gem!
With around 14,000 inhabitants, Montepulciano is the largest town in Val d'Orcia. In comparison to other places, it is more spread out here – nevertheless you can easily make your way around the historic centre in less than an hour.
Recommendations & Sights in Montepulciano
It is best to start your discovery tour in the heart of the city at Piazza Grande, Montopulciano's main square, so to speak. Two buildings are particularly eye-catching here: The gigantic Santa Maria Assunta cathedral and the town hall, called Palazzo Comunale.
Our small insider tip: Be sure to make your way up the stairs of the town hall tower. From up here you can enjoy a really fantastic view in all directions. Definitely one of our highlights in Montepulciano.
To the north of the Piazza Grande you can find another well-known attraction: The griffin and lion fountain. We would then recommend you take a relaxing stroll through the old town and let the medieval alleyways work their magic on you.
For a break, we can highly recommend the legendary Caffè Poliziano. The atmosphere in this Art Nouveau café is really quite special. The seats on the terrace with a view over towards Val d'Orcia are very popular. We enjoyed an espresso macchiato together with a delicious brioche at the bar in the appropriate style.
Pienza
If you only want to visit one village, then we would recommend Pienza. Pienza is considered one of the most beautiful towns in Val d'Orcia – and rightfully so, according to us. The town is pleasantly tranquil, and you can look forward to a simply beautiful flair.
Sights & highlights in Pienza
Pienza is really tiny – believe us: Navigating your way around the place will be easy for you. Our little discovery tour begins at Pienza's main square, the Piazza Pio II, which is really worth seeing.
Pienza's main attractions can be found in the main square. One of these is the imposing Santa Maria Assunta cathedral with its white Renaissance façade. As well as this, you can also find the town hall here (Palazzo Comunale) with its striking tower.
One unique feature of Pienza is the panorama walkway, which runs along the tops of the city walls to the south of the old town. From here you can enjoy a really beautiful view down into the Val d'Orcia. If you like, you can also have a drink here – for example at the great bar, Idyllium.
Lastly, we absolutely also recommend taking a walk through the picturesque alleyways in the east of Pienza. We enjoyed it especially well here. If you feel like having a gelato, then stop by the Gelateria Buin Gusto.
Our tip: Before or after Pienza we recommend taking a small detour to Podere II Casale. We had a lovely meal here in the dreamy rural surroundings. You can find more info on this further down in this travel guide in the chapter with our culinary tips for Val d'Orcia.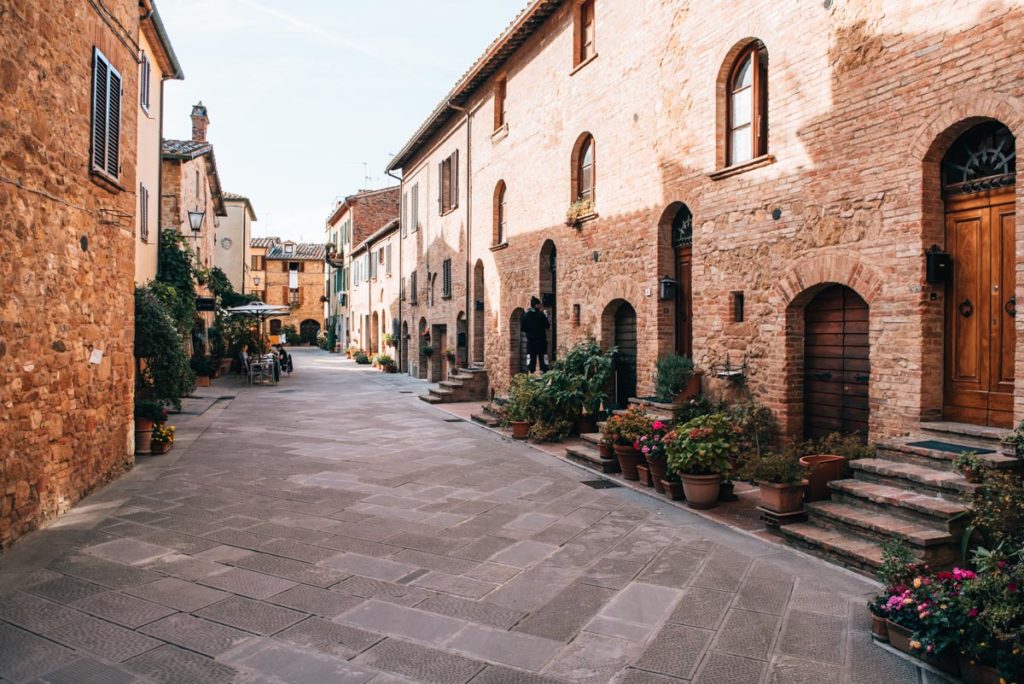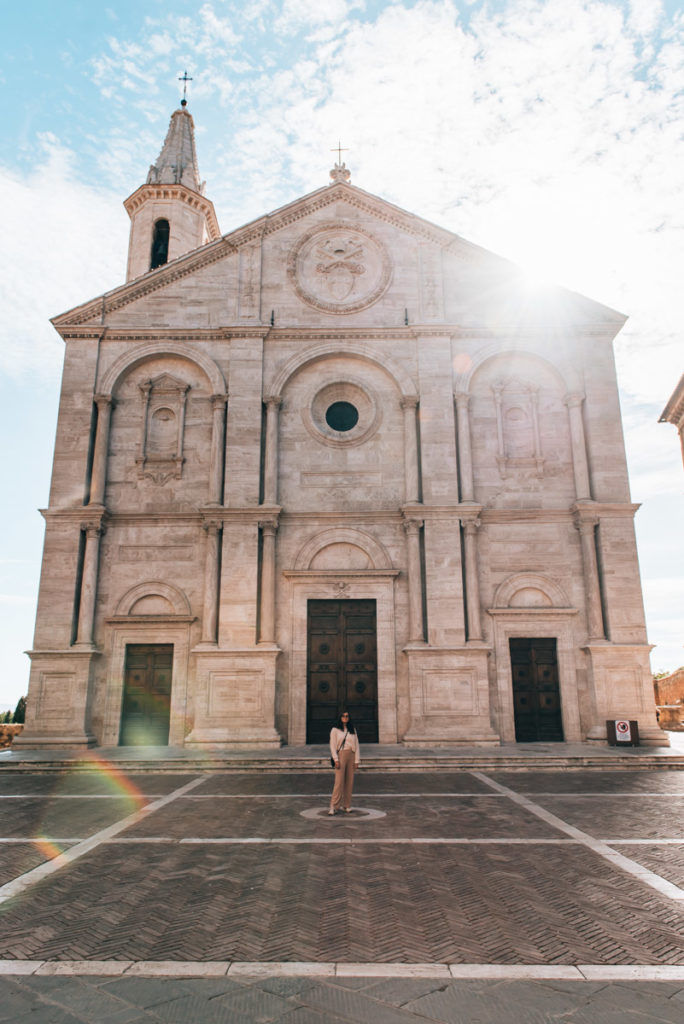 Montalcino
Last but not least, we come to the pretty Montalcino in the west of Val d'Orcia. Most people who travel to Mantalcino only have one thing in mind: To taste the exclusive red wine Brunello di Montalcino, considered one of the best wines in Italy, and the vines of which grow around Montalcino.
But for all those who are not particularly interested in wine, it is still worthwhile to stop off in the pretty Montalcino. We really enjoyed it here – especially because there are great photo spots and places off the beaten track to discover.
Sight & our tips
One way to start your discovery tour is with a panorama view over Montalcino: You can enjoy a wonderful view from the fortress to the south of the old town. The entrance is located in a small wine store in the fortress' courtyard. (Note: You can only pay cash.)
Next you continue on into the historic alleyways of Montalcino's old town. One of the most well-known squares in Montalcino is the picturesque Piazza del Popolo. This square is not as spacious as you might expect from a main square, but very charming.
The small Palazzo dei Priore, the town's government building, really catches the eye with its tower rising up into the sky. The 14th century Rennaissance loggia, located just opposite, is equally as pretty. Our tip: The loggia contains the highly recommendable restaurant, Alle Logge di Piazza.
The short walk up to Montalcino's cathedral (Concattedrale del Santissimo Salvatore) should not be missed. You don't get a view from all that far away, but the cathedral is definitely worth seeing.
The picturesque Palazzo Pieri is a small insider tip. The inner courtyard of this historic building now houses a bar. Such a great location! Opposite Palazzo Pieri is Montalcino's town museum, the Museo Civico e Diocesano, where you can admire historic art treasures. We didn't visit it but found the inner courtyard with the concept store and the adjoining café very charming.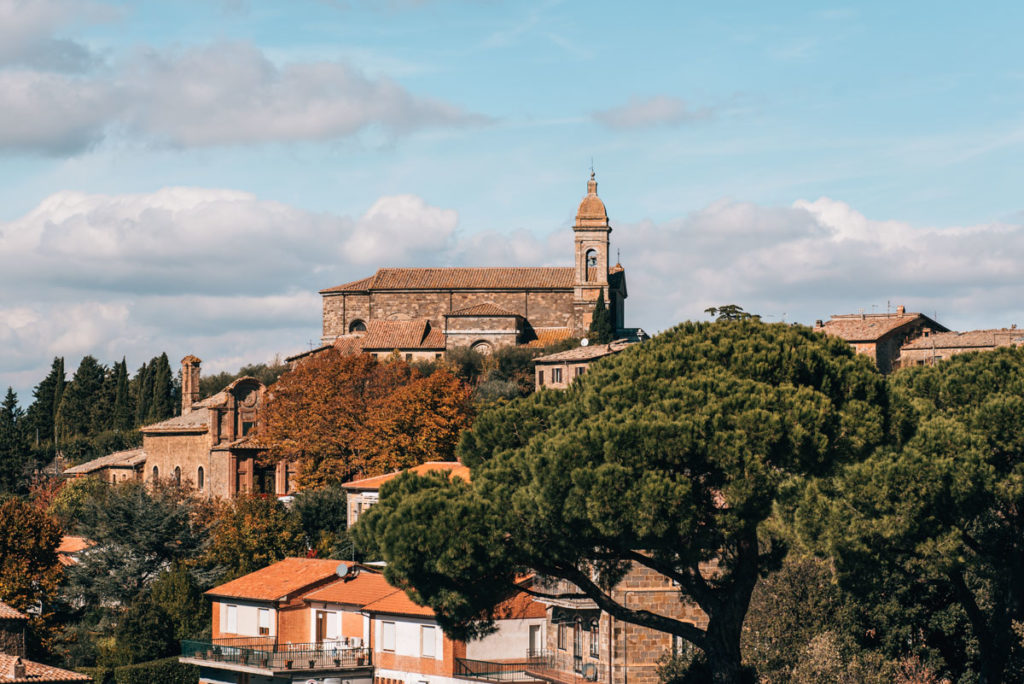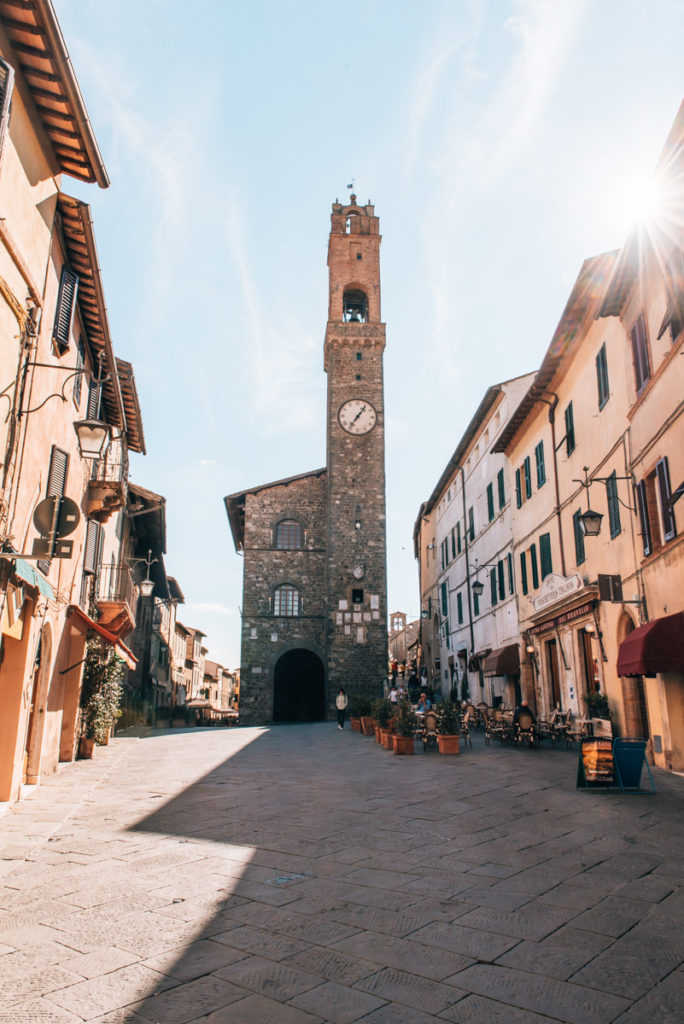 3. Photo Spots in Val d'Orcia along the Panorama Road
Some of Tuscany's most famous photos spots are located in Val d'Orcia. The landscape has not only been captured since the inception of Instagram – Val d'Orcia was already being immortalised on canvas during the Renaissance.
Many of these views are found along the panorama road SP146, which makes its way across Val d'Orcia from west to east. In principle, you actually only need to drive this stretch once and keep your eyes open.
It's no wonder: Some of these photo spots are very well-known and no secret anymore. That means it's not unusual that you need to share the space (even in the shoulder season) with other photographers and their tripods. (Not that we didn't warn you.)
Podere Belvedere
One of the most iconic photo motifs in all of Tuscany is this stone house close to Quirico d'Orcia called Podere Belvedere. It is surrounded by cypresses and enthroned on a small hill in Orcia Valley's characteristic landscape.
One of the main reasons why this place is so popular is that it is easy to reach: You can enjoy the best view of this little gem just a few metres away from the panorama road.
We recommend you come at sunrise. In October the sun rose almost perfectly on the horizon so that we could take great backlit shots. The magical lighting mood in the early morning was incredible.
Cappella della Madonna di Vitaleta
Follow the panorama road SP146 from Podere Belvedere further towards Pienza and after just a few minutes you will see a tiny chapel off in the distance on the right-hand side, the Cappella della Madonna di Vitaleta.
There is a small viewpoint on the side of the road. We ourselves drove closer to the chapel. The road there is signposted and is located a few hundred metres further towards Pienza on the right-hand side.
You park your car about a 5-minute walk away from the chapel. Apart from enjoying a fantastic view into Val d'Orcia from here, we found the view with the chapel and the curved avenue of cypresses much more exciting from this perspective than from the main road.
Agriturismo Baccoleno
Warning – Instagram hotspot! Well okay, thankfully we didn't have it quite so bad in October, but this photo motif is definitely one of the most famous in Tuscany.
It is located a little off the classic route, around 35 minutes north of Pienza along the road SP60. Y are no longer in Val d'Orcia here, to be precise, but in the neighbouring region of Crete Senesi.
The curved, cypress-lined avenue belongs to Agriturismo Baccoleno – a brilliantly renovated country house where you can stay overnight. If you (like most) only come to take pictures, you have to park on the side of the road. (Please be careful not to block the access road.)
Cypress avenue Poggio Covili
Another cypress avenue that also belongs to an accommodation is that of Agriturismo Poggio Covili. You are also only allowed to use it if you are staying there. Nevertheless, this almost perfectly straight avenue is also great to look at from the outside.
Our conclusion: Not one of the big highlights in Val d'Orcia, but if you are in the area then a short photo-break is worth it. You can leave your care right by the entrance on the side of the road.
Cypress ring near San Quirico d'Orcia
We don't often think that you need a drone for the best view – but it definitely applies here. The cypress ring only looks particularly special from a birds-eye-view.
It is situated in the middle of fields around a 5-minute drive west of the town, San Quirico d'Orcia. To be more exact, there are actually two photo motifs in this area: One of these is the already mentioned, and in our opinion the much more interesting, cypress circle. The other is the cypress grove, a collection of several trees standing close to each other.
There are two ways to get there. 1. (Our recommendation): You park, rather uncharmingly, in the small parking lot at the main road SR2. From there you can see the cypress grove. You can also then make your way on foot up the hill to the cypress ring.
The second option is the one Google Maps suggests: It takes you even closer to the cypress circle via a bumpy gravel road. Conclusion: It takes a lot longer and gives you a dusty car, so we wouldn't recommend it.
Genna Borborini Maria Eva (gladiator house)
This iconic stone house is enthroned on a small hill and made its way to fame through the film Gladiator. What you don't see in the photo: The view and the way there are blocked by a huge, locked gate. (Of course, this is private property.)
In that respect, the charming photo does not reflect the reality of: You park on the side of the main road to capture the motif. Nevertheless, taking a small stop-off is worth it because this house is located directly on the panorama road SP146.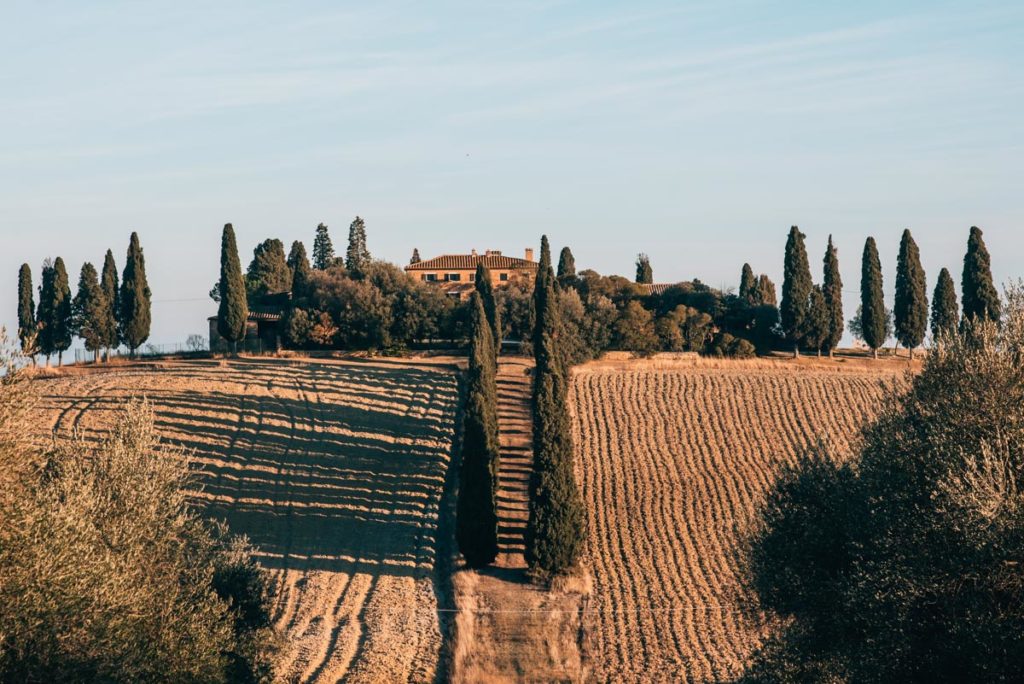 4. Eating & Drinking: Special Cafés & Restaurants in Val d'Orcia
Podere Il Casale (near Pienza)
The Tuscan feeling you wished for! If you would like to be in Val d'Orcia in the midst of nature with a wonderful view and enjoy a fantastic meal on top of that, then we can warmly recommend the restaurant Podere II Casale.
More precisely, they have an organic farm here that produces, for example, cheese and olive oil. The adjoining restaurant serves delicious Mediterranean meals. We were here at midday and thanks to the good weather were able to sit outside on the terrace – a dream!
There are many meat dishes on the menu, and also a few options for vegetarians The menu regularly changes and offers a lot of seasonal foods. We enjoyed the dishes incredibly well and the bread that was served was also delicious.
The drive to the restaurant is along a gravel road, which fortunately isn't too bumpy. In return, when you arrive a dreamlike tranquillity awaits you in the heart of Tuscany. We definitely recommend making a reservation because the restaurant is incredibly popular with the tourists.
Taverna del Grappolo Blu (Montalcino)
In the heart of Montalcino's old town you can find this very popular restaurant. It hasn't been awarded with Michelin stars, but rather acclaimed for its great value for money. And we can only agree.
The ambience is rustic-traditional. There are countless Italian classics on the menu, some of which are also vegetarian, such as the delicious Pici (a special Tuscan pasta). We were overwhelmed by the sheer endless selection of wines. If you are looking to try the famous Brunello di Montalcino, you are in the right place.
Our conclusion: Very good value for money. We definitely recommend making a reservation because the restaurant is often booked out.
Caffè Poliziano (Montepulciano)
If you have a craving for coffee & cake while in Montepulciano, then be sure to stop by this historic coffee house. The Art Nouveau ambience may seem a little outdated, but very authentic.
If you like, you can (as we did) take a seat at the bar in appropriate style. The advantage (other than the flair): You get your espresso, like everywhere in Italy, cheaper this way. Alternatively, the seats on the small terrace with a view down to the Val d'Orcia are very popular.
The cake display cabinet is very well stocked and offers every Tuscan speciality that you can imagine. Our choice fell on the chocolate-filled brioche, which was amazing.
Caffè Poliziano also has a restaurant area with a large terrace. However, we didn't eat there so we can't judge the quality of the dishes.
5. Our Tip: Wine Tasting in Val d'Orcia
An unwritten rule: You should not leave Val d'Orcia without trying the most famous red wine of the region, the Brunello di Montalcino, at least once.
The Brunello di Montalcino has its price – and it's for good reason. It needs to mature for at least two years in oak barrels and six months in the bottle. The less expensive sister of Brunello is the Rosso di Montalcino.
You can of course try the Brunello di Montalcino in nearly every restaurant in the region. However, we would whole-heartedly recommend you do a wine tasting. We chose the highly recommended Canalicchio di Sopra winery because we stayed in their associated accommodation. (Also highly recommendable – you can find more info in the next chapter.)
For 25 euros per person, you can take a guided tour of the wine cellar followed by a tasting of three red wines. Very exciting and also very entertaining for us being non-typical wine connoisseurs.
6. Hotel Tip for Val d'Orcia
Arrived – and immediately in love! We would like to warmly recommend our dreamlike accommodation in Val d'Orcia, the Borgo Canalicchio Di Sopra Relais. Here you stay at the foot of the town Montalcino, surrounded by grapevines and olive trees.
The accommodation belongs to the winery of the same name, which is famous for the production of Brunello di Montalcino. A lovely, beautifully maintained complex awaits you here with just five apartments and suites. (Some of these have space for up to six people.) The rooms are quite classic and very comfortably furnished.
Familiar and personal – that is how to describe the ambience. You receive incredible hospitality – that we have rarely experienced. The service is incredible. For example, there are great recommendations for restaurants in the area that were easily booked for us. Simply great!
It was a shame that swim season was already over when we visited. Otherwise, you can enjoy a relaxing view at the pool with a view of the olive groves. The breakfast was definitely the best on our trip through Tuscany. There were countless high quality, regional delicacies on offer.
Our conclusion: If you are searching for a very special, fantastically run accommodation in Val d'Orcia, you have come to the right place. We would have gladly stayed longer and would always come back to stay here.
You can book the hotel here: Borgo Canalicchio Di Sopra Relais
7. Map: Overview of all the Places & Photo Spots
Finally, we have marked all Val d'Orcia's highlights and photo spots on this map, so that you can hopefully navigate your way from A to B while there. Small tip: Simply click on the top right corner to easily open the map in the Google Maps app on your smartphone.
---
Disclaimer: Affiliate Links
This travel guide contains our personal recommendations in the form of affiliate links. If you book or buy something through the links, we receive a small commission. This does not change the price for you at all. A million thanks from the both of us!
Have you already heard about Val d'Orcia or have you perhaps already spent your holiday there? We look forward to hearing about your experiences and additional tips in the comments.