Impressive. Imposing. Magical. Siena is one city that definitely stays in your memory, we can tell you that much already. Of all the towns in Tuscan and even in all of Italy, Siena stands out in particular.
Why is this? Siena's city landscape is unparalleled. When you arrive, you feel as though you've been transported right back to the Middle Ages. A sea of terracotta-toned houses, gigantic sights (especially the cathedral!) and the feeling of having landed in a film backdrop – that's Siena.
In this travel guide we don't only show Siena's main attractions and best things to do, we also reveal our personal tips for your perfect holiday. We have uncovered a few insider tips, which we will of course gladly share with you.
1. Siena in Tuscany: Initial info, travel tips & FAQs
Overview of exciting facts about Siena
With a good 50,000 inhabitants, Siena is comparatively compact. The city is large enough to be packed with impressive sights. And also, small enough to reach everything on foot and quickly find your way.
If we were to describe the city landscape, it would be: Medieval and Gothic. Siena's alleyways, with their tall, medieval-looking houses feel a bit like a film backdrop. As well as that, the old town is (of course) a UNESCO World Heritage Site.
Really nice: Traffic in the old town is strictly regulated, so the centre is almost car-free. Therefore, you can look forward to a very relaxing stroll.
Siena = palio. At least, as far as the locals are concerned. Twice a year (2nd July and 16th August) the city goes into a state of frenzy. That's the time when the controversial and world-famous horse race takes place in the Piazza del Campo.
Siena is a university city. More precisely, Siena's university is the oldest in Italy. You can definitely tell from the range of cafés and restaurants on offer that a lot of young people live in Siena.
How many days should I plan for Siena?
The first question you should ask yourself is: Do you want to "just" do a day trip to Siena, or would you prefer to stay for several days? We definitely tend towards the latter.
We ourselves stayed two nights in Siena during our roundtrip through Tuscany and found this to be a great amount of time. That way we had enough time to see all the main sights an best things to do in peace and to wander through the city without a plan for a little.
If you would like to explore the area around Siena (e.g. Val d'Orcia, Volterra, San Gimignano), then we would recommend staying at least four nights.
If you want to take a detour to Siena on a day trip, then not to worry: You can get a great impression in just a few hours. One day is sufficient to see all of Siena's main attractions and highlights.
Top Things to Do: What should I not miss in Siena?
For those of you who want it short and sweet, the following is a small best-of list of our top things to do in Siena. (Of course, there is more detailed information on these highlights to follow within this travel guide.)
Marvel at Siena's cathedral from the inside. A masterpiece – mark our words.
Taking a walk through the famous Piazza del Campo.
Observing Siena from a birds-eye-view (for example from the famous Torre del Mangia).
Drinking an espresso at the bar. Our tip: Torrefazione Fiorella.
How do I get from A to B in Siena?
Quite simply: On foot! You can quite comfortably leave your car parked the entire time you're in Siena's old town, because you can't get around with it. (We remind you: Siena's old town is closed to regular traffic.)
You can reach all the sights in Siena on foot. You will of course get a lot of steps in, we can promise you that.
Speaking of parking: Paid parking spots for all those who are visiting Siena on a day trip can be found on the outskirts of the old town, for example at the "Parking Santa Caterina" carpark. From here you can take the escalator into the old town. If you stay the night in Siena, be sure to clarify the parking options with your accommodation before arriving.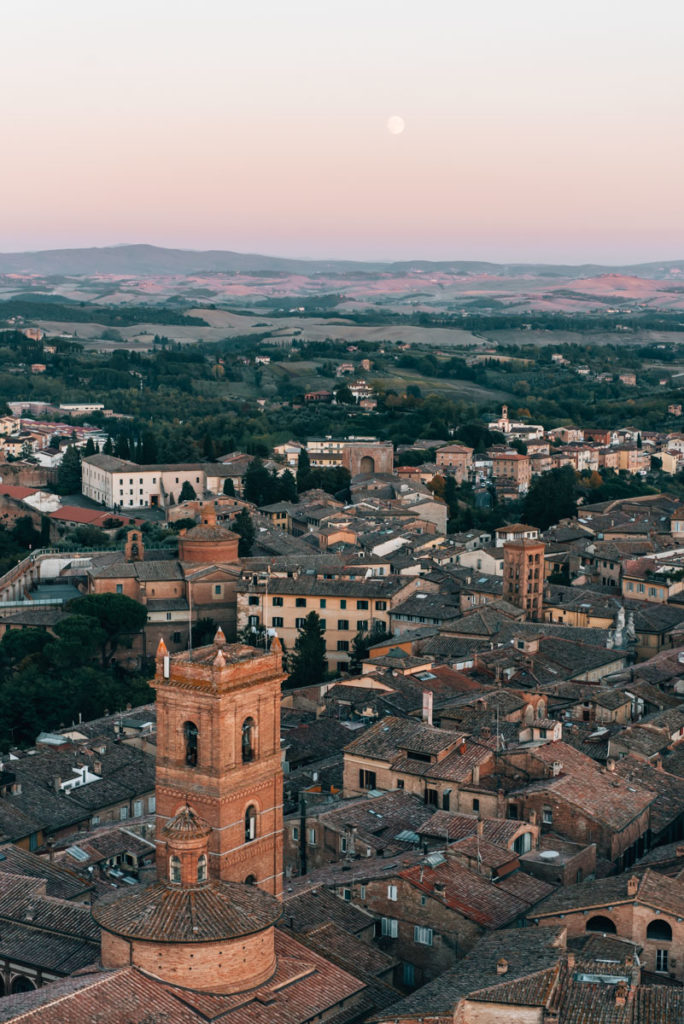 2. Siena Travel Guide: Best Sights & Things to Do
Piazza del Campo
Let's start off with Siena's landmark and the heart of the old town, the Piazza del Campo. An unwritten rule: You aren't allowed to leave Siena without visiting the Piazza del Campo at least once. (That proves to not be so difficult anyway, because you will find yourself here time and time again.)
What immediately stands out? The square is actually a semi-circle and is reminiscent of a shell or a fan (especially from a birds-eye-view). And: It runs slightly downhill. It is also no wonder that young and old gather here throughout the day to make themselves comfortable on the floor at the Piazza del Campo.
The Palazzo Pubblico with its gigantic tower, the Torre del Mangia, attracts everyone's attention at the Piazza del Campo. But the remaining historical state houses are also great to look at and make for an unbelievably harmonic scene. At the northern side of the square is the famous fountain of joy (Fonte Gaia).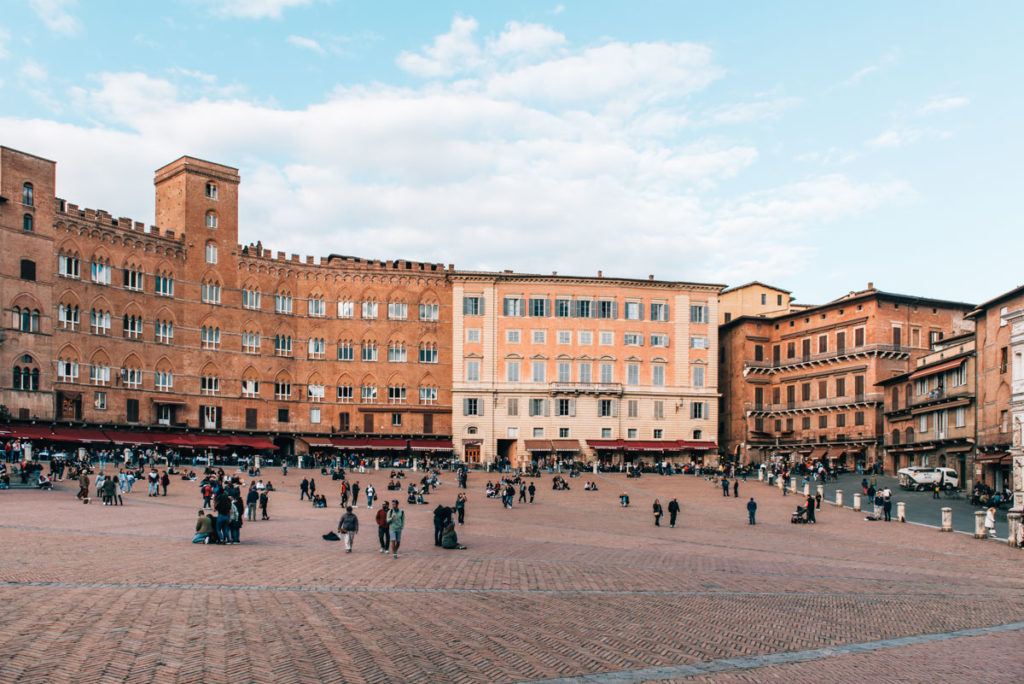 Siena Cathedral
The sight in Siena that you should probably set aside the most amount of time for is the cathedral. And there is good reason for this: It is not only incredibly impressive, it also consists of a variety of highlights – several sights in one, so to say.
Tip #1: With the combo pass ("Opa Si Pass") you gain entry into all of the individual areas apart from the Porta del Cielo. You can purchase your ticket at the ticket counter on site. It is located diagonally across from the cathedral. Alternatively, you can also reserve it online in advance: Cathedral combo ticket.
Tip #2: The ticket is valid for three consecutive days. That means, that you don't need to visit all the sights at once. We would recommend, for example, to visit the viewpoint (Facciatone) in the late afternoon, to experience an absolutely beautiful light over Siena's rooftops.
The cathedral itself [incl. Piccolomini library & Porta del Cielo]
The heart of the cathedral complex is the cathedral itself. It is already an architectural masterpiece simply from the outside – but wait until you see it from the inside. We prefer to be outdoors when we travel, but this treasure is an absolute must-see.
A special feature of Siena cathedral is the floor. It consists of artfully decorated marble slabs – a globally unique work of art. It took an unbelievable six centuries to complete! A large portion of the floor is covered up for the most part to protect it and is only uncovered from around mid-August until mid-October.
You can also reach the next sight via the main entrance of the cathedral, namely the Piccolomini library, which is located in a side wing. The walls and ceiling of this rather small room are so wonderfully, artistically decorated – simply incredible!
Only with an extra ticket (and through a separate entrance) can you reach the Porta del Cielo (gateway to heaven). A fantastic birds-eye-view over the nave of the cathedral awaits you here.
Cathedral museum & Facciatone viewpoint
The second area of the cathedral complex that you definitely should not miss out on is the cathedral museum (called the Museo dell'Opera del Duomo in Italian), through which you can also reach the viewpoint called Facciatone. The entrance can be found in a side building to the east of the cathedral.
In our opinion, the most impressive room awaits you right at the beginning, namely the darkly lit salon lined with statues. At the end of this you can see the cathedral's original stained-glass window.
The museum stretches itself over several levels. A variety of paintings, sculptures and furnishings from the cathedral are exhibited – but to be honest, we visited especially to experience the view from the Facciatone viewpoint.
And in our opinion, it's definitely worth it, because you get to enjoy a really superb view of Siena. You can find additional info and photos further down in this travel guide in the chapter on the most beautiful viewpoints in Siena.
Crypt
You can access the crypt through a separate entrance to the east of the cathedral, diagonally opposite the cathedral museum. Interestingly, it was only discovered in 1999 during renovations. Here you can admire historic wall paintings from the 13th century – but overall, you do not need to plan too much time for this.
Baptistery of San Giovanni
Last but not least, through the northern entrance (at the foot of the stairs) you come to the Baptistery of San Giovanni, the cathedral's gothic baptistery. The baptistery is of course small in comparison to the actual cathedral, but still worth seeing.
Palazzo Pubblico (incl. Museo Civico)
One of Siena's most famous buildings is the unmissable Palazzo Pubblico in the main square (Piazza del Campo). The terracotta-coloured building with the gigantic Torre Mangia is well worth seeing even from the outside. But it's also definitely worthwhile to take a closer look.
You first enter into the inner courtyard. Be sure to look up for a great photo opportunity! The Palazzo Pubblico is home to the Museo Civico, Siena's city museum. Here you stroll through the historic state rooms where the walls and ceilings are decorated with ornate frescos. If you are interested in art and culture, then you are in the right place.
Via a separate entrance you gain access to the most famous viewing tower in Siena, the Torre del Mangia. We reveal more info about this in the chapter on the best views over Siena.
Fortezza Medicea
One sight that we would recommend for a somewhat longer stay in Siena is the historic Medici fortress – called Fortezza Medicea or Forte Santa Barbara.
The historic fortress is now a recreation area for locals and tourists who meet there for walks or jogging. You can loop your way around the top of the fortress and enjoy an enchanting view of Siena's old town from afar.
The Fortezza Medicea is around a 20-minute walk away from the Piazza del Campo, northwest of the old town. Our conclusion: Not one of the big highlights, but still worth visiting.
3. Viewpoints: Siena from a Bird's-Eye View
Terrazza Panoramica vicolo Campaccio
Postcard perfect! If there is such a thing as the perfect Siena panorama, then you can find it here. In our opinion, you shouldn't leave Siena without taking a walk to this viewpoint at least once.
The viewpoint itself is rather unspectacular: Parked cars, a little green area, and a few restaurants. But the view – WOW, simply breathtaking!
Our tip: We visited before sunset – you can't watch the sun go down here but it is beautiful to see Siena bathed in an orange light. We have marked the exact location on the map at the end of this article. You can find viewpoint next to the Convento S. Domenico.
Torre del Mangia
The Torre del Mangia stretches 87 meters into the sky and therefore boasts the best birds-eye-view over Siena. Definitely one of our highlights!
You do need to be in good physical condition to enjoy the view from the top of the tower. There are namely over 400 steps to conquer – wow! Once you reach the top the panorama view is really wonderful. You get views in all directions.
Our tip: We ourselves chose the last timeslot before sunset and that was absolutely the best decision. The light was simply amazing! Entry was limited due to the pandemic and only a certain amount of people could go up the tower at a time. We recommend (especially in the main season), to stop by the ticket counter first thing in the morning to secure your ticket for your preferred timeslot.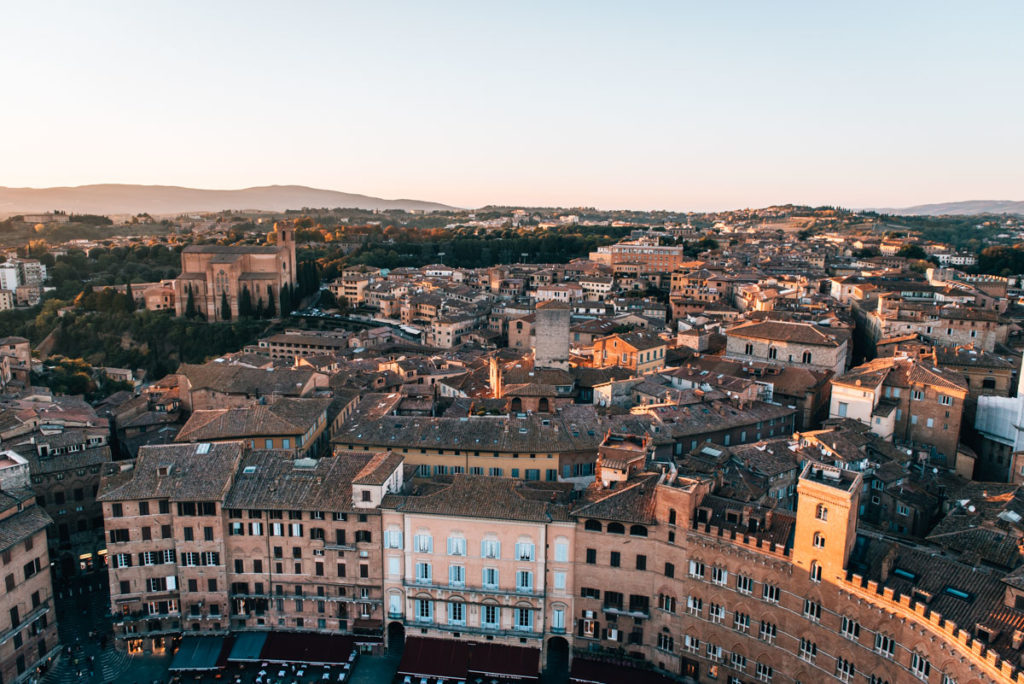 Facciatone
The third viewpoint in Siena, which of course must not be missed, is the Facciatone. It is part of the Siena Cathedral. More precisely, you can find the viewing platform on an unfinished cathedral façade.
The entrance can be found through the cathedral museum. From there you go through a small, spiral staircase, which feels as though it gets more and more narrow as you go up. The viewpoint comprises of several levels, however – oh wonder – the highest level offers the best view. We were particularly impressed with the view of the cathedral itself.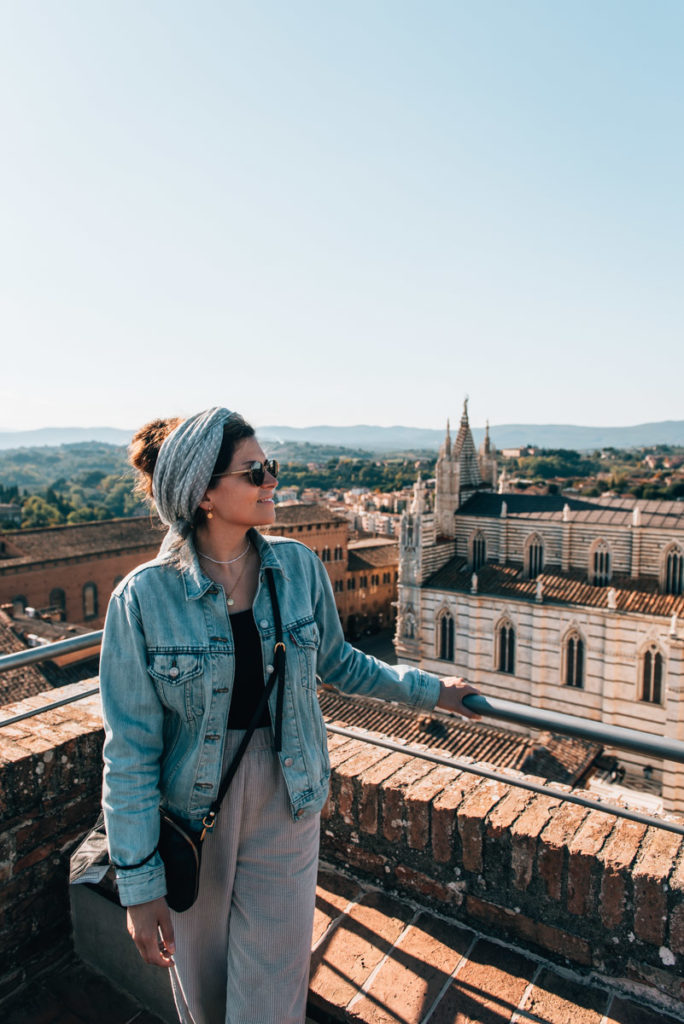 4. Culinary Travel Guide: Our Restaurant Tips for Siena
L'Orto & Un Quarto: Hello insider tip! This restaurant is located in a tiny suburb of Siena, set in a beautiful, idyllic area. We stopped off here on our way to Siena and enjoyed a delicious lunch. A very big plus: There are many vegetarian, and even vegan options on the menu. Highly recommended!
La Napoletana 2.0: This place, which is popular with the locals, is located a little outside the historic centre and offers fantastic Neapolitan pizza at a fair price. The ambience inside is modern (personally too modern for our taste), but you can also sit outside in the small garden. Conclusion: Not so suited towards a quiet, romantic evening for two, but very delicious pizza.
Torrefazione Fiorella: The absolute best café in the old two for a short break! It is very authentic here. That means: The café is tiny and offers little space. Espresso is consumed at the bar. It is however wonderful and costs just one euro. Include a delicious "brioche" on top. Perfetto!
Gelateria Il Masgalano: This unassuming gelateria offers incredibly delicious ice cream. They even have vegan ice cream flavours on offer (pistachio!) – very highly recommend. Small tip: With your ice cream in hand, walk around the corner and enjoy the viewpoint described above (Terrazza Panoramica vicolo Campaccio).
5. Day Trip Destinations: Sights around Siena
Should you have more time during your stay in Siena, then there are of course some fantastic towns surrounding Siena, which are ideal for a day trip. (We ourselves stayed several days in the towns described below during our roadtrip through Tuscany, but that is of course a matter of taste and remains up to you.)
Montepulciano, Pienza & Montalcino in Val d'Orcia
Val d'Orcia to the south of Siena fairly accurately matches up to the pictures people have in their heads when they think of Tuscany. Cyprus alleys, earthy-toned houses and a medieval township – all that and more awaits you in Orcia Valley.
The region is so large that we actually would recommend staying at least one night. Nevertheless, you can of course discover a lot over the span of a day trip from Siena. The travel time is around an hour. You can visit, for example:
Montepulciano: A somewhat larger, very beautiful town. Wine is grown all around.
Pienza: A picturesque medieval town and one of the most beautiful towns south of Siena.
Montalcino: The famous red wine Brunello di Montalcino grows around this pretty town. If you would like to do a wine tasting, Montalcino is the right place.
And last but not least, the countless photo spots here in the south of the Siena province.
You can read our more detailed travel guide here: Val d'Orcia
San Gimignano
The medieval town of San Gimignano is without a doubt one of the most popular travel destinations in Tuscany. You can reach it in around 50 minutes by car – so it's perfect for a day trip.
Small warning: Even though San Gimignano's city landscape with its countless medieval towers is simply breathtaking, the charm is clouded by the crowds that squeeze through its alleyways, especially during the main season. San Gimignano is certainly one of the most touristy towns in Tuscany.
You can find all of the sights & tips here: San Gimignano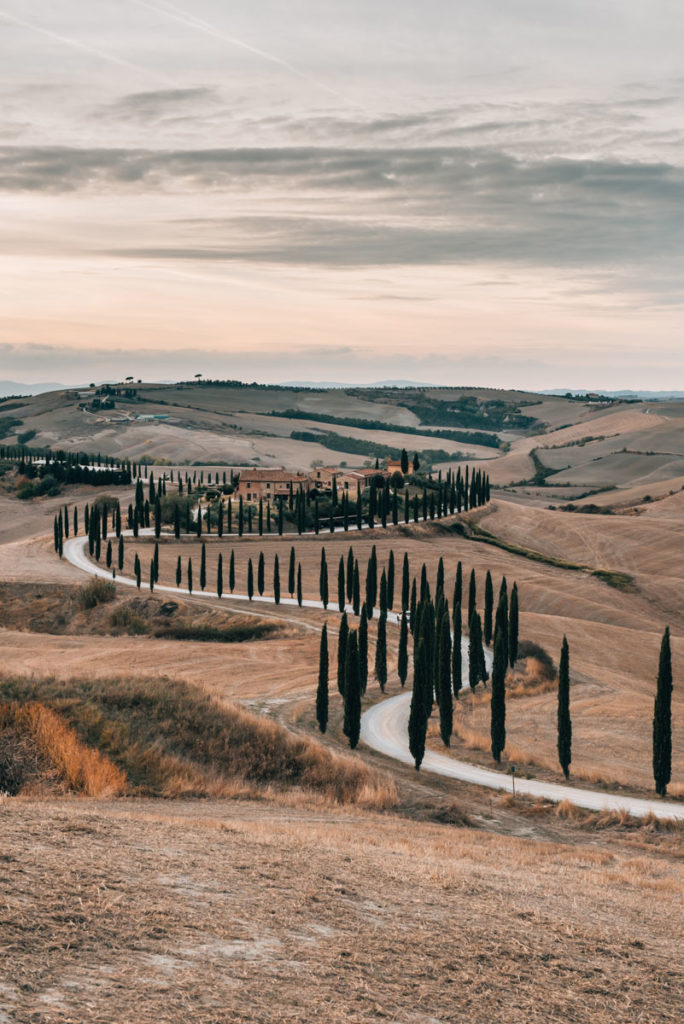 6. Our Insider Hotel Tip for Siena
We searched long and hard for the perfect hotel for our stay in Siena – and we were successful! Not only is it peaceful in the dreamy Casatorre dei Leoni, it is also incredibly central. Very high recommendation!
The accommodation (you could also say boutique hotel) is located in a historic house around a two-minute-walk away from the famous Piazza del Campo. Here they combine old and new with seamless style. All the rooms and common areas are incredibly tastefully furnished.
Speaking of rooms: There are only six of these altogether (3 suites, 3 apartments.) Therefore, the atmosphere is very personal and familiar. The rooms are incredibly comfortably furnished. Our highlight was the oversized bed, in which we slept fantastically.
The breakfast is very high quality (amazing espresso, great cakes), we personally would have only liked a little more selection. As well as this, the parking service, which you can reserve in advance, is really great: You drive to a parking garage a little outside of the old town and are then taken by the valet service, completely stress-free, to the hotel.
Our conclusion: An absolutely great place to stay with a special charm in the heart of Siena, right close by all the sights. We would definitely come back any time.
You can book the hotel here: Casatorre dei Leoni
7. Map: Overview of Sights & Travel Tips
Last but not least, you can find an overview of all of our recommendations on this map. We have marked down all of Siena's main sights and things to do as well as our café and restaurant tips. Simply click the top right corner to easily open the Google Maps app on your smartphone.
---
Disclaimer: Affiliate Links
This travel guide contains our personal recommendations in the form of affiliate links. If you book or buy something through the links, we receive a small commission. This does not change the price for you at all. A million thanks from the both of us!
Hands up: Have you already been to Siena? Did you enjoy Siena as much as we did? Which sights would you like to visit again? What are your top things to do in Siena? We look forward to your additional tips in the comments.