The metropolitan Bangkok is huge, excessively loud and quite overwhelming. At the same time, Bangkok is home to some of the most beautiful sights in the whole country and the many magnificent temples never fail to amaze us.
Almost everyone who travels to Thailand will find themselves in Bangkok at sometime. It's an inevitable but also essential part of a Thailand experience – even if just for a couple of days.  
In our Bangkok travel guide, we will share with you the most important and impressive sights. We will answer your questions about: where to go, what to see and which sights should you not miss? After countless trips to Bangkok, we have collated all our best recommendations for you here. You will also find an interactive map at the end of the article, with all the sights, attractions and temples we mention here as location pins.
1. Bangkok Travel Guide: The Main Sights (= The Many Temples)
Bangkok's number one attraction is the many sacred temples that are found all throughout the city. No matter where you look, there is usually a golden pagoda peak towering above the city somewhere.
Grand Palace & Temple of the Emerald Buddha
The most important and well-known temple in Bangkok is the Royal Palace – also known as the "Grand Palace". A visit here is a must when you are in Bangkok. The late King of Thailand once resided here, but now this place is one of the largest Holy Sites in the country.
Although the Grand Palace is actually a very specific temple, the word is used to refer to the entire area, which is also home to countless other small and large temples, pagodas and magnificent buildings. Overall, you should allocate about two to three hours for your visit. The highlight of this place is the Temple of the Emerald Buddha (Wat Phra Kaeo).
Important note: Around the Royal Palace, many "fraudsters" are lingering about and driving around. The trick is usually the same: they tell you that the temple you want to see is for some reason closed. But lucky for you, there is a tuk-tuk driver who's happy to show you around Bangkok instead. Just be weary about people like this.  
Information about visiting the Grand Palace
Getting there: By Express Boat (green or orange) to Tha Chang
Opening hours: 8:30 am to 3:30 pm (last admission)
Admission: 500 Baht
Clothes: shoulders and knees must be covered!
Wat Arun
The Wat Arun is also called "Temple of the Dawn" and in our eyes, is the most beautiful temple in Bangkok. It stands out visually, because unlike other temples in Bangkok, the colour gold is not the dominating colour. Instead, the Wat Arun is white and decorated with small, colourful ceramic tiles.
Our tip: The Wat Arun is located more or less directly on the river (Chao Phraya). At sunset, you get a great view of the temple from the opposite side of the river. We recommend the rooftop bar Sala Rattanakosin Eatery and Bar. Cocktails are not cheap, but the view of the temple is stunning.
Information about the visit to Wat Arun
Getting there: Take the Express Boat (gold) directly to Wat Arun or the orange one to Tha Tien, from there take the river ferry to Chao Phraya
Opening hours: 8:30 am to 6 pm
Admission: 50 Baht
Clothes: shoulders and knees must be covered!
Wat Pho (The Reclining Buddha)
A visit to the Wat Pho would ideally be combined with a visit to the Royal Palace, as they are very close to each other. Wat Pho is home to one of the city's main attractions: the Reclining Buddha. At 46 metres long and 15 metres high, this is a spectacular sight to behold. 
It's also possible to walk around the Reclining Buddha. Our personal highlight are the soles of the statue, which are studded with pearls. Unfortunately, the visit to the Buddha is usually associated with a bit of chaos, because so many people want to see the sacred statue with their own eyes.
Apart from the large, famous Buddha figure, the Wat Pho houses many more Buddha statues as well as Chedi (Buddhist stupa). We would recommend you spend roughly an hour for the visit – unless you would like to enjoy a massage in the world famous massage school there – then of course longer.
Information about visiting the Wat Pho
Getting there: By Express Boat (orange) to Tha Tien
Opening hours: 8 am to 6:30 pm
Admission: 200 Baht
Clothes: shoulders and knees must be covered!
Wat Saket (Golden Mount)
The Wat Saket – often called the Golden Mount Temple – is located on a small (artificially heaped) hill in the middle of the city. Unlike other temples, this particular one offers a beautiful view of Bangkok.
The temple itself is not the most spectacular, but the whole area is very tranquil and scenic. The ascent (344 steps) is also quite feasible for most people. Compared to other temples in Bangkok, the Wat Saket is definitely less crowded.
Information about the visit to Wat Saket
Getting there: By boat to Panfa Leelard (for example from Pratunam – Central Word)
Opening hours: 8 am to 7 pm
Admission: 50 Baht
Clothes: shoulders and knees must be covered!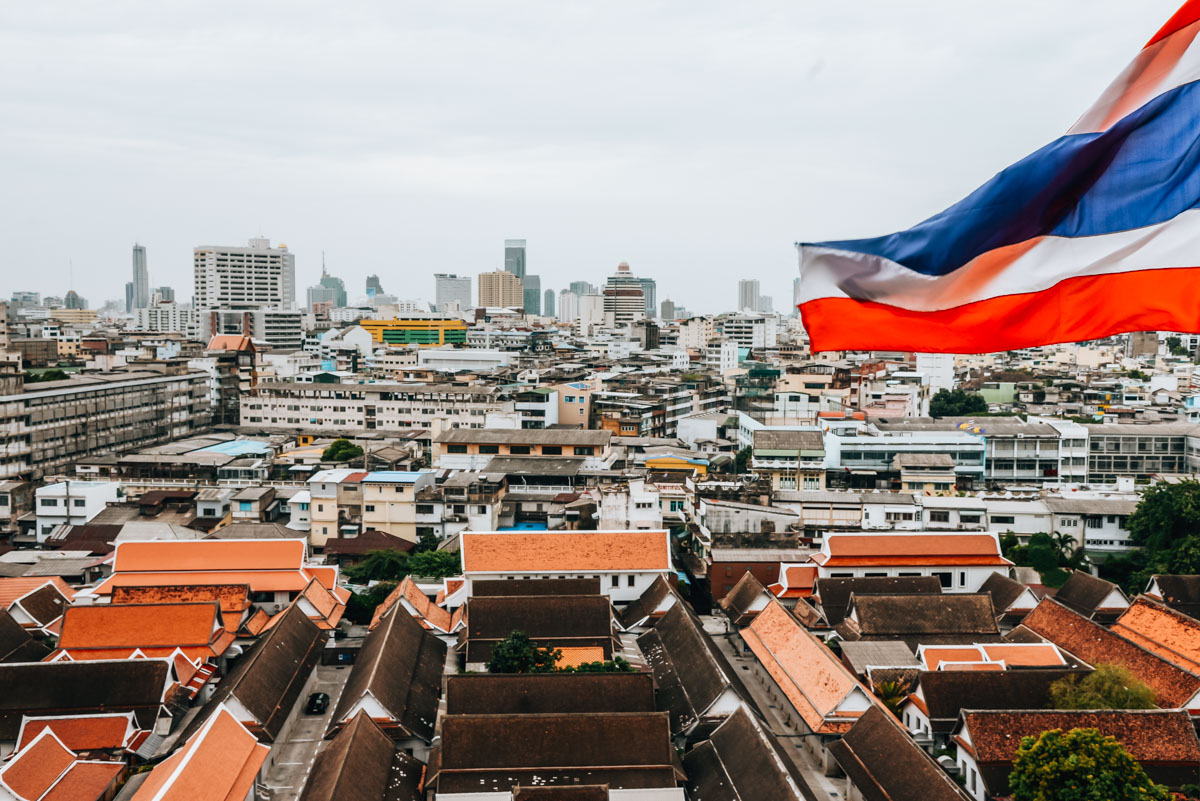 Sri Maha Mariamman Temple
This Hindu temple certainly stands out from the rest, with its colourful and unique design – we think a visit is very worthwhile. We got really lucky on our last visit, as there was a celebration going on when we were there – but unfortunately, you're not allowed to take pictures inside.
If you get hungry after visiting the temple: There is a market and several food stalls just across the street in Soi Silom 20.
Information about visiting the Sri Maha Mariamman Temple
Getting there: BTS to Chong Nonsi or Surasak
Opening hours: 6 am to 8 pm
Admission: free
2. Other Sights, Attractions and Districts in Bangkok
Maha Nakhon
The second tallest building in Bangkok has a rather striking architecture: personally, it reminds us of a Lego house. However, the Maha Nakhon is one of Bangkok's newer attractions and is home to Thailand's tallest viewing platform. But what an experience! Here, you walk out onto a glass floor where you can see 310 meters drop down below you. Definitely an experience that requires a little nudge – we have to say.
The entire visit to the Maha Nakhon (often also called King Power Maha Nakhon) is quite Americanized. It feels like visiting a skyscraper in New York –  and not just because the entrance fee of 880 Baht was rather excessive. Nevertheless, the view from the top is simply fantastic!
After the (somewhat staged) lift ride, you can move freely once you're at the top. To walk on the glass floor, you have to put on a protective layer over your shoes. Just a few steps up there is an open-air bar waiting for you. (Even those who don't dare to step on the glass floor will get their money's worth.)
Information about visiting the SkyWalk of Maha Nakhon
Gettin there: With the BTS to Chong Nonsi
Opening hours: 10 am to 7 pm
Admission: 880 Baht (on weekends), 530 Baht (on weekdays)
Lumphini Park
The Lumphini Park could be considered the green oasis in the hectic urban jungle of Bangkok. The park is located in the city centre, and with its man-made lakes and water canals, Lumphini Park reminds us a bit of New York City's Central Park – although you can't really compare the two.
Locals use the Lumphini Park for their daily exercise – be it jogging, strength training or Thai boxing. You also have the option of renting a paddleboat and enjoy some time on the lake.
Another very unique sight you might come across in the Lumphini Park are the many (and often huge) Monitor Lizards. The chance that you will encounter one of these critters is quite high.
Getting there: By MRT to Lumphini or Silom or by BTS to Sala Daeng
Chinatown
Illuminated Chinese characters, Chinese jewellery stores and street restaurants galore – welcome to Chinatown! The bustling district is one of our favourite places in Bangkok.
Bangkok's Chinatown feels like a different world and perhaps that's the way things are in Chinese cities. Although we do like the hustle and bustle of Chinatown a lot – we also find it quite exhausting after a while. Nevertheless, you should not miss a visit to Chinatown, especially during the evenings, when the streets are full of life.
Getting there: By MRT to Hua Lamphong or with the Express Boat to Ratchawong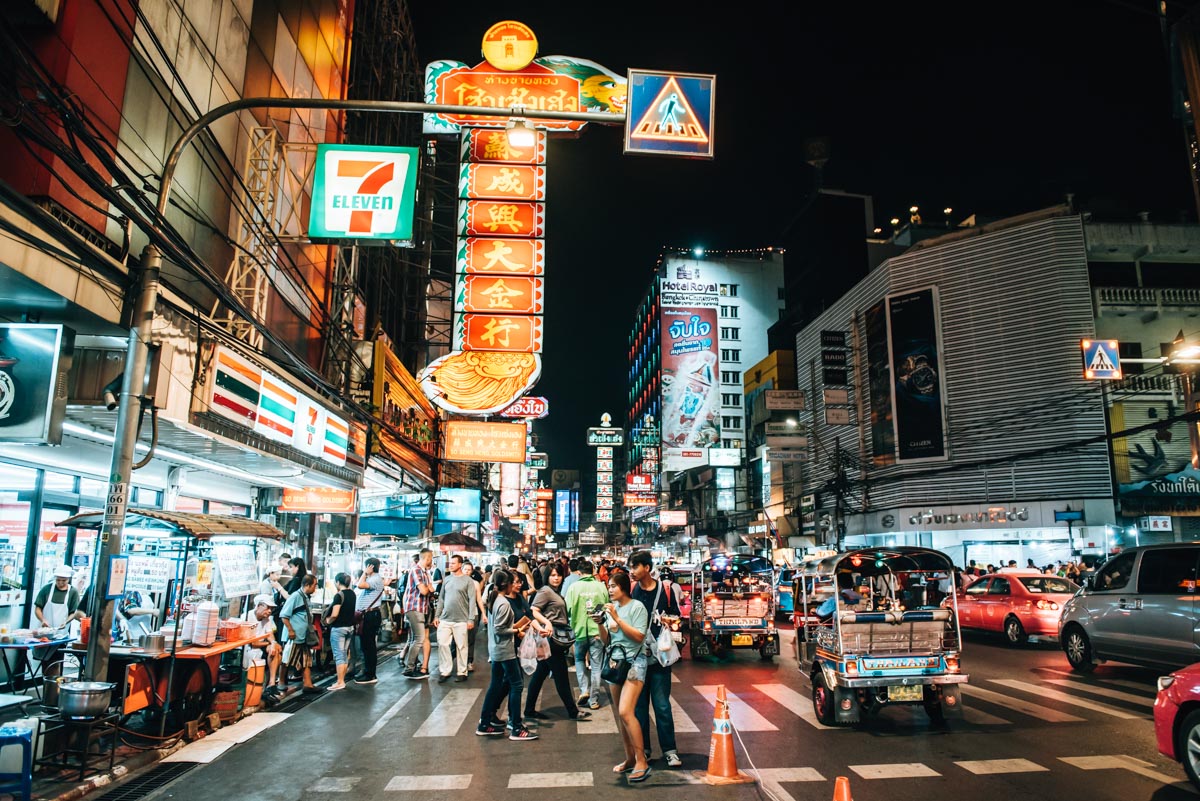 Rooftop Bars
The numerous rooftop bars should not be missed. It is considered an  attraction in itself, for those visiting Bangkok. We do not know any other city, which offers such a large selection of rooftop bars.
The most famous rooftop bar is undoubtedly the one featured in the scene of 'The Hangover' movie. But there are countless other fantastic bars with spectacular views over Bangkok. We share our favourites with you in our more detailed blog article linked here below.
Link: The Most Beautiful Rooftop Bars in Bangkok
3. Culinary Travel Guide to Bangkok: Markets & Street Food
Although markets and street food may not be your classic sight or attraction in a sense, they are an important cultural experience in itself and should definitely be on your to-do list when visiting Bangkok.
The Biggest Market: Chatuchak Market
The biggest and most popular market in Bangkok is the Chatuchak Market. This weekend market takes place every Saturday and Sunday and attracts upwards of several hundred thousand visitors! The cozier, smaller version of the weekend market is the Chatuchak Night Market, which takes place every Friday evening at the same location.
You should definitely allow several hours for a visit to these weekend markets as the total area is huge. If you want to bring a few souvenirs from Thailand, (such as dishes, clothes, etc.) then you are in the right place here at the Chatuchak market. Tip from us: our favourite corners were section 1 and 2, where you can find young, local Thai labels and lots of hipster/boho shops.
Getting there: By MRT to Kamphaeng Phet or by BTS to Mo Chit
Opening hours: Friday evening (from around 6 pm), Saturday and Sunday from about 9 am to 6 pm
Other Markets: Flower Markets and Local Markets
After the Chatuchak market, the popular Flower Market (Pak Khlong Talat) is probably next in line, attracting huge crowds of people. We don't think we have ever seen so many fresh flowers! The flower market is officially open 24 hours, but we think it's especially worthwhile going earlier in the morning.
A very popular night market is the Train Night Market Ratchada. The market is so crowded and hectic that we found ourselves looking for an escape plan pretty early on.
If you're looking for an authentic market where all the locals go, drop by the Wang Lang Market – there are endless street food waiting for you to try. For more information on the Wang Lang Market, see our more detailed blog article here: Bangkok Off The Beaten Track.
Food Tour through Bangkok
If you want to get an even deeper insight into the culinary world of Bangkok, then we can highly recommend you do a Food Tour. We decided to join the Culinary Tour through the Old Town of Bangkok. You will come across countless food stalls and restaurants where you can walk through and taste all the various delicacies that Thai cuisine has to offer.
You can book the tour here: Culinary Tour in the Old Town of Bangkok
Cooking Class in Bangkok
Do you want to learn more about preparing Thai food? Then we can recommend a Thai cooking class. There are countless cooking classes in Bangkok. Ours took place in the Amita Cooking School – a place wich we loved and can warmly recommend to you.
The owner Tam has created a small oasis in her parents' house. In the midst of herb gardens and the sound of the river, Tam and her wonderful team will bring you closer to the fascination of Thai food.
You can book the cooking class here: Amita Cooking School
4. Hotel Recommendations in Bangkok
If you are looking for a nice boutique hotel with an affordable price range, then we can highly recommend the Tints of Blue Hotel (see photos). This hotel is located in the lovely district of Sukhumvit and with individually decorated rooms as well as a rooftop pool – you can't go wrong with this place. 
Should you happen to be looking for a more budget category, then the Companion Hostel is the choice that comes to mind. This stylish hostel is run by the nicest owners ever and we couldn't recommend this place more. 
Since we have been to Bangkok countless times now, we have plenty more hotel tips and recommendations for you. You can read more about the different accommodation options for varying holiday budgets in our detailed blog article linked below.
Link: Hotel Recommendations in Bangkok
5. Map: Best Sights & Temples at a Glance
To help you navigate with a little more ease in the hectic city of Bangkok, we have pinned all the important sights and locations on this interactive map for you.
6. Extra Bangkok Travel Tips
Interested in other Thailand destinations?
You can view all our Thailand articles summarised here: Overview of All Thailand Blog Articles
---
Disclaimer: Affiliate Links
This blog article contains our personal recommendations in the form of so-called affiliate links. If you book or buy something through these links, we will receive a small commission. For you, this does not change the price at all. A million thanks from the both of us!
Are there other sights in Bangkok, which you would consider a 'must-see'? Tell us some of your favourite places and attractions – we look forward to your comment!