Metropolis Bangkok. If you travel to Thailand, you will almost certainly end up in Bangkok. Do you feel like you've already seen all the sights and experienced all the highlights? Then read on. We have been to Bangkok countless times and reveal in this article our personal insider tips for Bangkok.
1. The Best Pad Thai in Bangkok: Nunu Pad Thai
For a long time, Thip Samai (now very famous) was our number one point of reference for the best Pad Thai in Bangkok. Nowadays, the line of people coming out of the shop has just become too long for us. Sometimes you have to wait an hour before finally getting a seat. No biggie… we found a Pad Thai that tastes MUCH better.
Nunu is the name of the man who has on multiple occasions, prepared (hands-down) the best Pad Thai we have ever tasted. A few months ago we visited Nunu Pad Thai (also known as "Pad Thai Narok Saek"), because it was cooked exclusively on the street. He now has his own little eatery on Latya Road in the Wongwian Yai district.
To find Nunu is a bit tricky, because during our visit (February 2018), the customers were almost exclusively locals and everything is written in Thai. A good tip: look out for the cowboy hat. Nunu always cooks with a hat. In order to help you find Nunu Pad Thai easier, we have shown you the location in the map at the end of the article.
Not only is the Pad Thai the absolute best in Bangkok, it is also incredibly cheap: we pay just 100 baht for the both of us.
Conclusion: Highly recommend and is out of this world, in comparison to any other Pad Thai in Bangkok.
More about Nunu Pad Thai (= Pad Thai Narok Saek)
Prices: about 50 baht for a Pad Thai
Opening hours: every day except Monday from 4pm to 10pm.
How do I get to Nunu Pad Thai?
The nearest BTS station is "Wongwian Yai". Take exit number 3 and then use the lift to get down. Then turn into Soi Krungthonburi 1. This will take you to Latya Road. There you turn right (without crossing the Latya Road itself). Now it is about 200 meters to Nunu Pad Thai. You will find him after the bank (Siam Commercial Bank). Nunu cooks in the street wearing a cowboy hat.
Address: 286 Latya Road, Bangkok Thailand


2. Airplane Graveyard in the middle of Bangkok
"WTF! An Airport Graveyard? Whaaat?" – you must be thinking. But don't worry, that's how we reacted when we first heard about it. But it's true: in the middle of Bangkok, you will find abandoned aircraft wrecks in a fairly large area, including a huge Boeing 747. And as if that was not absurd enough: some of the poorer families actually live on the site, some even in the plane wrecks themselves in their dire conditions. The whole area is surrounded by a fence. If you want to visit the airport cemetery, you must be prepared for families to ask you for an entrance fee before they let you in. We were charged 200 Baht per person, but we only looked around the uninhabited planes.
The visit is just as creepy as it sounds! If you are looking for such bizarre things, or looking for a really special photo location, then you can definitely try it out. If you have little time, we would suggest you better save yourself the long journey and explore elsewhere.
Further information on the Airplane Cemetery (Airplane Graveyard)
Entrance Fee: Varies – it was 200 baht per person
How do I get to the aircraft cemetery?
The streets in Bangkok are hopelessly clogged especially at rush hour. Therefore, the quickest way to get on the public Khlong boat is to take the NIDA line. We hopped on at the station "Asok-Petchaburi". From there, it's another 17 stations to the terminus called "Wat Sri Bunruang". Then it's best to use a map app on the phone to navigate yourself. You have to go through the temple and then turn right and right again. Alternatively, you can also take a taxi to the aircraft cemetery. However, we can only recommend this in low traffic. Depending on where you are, schedule at least one hour for the journey.
Address: Ramkhamhaeng Road (You can see the exact location on the map we inserted at the end of the article.)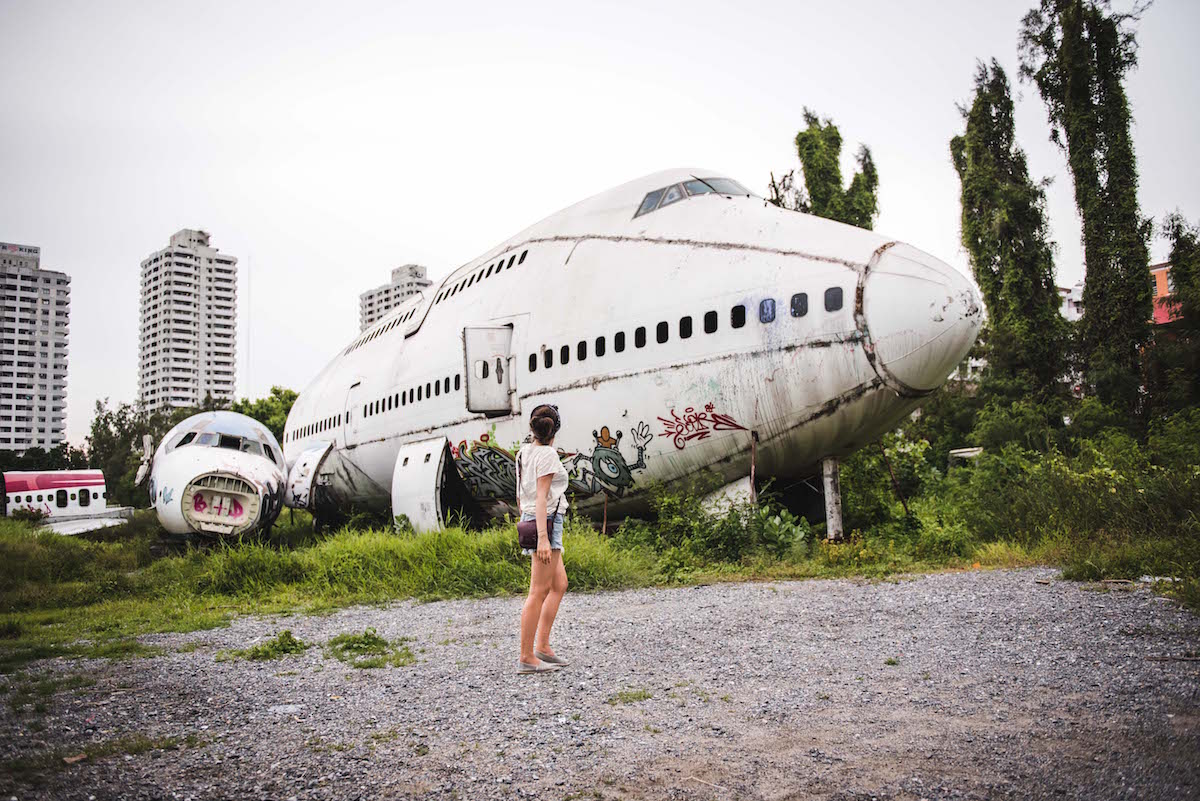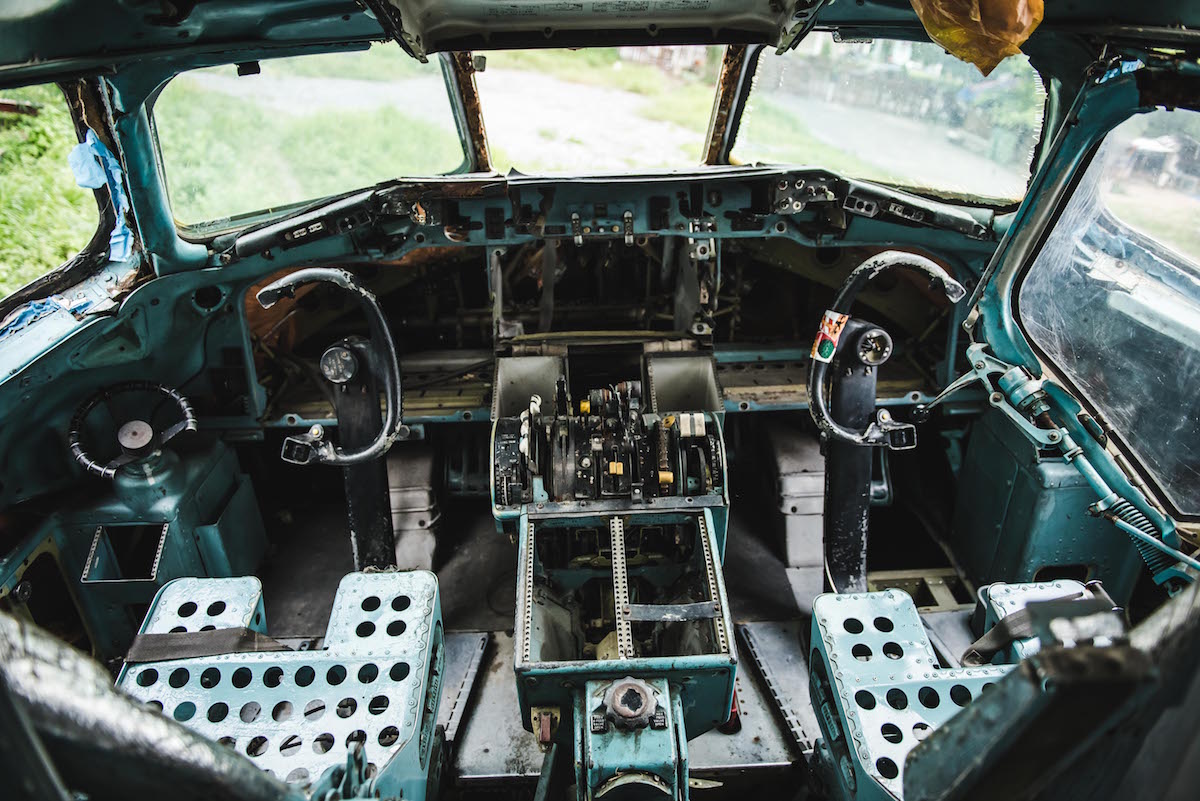 3. Insider Tip for Thai food: Steve Café & Cuisine
Thanks to our friend from Thailand, we got to know about this culinary gem. The restaurant Steve Café & Cuisine is located on the Chao Phraya River – yet it's a bit hidden away. On our last visit (December 2017) we noticed that the restaurant is now well known to tourists. However, we still like this place very much.
At the entrance, it's still quite traditional to take off your shoes. The dishes are excellent value for money and even if we sometimes don't know exactly what we're eating, everything tastes excellent. If you want to come in the evening, then you should probably book in advance and ask for a place right on the river. During the day, we have been able to get hold of a spot on the riverside without any problems.
More information about "Steve Café & Cuisine"
Prices: Main courses about 80 to 160 Baht
Opening hours: every day from 11am to 10:30pm
How do I get to "Steve Café & Cuisine"?
It's best to take a Chao Phraya Express boat to station # 15 called Dhevet (or Thewet). All lines except the blue tourist boat stop here. From the pier you can already see the restaurant, but you have to do a little detour: First, you go back a bit and then left over a small bridge and through a temple.
Address: 68 Sri Ayuthaya road, Soi Sri Ayuthaya 21 (Devet), Vachiraphayabaan, Dusit, Bangkok 10300, Thailand
4. The Coolest Rooftop Bar in Bangkok: Above Eleven
Bangkok is for us the city of rooftop bars. The Skybars here are like sand on the sea. Our favourites are presented in our article Rooftops Bars in Bangkok. The bar that won best overall is definitely not the famous "Hangover Bar" (Skybar on the roof of the Lebua Hotel), but the much lesser known bar called Above Eleven. The view is not quite as spectacular, but the atmosphere is much cozier and the prices really affordable. We can wholeheartedly recommend!
More information about Above Eleven
Prices: Cocktails (Mojito, Long Island Icetea and similar drinks) about 280 THB (plus service charge and tax). Beer (Singha) about 180 THB.
Dress code: Not very strict, but men are better off avoiding sleeveless shirts or open shoes.
How do I get to Skybar Above Eleven?
Take the Skytrain (BTS) to the station "Nana". From there you turn into Soi 11. After a few hundred metres, the road goes around. Continue until you reach the right hand to the Fraser Suites. Above Eleven is located on the roof of the Fraser Suites.
Address: 38/8 Soi Sukhumvit 11, Khlong Tan Nuea, Khet Vadhana, Bangkok 10110, Thailand
5. The Best Hipster Breakfast in Bangkok: Luka
Thailand is not necessarily known for its western breakfast hotspot. However, we went on a mission in search of somewhere viable in Bangkok and found an insider tip. The Luka Bangkok serves delicious breakfasts, from Açai Bowl to Shakshuka. We were really in the 7th heaven! In addition the coffee is delicious – a dream for breakfast fans, like us.
Incidentally, inside Luka is also an interior shop that had our attention from the first second! We would have liked to have taken back a few of those souvenirs with us! So if you need a break from the hotel breakfast or the unimaginative banana pancakes in Bangkok, visit the Luka – you will not regret it!
More information about Café Luka in Bangkok
Price: Not very cheap: we paid a total of 950 baht for 2 breakfast dishes and 2 cappuccinos.
Opening hours: Monday to Sunday from 9am to 6pm
How do I get to Café Luka?
The nearest BTS station is Surasak. From there, head east on Sathorn Road and turn left into Pan Road. After about two minutes you will reach the left to Café Luka.
Address: 64/3 Pan Road, Khwaeng Silom, Bangkok, Thailand
6. Wang Lang Market: A Market for Locals
The Wang Lang Market is just how we imagined an authentic market in Bangkok to be: chaotic, twisty and pleasantly unexciting. Don't get us wrong: you can really immerse yourself in the daily life of the locals here and that's what we love about the Wang Lang Market. That's also the reason why it's a real insider tip for us in Bangkok.
Above all, you'll find lots of kitchen stands and food stalls at Wang Lang Market, as well as the typical Thai food. Meanwhile, tourists get lost here, but on the whole, the Wang Lang Market is very authentic and is mainly visited by locals.
For more information about Wang Lang Market
Opening hours: daily from 10am to 4pm
How do I get to Wang Lang Market?
To reach Wang Lang Market, it is best to take a Chao Phraya Express boat to Station No. 10 ("Wang Lang"). All boats stop here, except the blue tourist boat. From the pier you only have to go a little bit to the west and you're in the middle of the market.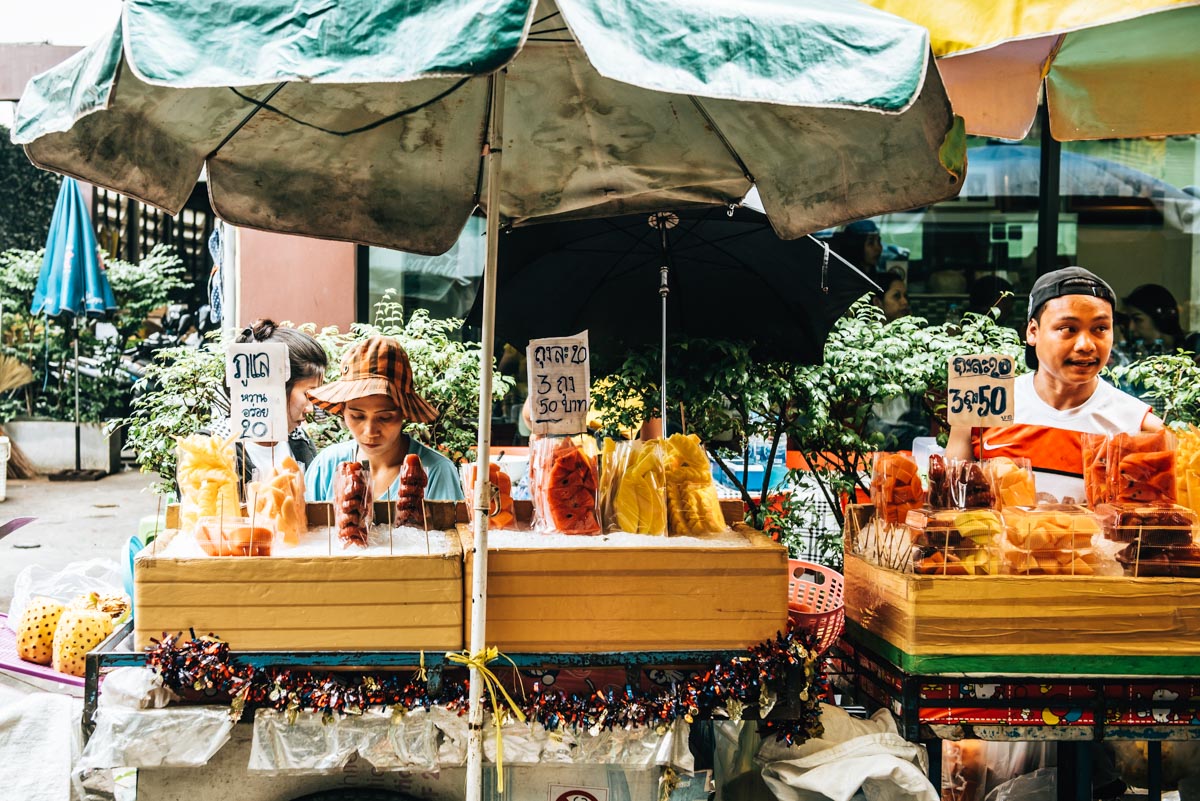 7. Chatuchak Night Market: The Alternative to the Weekend Market
All Bangkok travellers talk about the Chatuchak Weekend Market, but few know that Bangkok's largest market has been opening its doors on Friday night. So, when all the young Thai locals frolic here and the sun is not burning from the sky, this is the best time to visit.
More about Chatuchak Friday Market
Hours: Friday around 6pm until after midnight, peak time is around 10pm
Attention: On Fridays only the shops along the main streets are open so that there are comparatively fewer shops than at the actual Chatuchak weekend market. The atmosphere is thus much more comfortable.
How do I get to Chatuchak Friday Market?
Take the skytrain (BTS) to the station "Mo Chit". There, take Exit # 1 (Exit 1) and just follow the crowds.
Address: Kampaengphet 3 Road, Khet Chatuchak, Bangkok 10900, Thailand
8. The Best Place to Stay in Bangkok: The Companion Hostel
Whilst looking for a nice but cheap double room, we came across the Companion Hostel in Bangkok and have been there twice already, because we find it so comfortable and inviting. The Companion Hostel did not open until the end of 2017 and we were among the very first guests. The owners, a young Thai couple, are so incredibly gracious and helpful – something we don't come across often.
The rooms are huge and its style is very pure and very modern. It feels like home from the first moment. So far we have only stayed in the double rooms, but the dorm beds are also very large and the showers & toilets really clean. The only downside, which you can honestly ignore, is that in the building next door there is a kind of leather factory, which runs during the day and you can hear the noise from the hostel – it sounds a bit like construction work. This was a disadvantage we were happy to overlook because on all other levels, this hostel really has everything! By the way: all the people whom we've recommended this hostel so far have also been thrilled with it. 
If possible, book a double room upstairs. The one on the ground floor is bigger, but a bit noisy.
Here you can book the hostel: The Companion Hostel
9. More tips for Bangkok
Our blog articles and travelogues from Bangkok:
---
Transparency: This blog article contains our personal recommendations with so-called affiliate links. If you book or buy something through these links, we will give you a small commission. Don't worry, this won't change the price for you and this way you can easily support our work. Cool thing, right? A million thanks from the both of us!
What are your insider tips for Bangkok? We look forward to your comments and experiences!