The feeling of standing alone on the very top of a Mayan pyramid and being surrounded only by jungles, as far as the eye can see – is a feeling unlike any other. The two Mayan sites of Calakmul and Becán in the state of Campeche are relatively untouched by tourism. And what's more, Calakmul is particularly impressive with its spectacular location in the middle of the rainforest, away from any civilisation.
We visited both ruins and got more than we asked for. Where else do you come across a group of wild monkeys in the middle of your track towards a ruin? In this blog article we will tell you all our tips for visiting the ruins of Calakmul and Becán.
1. Calakmul & Becán: The Mysterious Mayan Ruins – Away from Mass Tourism
Once you've left Tulum and its ruins behind, you realise how non-touristic the state of Campeche is. In Xpujil, which serves as a base for those looking to explore the neighbouring ruins, you will find just a handful of accommodation options. The feeling of having arrived in the middle of nowhere, hits you quite quickly – we can promise that much.
It is a great way to explore the Mayan sites of Becán and Calakmul. Becán is on the way from Bacalar to Campeche. And even Calakmul is not as complicated to get to (contrary to what we've read), although Calakmul clearly has the edge in terms of that jungle feeling. Both ruins can (still) be climbed. The experience is, of course, quite different from Chichén Itzá or the ruins of Tulum, which you can admire only from below.
Who is Becán and Calakmul suitable for?
If you are interested in Mayan ruins, then a visit to Becán and Calakmul is a must. Both are among the most spectacular sites we visited on our Yucatán road trip.
For all those who plan to travel to Campeche (city), we would suggest a stopover in Xpujil (especially since the entire route from Bacalar to Campeche is too far in one go). If you want to explore a little off the beaten track in Yucatan, then you will surely love Becán and especially Calakmul.
If you are traveling with children, we would recommend Becán, as it is much easier to reach than Calakmul.
2. Calakmul: All Important Information and Tips
Of all the Mayan ruins that we visited in Yucatán, Calakmul is by far the most secluded and thus most mysterious. The ruins of Calakmul are far from any civilisation in the middle of the Calakmul Biosphere Reserve. And that means: From Xpujil (which is already rather secluded) you will travel another two hours by car, with the last 60 Kilometres taking you through the deepest jungle.
And when we say the deepest jungle, we really mean it. To give just one example, at one of the turns, our driver abruptly stopped to tell us that he had spotted a Jaguar at exactly that spot three weeks ago. Yes, that's right – a wild Jaguar crossed the street right in front of his car! It felt so surreal. 
Although the chances of hitting a Jaguar are extremely low, you will almost certainly come across other animals: in the middle of a ruin, for example, a family of wild monkeys crossed our paths. We also saw peacock, turkeys and toucans.
Today, Calakmul is a remote site. But in the time of the Mayas, it was so significant and Calakmul is actually considered as one of the most important and largest Mayan sites – of which we can promise you that its former glory can only be fully appreciated (and imagined) with a visit.
Attractions in Calakmul: Tips to visit
Loop Track Trail
The area of ​​Calakmul is very spacious, but you can still visit it on foot. You can choose between the short, medium or long route trail. We chose the medium-distance route, which took us around 3.5 hours (with long photo breaks and climbing the ruins, mind you). The trails are on the whole very well signposted so you don't have to worry about getting lost. (Nevertheless, it does not hurt to have an offline map on the phone or at least a photo of the map found at the entrance, just in case)
We can highly recommend the medium-long trail ("ruta media") as we found it was just the right length. This trail brings you to the highlights of Calakmul. (We ended up with an extra stop at Estructura I.)
The Main Ruins of Calakmul
The highlight of Calakmul is the biggest ruin: Estructura II. You should absolutely make sure you climb this pyramid. From below you cannot fathom just how giant this 45m high construction is. But once you're at the top, you can not help but be speechless. Here you can see nothing but tree-tops and Mayan ruins. No electricity pylons, no houses, nothing. Just breathtaking! From the top you also have a nice view towards the Estructura I. What we also found extremely fascinating: Calakmul is actually just a mere 30 kilometres from the border of Guatemala, so as you gaze into the distance, you are looking at a different country!
Back to Estructura I: You can make a detour to Estructura I from the big ruin (Estructura II). (Strictly speaking, this spot is not actually on the medium "ruta media" trail). However, climbing Estructura I is not quite as spectacular as you do not really see the big ruin from up here, as it is completely overgrown on the back.
However, it is worthwhile to climb Estructura VII. This ruin is located directly opposite the main ruin (Estructura II) and therefore you have a nice view from the the opposing side.
How to get to Calakmul
Option 1 – on your own: It is possible to travel to Calakmul with your own rental car. There are no public buses. Most people (including us) simply spend the night in or near Xpujil. From there, the journey by car takes about two hours. First, the route runs along the main road. The (signposted) branch to Calakmul comes on the left hand side, just before the place Conhuas.
From the junction, there is a road that branches off leading straight in the direction of Calakmul. The road conditions vary, sometimes good, sometimes terrible – the road conditions tend to get worse the closer you get to Calakmul. Apart from some potholes, it wasn't as bad as we were expecting. You will drive along this road for about a good hour (60 kilometres) before you reach Calakmul.
Option 2 – with a driver/tour: If you are not travelling with your own rental car, then you're going to have to reach into your pockets. Unfortunately, our car was having some troubles and to stay on the safe side, we decided to hire a private driver instead: For a return trip from Xpujil we paid at least 1,500 Pesos (converted is about 70 Euros). The best advantage was that we could relax and sleep a little on the return trip back.
If you want to visit the Mayan ruins of Bacalar or Palenque, then you can book a tour from there to the ruins of Calakmul (and back). Such a tour comes highly recommended and you can actually book yourself a tour via GetYourGuide. The disadvantage, of course, is that you have to skip Becán.
Book here: Tour from Palenque or Bacalcar to Calakmul
Be careful when travelling from Bacalar or Tulum to Xpujil: There is a time zone difference of 1 Hour between the states of Quintana Roo and Campeche. So you actually 'gain' an extra hour.
Info at a glance
Admission: A total of around 240 Pesos per person (Divided into three payments along the way: 1st at gate by the junction of the main road, 2nd at the gates into the National park, 3rd entrance fee to the ruins.)
Camera fee for video recording: 45 Pesos
Opening hours: 8 am to 5 pm daily
A few more tips
Come early, it's so worth it! We were there at about 8:45 am, so it was not that hot and there were very, very few people along the way.
Bring enough water and some food with you from Xpujil – there are no stalls on site!
Most important: sunscreen and mosquito spray – don't be frugal with them either!
We wore long pants and clothes that had good coverage. While this is not necessary, we certainly did not regret it!
Take a photo of the map right at the entrance. If you lose your way, that photo is your lifesaver. Even an offline app on the phone is a good idea to find your location and bearing again.
Plan at least 3 hours in Calakmul, as well as an extra 2 hours for the journey from Xpujil.
A guide is not essential for exploring the Mayan site, but of course the visit will be more informative. If you want to explore Calakmul with a guide, you should make arrangements (eg. through your hotel) beforehand before you come to Xpujil. In our case, there were actually no available English speaking guides left.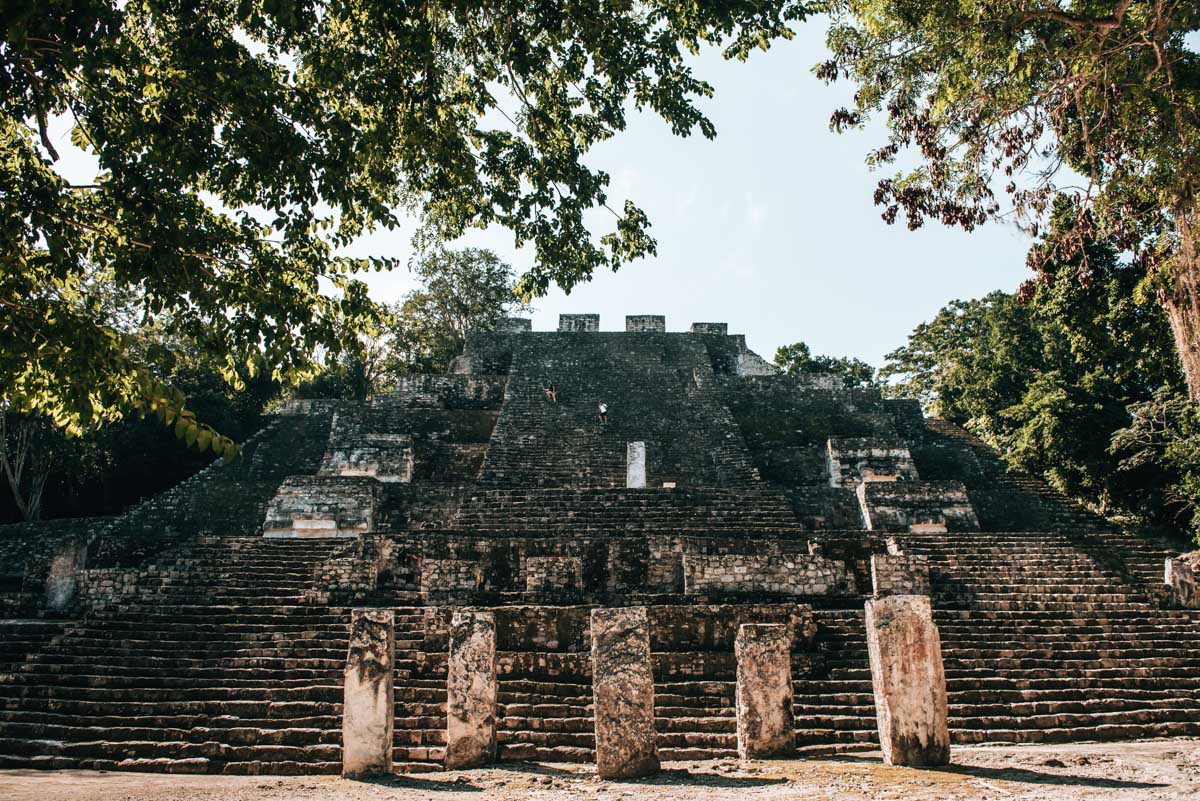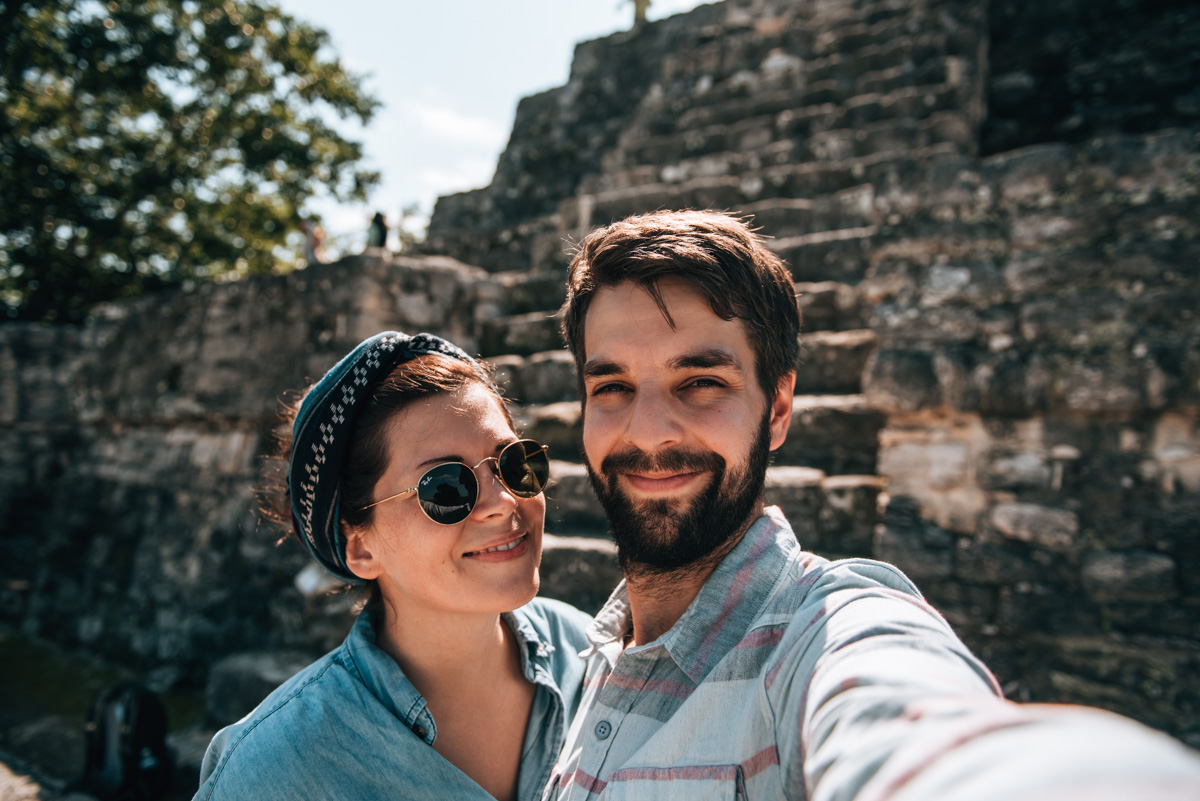 3. Becán: All Important Information and Tips
Becán is far easier to reach than Calakmul, but the feeling of seclusion is not as prominent here. This ruin site is located almost directly on the main road, just a few miles outside of Xpujil.
Becán is a bit of an insider tip among the ruins of Yucatán. To be honest, our visit to Becán was quite a coincidence: in the afternoon, after our arrival in Xpujil, we had some time left and so we spontaneously decided to visit the ruins of Becán. Best decision! We really enjoyed it, especially because these gigantic ruins were an unexpected surprise.
Attractions in Becán: Tips for your visit
The Main Ruins of Becán
The main ruin of Becán (Estructura IX) is 32 metres high and is able to be climbed (which we also recommend to you). For extra safety and security, there is a rope which you can hold on to. From the top you have a magnificent view in all directions. Of course you realise that you are not quite as isolated as in Calakmul. Nevertheless, the view is worth seeing. From the Estructura IX, you also get to see the much smaller Estructura VIII.
We would also recommend you to climb this as well. Although the view from the Estructura VIII is generally not that impressive for the majority of the way, it does offers you a great view of the gigantic Estructura IX (ie. the main ruin of Becán.)
How to get to Becán
Becán is located just 8 kilometres outside Xpujil, a few streets away from the main road. The easiest way to reach Becán is by car. There is a car park where you can park for free. If you are not travelling by car in Yucatan, there are taxi drivers in Xpujil who will take you to the ruins.
Between the states of Quintana Roo and Campeche, there is actually a time zone difference of 1 Hour. If you are travelling from Bacalar or Tulum to Xpujil, you will technically gain an extra hour.
Info at a glance
Admission: 65 Pesos per person
Opening hours: 8 am to 5 pm daily
A few more tips
We personally found mid afternoon (after 3pm) most ideal for a visit. The lighting and mood slowly became more beautiful than at noon and you can also visit Calakmul and Becán with just one overnight stay in Xpujil.
As always: bring enough water – there are no stalls here. Maybe even have a small snack on the go. If you go up and down the many stairs, then often a small energy boost is necessary.
The map at the entrance was very faded during our visit (December 2018). We recommend an offline map on the phone just in case, so you won't get lost. Personally, we found the signage (red arrows) much worse than in Calakmul.
For your visit you should allow at least 1.5 hours (but generally longer). The area is not as spacious as Calakmul, but also not small.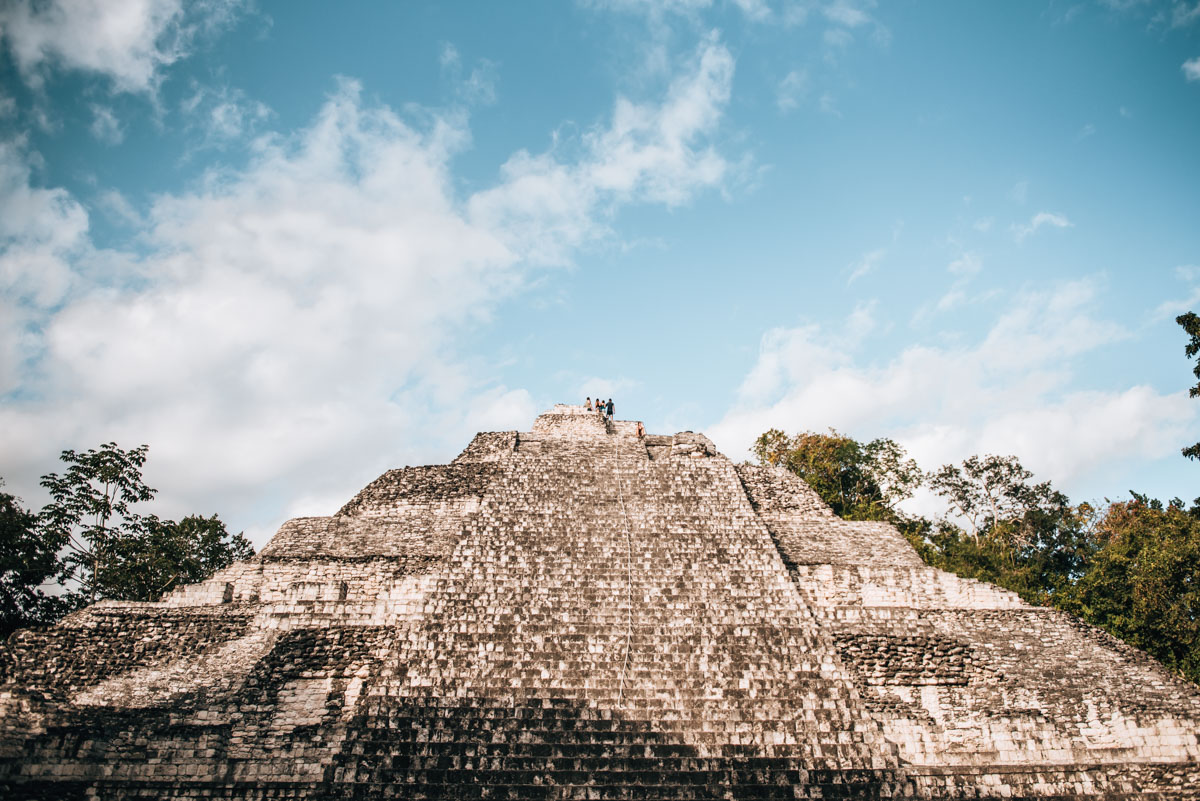 4. Accommodation near the Mayan Ruins
In general, the entire region is very, very sparsely populated. There are really no large cities. A popular starting point to explore Calakmul and Becán is Xpujil. This small village with just a few thousand inhabitants, offers a fair handful of accommodation options.
The choices are limited and you shouldn't expect luxury. However, we can highly recommend the Casa Ka´an.
Our Tip: Casa Ka´an
Casa Ka´an is located outside the center of Xpujil in a very quiet, secluded location. It almost feels like in the middle of the jungle here. The accommodation is very spacious and close to nature and consists of several small bungalows.
The rooms in the bungalows are basic, but comfortable and the staff are incredibly friendly and courteous. But as said before, you shouldn't expect luxury in this area.
The location is ideal for visiting the ruins of Calakmul and Becán. You can also book a guide / driver directly here. Conclusion: Highly recommended and – especially compared to other accommodations in the area – a great place with great value for money.
Here you can book the hotel: Casa Ka´an
---
Disclaimer: Affiliate Links
This blog article contains our personal recommendations in the form of so-called affiliate links. If you book or buy something through the links, we will get a small commission. For you, this does not change the price. A million thanks from the both of us!
Have you ever explored the Mayan ruins of Calakmul and/or Becán? How did you like it there? If you have any more tips or experiences you'd like to share, then we would love to hear them in the comments below. Thanks so much!