Welcome to Canggu, probably the hippest place in Bali. In recent years, Canggu has developed unlike any other town in Bali: Once a sleepy coastal town, today it's an Instagram paradise and digital nomad hotspot. Nowhere else in Bali are the smoothie bowls more photogenic, the people more beautiful and the vibes cooler as in Canggu.
Canggu magically pulls in the young travelers, and we also wanted to get an insight into what might just be the hippest town in Bali. Our conclusion: It wasn't exactly the greatest love of all, but we would visit again, and we also understand why Canggu is the ultimate trendy travel destination.
Are you also thinking of traveling to Canggu? In this travel guide we show you what awaits you there and of course reveal our personal tips for your trip to Canggu.
1. Canggu Travel Guide: Initial info & good things to know
Canggu is located on the south coast of Bali, not far from the tourist places of Seminyak and Kuta. However, the vibe in Canggu is something quite different: In Canggu you meet surfer gals and guys, relaxed people, digital nomads, and young families.
The bad news: Canggu itself is not such a beautiful place. Perhaps that sounds a bit harsh, but Canggu clearly lives off the 'cool' vibes. Canggu's main beaches (Batu Bolong or Echo Beach) are not nearly as heavenly as one might hope. The sand is fairly dark, and the water often dirty. But you do find the perfect surf conditions here – one reason why so many people travel to Canggu.
Canggu is surrounded by rice fields. The nature is not nearly as spectacular as around Ubud, for example, but still quite beautiful. Good to know: Canggu is quite large. It doesn't really have a 'centre' as such. Instead, it stretches itself across many kilometres.
Who is Canggu a suitable destination for?
For surfers and anyone who would like to learn: There are quite a lot of options for surf schools and surf camps in Canggu and nowhere else in Bali will you find so many people in one place with their surfboard on their scooters, whizzing through town.
For foodies: There are more hip places to eat in Canggu than you could ever possibly try during your stay. True to the motto 'you eat with your eyes,' you can look forward to artistically prepared food and drinks.
For digital nomads or people who are looking for a retreat to work or relax for a long time: Sounds strange, but the digital scene in Canggu is really big, the internet fast and reliable and there are many wonderful accommodation options.
When you are looking for a coastal town for a classic beach holiday, then we would advise against Canggu. The beaches are not all that inviting for swimming. You can swim in the sea but the currents are quite strong.
The best time to visit Canggu
There are two seasons in Indonesia: The rainy season and the dry season. The climate is tropical all year round, so you need to prepare yourself for very high humidity.
The dry season (from around April/May to October) is the season with the more stable weather conditions. It tends to rain less – but there is still the odd downpour here and there! We ourselves were in Bali during April and May one time and found it very comfortable then. As well as having little rain, the landscape was also a lush green and beautiful right after the rainy season. 
December and January are considered to be the months with the most rainfall. However, we can reassure you: We were also in Bali during January (e.g. in Canggu) and didn't find it quite so terrible. Sure, the sky was often overcast and it rained a lot – but then there was also a lot of sunshine.
The sea is often very cloudy during the rainy season and a lot more rubbish usually washes up. You should definitely be prepared that your plans will almost certainly need to be cancelled now and then during the rainy season due to a downpour.
How do I get from A to B in Canggu?
Canggu is comparatively well spread out and stretches itself over several kilometres. Most people rent a scooter to reach the beaches and restaurants quickly and comfortably.
You can also walk to some places but that can get quite tiring after a while (especially during the heat of the day). Also, Canggu (like all of Bali) is not exactly the most pedestrian-friendly destination. For example, there are often no footpaths and it could be that you need to walk past a pack of barking dogs. (There are comparatively very, very many dogs in Bali.)
Therefore, we recommend renting a scooter for your time in Canggu. The easiest way to do it is through your accommodation. You can get a scooter for around 75,000 IDR per day. The longer you rent your scooter, the more of a discount you can negotiate. Important: Driving a scooter in Southeast Asia always carries a risk. We let you in on our tips for driving a scooter safely in this article: Indonesia Travel Tips.
Travel Guides for Indonesia: Our Tips
We recommend the Lonely Planet guides for Indonesia. These are our number one go to because they are well-researched, very detailed and filled with great tips. Whether you are just travelling to Bali (and Lombok) or also to other Indonesian islands, we can recommend the following two travel guides:
2. Five things to do in Canggu: Our Tips
Surfing in Canggu
There is one thing that's hard to avoid in Canggu: Surfing. Canggu's beaches are amongst the most famous (and also busiest) surf spots in Bali. You will find tanned people running around with surfboards or driving with their boards on scooters everywhere.
If you want to learn surfing, then Canggu is definitely a great place for it. In Canggu you can find as many surf courses and surf camps as there is sand on the beach. We can recommend The Chillhouse Bali for you (where we ourselves also stayed). There they offer surf courses with great qualified instructors.
If surfing is not really your thing: No problem – we get it. It is also fun just to watch the surfers from the beach. There are definitely better spots in Bali for swimming in the sea than Canggu, just so that you're aware.
Yoga in Canggu
Even though Ubud is really the yoga-capital of Bali, there are also enough options available to practice your sun salutations in Canggu. Many accommodation places have their own yoga shalas or courses and there are also several yoga studios.
We ourselves were lucky that we our accommodation (The Chillhouse Bali) offered a yoga session twice daily right on site. The yoga on offer ranged from peaceful meditation sessions to challenging vinyasa flows. If you are looking for a place to stay with a broad range of yoga options, then we can highly recommend the Chillhouse. We reveal more details about our stay further down in this blog article.
If you are more on the search for a yoga studio, then we recommend The Practice for you. In this studio you practice under a huge bamboo roof – a unique location with a very special atmosphere. The yoga teachers are also very experienced.
Eat well: Canggu for foodies
Canggu is a paradise for anyone who loves good food. There is a crazy large number of options of hip eateries, and it feels like new restaurants and cafés are added every day. From cheap warungs (simple, authentic restaurants) to stylish hipster cafés, you'll find it all.
Crate Café: One of our absolute favourite breakfast places in Canggu. Crate Café is so popular that it's often jam-packed in the morning. We love their breakfast "Peas Please": Avocado on toast with spinach, a poached egg and peas – delicious! You should definitely stop by here when you're in Canggu. 
Café Organic: Very pretty ("Instagramable") café with delicious smoothie bowls. The ratings on various platforms are sometimes mixed but we really enjoyed our food here.
The Shady Shack: This vegetarian restaurant with several vegan dishes is highly recommendable. And: The atmosphere is also terrific. You sit out amongst the greenery (don't forget your mosquito spray).
Peloton Superstore: Another trendy eatery and a paradise for vegans. The food is delicious and the atmosphere is very relaxing.
Warung Dandelion: If you would like to eat traditional Indonesian food in the evening, then get yourself to Warung Dandelion. Here you sit in a very beautiful, romantic garden. The prices are more than fair, and the service is exceptionally courteous.
Finns Beach Club: We haven't been to the Beach Club ourselves, only to its bar. The prices are rather high, but you can enjoy a great sunset from here.
Marvel at the sunsets in Canggu
Canggu is oriented towards the southwest. Therefore, the beaches in Canggu are made for magnificent sunsets. You can either relax in the sand or take a spot in one of the countless bars to enjoy it. The sun goes down in Bali between 6pm and 6:30pm year-round – so it's ideal for a sundowner or an evening meal.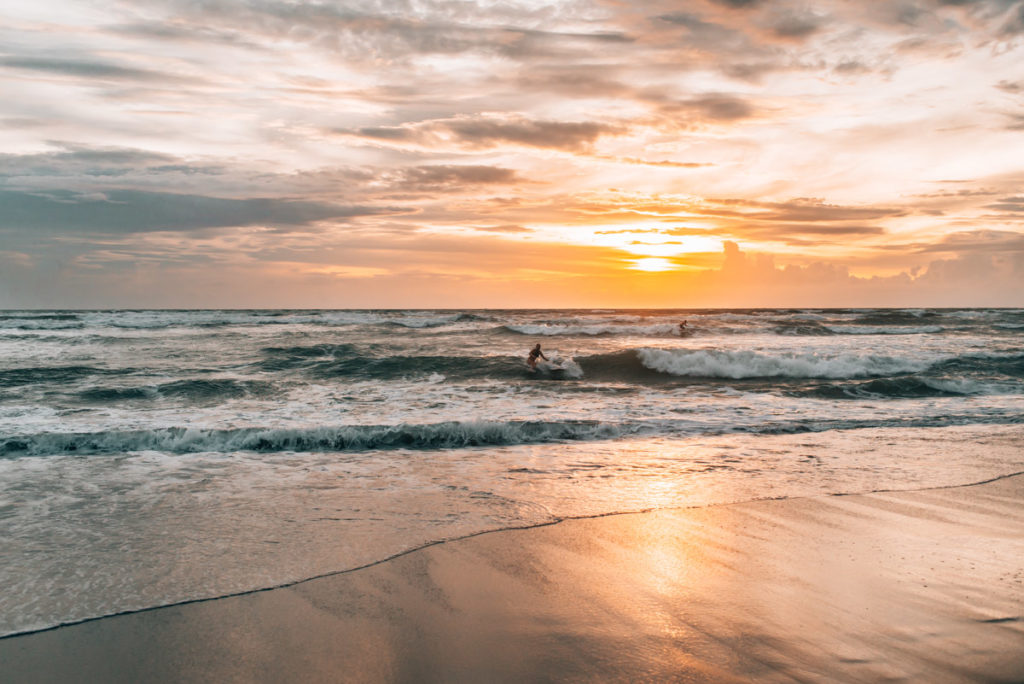 Nightlife: Partying in Canggu
Last but not least: If you like to party, then you're in good hands in Canggu. There is now no weekday where you won't find a party or an event happening somewhere. Admittedly, we are not really party people at all, but we didn't miss the opportunity to also experience the nightlife in Canggu.
One of the hotspots is the Old Man's, located right on Batu Bolong beach. It is very cosy here during the day. Early in the evening they have live music and sometimes a DJ plays. It is also jam-packed at the legendary Sunday parties in Deus. They often have local bands playing here and you can dance all night.
3. Where to stay? Our hotel tip for Canggu
We ourselves spent a week staying at The Chillhouse Bali and can warmly recommend this accommodation to you. The name says it all: The Chillhouse is all about relaxing. They offer two yoga sessions daily at the in-house yoga shala. You can also book a surf course here.
The rooms are made to feel good: We ourselves stayed in one of the really stylish Deluxe Rooms. The breakfast is incredible – we found the various smoothie bowls to be especially tasty. Dinner was also excellent (can be booked as an extra). You usually eat at one of the large tables with the other guests – like a big family.
That brings us to our next point: The atmosphere in The Chillhouse is very familiar and friendly. You can easily have a conversation with others (perfect for solo travelers), but there is also enough space to retreat. The grounds are fairly spacious and green. There are two pools and they also offer massages, which are highly recommendable.
The Chillhouse is located a bit out of the way – it takes around five minutes to reach the beach by scooter. This means that it is very peaceful and relaxing. Our conclusion: We would stay here again anytime!
You can book the accommodation here: The Chillhouse Bali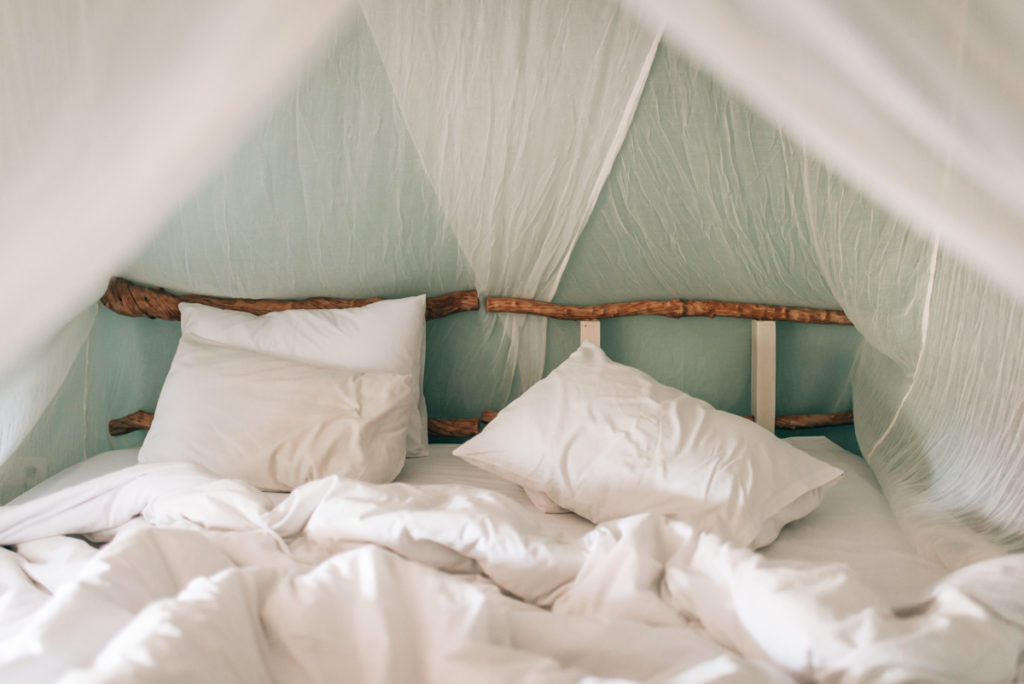 ---
Disclaimer: Affiliate Links
This blog article contains our personal recommendations in the form of affiliate links. If you book or buy something through the links, we receive a small commission. This does not change the price for you at all. A million thanks from the both of us!
Have you already been to Canggu and have some additional tips? Or are you planning a trip and have some more questions? We look forward to your comments!