Are you traveling to Ubud and planning to go on a day trip on motorbike? Here is how to get the best out of it!
Yes, Bali is beyond doubt a touristy place on earth – as well as Ubud. There is even a Starbucks there – how weird is that? Nevertheless, Bali is amazing! What we absolutely loved about this island is its impressive scenery: lush green surrounding, rice fields and a volcanic landscape. Bali's stunning nature definitely impressed us more than its beaches.
During our time on Bali, Ubud for us was arguably the best place to use as a base. On our first day we rented two bikes, not thinking about how hilly Bali's countryside is. On our second day we rented a motorbike which for us was the best decision ever. Forget taxis and private drivers. They're expensive and don't allow you to be as flexible as you probably want to be. Go for a motorbike! Enjoy the freedom, enjoy the airflow, enjoy easiness. It feels damn good!
By the way: We traveled with the Indonesia-Lonely-Planet
Travel Guide. The new edition was recently published.
A day trip on motorbike
Today we want to tell you about our most beautiful day trip from Ubud on a motorbike. The landscape surrounding Ubud is stunningly beautiful. Our heart sinks when we're thinking about our amazing time there.
Let's start the day early. While having breakfast, we're watching an employee of our guesthouse placing colorful offerings across the garden. She lights incense sticks. She does that everyday. She looks focused. We're smiling. Hinduism is in fact a religion that is appealing to us more than others.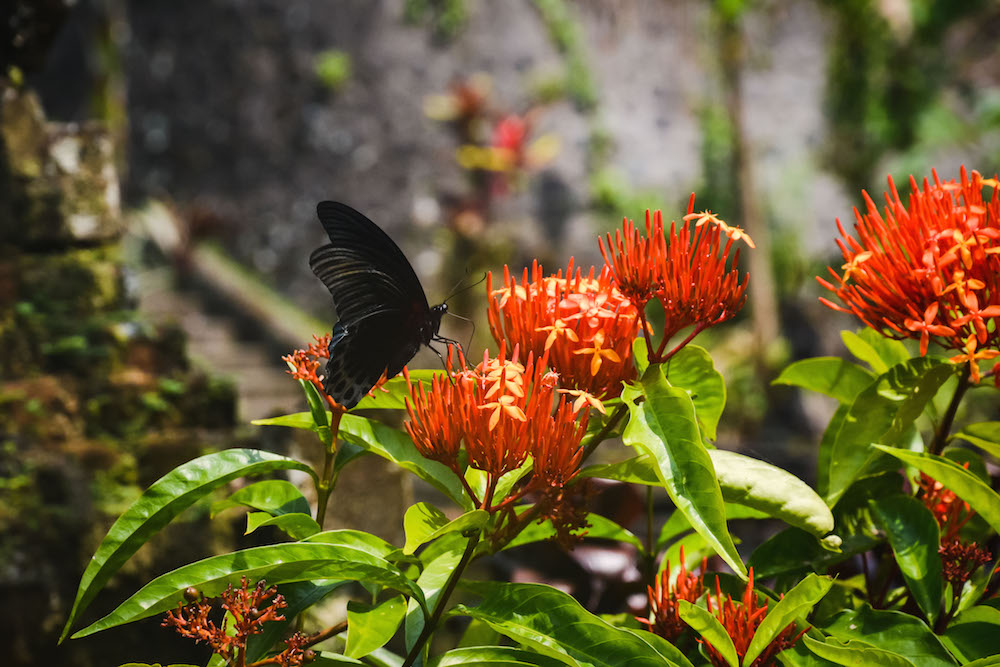 Time to hop on the motorbike and leave Ubud behind us. As soon as we reach the big market we turn left and drive northwards. Within a few minutes we don't see any tourist, nor any shops or cars. Actually, we don't see anybody. It's just us and the nature. From time to time, a lonely motorbike comes our way. Apart from that, it's just us, our motorbike and the airflow. We are thinking about freezing this moment.
Tegalalang Rice Terraces
The traffic is getting heavier; people are crossing our way. A glimpse to the right and we are noticing that we just arrived at the beautiful rice terraces. We park our motorbike and walk along the scenic rice paddies. We stop by at a small café to have a refreshing cinnamon ice tea. This moment would be perfect if there were fewer tourists around us. Time to continue our journey.
Coffee plantation and Kopi Luwak
We're driving northwards, passing several coffee plantations. Wait a minute, let's get a little closer. We're parking our motorbike and entering one of the plantations. A lovely lady welcomes us and guides us through the plantation. We're meeting a poor guy who is forced to roast coffee beans in front of tourists, being pictured a hundred times. We're beginning to feel a little uncomfortable. Anyway, the most interesting fact about the coffee is that the coffee beans are eaten and defecated by an animal which makes it one of the finest and most expensive coffees in the world. At the end of the tour, we are offered a choice of different coffees and teas for free. We are guided to a small shop were we are asked to buy some of the coffee. So, we're eloping!
Furniture stores
All of our friends know that we are deeply in love with furniture. We would love to import a big container full of sideboards, cupboards and bedside tables. Unsurprisingly, we are very enthusiastic about the several furniture stores we are passing by. We are also seeing some factories, in which the furniture is produced. We are stopping several times and are marveling at the beautiful pieces of furniture. By the way: Our Bali-furniture-story continued but this is another story.
Gunung Batur
Without planning it, we suddenly reach Gunung Batur, the big volcano in the North of Bali. Here it is: this moment, where everything around you is getting minor. We are gazing at the landscape. We're enjoying every second of it.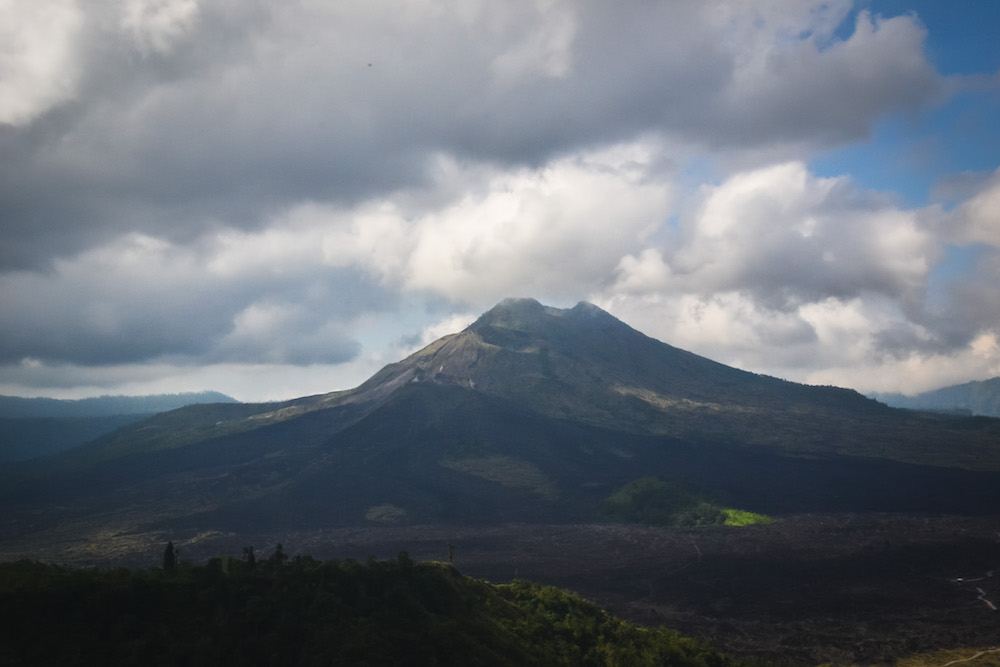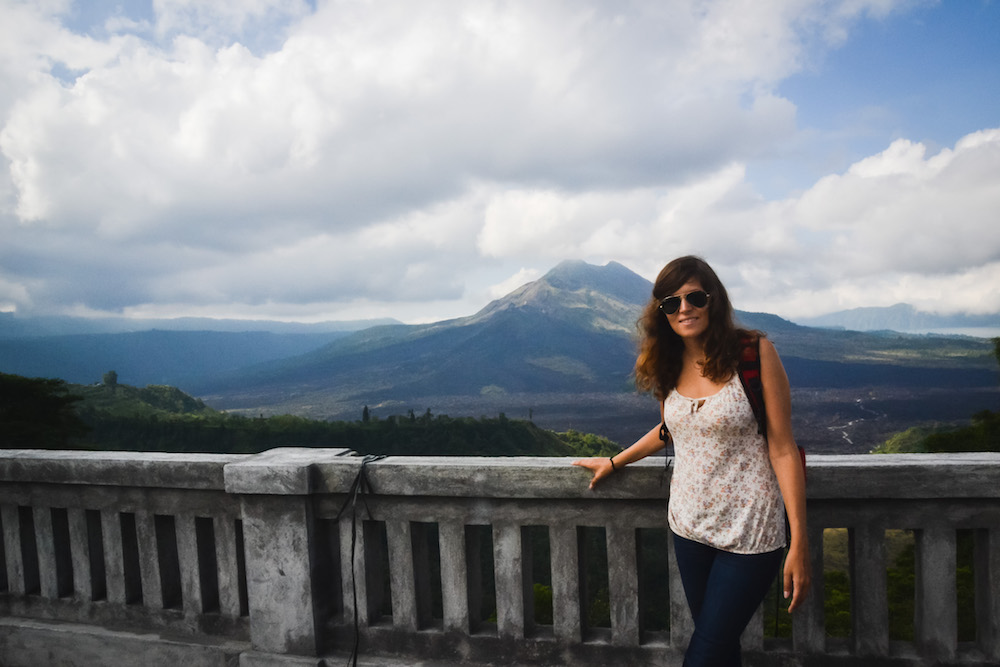 Tirta Empul
We need a few minutes until we're ready for new adventure. We are unfolding the map, trying to locate us as soon as we notice that obviously Ubud seems to be quite far away now. However, there is a temple not far from where we are: Tirta Empul. Let's go there! We are parking our motorbike at the parking lot and are noticing that it's almost 5pm. Just in time! We're sure you're gonna love Tirta Empul if you like Balinese culture. We are spending at least one hour watching Balinese people worshipping the temple.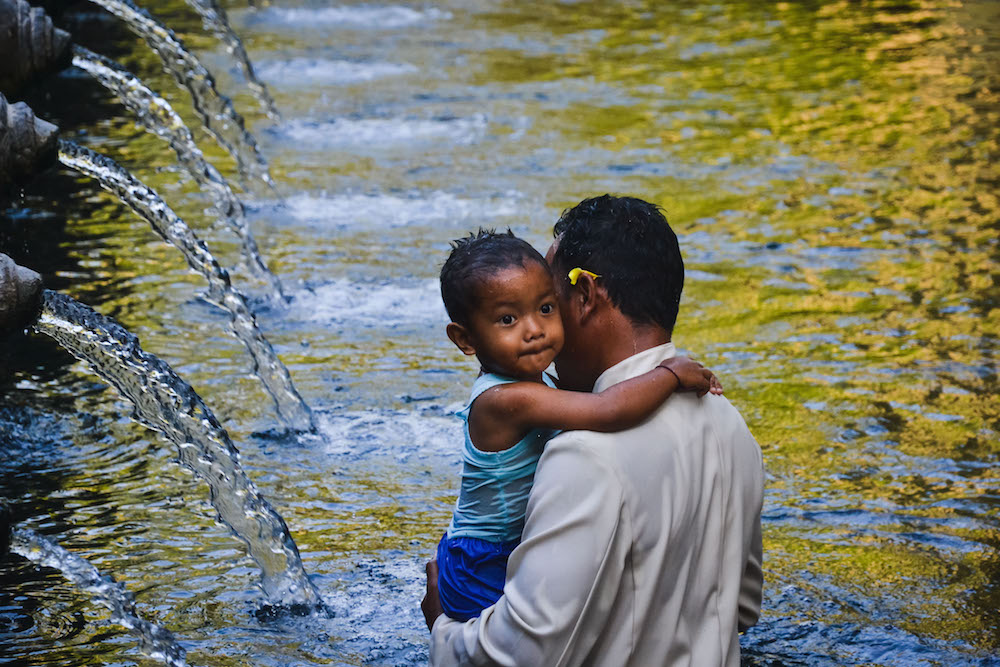 Gunung Kawi
You may know that one of us gets lost very easily. That's why we managed it to pass Gunung Kawi, which actually is situated next to Tirta Empul. If your are smarter than us, try to combine both visits: it's worth it! Gunung Kawi is a huge temple. Be prepared: you'll need to get down almost 300 steps to reach it. Attention: there are two "Gunung Kawis". Both are charming, but the bigger one is even more impressive.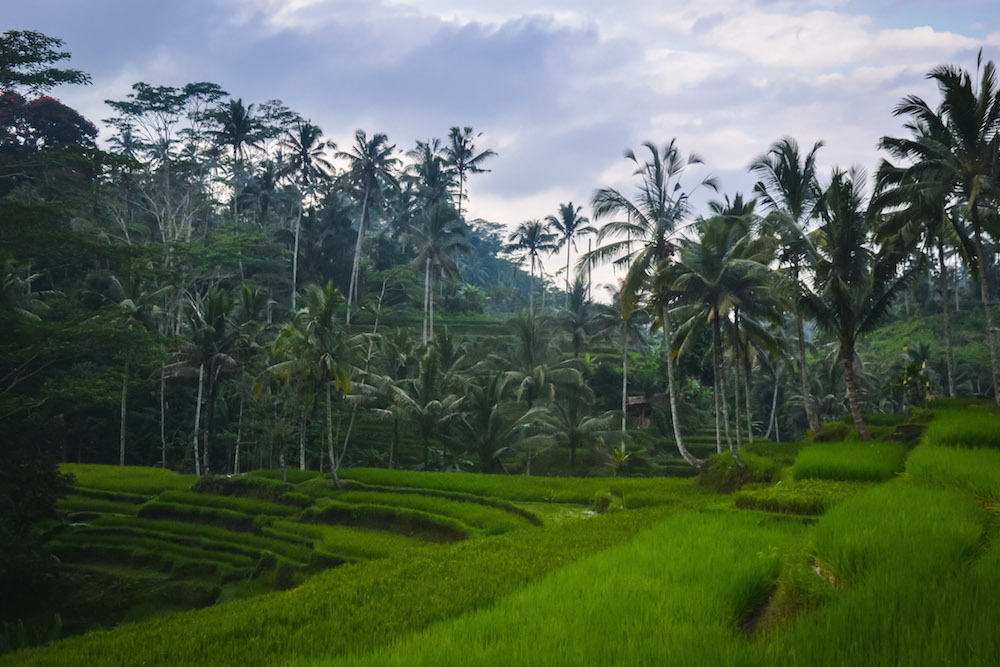 One last advice: We were told that there are a lot of police checks in Bali and especially around Ubud where foreigners are often pulled over. Obviously, we were very lucky: Even though we went on motorbike almost every day, we weren't stopped a single time. We tried, though, to avoid the main roads and preferred the smaller ones. If you get pulled over, better have a second wallet with a small amount of money with you.
---
Have you ever been to Ubud? Tell us about your day trips!
Merken
Merken
Merken