Looking for the perfect Itinerary through Indonesia? In this article on our travel blog, we will share with you our journey through Indonesia.
Indonesia is our favourite country in Southeast Asia. We have been there three times already and fell in love with this country from the first moment. Indonesia is so incredibly diverse: from volcanoes and historical cultural sights, to the most beautiful beaches – you get everything here. We also loved how open the people are here, even though Indonesia is largely a Muslim country, people seem to be very open to Western culture.
The following route is a combination of all the trips we've done in the past. It is suitable for those who might be travelling to Indonesia for the first time and would like to see, as much as they possibly can, the beautiful diversity this country has to offer. Additionally, you will find a corresponding map at the end of the article.
1. Indonesia Itinerary: All Our Stops & Info
Jakarta (A)
Jakarta is where most of the international flights depart and arrive. Although the city is not a natural beauty, you can still have a nice time here. The Istiqlal Mosque is very worth seeing, especially as it's the largest mosque in Southeast Asia. The Old City of Jakarta is another worthwhile stop. We would suggest staying in Jakarta between two to a maximum of three nights.
Accommodation in Jakarta
Yogyakarta (B)
Yogyakarta itself is a nice city with a large artistic scene. They have their own little backpackers district, where many good restaurants are located. If you have time, you should also visit the two famous temples close to Yogyakarta called Borobudur and Prambanan. If you want to have enough time for everything, then allow for at least 3 nights here. You can find our more detailed blog article here: Yogyakarta Travel Tips.
Getting to Yogyakarta
From Jakarta, you can fly directly to Yogyakarta. Alternatively, Jakarta and Yogyakarta are also connected by trains – the journey would take about seven hours. Travelling by train on the island of Java is highly recommended because: it is convenient, punctual and spares you the nerve-racking traffic of Indonesian roads. You can find out more information about the train networks in Java on this website.
Accommodation in Yogyakarta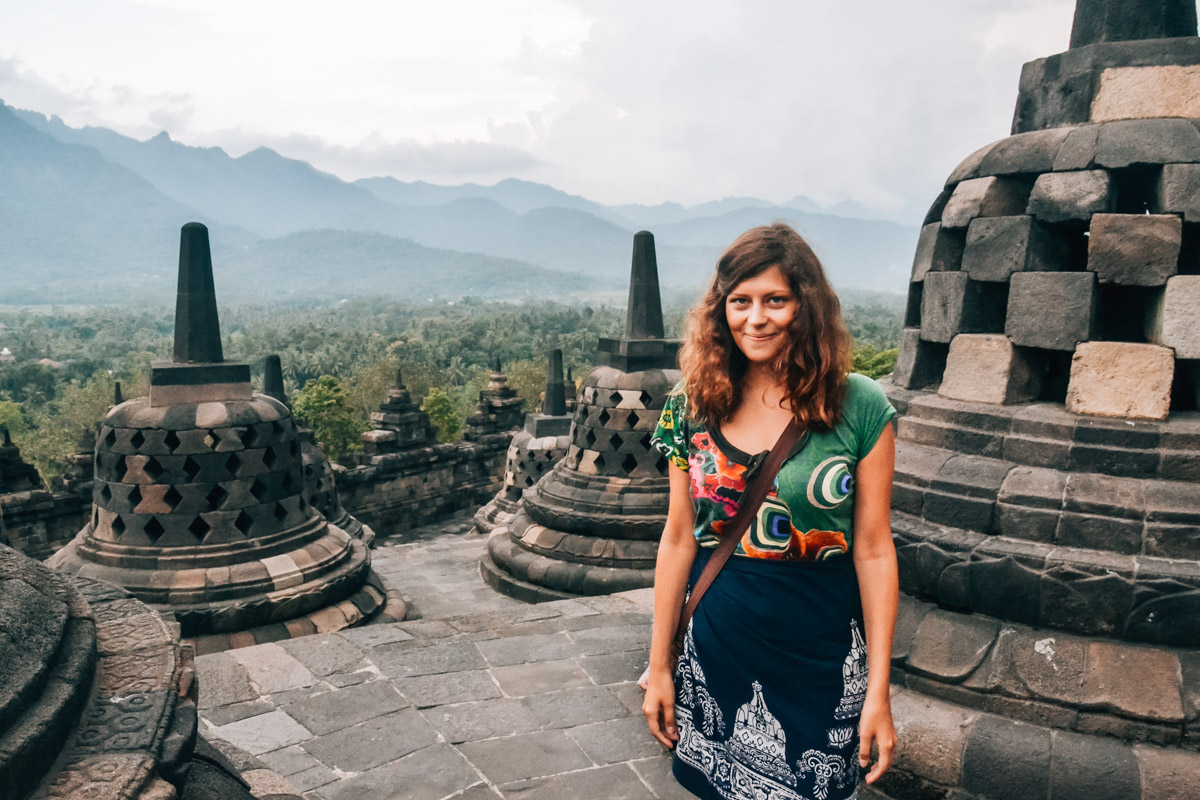 Optional: Solo (= Surakarta, C)
Solo (also known as Surakarta) is not on the typical Indonesia Itinerary, as most travellers start from Yogyakarta and head for Mount Bromo Volcano directly, without stopping here on the way. The city itself is not beautiful, but just like in Yogyakarta, there is a lot of culture to experience here, such as the traditional Wayang-Orang dance performance.
We also found the trip to Gunung Lawu very nice. If you are looking for Indonesian furniture, you will find a lot of manufacturers around Solo. We were pretty excited about the "Traditional Market". Unfortunately we don't know the real name of the market, but your taxi driver will be able to help you! We would recommend staying in Solo for two or three nights.
Getting to Solo
From Yogyakarta it's not far at all to Solo. You can either take the train or the bus. The most comfortable and expensive option is a private driver or taxi.
Accommodation in Solo
Hotel Alila Solo (probably the best hotel in Solo, a little more expensive, but really special and the rooftop pool is a dream)
Mount Bromo Volcano (D)
Located next to Yogyakarta, the Mount Bromo Volcano is probably the most popular destination on the island of Java. This is probably because the volcano itself is fairly easily accessible.
Most people visit Bromo as part of a sunrise Jeep Tour. Once you get off the Jeep, it's just a few minutes walk to reach the observation deck and famous view of the smoking volcano.
From there, you can take the Jeep directly to the volcano, where you can then hike a relatively short stretch to the crater rim. Alternatively, you can also book a motorcycle tour instead of a Jeep. Next time, we would ask our driver not to take us to the general lookout point because it was quite crowded there. Be sure to bring enough warm clothes, as it is usually quite cold up there on the mountain. Most people just stay for one night and continue travelling in the morning after breakfast.
Getting to Mt Bromo Volcano
The way from Yogyakarta or Solo to Bromo can be done either via an organised minibus tour or on your own. We chose the latter and would do it again anytime. Yogyakarta (or Solo) is connected by train to Probolinggo – the nearest major town near the volcano – but you have to change at Surabaya.
Since we missed the last train from Surabaya, we ended up having to take the bus. Once in Probolinggo, there are two ways to get to up that last stretch where the village of Cemoro Lawang is located on the crater rim: either you take a public bus (buses only run up to a certain time) or you organise a private driver, which can end up being very expensive.
Accommodation in Bromo – Our Tip
Mount Ijen Volcano (E)
Unlike Mount Bromo, the Mount Ijen Volcano is only accessible via a 2-hour hike. Note that you would have to set out in the middle of the night if you want to see the famous blue fire. Mt. Ijen is notorious for the dozens of workers who take the arduous route once or twice everyday, just to transport heavy chunks of Sulphur from the volcanic crater all the way back down. They do this all by hand with no help from modern technology and no gas masks.
A possible starting point near the accommodation area is the town of Banyuwangi, which has several hotels and guesthouses. It then takes a good hour by car from Banyuwangi to the starting point of the hike – we would suggest organising a driver in Banyuwangi. Might be good to know that it's not mandatory to have a guide for the hike. Also, we would highly advise against travelling further on this day as the hike is very strenuous already. We were so glad to able to sleep the rest of the day.
Getting to Mount Ijen Volcano
In order to get from Bromo to Ijen, you first have to go all the way back through the valley to Probolinggo. It's best to organise your transport to Probolinggo directly from your accommodation in Cemoro Lawang. From Probolinggo you can easily travel by train to Banyuwangi.
Accommodation in Banyuwangi
Ubud (F)
Continuing on to the next island: Bali. Ubud is a perfect home base for exploring Bali. This is a wonderfully laid back location and there are some incredibly delicious restaurants and beautiful accommodations.
We can highly recommend renting a scooter for a few days. You can find all our tips and a suggestion for a day trip in this blog article: Scooter Day Trip around Ubud.
The distances in Bali are much further than you initially think, so perhaps you might want to consider having a private driver to reach certain destinations – such as the Uluwatu Temple in the south part of the island. Depending on personal preference, you can also choose to stay in more than one place – but for us, it's always nice to finally be able to relax and stay in one place for a bit longer. We would recommend staying in Ubud for a total of four nights if you also want to have some time to relax.
Getting to Ubud
From the far eastern tip of Java (Banyuwangi) to Bali, it is just a short ride away with the ferry. The journey takes just 20 to 30 minutes – depending on the "traffic situation" out on the open water.
From Gilimanuk in Bali, you can either take a public bus to Denpasar or you can organise a private taxi, which is a lot more expensive. If you decide to take the bus to Denpasar first, you can board another bus from there to Ubud or you can travel the rest of the stretch by taxi.
Accommodation in Ubud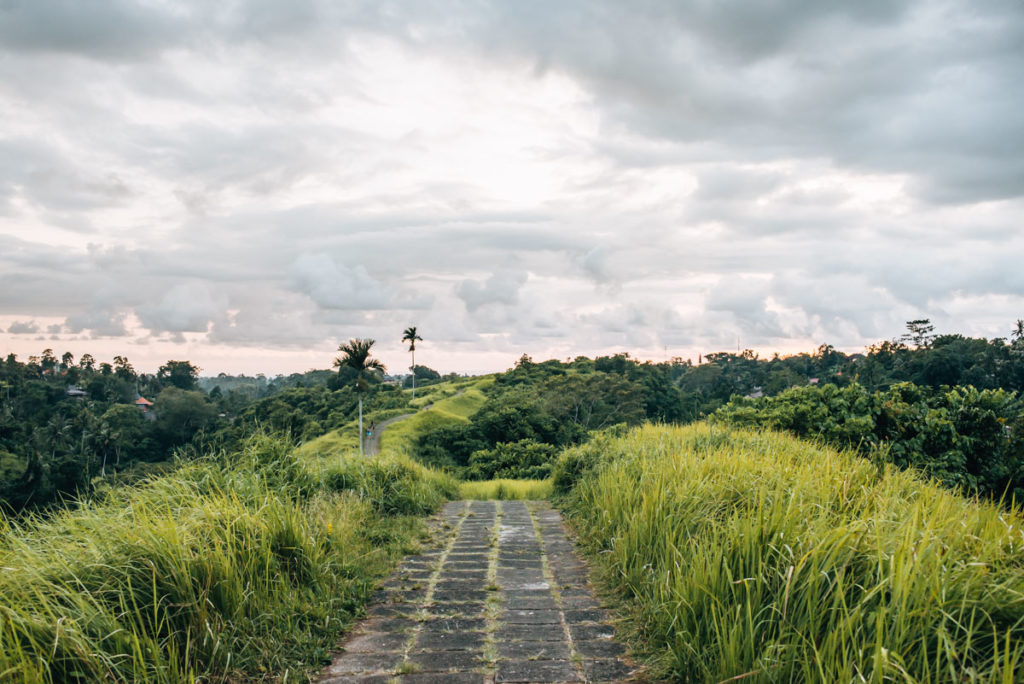 Gili Islands (G)
As we approach the end of the trip, some relaxing beach time would be much welcomed and for that, we can recommend spending some time on the Gili Islands. There are three tiny islands: The busiest island is Gili Trawangan, which is more suitable for party people; while the other two, Gili Meno and Gili Air, are more for those seeking peace and quiet.
However, the Gili Islands seem to have experienced quite a boom in recent years. We heard from a friend that more and more accommodation options are starting up, so you cannot expect to find a lonely island paradise here as the Gili Islands are too well known these days. Despite that, we still had a really nice time on Gili Meno, which is the island we chose to stay on. You will have plenty of time to read, snorkel and relax.
In case you're after recommendations for a beach destination off the beaten track, we've been told that there are some fantastic beaches just south of the neighbouring island of Lombok. This could be something worth looking into.
Depending on how long you can actually stand being on a quiet island, we would suggest staying between four to seven nights on the Gili Islands.
Getting to the Gili Islands
Coming from Bali you can take a speedboat from several ports (Padang Bai, Serangan), which are quite expensive – or you can take the slow ferry to Lombok and from there another small boat to the Gili Islands.
Accommodation in the Gili Islands
Meno Dream Resort (beautiful complex, built by an Indonesian-Slovenian couple, gorgeous bungalows, very intimate feel to it)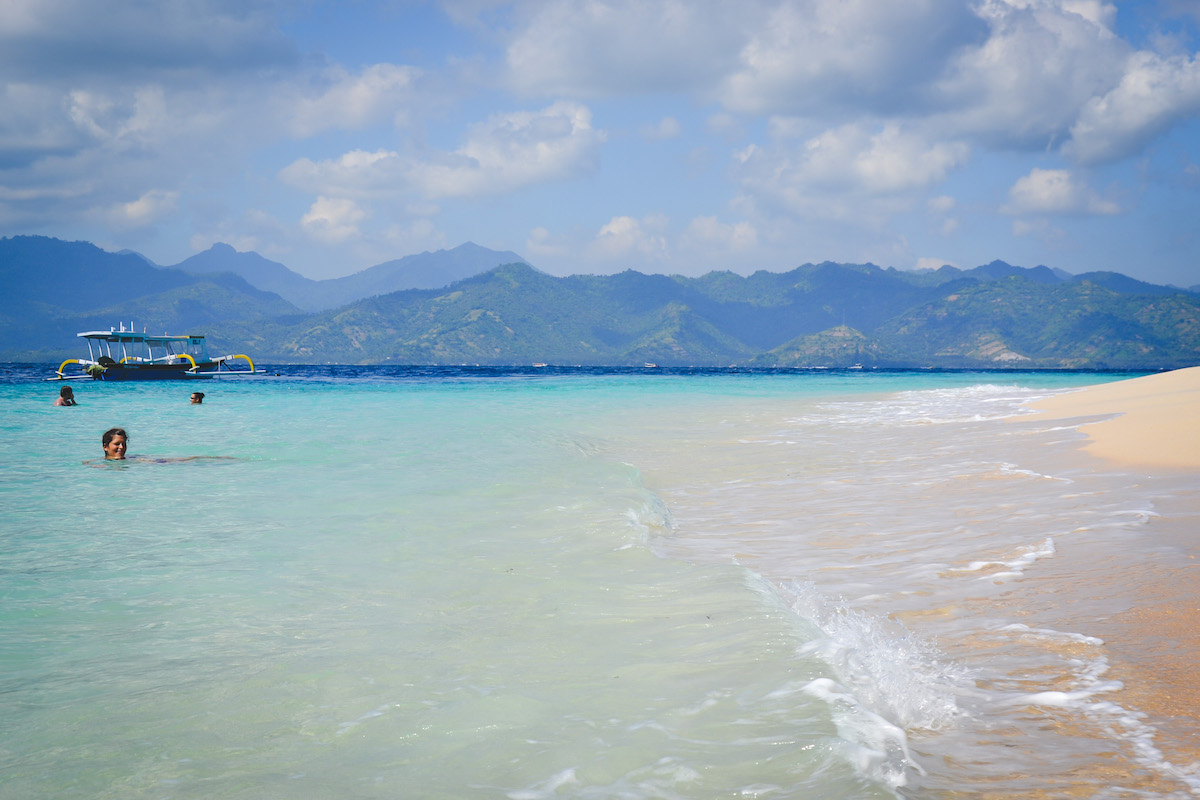 Optional: Bukit Lawang
If you fancy a bit of adventure, we can wholeheartedly recommend a trip to Bukit Lawang on the island of Sumatra to see the wild Orangutans in their natural habitat. Sumatra is not exactly around the corner, but you can reach it quite quickly by plane. This island is so huge that you could easily spend several weeks or months exploring Sumatra. We think it's definitely worth a visit, even if just for a few days.
Getting to Bukit Lawang
It's best to plan your trip to Bukit Lawang at the beginning of your Indonesia travels and you have two options to get there. Option 1: If you're already in Indonesia, you can fly from Jakarta non-stop to Medan (Sumatra). Option 2: If you are coming from Kuala Lumpur or Singapore, you can also fly directly from both cities to Medan. Next, you will have to take either a bus or taxi to Bukit Lawang, which will take about 4 hours from Medan.
To get back to the island of Java, you can either fly from Medan to Jakarta or fly straight to Yogyakarta.
Accommodation in Bukit Lawang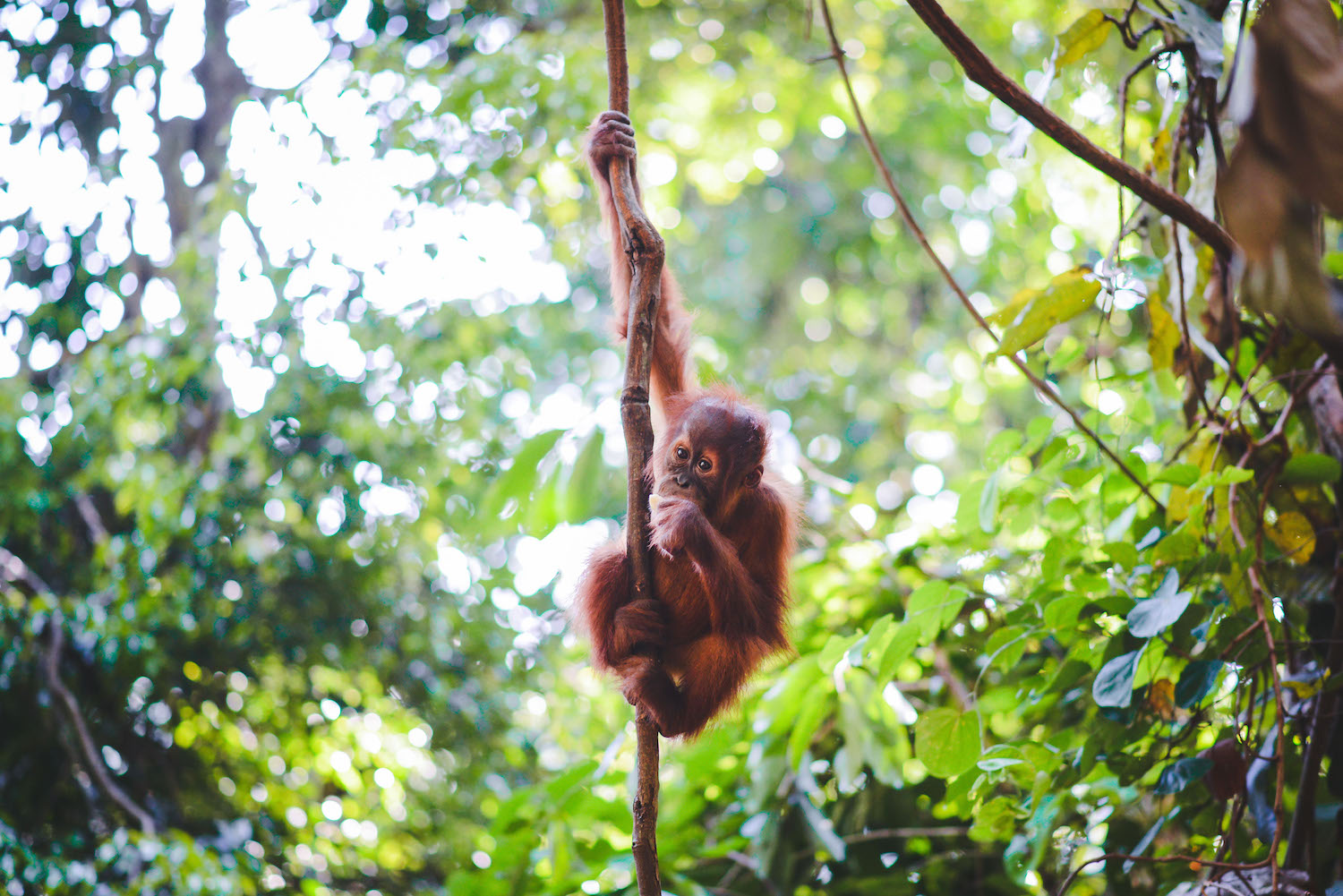 2. Map of the Indonesia Journey
Just so that you have a clearer picture of the route itself and where the journey actually leads you, we have pinned the individual stops on a map. The itinerary starts in Jakarta (A) and ends on the Gili Islands (G). One of the points that was not included, was the optional detour to the Orangutans in Bukit Lawang.
3. Indonesia Travel Guide
Although you can now find almost all the information you need on the internet and through various travel blogs, we still always try to have a printed travel guide for our trips. We have several travel guides for Indonesia, but we prefer to use the ones by Lonely Planet as they are always highly researched and is one we highly recommend.
You can view and buy the travel guide here: Lonely Planet (July 2019 Edition)
4. Our Indonesia Video
---
Disclaimer: Affiliate Links
This blog article contains our personal recommendations in the form of so-called affiliate links. If you book or buy something through these links, we will receive a small commission. For you, this does not change the price at all. A million thanks from the both of us!
Have you ever been to Indonesia? How did your itinerary go? Perhaps you have some questions for us regarding your Indonesia trip? We look forward to your comments down below.
Merken
Merken
Merken
Merken