Indonesia is our favorite country in Southeast Asia. We have been there three times and fell in love with the country from the very fist moment. Indonesia is stunningly diverse: volcanoes, culture and beaches – there is a lot to see.  Indonesians are very open-minded. We felt that they are very interested in western culture. Thus we felt very welcome.
The following itinerary is perfect for you, if you travel to Indonesia for the very first time. It combines fabulous beaches as well as some adventure and citylife.
We usually use the Indonesia-Lonely-Planet
 Travel Guide. The new edition was recently published.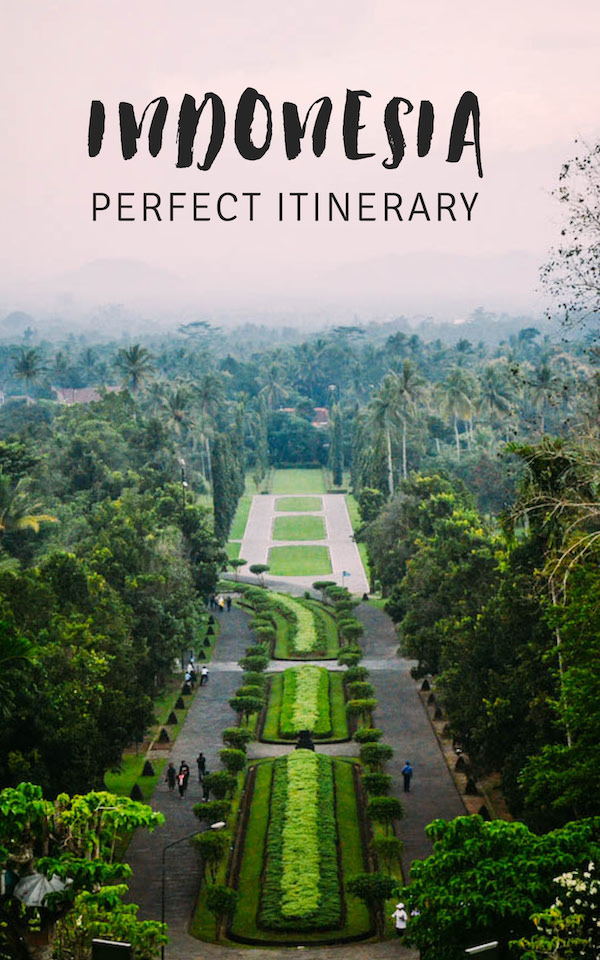 Jakarta (A)
A lot of international flights arrive in Jakarta. And even though the city definitely is not noted for its natural beauty, you can have a great time there. Don't miss the Istiqlal Mosque, the biggest mosque in Southeast Asia, and the old city of Jakarta. We recommend you to stay in Jakarta for two or three nights.
Our accommodation:
Max One Hotel (small rooms, clean, cheaply built, okay for a short stay)
All Seasons Jakarta Thamrin (comfortable rooms, nice roof top, average service)

Yogyakarta (B)
Yogyakarta is a city of culture. There is a nice Backpacker's area where you'll find a lot of lovely restaurants. There are two famous temples just outside Yogyakarta: Borobudur and Prambanan. Stay at least for three nights at Yogyakarta if you don't want to hurry.
How to get there:
There are direct flights from Jakarta to Yogyakarta. You can also take the train. The ride takes about seven hours. Traveling by train is very convenient: the trains are comfortable, in time and you don't get involved in Indonesia's horrible traffic conditions. You'll find further information about Indonesia's trains on this website.
Our accommodation:
Ibis Styles Hotel (big rooms, reduced design, average breakfast, nice pool at the roof top)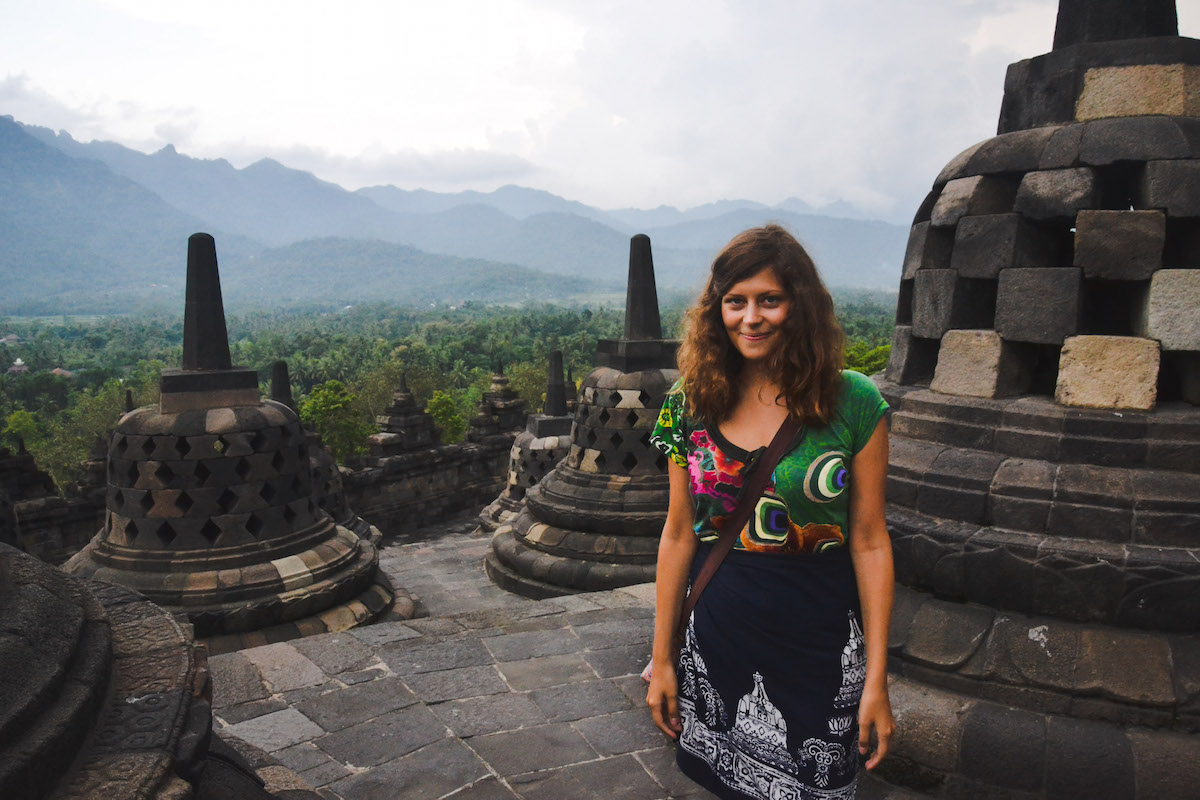 Optional: Solo (=Surakarta, C)
Solo, also known as Surakarta, is not part of the common itinerary. Most travelers head to Mount Bromo right after Yogyakarta. Solo is, als well as Yogyakarta, a city of Javanese culture. Highly recommended are the traditional Wayang-Otang-performances. We also enjoyed our trip to Gunung Lawu. If you are interested in buying Indonesian furniture, you'll find a lot of manufactures in this area. You better not miss a visit of Solo's "Traditional Market". Unfortunately, we don't know the real name of the market, but your taxi driver will get you there for sure. We recommend you to stay at Solo for two or three nights.
How to get there:
To reach Solo from Yogyakarta, it's only a short ride by train or by bus. The most comfortable as well as the most expensive possibility is to take a private taxi.
Our accommodation:
Lampion Hotel Solo (good value for money, nice rooms, poor breakfast)
Mount Bromo (D)
Mount Bromo is an active volcano and is besides Yogyakarta probably the most popular destination on Java. The volcano is very easily accessible. It is possible to take an organized Jeep Tour during sunrise which includes a stop at the famous viewpoint with views on the smoking volcano. Afterwards the Jeep takes you directly to the crater where you can reach the crater rim by foot in about 20 minutes. It is also possible to take a motorbike. We recommend you to ask your driver not to bring you to the most frequent viewpoint but to some other spots which are more quiet. Bring enough warm clothes with you as it can be very freezing especially during the night. Most of the travelers only stay for one night and continue their journy right after the morning tour.
How to get there
Coming from Yogyakarta or Solo, you can either take an organized Minibus Tour or you can make the journey on your own like we did. Yogyakarta (and Solo as well) are connected by train with Probolinggo, the biggest town next to Mount Bromo. You need to change trains at Surabaya. Unfortunately, we missed the last train from Surabaya to Probolinggo, that's why we took the bus. After arriving in Probolinggo, there are two possibilities to reach Cemoro Lawang, the small town, close to the crater rim: You can either take a public bus (bear in mind that public busses only run until a specific time), or you can organize a driver who will be charging a lot of money.
Our accommodation:
Hotel Bromo Permai (overpriced like everywhere in Cemoro Lawang, shabby room, average breakfast)
Ijen Volcano (E)
Compared to Mount Bromo, the Ijen Volcano is only accessible after a 2-hours-hike. Bear in mind, that you will need to start hiking at around 2 o'clock in the morning if you want to see the famous blue fire. Every night, dozens of workers make their journey down into the crater to harvest its sulfur. A good base for early morning climbs is Banyuwangi, a town situated  at the easternmost end of Java. From Banyuwangi, it takes about 1 to 1 ½ hours to reach the parking lot from where the hiking starts. Try to organize a driver in Banyuwangi who brings you to the parking lot, you won't need a guide for the hike. We recommend you to stay at Banyuwangi for one more night. We were very happy to be able to sleep for the rest of the day as the hike is very challenging.
How to get there
Coming from Mount Bromo, you need to get back to Probolinggo. Ask at you guest house in Cemoro Lawang, they will organize a transport for you. Probolinggo is connected with Banyuwangi by train.
Our accommodation:
Ketapang Indah (lovely rooms, nice garden and pool, friendly staff)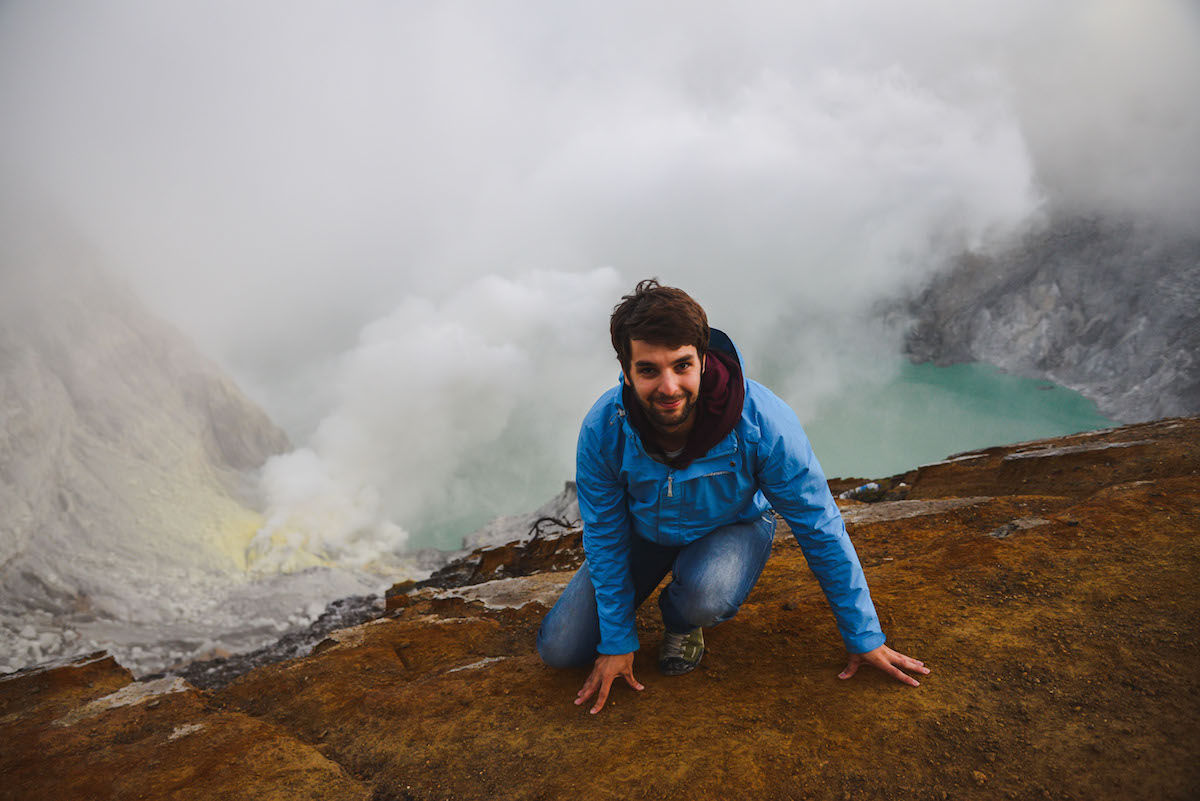 Ubud (F)
Ubud is a perfect base to explore Bali. The little town is very relaxed and has nice restaurants and lovely accommodations. We recommend you to rent a scooter. You'll find some advices in this article. Note that the distances are long, that's why you can also rent a private car for some destinations like Uluwatu-Temple. Of course you can also stay at different areas in Bali, though we were very happy to be able to stay at one place for some time. Stay at Ubud for at least four nights if you don't want to hurry.
How to get there
It's only 30 minutes ride by ferry from the easternmost end of Java Island to Bali. After arriving at Gilimanuk in Bali, you can either take the public bus to Denpasar (5 hours) or you can take a private (and expensive) taxi. If you take the public bus, you can change at Denpasar and take another bus to Ubud.
Our accommodation:
Munari Resort & Spa (wonderful rooms which are a little bit dark, lovely hotel, amazing pool, great breakfast)
Gili Islands (G)
The Gili Islands are a perfect place for those who are looking for a quiet area to relax. There are three Islands: Trawangan, known as the party islands, Meno and Air, the quieter ones. Don't expect a lot of infrastructure, big shops or first class hotels. You'll rather find yourself snorkeling, reading and relaxing the whole day. Unfortunately, it looks like that the islands are undergoing a construction boom recently (like friends of us told us). Maybe Lombok, the big island next to the Gili Islands, is also a nice place to stop by. We heard that Lombok has lovely beachtes as well. We recommend you to stay at the Gili Islands for four to seven nights.
How to get there
Coming from Bali, you can take one of the expensive speedboats which leave at several harbors like Padang Bai and Serangan. It is also possible to take the slow ferry to Lombok and transfer to a small boat which brings you to the Gili Islands.
Our accommodation:
Meno Dream Resort (built by an Indonesian-Slovenian couple, lovely bungalows, very personal, awesome stay)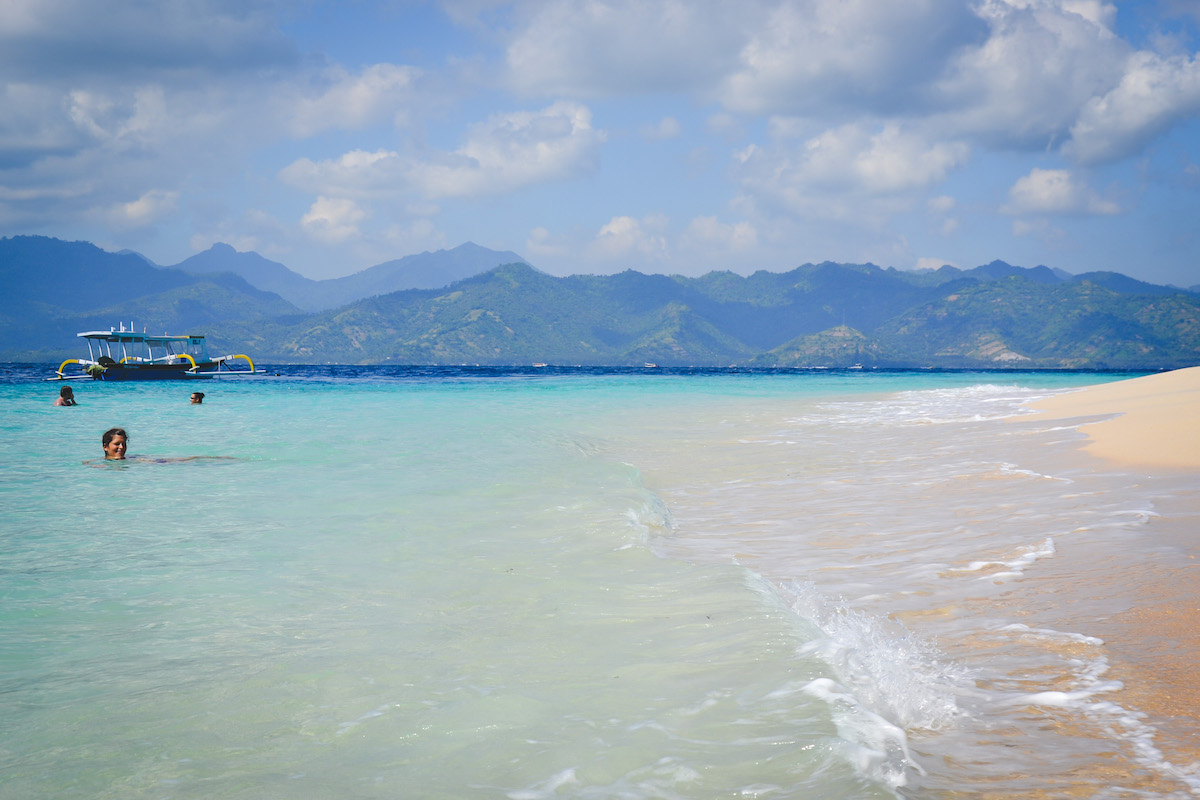 Optional: Bukit Lawang
If you are looking for some adventure, Bukit Lawang in Sumatra is the perfect destination for you. You will meet a lot of Orangutans in the jungle next to Bukit Lawang.
How to get there:
Try to go to Sumatra at the beginning of your journey. First possibility: If you are already in Indonesia, you can catch a non-stop flight from Jakarta to Medan (Sumatra). Second possibility: There are also flights from Kuala Lumpur and Singapore, if you are looking for international flights to Medan. After arriving in Medan, it takes you around four hours by car to reach Bukit Lawang. Sumatra is huge – of course you can stay there for weeks or even months. Nevertheless, three days in the jungle are amazing as well. To get back to Java, try to catch a direct flight to Jakarta or Yogyakarta.
Our accommodation:
EcoTravel Cottages Bukit Lawang (lovely and spacious rooms, friendly staff, nice breakfast next to the river)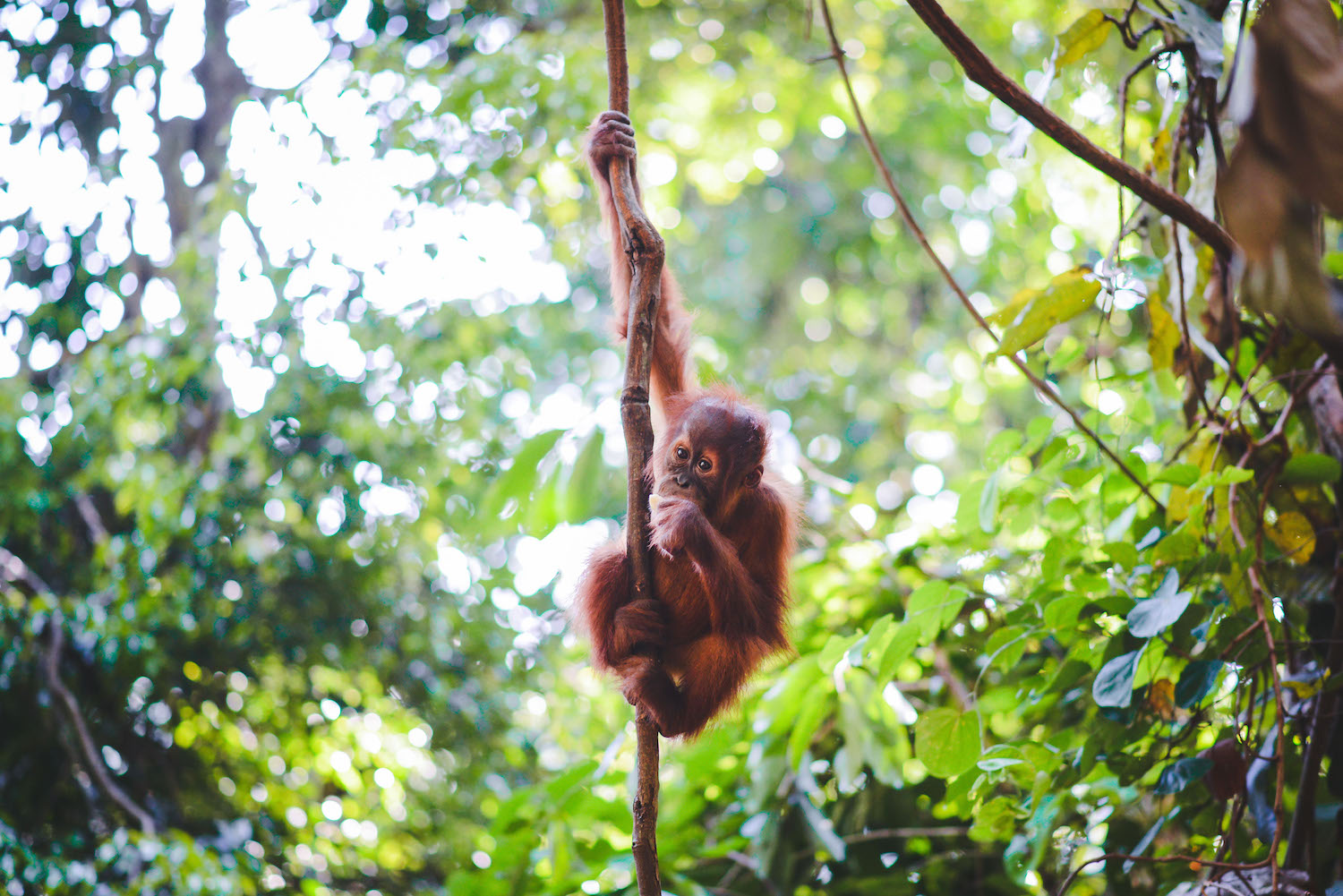 ---
Have you ever been to Indonesia? Tell us about your itinerary. We are looking forward to your comments!
Merken
Merken
Merken
Merken