From crazy Delhi to the world wonder of the Taj Mahal and on to Jaipur: A trip around the Golden Triangle is fascinating, confronting and one adventure that you won't forget any time soon. Some of the country's most beautiful and most significant sights are located in the Golden Triangle in northern India.
Are you planning a trip to India's Golden Triangle? In this travel guide we reveal our top tips for you: What is the most ideal travel route through the Golden Triangle? When is the best time to travel? How safe is a trip to India? How do I get from A to B? The answer to all these questions can be found in our personal travel guide.
1. The Golden Triangle in India: Overview & Important Travel Tips
What to expect in the Golden Triangle
The Golden Triangle is the most famous tourist region in northern India and stretches itself across the two states of Rajasthan and Uttar Pradesh. Some of the most well-known attractions in India are located in the Golden Triangle.
As the name suggests, you travel to three locations: first to Delhi, the capital of India. Then of course to the Taj Mahal, one of the seven world wonders. And last but not least, to the so-called Pink City, Jaipur, which is the state capital of Rajasthan.
The best Travel Time for the Golden Triangle
The optimal time to travel to the Golden Triangle is February and March. From April onwards the thermometer can get up to over 40 degrees Celsius. On the other hand, it can sometimes be quite cool in December and January. Monsoon season prevails in the summer months of July and August. The climate is suitable for travelling again in October and December.
When deciding what time to travel you should always keep in mind the Indian holidays. For example, we were in India for Holi, which was of course very exciting on the one hand, but can be a little more restricting on the other.
Travel Guide: Our Tip
Of course, you can find many tips on the internet, however we still whole-heartedly recommend you also use a printed travel guide. Our choice was the Lonely Planet Rajasthan, Delhi & Agra and we didn't regret it one bit.
As with all the Lonely Planet travel guides, this one is also very clear and well laid out. In addition, it isn't as thick and heavy as the complete guide to India. Highly recommend!
2. Getting to India: Tips for your Visa
Citizens of most countries require a visa to travel to India. Most of them can conveniently apply for an electronic e-tourist visa, at the latest four days before you arrive.
You will need a photo for your application and, oddly enough, in a square format. In addition, you need to scan the first page of your passport (i.e. the one with the information and photo).
The e-tourist visa is valid for a month. (A little side information: you can also apply for the e-tourist visa for one year. However, the maximum length of stay is only 90 days, so even if you have the 1-year visa you need to leave the country again.)
The price of the e-tourist visa varies depending on the time of travel: it costs 10 dollars between April and June, and 25 dollars between July and March. We definitely recommend applying for the visa on the official website, because many agents charge an additional fee on top.
3. Transport in the Golden Triangle: How to get from A to B
Transport Options
The most comfortable (and also most expensive) form of travel is of course to have a private driver. You can stop when you want and be very flexible. In addition, a private driver is also a great option in terms of safety.
The train is a fantastic option to get from A to B in India. Personally, we were very impressed with the morning train ride to Agra. We really enjoyed watching the landscape pass by.
The third option: you can of course also use public buses to travel through India. But truth be told, that was a little too adventurous for our first trip to India.
Tip: Booking Transport Tickets
We ourselves decided on a combination of having a private driver and travelling by train and found it was perfect. Unfortunately, it isn't so easy to book train tickets for India from Europe, because you often need an Indian telephone number to book.
However, we have a tip for you: with 12go.asia you can book without a problem. You can even book private drivers or bus tickets on there if you like.
Individual or organised?
One of the most important questions that you need to ask before your trip to India's Golden Triangle is: do you want to make your own way around or would you like some help with organising your trip? Of course, both have their pros and cons.
We didn't want to go in completely alone on our first trip to India, so we decided to travel to India with erlebe, a German tour operator. Erlebe supported us in organising our transport and with booking train tickets, private transport and accommodation.
That way we could make our way around by ourselves, but still enjoy a little comfort. When we arrived in Delhi, we received all of the documents from an employee of a partner agency. That is of course practical, because we didn't need to worry ourselves with all of that while there.
Getting around in the Cities
For transport within the cities, we mostly made our way around on a motorised rickshaw. We usually paid around 50 Indian rupees, depending on the length of the trip. Sometimes we also used cycle rickshaws.
In Delhi we travelled around using the subway. In principle, that is very simple and cheap: the tickets were purchased at the counter before entering, the price per trip was around 10 rupees. Although, you usually still needed to walk another long stretch to reach your final destination. Taxis are a suitable solution for longer distances.
4. Itinerary around the Golden Triangle in India
A trip around the Golden Triangle takes you to the three highlights in northern India. In principle, the route is always the same – you just need to decide in which direction you would like to travel.
Delhi
Most people start their Golden Triangle trip in Delhi, because the largest airport in India is located here. Even though Delhi can be very overcrowded, we were able to acclimatise really well there. We recommend you stay around three nights in Delhi.
More detailed travel guide: Delhi Travel Tips
Taj Mahal
From Delhi we continued by train to Agra. As unspectacular as Agra is, all paths lead to this city because India's sanctuary, the Taj Mahal, is located here. Two nights is enough time, three is even better.
More detailed travel guide: Sunrise at the Taj Mahal
Jaipur
The third and last stop on the Golden Triangle trip is Jaipur, also known as the Pink City. Jaipur is just a five-hour drive away from Agra. You should be sure to make a stop off at Fatehpur Sikri and allow around two to three hours there. We stayed two nights in Jaipur itself. That was enough time, but if you like a more relaxing visit, you should stay three nights.
More detailed travel guide: Jaipur Travel Tips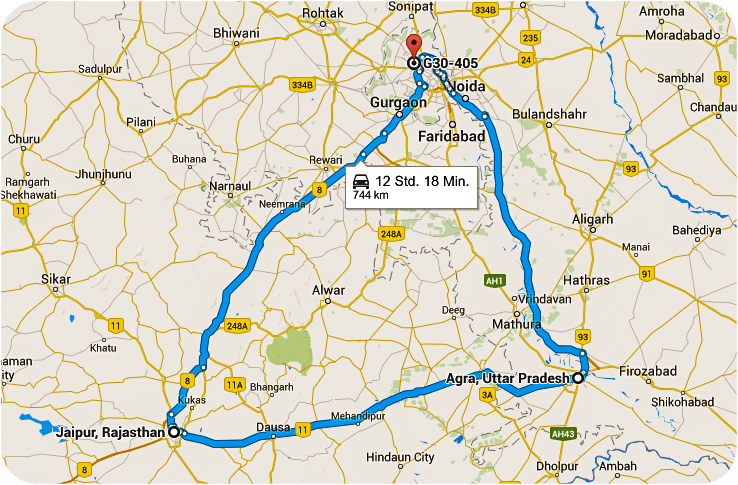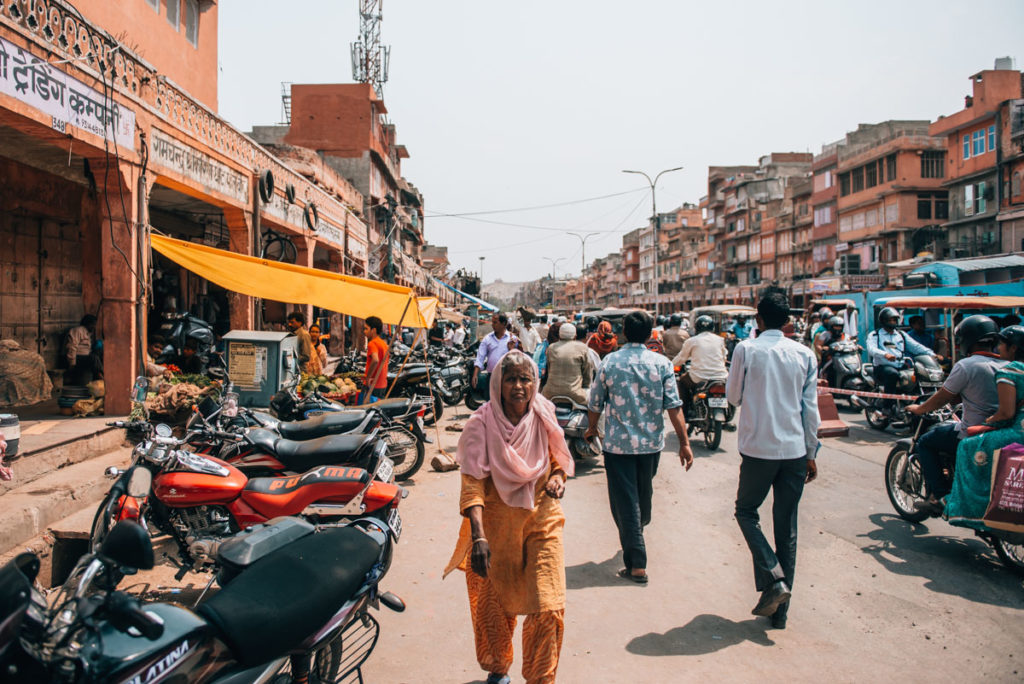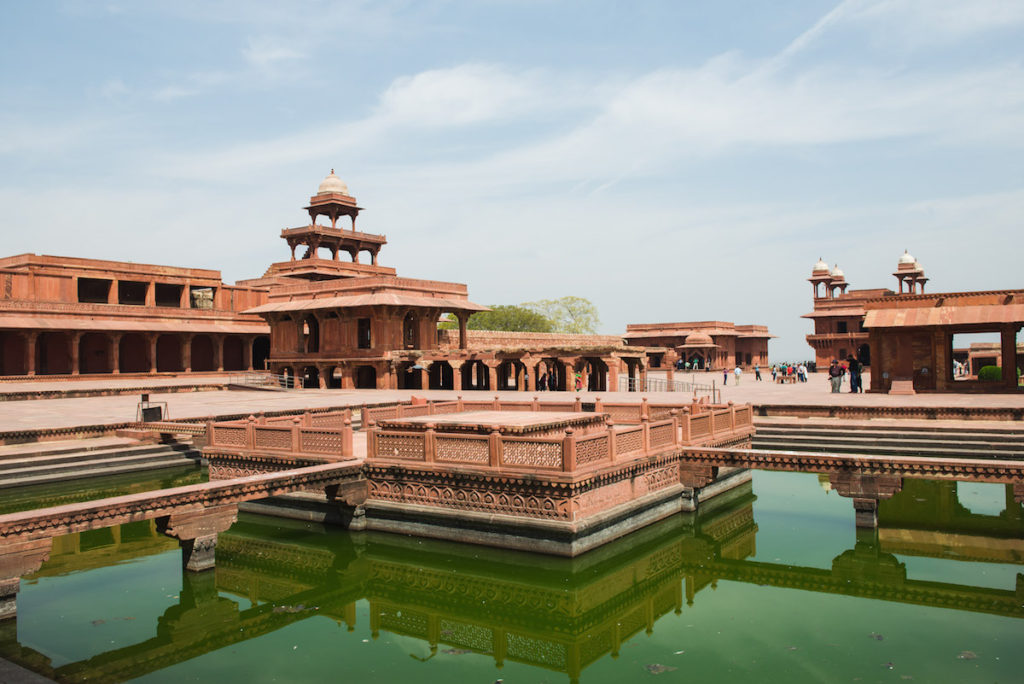 5. Staying the Night: Accommodation in the Golden Triangle
Here's the thing with the hotels in India: many of them are very cheap, but they definitely don't meet the European standard. Unfortunately, many hotels in India leave a lot to be desired, especially when it comes to cleanliness.
In terms of style, many hotels in India are very grand and kitschy. Many hotels are also heritage hotels, which indicates that you can expect an authentic, often magnificent hotel. These hotels are mainly situated in a historic family house.
If you would like a certain standard of hotel in northern India, then you need to allow around 50 to 70 euros per night (for a double room). Breakfast is usually included in the price.
Our Hotel Tips
Delhi
A great, modern, boutique hotel! Pretty design, very comfortable rooms – highly recommended!
Agra
Family run, very clean homestay with a rooftop terrace and great breakfast.
Jaipur
Really kitschy, but therefore something special. The rooms look like a fairy-tale – a typical heritage hotel experience.
6. Travel Costs in India
Money: Currency and Paying in India
The currency in India is Indian rupees. There are many ATMs, but in our experience, they often don't work. We also had some cash (euros) with us, which we definitely did not regret. Changing euros into Indian rupees is not a problem in many hotels. However, the rate is often not the best. Credit cards are accepted almost everywhere in the larger restaurants and hotels.
Travel Costs in the Golden Triangle
What does … cost in India?
Double room in a nice hotel: 50 to 100 euros per night
Evening meal for two including drinks in a nice restaurant: 600-700 Indian rupees
Beer in a restaurant: 250 Indian rupees (alcohol is fairly expensive)
Entrance to Taj Mahal: 1,300 Indian rupees
Train ride from Delhi to Agra (1st class): around 1,500 Indian rupees
So you can see: India is a very cheap travel destination. You might need to pay a little more for beautiful hotels and sights. Eating out and transport are very affordable though.
7. Eating and Drinking in India's Golden Triangle
The food in northern India and Rajasthan is phenomenally good. Believe us: You will love it! If you don't like spicy food, you should let them know when you order, as India is known for its spicy dishes.
India is a paradise for vegetarians and vegans: there are vegetarian meals everywhere and usually also vegan dishes. Many restaurants in India are also exclusively vegetarian.
Our favourite dish is Shahi Paneer. Paneer is a type of cream cheese that is served in a variety of ways. Shahi Paneer is prepared with an unbelievably delicious, creamy tomato sauce. Of course, the countless dal dishes made with lentils are also a highlight. Dal Makhani is typical for northern India and downright delicious.
It is also best to order a classic or garlic naan bread to eat with the various curries and some rice. Thali is also highly recommendable: you get a variety of dishes in many small bowls and some rice and bread along with it.
One note about hygiene in India: You often read that a gastro illness is all part of a trip to India. We can't confirm this, as we didn't have any issues in that regard. However, we did pay close attention to what we were eating and where. We avoided street food completely. The fact is: even if you follow the rules, you can unfortunately easily catch a gastro infection in India.
Our Favourite Restaurants
Peacock Rooftop Restaurant: A great restaurant in Jaipur, in which we ate three times! The food is fantastic (try the Thali!), the atmosphere great and there is even good coffee. If you come in the evening, you should make a reservation.
Karim's: Very good and authentic restaurant in the centre of Delhi, in which many locals also eat. The Shahi Paneer is extremely delicious.
Shankara Vegis Restaurant: Very nice vegetarian restaurant in the centre of Agra with a rooftop terrace.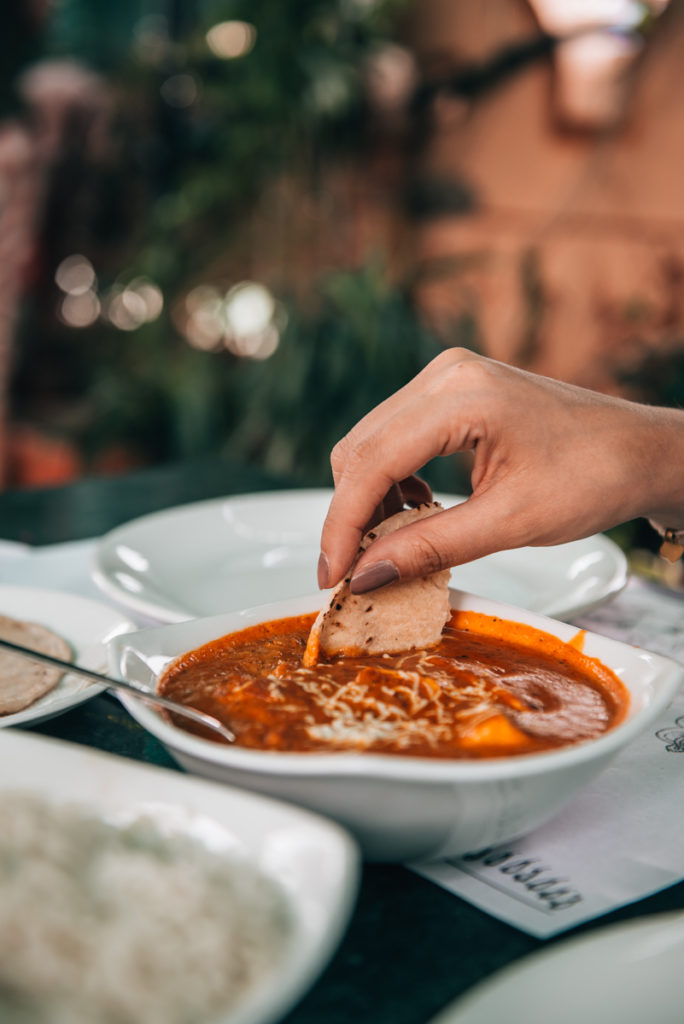 8. Safety in India: How safe is a trip through the Golden Triangle?
We were very sceptical before our trip. The many negative headlines about India made our stomachs churn a little. We can reassure you: not once did we ourselves feel unsafe in Inia and didn't have any negative experiences.
Still, we don't want to downplay the danger, especially for females travelling alone. We were very happy that the two of us were travelling together, because we felt a lot safer that way. India certainly requires the right portion of caution and common sense – that much is certain.
Our concrete Tips for Safety
In the evenings we tried to avoid walking alone in the streets if possible. Most crimes take place after dark. Therefore, we really tried as much as we could not to go out in the evenings. Of course, you also want to go out for meals. We always took a taxi for those stretches. It is best to book the taxi through your accommodation.
We recommend all women wear appropriate clothing. Kathi was always sure to cover up. We can recommend long trousers, lose clothing and no low cut tops. It is best to always have a large scarf with you, which you can drape over your shoulders if needed.
Unfortunately, India has a deep patriarchal structure. Therefore, you see a lot more men on the street than women. Men sometimes come uncomfortably close. In India there is a different relationship to distance, i.e. there is often little physical distance between your counterpart when having a conversation. As a women you should be especially cautious that other men don't come too close. You can and should also clearly and confidently communicate this.
Despite having conservative clothing, you have to adjust tot he looks from other men. Some will also try to secretly take pictures of you. However, some will not put in any effort to hide it.
If you feel really unsafe, then we can highly recommend travelling with a private driver.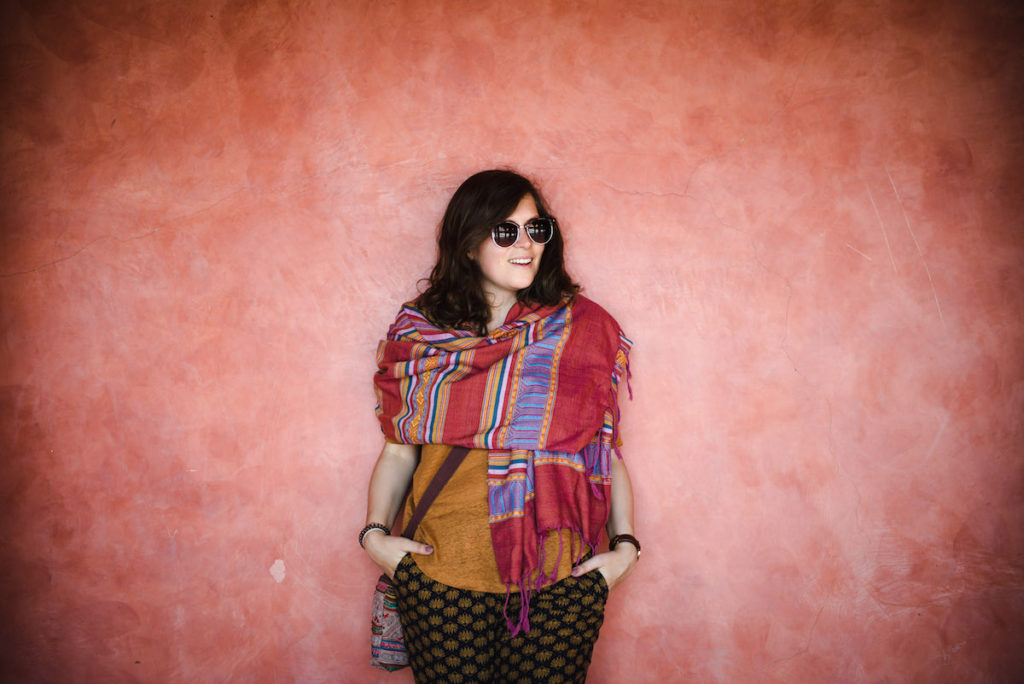 9. Taking Photos in India
The Golden Triangle in India is a paradise for photography fans. Aside from the many great buildings and palaces, the people are of course also an unbelievably fascinating photo motif. Sometimes you need to pay an additional fee at the entrance to various sights for your camera.
When photographing people, we always ask the person for permission beforehand. It is best to pick a person that you have somewhat of a relationship with: your rickshaw driver or vendor for example. If you ask politely, very few people will say no. (Only a tiny proportion will refuse.)
---
Disclaimer: Invitation & Affiliate Links
erlebe covered most of the costs while there (accommodation and transport). We paid for the flights and some of the activities ourselves. This travel guide contains our personal recommendations in the form of affiliate links. If you book or buy something via the links, we will receive a small commission. This will not change the price for you at all. A million thanks from the both of us!
Have you already been to India and have additional tips for a trip through the Golden Triangle? Let us know in the comments – we look forward to it!